Sensory room now open for bookings
5th October 2021
fans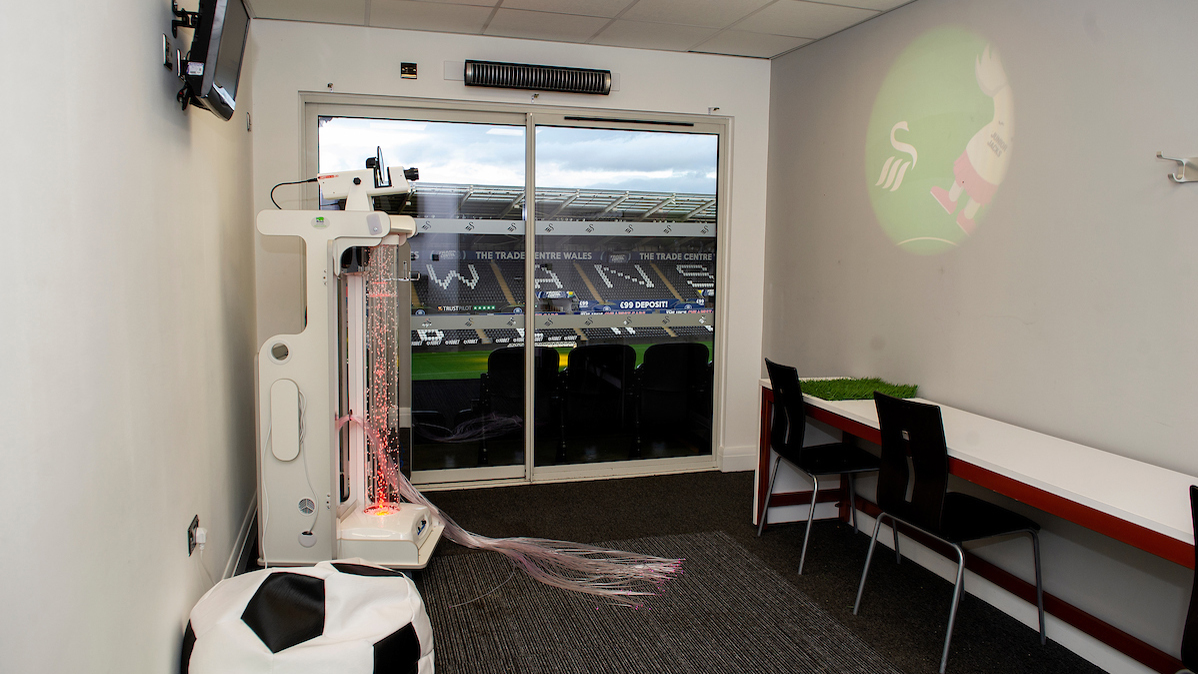 Swansea City is pleased to confirm the Swansea.com Stadium sensory room has now reopened for bookings.
This facility is open to supporters and their immediate family and friends from the West Brom fixture on Wednesday, October 20.
In 2019 Swansea City launched the sensory room, along with the Disabled Supporters' Association. 
Swansea City's sensory room allows supporters, who may find the environment uncomfortable, to come and enjoy the match at their own pace. Supporters view the match from inside the sensory room while also being able to sit in the stand, safe in the knowledge that they are able to return to the sensory room, should they become overwhelmed.   
Background
Our journey to introducing a sensory room began in February 2017 in partnership with our Disabled Supporters' Association (DSA). The club then engaged with a number of organisations and held a consultation evening.
In April 2019, through investment from the Premier League, the BT Disability Fund, and The Shippey Campaign, the club secured support for the installation of a sensory room.   
Cost (this is the same price as general admission tickets)
Adult: Jack Army - £25; General Sale- £27.50.
Senior Citizens / Full-time students: Jack Army - £12.50; General Sale- £15.00.
Under-18s: Jack Army - £10.00; General Sale- £12.50.
Under-12s: Jack Army - £7.50; General Sale- £10.00
Concessionary Ticketing Policy -

 In accordance with our ticketing policy supporters eligible for the sensory room are entitled to one additional PA ticket free of charge.
How to register your interest?
To register your interest for a fixture please email accessibility@swanseacity.com
Note: once you have registered your interest a member of our team will contact to confirm availability.
Registering your details does not mean you have been successful in your application for use of the sensory room. You will be informed if you have been successful or not no less than two weeks prior to your selected fixture.
As part of the process supporters will receive the sensory room welcome pack which will include all the key information ahead of your visit.
Places will be subject to availability and a letter from a doctor/consultant or other healthcare professional confirming diagnosis of Autism Spectrum Disorder may be required when booking. Parents will also have the option to visit the room before matchday, if they wish to check its suitability. For more details about the Sensory Room contact our disability access officer on accessibility@swanseacity.com or call 01792 616420.
On the day
Sensory room users will have access to on site car parking at the stadium. We ask users to ensure they arrive prior to the car park closure, which is in operation 15 minutes prior to kick off.
General Matchday Information
For general information and guidance on matchdays see our guides and picture story below: