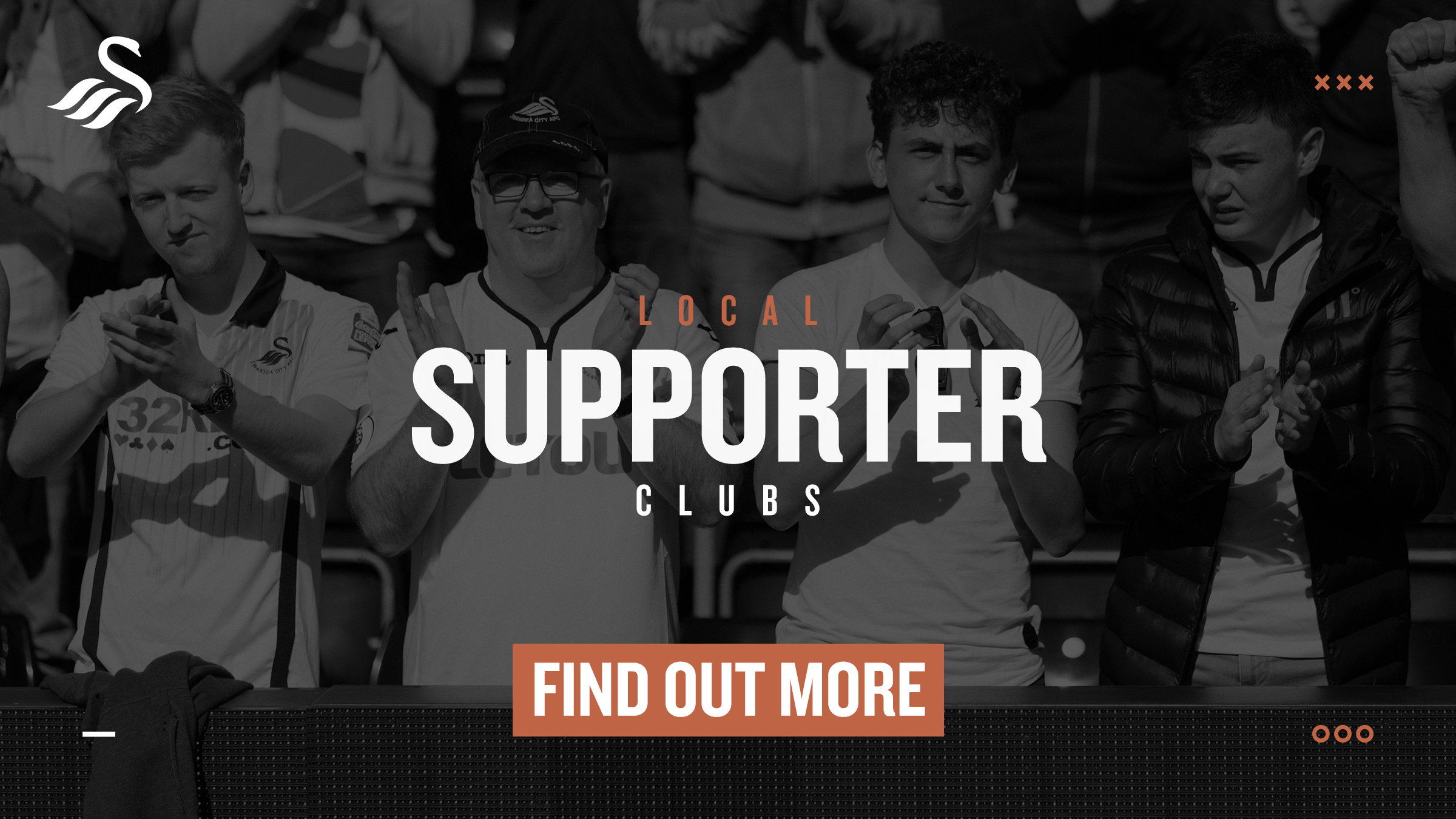 Home is where the heart is, where loyal swans fans come together to share and show their support for the club they love.
These are the clubs we are aware of:
CEREDIGION JACKS / JACS CEREDIGION
Main Contact: Dave Dalton
Email: ceredigionjacks@gmail.com
Website: No
Social: Twitter: @CeredigionJacks; Facebook: Ceredigion Jacks/Jacs Ceredigion
Members: 65
Formed: 2015
About: Set up by small group of enthusiastic Swans supporters in West Wales as a way of providing a more localised and structured link to the club.
Main function: To help with travelling to home and away games by offering discount group travel via local coach companies. To provide opportunities for local Swans fans a chance to meet up locally with each other. Encourage youngsters to follow their local Football League team.
Events: Occasional gatherings to watch Swans' away games on TV. Fans Forums have also been held every other year through the help of the club and the Swans Trust which has raise funds for discounted travel etc.
PORT TALBOT AND EXILED SWANS
Main Contact: John Heycock
Email: jayne.corcoran@hotmail.co.uk
Website: No
Social: Twitter: @PortSwans; Facebook: Port Talbot and Exiled Swans
Members: 70
Formed: Early 1980s
About: Began with Swans supporters living in Port Talbot. Then as others from outside the area became involved, the name Port Talbot and Exiled Swans was born.
Main function: A yearly weekend away tour to watch the Swans; a tour abroad during the international break in October. Travel to several away games during the season and regular days out after home games. We are very much a social loving group!
Events: Yes, we hold an annual presentation at a home game to present our Player of the Year award.
CARLISLE JACKS
Main Contact: Bill Hughes
Email: Bill.hughes@hughesriskmanangement.com
Website: No
Social: Facebook: Carlisle Jacks
Members: 80
Formed: 2014
About: Set up by some exiled Swans using the Coach and Horses pub named "Liberty North" . Aimed at providing a based for Swans supporters and those that "second team" use a forum and focus point for travel and meet ups. Linked to both the Valley Swans and Port Talbot and Exiled Swans for discussion and meet ups.
Main function: Promoting the Swans in foreign lands with a significant amount of memorabilia in the Coach and Horses, which has surprised quite a few visiting Swans.
Events: Watching games in the local pub due to ticket and distance is a regular occasion when we are televised and if it is possible, we travel to at least four away games per year with the record being 40 in attendance. We also have one season ticket holder who travels home and away and when possible accompanied by others.
WESTCOUNTRY & MERCIA JACKS
Main Contact: Ben Harris
Email:  benharris.1992@hotmail.co.uk
Website: N/A
Social: Twitter: @Westmercswans; Facebook: Westcountry and Mercia Jack's Swans Supporters Group
Formed: August 2019
About: Launched after a discussion with the Ceredigion Jacks. Actively seeking new members to grow the group.
Main function: To eventually hold events, meets and coordinate travel to and from fixtures for those based in the Westcountry or South West Mercia.
Events: Working on them
SWANSEA CITY DSA
Main Contact: Cath Dyer
Email: secswandsa@gmail.com
Website: swansdsa.org.uk
Social: Twitter: @swans DSA; Facebook: Swansea City Disabled Supporters Association - DSA
Members: 80
Formed: 2013
About: Set up by the former club disability officer Ian James. The DSA are a group of 10 volunteers. Meetings are held monthly.
Main function: To ensure that all supporters have the best possible matchday experience, and that everything goes smoothly for them. We act as the link between our disabled members and the club. We have a very good working relationship with the club. 
Events: Three social events per season for our DSA members where they have the chance to meet players and the manager. Kevin Johns MBE is our lifetime president, and Lee Trundle is our DSA ambassador. We present an 'unsung hero award' annually and have donated a wheelchair to the club for use by home and away fans. A tour of Fairwood training ground has also been held where 23 of our DSA members had the chance to meet the players. 
JACS Y GOGLEDD (NORTH WALES)
Main Contact: Russell Williams
Email: Russwms1@gmail.com
Website: No
Social: Twitter: @JACSYGOGLEDD
Members: 30+
Main function: To bring members together to help travel arrangements and to look to organise transport to games in the north west.
@PROUDSWANS
Swansea City LGBT twitter fans network
Pembrokeshire Jacks
Main Contact:  Philip Busby
Email: buz_phil@yahoo.co.uk
Year formed: April 2008
Approximate number of members: 680 
Facebook: Pembrokeshirejacks
Brief history of group: Pembrokeshire Jacks began as a simple Facebook group for fans based in and around the area of Pembrokeshire. More recently our main function and activity is to act as a not for profit travel club. We are very proud of the diversity within our growing and active Swans group. Our membership and recent  growth spans all sexes and ages, this is due not least  to the family friendly nature that our group actively promotes. Our main objective is to ensure that the Pembrokeshire Jacks have access to reliable, safe and cost-effective travel to watch the Swans. We actively encourage social media sharing of our activity and our footprint within Pembrokeshire is growing.
Main functions of group: Travel group and social focal point for Swans fans within Pembrokeshire. Membership is free to join. We currently offer £10 adult return travel for home games and £5 for Under 12's.
To join them or to add your club, contact us here: supportersclubs@swanseacity.com