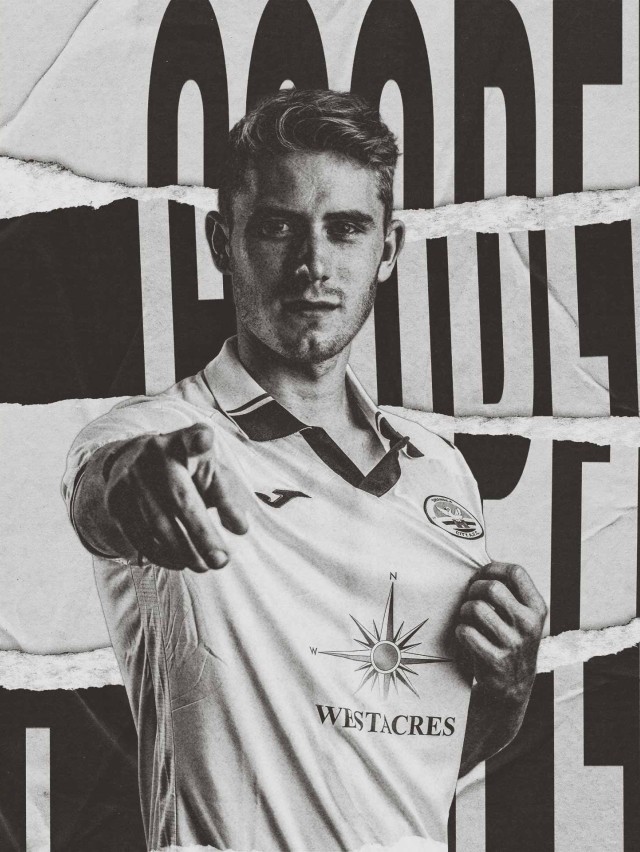 Hull City
Saturday 17th September 2022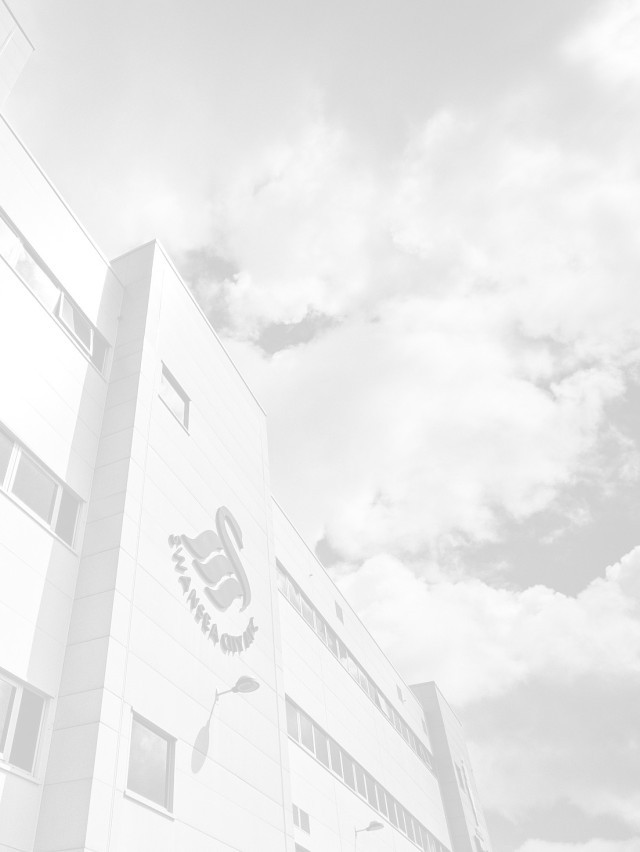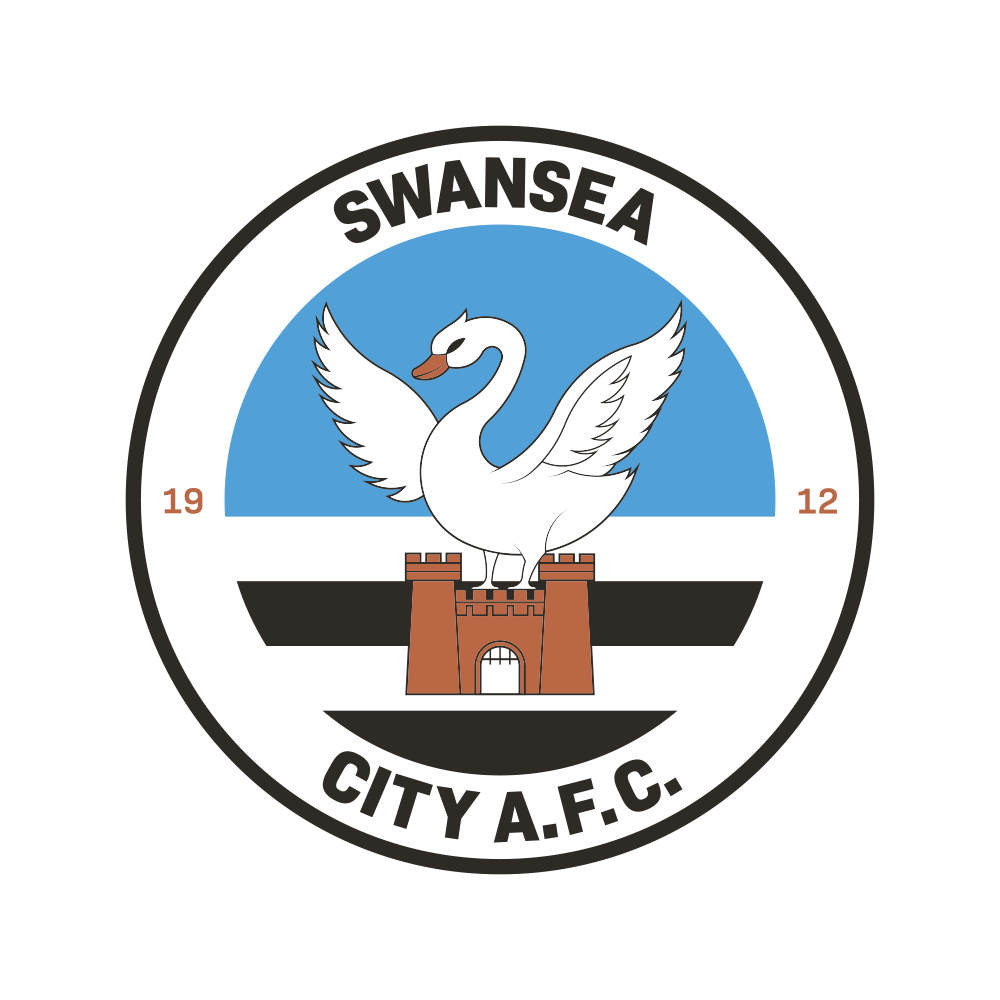 Chief Executive - Julian Winter
Honorary Club President - Alan Curtis
Directors
Jason Levien, Julian Winter, Jake Silverstein, Sam Porter, Huw Jenkins, Martin Morgan, Sian Davies (supporter director), Romie Chaudhari, Bobby Hernreich, Gareth Davies.
Director of Business and Legal Affairs: Sam Porter
Associate Directors: Ceri Stone
__________
First-Team Staff
Head Coach – Russell Martin
Assistant Head Coach - Matt Gill
Goalkeeping Coach – Dean Thornton
Head of Physical Performance – Matt Willmott
First Team Performance Analyst - Ben Parker
Set Piece Coach - Andy Parslow
First Team Coach - Kris O'Leary
Head of Performance – Tom Barnden
Head of Rehabilitation – Rhys Owen
Head of Medical - Dr Jez McCluskey
Staff: Ailsa Jones, Bethany Chaddock, Matt Murray, Daniel Morris, Michael Eames, Shaun Baggridge, Steffan Popham, Connor Lawley, Daniel Nisbet.
__________
Senior Management Group
Andrew Davies (Head of Operations, Facilities & Development);
Gareth Davies (CFO);
James Chiffi (Head of Wellbeing & Development);
Josh Marsh (Head of Football Operations).
Club Staff
Club Secretary: Ben Greenwood
Football Operations &
Administration Manager: Rebecca Gigg
Head of Retail: Andrea Morris
Head of Hospitality & Customer Services: Catherine Thomas
Head of Safeguarding: Rebeca Storer
HR Manager: Nicola Butt
Senior Commercial Sponsorship Manager:  Lee Merrells
Head of Marketing:
Katie Doyle
Head of Media & Communications:
Ben Donovan
Ticket Office Manager: Lewis Bullen
Operations & Events Manager:
Matthew Daniel
Facilities Manager: Gordon David
Grounds Manager: Evan Davies
Disability Access Officer: Catherine Thomas
Swansea City AFC Foundation Manager: Helen Elton
Club Ambassador: Lee Trundle
__________
Programme Production
Contributors: Ben Donovan, Andrew Gwilym, Sophie Davis, Hayley Ford, Fraser Dickson, Rachael Tucker, Richard Bond, Dom Hynes, Julie Kissick, Gwyn Rees, Owen Morgan, Ian Mitchelmore
Designers: Callum Rothwell,
Jordan Morcom, Lewis Ward
Photography: Athena Picture Agency,
Natalie John-Davis, Alamy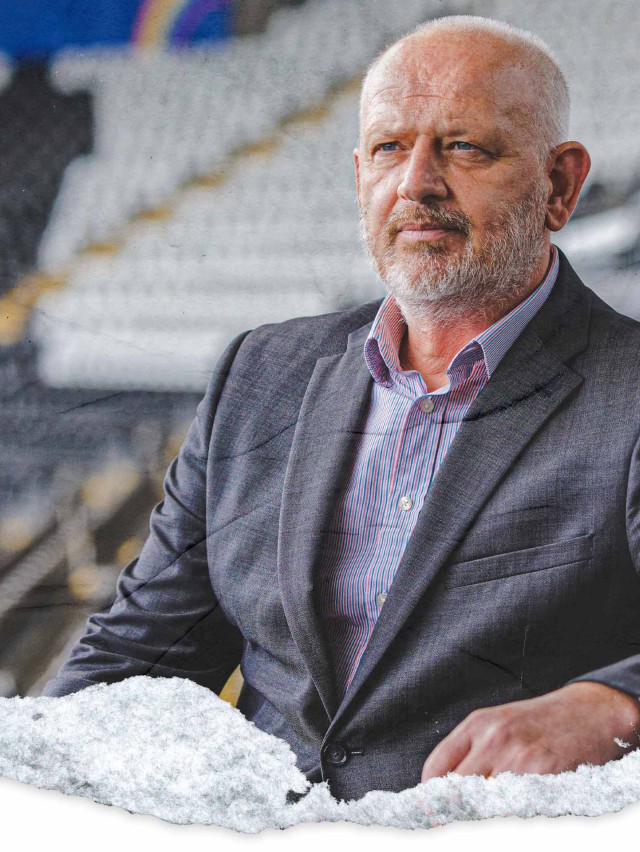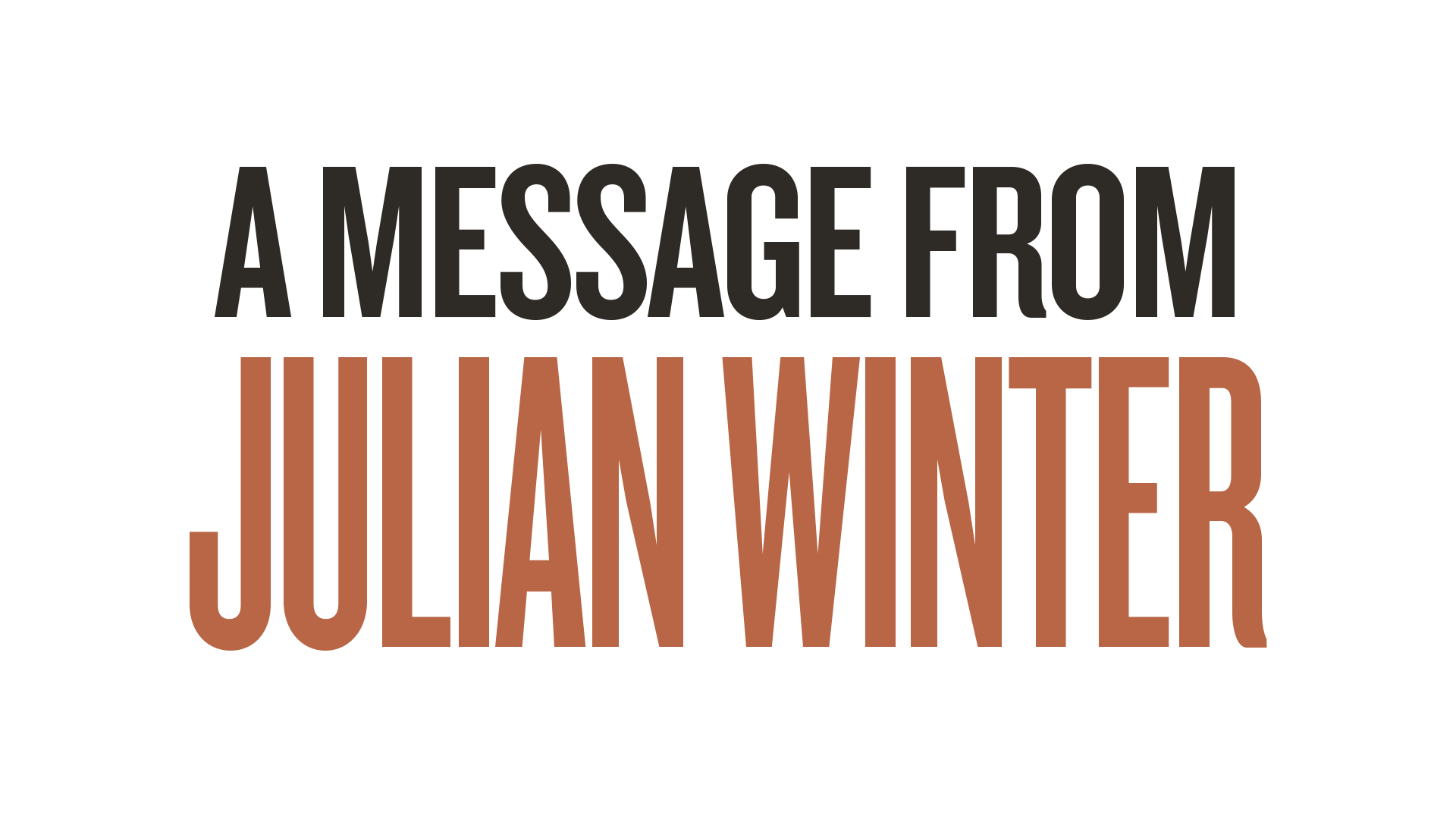 Good afternoon and welcome back to the Swansea.com Stadium for today's game against Hull City.
This is our second home game in the space of just a few days following on from the midweek defeat against Sheffield United.
Last Tuesday's game was a really competitive affair between two good sides and I thought a draw would have been a fair result.
To lose in the manner we did – in stoppage time – was very frustrating, but there were so many positives in the game and hopefully we can bounce back here this afternoon before the first international break of the season.
Towards the end of our game in midweek, however, an object was thrown on to the pitch from one of the home section. Needless to say, this is something that is wholly unacceptable.
This isn't the first incident of this kind involving our supporters this season, which means we are now likely to be sanctioned by the authorities. I call on all our supporters to refrain from this kind of behaviour and ensure that the reputation of our great club is not tarnished by incidents like these.  
I'd also like to take this opportunity to formally welcome Paul France to the club, who has joined as Swansea City AFC's Head of Foundation.
Paul arrives with a strong background in community work at the likes of Burnley, Barnsley and Huddersfield, and everyone is very much looking forward to working with him.
Finally, I'd like to extend a warm welcome to the directors, management, players and staff from Hull City who have made the trip to Wales for today's game.
Hopefully we can put on a good performance in front of the live Sky cameras this afternoon as we head into the international break.
Enjoy the game,
Julian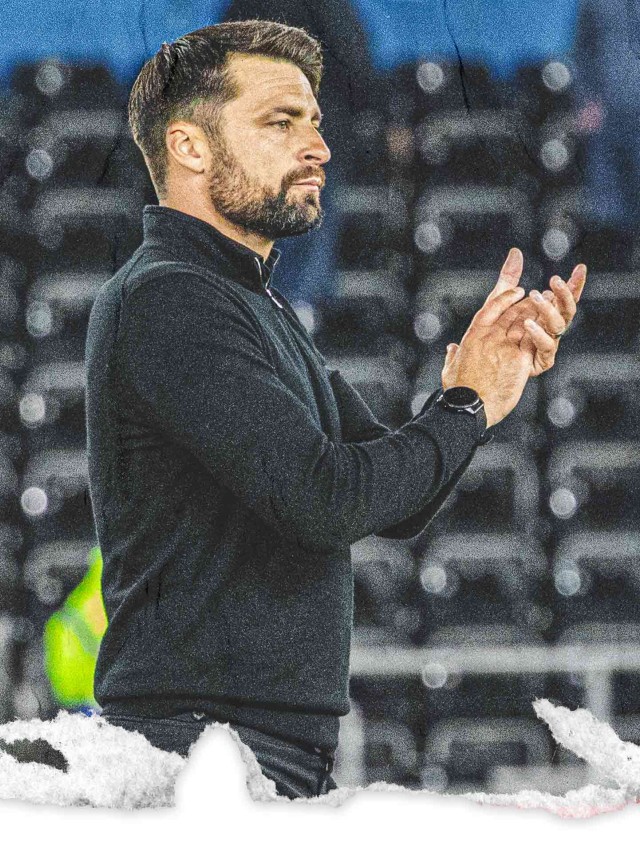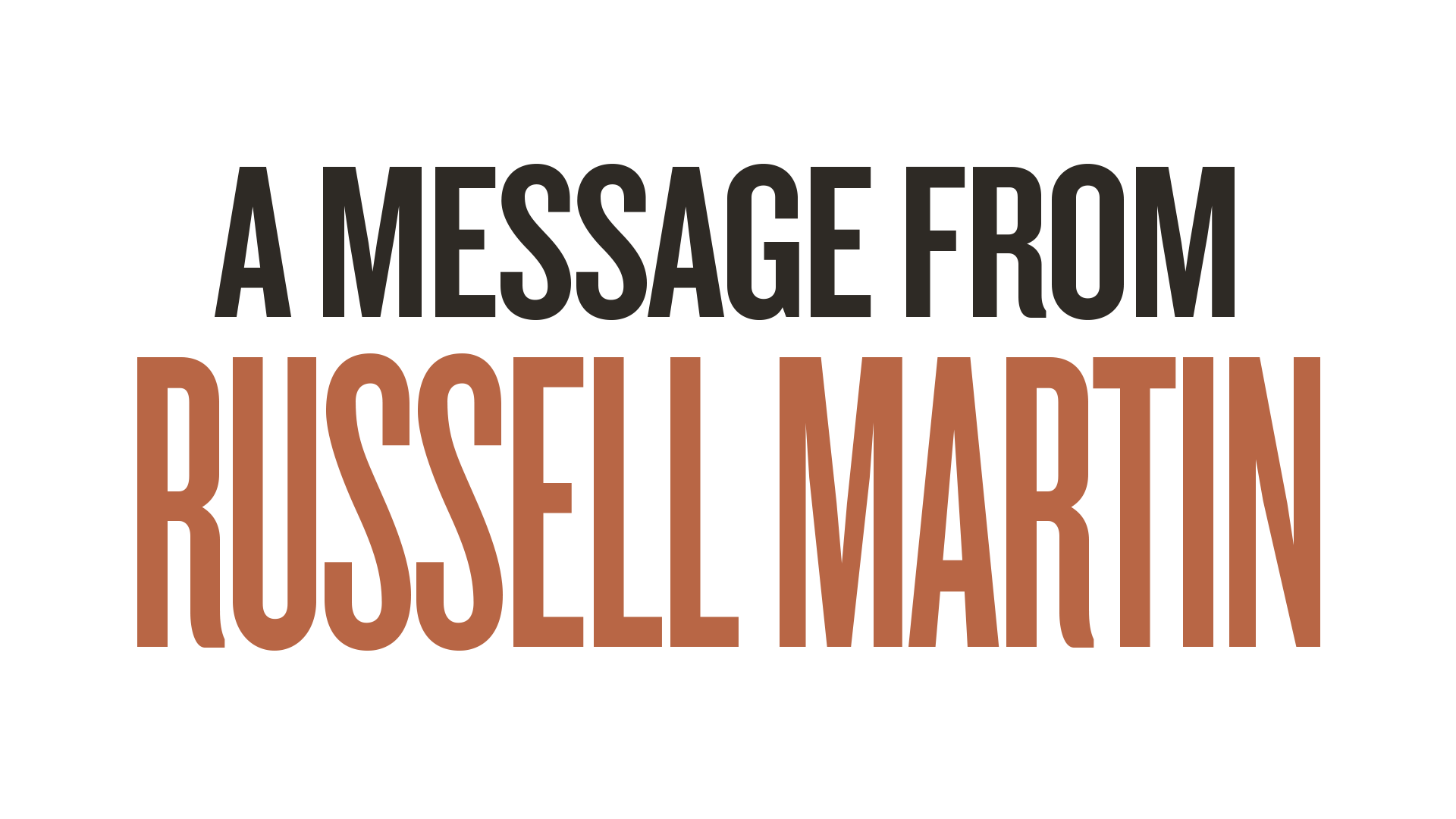 Good afternoon and welcome to the Swansea.com Stadium for our Championship fixture against Hull City.
We are glad to be back in action and back on home soil so soon after our game against Sheffield United in midweek.
Like yourselves, we were left with such a strong feeling of frustration at not having taken something from the game.
Our performance on the night deserved at least a point, and there is no doubt if we continue to perform to that level then results will follow.
We went toe to toe with a side who are top of the league and fancied by many to be among the leading contenders for promotion this season, and I was proud of the belief we showed in limiting them to very few opportunities, whilst creating plenty of good moments ourselves.
The frustration comes from knowing that we are close to having the results to reflect the performances we have put in over recent games.
It's down to us to find the composure and clinical touch at both ends of the field to allow us to reap the rewards of so much of the good work we do.
I know we say it a lot, but it really is down to fine margins and key moments at this level. A quick look through our season to date tells you we could easily have a far greater number of points on the board.
But, as I say, it is down to us to make it so and make sure we put right those little details.
We are pleased to have another game so soon after Tuesday, and I want the players to use the disappointment and frustration they felt at the outcome in midweek as fuel to drive another display of real energy and intensity.
I have loved the atmosphere and the connection between the team and supporters in our last games here, and I hope it can be the same again this afternoon.
The game is on Sky, it's an early kick-off and it is our final game before we head into the first international break of a unique season.
We want to make sure we head into that period on a positive note and with spirits high.
Hull will no doubt be targeting the same. They have not had the results they would have hoped for recently and they will be looking for a reaction, just as we are.
As ever, we will look to produce a performance that you can be proud of and identify with and get the positive result we all want.
Enjoy the game,
Russell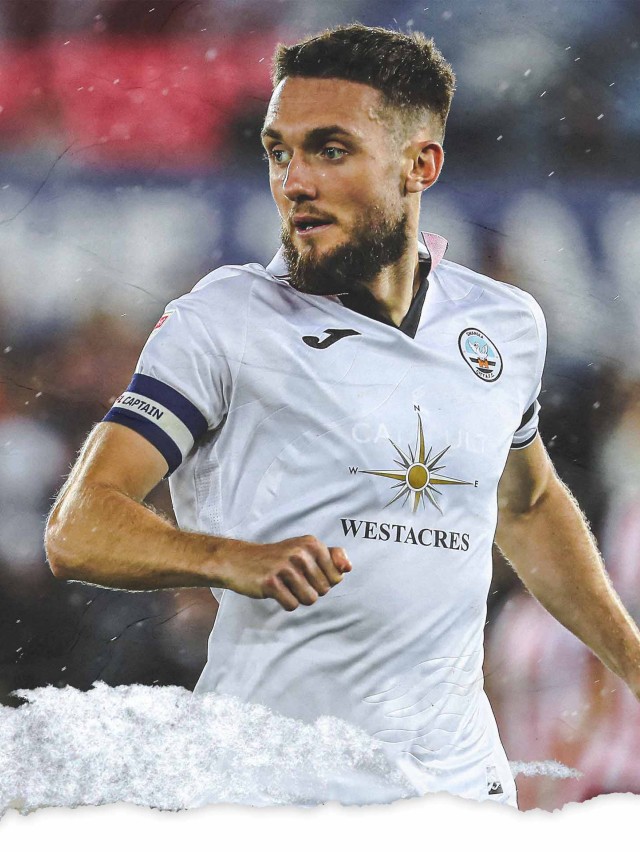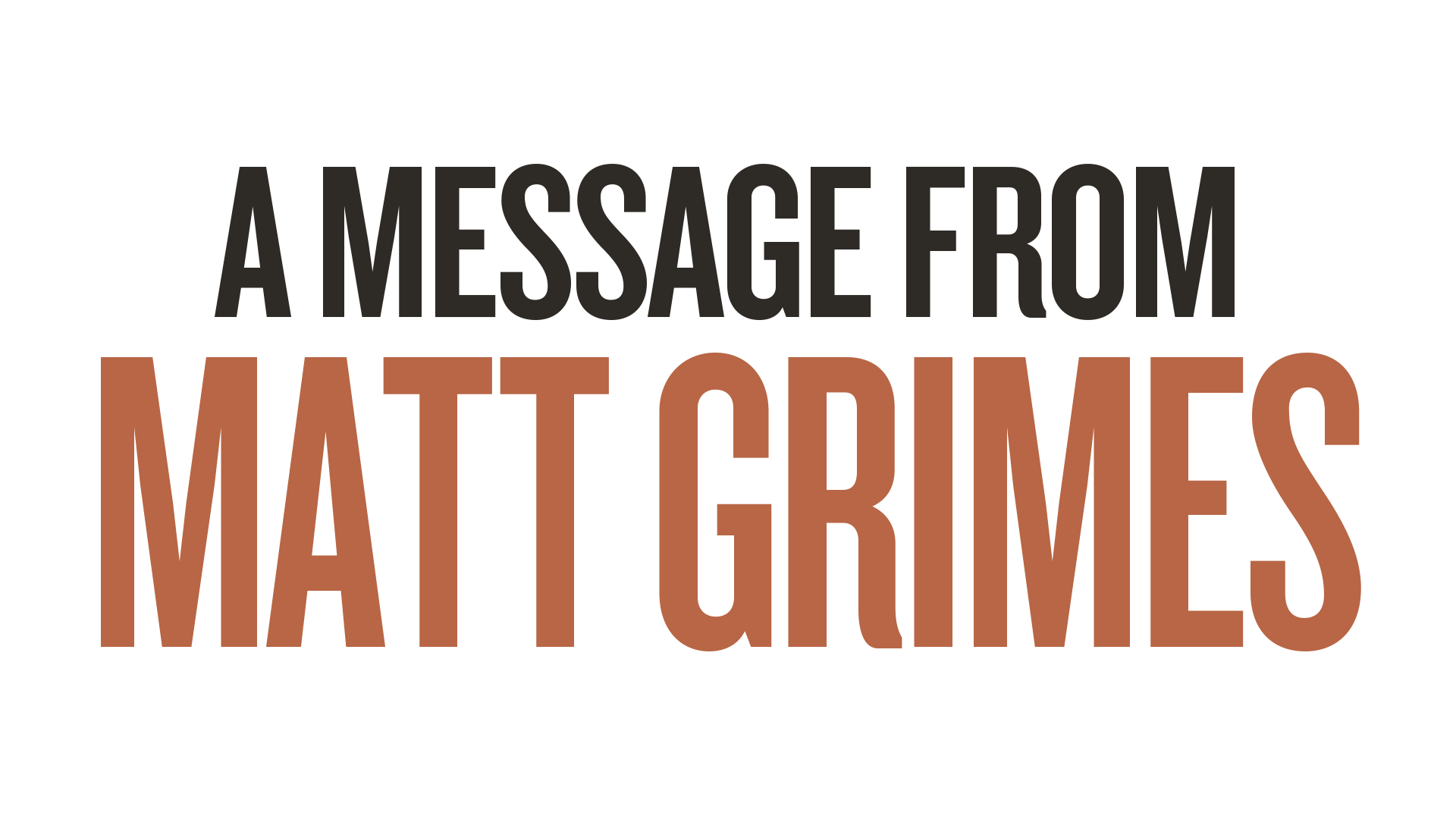 Good afternoon and welcome to everyone joining us from around the world for this afternoon's Championship fixture against Hull City at the Swansea.com Stadium.
Tuesday night's result against Sheffield United was difficult to take because we felt we deserved at least a point from the performance.
We knew it was going to be a tough test coming up against the league leaders but we limited them to very few chances and created many opportunities for ourselves.
It's frustrating of course to concede so late on, but we know if we attack all of our games with the intensity and energy we brought on Tuesday night the points will reflect performances and we will reap the rewards.
The beauty of the Championship is having a game so soon after, and we'll be looking to turn that frustration into motivation to end the last game before the international break on a high note.
Hull will be looking to react following their disappointment midweek but we'll ensure we're ready for whatever challenge comes our way and show bravery.
We're looking forward to getting back in front of our home crowd and will give everything to go into the international break positively.
Enjoy the game today!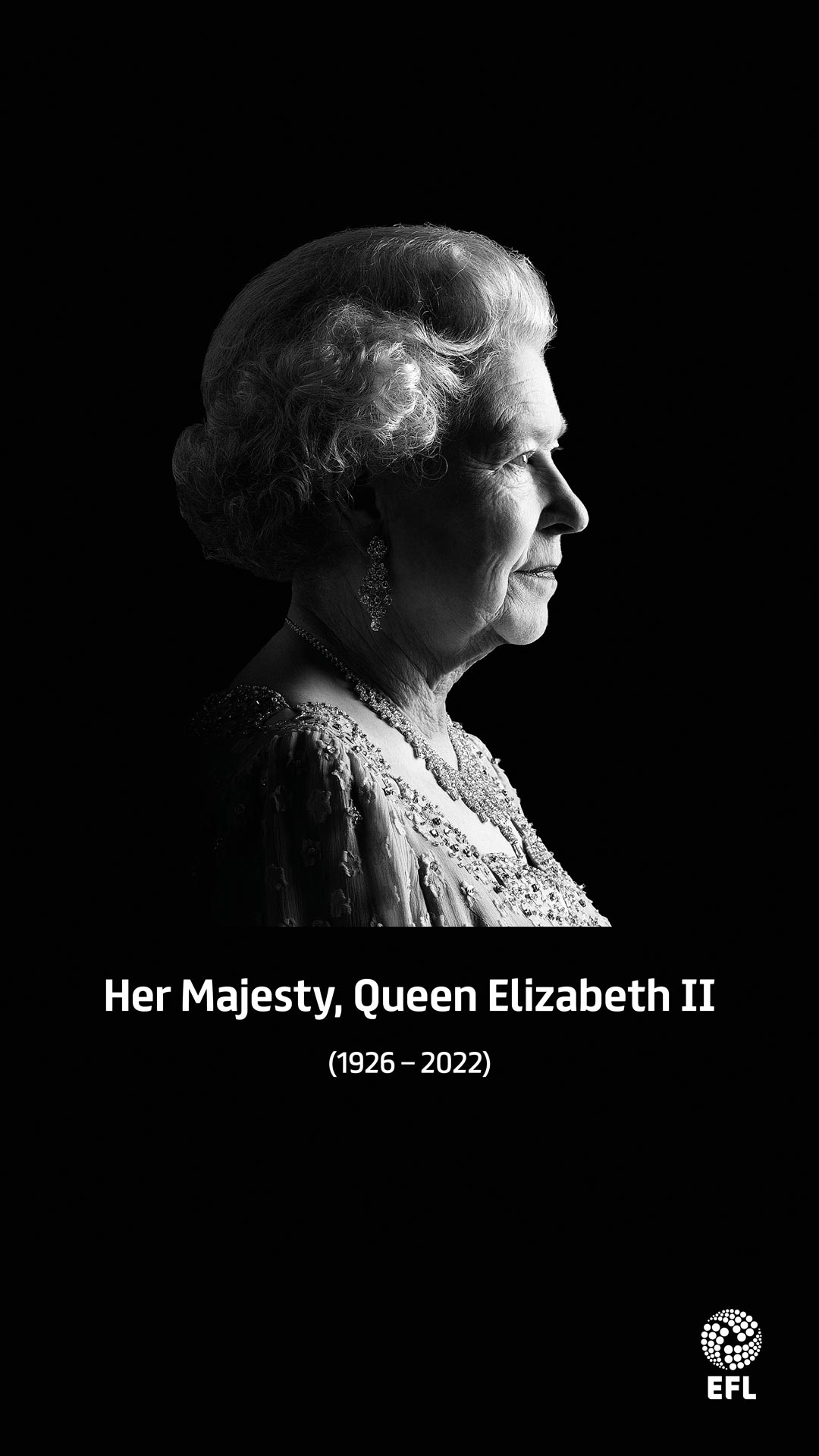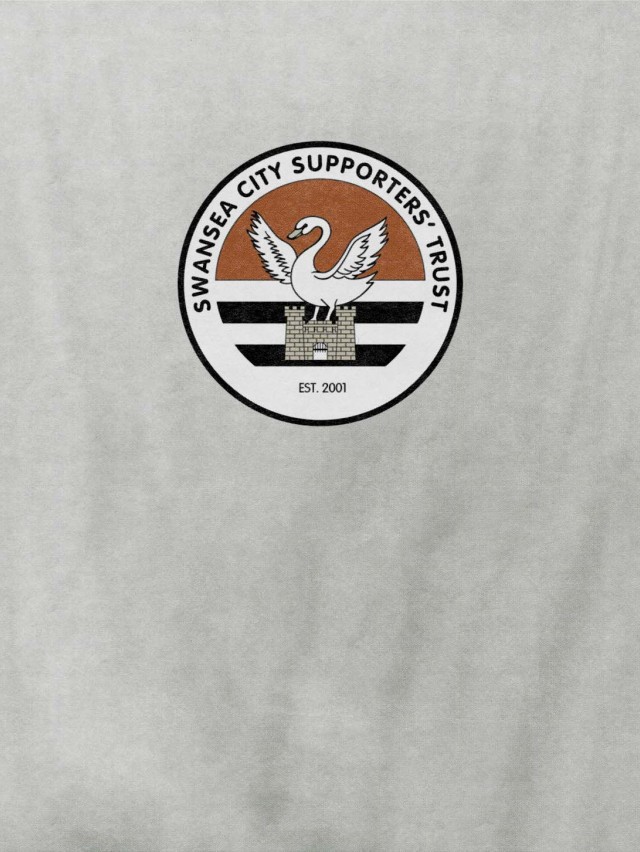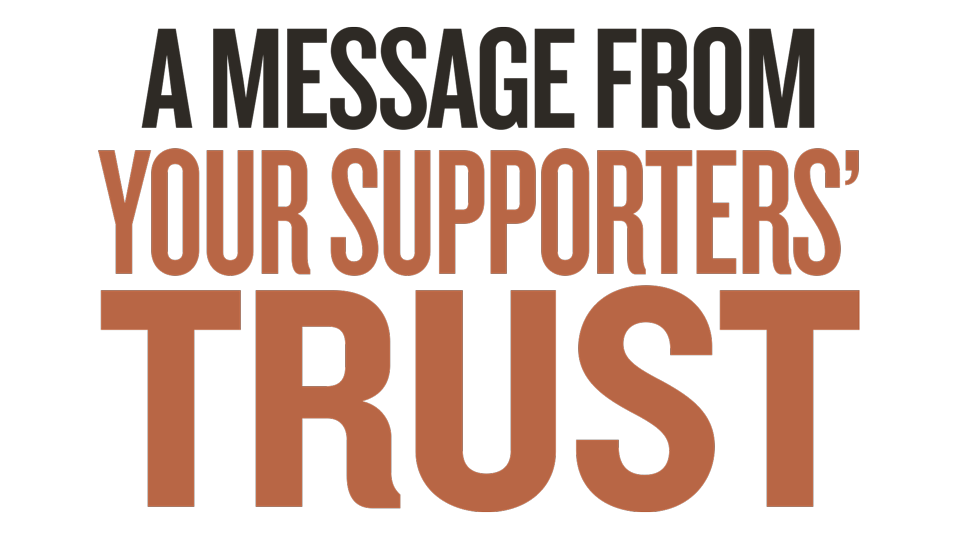 ADAM LEWIS WRITES...
Welcome back to the Swansea.com Stadium for today's game.
This is our first early kick-off of the season, although we will soon be getting used to early starts with games against Cardiff and Bristol City set for lunchtime slots next month.
Tuesday's defeat against Sheffield United was a gut punch for us after what was such a strong 90-minute performance from Russell Martin's team.
If all games this season had finished at the 90-minute mark, with no stoppage time, Swansea City would be in the top six in the division. Sadly, that is not the case, but it goes to show how things could easily be very different.
Tuesday's game also took place in the shadow of Her late Majesty Queen Elizabeth II's passing. We recognise that there were various opinions on the most appropriate way to pay respect and reflect on her legacy, and we respect everyone's right to those opinions. 
We'd like to thank those who wrote into us with constructive suggestions and comments - they formed the basis of our conversations with the club and we were happy to contribute to discussions around how best to honour the Queen's memory.
The minute's silence was an appropriate way to pay our collective respects, and we were delighted that the period of silence was impeccably observed.
As the eyes of many in the footballing world turned towards SA1 the Jack Army did what they always do, and represented the club and the city we all love in admirable fashion.
A key purpose of the Trust is to help convey your opinions to the club - we serve you, the fans. This is an example of where we've been able to do that successfully.
We always welcome comments, questions, and feedback on social media, via email, or in person. We may not always have the answers or be able to solve them, but we always commit to taking them onboard and doing our best to find solutions.
That's why it's so important to have a strong membership base – the more members we have, the more diverse the opinion, and the stronger the collective voice can be.
You can sign up in just a few minutes in person, by mail, or through our website. We're glad to see so many returning members, as well as a lot of new members who are joining the Trust for the first time. We look forward to welcoming some of our international fans over to the UK at the start of October, which is being supported by the Trust Board. If you'd like to know more about how you can help, please get in touch.
The Trust would also like to congratulate and welcome Paul France in his new role as the head of the Swansea City AFC Foundation. We look forward to working with him and the wider board on the many complementary initiatives that we have. These alliances are important as we build not only a great club, but a great community around it.
Today's game against Hull is a chance to bounce back from a disappointing midweek result. Hull are currently in a difficult run of form, but that means nothing in the Championship. We hope to see the Swans start turning good performances into good results, and hopefully put three points on the board this afternoon. 
Enjoy the game.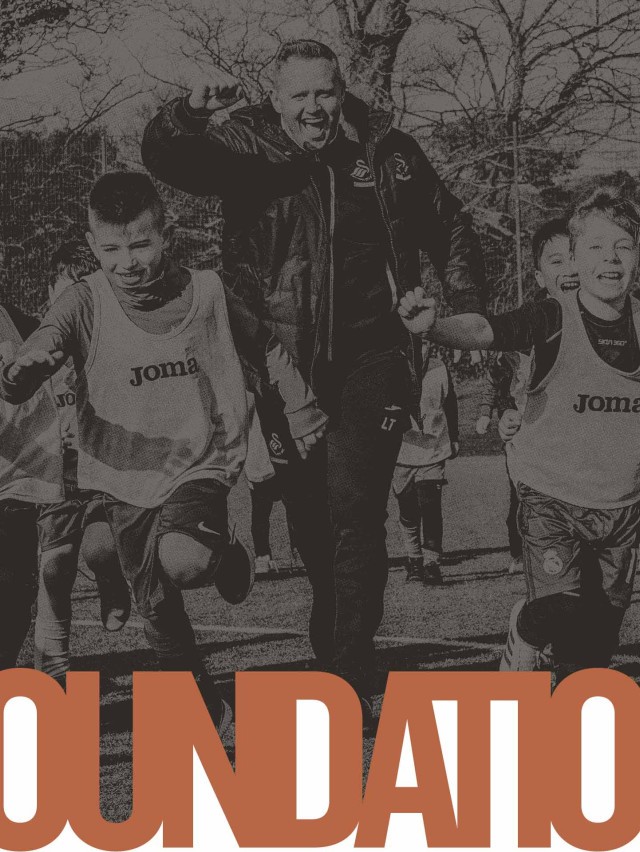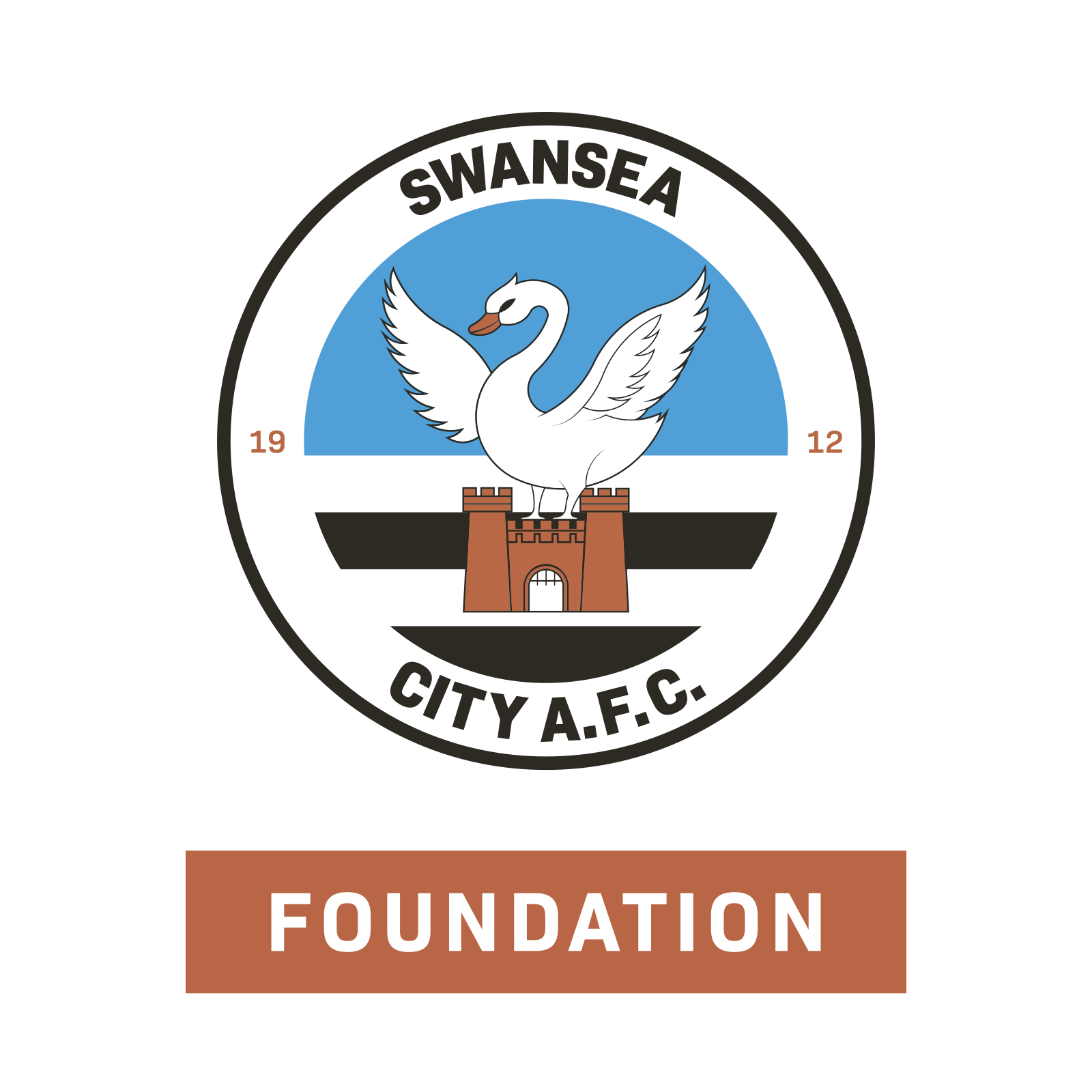 Swansea City AFC Foundation is pleased to announce Paul France as its new head of foundation.
France joins the foundation with over 25 years of experience in roles with football club charity organisations, having previously led operations at Huddersfield Town Community Trust, Burnley FC in the Community and Reds in the Community with Barnsley.
This comes after Helen Elton made the decision to transition into a new role following five years as head of foundation.
France will be intrinsic to the growth of the foundation and will lead the charity in achieving its strategic goals, looking to build on the excellent work of Helen Elton and her supporting team.
"I'm excited and really looking forward to it," said France.
"The overall aim for me is for all Swansea City supporters and the wider population of Swansea to be proud of what its football club does within the community.
"Helen and the team have done a really good job in developing a consistent programme and my aim is to build on that, expand it and look at new partnerships and programmes.
"One of the things that attracted me is that Swansea is a city and a county, so it's not just looking at what we can do to affect and improve lives in the city, it's what we can do in the wider footprint of the club."
Andrew Rhodes, chair of Swansea City AFC Foundation, added: "I am incredibly pleased to welcome Paul to the foundation and he brings a wealth of experience from several other clubs where he has delivered fantastic programmes in the local community, which puts him in an ideal position to lead the Swansea City AFC Foundation into the future.
"The foundation has been very successful in supporting the community of Swansea, but also much further afield into west and mid Wales, and has done so much to support young and vulnerable people in particular. 
"As a foundation, we want to be able to do even more as we look to widen the programmes we offer, and Paul is key to us being able to do that. 
"The foundation and its trustees are very grateful to Helen Elton who has worked incredibly hard and successfully as head of foundation for several years and we are very glad Helen is remaining at the foundation. 
"The foundation, the club and the supporters are part of a fantastic community in south Wales, and we look forward to working with Paul as he joins us at an exciting time."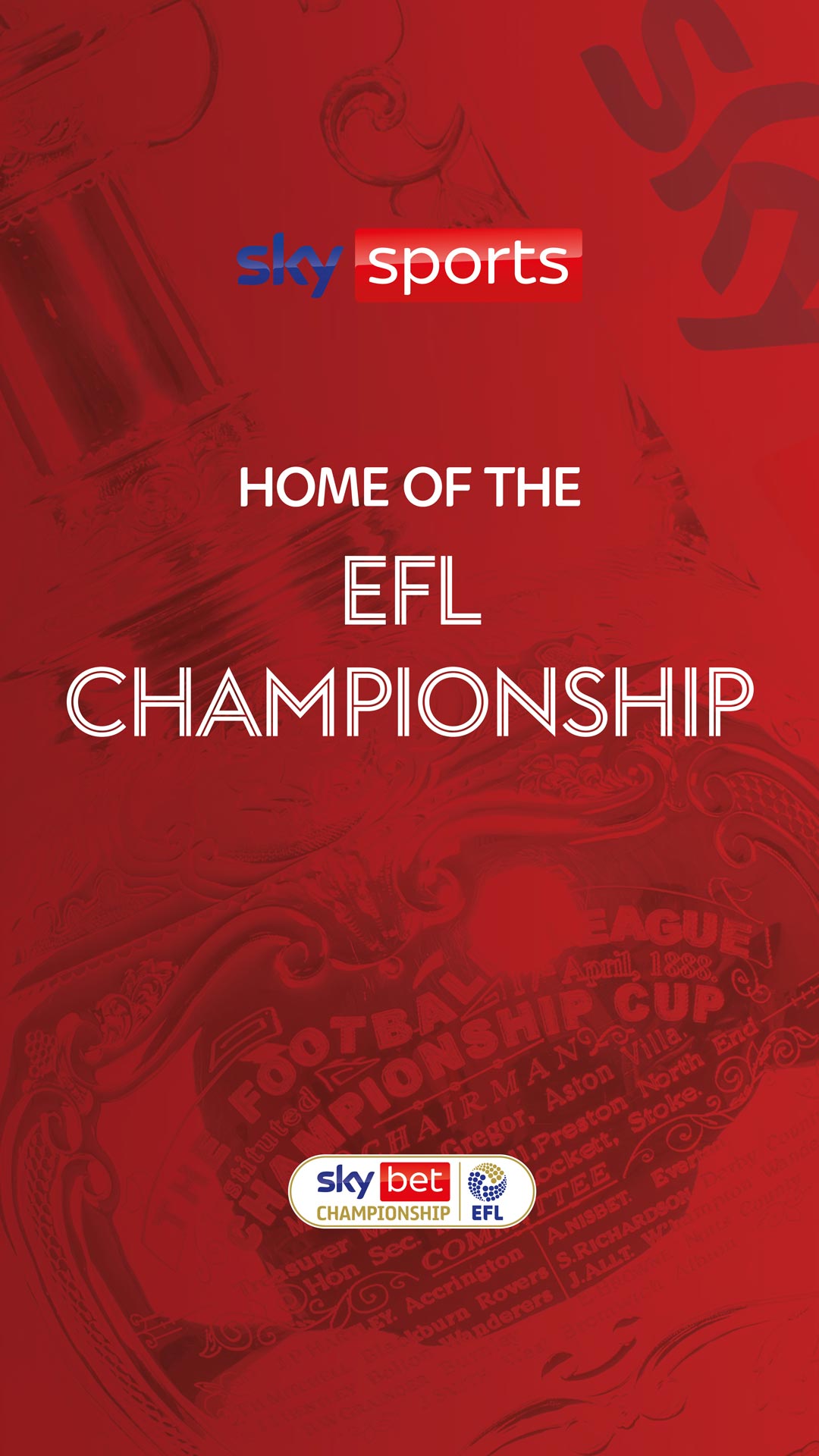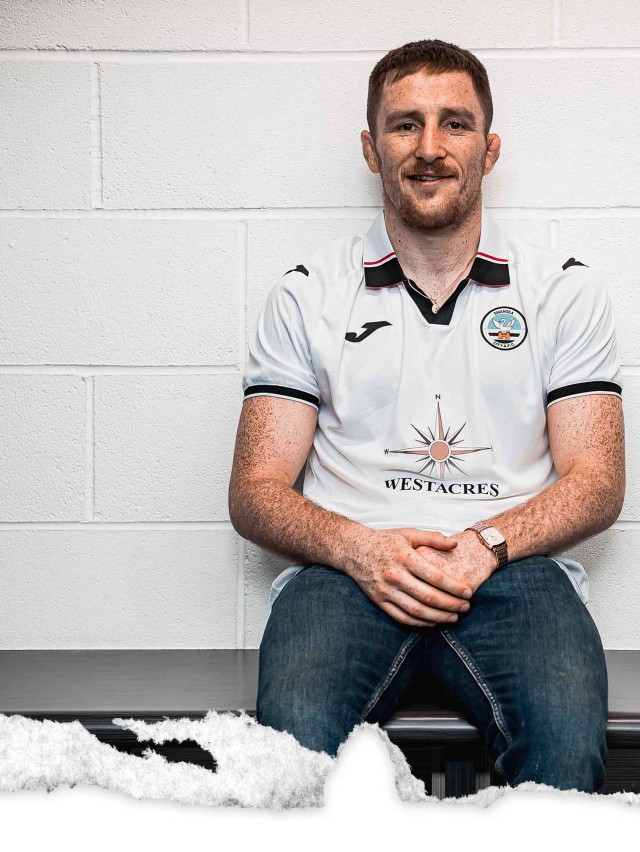 BRETT JOHNS SET FOR DUBLIN BOUT AFTER FAIRWOOD VISIT
He's less a week away from one of the biggest fights of his career, but this afternoon Brett Johns will be focused on one thing, cheering on his beloved Swansea City from the stands of the Swansea.com Stadium.
The Welsh bantamweight fighter is set to face American Jordan Winski at Bellator 285 on Friday, September 23 in Dublin's 3Arena.
Johns, who hails from Pontarddulais, recently visited the Swans' Fairwood training ground, where he met head coach Russell Martin and his squad, as well as one player he very much admired growing up; Lee Trundle. 
He will also greet the Jack Army on the pitch at half-time during the Championship meeting with Hull, before making the trip to Dublin ahead of his bout next week.
"It's a dream come true to come here," smiled Johns during his visit to Fairwood.
"I feel very privileged, and it's an honour to be here to see the new guys coming through and some of the older faces as well.
"It's nice to take that step out of training and just be normal for five minutes. I'm very grateful."
A regular and well-known face in the stands at both home and away games, Johns now books his fights around the Swans' fixtures to ensure he misses as few games as possible.
"In 2018 I was going through a bit of a bad patch in my career with results and injuries and that," he recalls.
"I felt then that I was more invested in watching the Swans. I felt like that was a real escape from my injury.
"The good thing for me is when I'm not doing so well, I have things outside of my sport, with football being one of them."
Johns has lost count of the number of games he has attended over the years, but there are a few stand-out memories for him when he reflects on his time following the Swans.
"I'd have to mention the FA Cup loss to Man City," said Johns.
"The atmosphere that night, even though we lost 3-2, was amazing. I always remember Bersant Celina playing.
"I think it was the Wednesday before the game we played West Brom, and he had a bit of a mishap with a penalty.
"I remember there were a lot of people on his back on social media. Being a professional athlete like these guys I did feel sorry for them. 
"He then scored one of the best goals I had seen in this stadium in the top corner.
"To watch him then get the hype he deserved was absolutely amazing for him from the outside. 
"That game in general though was amazing, going 2-0 up and then just losing 3-2. It's a game I would watch over and over again.
"Also, there's the Cardiff City derbies home and away. They are the games I enjoy; the atmosphere is absolutely electric in the stadium.
"I've never experienced anything like a derby day.
"To be there in the Cardiff City Stadium, to watch us do the double was a dream come true and it was an honour to be there.
"Fingers crossed we get more days like that in the future."
In the intense world of mixed martial arts, Johns found himself looking for an escape from the sport, something he found not too far away from home in a stadium which was soon to become his second home.
"You need a separate focus to the sport you are involved in," he says.
"I looked at what everyone else was doing at the time and football was the one that drew me in, especially with the fan base at Swansea because music, football, fashion is a big culture in Swansea and that's what I liked.  
"Swansea is really smartly dressed when it comes to these football matches. I looked at these guys and it drew me in.
"The sense of community there with the Swans; that's why I have my focus.
"Instead of me purely looking forward to my training, I am also looking forward to the football as well. That will never go.
"That's something I will continue to do until I retire. 
"Years ago, I used to just book fights. Now I book fights around fixtures."
With Swansea known for its rich boxing heritage, it's perhaps surprising that Johns took an alternative route into MMA. But it didn't take long for the Welshman to realise it was the perfect match and success soon followed.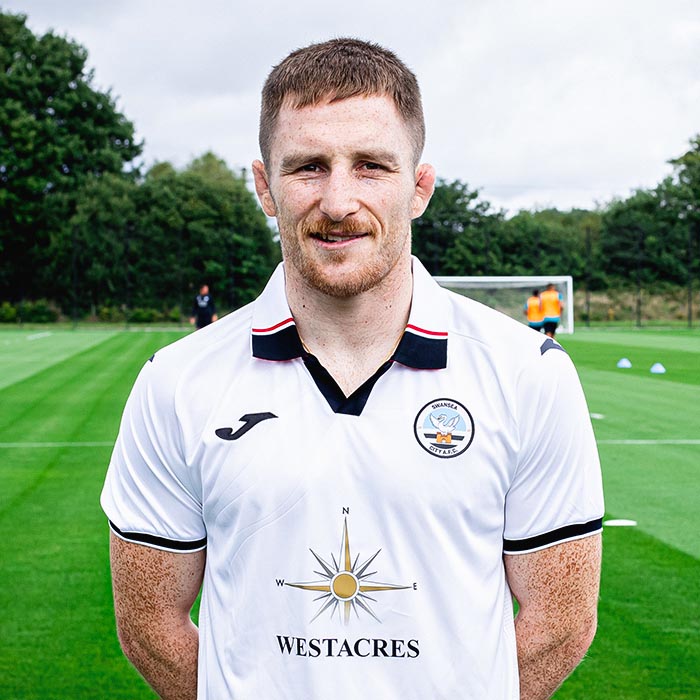 "I started the other side of the bracket. You have boxing which is more of a striking discipline, and judo, which is more of a grappling discipline," he explained.
"I started judo when I was four years old with my stepfather in Pontarddulais, and I did judo until I was about 16-years-old with aspirations to be at the London 2012 Olympics.
"The longer that dream went on though, the more unrealistic it became for me.
"Judo has always been the first love, especially with the support of my stepdad. He's been a massive factor in my life as both a coach and a father.
"Then everything started coming into my life that I was interested in, including mixed martial arts.
"I joined my local Brazilian jujitsu school, which concentrates on being on the floor with arm holds and strangles.
"Then you start getting into the striking element, which is in boxing and kickboxing. It snowballed from there. 
"Within two years of starting the sport I got into my first fight, which I won in a minute and a half.
"From October 2011 to September 2013, I went from being an amateur to winning my first professional title."
It hasn't always been easy for the 30-year-old though, with Johns at one time struggling to pay his bus fare home and to afford food at times. There was a period where he was effectively living in the gym where he trained.
The tide started to turn when he signed with UFC, creating a brand for himself in the process, before joining Bellator with a life-changing contract.
"Even when I won my first world title, thinking here comes the big money, I walked out with £2,000 but didn't fight again that year, so it's only £2000 to live off," recalls Johns.
"I spent the majority of that in my local coffee shop within two months!
"Now obviously being with UFC, creating this background behind me and creating a brand behind me, is opening a lot of doors for me.
"When we signed with Bellator, the fee that we signed for was life-changing money. I'm very grateful to Bellator for all that.
"I want this to be a continuous relationship. I'll happily finish my career here, I have no problems at all. I feel very looked after and am happy to represent the brand."
Johns is now set to face Winski in Dublin next week after his initial opponent, Irishman James Gallagher, pulled out.
Despite all focus being on Winski, Johns believes there is unfinished business between himself and the Irishman, and even has his sights set on a Bellator event in Swansea.
"This fight did not only have that top 10 billing with James being ranked eighth, but a win would have put me in the top 10," said Johns.
"I had plans after James to continue this storyline of mine, that has been postponed for now.
"My concentration now is on Jordan Winski. He's not someone I'm looking over, but my job isn't finished with James Gallagher.
"We will get that on. Whether it is in Dublin or Swansea, we will get that on."
For now, there is one aim for Johns as he targets his third world title, but he won't stop there.
"The storyline continues, the job is to win a third world title in the sport," he added.
"There was the task of getting a win against Khershed [Khakorov] in February and now we have to get a win against Jordan Winski a tough veteran of the sport, then we're looking at the top 10.
"I give myself these little goals now and again.
"That top 10 is full of sharks and it's going to be challenging, but I'm very confident.
"I've trained hard and have been doing this sport for 12 years, but I believe the best is still to come."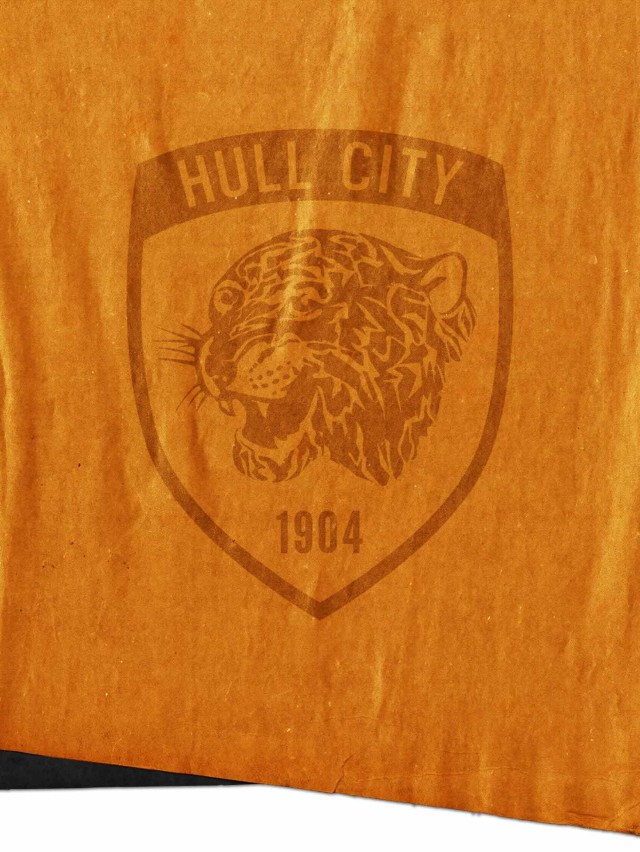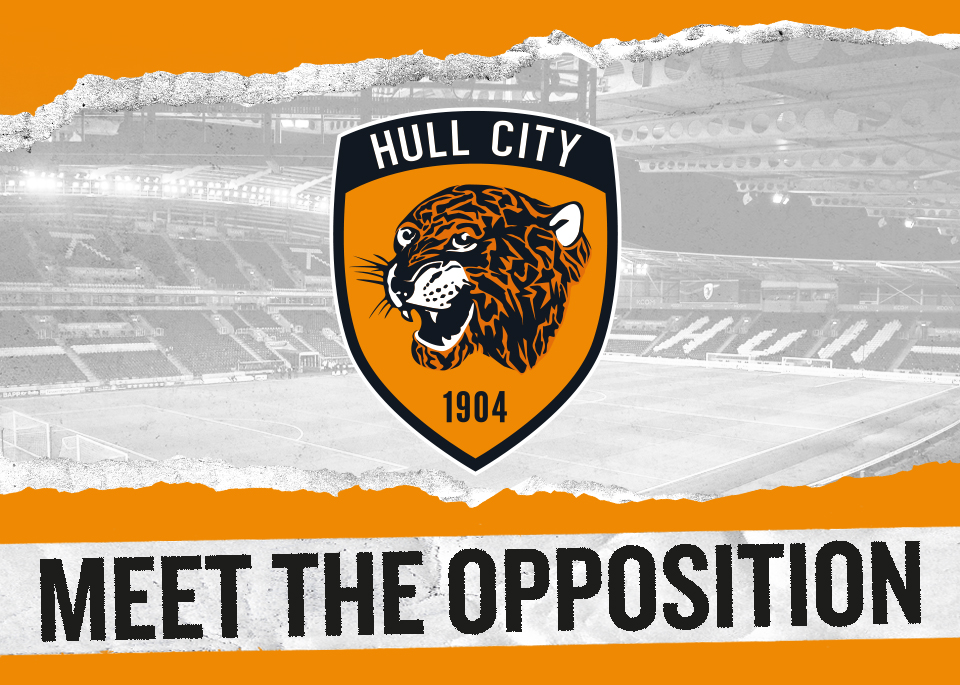 As Swansea City host Hull City at the Swansea.com stadium, we look at the history, form and the key figures for the Tigers.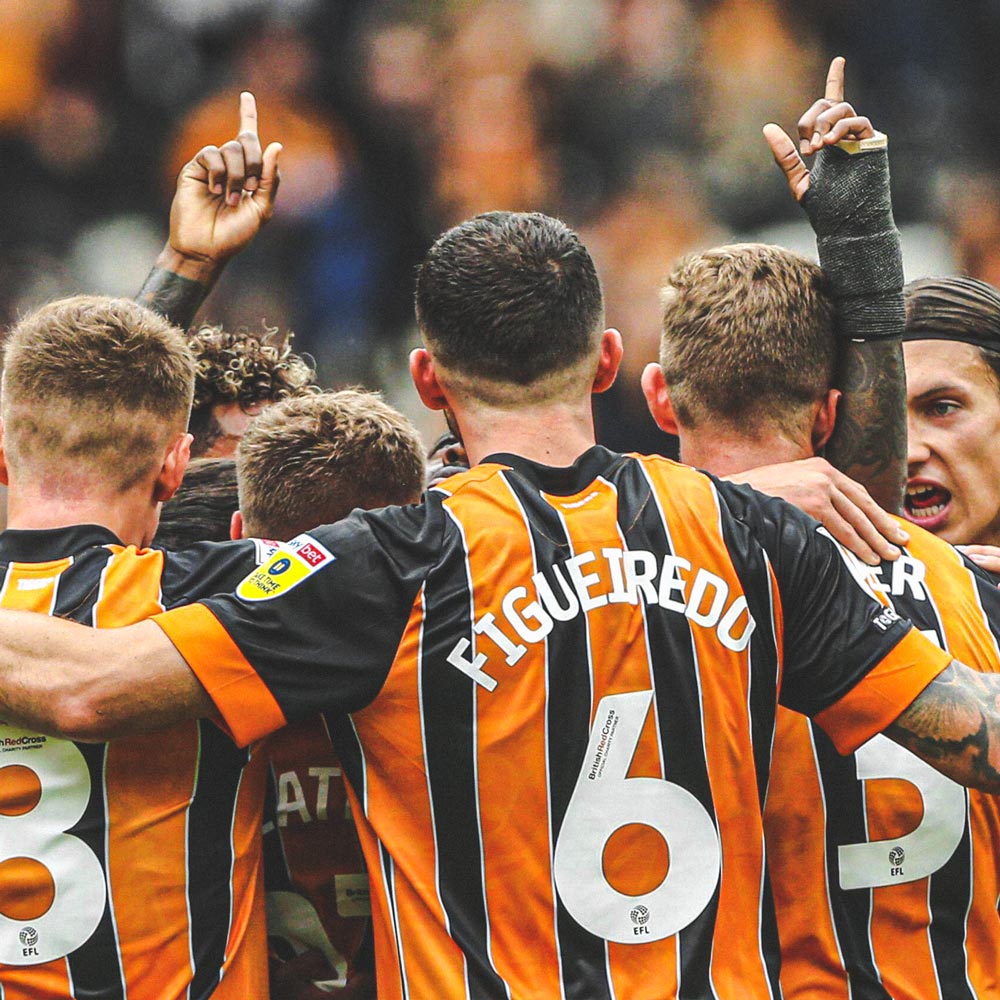 What's their story?
Established in 1904, Hull have spent long periods of their history in the lower reaches of the EFL, but have enjoyed one of the most successful periods in their history since the turn of the century.
Some 104 years after their formation they reached the top-flight for the first time under the stewardship of Phil Brown in 2008 as they beat Bristol City in the play-off final.
They spent two years in the Premier League and have had two further stints in the elite division since, with the most recent ending in 2017.
The Tigers briefly fell into League One in 2020, but bounced straight back to the Championship at the first attempt before finishing 19th last term.
The closest they have come to winning a major honour was in 2014, when they reached the FA Cup final before losing 3-2 to Arsenal after extra-time.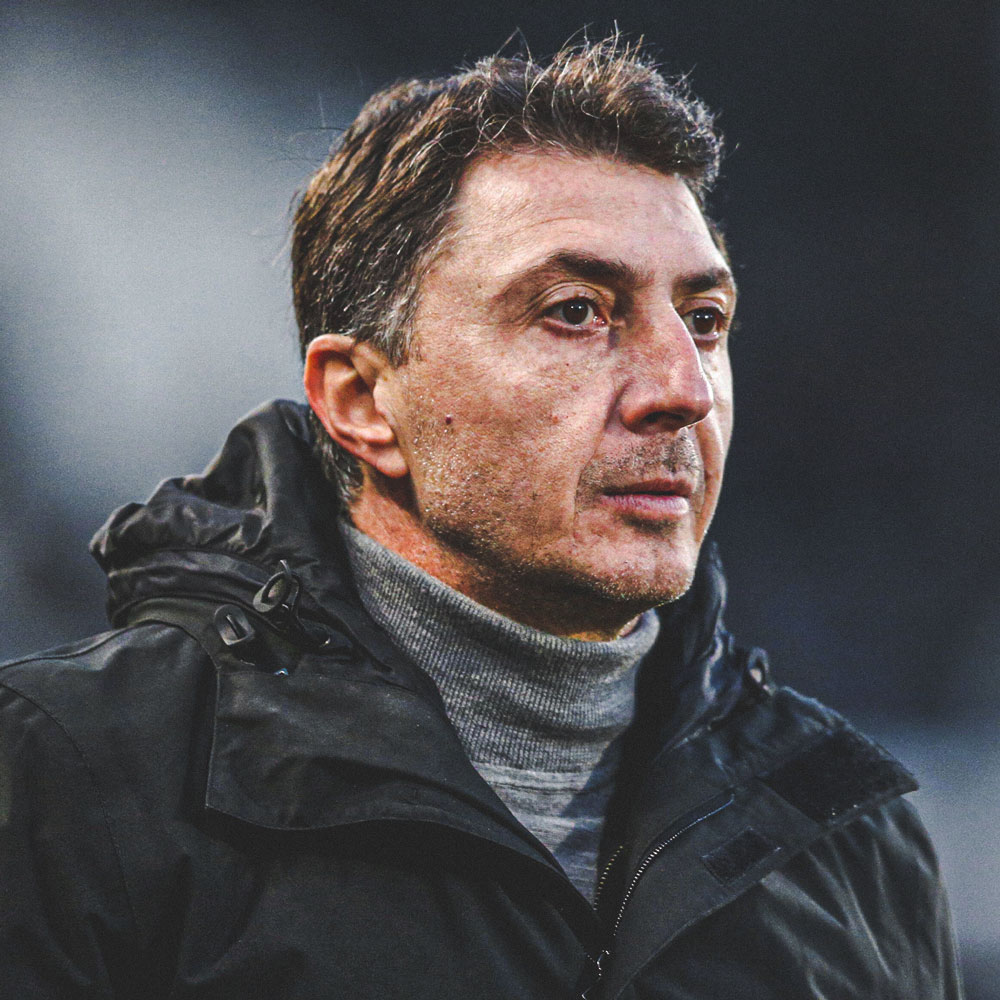 Who's the Gaffer?
Shota Arveladze. The former Georgian international striker Shota has been at the helm since January 2022 after the departure of Grant McCann.  
Ex-Rangers hitman Arveladze was no stranger to finding the back of the net in his playing days, scoring no less than 258 goals in 426 league appearances for clubs such as Dinamo Tbilisi, Ajax and AZ Alkmaar.
He remains his country's leading goalscorer with 26 goals in 61 caps, including netting in a 5-0 win over Wales in qualifying for Euro 1996.
After his retirement from playing in 2008 Arveladze turned to coaching and was handed the assistant manager role at AZ, where he worked under Louis van Gaal, Ronald Koeman and Dick Advocaat.
Stints in charge of Kayserispor, Kasimpasa, Trabzonspor and Maccabi Tel Aviv followed.
His most recent management role prior to joining Hull came in Uzbekistan with Pakhtakor Tashkent FK where he won back-to-back league titles and a domestic treble in 2019, before leaving the following year.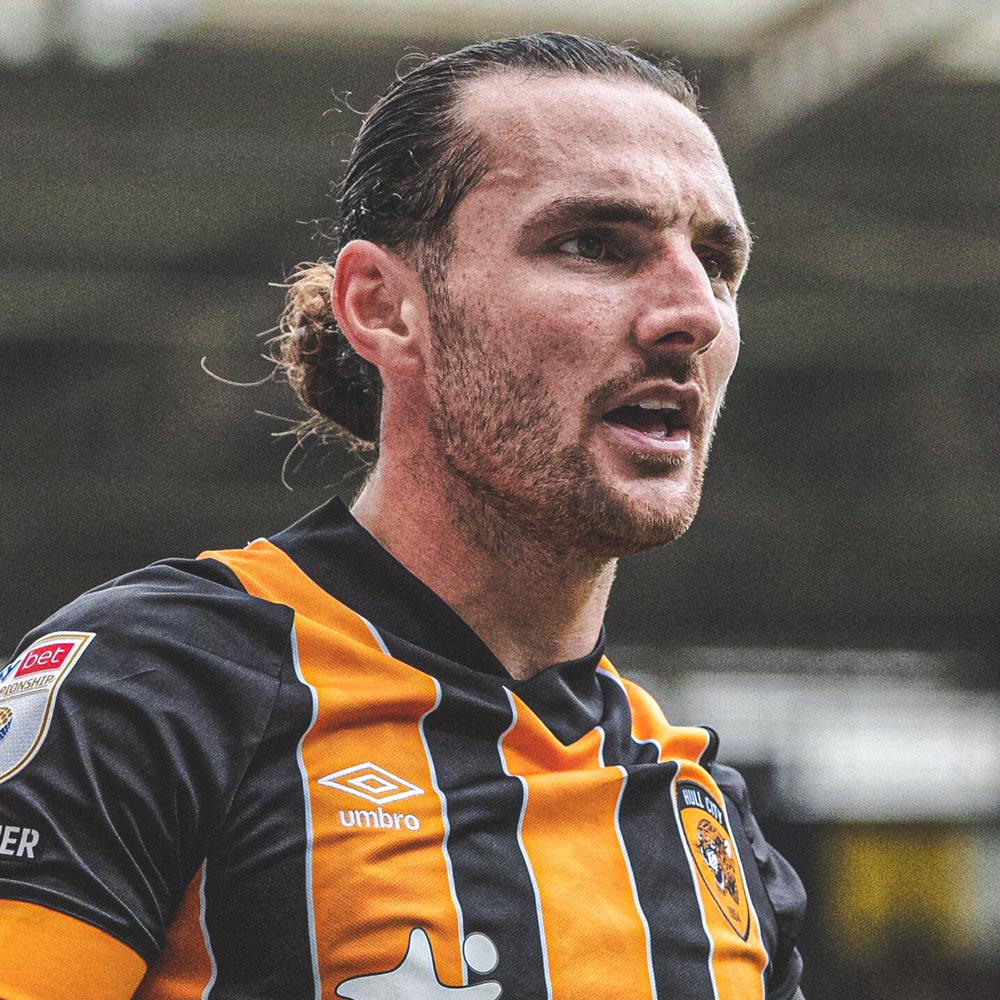 Who's the Captain?
Lewis Coyle. The Hull-born defender has taken the captain's armband for the 2022-23 season after the departure of Richie Smallwood to Bradford. 
Coyle, 26, has been a regular at the back for the Tigers since his arrival at the MKN Stadium from Fleetwood Town back in 2020, since appearing in 58 games and scoring on one occasion. 
The former Leeds trainee's versatility has seen him play on either side of the Tigers' defence, and earlier in his career he was linked with the likes of Chelsea and Barcelona.
How's their form?
After a promising start to the campaign, which saw them as high as third in the Championship table, the Tigers enter Saturday's game off the back of just one win in the last six league outings.
Back-to-back defeats to Sheffield United, Queens Park Rangers and Stoke have punctured some of the early-season optimism.
The Tigers do, however, possess the league's top goal scorer in Oscar Estupinan who's seven goals in nine games, including a hat-trick in a 3-2 win against Coventry, mark him out as a real dangerman.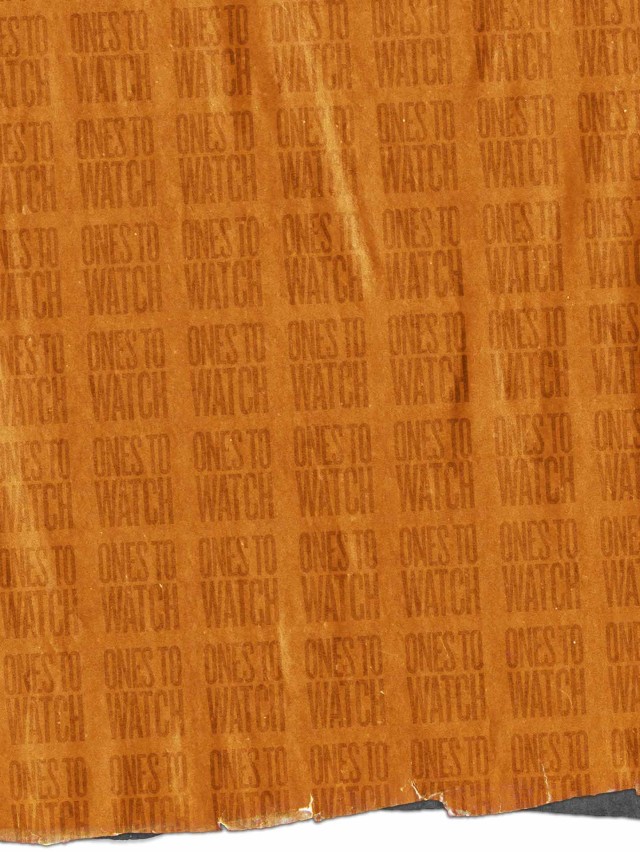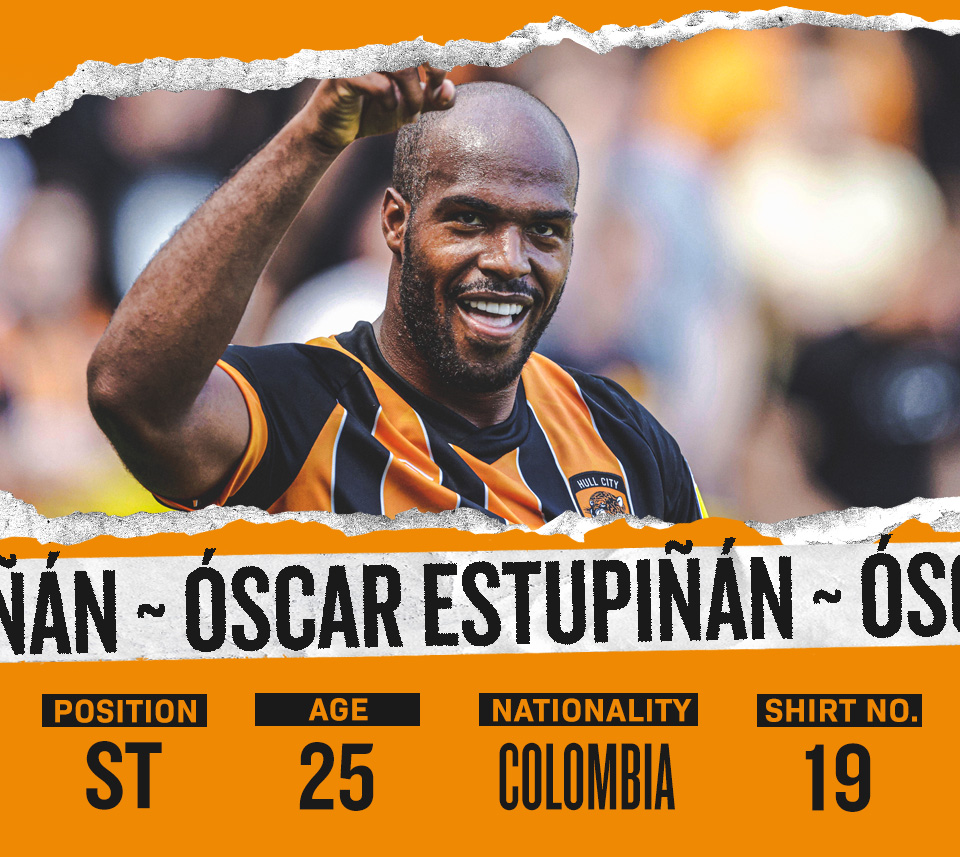 Columbia international Óscar Estupiñán has started life at the MKM Stadium with a bang, scoring seven goals in nine games establishing him as a firm favourite with the home support.
The former Vitoria Guimaraes forward joined the club in the summer as a free agent on the back of a season which saw him hit the back of the net 15 times in 28 games for the Portuguese top-flight outfit.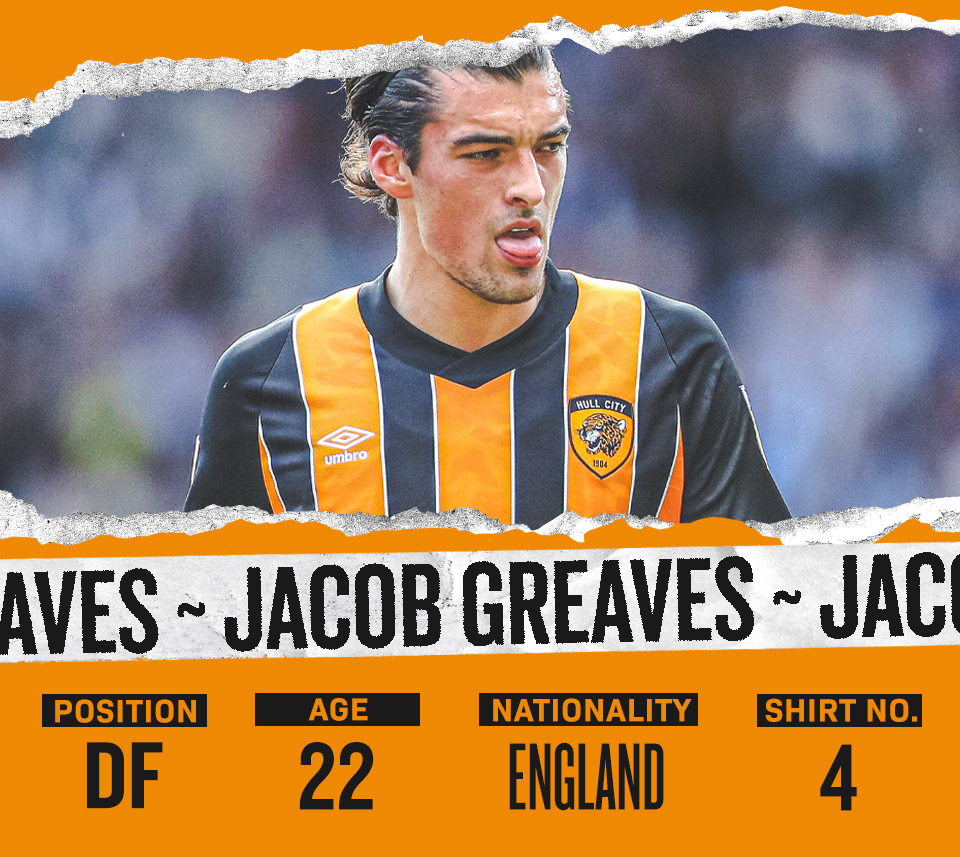 Homegrown defender Jacob Greaves was named young player of the year for the second season running last term after a stellar season at the heart of the Tigers backline.
After helping the club to promotion in his breakout season in League One, centre-back Greaves played in every minute of all 46 league games for the Tigers last season, helping his team keep a tally of 15 clean sheets in the process.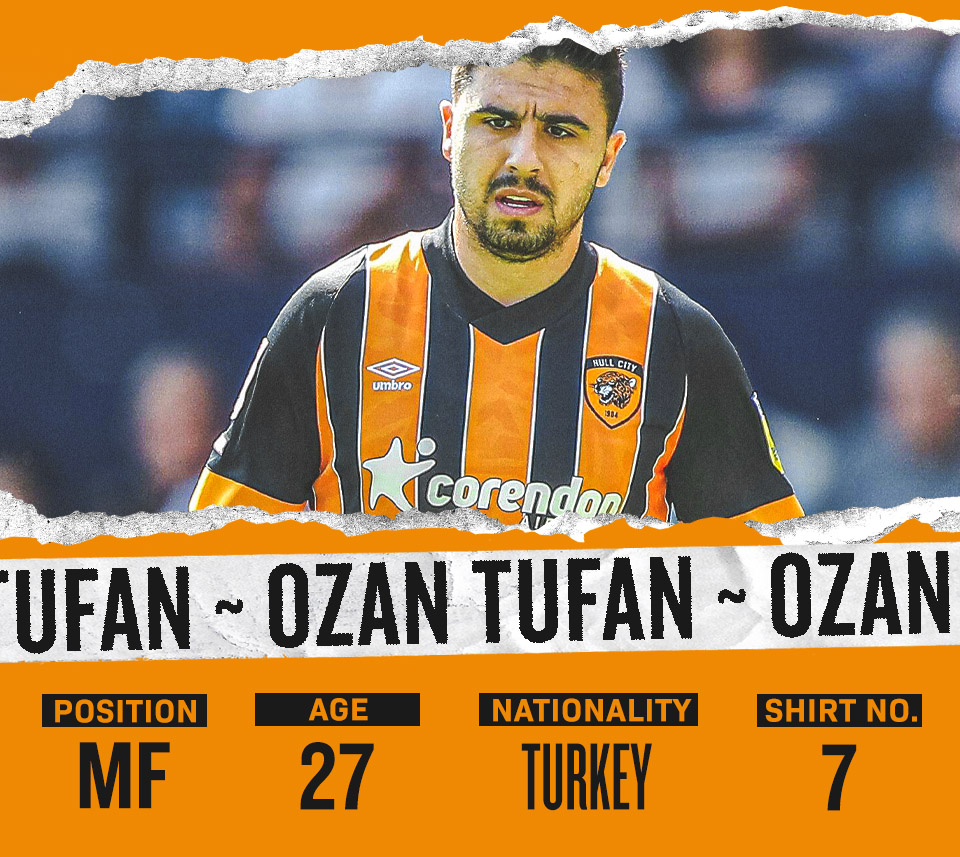 Versatile Turkish midfielder Ozan Tufan is another new face for the Tigers this season. Tufan's career experience has predominantly been garnered in his homeland, where he featured for Bursaspor and Fenerbahçe.
He had spells on loan with Alanyaspor and Watford, before moving to Hull for an undisclosed fee in the summer.
Tufan is comfortable operating in the middle of the park and on the right-hand side of midfield.
He has scored nine goals in 65 caps for his country.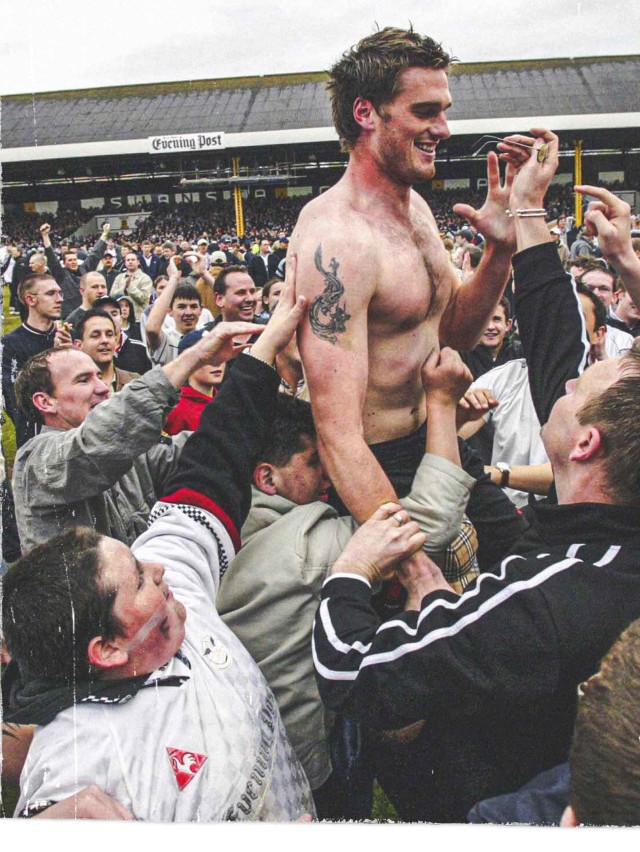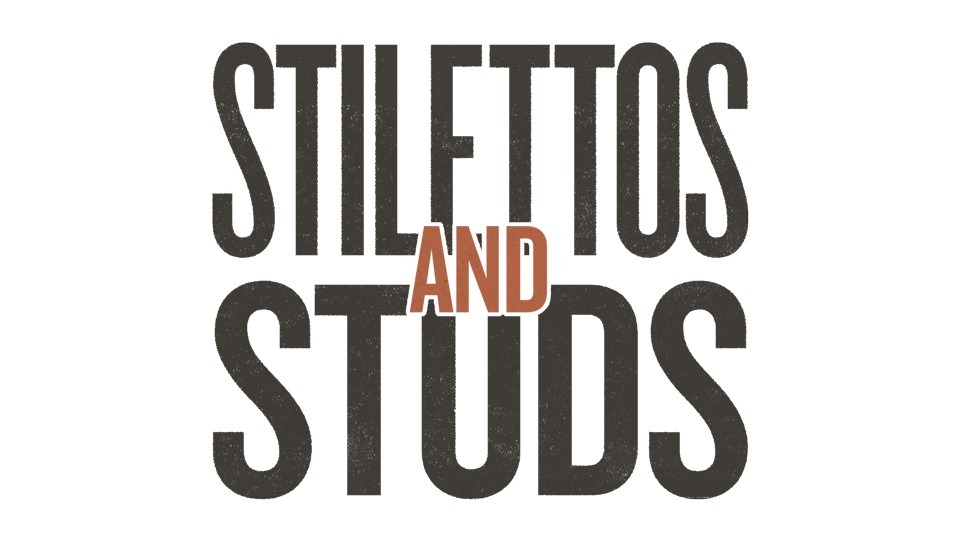 Nostalgia. It's funny word, isn't it? It looks a little peculiar and until the 19th century it had a different meaning to the one we know today.
From the Greek words nostos meaning 'homecoming' and alga which means 'pain', it was first coined in 1688 by a Swiss medical student called Johannes Hofer. It became a term to describe patients (often soldiers) who were sick while living away from home and were obsessed with returning to their estranged locations.
We now know the word to mean 'a sentimental longing or wistful affection for a period in the past' and given all that has been going on in the world in the last couple of years and in the United Kingdom over the last week with the death of the Queen, I dare say that most of us have felt nostalgia on some level recently.
If you were a Swans fan in 2003 or you're familiar with the history of the club, you'll know where I'm going with this.
Whenever I see today's fixture it evokes a sense of nostalgia, as I recall memories of that day 19 years ago when defeating Hull City meant our club was safe. We survived. We remained in the Football League. On the final whistle, all was well with the world and the Vetch Field collective breathed a huge sigh of relief.
The following season saw us finish in a respectable 10th place and now, almost two decades on, I can reflect with 'wistful affection' on the 4-2 victory, the James Thomas hat-trick, the magnificent goal from the late Lenny Johnrose which put us back in front and effectively sealed our football fate and secured our status financially.
But, it hasn't always felt like that. While of course, there was elation and jubilation immediately after the game and a renewed sense of optimism, there were many more emotions to contend with and questions to be answered.
As a club, we were literally fighting for our lives and the weeks leading up to that game were emotionally challenging and physically exhausting, even for those of us who never kicked a ball.
The win against Hull brought hope and, with hindsight, we can look back and appreciate all that has been good about the last almost 20 years – the promotions, the glorious cup runs, the unexpected victories, the managers who've dazzled us, the players who've stolen our hearts, the people we've shared the experiences with.
And scattered among them have been defeats, disappointments, dodgy starts and disastrous finishes.
We're football fans and we're used to happiness and heart-break – it comes with the territory.  Whatever the outcome, however good, bad or indifferent our team plays, we always come back for more.
So, as we welcome Hull City to the Swansea.com Stadium in front of the Sky cameras this lunchtime, we'll be hoping that our last fixture before the international break showcases something of the spirit of 2003, both on the pitch and among the fans, and we get those much needed three points.
Keep the faith, Jacks.
 
JULIE KISSICK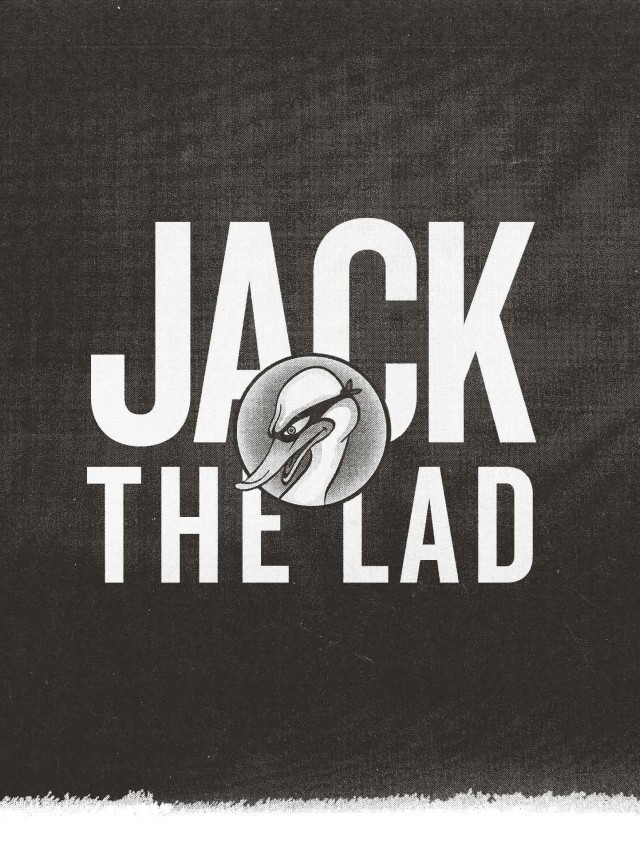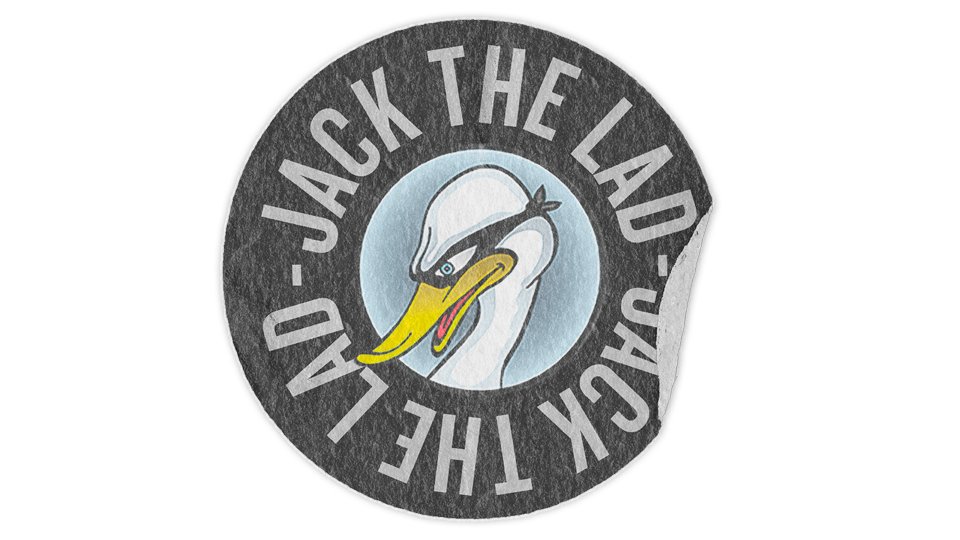 Due to a family wedding, I won't be able to be at Saturday's match against Hull City.
I'll be delighted to be at the wedding, of course, but it's a shame I won't be able to make it to the game.
However, my absence may not be such a bad thing for the Swans, or for my fellow supporters.
History has taught me that if I'm not able to make a match for whatever reason, there's a fair chance it's going to turn out to be an absolute cracker!
The first time this phenomenon struck was way back in April 1978 when the Swans played Hartlepool United at the Vetch.
Many of you will have already recognised the date and the opponents as the occasion of the Swans' biggest-ever league win.
I was due to go to the game, but spent the previous night camped in our bathroom with what my mother politely referred to as "the up and downs" – also known as diarrhoea and vomiting.
So, when the morning of April 1 dawned – ironically, April Fool's Day – I was in no position to go to the match as I was still "driving the porcelain truck" as comedian Billy Connolly once described it.
As you can imagine, between being extremely unwell and not being able to go to the game, I was feeling thoroughly sorry for myself.
And when I heard the final score, it was the definition of mixed emotions.
Obviously, I was delighted that the Swans had won 8-0, but I was gutted that I hadn't been there to see both Alan Curtis and Robbie James fire hat-tricks on the way to recording the club's biggest-ever win.
Another goal fest I would have loved to have been at was the Swans v Crystal Palace clash on November 26, 2016.
I was away that weekend celebrating my 50th birthday, but I would have loved to have been at the then Liberty Stadium as the two clubs served up what would have been a belter of a birthday present.
From what I was told, it wasn't the highest quality of games, but the Swans registered their first win since the opening day of the season in a nine-goal thriller clinched by two Fernando Llorente strikes in injury time.
Watching that live would certainly have made me feel better about hitting 50!
Another high-scoring match with late drama that I - and every other Swans fan -  missed out on attending came when we won at Reading to claim a hugely improbable Championship play-off place in July 2020.
Going into the match, the Swans needed to win and hope that either Cardiff would lose at home to bottom side Hull or that Nottingham Forest would be beaten by Stoke with a five-goal turnaround in the Swans' favour.
Needless to say, Cardiff did us no favours, but as it turned out, thankfully, we didn't need their help.
Almost unbelievably, the Swans won 4-1 at Reading with Wayne Routledge sealing the victory with a 91st minute goal, while Forest crashed to a 4-1 defeat at home against the Potters to see us claim a place in the play-offs.
Unfortunately, of course, no fans were there to enjoy the heart-stopping drama at the Madejski Stadium as the game was played behind closed doors under Covid restrictions.
Given that Hull and the Swans served up a 4-4 St Valentine's Day spectacular – three weeks before those restrictions were introduced – the omens are there for this afternoon's clash being a belter.
So, while I'm toasting the bride and groom, I hope you're all toasting a goal-laden Swans win over Hull.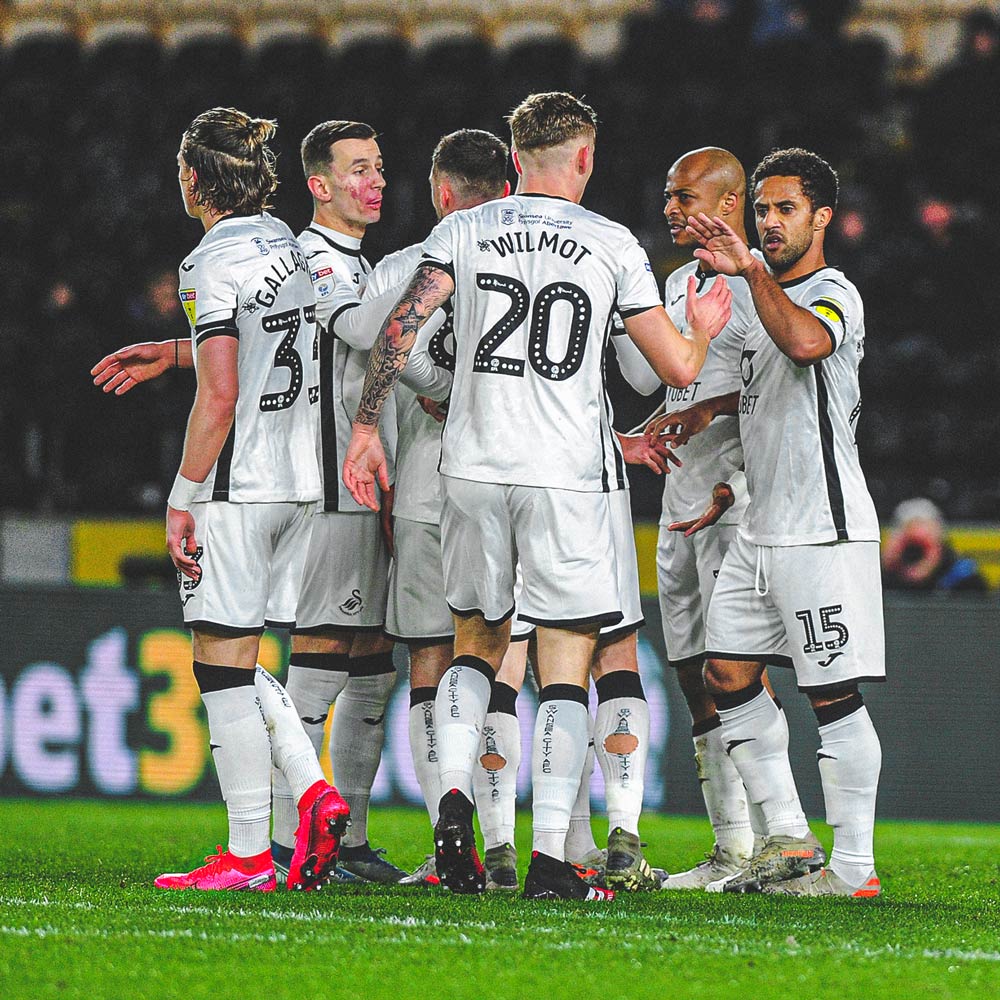 I couldn't let the Swans playing Hull City pass this afternoon without mentioning Lenny Johnrose, who sadly died last month.
With one flick of his left foot, Lenny instantly became a Swans folk hero on that rainy afternoon back in 2003, when the club fought for its Football League survival on the last day of the season against the Tigers.
Having been 2-1 down and very much on the ropes, Johnrose's strike put Swansea back into the lead at 3-2 and paved the way for hat-trick hero James Thomas to net the match-clinching fourth goal with a delightful chip.
The Swans stayed in the league and the rest, as they say, is history.
Footballing heroes are often praised for their bravery or courage on the pitch, but Lenny's goal-scoring heroics against Hull on that fateful footballing day paled into insignificance in his later life.
The midfielder displayed many admirable qualities during his 40 appearances for the Swans.
A powerful and imposing figure on the pitch, Johnrose even filled in at centre-half when called upon.
Swansea City and all its fans will always owe Lenny Johnrose a huge debt of gratitude for the part he played in the most important game in the club's history.
But the strength he showed in a Swans shirt was nothing compared to the strength he displayed following his diagnosis with Motor Neurone Disease – a condition which sadly has no cure.
He will be more widely remembered for the remarkable courage and dignity with which he faced his illness.
Lenny may not have attracted the level of publicity which has shone on the plight of fellow sufferers. such as rugby players Doddie Weir and Rob Burrows along with former Liverpool player Steven Darby.
But while he could, Lenny spoke honestly and eloquently about living with the condition to raise awareness amongst the public.
The man who went on to become a teacher after his playing days, also helped raise tens of thousands of pounds for the Motor Neurone Disease Association charity.
Lenny dared the footballing family to take part in his IceFoot92 Challenge – to stand in a bucket of ice water for 92 seconds.
Typically, despite the disease already taking a cruel hold on his body, which meant he used a wheelchair, Lenny led by example by also completing the challenge.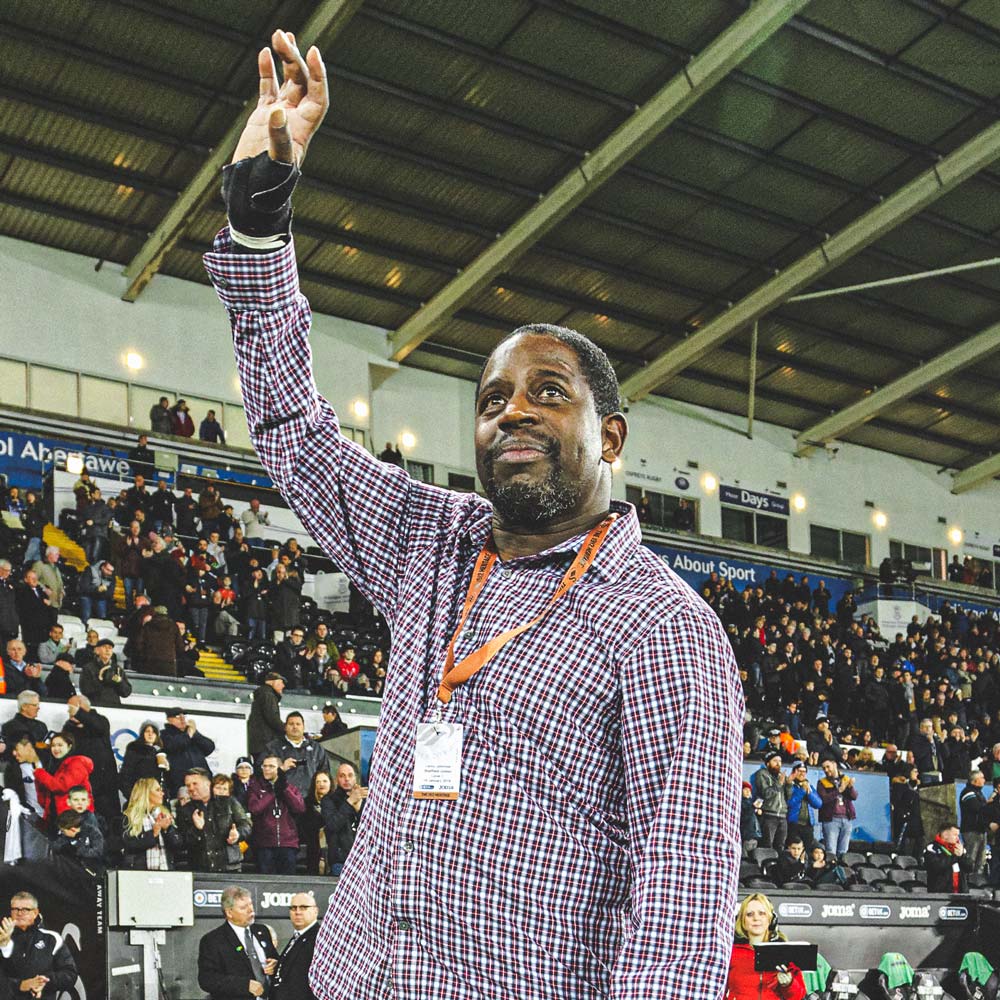 Lenny Johnrose, a true Swansea City hero – on and off the pitch.
C'mon you Swans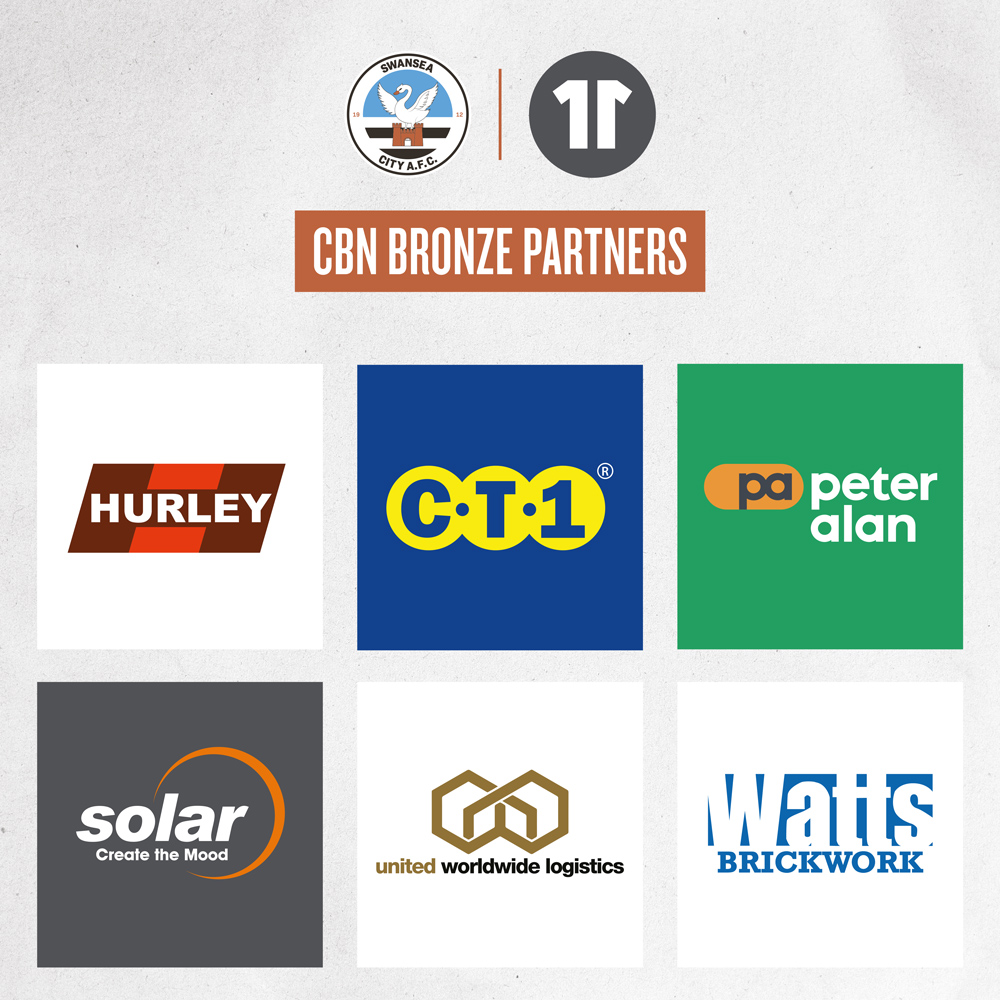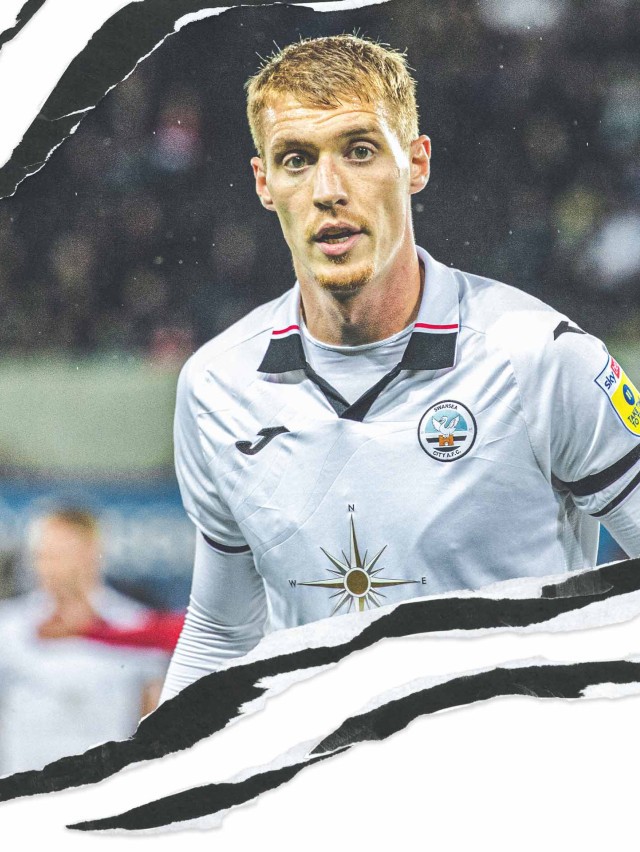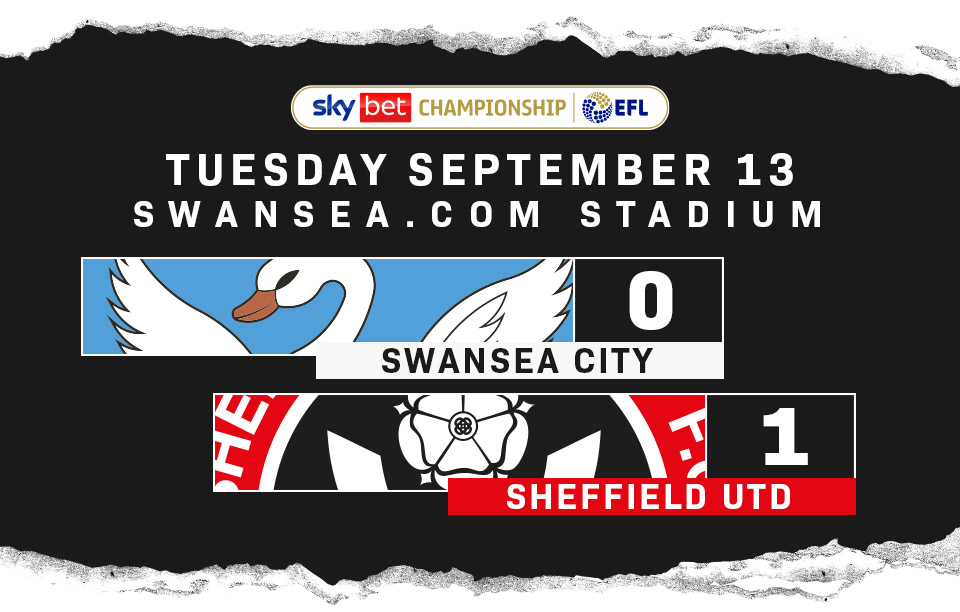 SWANSEA CITY SUFFERED MORE LATE HEARTBREAK AS REDA KHADRA STRUCK A WINNER WITH ALMOST THE LAST KICK OF THE GAME TO HAND SHEFFIELD UNITED VICTORY AT THE SWANSEA.COM STADIUM.
Swansea City: Steven Benda; Nathan Wood, Kyle Naughton, Ben Cabango; Matty Sorinola (Fin Stevens 71), Joe Allen, Matt Grimes (captain), Ryan Manning; Jay Fulton (Olivier Ntcham 64), Ollie Cooper (Jamie Paterson 63), Joel Piroe.
Unused Substitutes: Andy Fisher, Harry Darling, Luke Cundle, Armstrong Oko-Flex.
Sheffield United: Wes Foderingham, George Baldock, Chris Basham, Sander Berge, Oli McBurnie (Rhian Brewster 74), John Egan (captain), Anel Ahmedhodzic, Oliver Norwood, Tommy Doyle (James McAtee 73), Iliman Ndiaye (Reda Khadra 82), Rhys Norrington-Davies.
Unused Substitutes: Jordan Amissah, Kyron Gordon, Andre Brooks, Daniel Jebbison.
Referee: Darren Bond
Attendance: 15,458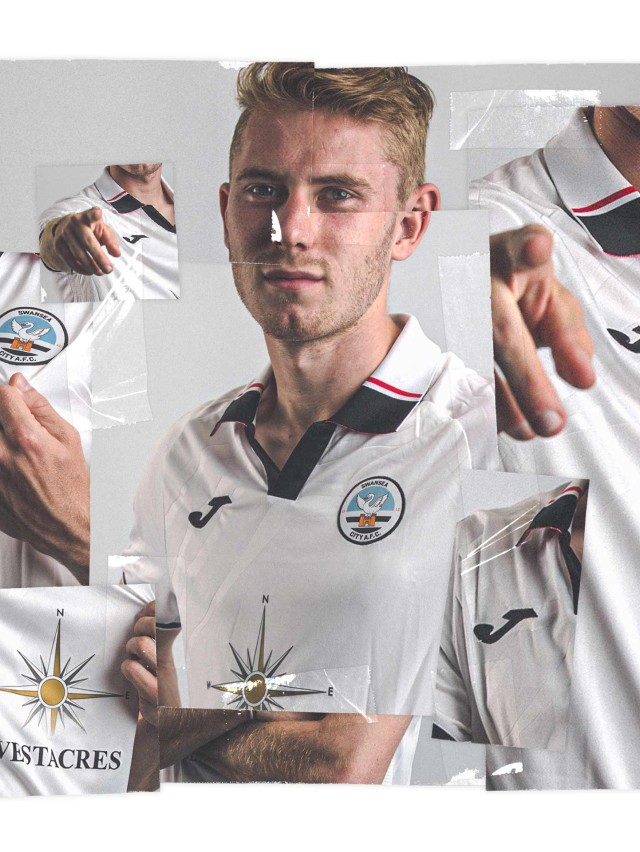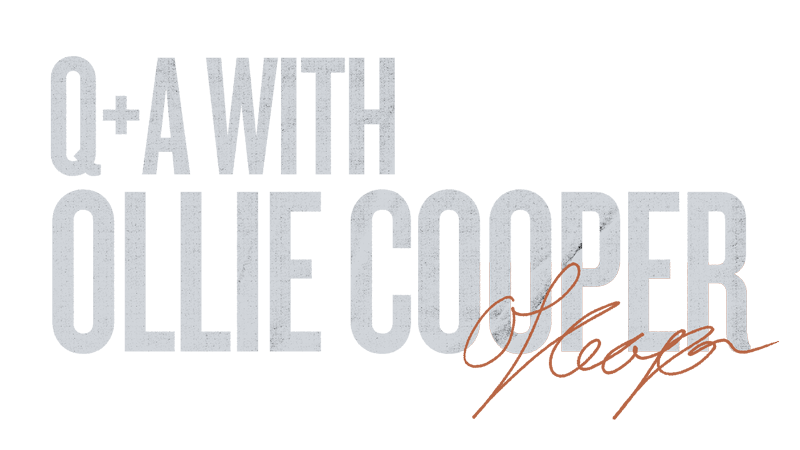 OLLIE COOPER HAS ENJOYED AN EYE-CATCHING START TO THE NEW SEASON, AND THE SWANSEA CITY MIDFIELDER HAS NO INTENTION OF LETTING UP. HERE, THE 22-YEAR-OLD TALKS ABOUT GROWING UP IN A FOOTBALL FAMILY, THE IMPORTANCE OF HIS SUCCESSFUL LOAN SPELL AT NEWPORT COUNTY, AND THE ONE BIG DIFFERENCE HE HAS NOTICED IN THE CHAMPIONSHIP.
Ollie, you have had a run of games in the starting line-up recently and made an impact. I guess when you reported back for pre-season this would have been exactly what you would have been looking for?
"Without a doubt. This is what I wanted this season. I did not think it would come quite as early as this, but I am so glad to be consistently playing and I want to continue playing in this team.
"I know we have got a lot more to offer, and I have too, and I feel it is getting better and better the more comfortable and confident I am as I play more with the rest of the squad.
"I think the way we play really helps with that. When I was out on loan last season, I would always watch Swansea games whenever I could, be that on TV, or through clips the coaches sent me, or at the stadium.
"I watched it and just felt that it would suit me and it would give me a lot of joy and freedom to playing in a side who want the ball, want to take risks, and to have players around me who would want to do the same and make those passes.
"The Cardiff home game really stood out, I was at that game and that was a joy to watch. It just underlined to me that it was a way of playing that would suit me if I could take the chance to show what I can do."
You've been with Swansea since under-12 level, but football has always been a part of your life with your father Kevin having a long professional career. What was it like to have a professional footballer as your father?
"My father has always been my biggest supporter, and he has never been afraid to pass on advice.
"I didn't join Swansea's academy until under-12 level, which seems quite late by modern standards, but before that he encouraged me to play as much as possible.
"I played for three teams at one point. It just allowed me to make up the hours that I would have got if I had been in an academy.
"Local sides normally train once a week and then play at the weekend, so playing for three teams meant I got that workload and chance to always learn and improve.
"When you are a kid you can do that, I mean I would play football during break times at school and then go and train in the night. You just have that energy and you cannot get enough of having the ball at your feet.
"He did push me, but it has paid off and I made sure I took as much as I could from him.
"He is never shy of giving me feedback, and he knows what he is talking about unfortunately! So even if there might have been times I felt I did not want to hear it, you know in the back of your mind that he is right.
"He had a long playing career and now coaching career, and there's very good reason for that.
"He is coaching in Malaysia at the moment but he watches the games and we speak regularly. Because of Covid there was a long spell where I was not able to visit my parents, but thankfully the situation has changed and I have been able to see more of them recently."
While you are playing and starting regularly now, your initial breakthrough at first-team level came with a few substitute appearances during the 2020-21 season, when there were no fans in stadiums for much of the campaign. How different a player are you know, compared to 18 months to two years ago?
"I have definitely changed. I am not sure I could definitely pinpoint any one thing, but I know that I have, I can feel that in myself.
"When I came back for pre-season this year I was in a very different place to where I was when I came in the year before and I ended up going on loan to Newport.
"I needed the consistency of playing games at a high level against men, basically. I did that at Newport, so coming back for pre-season after a year of playing regularly, I just felt I was ready to step up and compete to get into the team.
"I learned so much on loan, dealing with the number of games, the way you manage the games themselves. How to handle winning, how to deal with defeat, these are things that are all different from what you think about when you are young.
"But when there are points on the line, or there is promotion on the line, you have got to deliver and find that winning mentality. It's things like when to slow down the tempo of a game, or when to pick it up.
"There was so much I took on board and I would like to think people can see that. There is a difference between me now, and how I was when I first played here."
How did you find the physical demands of playing Saturday and midweek for much of the season, which is obviously different to anything you had experienced before
"I think one of the reasons I had an injury towards the end of the season was because I had not been exposed to that amount of games previously.
"I had been in and around the first team here, but I had not really played much football since the first outbreak of Covid. I was almost caught between the first team and the under-23s.
"So I had to understand how to manage myself, you have to know that you have to do everything to be ready to go. That is not just about what you do at the training ground, but how you look after yourself when you go home.
"Getting the full experience of it last season was really good for me.
"It's things like your sleep. That's a massive thing for me. If you think about it, when you are travelling back after games in midweek or long away trips, you are missing out on sleep and it's not always easy to catch up and be fully rested.
"For me, that's a really big one, but also making sure I eat well and then, when I am at the training ground, I want to make full use of the facilities and expertise we are so lucky to have there.
"All those little bits, it might just be one per cent or two per cent of the big picture, but it all makes a difference. You find out what works for you and you stick to it to prepare as best you can."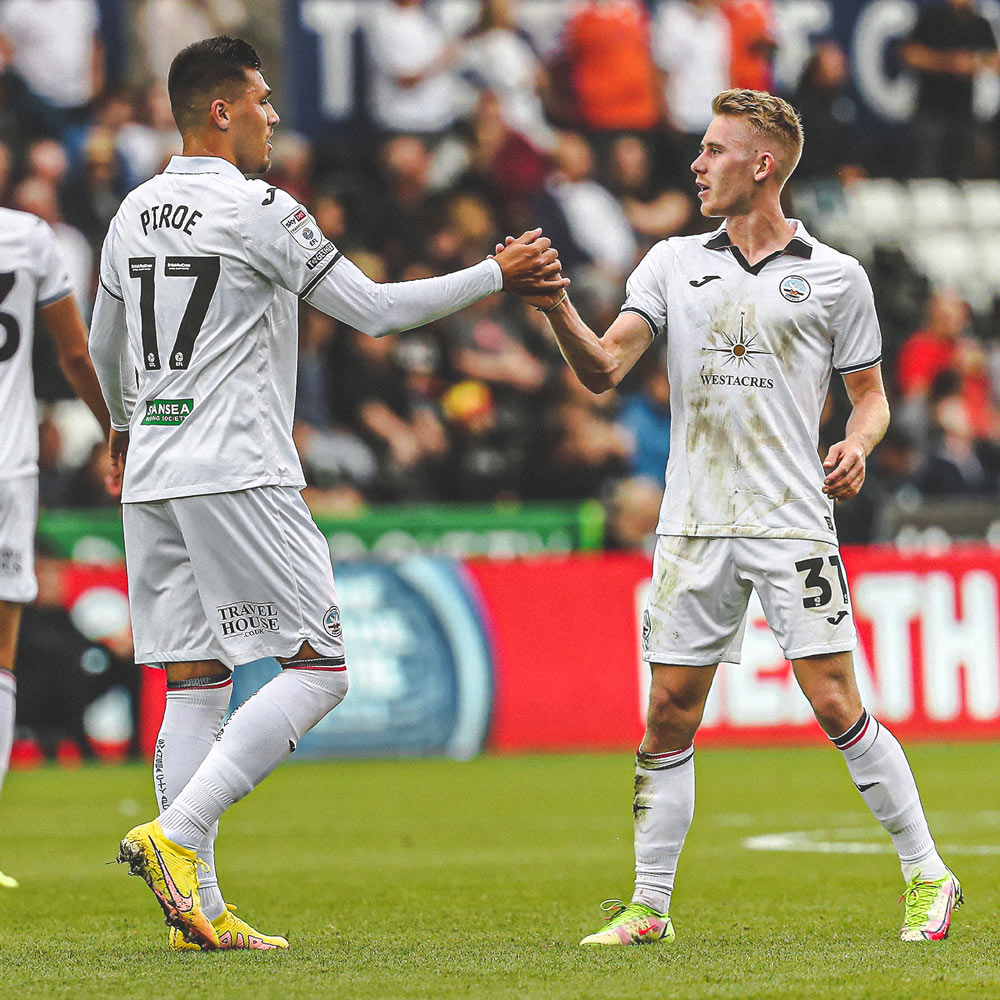 So there is the confidence you mentioned of getting those games under your belt. But how much did you take from the fact you made an impact and were an important player in a side challenging for the play-offs for most of the season? You had the most assists for Newport last season with nine and they missed you when you were injured.
"Yeah, that was part of it too. It's great to be part of a team, but it's even better when you are part of a team that is fighting for something and you are having an impact and being looked upon to have an influence and create.
"The staff at Newport were great with me, they were really supportive and believed in me. It meant a lot and it pushed me a lot too, that belief makes a difference.
"It's the same at Swansea. There was always someone coming to games to watch me and to provide feedback for me. The gaffer came to a lot of the games, I know Matt Gill was watching me a lot.
"I think I am right in saying they had someone at every home game I played for Newport, and when you know that and you are getting really good constructive feedback after the game, that is a nice feeling.
"Even though you are on loan, you feel you are wanted, that there is an interest in how you are progressing.
"They were always honest, there were always things they were challenging me to do better and improve on. It was always delivered in a constructive manner so it would help me prepare to be ready to go when I came back.
"We looked to play and be positive with the ball at Newport, obviously not quite as much as we do here at Swansea, but I would not have been able to make the step I have without that guidance and feedback."
You clearly enjoyed working under James Rowberry at Newport, someone who – like Russell Martin – is thought of as a bright, progressive young coach.
"I really enjoyed working under Rowbs, he was excellent and I think he was what the club needed at that time.
"He added a real professionalism to the training ground and the set-up there. He was all about having those high standards and structures in place.
"That is what I was used to coming up here, and it had a big impact on the team and the players, and that was evident in the performances over the season.
"Again, he was someone who believed in me, he wanted me to play every game and express myself."
What have you found to be the biggest difference between playing in League Two and playing in the Championship?
"I am not sure there is any other way to say it; everyone in the Championship is an absolute unit!
"All players are athletic, powerful, quick. I am not saying the players in League Two don't have those qualities, but the level of them is completely different.
"You look at the game against Sheffield United in midweek, I was playing up against people like Sander Berge, Chris Basham, John Egan. These guys are massive, they are experienced, they have played in the Premier League and they rarely make mistakes.
"It is hard to force players at this level into mistakes but the big thing about how we play here at Swansea is that, if you get it right, you take that element out of the equation.
"If we are accurate in how we use the ball and play with tempo, they are not going to be able to use that sort of physicality against you because they won't be near to you.
"When you have the ball and you can pop it around quickly, you take players out of the game. Doing that, you don't need to be the biggest.
"You look back at players like Leon Britton, that was what I admired so much about him. Nearly every opponent he faced was physically bigger than him, but they could not get the ball off him and they could not stop him dictating the play.
"But that's the biggest difference is the power and athleticism at this level, the thinking process is that bit quicker. It's hard to force mistakes but I will always work to try and force them."
I guess the winner against Queens Park Rangers is an example of that. You were part of a really good press, you forced the mistake, and then had the composure to pick out Joel Piroe for him to finish.
"Yeah, and that just shows that if you keep working hard and keep putting that pressure on then you can force those mistakes, however rare they may be.
"When that happens we have to capitalise, and I think we need to do that more but I am confident that will come.
"At some point it is going to happen it will all click and we will put a run together.
"At the moment it's the little things that are hurting us, particularly conceding late in games. We know without that we would be in a much better position but it's down to us to do it and make sure it does not happen.
"We need to make the most of our chances too, but the rest of our play between the boxes has been really good. We can keep the ball, we can build play and build pressure and create chances.
"There is still more to offer, without doubt, we just need it all to click into place and I am sure it will."
How have you found playing with Joel Piroe? You appear to have struck up a good understanding already.
"Joel just makes it easy for me. His movement is so good that it almost makes my mind up for me when I have got the ball.
"He knows where to go, when to go longer or when to come short. He is never far away from me when I get the ball.
"I try to do the same when he has the ball because I know he sees the runs I make and he has the ability to put the ball right where I need it.
"I think we have built a good link between us, I hope it just gets better and better as we play more."
You joined the Swans academy in 2011, when Leon Britton and Joe Allen were in the club's midfield. Having watched that side in action, what's it like having Joe alongside you on the pitch?
"Playing alongside him is amazing. I get on well with Joe, we have a few things in common.
"To play alongside and to have him here as someone to speak to and listen to the advice he gives is invaluable.
"Just look at the career he has had. Having that person there to be able to help you is fantastic."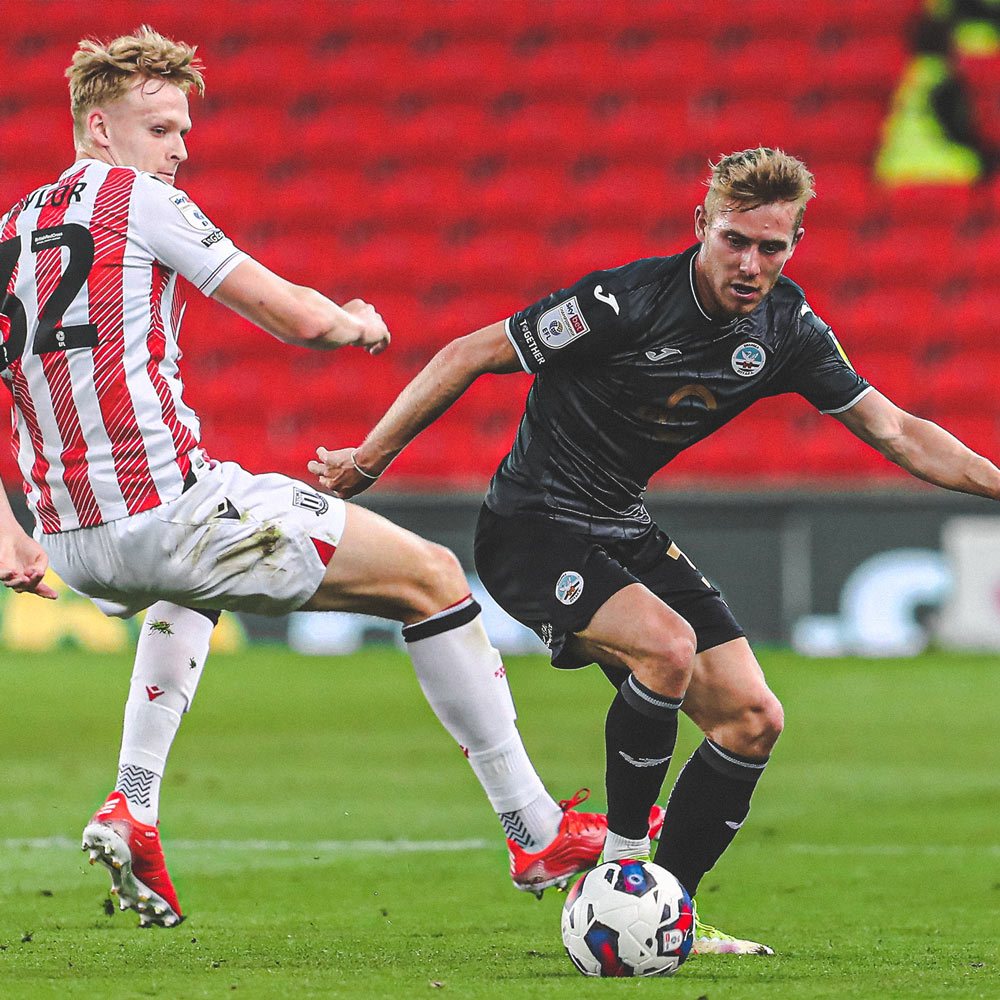 HAVE YOUR SAY
New to the 2022-23 season, Swansea City launched a new, more user friendly and integrated digital programme. With this providing new foundations to what the digital programme can provide, we're looking for input from the fans to what they're currently enjoying and what they'd like to see in the future.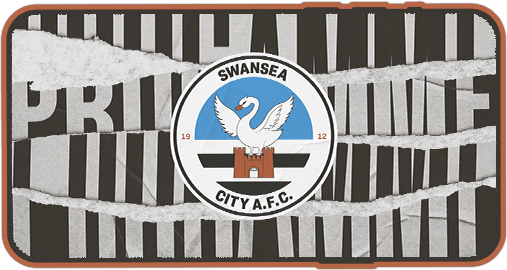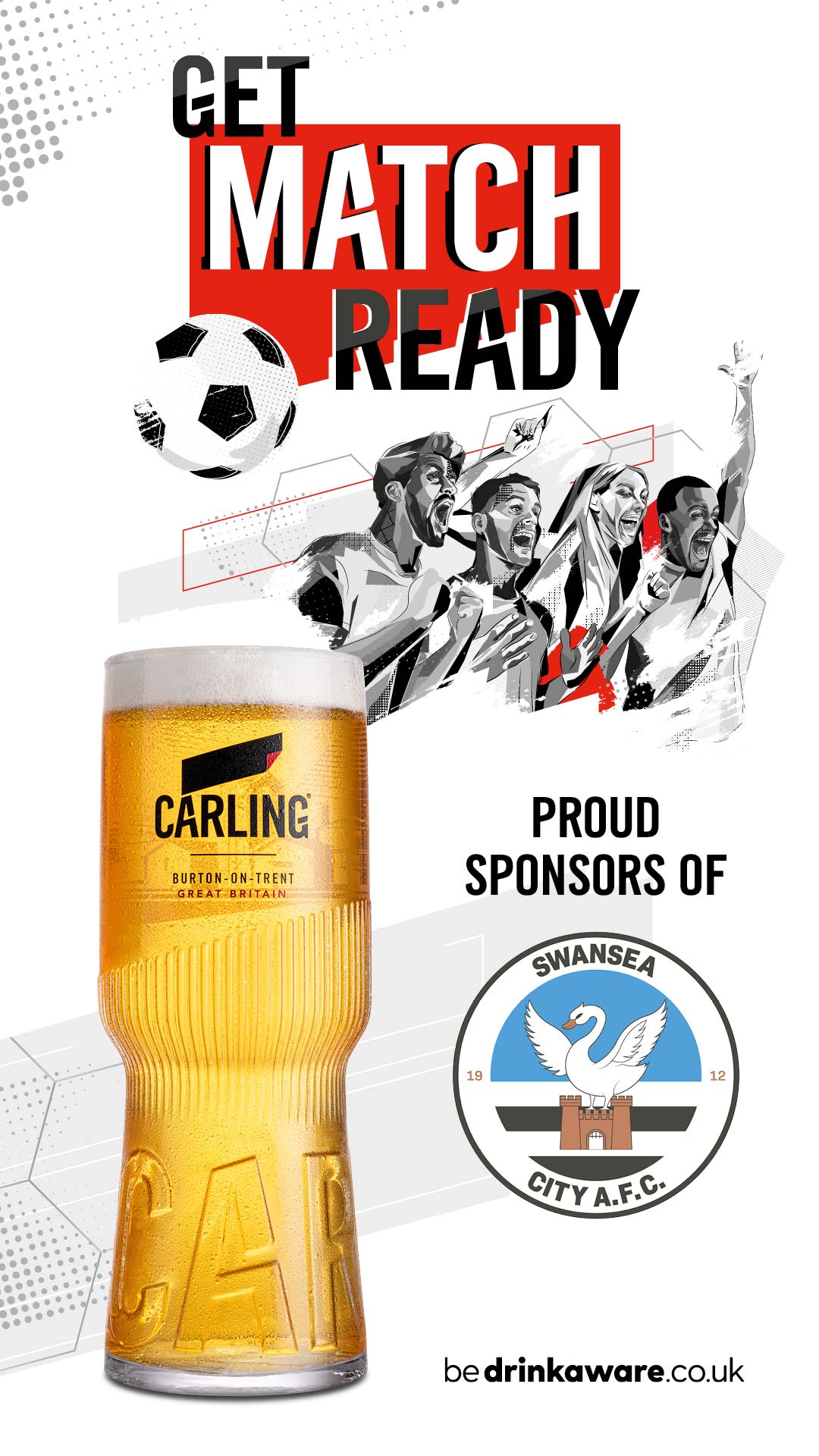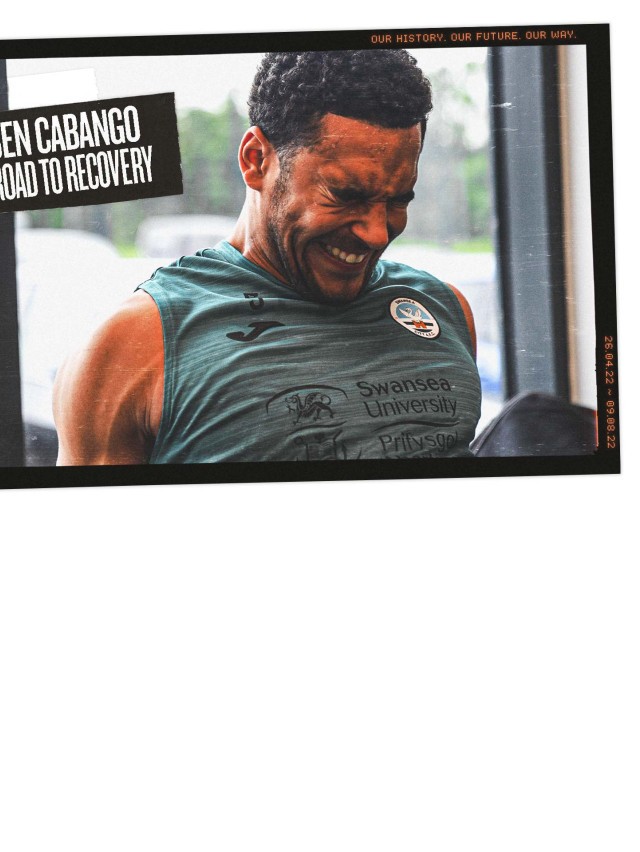 When Ben Cabango was felled by a tackle from Jamal Lowe back on April 26, 2022, the defender immediately knew his summer plans were about to change.
Having been hoping for selection to be part of Wales' historic World Cup play-off clash against Ukraine, the 22-year-old instead found himself facing a race against time to be fit for the start of the 2022-23 season.
Throughout his rehabilitation the Swans TV cameras were there to document the inside story of what it's like for players recovering from injury.
From on-field diagnosis, to surgery, stitches and conditioning, Cabango and the Swansea City medical team reveal what it's really like when a player is working to get back to full fitness.
The full feature will be available on our official website and channels in the coming week but, in the meantime, here is an exclusive teaser of what you can expect from our special feature.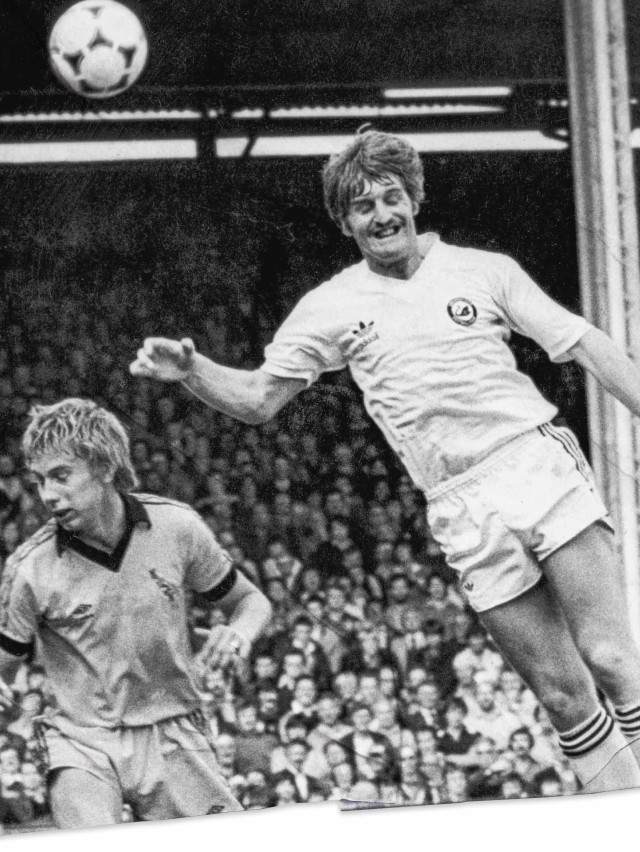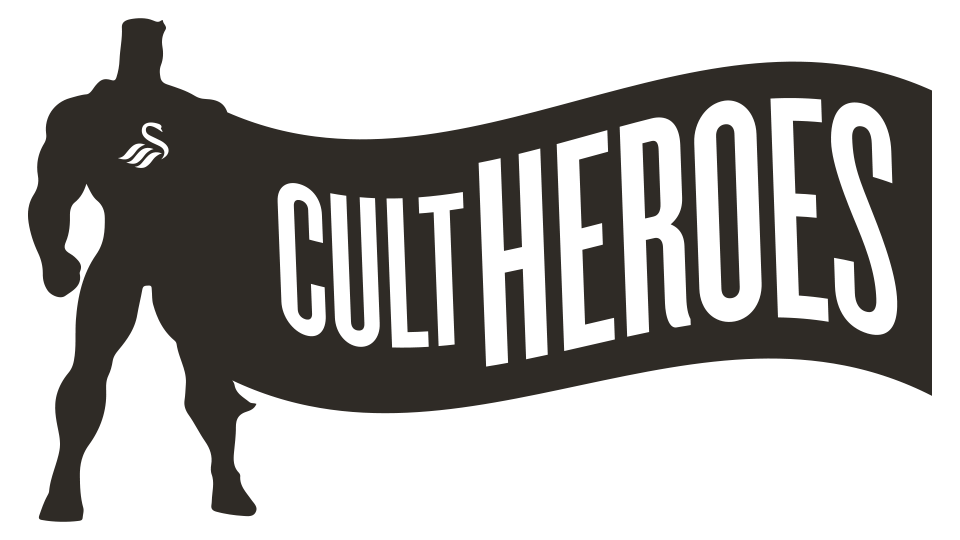 IN THE LATEST INSTALMENT OF OUR 'CULT HEROES' SEGMENT, CLUB HISTORIAN GWYN REES REMEMBERS ROBBIE JAMES, A PLAYER WHOSE NAME WILL ALWAYS BE INEXORABLY INKED INTO SWANSEA CITY'S HISTORY.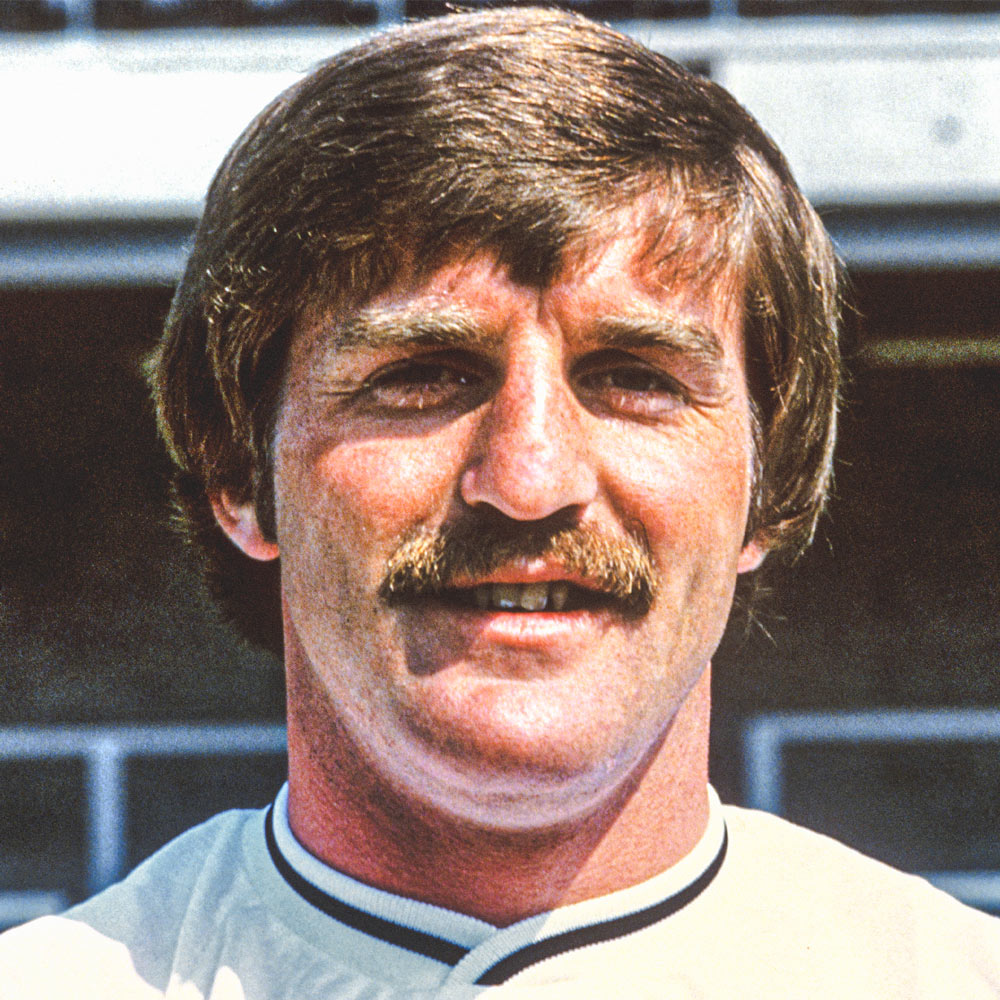 The final game of a dismal 1972-73 season against Charlton Athletic at the Vetch Field was unremarkable in itself, but it saw the league debut of a boy who would go on to become a Swansea City legend. That young boy was Robbie James.
James was born in Gorseinon, but spent his formative years in Mayhill. After finishing school he joined the ground staff at the Vetch Field, where he graduated through the ranks of the Welsh League and Football Combination sides to find himself knocking at the door of the first-team squad.
Even at his tender age Robbie was extremely strong in the tackle, and had a powerful shot that would see him score many spectacular long-range goals in the future.
His impressive performances on the pitch saw him join Arsenal in November 1974 on an initial month-long loan, but this lasted only 24 hours before returning to Swansea due to homesickness.
Consistency on the pitch, allied with acceleration over the vital first 10 yards and that rocket of a shot, saw Robbie become the Football League's youngest player to reach 100, 200 and 300 league appearances.
In fact, upon finishing his professional career, Robbie would have racked up an incredible 782 Football League appearances and 137 goals, leaving him seventh in the all-time Football League appearance list.
The basement divisions of league football in the UK in the early seventies could be brutal, but it quickly turned the young James into a man.
Under the guidance of Harry Griffiths the team began to take shape after some years of struggle, but it was when John Toshack took over in February 1978 that the impossible began to become a reality.
Two consecutive promotions followed, seeing the club reach the Second Division (now the Championship) for the first time in 14 long years.
Robbie's performances at club level saw him earn Wales honours at both youth and under-21 levels, before in October 1978 he was awarded the first of his 47 full Welsh International caps when playing against Malta.
The rise of the club under Toshack reached its peak with promotion from the Second Division to the First after an historic 1980-81 season that saw James prove influential in midfield in a side built on local players such as Jeremy Charles, Alan Curtis and Wyndham Evans to name but a few.
The inaugural season in English football's top-flight was a success for the Swans, who finished sixth after being firmly in the title race for much of the season.
Robbie himself finished the season as top goalscorer, and won the player of the year award.
Unfortunately financial challenges at the club would rear their ugly head the following campaign, and after relegation James was among a host of top players who were allowed to leave the club at knock down prices.
Stoke City were the beneficiaries of his signature in a deal worth £160,000 but after just a season in Staffordshire he was on the move again, this time to London and Queens Park Rangers.
It was during his time in London that James played in the 1986 League Cup final at Wembley, but was on the losing side against Oxford United, who had former Swan and close friend Jeremy Charles in their line-up.
After two seasons in London, James was on the move once more, this time to Leicester City, but he would finally return to the Vetch Field in 1988 in a £35,000 deal.
It began well for both club and player with promotion gained in his first season back, but a disagreement with the then-chairman Doug Sharpe saw the player join Bradford City, before returning to Wales two seasons later with Cardiff City.
James retired from professional football in 1993, though he continued playing non-league and Welsh League football for Merthyr, Llanelli and Weston-Super-Mare before returning to Llanelli as player-manager in 1997.
It was during this time at the Reds that tragedy struck when, during a game against Porthcawl Town, James collapsed on the pitch and died at the tragically early age of just 40.
A bust of one of the club's most loyal and loved players was unveiled at the then-Liberty Stadium alongside the Robbie James Wall of Fame.
It was testament to a player whose performances on the pitch saw him win player of the year at both Bradford City and Cardiff City, to go alongside the ones won at his hometown club.
He will always be remembered as one of Swansea City's finest servants, and his place in the annals of the club's history is assured.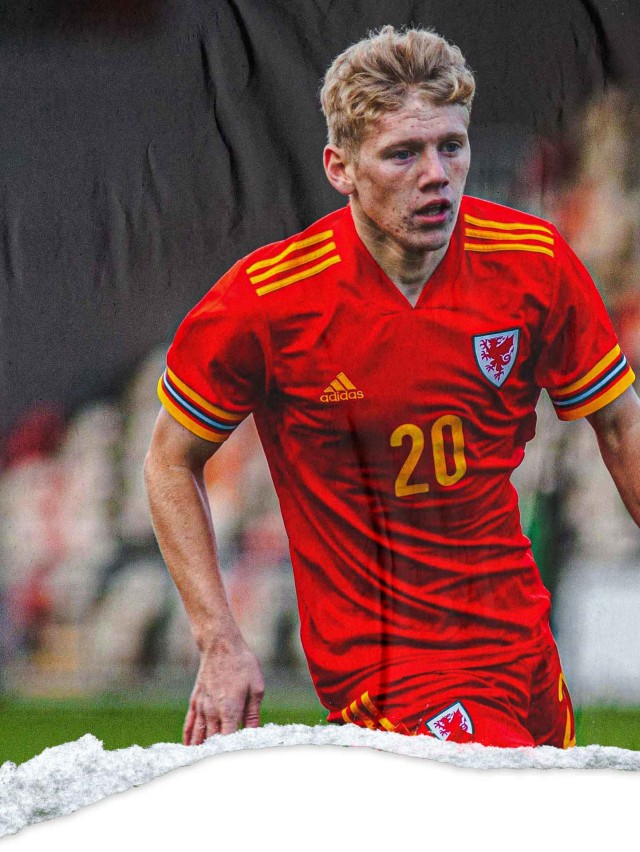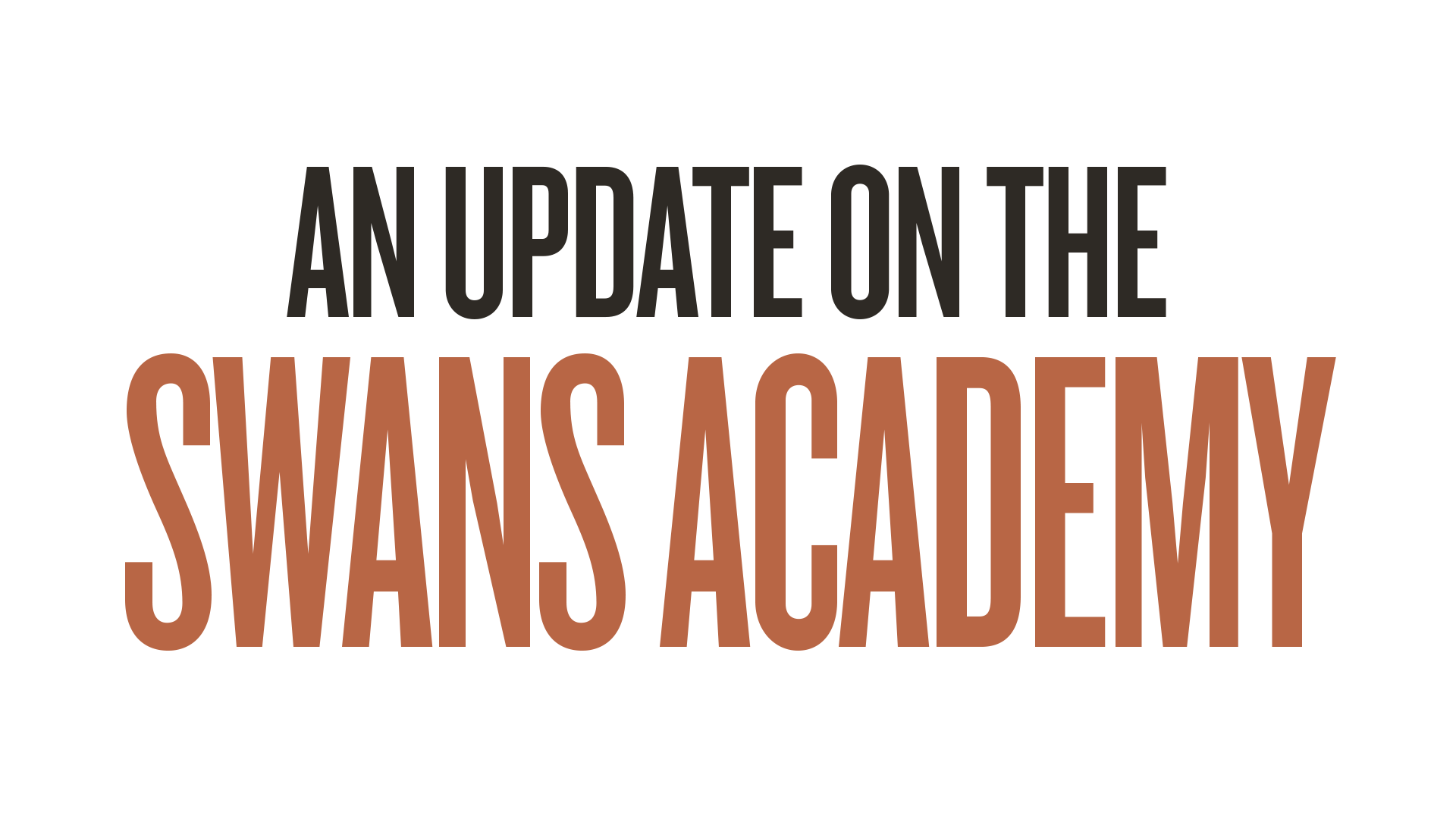 A number of Swansea City academy players have been included in Wales' age-grade squads for the upcoming international window.
Swans striker Josh Thomas, who recently put pen to paper on an 18-month contract extension, returns to international duty after being sidelined due to injury.
The 19-year-old will travel to face Austria for the start of Wales' preparations for the European Under-21 Championship qualifiers, which will get under way next year. 
He is joined in the under-21 squad - now coached by former Swans academy coach Matt Jones - by Evan Watts and Fin Stevens.
Meanwhile, Cameron Congreve, who has featured for Russell Martin's senior side this season will join up with the under-19 squad alongside Ben Lloyd, Joel Cotterill and Kai Ludvigsen for games against Hungary, Republic of Ireland and Gibraltar.
This follows on the back of Rohan Hillier, Harrison Pugh and Bobo Evans all representing Wales Under-15s last month in the Uefa Development Tournament in north Wales.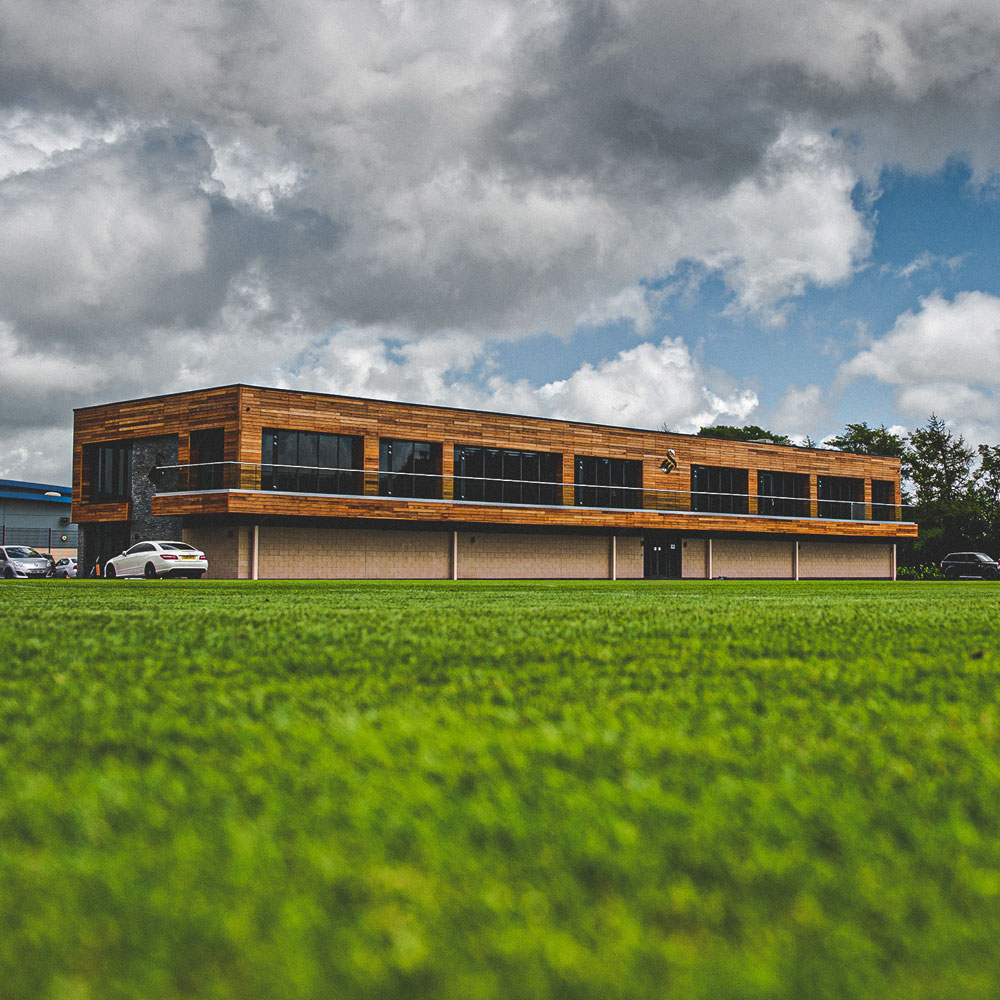 Two of Swansea City's academy fixtures have been rearranged, having been postponed following the passing of Her late Majesty Queen Elizabeth II.
Swansea City Under-21s' Professional Development League fixture against Watford has been rearranged for Friday, October 28 and will now be played at Landore Training Ground.
The game was due to take place on Monday, September 19 at the Swansea.com Stadium at 2pm, but was postponed after Monday was declared a bank holiday to coincide with the Queen's funeral.
The kick-off time remains unchanged. 
Swansea City Under-18s' fixture against Hull City, meanwhile, has been rearranged for Saturday, March 25 2023 (11am).
The fixture was due to take place on Saturday, September 10.
The venue is unchanged and the game will be played at Landore Training Ground.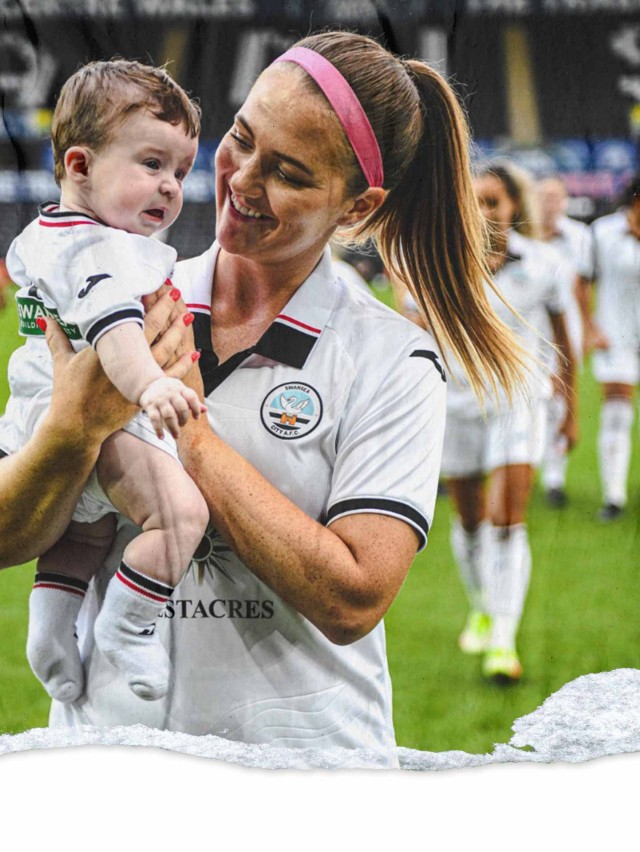 Very few footballers can say that they have played Champions League football, but even fewer can say they did it just 103 days after giving birth to their first child.
But that is the reality of what Swansea City Ladies midfielder Emma Beynon did when she started against AC PAOK in Greece last month.
Beynon, who welcomed baby Theo to the world in early May with partner Paul Thomas, was always determined to return to playing and now she hopes she can help prove to others that being a mother doesn't stop you from being a footballer.
And some nine years after joining Swansea City Ladies, the 26-year-old was able to walk out of the tunnel at the Swansea.com Stadium for the first time as Swansea City Ladies played out an historic win in SA1 and her son was mascot.
"I could not wait to walk out of the tunnel with Theo," said Beynon.
"I was so excited. He's had his little football kit with his name on ready. It was a big moment for all of us – me, him and the family.
"The game is massive. We'd never had this opportunity before so to be able to play at the stadium, and for the young girls and fans to come and see us, was great.
"I hope it will inspire them to want to play for the Swans so they can have opportunities like this, including playing in the Champions League."
Beynon was completely clear that she was prepared to combine motherhood with football and her career as a post person with the Royal Mail, but pregnancy is a unique experience for each person.
While experts agree the most important thing is to listen to your own body, Beynon was lucky enough to be able to call on the knowledge and advice of former Wales team-mate - and the country's record goalscorer - Helen Ward.
The Wales centurion – now 36 - had her first child in 2014 and has spoken honestly about the struggles she had when returning to the game she loved. Ward's return to play path wasn't as smooth at Beynon's has proved so far, but she was able to provide useful advice to the Swans midfielder.
"I asked Helen Ward because I knew she'd been through it," said Beynon.
"I confided in her, just about things like when to stop playing and when to start. She told me what she did so I went with that advice and then I listened to how I was feeling as well.
"I played with her in the Welsh squad and she's one of the only people I know who I could speak to who has been through this.
"Luckily for me, I knew I could message her. She messaged me back straight away and she was really good.
"Helen was an inspiration. She was really good with me, telling me things I needed to know and who to speak to.
"And knowing someone was able to get back to the same level they were playing at before – that was a big thing.
"I always wanted to come back to football. I said throughout the pregnancy that it was always my intention to come back.
"It was obviously a hard few weeks just after Theo was born, but I was ready to be back involved and back training. I just felt ready for it.
"I don't think I pushed myself, it was a gradual feeling of being ready to return."
While on the sidelines, Beynon was Swans Ladies' biggest supporter, turning up to training and matches just to support and stay involved.
"Obviously, I had to take a step back but because Theo was planned I was prepared for that," she added.
"I played up until I was 12 weeks and trained a bit afterwards and then slowly stopped to focus on the pregnancy.
"I still came to all the training sessions and to games because I missed the girls.
"Just standing on the side, it felt like I was still involved in the team which was good."
With Theo just 10 days old, Beynon wasn't in attendance when Swans Ladies finally lifted the league trophy and secured their Champions League place for the third consecutive season, but their victory did give her a deadline for her return to competitive action.
"It was my aim to get back for those Champions League games," Beynon said.
"All through pre-season, that was what I was aiming for. I wanted to play in that game and I wanted to start. Thankfully I did that.
"I definitely wanted to come back to playing sooner rather than later. Playing in the Champions League is a massive thing for me so I was so pleased that I was able to do that.
"Pre-season games were tougher, but that was just about getting out there and improving my fitness and it felt good to actually be back playing.
"I don't know how I was in that first training session, but it felt easy enough coming back.
"My family have been massive too. My side of the family and Paul's side of the family have been really supportive of me. They help with childcare when we need it.
"I'm really happy to be back playing. I hope that girls and women out there know that they can come back to sport and that having a baby doesn't stop you from playing football.
"It is obviously down to everyone to do what feels right for them, pregnancy and being a mother is a different experience for everyone.
"But it was never in my plan to stop playing football once I'd had Theo.
"I wanted to come back and be who I was before, and in that way I don't think anything has changed with having Theo.
"I'm hoping that other players will see me and know that they can do that as well if they want to."
Beynon and her team-mates are back in action this Sunday as Swansea City Ladies host Barry Town at the Llandarcy Academy of Sport. The game will kick off at 2pm and tickets are free of charge.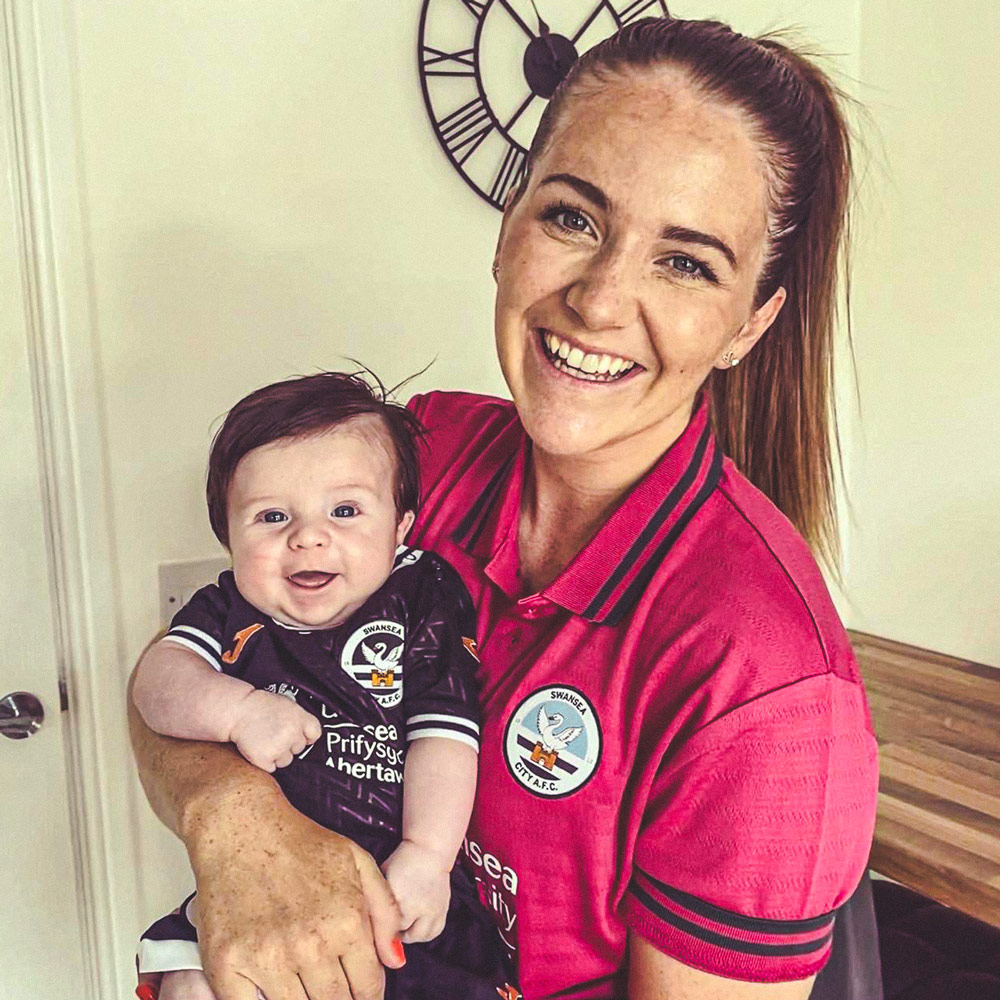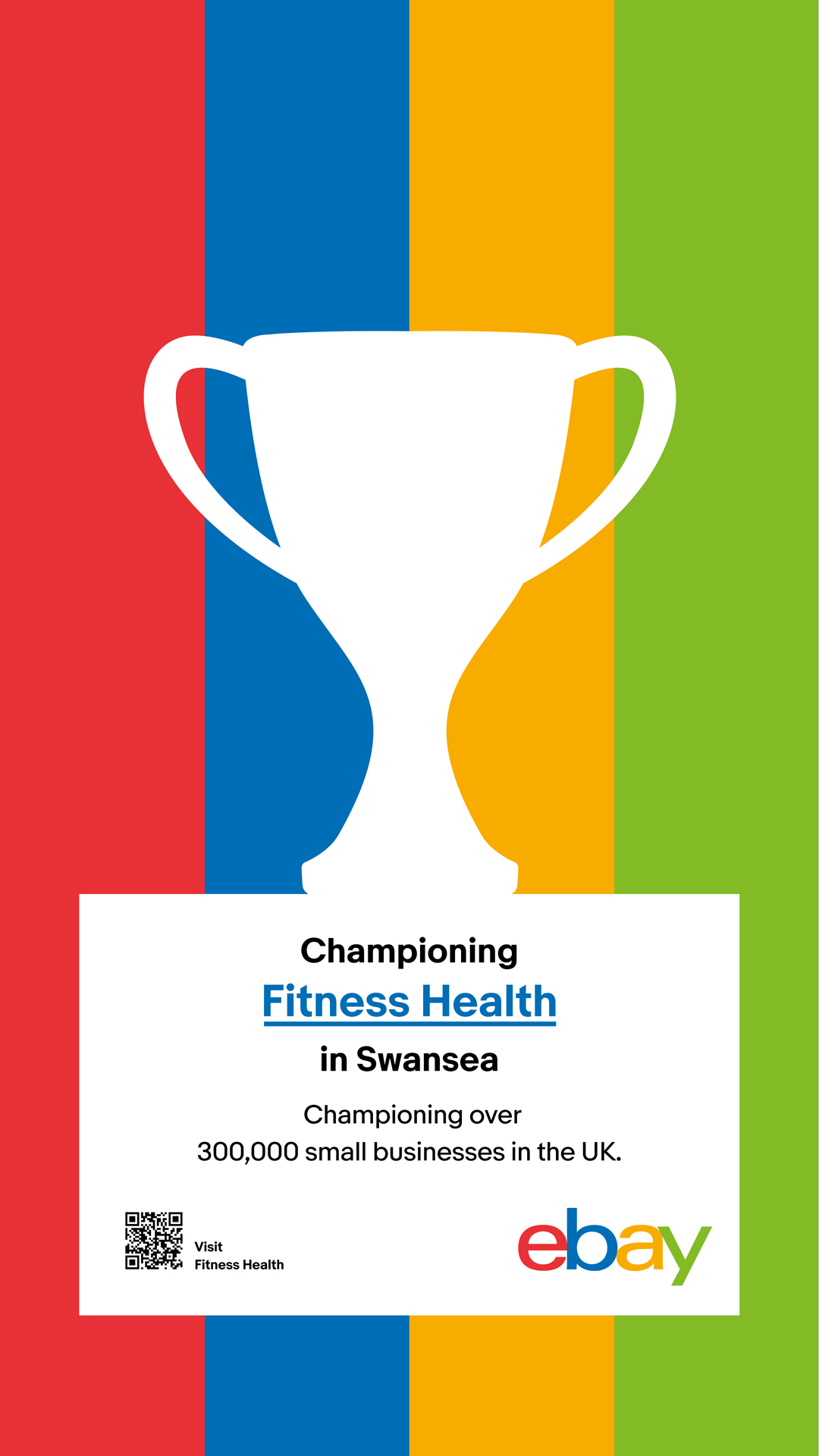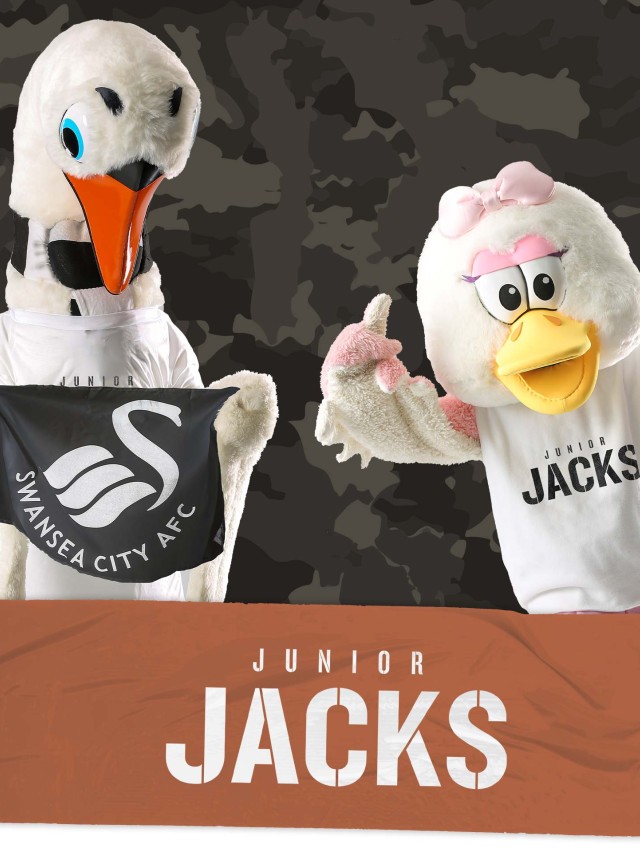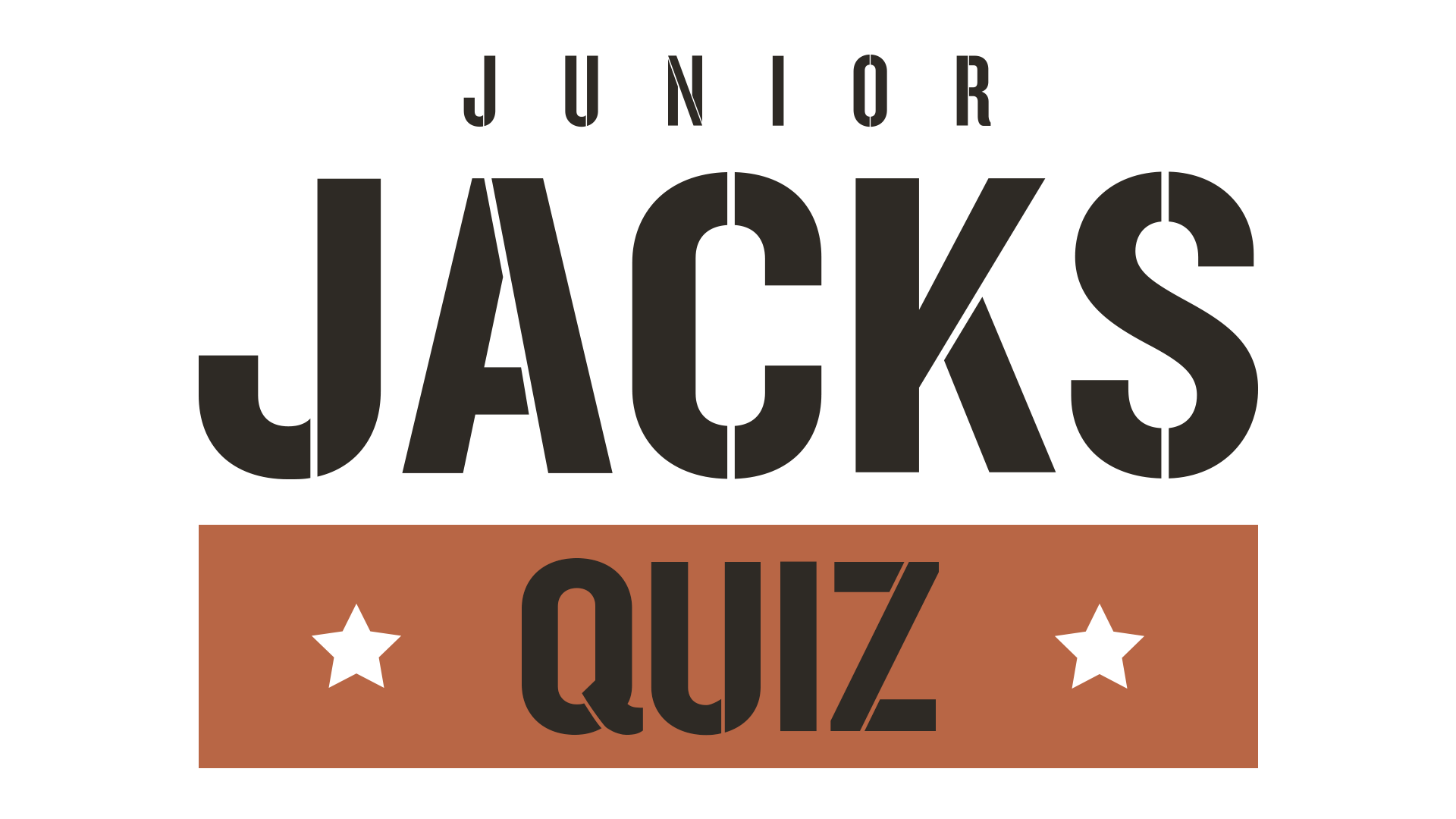 Shwmae Pawb,
It's an early kick-off here at the Swansea.com Stadium today because we are on tv!
The camera operators were in very early setting up, but we showed them around and helped them get all their cameras ready to film the game later.
Our joint prediction today is 2-1 and we think Ben Cabango will score. What is your prediction? Make sure you come and tell us if you see us around the ground.
We've created two quizzes for you to try this week.
The first one is our usual Take Five quiz: five questions that will test your football knowledge.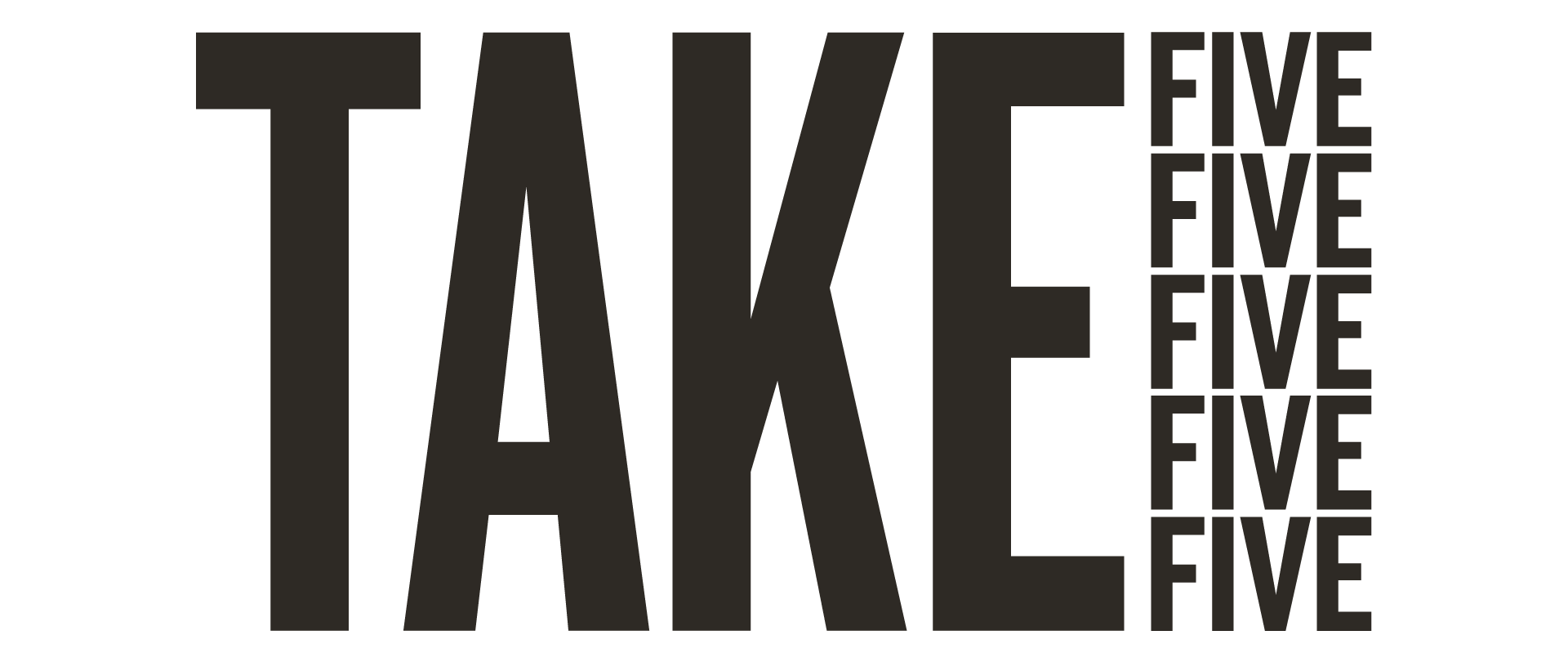 Our second quiz is "Eye, Eye" where we ask you to identify the Swansea City player by a picture of their eye!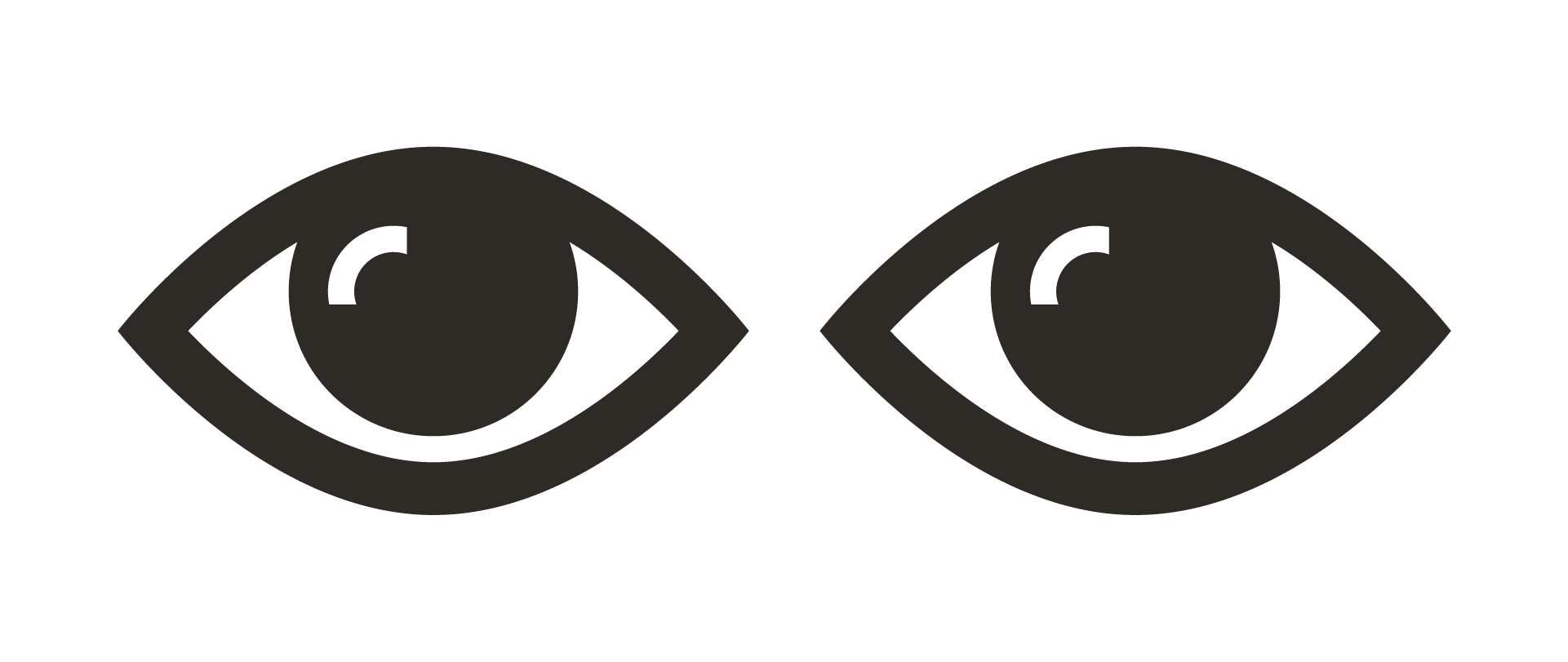 Pob lwc for both quizzes and, as always, come on Swans!
Cybil and Cyril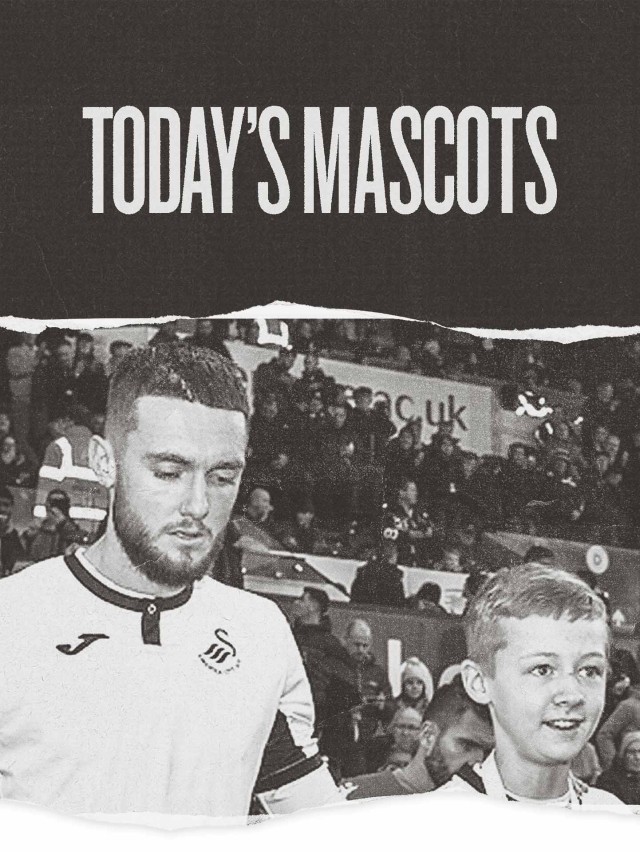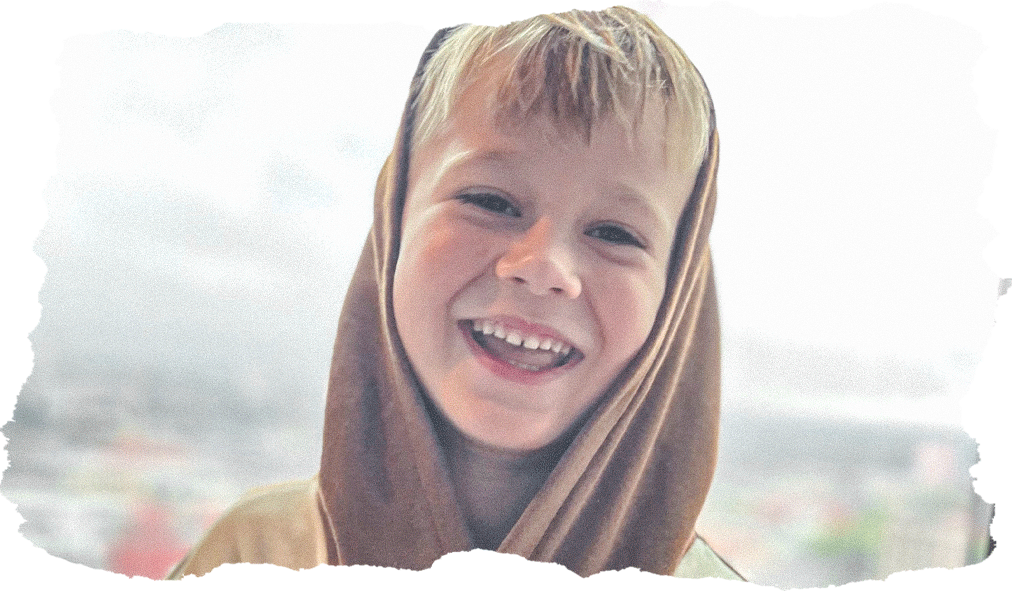 LEO ~ AGED 4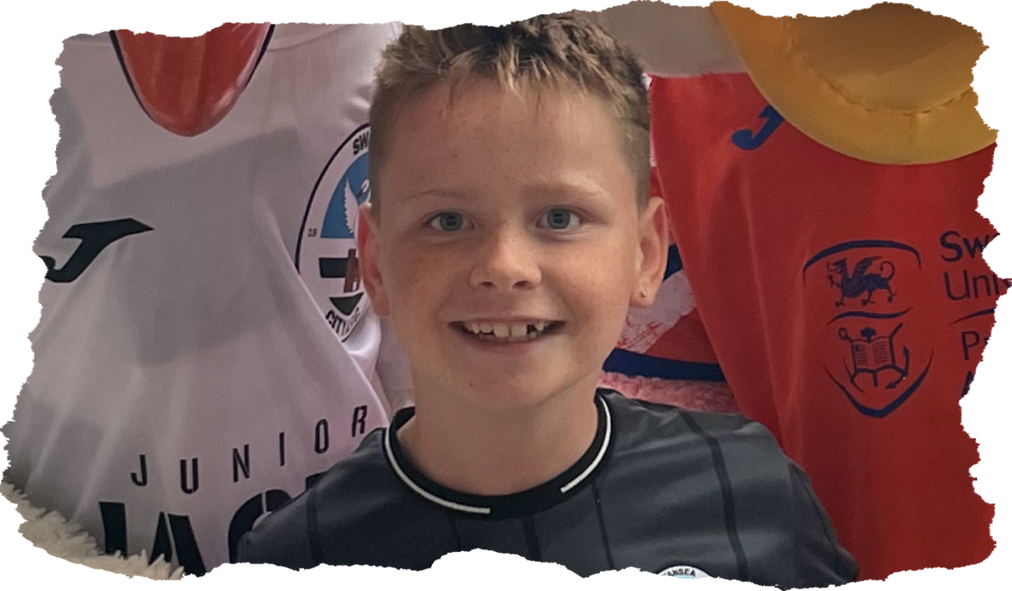 MARLEY ~ AGED 8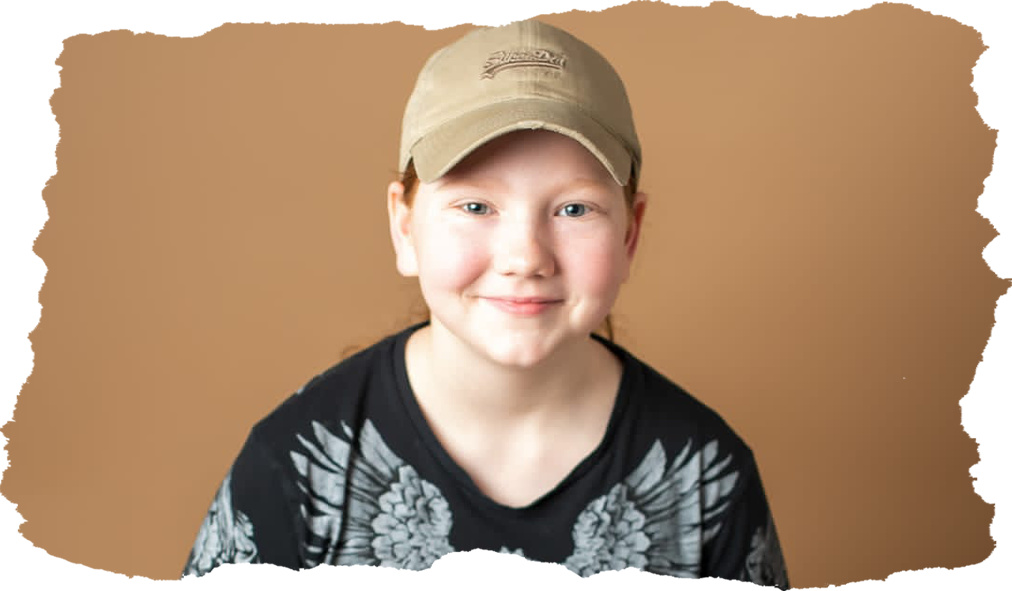 LARNA ~ AGED 13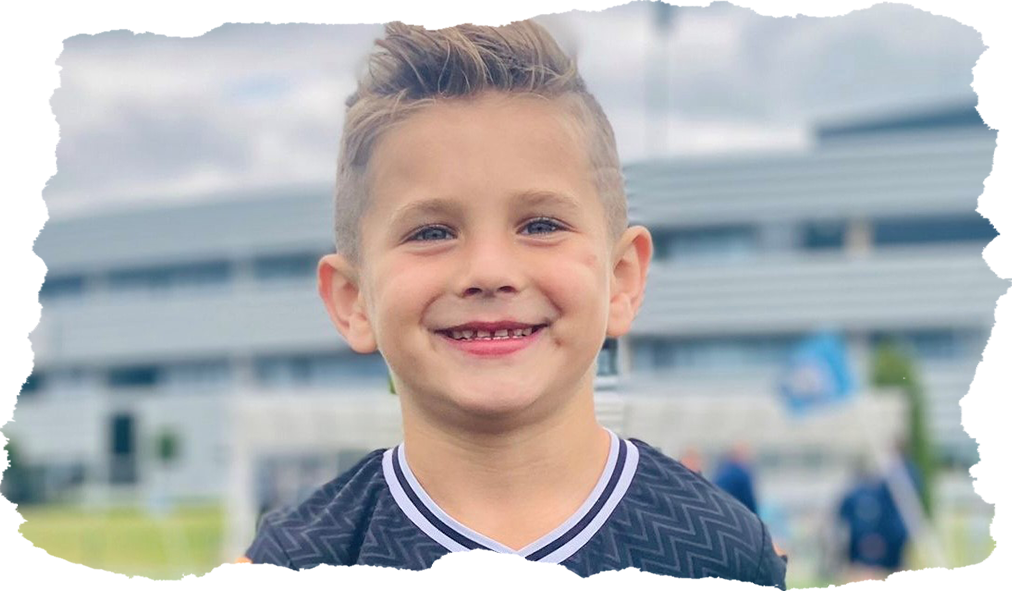 JUDE ~ AGED 6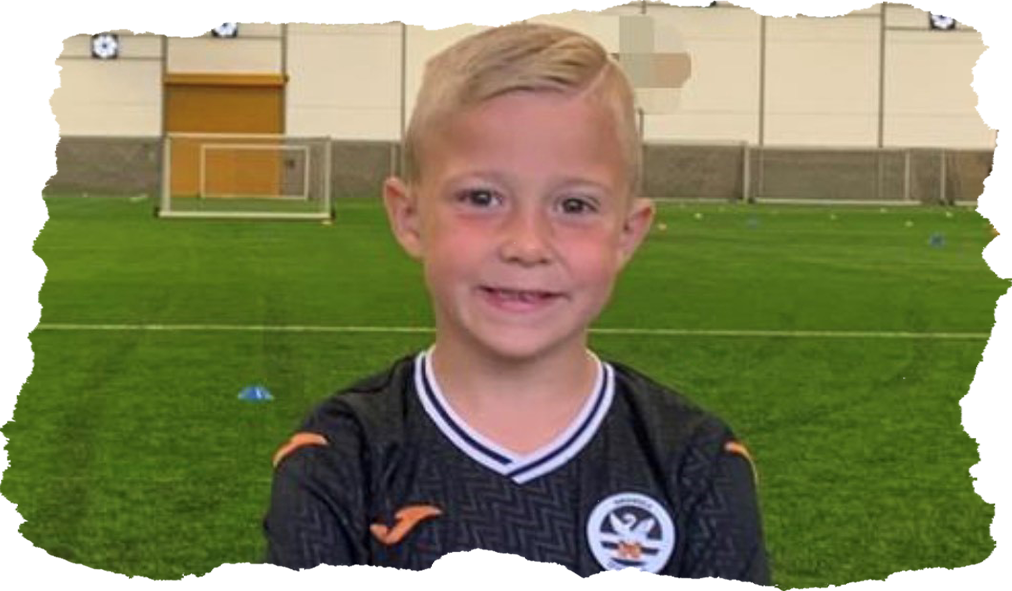 OLI ~ AGED 6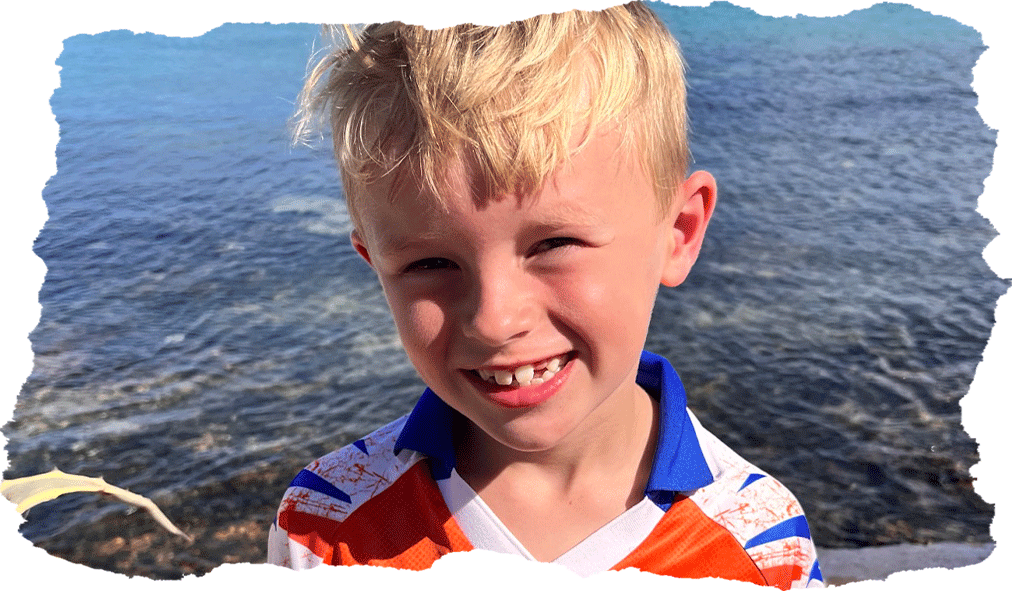 JOEL ~ AGED 8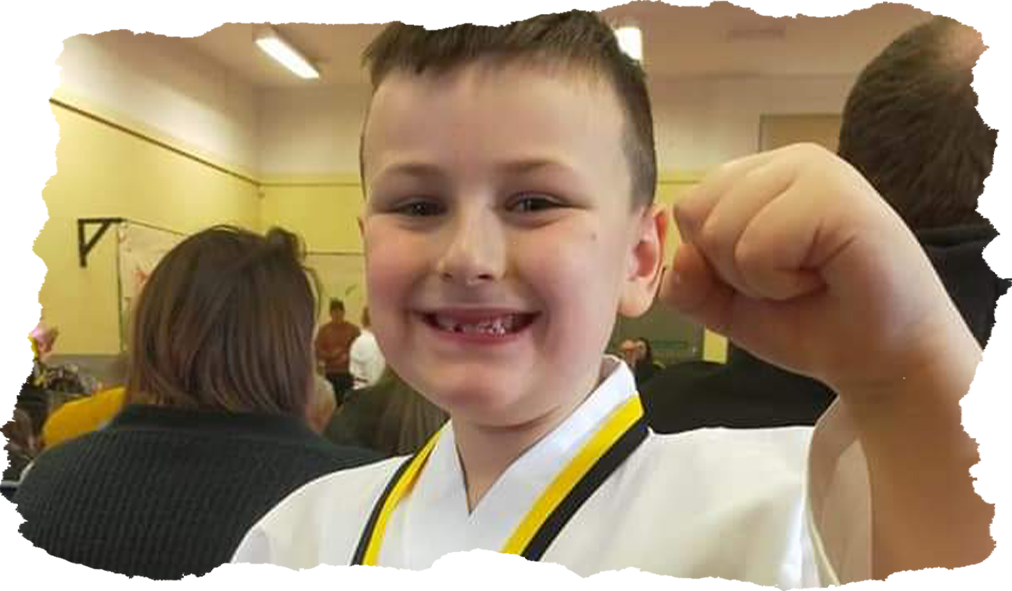 NOAH ~ AGED 7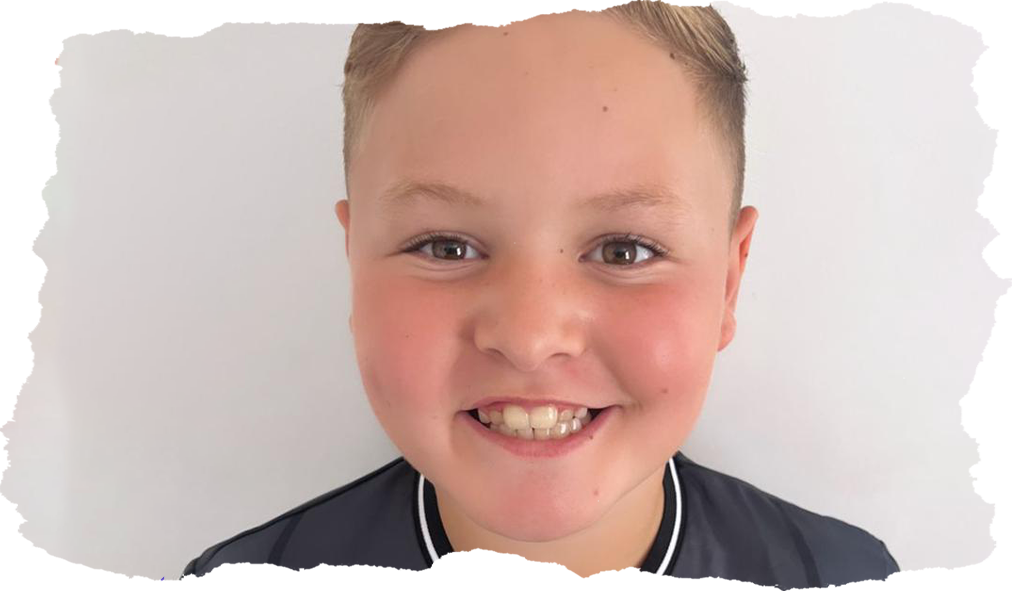 OSCAR ~ AGED 10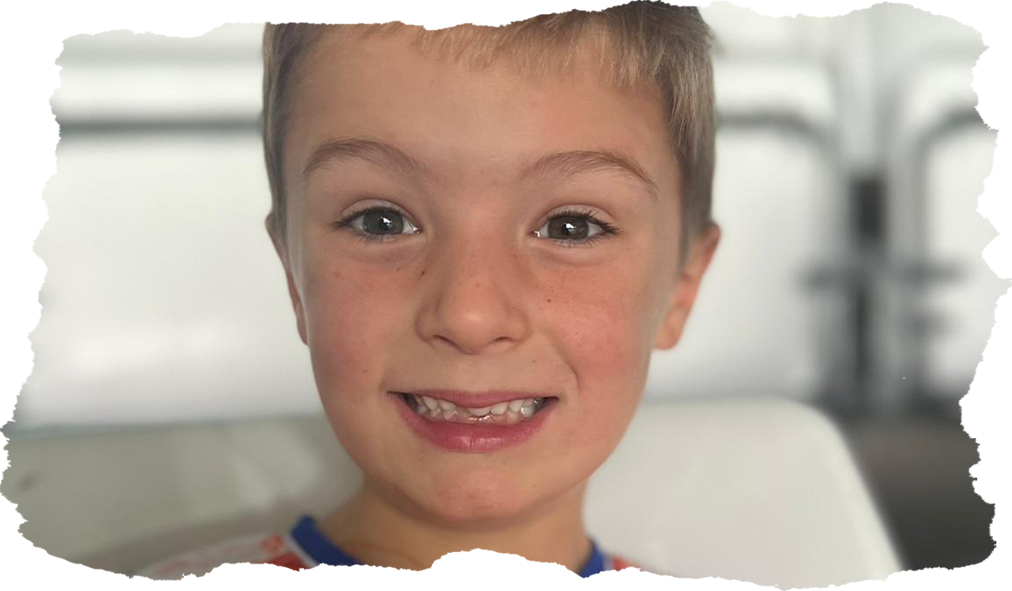 GEORGE ~ AGED 6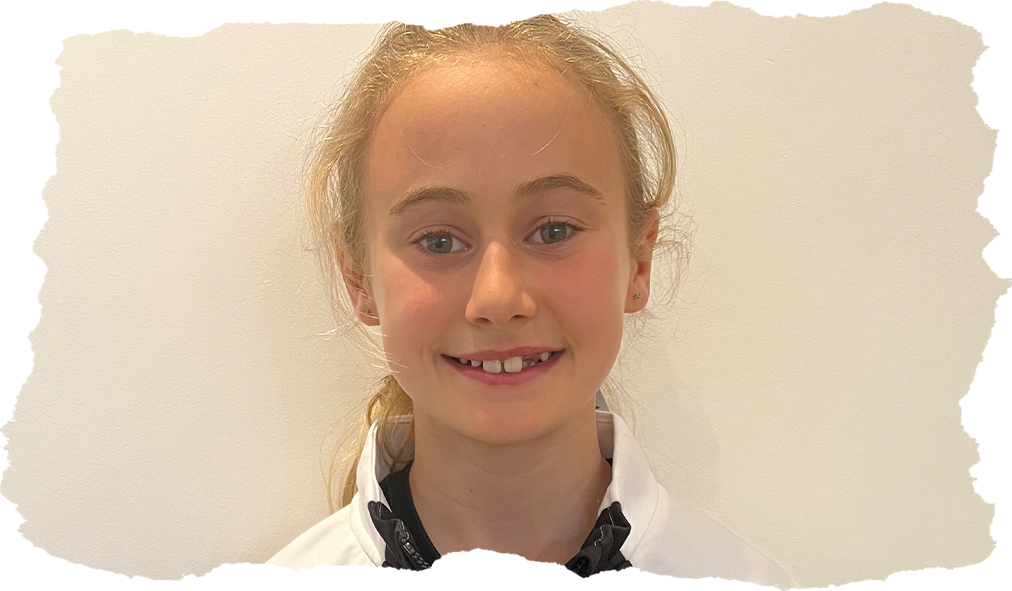 ABIGAIL ~ AGED 11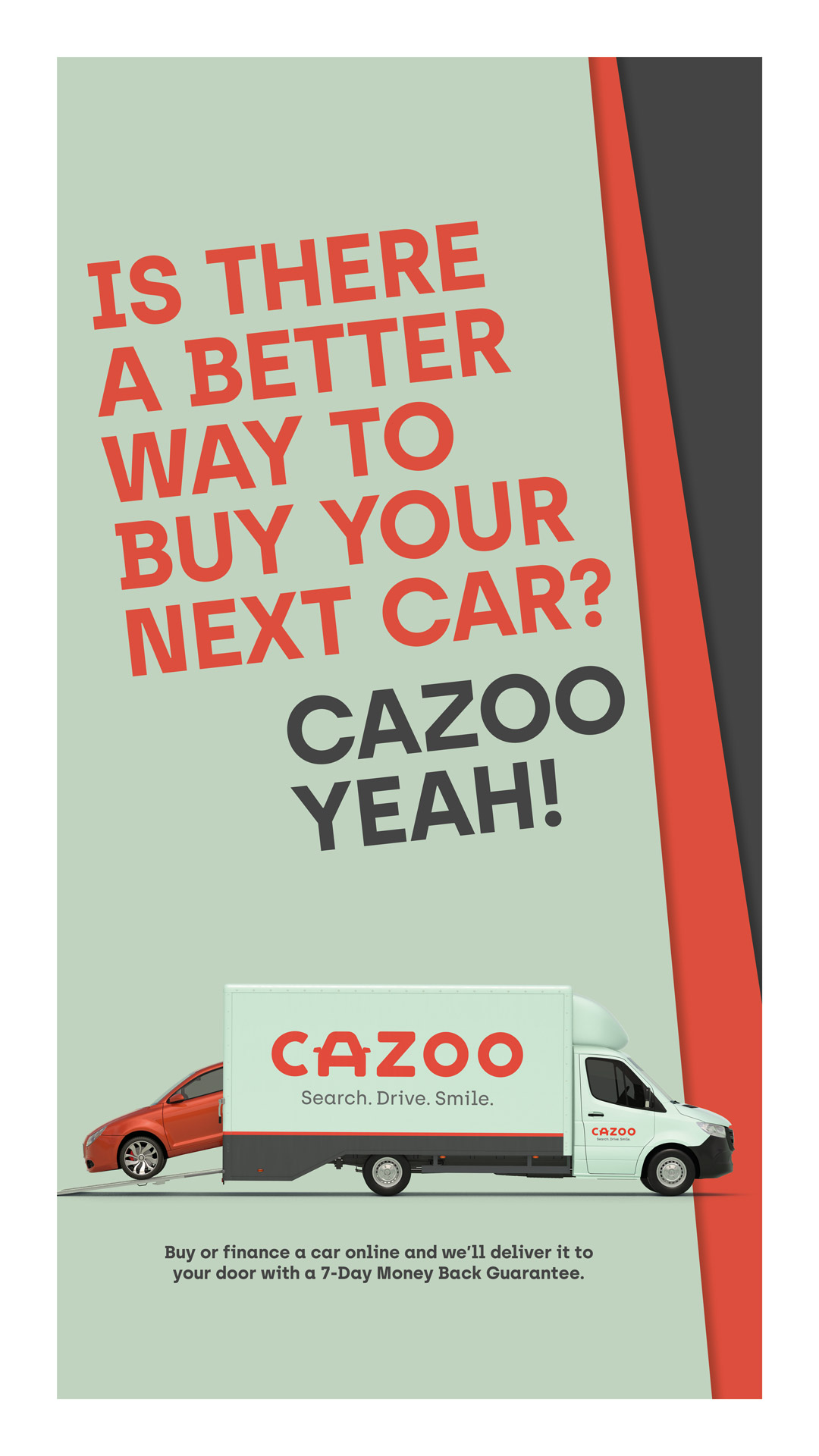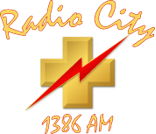 An audio commentary service is available for blind and partially sighted fans – provided by Radio City, the Swansea University Health Board Hospital Radio Service.
Radio City has a long association with the football club dating back to the days when the club was known as Swansea Town.
Since moving to the Swansea.com Stadium, the broadcaster has provided a live descriptive commentary service for free at all Swansea home matches, meaning that blind and partially-sighted supporters in both the home and away ends can follow the action.
In order to book a headset for the match, supporters can contact the accessibility team in advance by emailing accessibility@swanseacity.com, or contacting the ticket office from Monday to Friday between 9am and 5pm by calling 01792 616629 and selecting option one.
Supporters can also book headsets in person in advance at the ticket office, or on the day by speaking to a Disability Liaison Steward on the day.

To learn more about Radio City, visit www.radiocity1389am.co.uk. To learn more about accessible facilities at the stadium, please click here.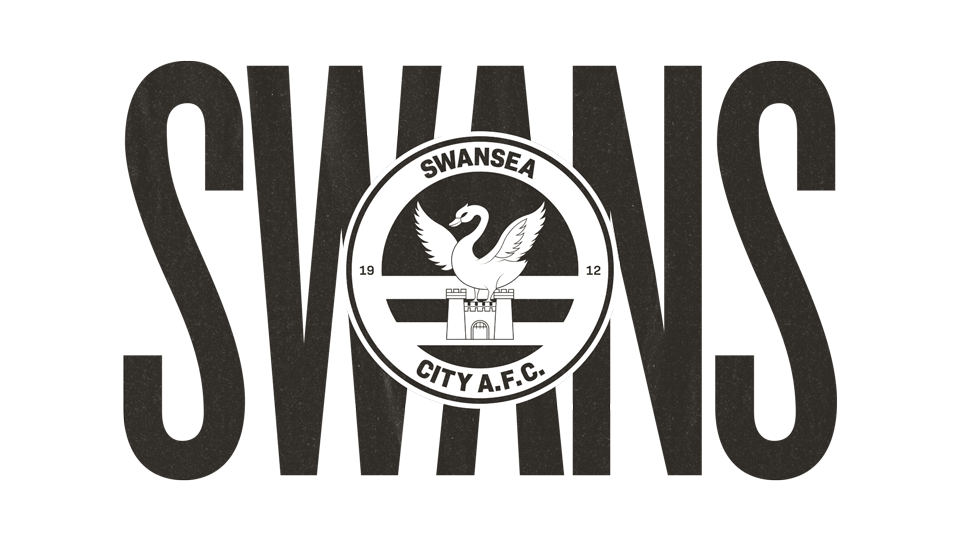 Head Coach Russell Martin
1 Andrew Fisher 
3 Ryan Manning 
4 Jay Fulton 
5 Ben Cabango 
6 Harry Darling 
7 Joe Allen 
8 Matt Grimes © 
9 Michael Obafemi 
10 Olivier Ntcham 
12 Jamie Paterson 
13 Steven Benda 
14 Kyle Joseph 
15 Nathanael Ogbeta 
16 Brandon Cooper 
17 Joël Piroe 
18 Luke Cundle
19 Tivonge Rushesha 
20 Liam Cullen 
21 Armstrong Oko-Flex
22 Joel Latibeaudiere 
23 Nathan Wood 
24 Fin Stevens
26 Kyle Naughton 
28 Liam Walsh 
29 Matty Sorinola 
31 Ollie Cooper 
33 Wasiri Williams 
35 Lincoln Mcfayden 
36 Ben Lloyd 
37 Daniel Williams
41 Jordon Garrick 
45 Cameron Congreve 
47 Azeem Abdulai 
48 Joel Cotterill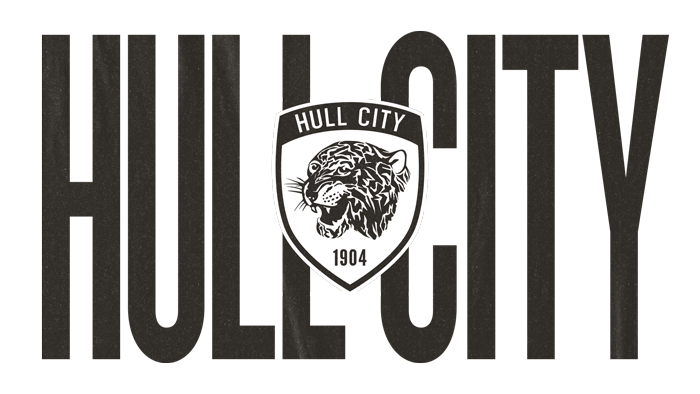 Head Coach Shota Arveladze
1 Matt Ingram
2 Lewis Coyle ©
3 Callum Elder
4 Jacob Greaves
5 Alfie Jones
6 Tobias Figueiredo
7 Ozan Tufan
8 Greg Docherty
9 Allahyar Sayyadmanesh
10 Salah-Eddine Oulad M'hand
11 Dogukan Sinik
12 Joshua Emmanuel
13 Nathan Baxter
14 Andrew Cannon
15 Ryan Woods
16 Ryan Longman
17 Sean McLoughlin
18 Adama Traore
19 Oscar Estupinan
20 Dimitrios Pelkas
21 Brandon Fleming
22 Tyler Smith
23 Randell Williams
24 Jean Michel Seri
25 James Scott
27 Regan Slater
28 Callum Jones
29 Matty Jacob
30 Benjamin Tetteh
32 Thimothee Lo-Tutala
33 Cyrus Christie
34 Harvey Vale
35 Xavier Simons
49 Vaughn Covil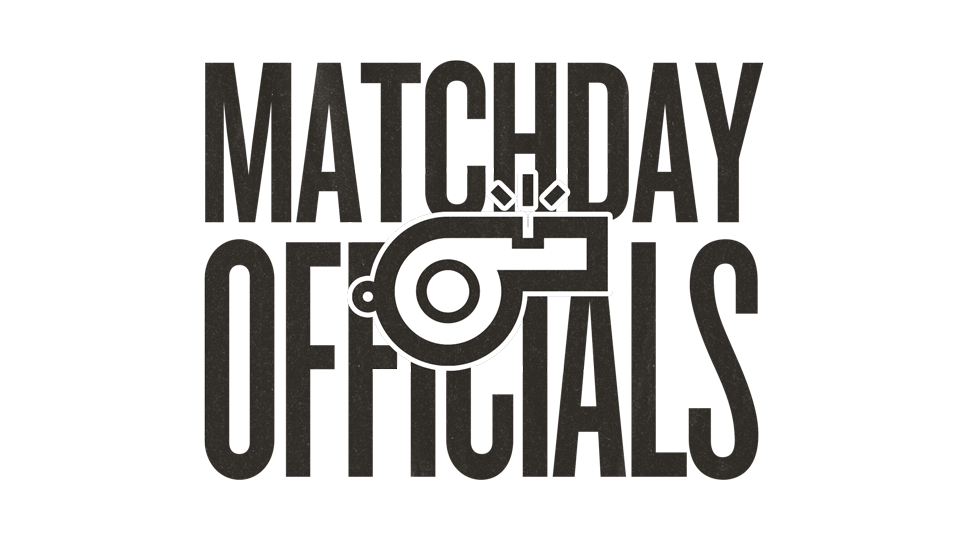 Referee Keith Stroud
Assistant Referee 1 Ian Cooper
Assistant Referee 2 Sam Lewis
Fourth Official Craig Hicks