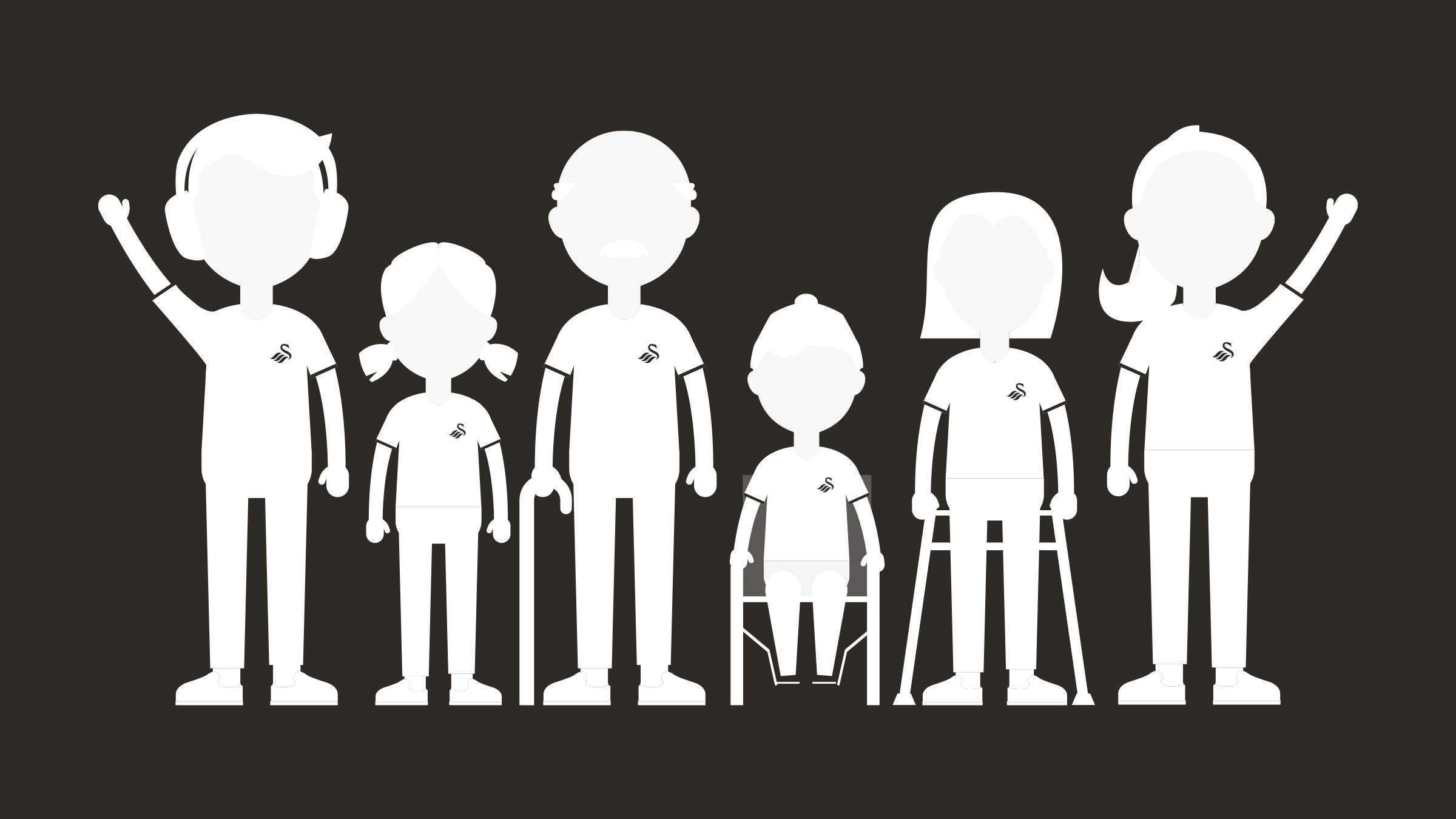 WELCOME
Swansea City is committed to easing our supporter journey for a safe and enjoyable matchday experience with easy access to services. To assist disabled supporters, we have made a wealth of information available – from how to purchase tickets, plan your routes and a quick-reference guide on our need-to-know policies.
We regularly review our arrangements and services and will continue to introduce improvements as quickly as is reasonably practicable. In addition to this, Swansea City understands that no disability is the same, so if you still have further questions about your visit, we would welcome you to get in touch on the details below. Alternatively, if you have any feedback about the policy and access guides, or require them in an alternative format, please contact:
EMAIL: accessibility@swanseacity.com
PHONE: 01792 616 400 (MONDAY-FRIDAY, 9AM-5PM)
Finally, we look forward to welcoming you to the Swansea.com Stadium.
TICKETING
How to Book
The Ticket Office at the Swansea.com Stadium is currently closed for in-person visits until further notice. We remain contactable via email, our email address is ticketing@swanseacity.com. Supporters can also call the ticket office on 01792 616 400 (Option 1)
SWANSEA CITY DSA
THE OPENING HOURS FOR THOSE WISHING TO CONTACT THE TICKET OFFICE VIA EMAIL OR PHONE ARE:
Monday-Friday: 10am-5pm
Saturday: Closed*
Sunday: Closed
The above times may change due to fixture scheduling or any alterations to Covid-19 protocols as set out by the Welsh Government.
Opening times around Bank Holidays and the Christmas and New Year periods will depend on fixtures around that time, and any alterations to Covid-19 protocols as set out by the Welsh Government.
Please contact the Ticket Office on ticketing@swanseacity.com for further information.
Concessionary Ticket Policy
Swansea City AFC offers a complimentary personal assistant ticket for supporters who require one and meet the club's criteria of eligibility. The first time that wheelchair or ambulant tickets are purchased, we require one of the following documents to be provided to the Ticket Office to prove your eligibility in accordance with the club's criteria:
DLA (Higher rate care component and Higher rate mobility component)
PIP (Enhanced rate)
Certificate of Visual Impairment (CVI)
Attendance Allowance (AA)
For supporters with more profound and complex disabilities, additional carer tickets are available upon request at the time of purchase.
Away Ticket Policy
For away matches, supporters with ambulant and wheelchair accessibility requirements are asked to apply within the ballot, which operates online. Should supporters receive a message claiming they are ineligible, they are advised to contact the Ticket Office to ensure their account has the correct permissions.
The decision to operate a ballot system for Away tickets is largely due to the variation in allocations Swansea City receive from away clubs. The number of wheelchair spaces available is significantly less than the allocation for non- wheelchair users. Following consultation with our Disabled Supporters Association (DSA) we believe, a ballot system provides a fairer opportunity for wheelchair users to attend Away matches, who have previously been unable.
The Ballot system:
Provides a 24/7 box office and opportunity to apply

Is more secure – as Card details are entered online rather than over the phone.

To purchase tickets online.

You must be logged in to the account with which the permissions are set.

You click on the 'Tickets' tab next to the match which you wish to attend.

On the right-hand side, you should see a 'Disabled Ticket' tab which you select.

You will then be offered the chance to select your appropriate age category.

You can then proceed to check out, selecting the option to print at home where available, should you choose.
For any assistance and guidance please call the ticket office on 01792 616 400 (Option 1)
SWANSEA CITY DSA
Swansea City AFC is extremely proud of its ongoing partnership with our Disabled Supporters Association (DSA).
Membership fees for the 21/22 season are as follows:
Adult Members: £5.00 Junior Members: £2.00
Membership Includes:
Entry to DSA Social evenings and events for you +1 (FREE Carer)

1 vote at the DSA Annual General Meeting (AGM)

Opportunity to tackle issues as a disabled supporter to help improve services for others.

Information and support from fellow disabled supporters.
Please note membership runs from September 1 to August 31 each year.
If you are interested in joining Swansea City AFC's Disabled Supporters Association (SCAFCDSA) or if you wish to renew your current membership, visit the website here: http://www.swansdsa.org.uk/join/. Alternatively, contact the DSA on: secswandsa@gmail.com
QUICK REFERENCE GUIDANCE
Match Makers (wearing Red 'Here to Help' bibs) and stewards will be able to direct supporters. Should any supporter wish to use the facility during the game, they will need to approach the nearest Disability Liaison Officer stewards (DLOs) in green jackets.
Assistance dogs
Swansea City AFC welcomes all recognised assistance animals, such as: Guide Dogs for the Blind, Disabled Support Dogs and Hearing Dogs for the Deaf. Supporters are kindly asked to notify staff at the time of purchasing tickets so an appropriate seat can be assigned which will provide the necessary space. Additionally, a designated relief area can also be arranged nearby.
Wheelchair Storage
Swansea City AFC are happy to store your wheelchair during a matchday. Whilst advance notice is preferred, requests can be accommodated on the day by notifying a steward or disability liaison steward.
Two stands benefit from powerchair charging points, which can be made available for supporters to use by notifying a steward or disability liaison steward.
MEDICATION
Medication is permitted as long as it does not pose a safety risk and it is labelled correctly. All stewards are trained in dealing with emergency situations, so if you begin to feel unwell, please notify the nearest steward who will take the appropriate action.
Snacks or drinks required by diabetic supporters on genuine medical grounds will be permitted into the stadium subject to the relevant medical evidence being produced*.
*Evidence may include:
A medical letter from a GP or diabetes nurse

Equipment to treat diabetes and/or hypoglycaemic attacks, such as insulin injections or glucose meter

A diabetes ID card
Any questions or queries regarding specific medication should be made in advance of match days by contacting one of the relevant people below with details of medication and support you may require.
AUDIO COMMENTARY HEADSETS
For blind or partially sighted supporters, we offer a complimentary headset for matchday commentary, which uses the local hospital radio commentary feed. These headsets can be booked in advance by contacting the Ticket Office, emailing accessibility@swanseacity.com or requested through stewards on the day.
HEARING LOOPS
Permanent Hearing loop facilities are available at the main supporter service points at the stadium including;
Main Reception

Hospitality and Customer Service Reception

The Club Shop
Should supporters require a hearing loop facility elsewhere a portable hearing loop system is available upon request.
We encourage supporters to contact us in advance of the match day to avoid any disappointment.
ASD Supporters
Swansea City AFC is committed to promoting and improving matchday facilities for disabled supporters. We understand that for ASD supporters, matchdays can be a daunting experience with numerous sensory challenges. However, we recognise that prior information can be extremely effective in alleviating these concerns and ensuring that supporters and their families are able to fully enjoy their match day experience.
To this end, we have introduced the following:
'Going to the Football' Picture Story Guide- A visual tool to assist PA/Carers explain what to expect from a matchday.
ASD Parents or Carers Guide- With practical and helpful advice on; sensory triggers, peak times facilities etc.
Ear Defenders- Available on matchdays via disability liaison stewards or booked in advance by e-mailing accessibility@swanseacity.com. In all cases, a £10 cash deposit is required which is refundable on safe return of the equipment.
GET IN TOUCH
DISABILITY ACCESS OFFICER
Swansea City AFC
Catherine Thomas
PHONE: 01792 616 420
E-mail: accessibility@swanseacity.com
Swansea City AFC Reception
01792 616400
Swansea.com Stadium Ticket Office
01792 616400 (Option 1)
 
Club Shop
01792 616400 (Option 6)
If you have questions or queries about any information or need to speak to someone about arranging an above service in advance of your visit, then we invite you to contact the relevant team below who will gladly assist.
We would also welcome any feedback about your visit or suggestions for improvement, to ensure that we continue to advance in delivering the highest level of service possible
SUPPORT RESOURCES
Please find below our downloadable pdf guides: