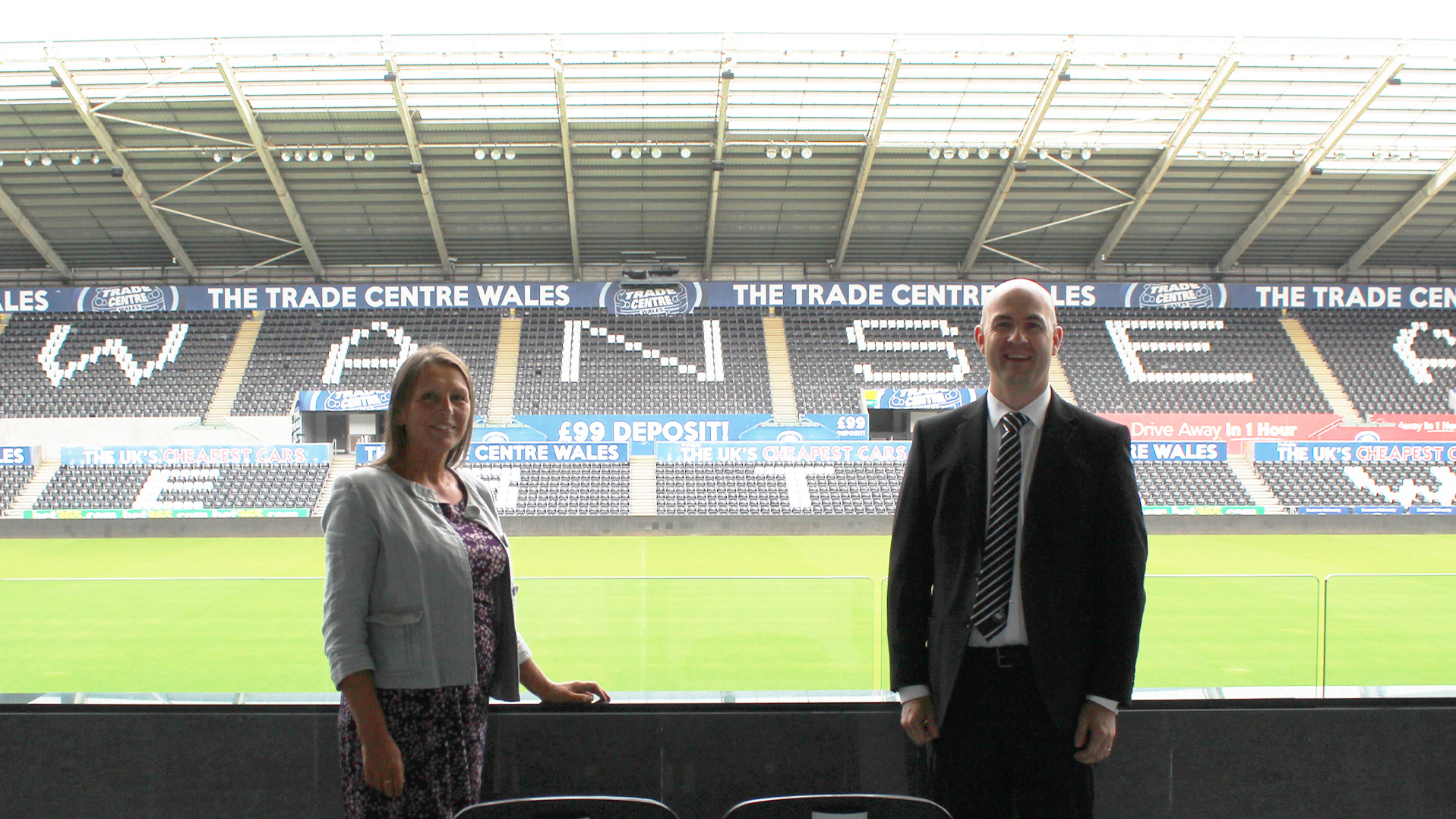 ANDREW RHODES (CHAIR)
Appointed Foundation chair in August 2021, Rhodes joined the club's charitable arm following a long and distinguished career in the civil service. He serves as registrar and chief operation officer at Swansea University between 2018 and 2021. He is currently interim chief executive of the Gambling Commission.
DAVID JONES (VICE CHAIR and Secretary)
Sports Development Manager for City & County of Swansea, David has 20 years' experience in Sport and Health, including 15 as manager of the local authority sports development unit. The role involves regular liaison and planning with various sports organisations including National Governing bodies for sport, Sport Wales professional and community clubs and facilities management. The objectives of the service David manages are to increase participation in sport and physical activity as well as improving standards of performance and delivery. This includes development and business planning for club capacity building, coach recruitment and education and managing funding projects to improve facility infrastructure. David has significant understanding of sporting pathways, infrastructure and development practices as well as performance management and review.
STUART MACDONALD
A former accountant with the South Wales Evening Post, Stuart is also a leading figure with the local Swansea League. He is a former Supporter Director and Treasurer of the Swansea City Supporters' Trust before stepping down in July 2021 after many years of service.
COLIN STAPLES
Colin has been a UEFA qualified A Licence coach since 1996 and worked as a first team coach and Academy Manager at Carmarthen Town FC before joining Swansea City AFC Academy in July 2012. He was formerly lead coach with the Wales U17 and U19 Ladies squads as well as the Men's Semi Pro Wales U23 squad, but he relinquished both positions due to work commitments in 2013. Colin was previously employed by the Welsh Football Trust (FAW Technical Department), as a Club Development Officer for West Wales, with particular responsibility for the Swansea and Carmarthenshire areas. His other duties in the role included Coach Education tutoring as a 1st Aid instructor and various coaching licences with the FAW. Colin left the FAW Trust in early 2018 but draws on his 18 years' experience with them in his work as a trustee with the Foundation.
JONATHAN MORRIS
Jonathan has been involved in regeneration activities for the past 18 years, working for both Local Authorities and the Welsh Government. He has expertise in research and management of large scale regeneration projects. He has advised Local Authorities, Welsh Government, Community Groups and Social Enterprises on the development of regeneration plans. His working life and initial expertise began in the legal profession and he has been able to bring his legal experience and analytical skills to all that he does. He currently manages the Community Regeneration department of NPT Homes. He sits in a voluntary capacity as a trustee of a homeless charity and is the Chair of a Housing Association. He works closely with the Regeneration Departments of both Cardiff University and the University of Glamorgan.
HUW DESMOND COOZE
Huw is a business man with a keen interest in the local community and has supported the club for over 50 years. For 11 years Huw sat on the club board as its Supporters Director, added to this role, he was appointed Supporters Liaison Officer for the club in 2011 on entering the Premier League. Since stepping down from office at the Supporters Trust, Huw has continued his involvement in the Foundation as an independent trustee.
CAROLYN HARRIS MP
MP for the Swansea East constituency, Carolyn is a Shadow Minister (Equalities Office) (Women and Equalities) in addition to being the Deputy Leader of Welsh Labour. She divides her time between Swansea and Westminster but still finds time to support the charities that serve her community. Having lived and worked in the constituency all her life Carolyn has strong ties with the community and is a lifelong fan of the Club.
JONATHAN WILSHER
Jonathan joined the board in the summer of 2018 and is Head of Media & Marketing at Swansea City AFC. He joined the club in 2005 and built a successful media department that expanded rapidly to meet the growing demands of the Club's rise from League One to the Premier League. He was also given responsibility for the Club's marketing department in August 2017. A BA (Hons) graduate in Humanities, Jonathan worked as a sports journalist for the South Wales Evening Post for 16 years where he became chief football writer, assistant sports editor and publications editor. He also spent nearly two years in the press office at Neath Port Talbot Council and owned his own successful sportswear and screen-printing company before joining the Swans on their journey.
LEIGH DINEEN
The Foundation's former chair of trustees. A former vice-chairman of Swansea City AFC and current chairman of the Swans Ladies team. In the past Dineen has sat as a trustee for Global Cancer Care and is currently a board member of Celtic Community Trust. Leigh runs his own businesses in the area.
Sian Davies
Sian is the first official Swans Trust representative on the Foundation Board. A Welsh speaker, she began her career in scientific research before moving into education. Following a lengthy period at senior management level in local tertiary and local authority education, Sian retired in 2015. A lifelong Swans supporter, she joined the Swans Trust Board in 2017 and currently holds the post of Associate Director.