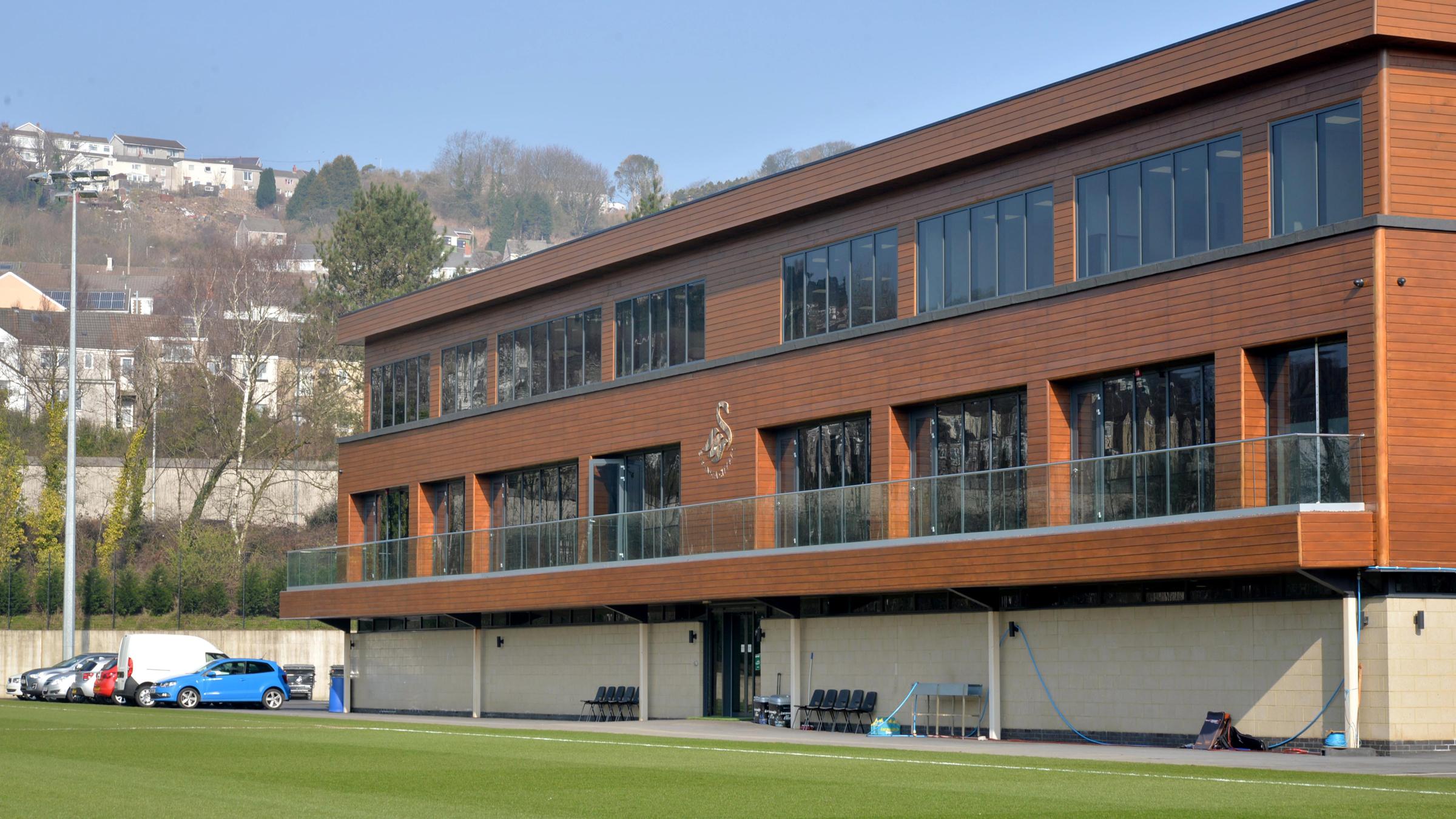 Swansea City Academy develops talented young footballers from the local and surrounding area from age eight to 23.
Committed To Developing Swansea's Future
Based in the shadow of Liberty Stadium, the Swans Academy is situated at Landore, a multi-million-pound facility where the next generation of first team players are being developed and produced from the age of nine.
Swansea is undoubtedly one of the proudest football cities in Britain. The club's rise has been meteoric. The extent of the club's accomplishment is reflected in the city's immense pride of the club's recent history with seven consecutive years in the Premier League, EFL Cup winners and reaching the last 32 in the Europa League. We want our players to understand that when they wear the club's badge, they are representing every Swansea City player that has gone before them and that it is their responsibility to uphold the club's well-established footballing values. We want the root of their motivation and ambition to be founded upon a desire the represent their local club and to look no further than their inner selves as a source of drive and determination.
The artwork that dominates the training ground at Landore is a constant reminder of the pride with which each of our players should carry themselves. We've captured the sentiments of passion held by our current Academy players, past Swansea City legends and prominent members of the local community. While fame and fortune is an undeniable bi-product of professional football, we want our players' motivation to sit firmly in the realms of the intrinsic.
At the heart of every one of our players' journey through our Academy are healthy relationships with our management, coaching and support staff. Our staff are in place to facilitate the growth and development of our players - and not to exert their power over them. We have created an environment in which the Academy players take significant ownership over their development as a footballer through innovative use of development planning, performance analysis and self-reflection techniques. This, in turn, places the onus on the player to retain their task focus, use their own performance and behaviour as a benchmark and ensure that they have complete consciousness of the challenges and obstacles they face. In concurrence with this innovation, our players work closely with members of the technical, Sport Science and Performance Analysis staff toward improvement goals across the four-corner model of player-development.
Through this highly individualised approach to player management and development, we have instilled a culture of attention to detail on the player's part; they retain absolute focus and recognise how effort and work-ethic are equal to improvement and through their performance plans, have tangible mechanisms of self-improvement on a multi-disciplinary basis.
Mission Statement...
Swansea City's mission is to become an established and sustainable Premier League team that continues to progress year on year. Crucial to our success is our playing identity and style which we recognise is key to future success. The club will be measured on the field, although we also recognise our wider responsibility and impact the club has on its local and wider community. The club works towards self-imposed targets, while also aspiring to achieve independently recognised standards.
The key stakeholders that exist to support Swansea City are primarily our supporters, although on a wider scale we recognise the value of our schools, local council, Football Association, Swansea City Community Trust, the Academy and all sponsors who have played an important role in making the club successful and sustainable.
Swansea City Academy's mission is to nurture, promote and provide the best possible environment for young players to flourish. We recognise that not all our players will make the transition into professional footballers, in turn, we have a wider responsibility to ensure we produce young people who are educated, respectful and have the necessary life skills to be successful. Our primary focus is to develop players for our first team who are aligned to our club's playing philosophy, showing flair, creativity and confidence to dominate possession.
Our values...
Swansea City AFC is not just another football club, our key value is 'Carpe Diem' translated as 'Seize the Day', the clubs history is a reflection of this statement, having been close to relegation out of the football league to winning the League Cup in 2013, and subsequently playing in Europe during 2014-15 and competing in the Premier League for seven consecutive seasons.
HUMILITY - STAY GROUNDED
HONESTY - ACT WITH INTEGRITY
RELENTLESS - NEVER GIVE UP
DRIVE - WANT MORE
WINNERS
When a player or staff member enters the Swansea City family there are values that are expected to be followed on a daily basis. These values will ensure that the person gives themselves the best opportunity to develop in the correct way, not only as a player or coach but as a human being also. These values will stay with the person way beyond their time at Swansea City and stand them in good stead for whichever pathway the individual follows in their lifetime.
Football Philosophy - Key Philosophy Principles
This philosophy is how we at Swansea City see the game of football being played. It is how we want our players to play. This is what will give us, Swansea City our identity.
In Possession
To play attractive attacking football, building from the back, playing through, around, over or beyond before ruthlessly applying the finishing touch, while always being prepared to defend.
Out of Possession
To regain the ball with aggression, desire, and energy in a controlled manor, pressing together in numbers while always being prepared to attack.
Education & Welfare...
The education programme plays an integral part in the development of our players and is of paramount importance to Swansea City. We believe in the educational potential of every player and provide a wealth of curriculum choice in order to ensure it is maximised. High quality teaching and learning is matched by a strong pastoral programme at the academy to ensure that all players are supported from the minute they sign with the academy.
We work to promote interdependence and strong learning habits which will be adopted throughout life. We believe in lifelong learning and that all young people who enter our academy programme develop in all aspects of life skills. Our aim is to make the time a player spends with us as a unique learning experience.
Our education programme is designed to accommodate full and part-time models. The part-time programme is delivered at the academy with players attending classes on a day release basis.
Players involved in our full-time education programme attend Cwmtawe Comprehensive School on a daily basis. The programme allows the players to focus on their individual footballing needs but within a very structured and extremely effective education curriculum.
Recruitment...
"IT IS A NEVER-ENDING PROCESS AND THE LIFEBLOOD OF ANY FOOTBALL TEAM."
How does recruitment work at Swansea City Academy?
We have a network of scouts across South Wales who look for players predominantly from under-6s to under-16s. The recommendations from scouts are selected and filtered into the local Development Centres where they begin their journey to becoming a Swansea City Academy player.
Do you run open trials?
Open trials are predominantly held for players in the Foundation Phase (U6-U11). There are no set dates for these trials as they are organised on a need-only basis. Goalkeeper and outfield player trials are held separately. All trials will be published via the website and social media channels.
What are we looking for?
Quite simply, talent. We understand that players come in all shapes and sizes, with a variety of strengths and weaknesses. We take into account a player's technical, tactical, physical, psychological and social attributes, as well as looking at relative age effect and maturation rates. We also have to compare them to players currently in the academy to assess whether a target player has the potential to be better than the players we already have registered.
Development Centres
Development Centres are the third tier of our development programme, sitting just below our transition squads and pre-academy groups, acting as a feeder system and primary route into the academy structure. All our centres follow a specific coaching curriculum, designed by the head of coaching, which runs parallel with our academy programme and uses the same language. We currently have a number of players striving within the academy structure who have come through the Development Centre pathway.
Who to contact?
For any enquiries regarding recruitment, please contact jackchapman@swanseacity.com.
Facilities...
Swansea City's Landore training academy was officially opened in September 2013 by Premier League Executive Chairman Richard Scudamore. The £6 million complex is the club's first purpose-built training ground, which includes:
Two dedicated high-performance floodlit grass pitches.
A full size 3G all-weather pitch and dedicated goalkeeper training area.
Indoor barn, which includes a 3G astro-turf pitch.
Six modern changing rooms.
State-of-the-art sports and fitness centre, aerobics studio and physiotherapy rooms.
Strength and conditioning facilities.
Classrooms, offices, parents' room and a lecture theatre with full match analysis facilities
A dedicated cafeteria and dining hall.