The City Business Network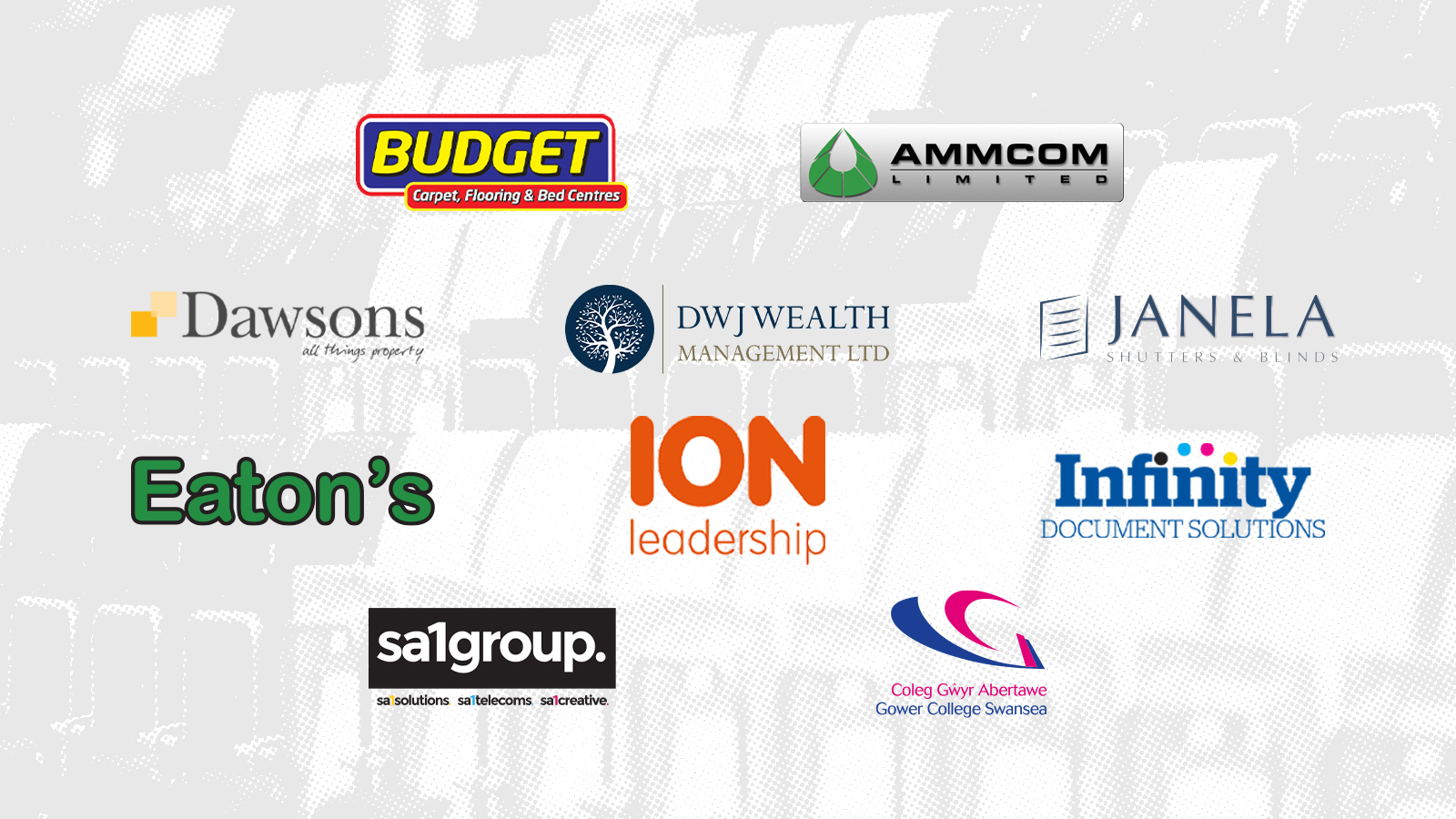 Swansea City has secured a number of new local partners for its City Business Network ahead of the 2020-21 season.
Driven by the local businesses within it, the City Business Network aims to build a network of relationships between businesses in the local area with a common interest; Swansea City.
CBN's bespoke assets enable businesses to have the flexibility to select core advertising, digital and matchday elements that ensure company funds are solely invested in the items that are relevant to their individual business which, in turn, will deliver an impactful return on investment.
Additionally, businesses will have the opportunity to meet like-minded individuals in a relaxed and informal atmosphere through the networking events, as well as being enrolled in the CBN's closed-loop LinkedIn networking group.
With five different packages for all budgets, the City Business Network is more than just networking with the ability to enhance a company brand through Swansea City's powerful club assets.
Signing up to the network's platinum package are local businesses Budget Carpets, Dawsons, Gower College and the SA1 Group.
Budget Carpets
Family-run business Budget Carpets and Flooring Centres is the largest independent carpet stockist in South Wales. Prioritising customer service and satisfaction, a lot of the business' work is from repeat business and recommendations. The showroom is a real showpiece for the company with over 500 rolls of carpet - including remnants - in stock, along with a huge selection of pattern books, ensuring customers have a huge choice.  
Owner Dave Roberts has been in the carpet business for over 25 years after establishing his own business in 1993.
"We believe offering the best value and service to all our clients and saving them money will allow us to continue to provide our services at the lowest prices possible to us," said Roberts.
"We have been proud sponsors of Swansea City for many years and feel that we give back to the club's supporters the best way can by offering a 30% discount off all roll stock carpets and vinyl's.
"We wish the club all the best in the upcoming season."
Dawsons
Formed in 1991, Swansea's award winning and largest Independent Estate Agent Dawsons currently has eight major sales branches as well as five specific residential letting offices.
Dawsons also boasts Swansea's only dedicated Auction department and a specialist Land and New Homes office. An experienced professional services team undertake all types of surveys and valuations along with commercial sales and management.
Gower College
Gower College Swansea has a well established reputation for delivering the highest quality of teaching, learning and training, whether that is for school leavers, adult learners, apprentices, employers or International students.

In addition, the College also offers business to business training and employability support. Gower College Swansea's business training portfolio includes professional courses in areas such as leadership and management, health and safety, and digital. The College can also tailor bespoke training to meet the specific needs of learners and employers.

The College understands the impact that training can have on an individual's budget, particularly during these unprecedented times, and can offer a range of fully funded programmes that ensure value for money.

Whether you are taking a step into the job market or hoping to progress within your current employment, Gower College Swansea can help you gain the skills and confidence you need.

The College's dedicated employability support team, based in Swansea city centre, can help people who are seeking better job opportunities. They can also assist employers who wish to develop and expand their workforce.
SA1 Group
SA1 Group is a unique, collective group of IT, communication and creative companies that have come together to provide a truly integrated service. Working together to achieve one common objective, the unique partnership ensures the group can offer clients a complete solution.  Specialists in IT, communications and marketing SA1 Group encompasses three dynamic and experienced organisations; SA1 Solutions, SA1 Telecoms and SA1 Creative.
Founded 15 years ago, SA1 Solutions is a leading provider of IT support services. With over 200 customers across the UK, they provide IT support tailored to each customer's need. SA1 has experience providing customers with services that range but are not limited to, Microsoft 365, Server Support, Cyber Security and Cloud Computing. SA1 Telecoms is a fast-growing telecoms provider currently supporting over 10,000 VoIP extensions across the UK, that also deliver clients with reliable broadband solutions and competitive business mobile rates. SA1 Creative is a highly established digital web and graphic design agency, with over 20 years' experience and boasting an extensive portfolio of clients. A highly skilled team of designers and developers ensure SA1 Creative provide modern, effective marketing solutions including bespoke websites, graphic and digital design, social media management, SEO and branding.
DWJ Wealth Management
Meanwhile DWJ Wealth Management have signed up for the network's gold package.
A multi award winning financial planning practice based in South Wales, DWJ pride themselves in providing Financial Education within the community. They feel that Financial Education is a key part of their corporate responsibility and continue to work with employers and schools to develop the knowledge and skills of their clients, employees, and the community.
"We offer goal based financial planning. Our clients are at the heart of everything we do," said managing director, Danni Watts-Jones.
"We are able to offer a full range of Financial Services with access to a full range of specialists for personal and corporate financial needs.
"For us, it is all about financial well-being for our clients in a world worth living in.
"The key drivers for the investment strategy are being sustainable and responsible.
"Reviewing our client's needs on an ongoing basis is of paramount importance to ensure we continually review suitability for all parties throughout the relationship.
"With offices in Baglan & Cardiff, we are ideally place to offer bespoke Financial Planning on a face to face and virtual basis."
Furthermore, Eatons, ION Leadership and Janela have signed up for the silver CBN package for the upcoming season.
Eatons
Established in 1998, Eatons is South Wales' largest stockist of fencing and timber supplies. The local authority approved contractors are also national house builder approved contractors covering an area of around 100 miles. Currently employing 12 people, they are also commercial, industrial and domestic contractors. 
ION Leadership
The ION Leadership programme is designed to develop and enhance the leadership skills of owners, managers and key decision-makers of businesses located across the convergence regions of West Wales, North Wales, and the Valleys.
Led by Swansea University, in partnership with Bangor University, the project is backed with £5.7m from the European Social Fund to raise skills and drive forward productivity and turnover in small and medium-sized enterprises (SMEs) as well as larger companies.
The initiative has supported over 1400 managers, aspiring leaders and entrepreneurs in nearly 1000 businesses, to develop high-quality skills through targeted leadership programmes that aim to develop sustainable, profitable enterprises. 
Janela
Janela Shutters & Blinds are an independent supplier of interior window shutters and blinds based in Neath
Established in 2014 by Ryan Thomas, the business has quickly grown to be one of South Wales' leading suppliers and installers of bespoke window coverings. Janela pride themselves on offering only the highest quality products made from the finest materials and fabrics all installed by their own craftsmen.
Janela's flagship products are its custom-made interior wooden window shutters and its smart controlled blinds which they supply and install for homeowners and commercial clients across South Wales. In addition, Janela also supply and install a full range of window blinds and handmade curtains. To complement customers' choice of window dressing they are also able to supply a range of matching or contrasting soft furnishings.
Janela's small but dedicated team of professionals look after customers on every step of their journey from initial contact through to completion of the installation, while their after sales support is there for customers long into the future.
In addition, Ammcom Limited and Infinity Document Solution have signed up for the business network's bronze package.
Ammcom Limited
Ammcom Limited are NICEIC accredited domestic and commercial Electricians who specialise in Electrical, Voice, Data and Optical Fibre cabling. Ammcom are compliant to the Telecommunications Industries Association as well as the Electronic Industries Association.  
Infinity Document Solutions
Infinity Document Solutions provide copy, print and scan technology and software solutions so that businesses and organisations are able to produce, duplicate, integrate, store and retrieve documents in an efficient and easy manner.
An independent company with a Swansea-based office, Infinity's five directors have over 145 years of industry experience combined. Its dedicated team offer a very local and personal touch to both sales, service and administration irrespective of the size of the customer's business.
Since the company's inception, Infinity has gone from strength to strength and has more than doubled in size. All of its technicians are fully trained and qualified on the products they support and partner to the manufacturers highest standard. Infinity has been the Official Supplier of Printing Equipment for Swansea City since the business' inception.
If you would like to join our CBN or find out any information, please contact cbn@swanseacity.com.