This page contains information on the travel plans available to you and will be updated when new information is available, including road closures and travel options. 
If you would like to be kept informed about all parking and travel options, please click below to opt-in to emails from the stadium. 
TRAIN SERVICES
SWANSEA TRAIN STATION
There are limited train services available post-concert from Swansea train station, located on the High Street in Swansea City centre (SA1 1NU). The train station is approximately a 25-minute walk to the Swansea.com stadium. Please read below for details on the services or visit the National Rail website to plan your travel.
EASTERN DIRECTION
The last train out of Swansea in an Eastern direction is to Cardiff at 10.30pm. Please note the concert may not have concluded at this point.
WESTERN DIRECTION
There are services from Swansea train station at 12.08am and 12.51am. These trains will stop at Gowerton, Llanelli, Pembrey & Burry Port, Kidwelly, Ferryside and Carmarthen.
REVIEW TRAIN TIMES
We highly recommend reviewing train times via the National Rail website to plan your travel.
BUS SERVICES
FIRST CYMRU
There is a very limited bus service available on the evening of the concert. The 4A service with First Cymru stops on Neath Road, across from the Swansea.com Stadium at 11.02pm, stopping at 4 stops in the Morriston area before terminating at Morriston Hospital. The bus timetable for this service is available to view HERE.
Please visit the First Cymru website to plan your bus travel, by clicking below.
SHUTTLE SERVICE FROM SWANSEA HIGH STREET
TURNERS SHUTTLE SERVICE
Turners will be operating a shuttle bus service from Swansea train station on High Street, between the hours of 4.30pm and 7pm, and then again from 10pm until 11.30pm. The cost of this service is £5 per seat. Please note as it currently stands, there are limited train services departing Swansea after the concert. We highly recommend checking this prior to booking your travel.
Anyone wishing to use this service must pre-book their travel in advance and guests will receive a print at home ticket, which must either be printed prior to using the coach service, or displayed on a smart phone.
Parking for this option is available at Swansea High Street multi-storey car park (SA1 1NU). More information is available on our concert parking page.
The shuttle service can be booked through the Swansea City ticket office by clicking below.
DROP OFF AND PICK UP (INCLUDING TAXIS)
DROP OFF AND PICK UP
Morfa Retail Park will act as a pick up and drop off point, pre and post-concert. Post code: SA1 7BP.
Please note that this is strictly for pre-arranged transport (including any pre-booked taxis). 
Attendees should be aware that the retail site will shut at 11pm and car enforcement fines will be in place for any vehicles who do not adhere to the signposted restrictions.
A vehicle drop-off lane will also be in place on the A4217 south-bound at the junction of Brunel Way.
TAXI SERVICES
There will be a small taxi rank located near the park and ride site in Landore for those who have not pre-booked.
All pre-booked taxis must collect guests from Morfa Retail Park.
ROAD CLOSURES
PRE-EVENT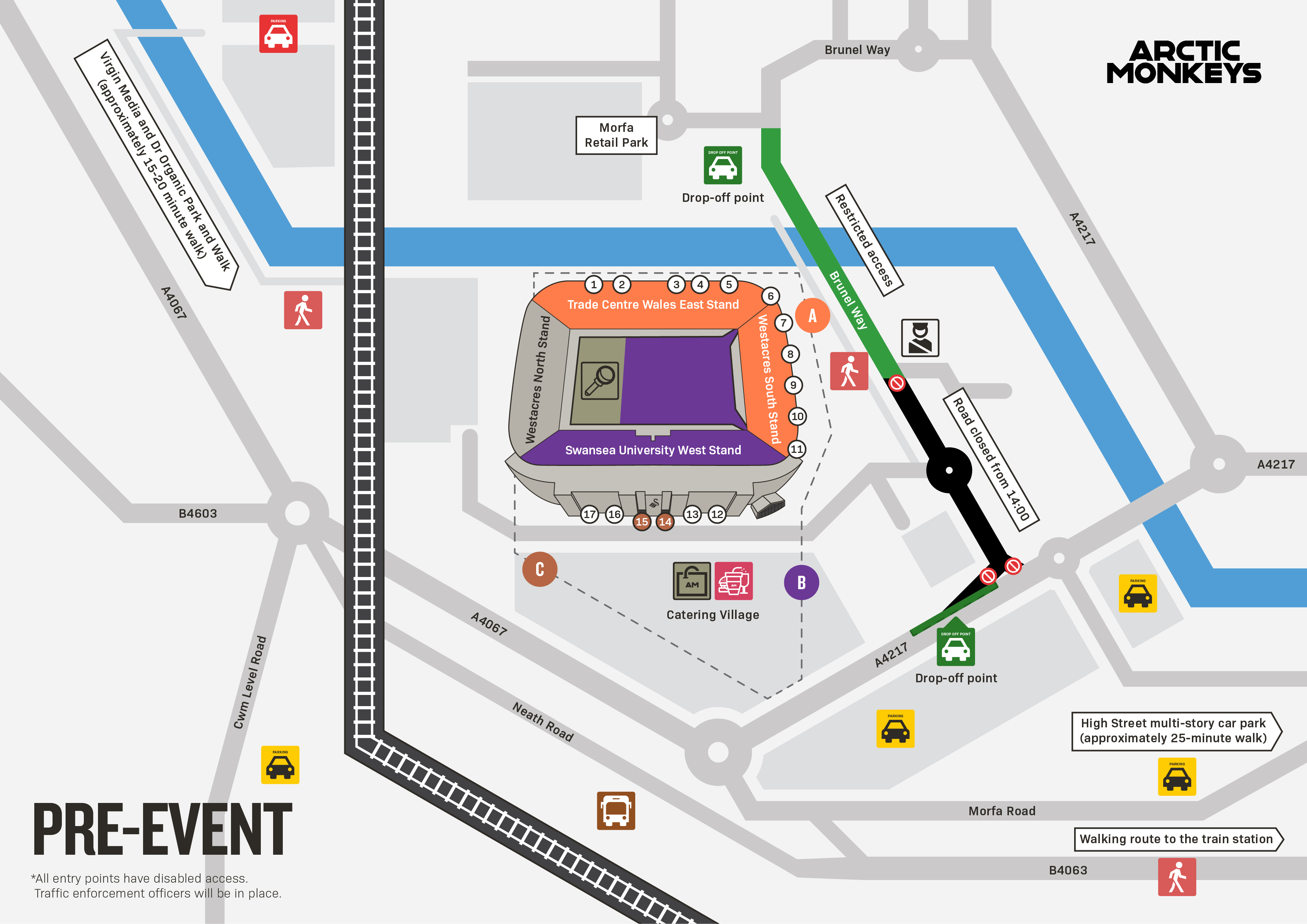 There will be a partial road closure in place from 2.00pm on Brunel Way.
Due to this road closure, concertgoers who have parking on-site must access the car park must access via the A0467 dual carriageway, as there is no other entry to this car park. A vehicle drop-off lane will also be in place on the A4217 south-bound at the junction of Brunel Way.
POST EVENT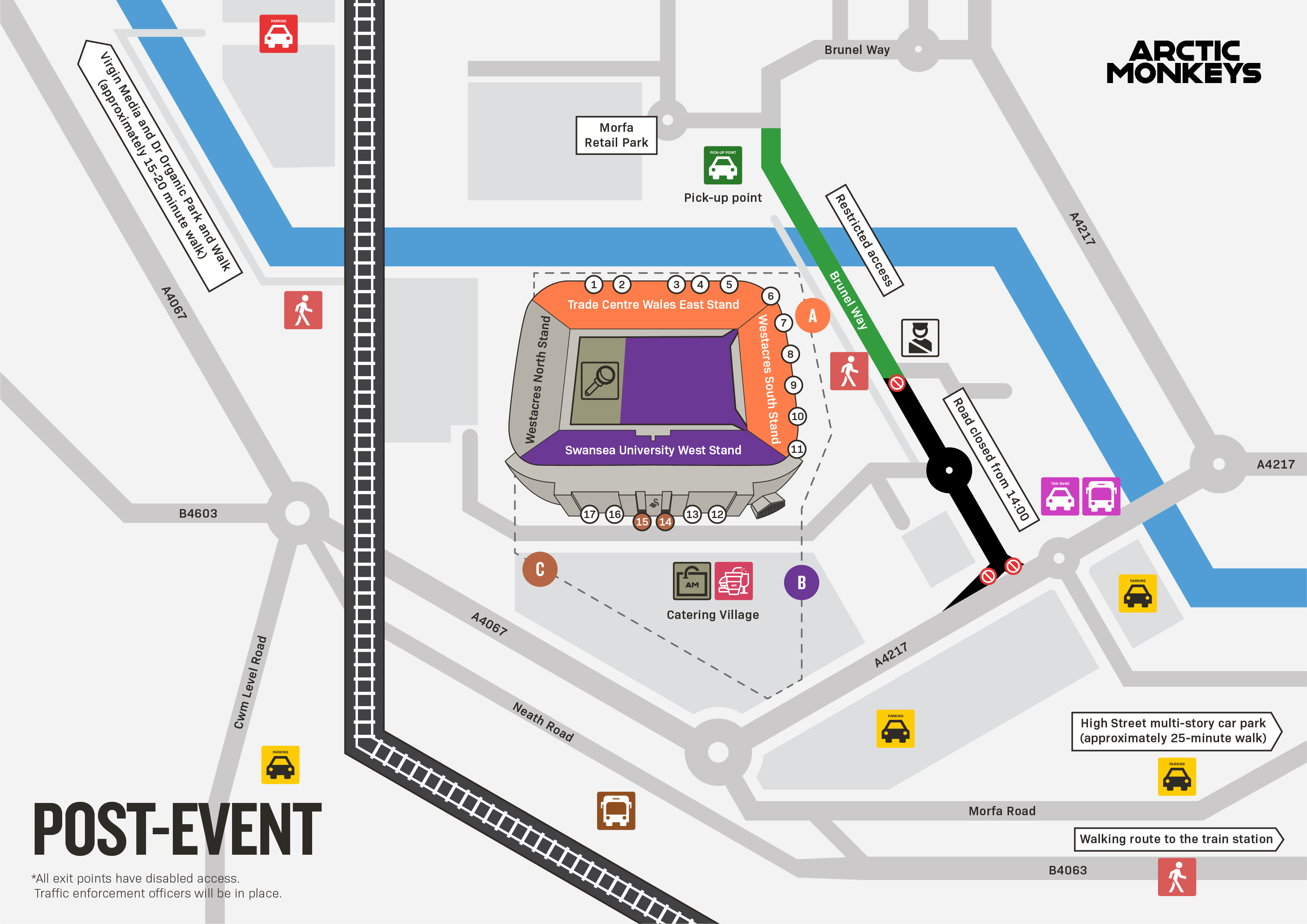 There will be a temporary road closure in place at the end of the concert. Closure of the A4067 dual carriageway (opposite the stadium) will take place for at least 45 minutes, and roads will be reopened once safe to do so.