WHAT IS THE NHS COVID PASS?
The NHS COVID pass is anticipated to be introduced into Welsh legislation from October 11, 2021.
The NHS COVID pass will mean that people aged 18 or over, and who are attending an event of more than 10,000 people, must present a 'Covid pass'.
It will encompass all supporters, regardless of their vaccination status.
An NHS COVID pass is deemed as one of the below:
A digital NHS COVID pass

A paper NHS COVID pass

A negative Lateral Flow Test (LFT) result within the past 48 hours

A confirmation of a positive test within the last 6 months which has been followed by the appropriate period of isolation (i.e. 10 days) - this can be evidenced in the COVID pass by text or email
DIGITAL NHS COVID PASS
Should my pass say 'Valid in England'?
The NHS COVID pass is valid across the UK, therefore it does not matter if it says 'Valid in England'. This is an acceptable NHS COVID pass in Wales also.
For clarity, all UK passes are valid within this digital NHS COVID pass.
The digital NHS COVID pass expires every 30 days. Do I have to refresh the barcode / print each month?
The NHS COVID pass expires within 30 days of download, however it is advised on the Welsh Government website that the pass will be refreshed at the time of expiry. For the avoidance of doubt, it is the responsibility of the user to ensure that the Covid pass displayed is in date, at the time of presentation.
Can I bring a printed copy of my NHS COVID pass?
Yes. We encourage fans to bring this with them on the day of a fixture, if possible. Again, the refreshed version with valid expiration dates remains the responsibility of the end user.
What if I don't have phone signal at the stadium?
You can prepare by downloading an electronic copy of the pass to your smartphone. Alternatively, you can download and print a paper version and bring this to the stadium with you. Again, this responsibility lies with the end user.
PAPER NHS COVID PASS
My paper copy didn't arrive in time. How can I come to the game?
If you have not yet received your paper copy of your NHS COVID pass, you are able to take a lateral flow test. For you to attend, the result must be negative, and you must record this result with the NHS, following the instructions provided in the LFT kit.
Alternatively, you are able to download the digital NHS COVID pass as detailed above.
Please note a photo/photocopy will not be accepted, you must bring the original paper copy with you.
A NEGATIVE LATERAL FLOW TEST (LFT) RESULT WITHIN THE PAST 48 HOURS
Should I bring the physical test with me?
NO. This is not proof of a negative result. You must complete the test and record your result by either:
Visiting the NHS website

HERE

Calling 119 between the hours of 7am and 11pm (open daily).
You will then receive a text message/email which looks like the below.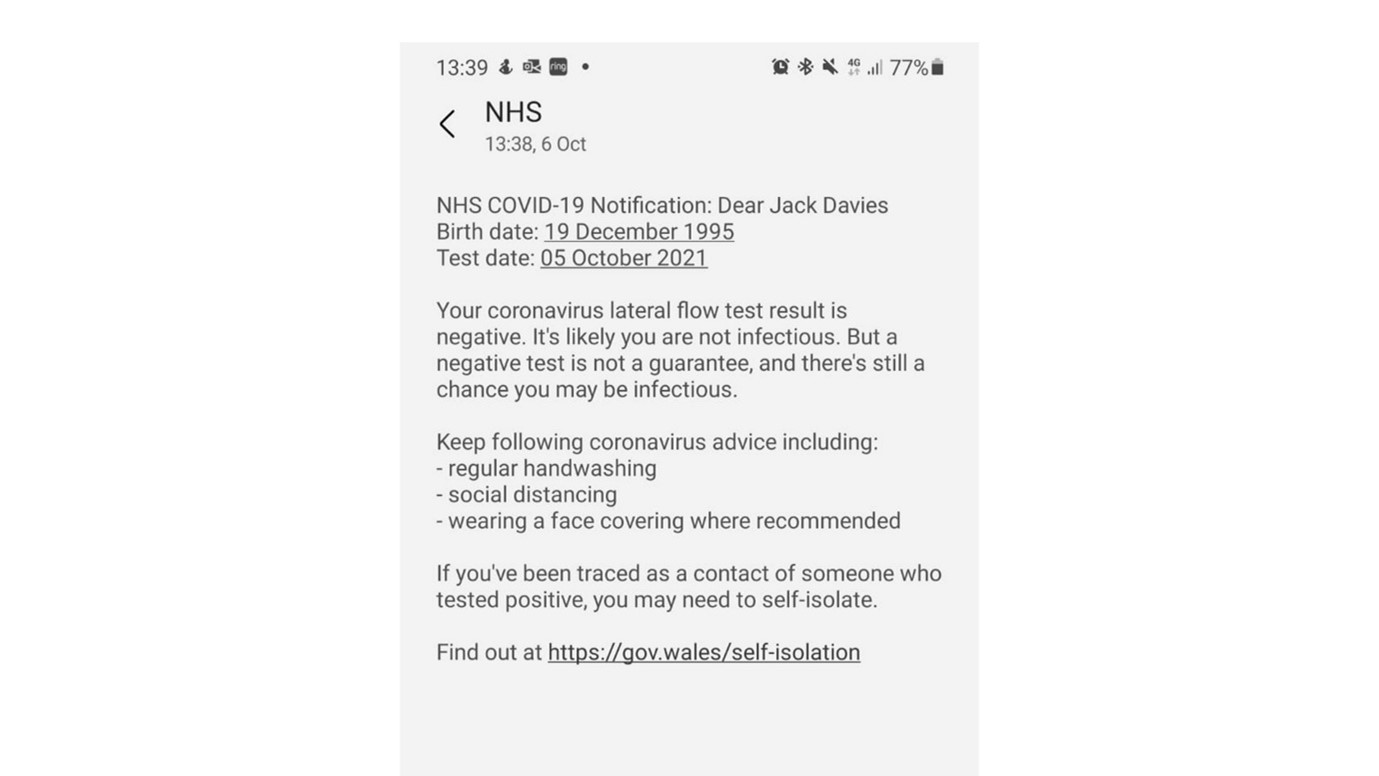 This is the proof of a negative result and the only acceptable form (relating to the negative lateral flow).
Showing the negative lateral flow test itself is NOT an acceptable form of an NHS COVID pass.
I have taken a PCR test and it has returned as positive. What do I do?
DO NOT ATTEND THE STADIUM.
You must record the results with the NHS, as per the steps above. You are then required to self-isolate immediately and get a PCR test to confirm your result. More information is available HERE.
OTHER QUESTIONS
Where will my NHS COVID pass be checked?
Prior to you arriving at the turnstile, your pass will be checked by our staff. Therefore, we request that you have your NHS COVID pass and your ticket to hand, for process on arrival.
I have had one vaccination. Can I get a pass?
No. The NHS COVID pass is only available to those who are fully vaccinated (i.e. had two vaccination doses).
Can I use my paper vaccination record/card as my NHS COVID pass?
No. This is not an acceptable COVID pass as determined by the Welsh Government. This is a stipulation from the Welsh Government and for the avoidance of doubt, the only forms COVID passes are those identified above.
Does my child need to prove a negative Lateral Flow Test result?
No. The legislation only applies to those aged 18 and over.
My child is under 18, however does not have any ID to prove this.
If challenged, please inform stadium personnel of your child's age and admittance will be granted, if under 18.
I have season tickets for my family and friends, but they are all in my name. Will they be able to gain entry?
The name on your ticket does not need to match the NHS COVID pass, as we understand that a high number of our fans purchase multiple tickets on their friends and families behalf's.
I have a medical exemption which has meant that I am not vaccinated, what should I do?
Please email our Disability Access Officer on accessibility@swanseacity.com
I have hospitality tickets and bring different clients to each game – how can I comply with the regulations?
As this is a legislation from the Welsh Government, there is no variation from the policy. If you or your guests do not comply with the three forms of authorised admittance as identified above, then permission to access the stadium will be denied. For clarity, hospitality guests are responsible for the necessary COVID passes and information thereof to be passed to their respective clients, friends and family.
These regulations were not a condition of sale when I purchased my season ticket, what is the Club's response?
The Club and its supporters are bound by any and all legislative changes made by Parliament and/or, where applicable, the Welsh Assembly Government – attention is drawn to clause 10.8 of the Conditions of Issue (available on our Ticketing website HERE).