Back the Jacks and not illegal streams
20th November 2020
Club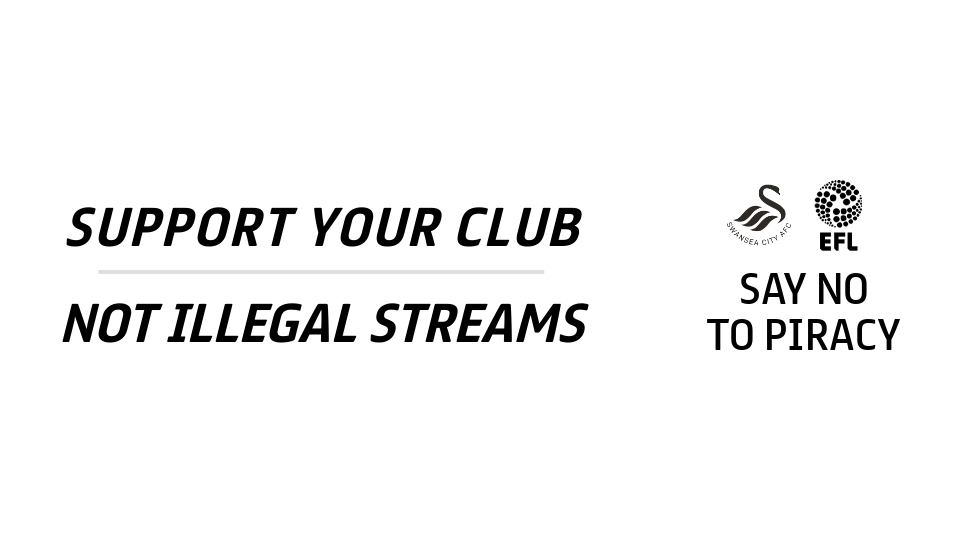 Following the positive response from the majority of supporters to the quality of the coverage provided by our SwansTV Live service, the club would like to place on record its thanks to fans for their backing during these difficult times.
With the Jack Army currently unable to attend games due to government and healthcare authority measures in response to the Coronavirus pandemic, we understand how important it is for you all to be able to watch our beloved Swans in action, and that the service we provide is of the highest possible standard.
SwansTV Live is the only way to regularly watch Steve Cooper's side in action through a four-camera feed with our own in-house graphics, and a passionate commentary team of Anthony O'Connell and the likes of club greats Wyndham Evans, Lee Trundle and Kristian O'Leary.
Unfortunately, we are aware that there are cases of illegal streaming and redistribution of content provided by SwansTV Live, with almost 7,000 cases detected this season across all clubs in the EFL.
The Swans and the EFL take piracy incredibly seriously, working with Opsec to proactively seek out illegal streams on all formats and taking appropriate action against businesses and individuals.
We are mindful that those who have engaged in illegal reproduction of live matchday streams and other content are in a minority.
We want to call on the Jack Army for your support in ensuring these illegal practices are not allowed to continue.
We want to encourage all supporters to back the club, team and business by purchasing the stream from SwansTV, rather than accessing it through an illegal operation.
With the support of the EFL, Opsec and the authorities, illegal broadcasting of SwansTV Live is monitored every game and those illegal channels will be reported and dealt with.
The relationship between the club and its fans is of great importance to us, and we ask you to help us continue to provide you with a the best-possible streaming service by adhering to the terms of use.
Supporters are encouraged to report any illegal streams they come across or pubs that may be showing Swans content unlawfully by emailing piracy@efl.com. All emails will be treated confidentially
Once again, we thank you for your fantastic support.