Ben Cabango | Road to Recovery | 106 Days
21st September 2022
First team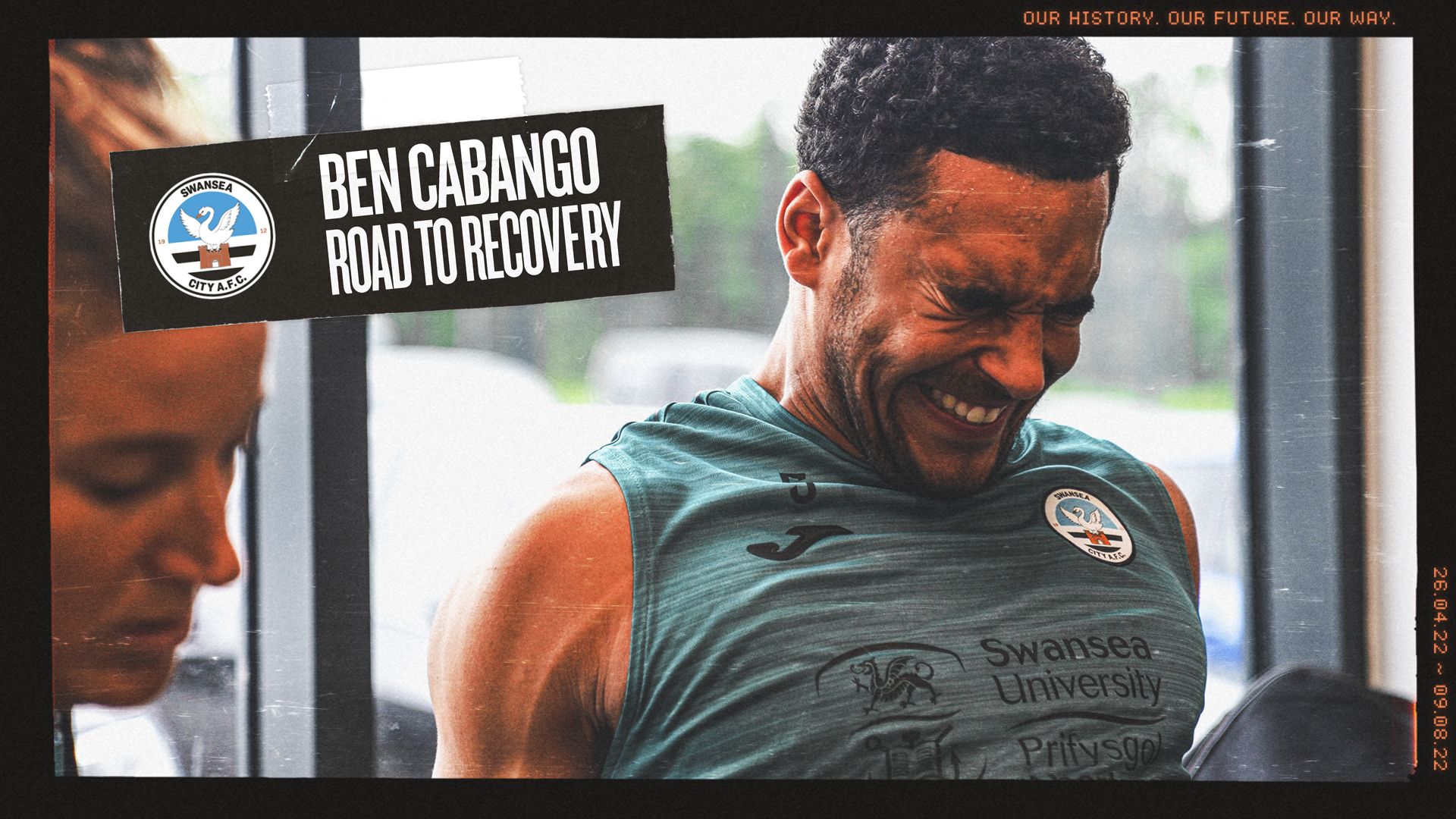 The moment it happened, he knew something was wrong.
One second Ben Cabango was a young man enjoying an excellent run of form, fresh from scoring a memorable goal in a south Wales derby victory, playing the best football of his fledgling career and eyeing up a potentially historic summer with Wales.
The next, he was on the deck holding his ankle after being on the receiving end of a poor challenge from former team-mate Jamal Lowe as Swansea City faced Bournemouth on April 26.
The 22-year-old played on until half-time, hoping he could run off the discomfort low down in his ankle.
When he felt the joint stiffen during the interval he sensed he was in trouble, and an attempt to play on lasted barely a handful of minutes into the second half before the game was up. Off Cabango came.
It proved not only to be a key moment in that particular game – with Swansea's defence shorn of genuine height, Bournemouth wasted no time sending on Phil Billing and Kieffer Moore to take advantage – but it dealt the player himself a cruel blow at an unfortunate time.
Cabango would have been a certainty to be in the Wales squad for their June fixtures, which included the World Cup play-off final against Ukraine. As he sat in the dressing room receiving immediate treatment from the Swans medical team, he knew that prospect was over.
"It was a really bad tackle, but I thought it was just a little knock and I'd run it off," recalls the 22-year-old
"Then as I was getting more into it, it did settle down, but when I came in at half-time it just stiffened up.  
"As I came out for the second half, I just couldn't play on. Then I knew it was something bad.
"It was a disappointing night to be honest, but I knew I had to get over it pretty quickly. I just tried to get recovery up and running as soon as possible."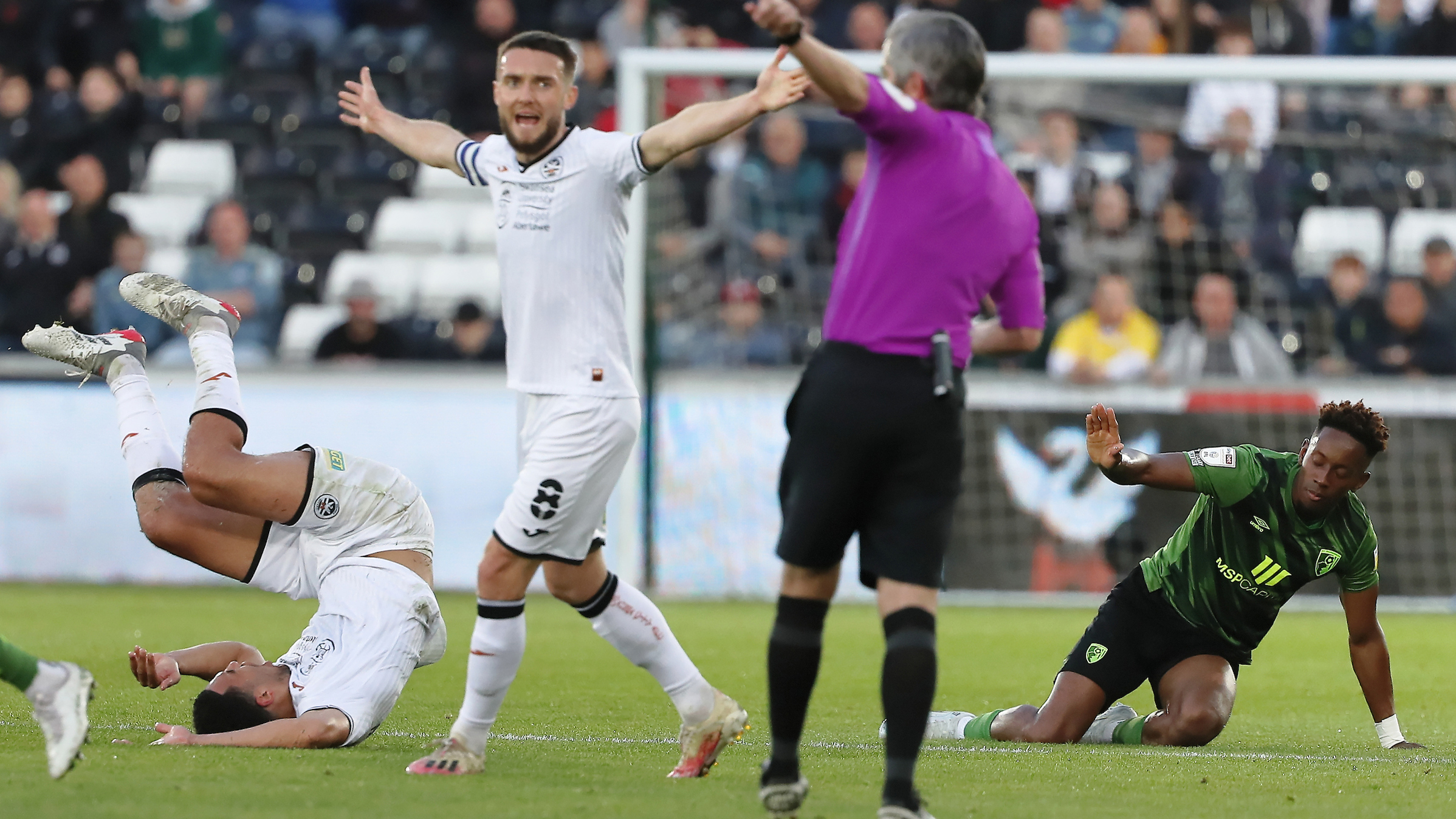 Just 12 weeks later, Cabango was back training with his team-mates and ready to play again. His form since making his comeback against Oxford United in the Carabao Cup has been impressive, earning him a recall to the Wales squad for the upcoming international window.
It would not have been possible without his diligence and determination, and the expertise and hard work of the medical and sports science teams at Swansea's Fairwood base.
Here, we explain how Cabango's recovery and rehabilitation process unfolded, from the moment of the injury to his return, outlining just what goes in to getting a player back out on the pitch when injury strikes.
Part One: The injury (April 26)
We have outlined above the events of Lowe's tackle and Ben's injury, but there is far more to these matters than meets the eye.
Cabango was immediately treated and assessed on the pitch by physiotherapist Bethany Chaddock and head of medical Jez McCluskey.
The defender himself knew that something was amiss, but wanted to get through the few minutes to half-time to see if anything could be done during the interval.
It's a common occurrence for players to instinctively want to play on. No-one wants to have to give up their place for someone else to have a shot of taking it away from them.
"From the side you could tell it was a significant tackle. He went down, and – as was standard at the time - myself and Beth would go on for all injuries," says McCluskey.
"The agreed plan is that the physio will assess all muscular injuries. So that would be Beth's domain when she went on. She does the assessment on the pitch, and I would feedback to the sideline.
"It was very near the end of the first half. He was feeling his ankle, but the agreement was he had a couple of minutes to see out and get to half time."
"We don't sometimes get a true test on the pitch while everything is going on," adds Chaddock.
"The body goes into spasm to protect the area it recognizes as being damaged, so it's not until later on the muscles release and we get a proper feel for the joint. 
"We are player led. There's minimal time to assess the injury itself. We go initially with what the players are telling us. We have a look to see if there are massive amounts of swelling, or if there is any gross deformity of the limb we can see.  
"Apart from that it is usually a question to the player of 'how do you feel?'
"If it's close to half-time we will ask if they feel they can get to that point where we can have a more thorough look. If they feel they need to come off immediately then that is what will happen.
"In Ben's case he was quite happy to stay on to the pitch until half-time so we could re-assess. That was the original decision we made when on the pitch." 
Once Cabango was withdrawn from the fray his ankle joint immediately stiffened up, and the player quickly realised his night was done.
From that point the medical staff were already in the process of planning for him to have an MRI scan on the problem the following morning.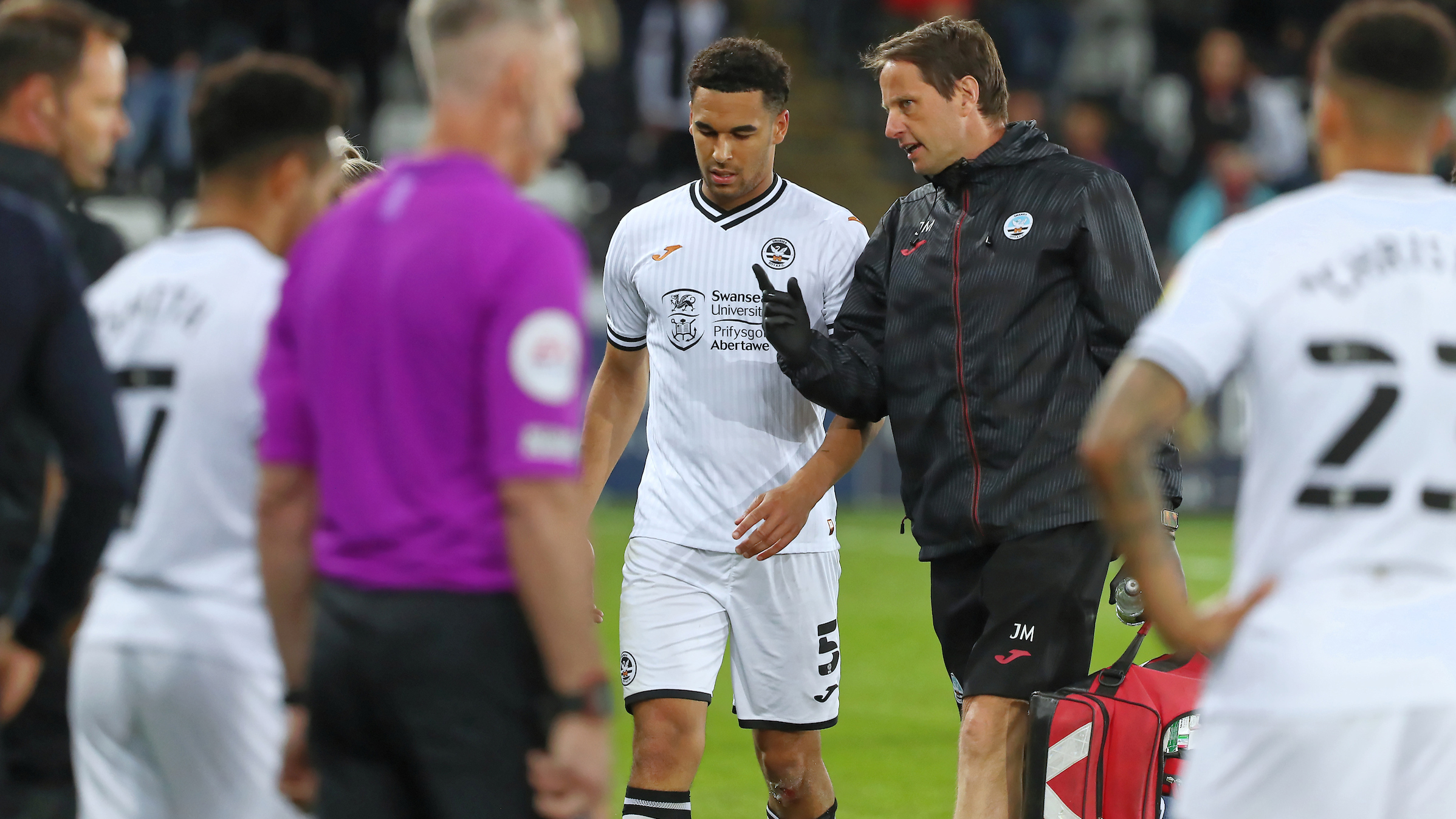 But first of all, the night of the game itself required an immediate compression, icing and immobilisation of the joint to prevent any further damage.
Cabango would leave the stadium wearing a protective boot and crutches, in order to immobilise the joint and avoid him putting any weight through the problem area.
When the next morning arrived, he was off to Sancta Maria for his scan.
"When Ben came off the field he was assessed in the treatment room and it was obvious then from the swelling it was a significant lateral ligament injury of the ankle," continues McCluskey.
"It's then about the immediate protection of the joint and swelling control. The more you can get on top of that early, the better it is for the injury. 
"After the game we always have a chat about any significant injuries and what the immediate response will be, so whether the player needs to go to hospital or whether it's a case of packaging them up.
"If that's an ankle injury, that usually means putting them in a walking boot to protect the joint. We also make them non-weight bearing so there can't be pressure put to the joint, and then we review it the next morning.  
"In Ben's case it was a significant injury, we needed to mobilise it so he could not do any further damage or aggravate it, and then we arranged a scan.
"Most of the time with injuries we're lucky we can witness it there and then. We have the video that the analysts give us straight away.
"We can have a look at them back in slow motion between that and the examination. In a vast majority of occasions, we know what we're dealing with, and the MRI scan is just confirming that.
"It's just making sure there's nothing else going on. With ankle injuries you want to make sure there isn't any associated damage inside the joint to the cartilage."  
Part Two: Scans and surgery
The results of the scan were returned within a few hours and, in line with the initial diagnosis, Cabango had indeed suffered ligament damage to his ankle.
He had suffered a grade two tear to his anterior talo-fibular ligament (ATFL) and a grade two tear of calcaneofibular (CFL) ligament.
Those two ligaments are located on the outer side of the ankle and are key in providing stability to the ankle joint.
It was a significant injury – the first such issue to affect Cabango's career – and it meant he would face a battle to be fit for the start of the 2022-23 campaign. Any prospect of a summer of international football with Wales was firmly extinguished.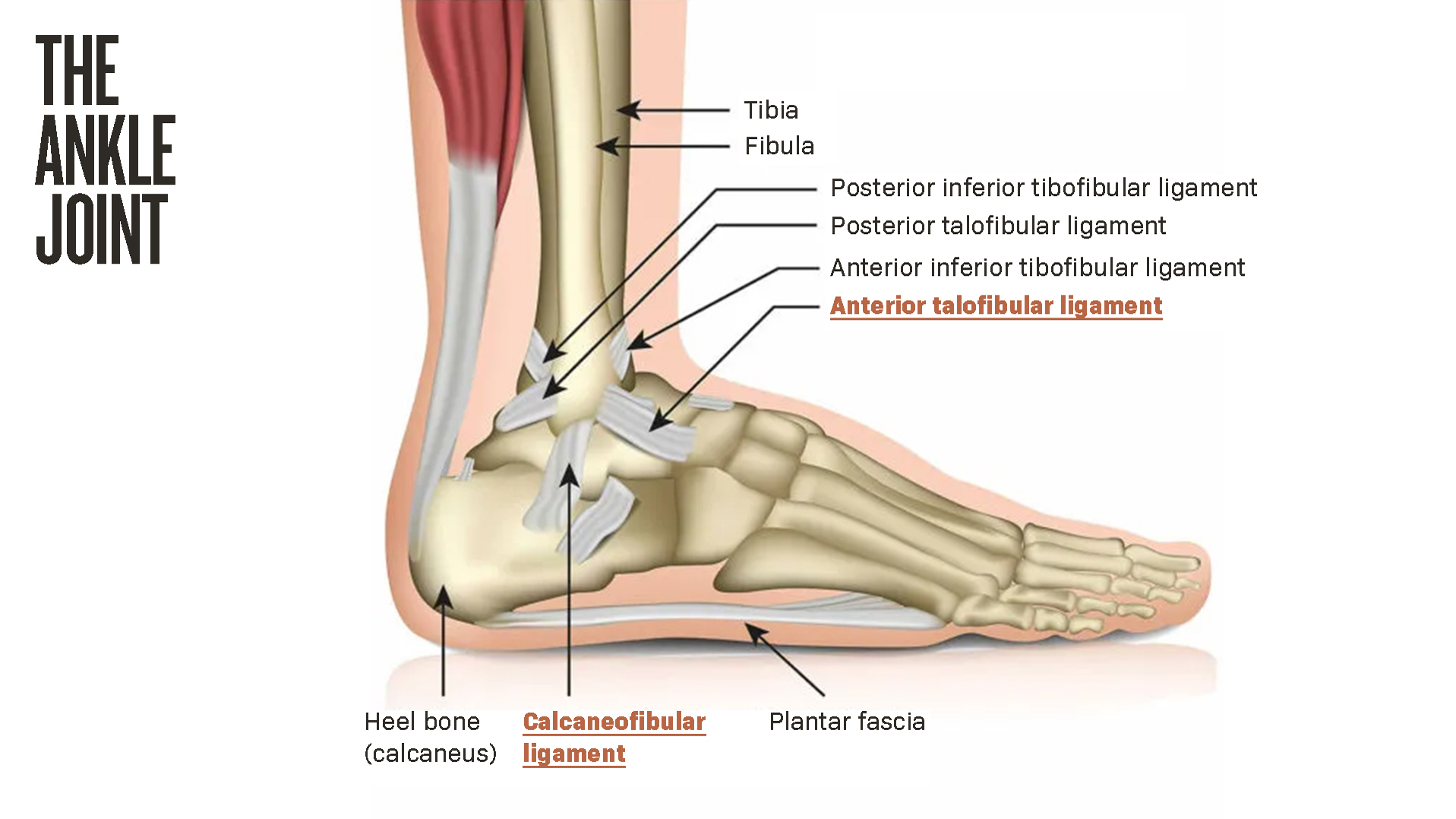 "I had the results on the day of the scan, in just a few hours," says Cabango.
"I went in the morning and got them in the evening. Jez rang me and said what it was.
"I expected it, to be honest, after talking to the boys. Some of them had been through something similar before and then they spoke about what it felt like when they did it there were a lot of similarities, so I then prepped myself for the news. 
"Missing games like that is not what you want to be doing. There were five games and a lot of opportunities to get some playing time for Wales, and playing for my country is something I have always wanted to do.
"I just had to think of the bigger picture, knowing I have still got a long way to go in my career, and I know that there's going to be a lot more opportunities. 
"From that point I was just thinking about the rehab, just trying to get back as quick as possible, to get those opportunities.
"I know they will come if I keep working hard and playing well." 
The next step was to assess whether surgery was required, or whether the problem would be able to heal without intervention.
As is standard in such scenarios, the opinion of a specialist consultant surgeon was sought and it was decided that surgery was the best course of action to ensure both a full recovery in the short term, and that there would be no mid or long-term affects felt by Cabango in the future.
"Over the years we've built up links with several specialists in Wales as well as London, who deal with a lot of professional sports people," says McCluskey.
"So, we went down to the surgeon in London to have a review to see what the next step was and, in this case, it was to have surgery."
The centre-back's review with the surgeon took place on May 3, and he was booked in to undergo a keyhole procedure to repair the two ligaments on May 9; two days after Swansea's 2021-22 campaign had come to a close.
The surgery was a success and so began the hardest part of the recovery process for any sportsperson.
"I think from consultation to surgery was about a week," adds McCluskey.
"A lot of people think it's a case of the sooner the better with these things, but it's not always the case with damaged tissue.
"You have to get on top of the swelling, you have to let everything settle down. If you go in straight away the environment in that joint is not optimal. There'll be a lot of bleeding, swelling and damaged tissue, which can make the surgery significantly more difficult.
"The more management or damage control you can do, the better the environment is when the surgeon is going to do what they need to do. 
"After a surgery of that nature, invariably Ben is doing nothing for two weeks.
"He has the leg up, we let gravity do its bit. He will be icing and compressing it, so that the swelling settles down.
"When we get two weeks down the line, we want it to be as good as it can be so we can move on to the next stage when the physios get to work on it.
"But those first two weeks are very difficult for the player."
Part Three: Immobilised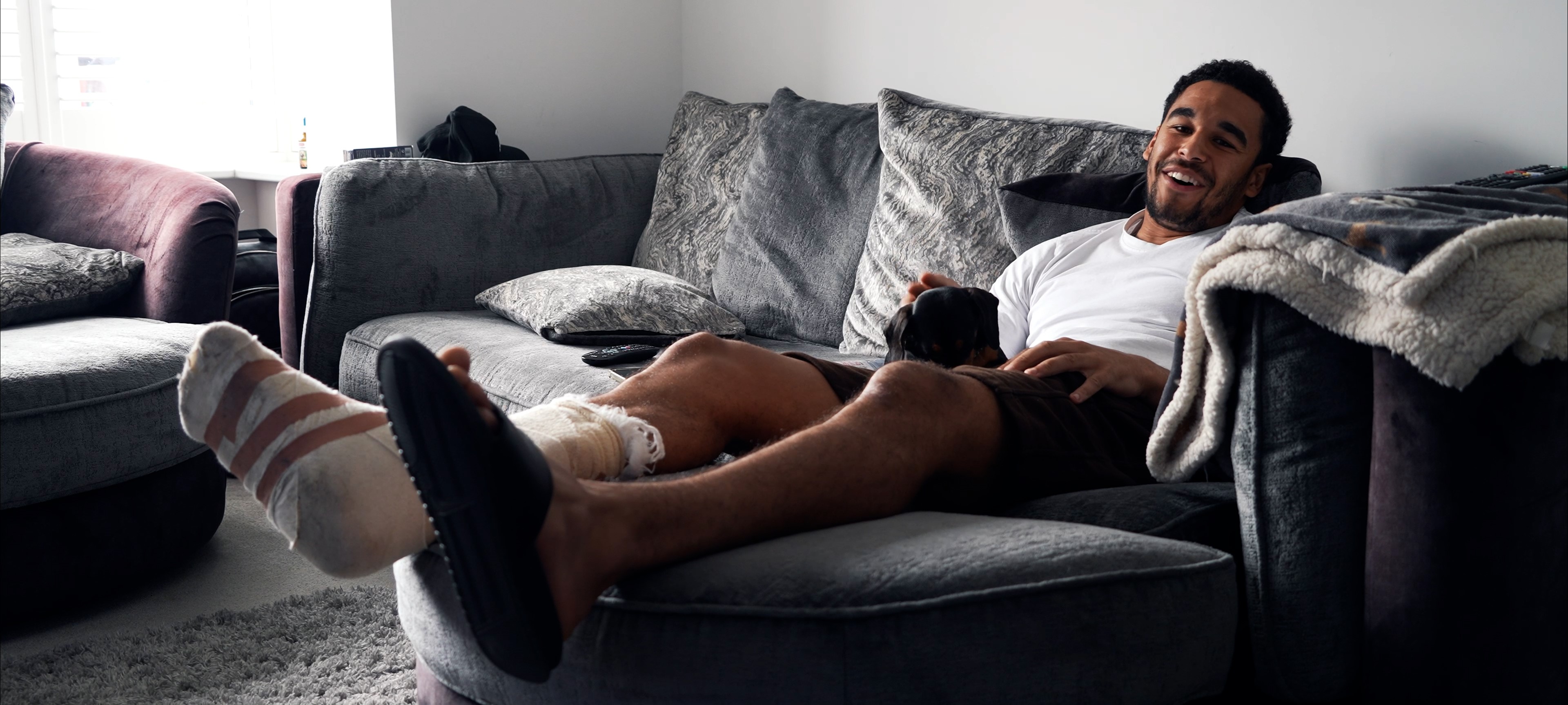 It's Friday, May 20.
Ben Cabango should be training with Wales ahead of one of the biggest games in the national team's recent history.
He should be reflecting on an enjoyable holiday with his girlfriend that had been booked in for shortly after the end of the season.
But he is not. Instead, he is sat in the front room of his house in Sketty. He is on the sofa, with his ankle elevated on a foot stool in front of him.
On the television is practice for the Azerbaijan Grand Prix, Cabango being a recent convert to Formula 1 after watching Netflix's Drive to Survive series, while his two dachshunds are busily scurrying around the room.
This has been what life has looked like for much of the last two weeks.
For a 22-year-old used to being active, being forced to be a couch potato is not a great deal of fun.
"If you get the operation it makes it stable again and you can move on from there," says Cabango.
"The op was felt to be the right way to go and it was a week after I saw the surgeon that I had the procedure done.
"After that it was a case of having the backslab on for two weeks just in the house. You are pretty much immobilised, you have to keep the foot raised.
"The amount of series I watched was crazy. It was a boring time, but you have to do it just to make sure everything is right. 
"You don't realise how boring it is. You are just sat there. You are elevated so you just lay on the sofa just going through three of four series of TV, watching Formula One and just anything really to keep yourself entertained.
"I watched Suits for about the fourth time, Game of Thrones as well. If you go through that you know it's a long, long watch! 
"It was a two-week period, then crutches for four weeks after that. It was a long process, but one you have to do."
"There's no doubt that those periods of inactivity are difficult for players," says physio Ailsa Jones.
"They are used to being active every day, and they are attuned to those demands physically and mentally, so when that is taken away it is not an easy thing to accept.
"You have gone to training and playing all the time to being able to do absolutely nothing, and you've had no time to prepare yourself for that. It's instant, you suffer the injury and everything stops."
Part Four: Cast off, stitches out, the serious work begins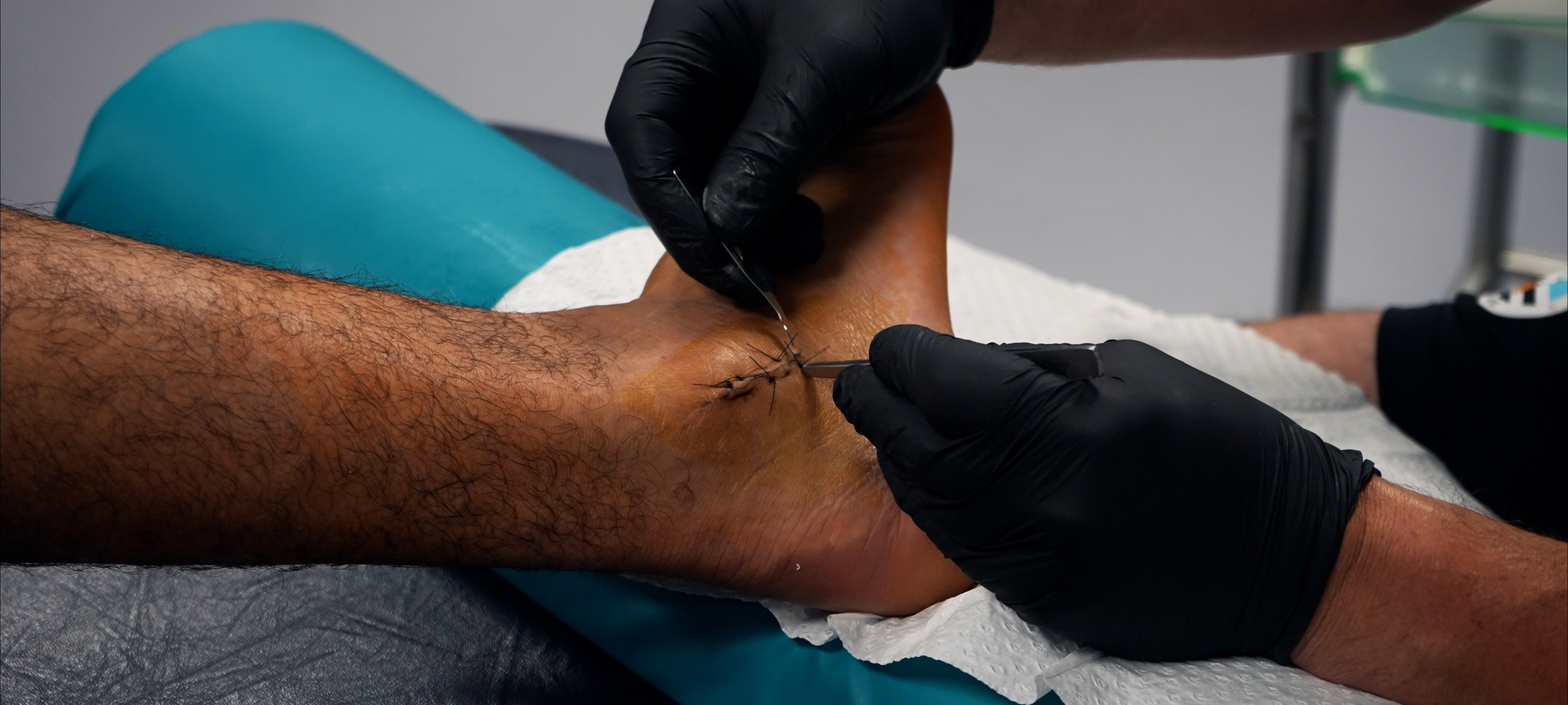 Thankfully for Cabango, he soon has a target day to look forward to. On May 23 he is scheduled to head to Fairwood where he will have his cast and stitches removed following his surgery.
Chaddock oversees the process and there are two aspects that she always expects but the player doesn't.
One is the smell once the cast is removed. The area has not been able to be washed during the period after surgery and therefore the aroma is definitely not something to savour.
The other is the muscle wastage that takes place. When professional sportspeople, who are used to training or competing most days, are suddenly rendered inactive or are required to avoid putting any load through a muscle or joint then it does not take long for a substantial difference to be seen.
This proves to be the case with Cabango. When the cast comes off, he is taking aback to find his calf muscle is all-but non-existent compared to his other leg.
"It's amazing these days. We say to the players you're going to be disappointed when we take this cast off. They expect some big wound or something to show off what they've had done because it is major surgery," says McCluskey.
"Things have got so good now with keyhole surgery that there's usually three small wounds with about six stitches between them, and it's very underwhelming when you take it off.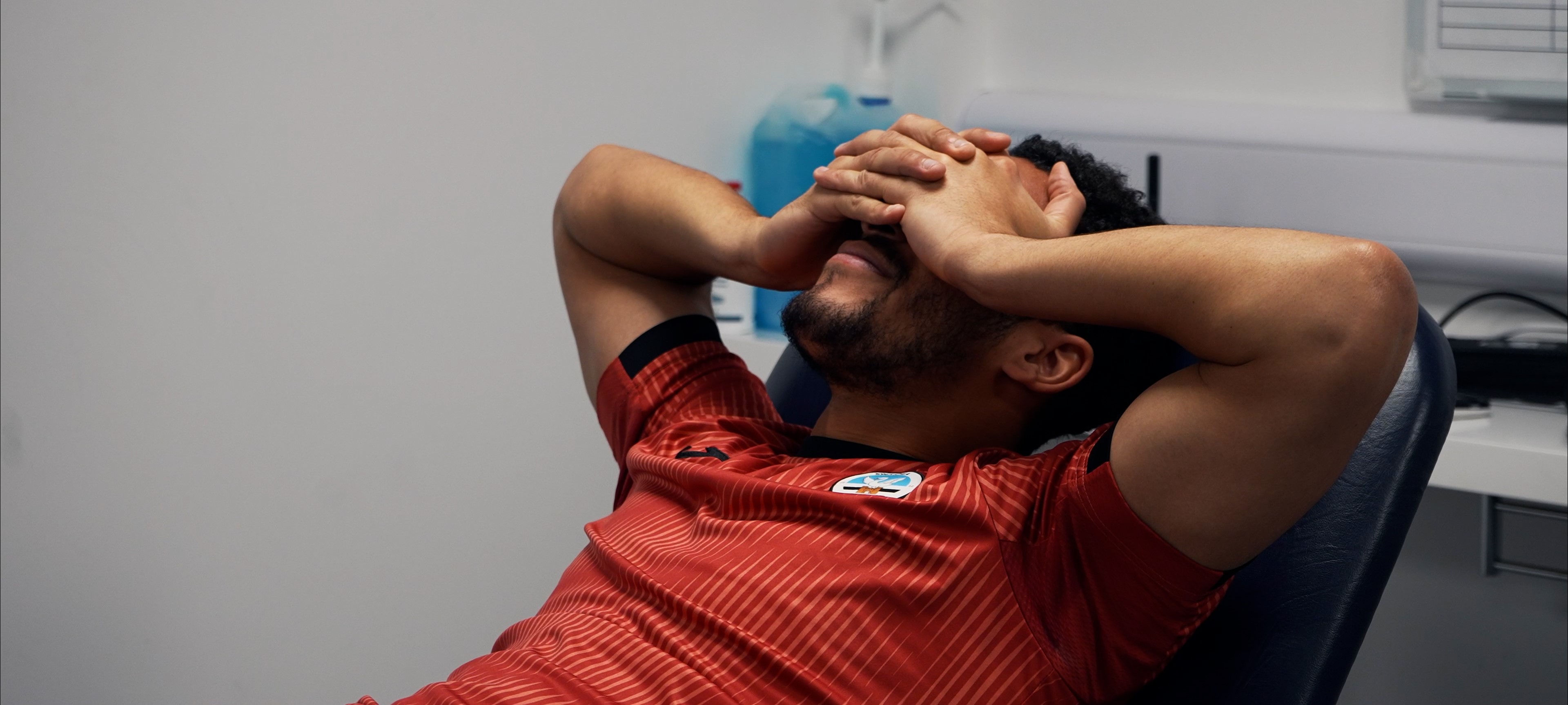 "What we were really looking for is the amount of swelling there. In all fairness to the surgeons they are really good at what they do, there's really very minimal swelling because the operation is done via keyhole surgery.
"We're looking at the wounds particularly to see they are not red, they are dry and they are not open. That's important and obviously the guys have been immobile for a while so they get a lot of muscle wastage in the calf, so you'll see they will have no calf muscle at all.  
"Then there's the other element, they haven't done anything for a while so deep vein thrombosis is something we have to look out for.
"We'll check the calves aren't tender to touch, or swollen or hot, because that would raise the possibility that there could be an issue.
"To be fair, after surgery most of the guys are on blood thinning tablets to make sure that doesn't happen."
"He's been in the cast four 14 days after surgery, so he's not allowed to wash his foot," adds Chaddock.
"He's been sat at home for that time not being able to do very much else following the doctor's orders.
"Taking it off can be quite smelly. The iodine that they use stains the skin, but can also be a bit smelly when you take the cast off. 
"That moment is the first time we've really seen the skin around the wound so we're looking for any signs of infection, any puss, any redness transferring away from that scar.
"Additionally, you look for any swelling or anything that is unusual for the operation they've had.
"We're checking that the wound is fully healed before we take the stitches out, otherwise we risk further infection down the line. 
"If it's wet, that's a sign that there's something coming out of the wound and a sign of infection.
"Usually it should be quite dry. The scab should have formed quite nicely too. You're also looking at the state of the muscle underneath is like. Is there any muscle wastage? What do you need to start looking at for that player to get back." 
Once it is ascertained that everything has healed well from the surgery, then Cabango can start to get down to conditioning work.
However, this is a tapered process, and the state-of-the-art facilities at Fairwood mean he can work hard to build up his conditioning, whilst also limiting the risk of re-injury or any setbacks.
Facilities such as the hydrotherapy pool – complete with underwater treadmill and cameras to analyse gait and movement – the altitude chamber and the anti-gravity treadmill allow for conditioning work, without putting unnecessary load or stress through the area of the injury.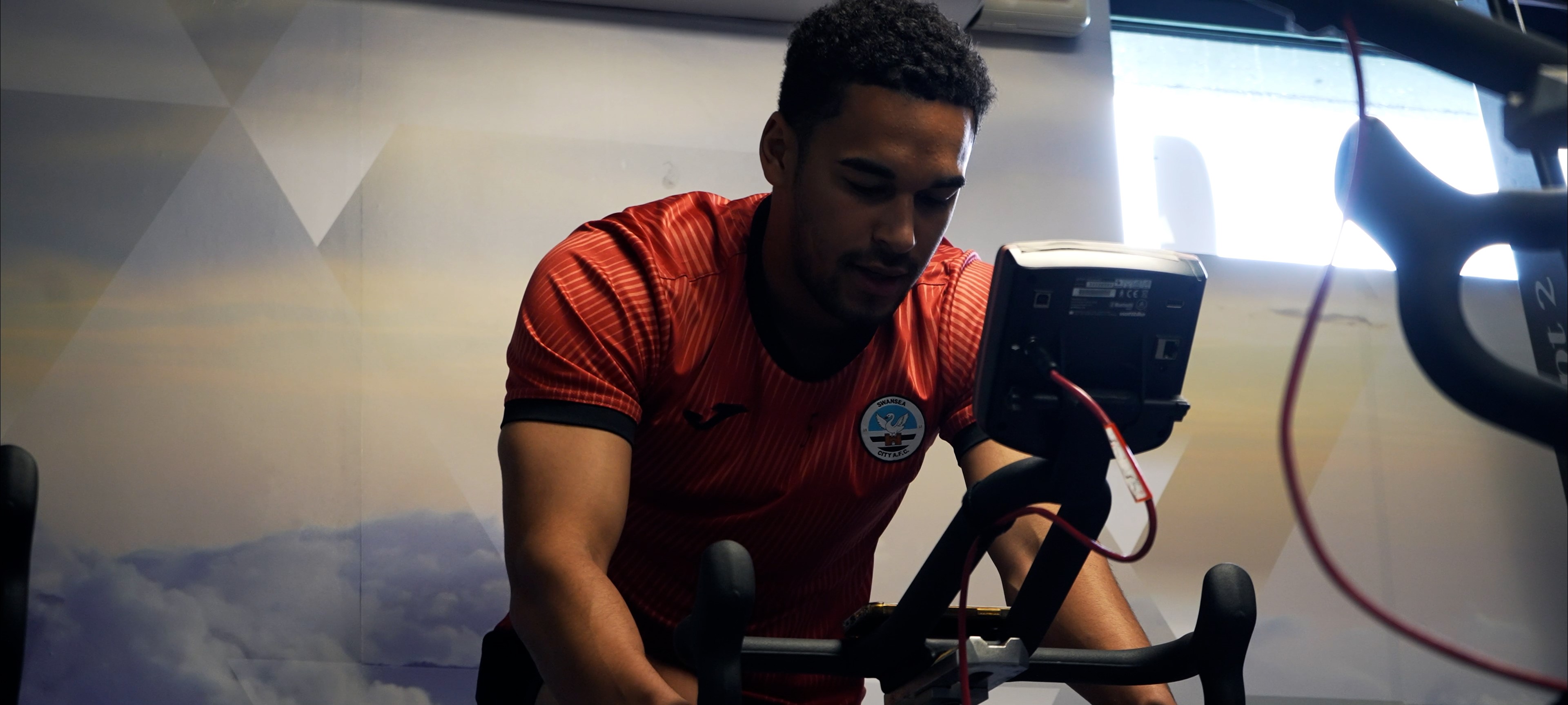 "When the players start working with us in rehab once the immediate recovery from surgery is complete, we have to try a variety of measures to keep them fit because clearly they are not going to be able to operate at full capacity," says Jones.
"We have to build that back up while not putting any undue stress through the area that has been injured.
"Ben was non-weight bearing for a little while, so it's all focused on upper body.
"We put them in the altitude chamber to try and take a bit of the oxygen out to try and get them to work a bit harder in terms of the intensity of their cardiovascular sessions.
"He's also on there with the Wattbike, obviously he can start using his legs then. There are loads of different sessions we've been doing on there, and the altitude chamber allows us to increase the challenge."
The second part of this feature will appear on this website from 9am on Thursday, September 22 and will document Ben's final stages of his rehabilitation and his return to action last month.