Ben Lloyd | I'm still a season ticket holder, to be playing for this club is my dream
7th September 2021
Academy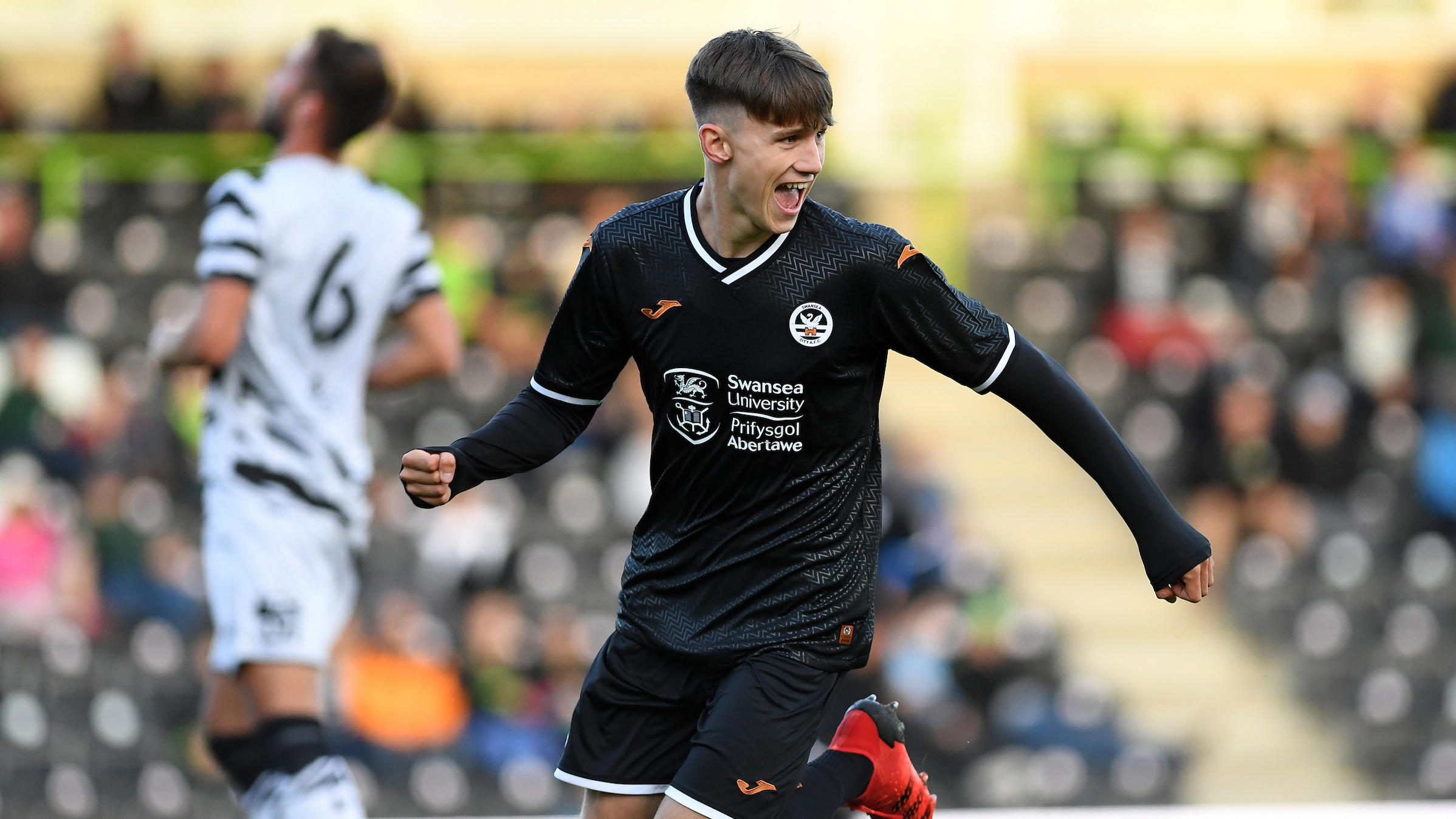 If you love football, or support a football team, it's the dream that plays over and over in your head.
You've just come on as a substitute, you make a run, the ball comes your way. There is a touch to set yourself and then 'bang', you fire the ball into the top corner and wheel away in celebration to the adoring supporters.
For the majority of us, it will only ever be a dream, we will never get to experience that moment.
But, for Ben Lloyd, it is a dream that became reality just a couple of months ago.
The 16-year-old midfielder was summoned from the bench in a pre-season friendly at Forest Green for his first outing at senior level for Swansea City.
Barely 20 seconds later and he had his arm aloft having netted with his first touches in a Swans top.
Before the night was out, he'd have the travelling supporters singing: "Ben Lloyd, he's one of our own."
It's been a lot to take in for the highly-rated teenager, who was also among the matchday squad for the Carabao Cup win at Reading, and still holds a season ticket at the Swansea.com Stadium.
"To be honest it's only just sunk in really what's happened and words can't describe the feeling of scoring for your home club," he said.
"I've been a supporter and a season ticket holder for over 12 years now and to even be around the first team is a great experience, but to get on the pitch and score, it's only just sunk in and words can't describe it really.
"I came on and everything was happening so fast. I remember just making a run off my man and I didn't expect to get the ball.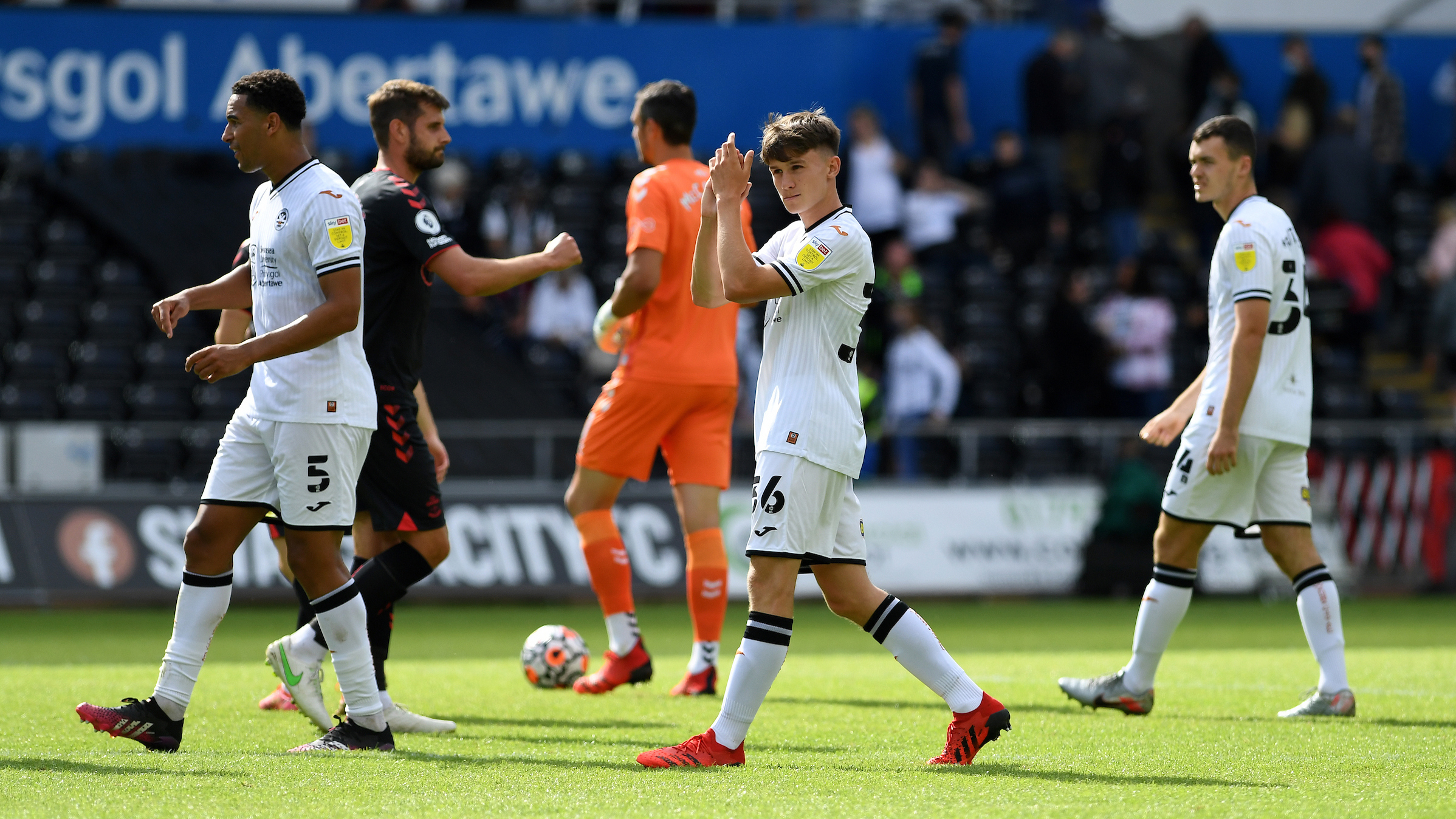 "It's a dream come true because that's what I've dreamt of since I was little and for it to actually happen, it makes me hungrier for more and every time I step on that pitch, in training, with the under-18s or the under-23s, I've just got to make the most of it and keep proving points because eventually that's where I want to be.
"It all happened so quickly as the night before I had been sitting in the stands after being brought off at half-time in an under-23s game, and I was a bit down about coming off.
"But then Kris O'Leary told me I'd be travelling with the first-team squad the next day and I could not sleep that night. I was just too excited, and then obviously I didn't get much sleep the night after the game either!
"I was on a separate coach up to Forest Green, just me and Lincoln (Mcfayden). On the way, Lincoln was saying 'imagine if you get on and if you actually score.' I said 'if I get on', and he said 'no, you're going to get on and you're going to score.'
"After the game he came up to me and said 'I told you that you were going to score.'
"At the end of the day. I'm a fan and I still go to every game, I still have my season ticket, I renewed it this year and I can't describe the feeling of scoring, it's made me just want to do it more and more and I just can't wait for the next opportunity now."
Lloyd has since seen action for the under-17s and under-18s over the opening weeks of the season, and is currently away on international duty with the Wales age-grade set-up.
While he is still a young man, there is no doubting his talent, but he remains humble and grounded. Lloyd outlines the sacrifices his family – including father Warren and mother Helen - have made for him to allow him to develop during his career.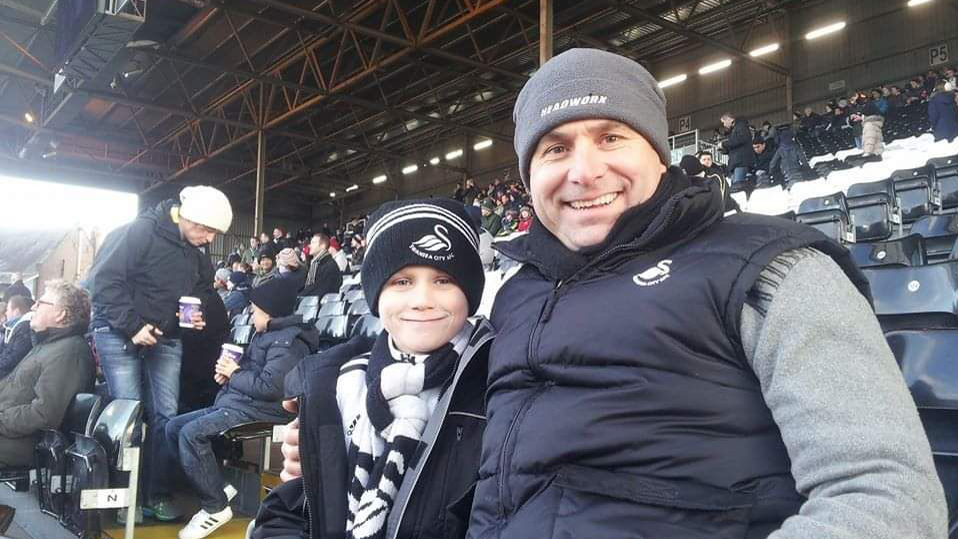 And, he reveals how his love of the game grew hand in hand with the in-built love of Swansea City growing up within a family of season-ticket holders.
"My father, my grandad, my uncle and my brother are all season ticket holders," adds Lloyd.
"Me, my dad and my brother have been going for 12 years and my grandad and uncle have been going for the last six or seven years.
"Alan Tate let me go home with my family on the way back (from Forest Green) and they just couldn't believe it, my mum is calmer than my dad, he just couldn't believe it, he couldn't stop laughing and my grandad was tearing up because he's been a Swans fan for about 60 years.
"My mum works for Sinclair's in Bridgend and my dad works for a company called Pobl who deal with University housing, they sometimes have to take time off work to take me to training.
"They have made a lot of sacrifices for me, and my mum had to juggle a lot just to make sure she could take me to training with the first team, so I took her out for food to say thank you and make up for it.
"But I'm grateful for everything my family do for me, my whole family they all do so much for me."
Lloyd's football education began with Reeco's Soccer Schools, before he went on to play for Dunvant and Three Crosses alongside a number of players who have gone on to sign scholarship terms at a number of clubs.
Lloyd was among them, but he was left with a difficult decision to make given Swansea's academy set-up was not fully up and running.
He ended up initially joining Cardiff City, but after growing frustrated at being played out of position – including centre-half – the young playmaker jumped at the chance when a move to his beloved Swans materialised.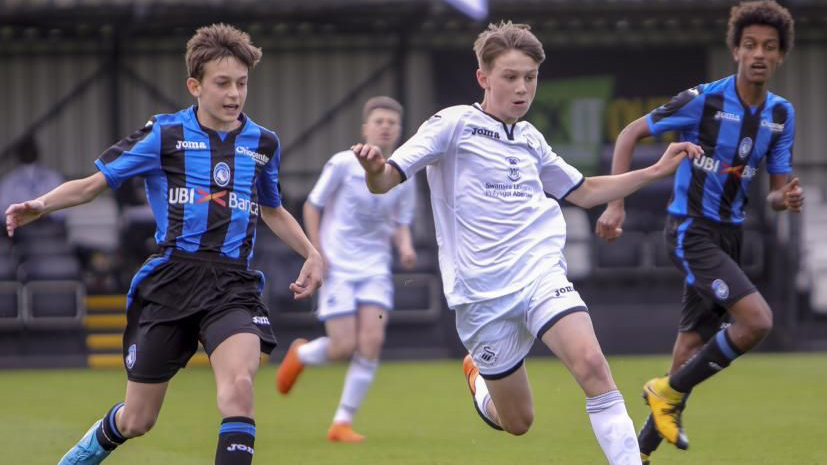 "I got scouted by Swansea and Cardiff, and at that time Swansea hadn't properly set up the academy," said Lloyd.
"I was six turning seven, I decided to go to Cardiff because a few of my mates were there from Reecos, and I was at Cardiff until under-12 level.
"I was playing out of position and I was playing for Cardiff when I've always dreamt of playing for Swansea, so when I heard I had the chance to come here I just wanted to jump straight at it.
"My mum, my dad and all my family were chuffed and, as soon as I played my first game, my dad said 'that kit just looks much better on you.'
"Martin Evans (former academy head of recruitment) rang my dad, I'd just played for the schoolboys against Newport, we won 4-1 and I scored four goals, Cardiff were watching and they had just released me.
"But ever since I've joined Swansea I've just enjoyed every moment and it's my home club as well."
He has been making progress ever since. Lloyd made his under-18s debut as a 15-year-old in February 2020 – chipping in with an assist against QPR – and then netted on his under-23s debut a year later.
Add in that strike at the New Lawn in July and it's apparent he is a young man who can make his mark quickly.
But the former Bishopston Comprehensive pupil – who capped his summer off by achieving one A*, five Bs and five Cs in his GCSEs – knows there is plenty of hard work ahead of him if he is to achieve his goal of being a regular for the Swans.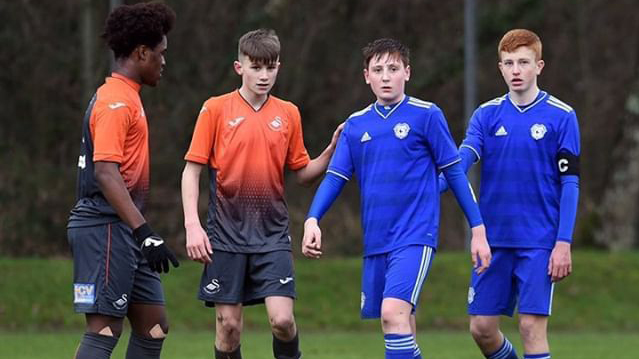 "It has been brilliant for me, and of course I can't deny that scoring a goal like that will always stay with me," he said.
"But I know it will not count for anything if I don't kick on from here. It doesn't mean I can rest on my laurels.
"Every time I pull a Swansea shirt on, I want to do my best, and that's regardless of what Swans team I play for.
"This is the club I support, I loved watching people like Michu score some unbelievable goals and show so much passion for the club. I've been home and away watching Swansea – I was at Fulham when Jonjo Shelvey scored a late winner – and I want to do my best to succeed here.
"Anything less would not be good enough for this club, and wouldn't be good enough from myself and I know my coaches would not accept that from me.
"I've been lucky to work with some great coaches in the academy, almost too many to mention. Alan Tate and Anthony Wright are just two who have been brilliant with me and I want to do them proud."