Birmingham game available in UK and 'dark market' regions on SwansTV Live
15th September 2020
Club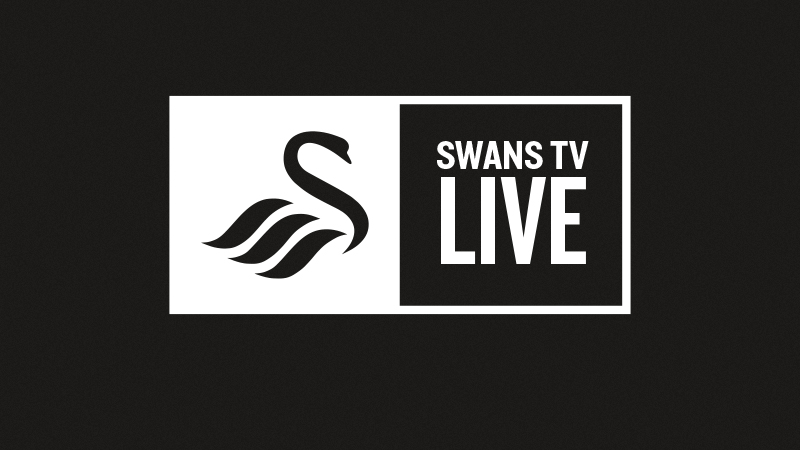 Swansea City's Championship clash with Birmingham City will be available for supporters in the UK and 'dark market' regions to view on SwansTV Live on Saturday.
The Swans host the Blues in their first home game of the season (3pm kick-off UK time), looking to build on a winning start at Preston last weekend.
Ahead of the game all season ticket holders have been sent a promotional code via email, this will provide access to all home league fixtures, starting with Saturday's match.
Additionally - under EFL rules – it will provide access to coverage of our seven scheduled midweek away fixtures. 
The fixture will be screened live by SwansTV and non-season ticket holders are able to purchase the game for just £10 in the UK. You can purchase the game HERE.
Former Swansea midfielder Kris O'Leary will join Anthony O'Connell to provide commentary from approximately 10 minutes before kick-off, while there will be a half-time highlights package and a full-time round up of the action.
The live stream will be a multi-camera operation with replays and match graphics.
Due to the game being selected for live coverage by Pitch International, we are unable to offer live coverage to a wider international audience, only to those living in 'dark market' areas.
Please note that this list can change at any time, but currently the 'dark market' countries are: Albania, Bangladesh, Bhutan, Cambodia, Faroe Islands, Greenland, Hungary, India, Italy, Japan, Laos, Liechtenstein, Luxembourg, Malaysia, Maldives, Malta, Mongolia, Myanmar, North Korea, Nepal, Pakistan, Romania, Singapore, San Marino, South Korea, Sri Lanka, Taiwan, Timor-Leste, Ukraine, Vatican City and Vietnam.
Fans in these regions can purchase the game for £7.99 HERE.
Or they can purchase a season-long subscription for Championship fixtures for just £140. These prices are dictated by the EFL and are not a club decision. CLICK HERE TO BUY.
There is also an optional monthly subscription available for £20 per month, which will be automatically renewed unless cancelled by the subscriber. These prices are also dictated by the EFL and are not decided by the club. CLICK HERE TO BUY.
Season ticket holders
Season ticket holders are asked to check their emails, including junk and spam folders, to access their code and follow the easy steps to redeem it in advance of the first home match against Birmingham this Saturday. CLICK HERE FOR YOUR STEP BY STEP GUIDE.
Once your code has been redeemed, follow the simple instructions to view the stream of club adverts. This will confirm that everything is set up in readiness for the matches specified above.
We ask supporters to redeem their codes and contact the ticket office in advance of matchday if they encounter any problems, to enable staff to resolve any issues. We cannot guarantee resolving issues if large numbers sign in just before kick-off.
Audio
Live commentary of all league games is available internationally, in the UK and Ireland for £45 per season, or £5 per month on a rolling contract unless cancelled by the subscriber. These can be purchased HERE.
Helpline
The ticket office phone lines are open Monday to Friday from 10am to 5pm, and from 90 minutes before kick-off of all matches that are accessible to season ticket holders as part of their streaming code. The number for the helpline is 01792 616400.
If you qualify but have not received a code, please email accountquery@swanseacity.com.
For all Swans Club Account matters please email accountquery@swanseacity.com. If you have forgotten your Swans Club password - you can reset it HERE.
All technical queries regarding the stream should be emailed to swanstvlive@streamamg.com.
Lines are currently very busy, so we encourage you to email in the first instance and we will come back to you as soon as we can.
How do I watch/listen to the stream?
FULL FAQs AND LOG-IN GUIDE IS AVAILABLE HERE
For mobile devices, including iPads & tablets: 
You must log in to watch or listen on the Official Swans App via the "LIVE" tab. You cannot watch via a mobile device unless it is through the Swans App, due to EFL rules.
Download the app for free HERE (iOS) or HERE (Android) and then click the WATCH or LISTEN button after logging in.
For desktop or laptop: 
You must watch/listen by logging in to www.swanseacity.com.
Please note there is an audio/video switch after you log in so you can select your requirement.
You cannot watch via a mobile device, unless it is through Swans App, due to EFL rules. It is also not available to view on AppleTV, Chromecast or any other big screen streaming devices due to EFL rules.