Chloe Chivers | Swansea City Ladies is a special team
4th May 2022
Ladies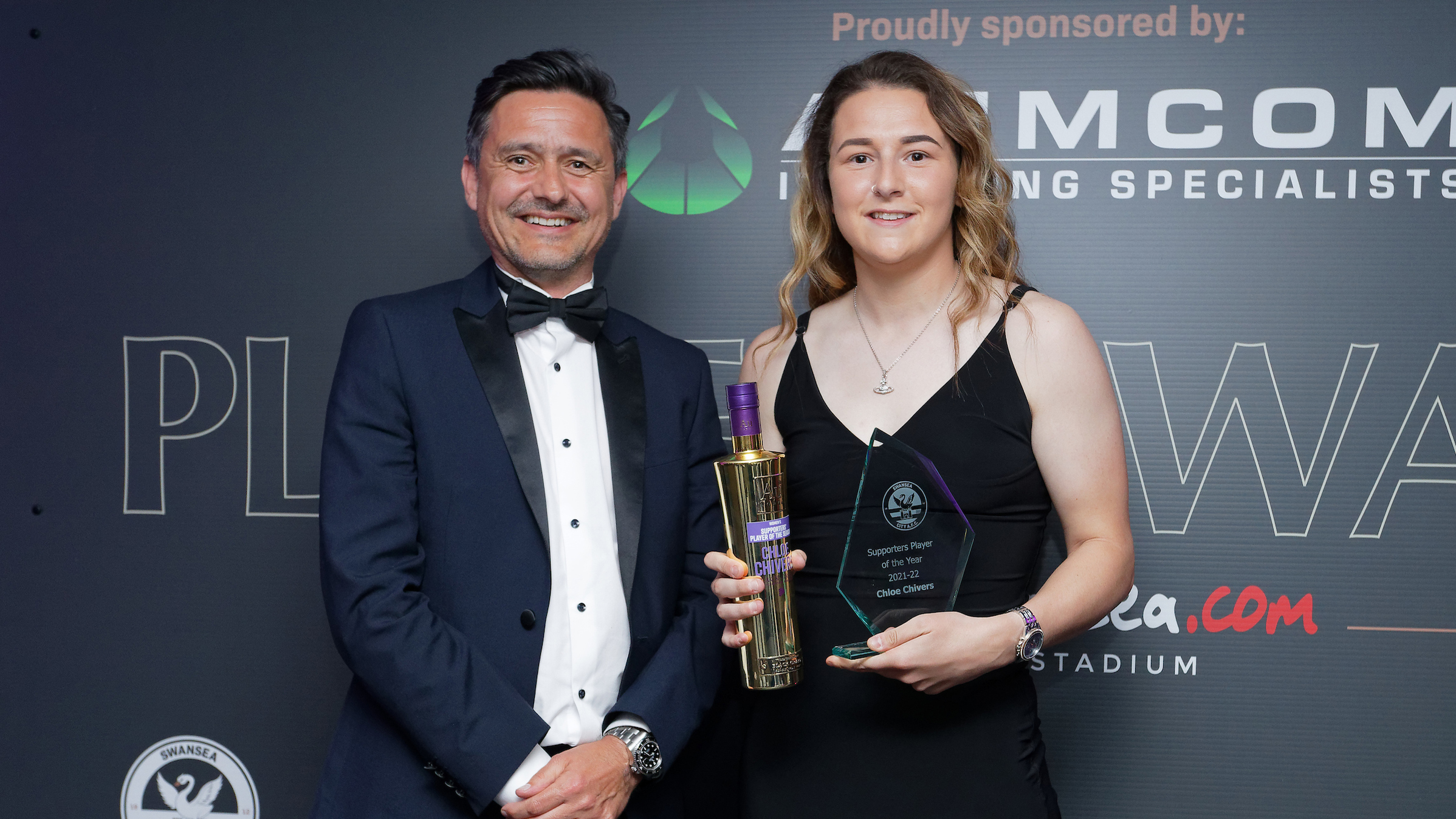 Chloe Chivers hailed her special team mates after she picked up the Swansea City Ladies Supporters' Player of the Season award.
Chivers scored 20 goals in all competitions as the Ladies picked up a third Welsh top-flight title in a row, with the forward battling back from injury to prove an influential figure in their latest success.
It was a tough campaign for Swans Ladies who had to deal with a new league structure, as well as seeing a number of key players out of action for periods across the campaign.
They suffered their first league defeat in three years and despite all of that, they still won the title with a game to spare.
Winning a league title is no easy feat, and retaining a title is even more challenging but to claim the title for the third time in a row, is a remarkable achievement with the ladies showing all the ruthlessness and determination that champions display as they once again qualified for Champions League football.
"This year especially, we were missing a lot of key players due to injury, work-commitments and pregnancy so we've had quite a small squad compared to what we'd normally have, so this year is one of the best years to win it and it means a lot to a lot of the girls," Chivers explained.
"With us, we just take it game by game. We've done it again this year, so hopefully we can just go on again and give ourselves another target to aim towards next season.
"We have a special team and a special group. We're a squad of winners and we want to work really hard and win every game we play.
"This season it hasn't gone the way we wanted, we've lost two games, one in the cup and one in the league and that's our first league defeat in three year which speaks for itself. Defeat is going to come at some point, but we picked ourselves up and went again.
"It gives you the resilience and character to push on and test yourself against the better teams."
Chivers' 20 goals – nine in the league and 11 in the cups – were instrumental to another dominant campaign from the Swans.
And Chivers hailed her team-mates for their support in helping her reach that number, but there were plenty of spectacular individual efforts within that number with her personal highlight being an effort from distance in a home win against Cardiff City.
"I just hit it to be honest, I saw the sight of goal and hit it, but obviously to beat Cardiff at home in a 4-1 win and get a goal was brilliant," she added.
"It's not a bad tally considering [the injury], but I wouldn't have done it without the help of the girls getting me through and some of the girls putting the ball on a plate for me as well.
"I'm very pleased. I only played pretty much half a season because of injury so to pick up this award is great for myself."