Corey Hurford ready to make the most of dream move
13th January 2022
Academy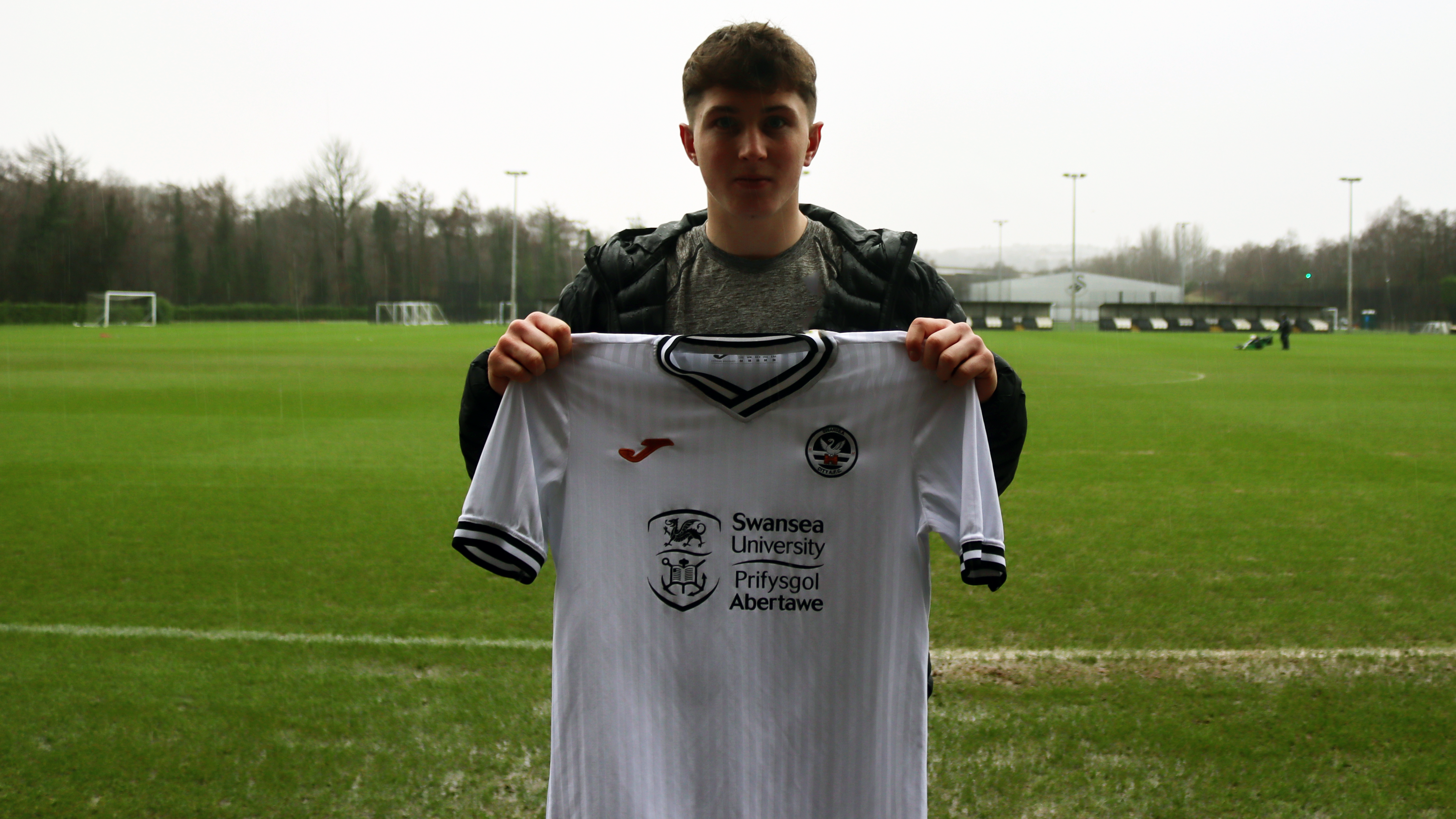 Corey Hurford is ready to get stuck in and make the most of his dream move to Swansea City.
The 17-year-old joined the Swans from Briton Ferry earlier this week, penning a deal through to the end of June 2023, with the option for a further year.
Hurford has notched five goals so far this season and will be looking to continue his fine from with the Swans.
The wing-back joins the club he supports and loves, and cannot wait to pull on the white shirt for the first time.
"I'm really happy to be able to sign with Swansea City, I'm a supporter of the club, I've supported them since I was a young boy and I just can't wait to get started," said Hurford.
"I've been dreaming of this for years, ever since I was a boy I've wanted to play for Swansea City, I know how lucky I am to get the chance to represent the club and I know a lot of people would love to be in this position and I'm so happy that I get this chance.
"I loved watching Leon Britton as a kid, I also really liked watching Ashley Williams, all of the players from that kind of era.
"It's crazy that I've gone from watching Leon every week to getting the chance to train with him, it's really mad.
"The season I remember most fondly was when we were promoted to the Premier League and the 4-2 win over Reading in the play-off finals, to see Swansea promoted to the best league in the world, it was incredible.
"Having watched the Swans every week, it makes a huge difference, so to play for them and learn from them is even better, I'll be trying to take things that I see from them onto the pitch, watching what the players in my position within the first team do and hopefully replicate it on my side."
The teenager joined Briton Ferry as an attacking midfielder, but has seen himself converted into a right-wing-back across the season.
Hurford feels that his versatility will be an asset for both himself and the team going forward, feeling that he has a number of traits that will be beneficial.
"I started as an attacker, mostly as a number 10, but I've most recently been playing out wide - both as a winger and a wing-back - so I can play in a couple of different areas, but I'm just happy to be playing anywhere, especially for Swansea City," he added.
"I like to be direct and run at players, I work hard, and I don't stop running, one of my major strengths is to attack players and run at them.
"I started playing as a number 10 with Briton Ferry, but they saw that I could potentially play wing-back, and they played me there and now I'm coming into the Swans as a wing-back."
Hurford began his young career with Chippenham Town, joining Briton Ferry at the start of the season, and he says that he owes his success to these clubs and can't wait to develop even further.
"I owe a huge thank you to Briton Ferry, they've help make me the player that I am today, it's a great club that I really enjoyed playing with," he said.
"I know Ben Hughes from the academy from when we were both at Chippenham Town, we used to stay away together so it's really good to come here and play with him again.
"Ben is a really good player. I know a few of the boys because I'm from Swansea so that's a real positive.
"I can't wait to get started, it's obviously a dream come true, I just can't wait to get stuck in and give it my all because now the hard work starts."
Hurford will split his playing time across the under-18s and the under-23s, with his two-week trial period having been with Kris O'Leary's under-23 side.
O'Leary was impressed with Hurford's hard work and understands what it's like to join Swansea City as a fan of the club.
"He's come in and he's worked really really hard and it's a testament to Briton Ferry, something we've done as a club in previous years is identify local talent and it comes in waves," said O'Leary.
"Corey is a little bit younger so he will mix between the age groups when Covid rules permit, he's coming into an environment he's never experienced before and it won't be easy but it's a great opportunity.
"Corey being a Swansea fan, it's something that the club has had over the years, I came in as a fan that became a player, it always means a little bit more because it's in your blood and it's fantastic
"We can give him the opportunity, but he has to grasp it, the hardest part will be the mental side and that's what really distinguishes the players who make it."
Andy Dyer, Briton Ferry Director of Football, added: "We as a club are so pleased for Corey to be given this opportunity by Swansea City.
"It's one that he fully deserves and there is a message behind it all, that it is never too late for youngsters out there to be spotted by pro clubs and we at Briton Ferry are a club that is built on promoting youngsters as much as we can."