Dean Thornton | This club is different, it would mean so much to succeed here
3rd March 2022
First team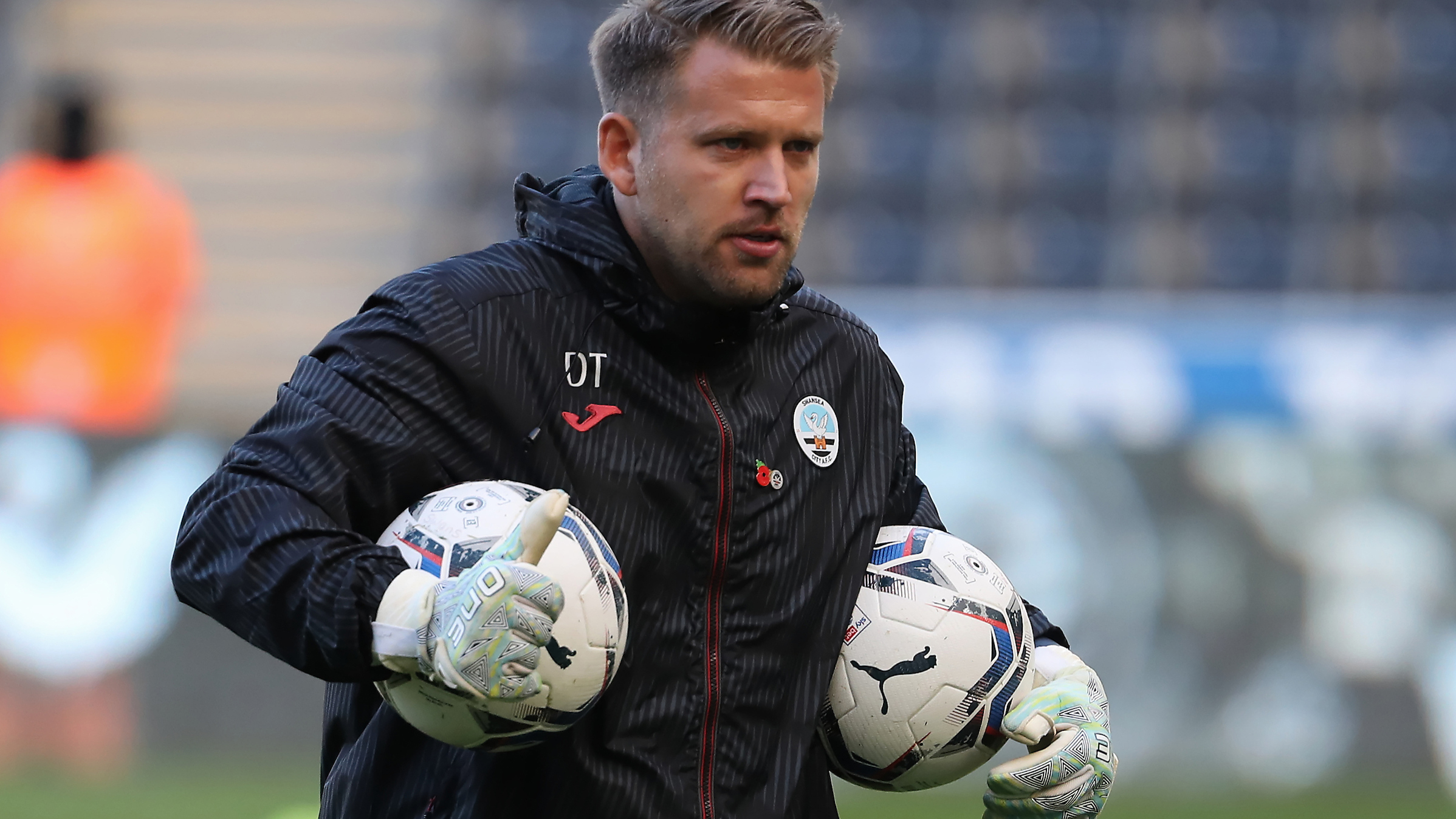 Dean Thornton is only seven months into his time at Swansea City, but he knew from day one he was dealing with a unique club and city.
The 34-year-old goalkeeping coach may be young in years, but he already has 15 years of experience under his belt, having been forced to finish his playing career and move into coaching at the age of just 19.
Thornton, who hails from west London, is an engaging and forthright character who wears his heart on his sleeve, and carries a tangible passion for his work and the game.
He has had to endure adversity – none more so than when his own playing aspirations were ended in cruel fashion – but he carries no bitterness about those experiences, and instead draws on them in an aid to help the players he works with on a day-to-day basis.
He has proven a popular figure with players, staff and supporters, on more than one occasion he has gifted his goalkeeping gloves to young fans after overseeing the pre-match warm-up.
Additionally, he also sought the help of his social media followers earlier in the season so he could buy a female steward flowers for her birthday as an apology, after inadvertently hitting her with an attempted shot prior to one game.
It all speaks to someone who holds many of the values Swansea City hold dear as a club, and from the off Thornton was left in no doubt that coaching in SA1 would be a different experience to anything he had previously encountered.
"I've really loved it here, it's a fantastic club," he says.
"I can remember on the first day here, just walking through the city centre with the gaffer, and there was a supporter who had spotted Russell.
"He was looking at us, and I nudged Russell and said I thought the fan wanted to come over and say something, and he did.
"He came up to us, and I was expecting it to be a case of, 'nice to meet you, glad you're here, but make sure you win'.
"But he did not say that, and it really surprised me. He said, 'all we ask is you play with a style and a philosophy that suits our club'.
"That was my first experience of Swansea, and I remember saying to Russell how incredible that was.
"That was the moment where I just felt brilliant about being here.
"We knew it was a no-brainer to come here. Just look at the history of the club and the style of play.
"Everyone in Swansea supports the club. Where I come from you can have Arsenal fans, Chelsea fans, Manchester United fans, Liverpool fans. Here, everyone is behind this club.
"So, when you do well it is brilliant, it is tougher if things are not going so well, but it's down to us to do everything we can to deliver for the club and its supporters."
Thornton's arrival in Swansea – alongside Russell Martin, Matt Gill, Ben Parker, Matt Willmott and Luke Williams - came barely a handful of days before the start of the 2021-22 season, and also coincided with the arrival of his baby daughter.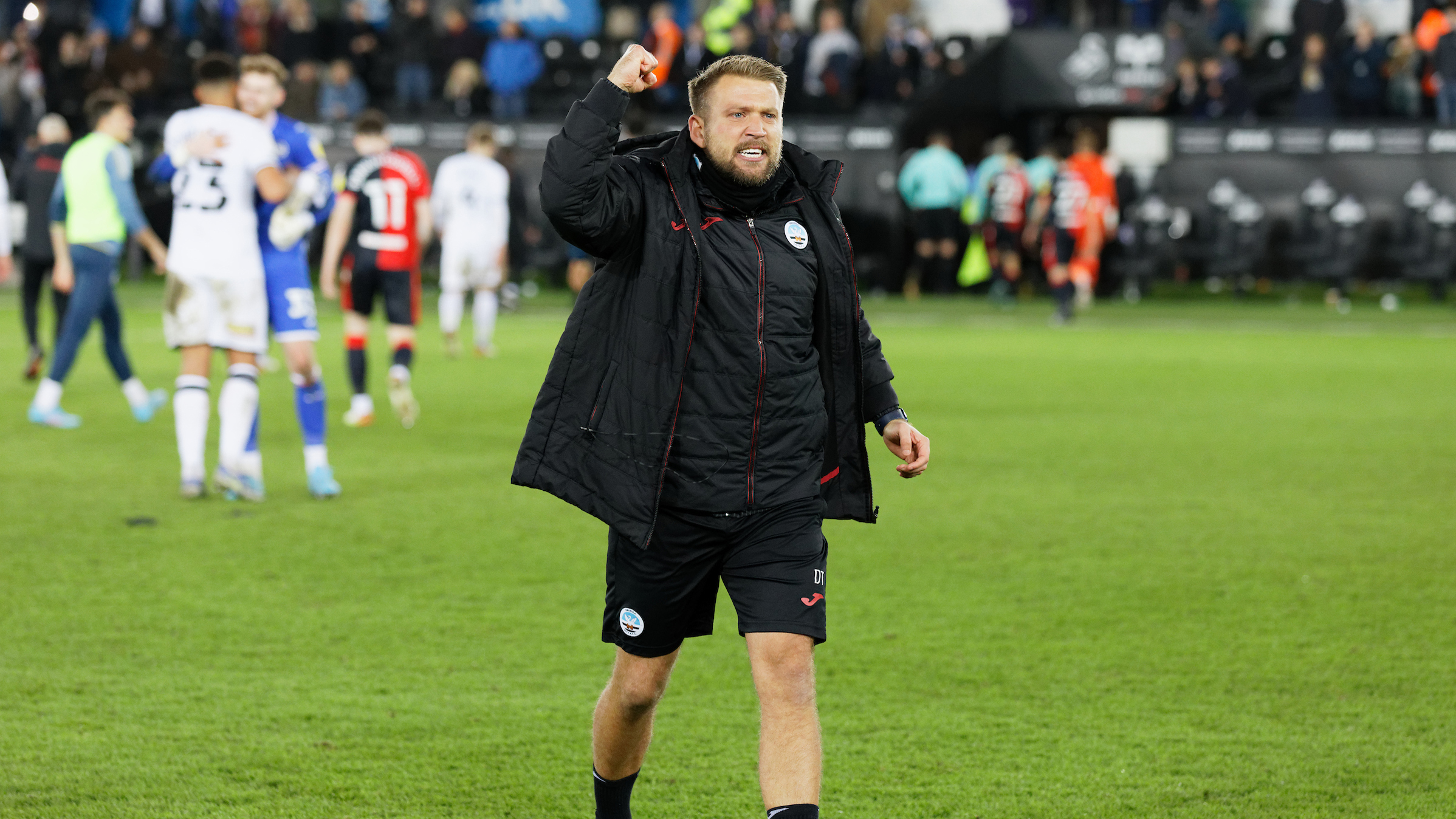 Add in the challenges of implementing a new style of play among a new group of players in new surroundings - let alone a month of the season being all-but lost to the onset of the Omicron variant of Covid-19 - and you have a season unlike anything you'll find on any coaching course or in any coaching manual.
But Thornton has relished the opportunity, and is confident the overall direction of travel is positive for Swansea, and that things will only get better with more time and work.
"I can't deny it has been tough for me on a personal level. The day I decided to join – the Sunday of the week before the season started – my little girl was born," he says.
"We did not want to rush moving down in the circumstances, and my family has a lot of support where we are living, so at the moment I am going back and forth between hotels and home a lot.
"But we are looking to move down because it is an incredible area, a beautiful part of the world where I think it would be great to bring up my daughter.
"On the pitch it has also had its challenges. I had a single session with the keepers before the Blackburn game, and I was walking in with Ben Hamer walking out as he had Covid.
"We started with Steven Benda and Nico (Defreitas-Hansen), two really good young keepers, but they were players I had not worked with before.
"I think the gaffer only had three sessions, and that's not easy with new structures, styles and personnel.
"But that is football, we have got on with it. We have had players come in and perform but it takes time.
"People say the average timespan of a manager at a club now is 18 months, which is incredible. You need time if you are changing an identity, if you are changing the squad to suit what you are trying to do.
"The fans have been great to us, and in understanding where we are at. We know there will be some heartache before we progress to where we want to be.
"But we went through this at our previous club, and you can see how they are doing now and we are really pleased for them.
"It's a team we helped put together, so we know what it is like, and we are really excited about it.
"It's a big process for us. We would like to be higher up, but we know what it will take. We did not come here thinking it would be easy.
"I think the fans can see the club's position has changed in terms of finance and a few others things, but we are looking at ourselves.
"It's our first chance at this level as a coaching group and we will be fighting for everything.
"There is still loads to play for over the remainder of the season, and the better we can be in these coming games the more help it will give us next season and beyond. We back the guys here to help us do that."
This is the latest chapter in a career in football that has seen its share of highs and lows, with Thornton utilising all moments good and bad to inform the empathy he feels for players.
From a young age, he was obsessed with football. While he was raised with the likes of QPR and Chelsea on his doorstep, Thornton grew up an Everton fan and his football hero was – and remains – the former Wales international goalkeeper Neville Southall.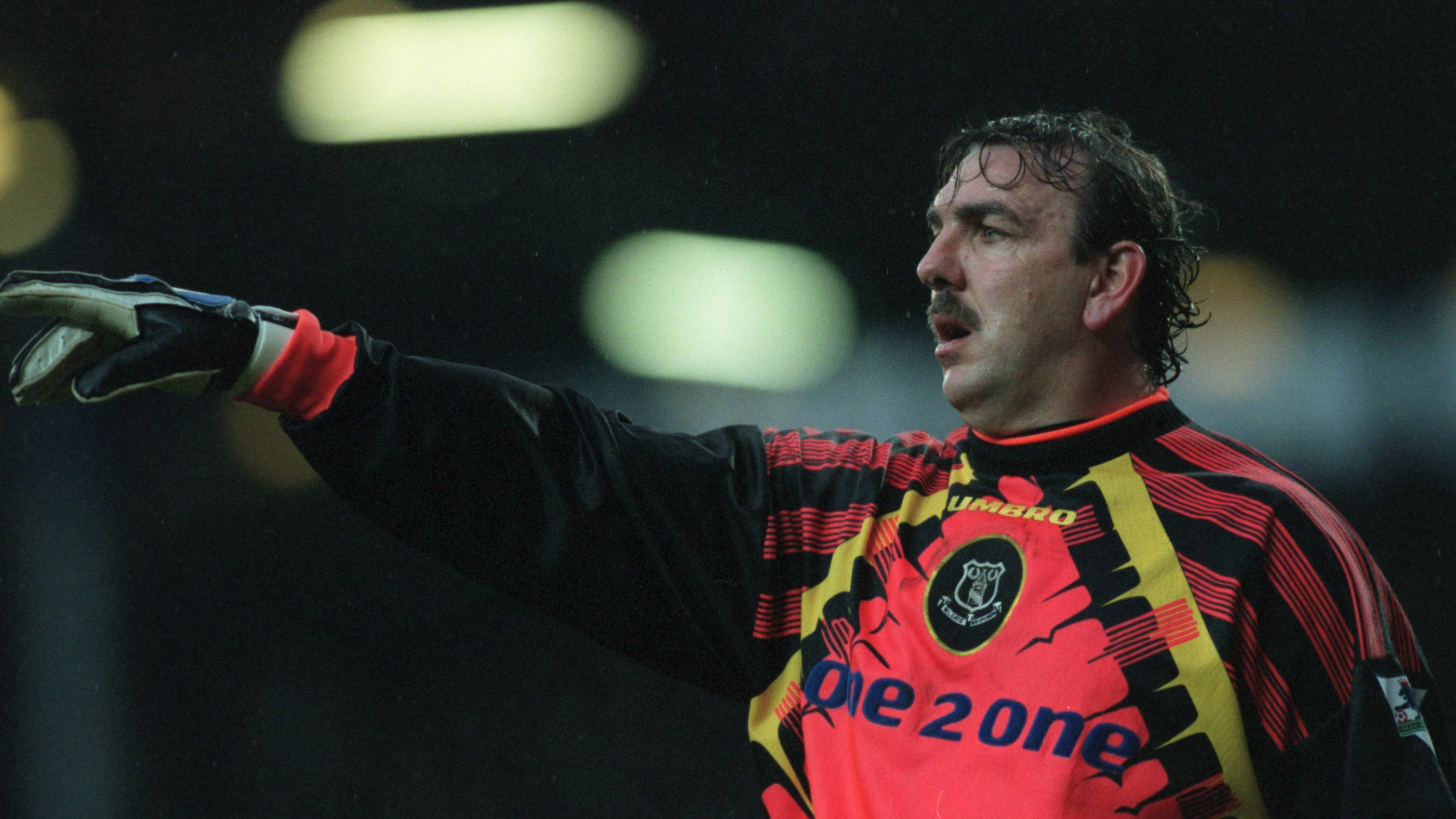 His formative football experiences were not between the sticks, but fate would play a hand in him being handed the gloves and an opportunity with one of London's most famous clubs at the age of just nine.
"It was always football for me as a kid, I was with a really successful young junior team called Brookhouse. I think 10 of the 13 guys on our team got picked up by London clubs," says Thornton.
"From there I signed at QPR at under-nine level and I stayed there for three years, before I made a decision I regret.
"I left QPR to go back to playing for my junior team as I missed playing with my mates. I didn't enjoy playing against the likes of Arsenal and Chelsea, I wanted to be back among my friends.
"I left and I instantly regretted it, and I got lucky because not long after a coach I worked with at QPR  joined Wycombe.
"I got offered a trial and I got signed on the day. I did my YTS there and got a first-year pro deal.
"I didn't start off as a goalkeeper though, when you are that young you just play anywhere and rotate around.
"But we came to one tournament and our keeper was ill, and they asked if I would play in goal.
"I went for it, I probably didn't fancy having to run around, but I got scouted on the back of the tournament and I was in goal from then on."
That move to Wycombe would bring him into contact with his current boss Martin for the first time, but more on that later.
Unfortunately for Thornton, injury was about to derail his hopes of a long career as a player. He suffered a broken leg while playing for the Wanderers youth team.
He missed several months while he recovered, only for more misfortunate to strike on the very day he was able to return to training.
"It was a very hard time. I felt I was making progress. I had been on the bench for the Wycombe first team at the age of 16," he recalls.
"Being brutally honest it was probably because it was a cup game and they were resting players, but as a teenager you think you are flying.
"It gave me a false sense of security, and two or three weeks later I broke my leg in a youth-team game against Brentford.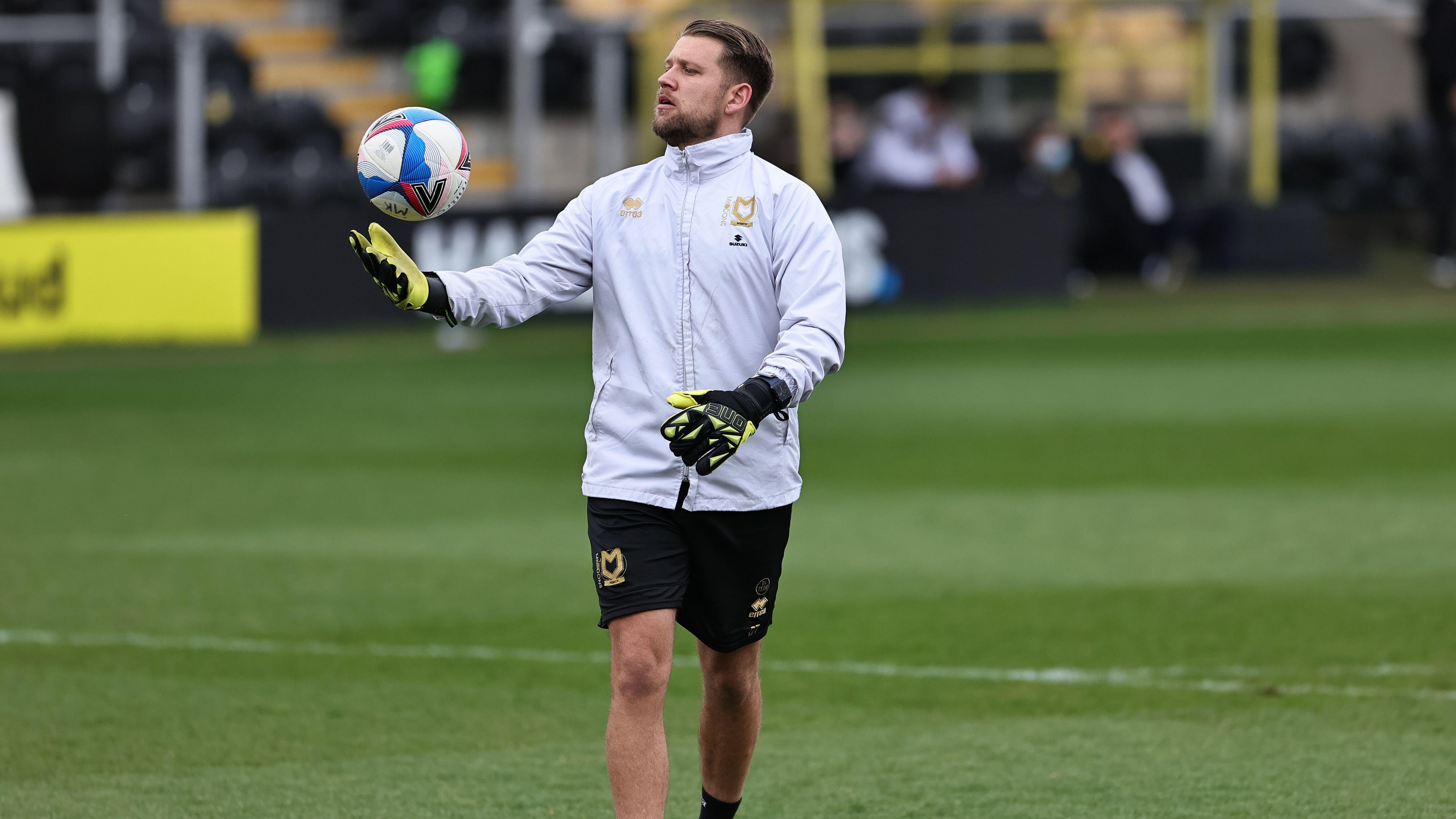 "I remember being stretchered off with the paramedic slapping me to keep me awake, but I thought nothing of it.
"I did eight months out in total, I got back to full fitness, and my first day back I was travelling in the back of a car on the way from the training ground to the stadium.
"The car crashed, I was in the middle of the back seat, and I went between the middle of the front seats. My knee got caught.
"I was lucky, I got out hobbling thinking I had a dead leg. In fact, I had torn my cruciate on the same side I broke my leg.
"I knew I was done, I couldn't go through it all again. I could not cope with the training schedule, I could not get fit enough to handle the demands and I realised that was it for me.
"It was tough, no doubt about it.
"But, I have to be honest with myself, I had got to a point where I did not enjoy it anymore. I did not enjoy training after my injury.
"I would train for a month, then have a setback, and I found it tough."
The disappointment was not easy to bear, and Thornton admits that coaching was not something that was on his radar at the time.
But the relationship he had forged with coach Steve Gallen – now director of football at Charlton - at Loftus Road proved key in giving him his opportunity.
"I was lucky in that Steve Gallen remembered me, and knew what had happened to me. He was back at QPR and he rang me up," continues Thornton.
"He needed someone to help with an academy session with young goalkeepers. He had coached me as an under-10 and we always stayed in touch when I was at Wycombe.
"I had told him I was going to be released and he got in touch to ask if I would be interested.
"I had never thought of coaching, there was no real structure there. There would be a first-team goalkeeping coach and not much else, but the development of how the role has changed has helped me get where I am today.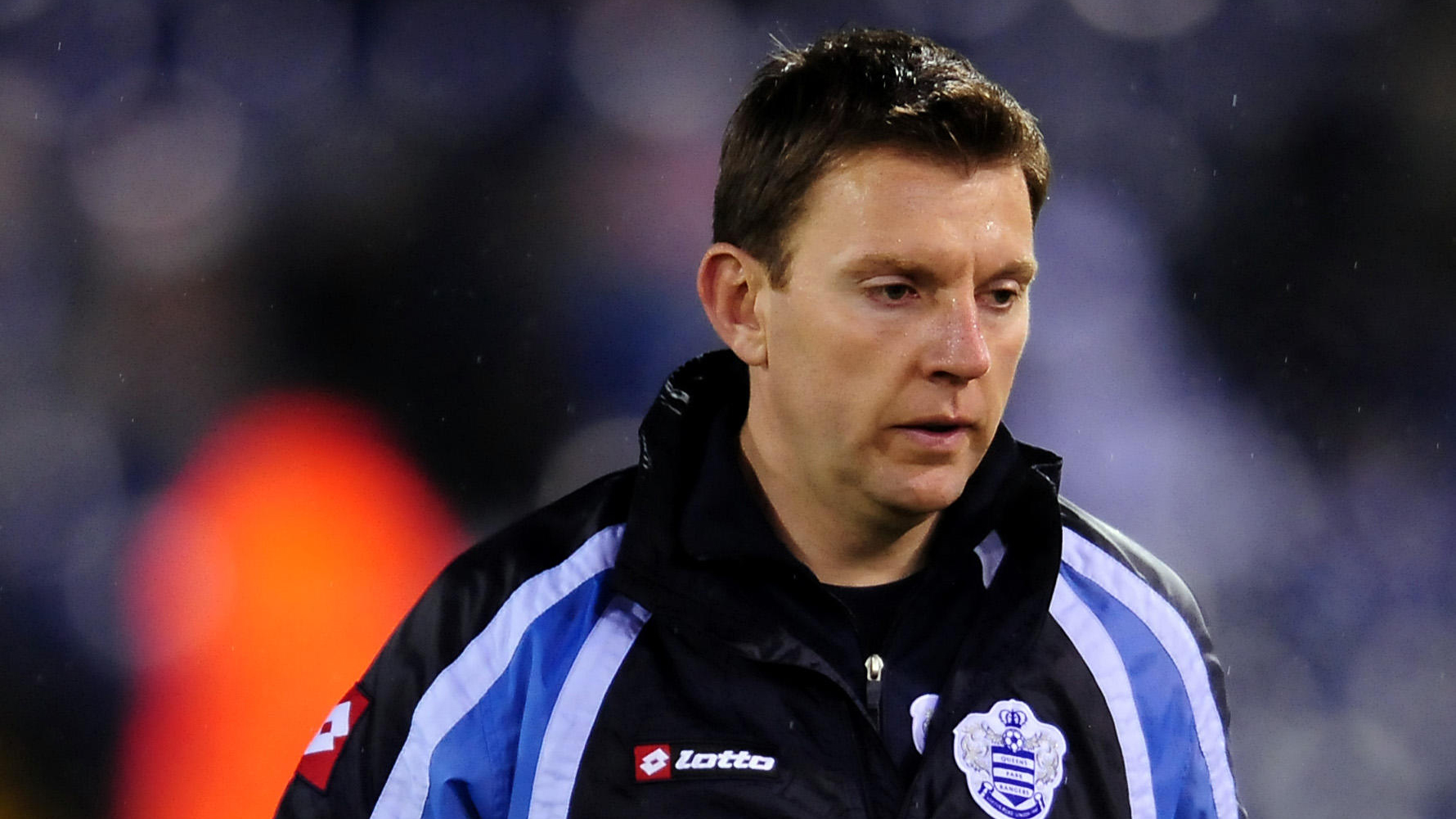 "I started off part-time at QPR, I also did some coaching for a company visiting schools that my friend owned.
"I managed to find a niche where I was still in football, still around people I knew, and that helped me a lot.
"I decided to knuckle down and see where it would take me. I found it more natural than I thought I would in terms of planning and delivering sessions.
"As a part-time coach with an academy, you might end up working with players from the ages of 10-17. You might have 10-15 keepers to work with.
"But it really helped me in terms of being adaptable, because you have to be able to adapt and I was lucky to have some really good people and good keepers around me.
"As I mentioned, Steve Gallen was a huge influence on me and is a great friend to me. I worked under Kevin Hitchcock and Gavin Ward. I got to work with players like Rob Green, Paddy Kenny and Julio Caesar from a really young age.
"Rob Green was England's keeper at the time, Julio was a Champions League winner and a Brazil international. I was only 24, so you have to back yourself when you are offered the chance to help with coaching in the first-team environment.
"You can't lie because the players find you out, it's a tough thing to do, but it challenged me and helped me."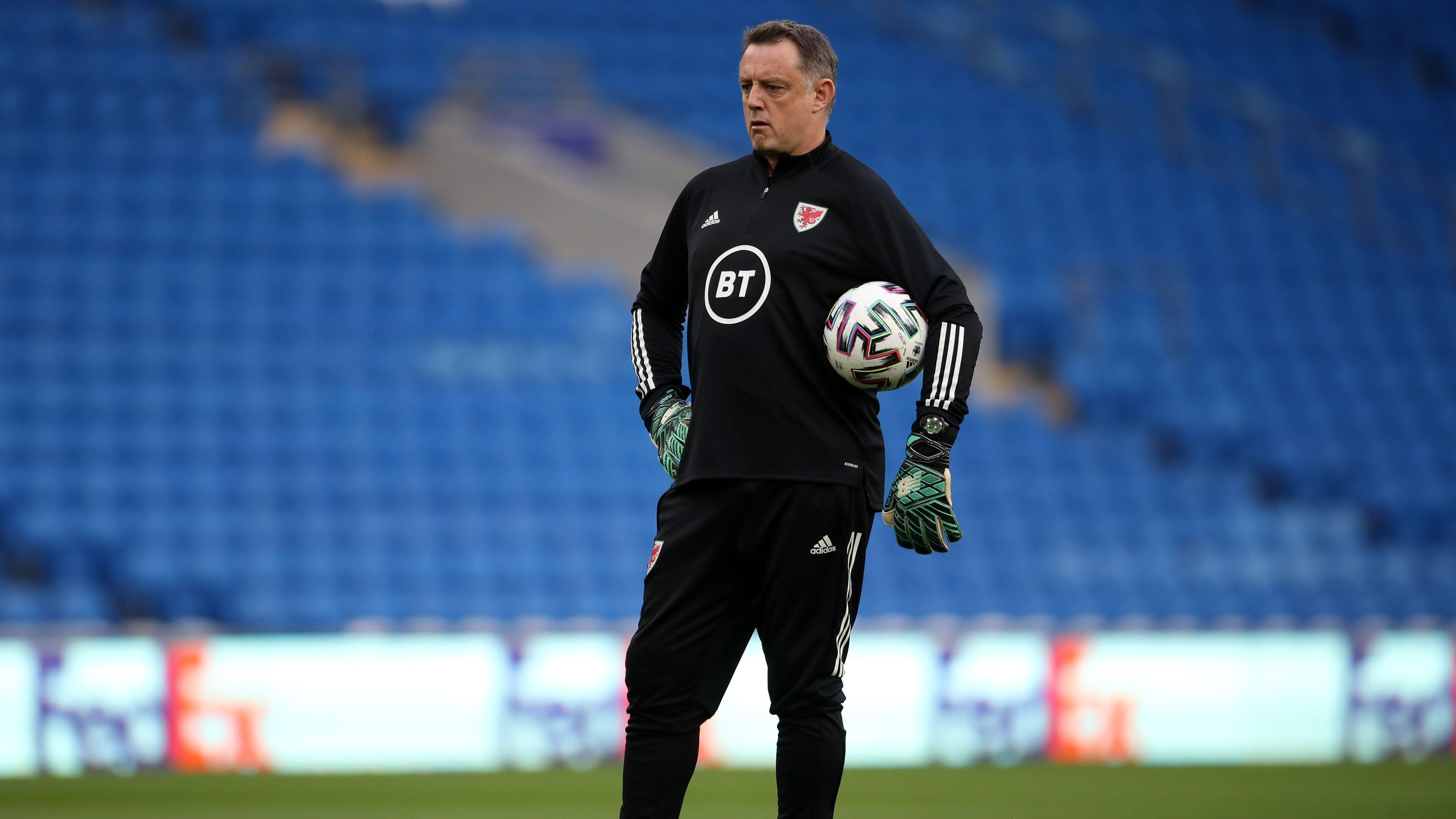 Thornton has not looked back since, constantly working on adapting and improving the delivery of his sessions, thinking deeply about how to get the best out of himself and the players under his guidance.
He spent nine years at QPR before the chance to step up to first-team level with Swindon followed, and a short, but memorable, stint with the Taiwan national side.
"I went from QPR to take the first-team job at Swindon, which was where I first worked with Luke Williams, who was here until recently," continues Thornton.
"I had been there for two-and-a-half years when, out of the blue, I got a phone call from the national coach of Taiwan.
"He told me I had been recommended to him and he wanted me to become goalkeeping coach.
"I initially said no, but when he showed me the contract it changed things for me. I have to be honest.
"I spoke to Phil Brown, who was the first-team coach at Swindon, and asked his advice and he told me it would be great for me.
"He felt it would help my career, and from the moment I accepted I had to be in Taiwan in just 48 hours to start there. Phil and Swindon were good with me and allowed me to leave to do that, even though I was supposed to have a three-month notice period.
"It was an experience, I have to say, it was not what I expected it to be. I wish I had done more homework on it.
"The structure was not where it is now, there was no professional league and the best players were in Japan and China. It was effectively a college league out there.
"As a life experience I loved it, we competed in the Asia Games in Indonesia. I took a lot from it, the coaching staff were all English and we were having to coach through translators.
"Things were going well, but then there was an election and the government changed. The new government decided they wanted to change the national team management, and Fifa were soon threatening to take action.
"The gaffer took a job in Hong Kong and the rest of us were sacked, and I headed back to England. It was quite a story!"
It was following his return to the UK, that Thornton's initial meeting with Martin when the pair were teenagers would lead to the next big opportunity in his career, and set him on the path to joining the former Scotland international at Swansea.
"We were at Wycombe. I think I was 16 and I think Russell was about 18. He was a midfielder at the time," recalls Thornton.
"I can't speak highly enough of him, you look how he conducts himself. He gave himself the best chance of being the very best player he could be.
"I think I'm right in saying he made the most appearances for Norwich in the Premier League. That's incredible.
"It shows the hard work and dedication he put in, as well as listening to advice and taking it on board. He looked at himself, was honest with himself and his attitude was right.
"I know I did not help myself in my situation, I wish I had followed his example.
"We did not meet again until Norwich played Swindon in the League Cup a few years back, and we had a chat.
"He told me he wanted to go into management, and he said – and I am sure he was joking – 'maybe you can be my goalkeeping coach'.
"Fast forward a few weeks later and I got chatting to Stuart Moore. I had previously worked with him at Swindon, and he had gone to MK Dons.
"He mentioned Russell was there, and then a few months down the line Stu was texting me to say Russell had got the manager's job.
I text Russell to say congratulations, and I soon had a message back saying he would call me and that I already knew what it would be about.
"It completely changed things for me as I had been working for a sports agency. I became the goalkeeping coach at MK Dons in 2019, and Russell and I have worked together ever since."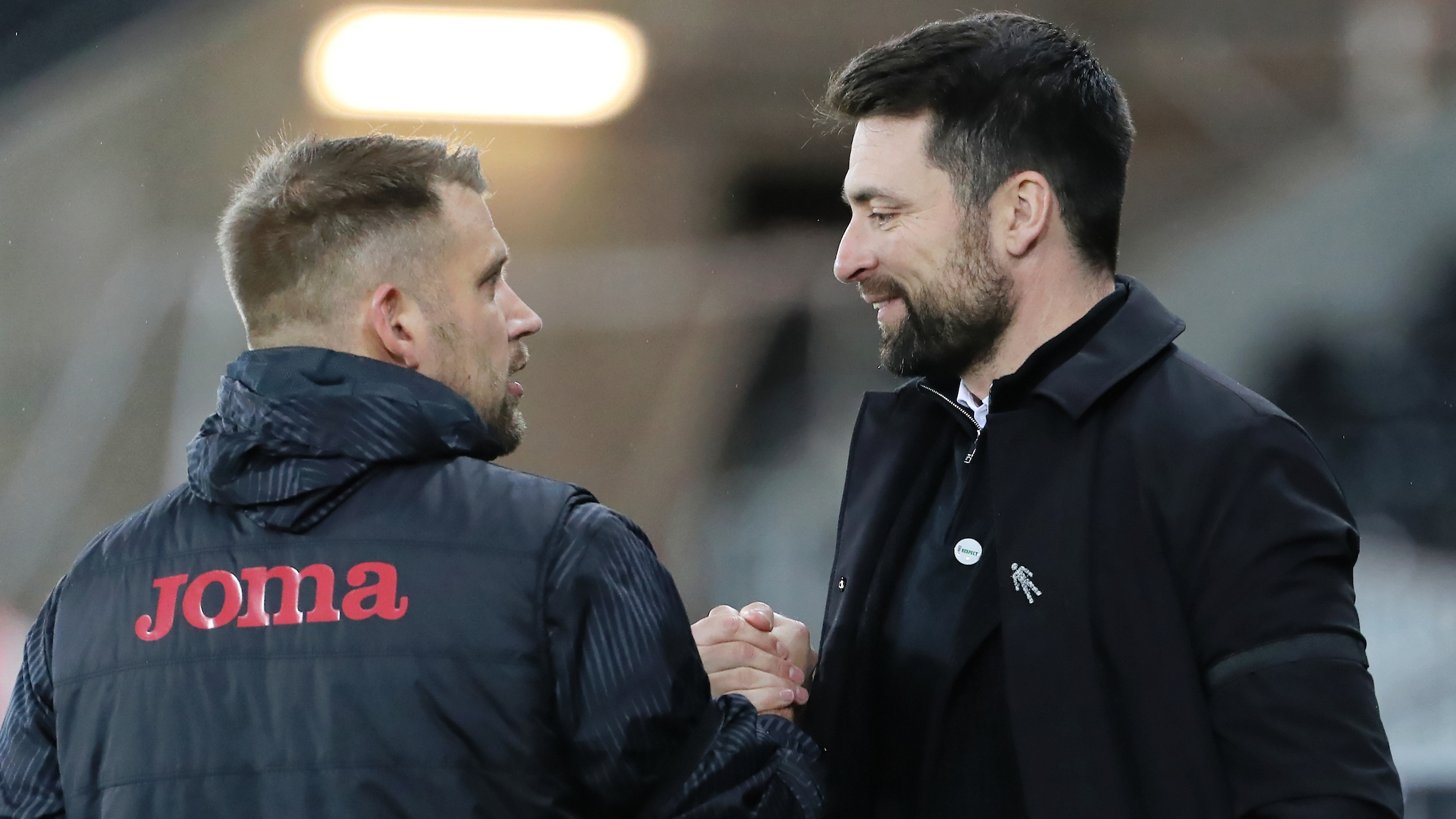 Despite his relative youth, Thornton's career as player and coach is long enough for him to observe the way in the which the role of the goalkeeper has evolved over the years.
And, while the fundamentals may be familiar to many, there has been a major change in the nature of some of the responsibilities taken on by the player between the sticks.
That evolution has only been a good thing in Thornton's opinion.
"It's definitely changed. Just look at the way we play and use the goalkeeper," he said.
"Without the ball he is our goalkeeper, but with the ball he is a spare man for us. You go back 10-15 years ago and I think those Barcelona sides with Victor Valdes and Marc-Andre ter Stegen really changed things.
"They wanted to utilise the spare man as part of how they played with the ball.
"When I was a scholar I do not remember ever passing the ball to my centre-half, if I did I'm sure the coach would have been shouting at me.
"Now, it has completely changed. The coaching has evolved, we do have specific sessions for the goalkeepers, but they also join in with the overall work.
"That is the way we see it, that is how we want to play. I think you can see with how Ben Hamer, Andy Fisher and Steven Benda have embraced it that they enjoy it.
"I do not understand why, as a goalkeeper, you would want to play the game on a Saturday where you just launch it 70 yards and you might not touch the ball again for 10-15 minutes.
"It's the same for outfield players. Think of the sacrifices you make to get to professional first-team level, and all someone wants you to do is smash the ball into the channel.
"Goalkeepers, to me, are footballers. Yes, they can handle the ball, but they are footballers.
"I think coaches now believe in keepers a lot more, and believe they can do what other players can.
"Goalkeepers are absolute machines now, they are real physical specimens and they are important players on both sides of the ball.
"Everyone is different and has a different way of seeing things, but I have never understood why you would smash the ball upfield 20 or 30 times a game, when you can pass it to a team-mate and we can keep the ball.
"The message for us is clear. If you are a keeper or a defender and you make a mistake playing out from the back in the way we play, then that is on the coaching staff, not on the player. We want the players to play this way.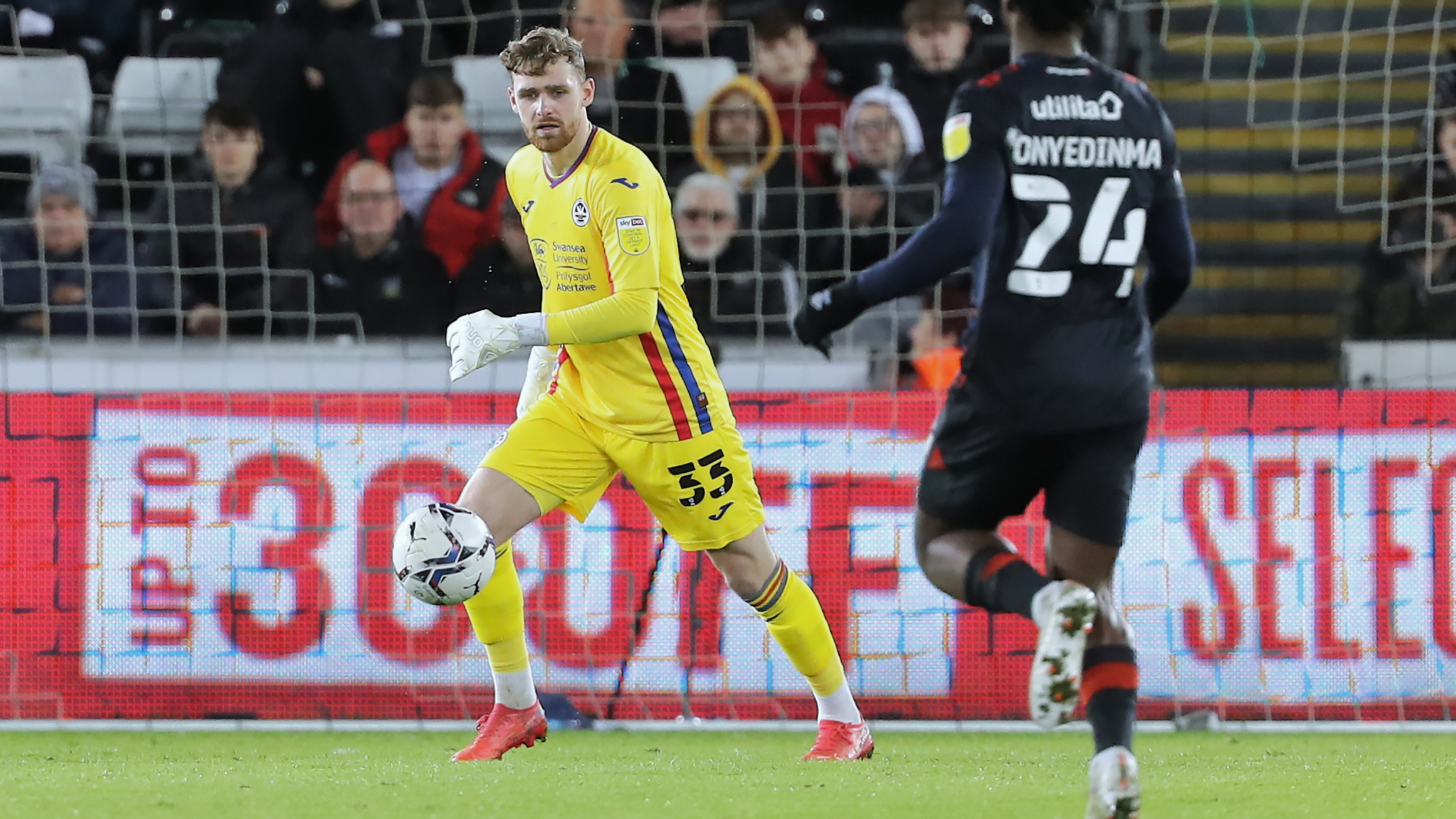 "When I look at a goalkeeper, I want someone who is a humble but confident person. You have to back yourself as a keeper, you have to be resilient.
"I look for someone who can be part of a group and be a leader, and on the pitch I look for calmness.
"As a player I was very vocal, but very erratic. I would not want a keeper to play the way I did, you need that composure.
"I also still want them to be dominant, to come and claim crosses, to make good decisions and make saves, but you also need an edge. You need a determination not to concede at all costs.
"It takes bottle, and I think the guys we have got here have got that. That's what I would want to see in a Swansea keeper."
There it is; a typically direct, candid and honest assessment from Swansea City's goalkeeping coach. Not unlike the welcoming address Thornton and Russell Martin received on their first day in Swans colours.
You sense Swansea and Dean Thornton make a good fit, he's certainly a man you'd want in your corner, as his boss has known from day one.