EFL Week of Action | Spotlight on Swansea City AFC Foundation's We Wear the Same Shirt project
8th April 2022
Foundation
To celebrate EFL Week of Action, Swansea City is shining a spotlight on some of the fantastic work being done across the city by the Swansea City AFC Foundation.
The Foundation is at the very heart of the community, running projects around education, well-being and inclusivity.
This week, the club has chosen to focus on the 'We Wear the Same Shirt' project, which supports people with mental health struggles and helps combat loneliness via weekly walking football sessions.
The sessions take place every Thursday at Penlan Leisure Centre, while there are also sessions at Coleg Sir Gar in Llanelli on Wednesday evenings, and at Llandarcy Academy of Sport on a Friday afternoon. Click here for full details.
Seventy-year-old Paul Colwill has been attending the Thursday sessions for three years after deciding he wanted to find a way to get active again.
"I had been stagnant in terms of fitness," he explained.
"I'd been out for walks, but I really felt that I needed a bit more. I wanted to lose a bit of weight and get the muscles going again.
"I shopped around a little bit [for a way to get active], found this one and came up.
"It caters for all abilities, it's not all about skill and it was great to get back into playing football and lose a bit of weight.
"It's been running three years now – obviously stopping for Covid – but it's been great getting back into it and meeting back up with people.
"The boys here are great friends now. Getting exercise, playing football, it's been a very good experience."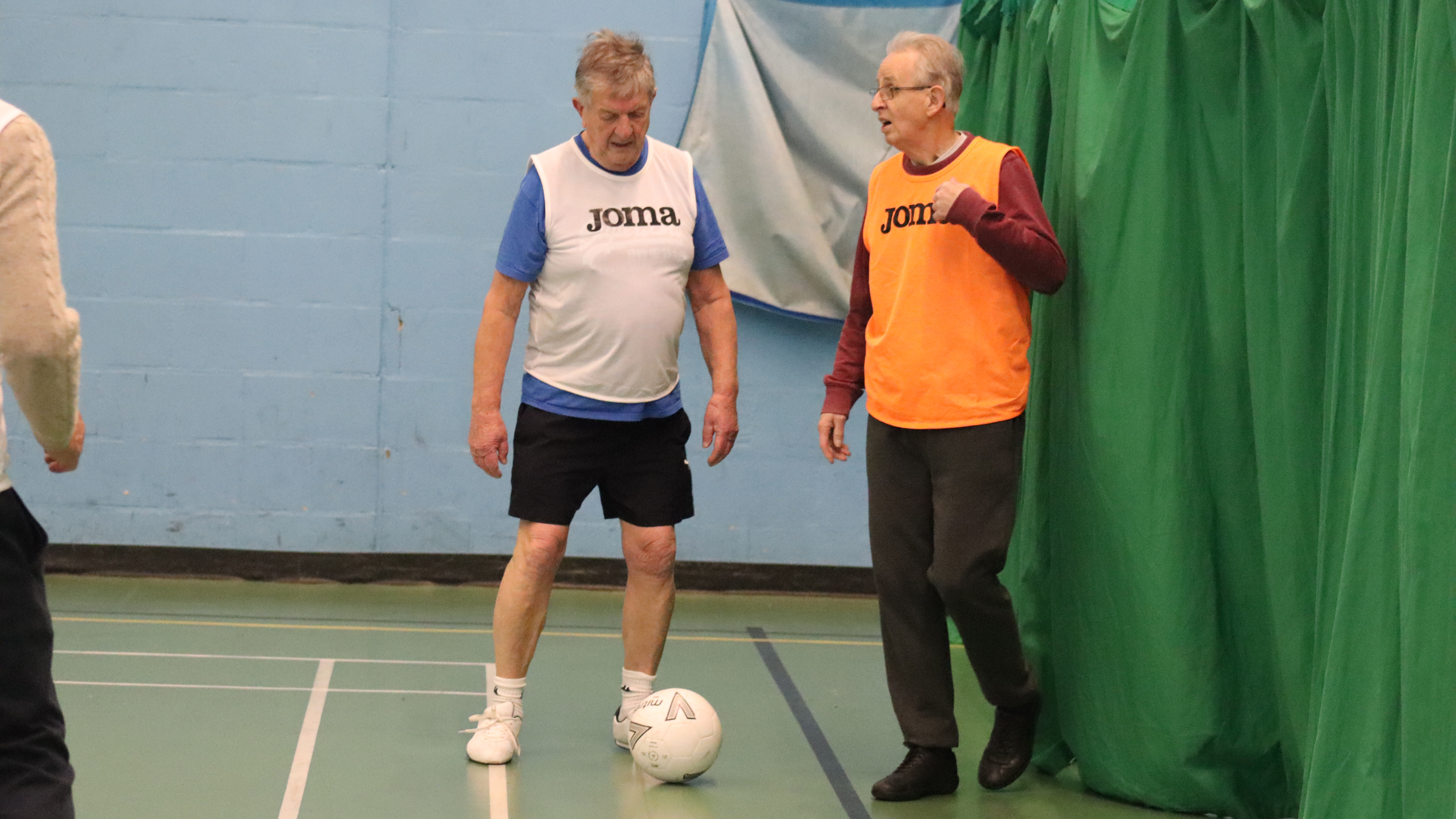 As well as well as helping participants stay active through the five-a-side football activities, the sessions end with a social hour where people from the session can grab a coffee and have a chat.
With elderly people becoming increasingly isolated and mental health struggles linked to loneliness on the rise across the UK, particularly among the over 50s and people asked to shield during the Covid-19 pandemic, the 'We Wear the Same Shirt' project provides a community hub for people and helps combat the impact of isolation.
"'We Wear the Same Shirt' works in partnership with the Football Association of Wales and is all about decreasing the stigma around mental health and getting anybody, no matter their background, into sport," Swansea City AFC Foundation inclusion coach Dylan Williams explained.
"We hold a coffee session at the end of the football where the members can sit down, relax and talk to each other in a safe environment.
"It's really important that they can socialise afterwards. During the session, they get all their physical activity, but at the end they can have conversations which might not be related to football.
"The benefits  are obviously weight loss and physical fitness, but it's the friendships you build up as well. Playing with the guys, and then the cups of coffee afterwards where we laugh and are just relaxing. It's good – it's really good."