Enter our digital raffle to win unique canvas in support of Noah's Ark Children's Hospital Charity
18th April 2023
Club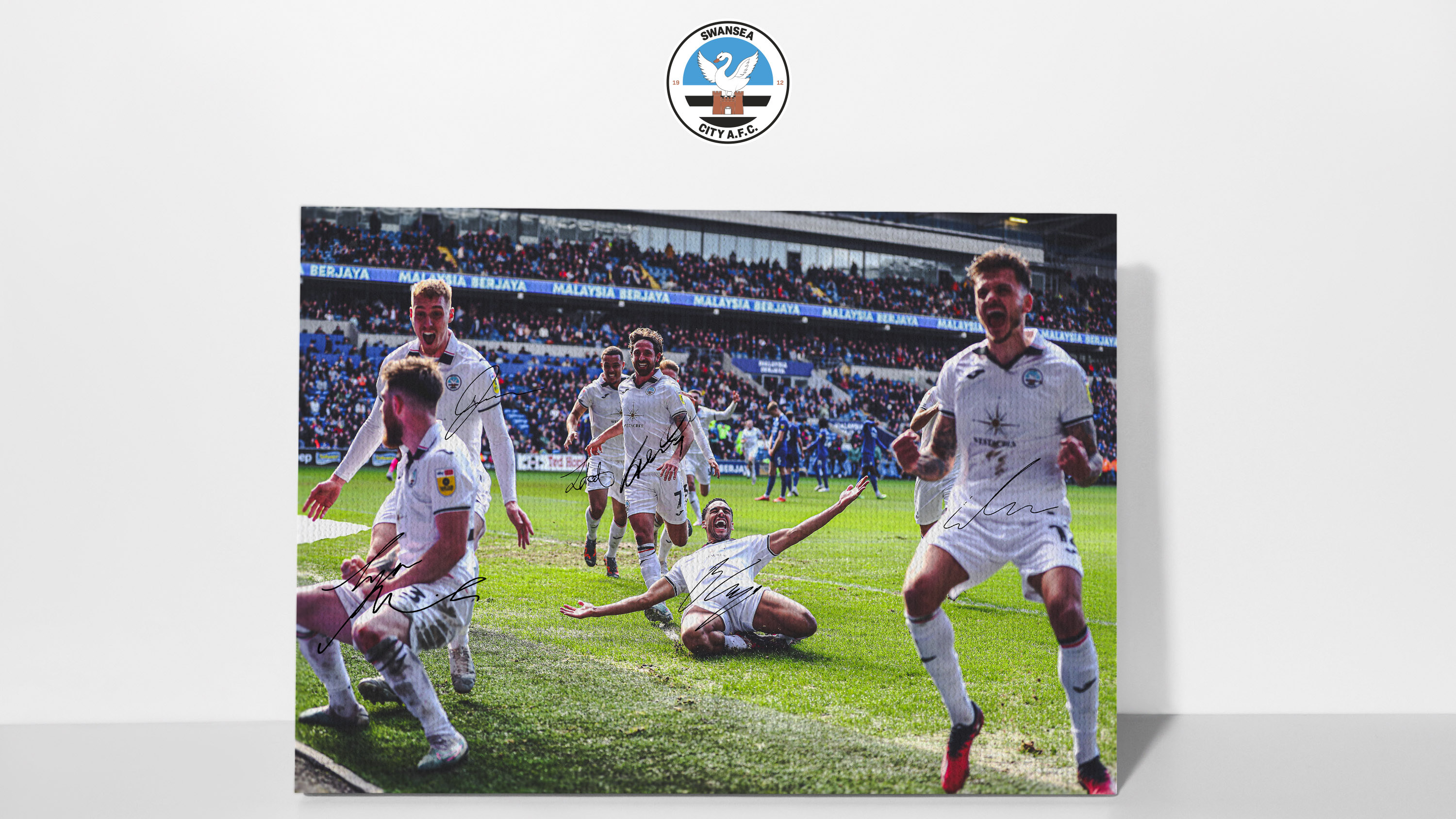 Swansea City is pleased to launch a one-of-a-kind raffle to raise monies for our charity partner for the 2022-23 season, the Noah's Ark Children's Hospital Charity.
The raffle has been set up with a unique prize up for grabs: a signed canvas print of the celebration of Ben Cabango's winning goal at Cardiff City earlier this month.
The canvas was kindly donated by DWJ Group, and has been signed by Cabango, Jamie Paterson, Ryan Manning, Jay Fulton, Joe Allen and Joel Latibeaudiere.
You can enter the raffle online by clicking the link below. Virtual tickets are £2 per ticket, or an option is available to purchase six tickets for £10.
Noah's Ark Children's Hospital for Wales provides specialist and often life-saving care to around 73,000 young patients from all across the country each year. The charity is committed to supporting these children and their families in as many ways as possible, as it has been since the very beginning.
Noah's Ark strive to ensure that treatment and outcomes for children will continue to improve by funding new and innovative medical equipment and facilities.
They support children and families who require their services, including their emotional support service and the much-loved play specialist teams. They also invest in the future by providing technology which helps train the clinicians of tomorrow.
Another aim of the charity is to make the hospital a less frightening and more familiar place for children by sprinkling a little fun and happiness into hospital days.
Many of our supporters will be aware of one very special Junior Jack who has been treated at Noah's Ark Children's Hospital, Morgan Ridler.
Morgan, who is from Gorsenion, has been battling cancer and, after being mascot for our win against Cardiff City, has resumed his chemotherapy treatment.  
By entering the raffle you will be supporting the treatment of Morgan and thousands of other children just like him.  
The deadline to enter is midnight on Tuesday April 25, 2023. The winner will be contacted via email on Wednesday  April 26.
All monies raised will be donated directly to Noah's Ark Children's Hospital.