Flynn Downes | I have to give my best every day, I don't want any regrets
2nd January 2022
First team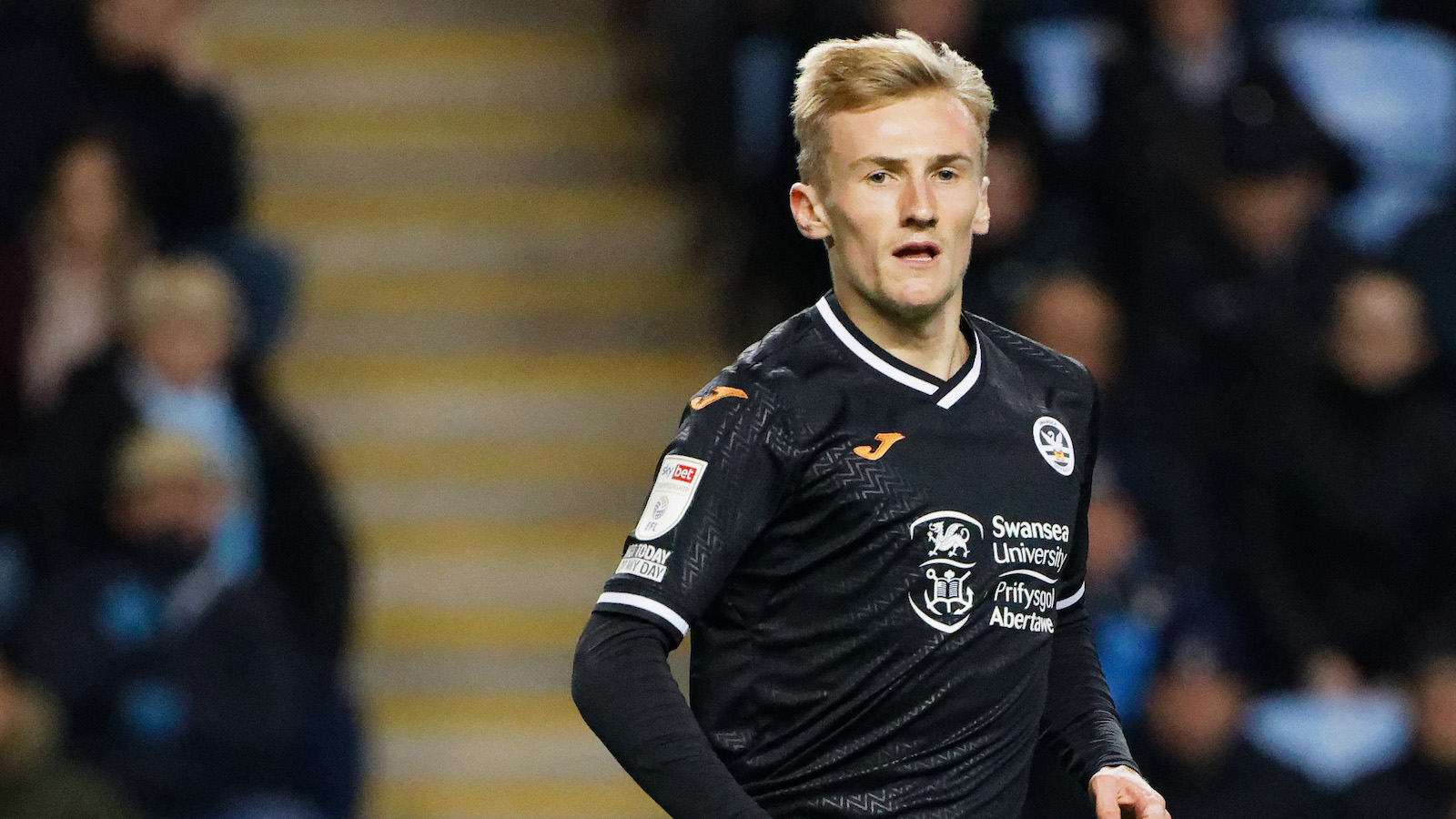 Flynn Downes has made an eye-catching start to life at Swansea City. Here the midfielder lifts the lid on his new position at the Swans, how his brothers helped keep him on track for a career in football, and why his family's sacrifices for him will always be a major motivation as he strives to reach the top of the game.
You don't have to spend long in Flynn Downes' company to understand that behind the calm, polite and thoughtful person you encounter off the pitch, lurks a driven, motivated, determined competitor who is not willing to settle for anything.
The 22-year-old has made an assured start to life in SA1 following his summer move from Ipswich Town, and that comes as no surprise given the maturity he exhibits on and off the pitch.
It can be easy to forget that, despite his youth, Downes already has approaching 130 first-team appearances to his name.
He has been playing regular first-team football since the age of 18, and Swansea fans with good memories might be able to recall him playing against the club for the Tractor Boys during the 2018-19 season.
By that stage he was in his second season in the Championship, he had also experienced the joy of promotion during a loan spell with Luton.
He would go on to become Ipswich's youngest-ever captain at the age of 20, a remarkable accolade for a club with a storied history despite recent difficulties.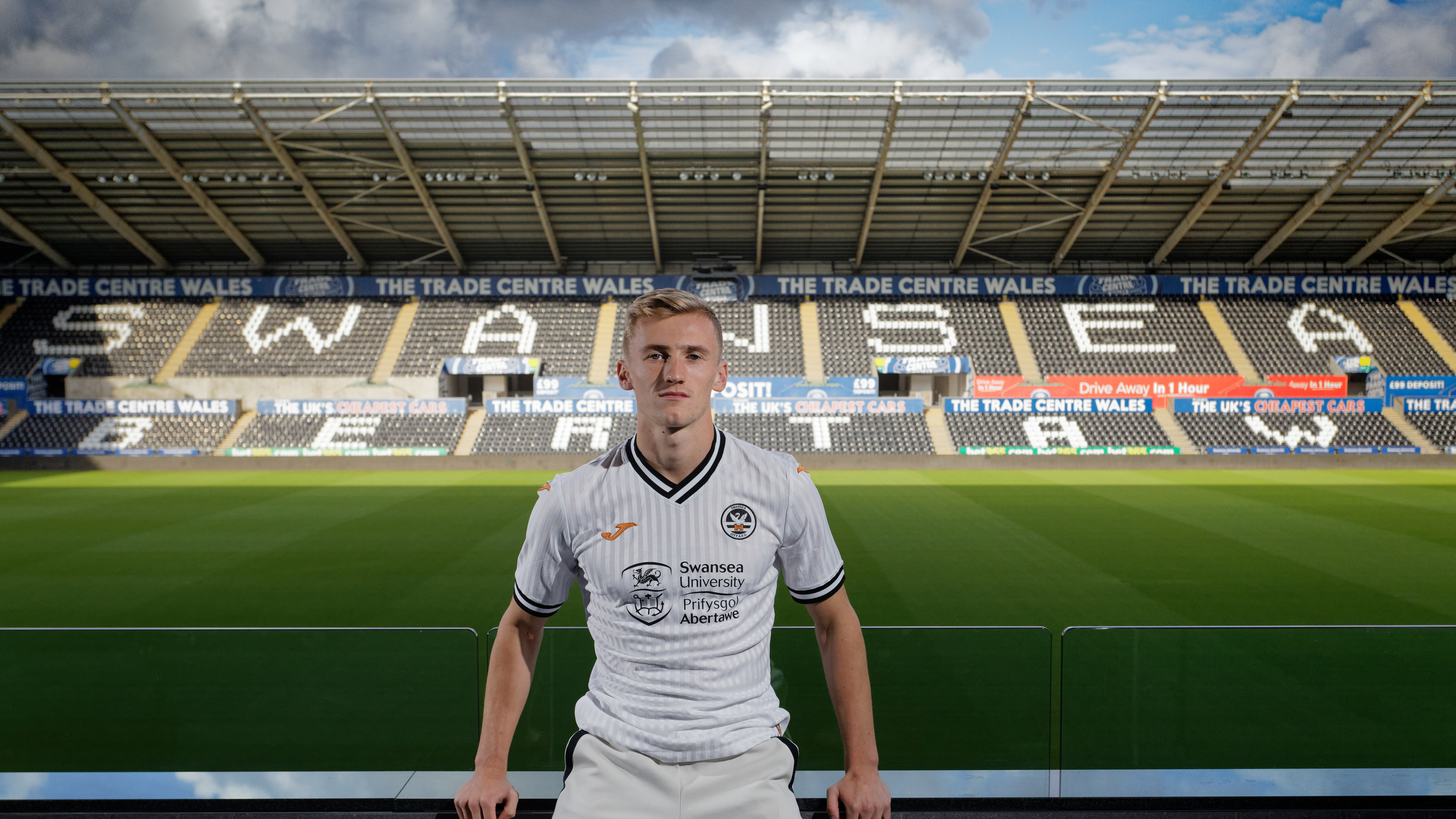 But through it all, Downes has remained grounded. His story has not all been plain sailing, it has had its challenges.
He acknowledges there were times he fell out of love with football and the demands it placed on him during his school days, with words of wisdom from his brothers helping rouse him from any potential slump.
All of which means he can appreciate the enjoyment he is getting from life under Russell Martin, even if his sights remain firmly set on where he and Swansea City are heading.
"I love it here, to be honest. The gaffer, the staff and the boys have been so good. I have found no egos here, like you can at other clubs. I didn't know what to expect as this is a big club, but it has been great. It's been spot on," he says.
"It's been nice to settle into the city too. I like having my own space, my missus is with me so I have company and we live down in the marina with a lovely beach nearby. When the sun is out you can't beat it. You can't go wrong.
"She has just got a new job, which is great. We are really enjoying it.
"The same goes for on the pitch. I have to tell you, I have loved it. Everyone has their own role on the pitch, and I like that. That role is my responsibility and my job. It's down to me to perfect that position, and I feel like Grimesy and I can focus on our own tasks.
"As a whole, the boys are great to play alongside. The style of play the gaffer wants is the best, it's the best to watch, it's the best to play and the task is to improve and get some more wins on the board.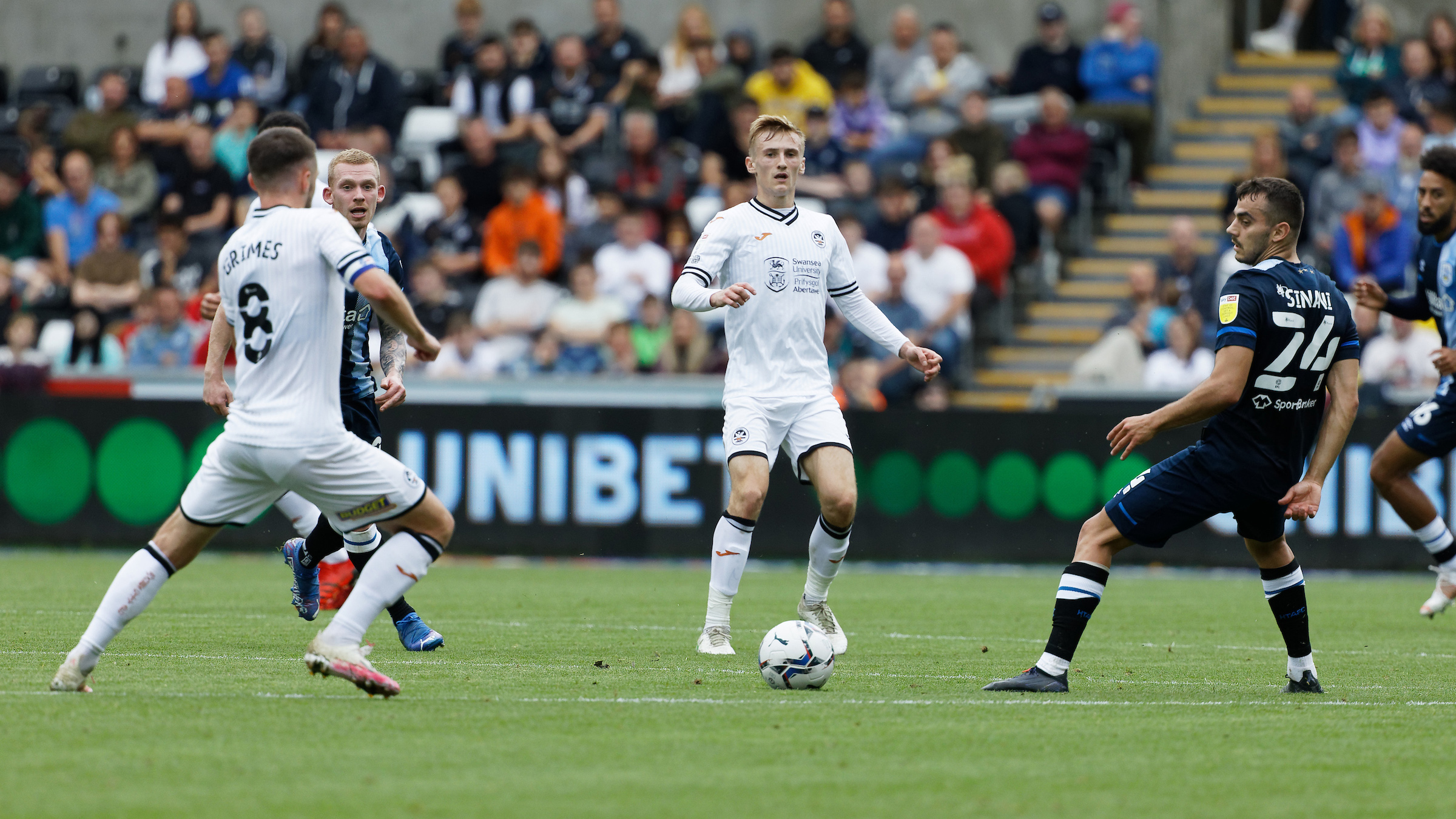 "I enjoy the defensive responsibility as well as my job on the ball. I would be as happy to smash someone with a crunching tackle as I would be to score. Don't get me wrong, I would love to score some goals to help the team, but if I do that a different way then I'm fine with that.
"The first time we sat down and spoke about my role, and worked on it on the training pitch you do sort of think 'okay'… because it is so different and you don't expect it. But I watched clips, and it felt weird to start with because you're instinct sort of tells you that you are playing centre-back, but you're not.
"You work with the centre-backs, and once I got my head round it and got a feel for how often I got on the ball it's something I have really enjoyed. It's making me a better player, and I think it helps the team.
"The style of play helps us and suits us. I want to be on the ball, I think that's what every player wants deep down. Look at teams like Barcelona in recent years, that is the best football to watch.
"I am not saying we are like Barcelona, but that is the best football to me and to try and play a style that gives the opportunity to use the ball is great as far as I am concerned.
"Mistakes will happen, nothing is perfect, if we give the ball away at the back then the opposition are in on goal. So you have to be brave, and you have to make those sacrifices because when it comes together teams cannot get near you. It's a joy to play in."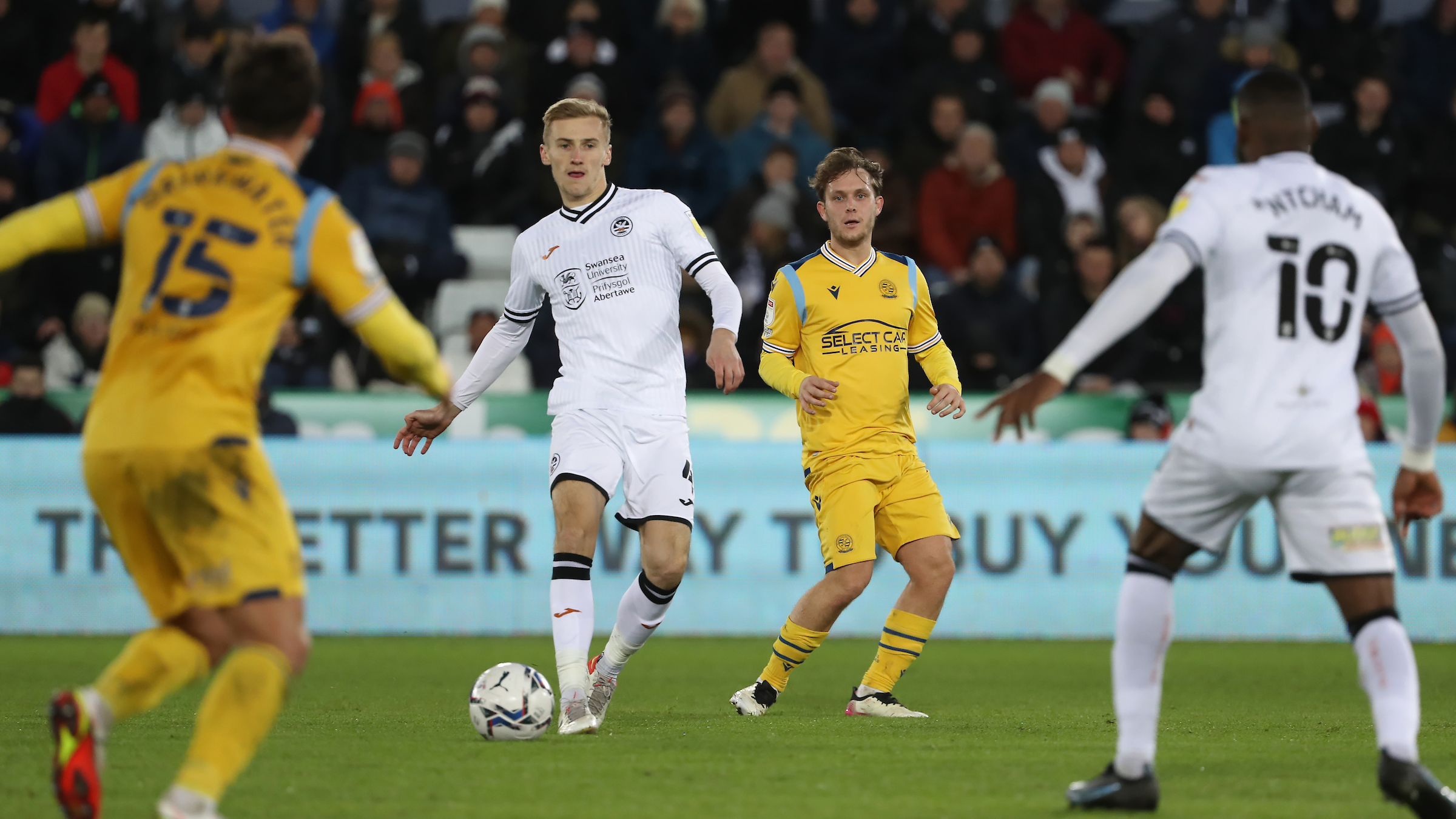 This is the latest chapter in a career that goes all the way back to when Downes -  who hails from Brentwood - was playing his junior football for Ongar in mid-Essex.
It did not take long for his talent to start getting noticed, and by the time he was seven he had joined the Ipswich set-up.
But, as he recalls with a chuckle, his start to life with the club was not as straightforward as it could have been.
"I was playing for my local team, Ongar, I played for them for a year, it was my first time in a proper team and I thought it was great. I was scoring goals, everything, I was a midfielder and I just loved running around everywhere," he says smiling.
"I was doing well, I was flames!! The next year Steve Leslie, an Ipswich scout, came over and gave my father his card.
"I didn't think much of it, but we called up and got invited down to the development centre and it went from there.
"It wasn't totally straightforward because the day I had my trial I fell asleep in the car on the way there, and only woke up as we were there.
"It threw me, I was still tired, and I just did not want to go in there. I started crying, and in the end the manager came out and sort of talked me around.
"I was nervous because I was training with the age-group two years above, and once I started dribbling round the cones in the first drill I was fine. I cannot even remember how they coaxed me to go in.
"But I was always football mad. When I was a kid I used to change at home and put all my kit on and just dance around the front room. I couldn't wait for it. I was so happy about it."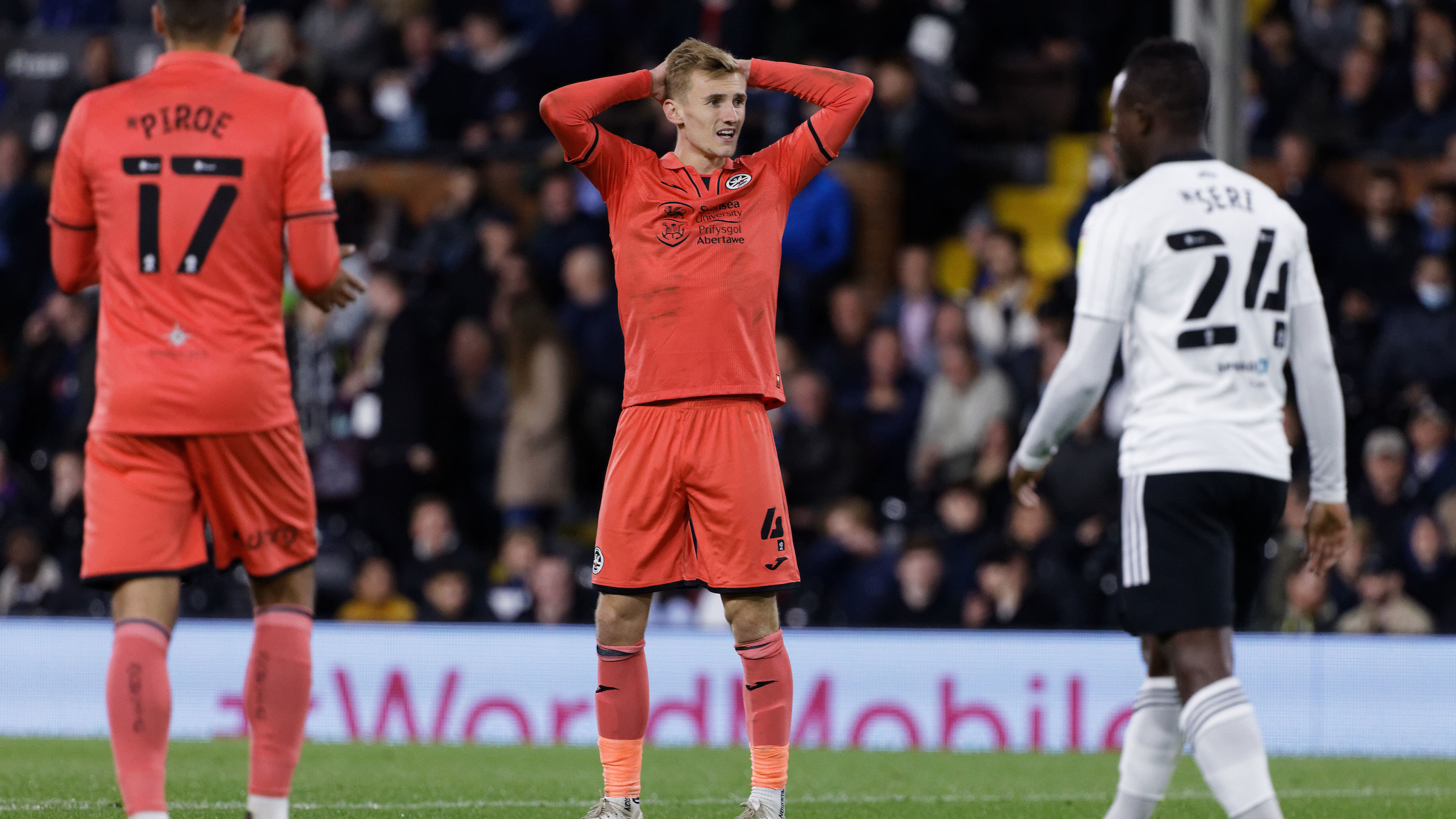 Even without the talent he showed at such a young age, football would still have been a big part of Downes' life.
Born into a family of West Ham fans, he used to make trips to Upton Park as a kid, occasions he absolutely loved.
And it is those shared family experiences, and the sacrifices they made for his football, that stand out and motivate the midfield playmaker.
"My family are West Ham fans, we used to go to Upton Park. It was such a great ground, everything was so close," says Downes.
"I loved watching Alex Song, who had been at Barcelona and Arsenal. People said he was past his prime when he went to West Ham, but I thought he was incredible. No-one could take the ball off him, he kept it moving. He made it look easy, he was class. People had no idea how good he was.
"The hardest thing to do is play simple football, and that's why this suits me because I love that football.
"We enjoyed those occasions as a family, and mum and dad made a lot of sacrifices for me. I never forget that. I owe them so much and it's my responsibility to make sure they know that and that I can repay them.
"Dad had his own construction company while mum did a few bits and bobs, and it was not always easy to go back and forth all the time.
"It was over an hour each way and it was three or four times a week.
"As a kid you don't understand it, because you think 'I have to get there and you have to drive because I can't'.
"But when I think about it, if I had a kid and I was doing that I would probably be thinking 'you better make it here, lad' but they never put that pressure on me.
"Mum used to get everything ready and my Dad would take us there and back and I am aware of what they sacrificed, which is why I want to get to the top, top level. I want to repay them and make them proud."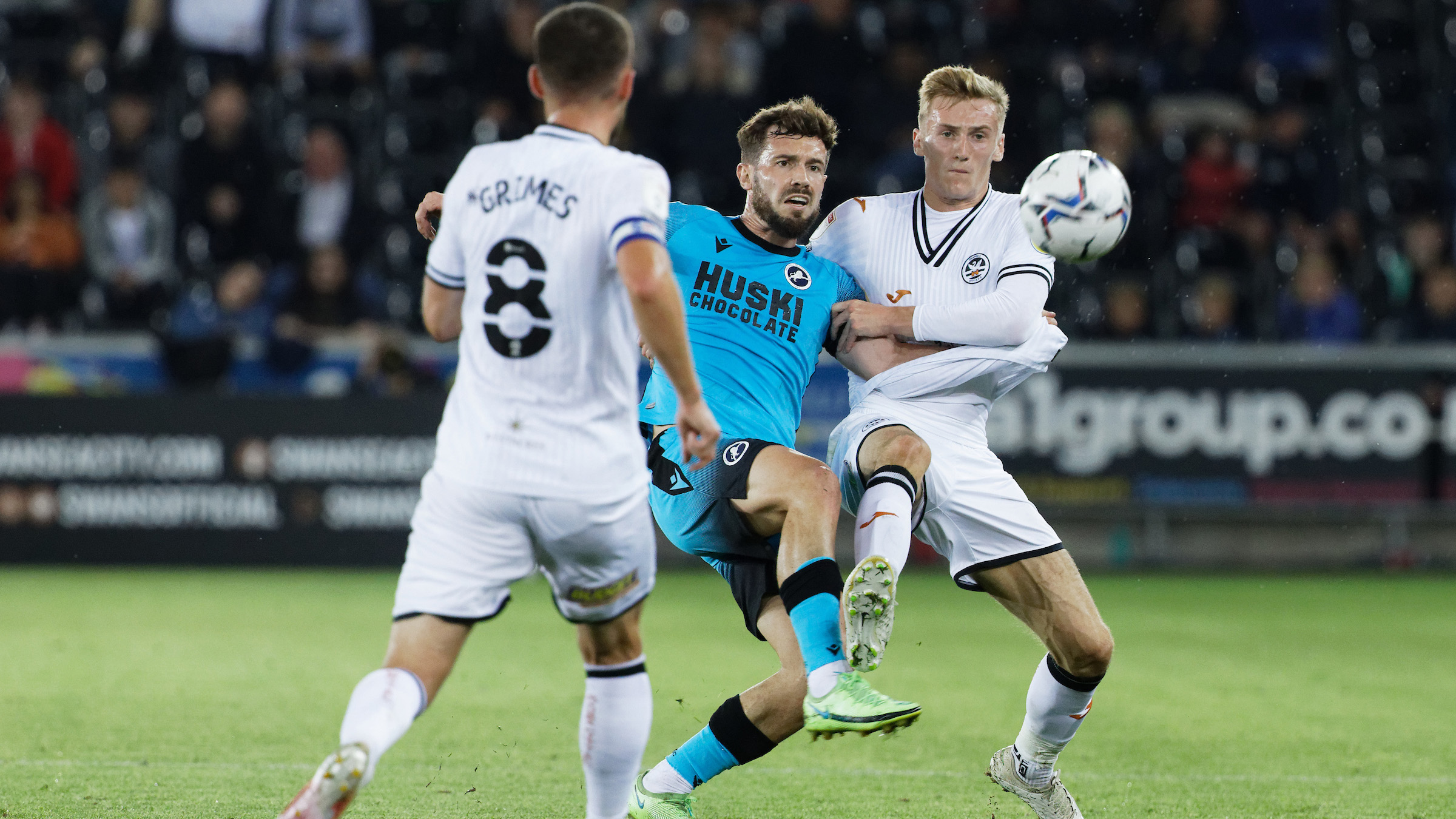 Downes would progress through the Portman Road ranks and sign scholarship terms in 2015, but it was not progress made without the odd hiccup of difficulty.
Downes is honest in admitting there were times in this period where he was not sure he wanted to carry on with the toing and froing four times a week for training and games.
He found it arduous, but once again it would be his family – as well as the academy staff at Ipswich – who would help him refocus.
And he reveals how this episode just added to his determination to be the best he can, to do everything within his power to make it to the very top of the game.
"There were a lot of people at Ipswich who were unbelievable for me because I went through a rough patch with football," he says.
"I think you get a bit distracted at school and I did not really know what I wanted to do. I was travelling after school all the time, I would get home at half nine at night and then go to bed and do it again.
"I was knackered all the time and I did not know if I wanted to keep doing it. I was about 14, but once I got through that spell and I decided I was going to go at it 100 per cent and go all in.
"I spoke to my brothers and they told me to go for it because it is everyone's dream, and ever since then I have been striving to get better and make sacrifices of my own to get to where I want to get to.
"I don't know what else I would have done with life, I don't recall ever thinking of something else to do, I just didn't love football as much as I had as a young kid where I would just be playing all the time. It was all I ever wanted to do and I wanted to get better.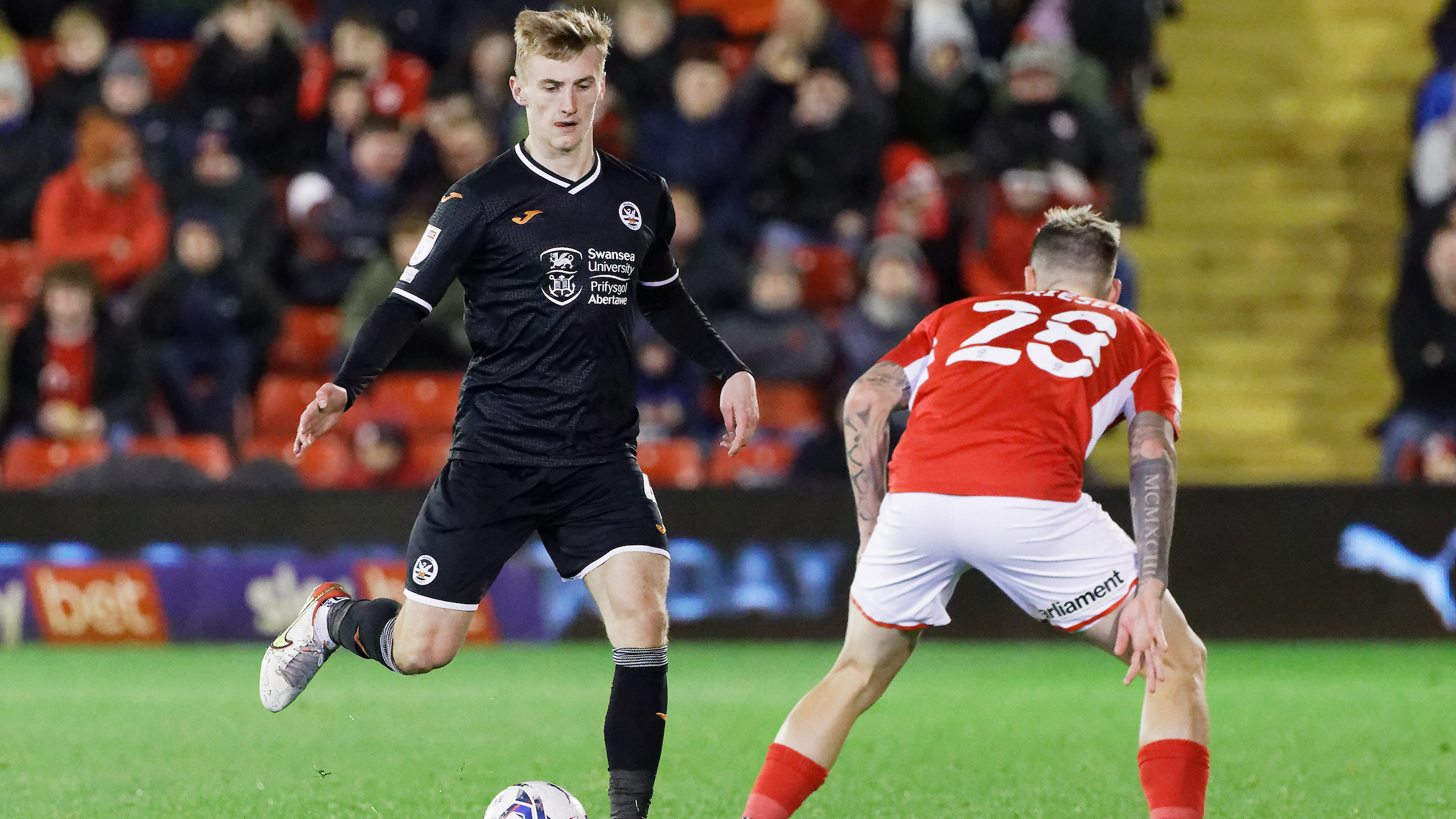 "I just stopped enjoying it, but something clicked with me and I soon rediscovered that love of it.
"Like I say, my two older brothers – Mike and Brad – helped. They had experience of life outside of school and they knew how tough it could be, so they wanted to encourage me.
"Life is tough, and you come to realise that, and the other aspect of that is when you have a chance to do something you love and have the chance to really help your family by making some money so they are more comfortable, then you have to do it.
"I want my family to enjoy life and not have any worries, and that drives me and it comes from that experience when you are younger of understanding that things are not always easy. I've worked really hard to get here, I have no intention of letting it go or having any regrets.
"If I don't give it my all, or I cut corners, it will bother me. If I were to tell myself in the morning that I am going to go to the gym after training to do some extra work, and I then didn't do it, I would not sleep that night.
"It would bother me. It's the small things you do everyday that get you where you want to be."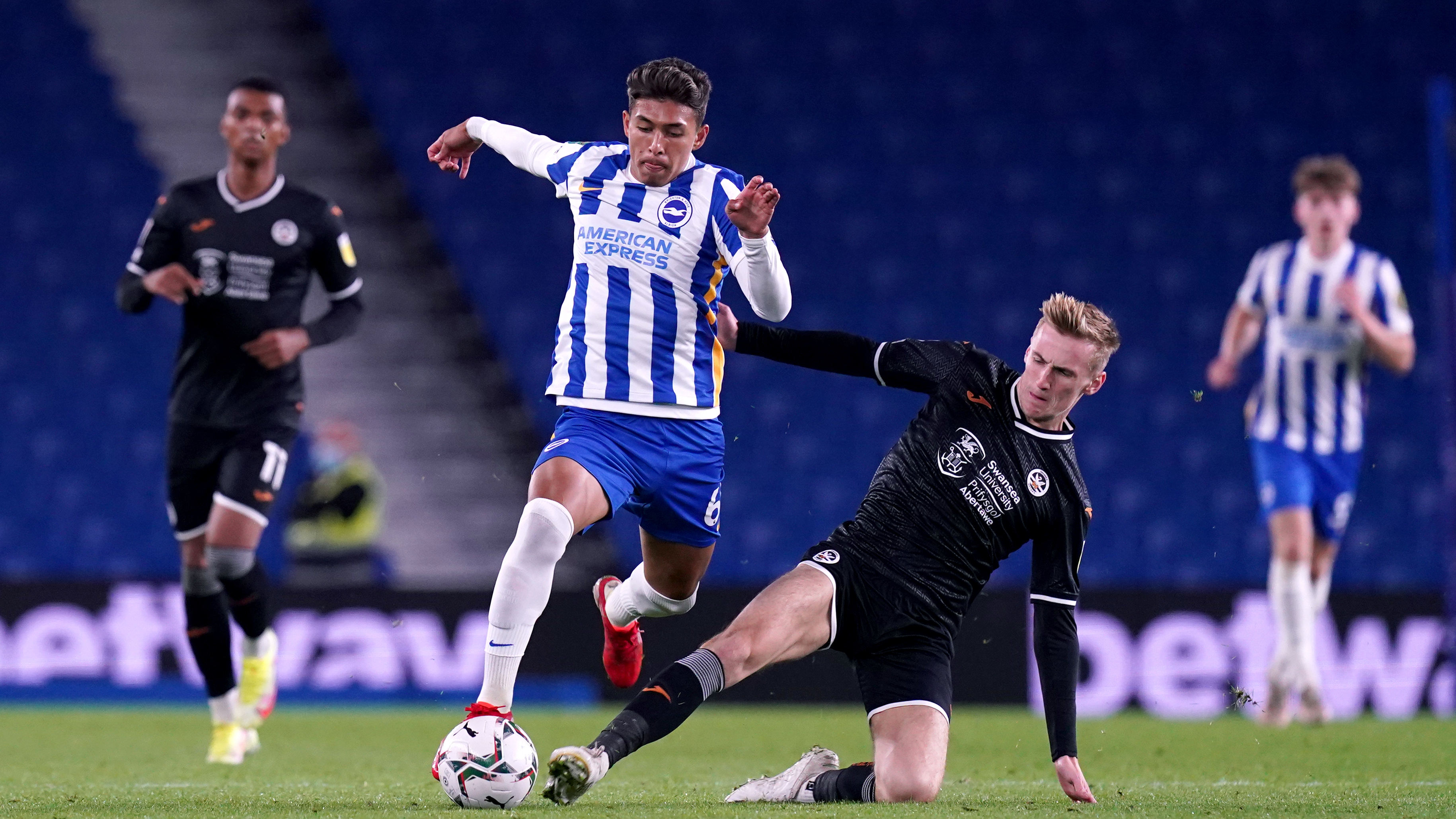 Downes would not look back from there. An impressive pre-season in 2017 saw Mick McCarthy call him up to his first-team squad, and a debut would follow on the opening day of the season in a win over Birmingham.
"I know he is an ex-Cardiff manager but Mick McCarthy is a lovely man and he was great with me," he says.
"He is a family man, he had kids and given how young I was he knew how I was feeling. He showed me what the real world of football was about. Whenever I see him I say hello because he helped me so much and he gave me my debut.
"My debut was a massive moment for me. It was a mad game as my friend Andre Dozzell started and he had come through the academy with me from the age of eight.
"I was on the bench, and he got injured near the end of the first half and I was so nervous. Mick McCarthy called me and said I was going on and I can feel my palms sweating now just thinking about it.
"I went on and I had the game of my life. Everything came off, I was playing through balls without even knowing if anyone was there and there would be someone running onto it.
"It was a dream come true. My parents and my brothers were there, we got in the car after and all I could think was that I had to step it up from there. I had a taste, but I wanted so much more and I wasn't going to stop until I got there."
From there came that loan move to Luton Town, under the guidance of Welshman Nathan Jones.
Brought in to help boost their promotion bid, Downes would make 10 league appearances as the Hatters followed up their return to the EFL by climbing back up to League One.
He was still a teenager, but the significance of being able to sample that taste of success would not be lost on the young midfielder.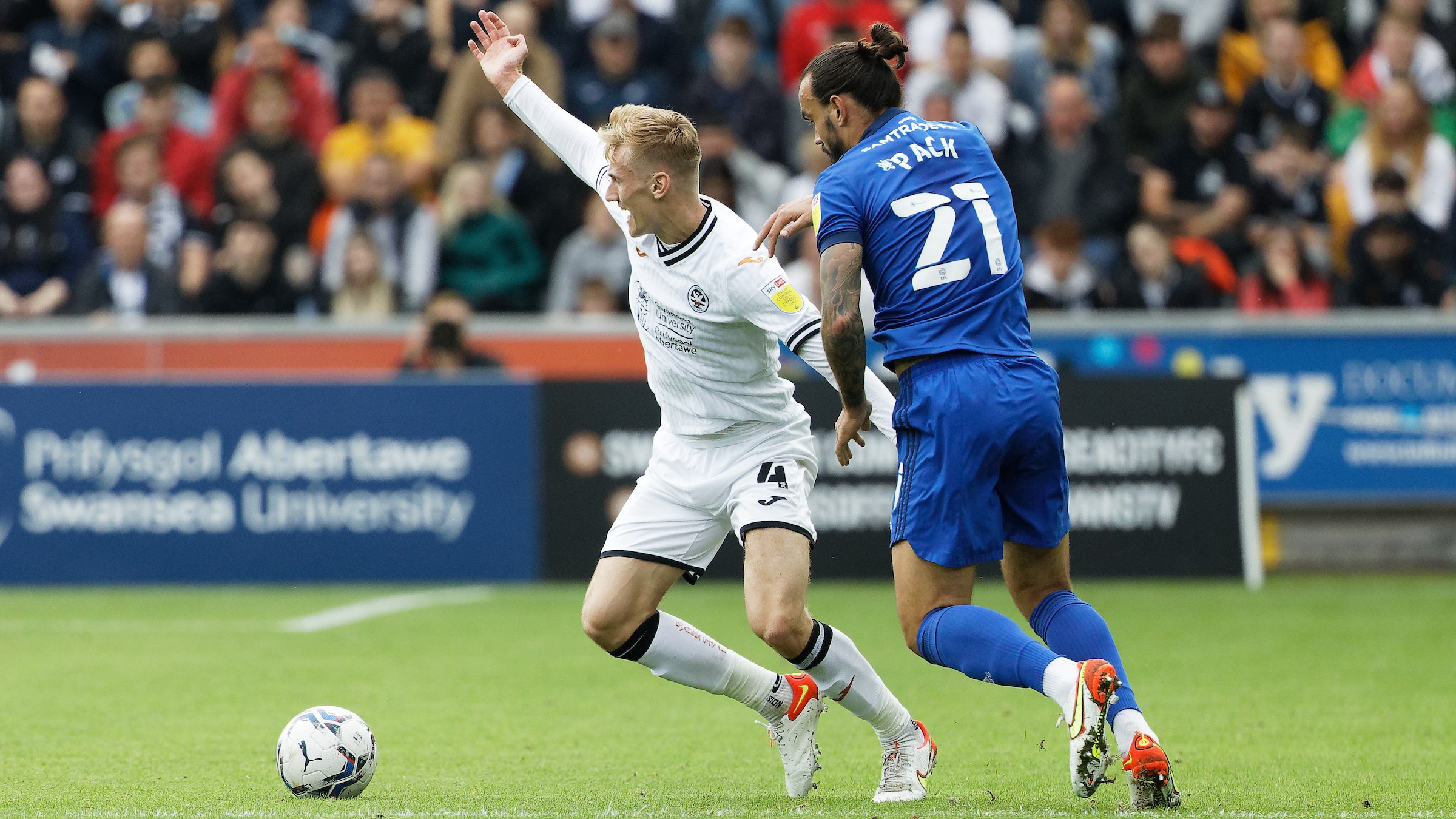 "That was great for me, that was another stage where I wasn't quite enjoying my football as I felt I was working really hard but I couldn't get in the team regularly," he says.
"It frustrated me, but Mick McCarthy recognised it. He could see it, he spoke about it with me, and then told me there was interest in Luton and I wanted to do it.
"It was one of the best times of my life. There were a few boys there who had grown up near me in Brentwood and we shared lifts and it was so good. There was Olly Lee, Elliot Lee – who went to my school – Andrew Shinnie and Scotty Cuthbert.
"It took me back being a kid, I was playing and I was loving it. Nathan Jones put trust in me and at such a young age I got to experience promotion.
"There was a bus parade, there were people everywhere and Luke Chambers, the captain, told me to take it all in and appreciate it because a lot of players never get to be part of something like that.
"It was a mad experience, everyone was buzzing. It stuck with me, and I want to be winning things. I hate losing, and seeing something like that just adds to my appetite to have more of it.
"I would love to come and do that here. That's what we are going after and what I want to be a part of.
"I went back to Ipswich and felt so much more confident, I had more games under my belt which a lot of young players don't always get. You have to play as a youngster because that's how you learn."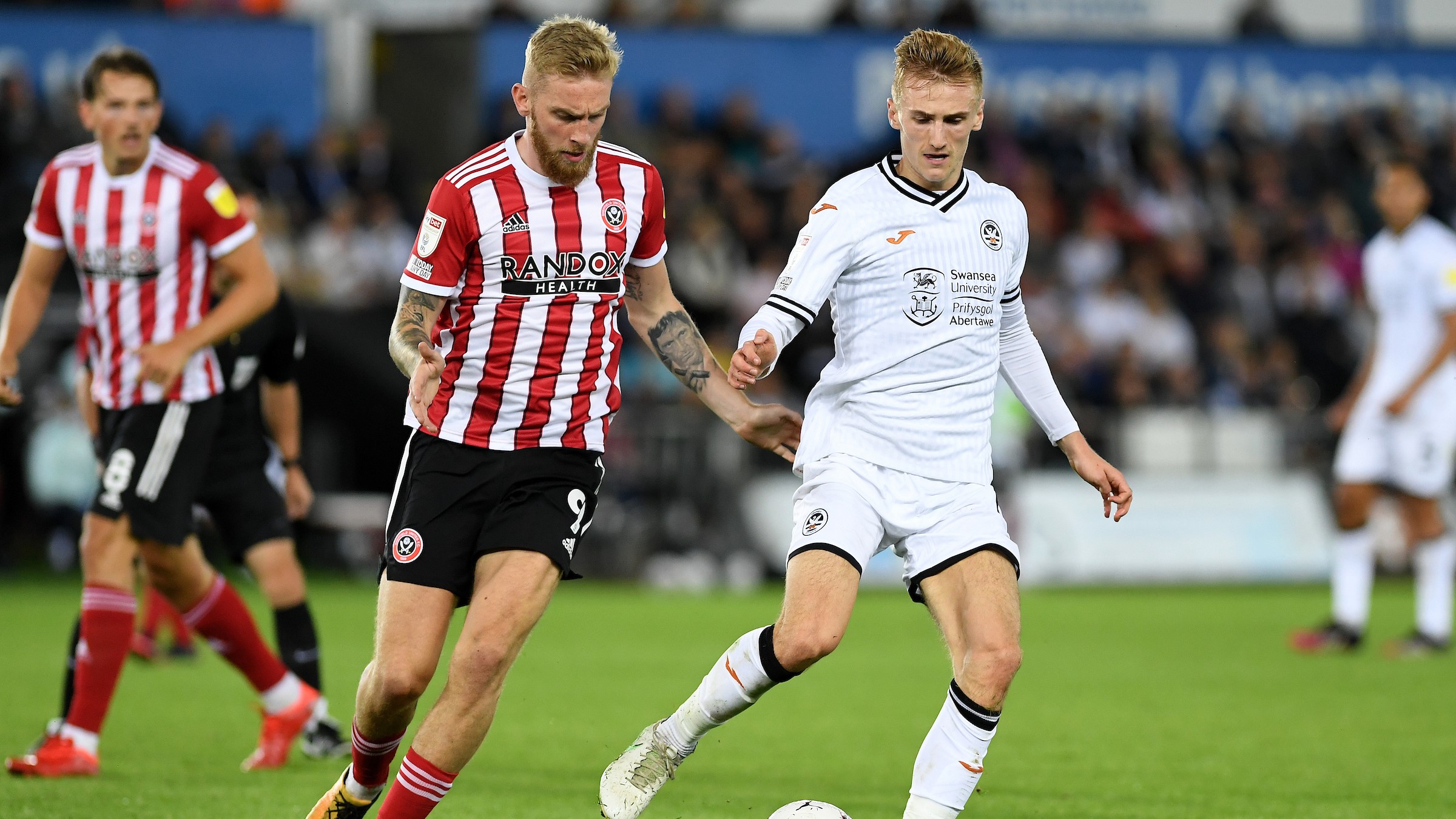 Downes returned to Ipswich and would make 30 Championship appearances as the East Anglia club were relegated the following season.
He remained a regular in League One during the 2019-20 campaign, and would wear the captain's armband for the first time in December of that season, becoming the youngest player to lead the Portman Road club. No mean feat given he was just 20.
His showings were enough to attract the interest of Premier League clubs, but those overtures were rejected to Downes' frustration.
Injury misfortune followed – limiting him to 25 appearances – including two against an MK Dons side coached by Russell Martin, where Downes recalls his side barely having a sniff of the ball.
His exit from Ipswich would eventually come back in August and, while the manner of his departure hurt, Downes has nothing but fond memories of his long time there.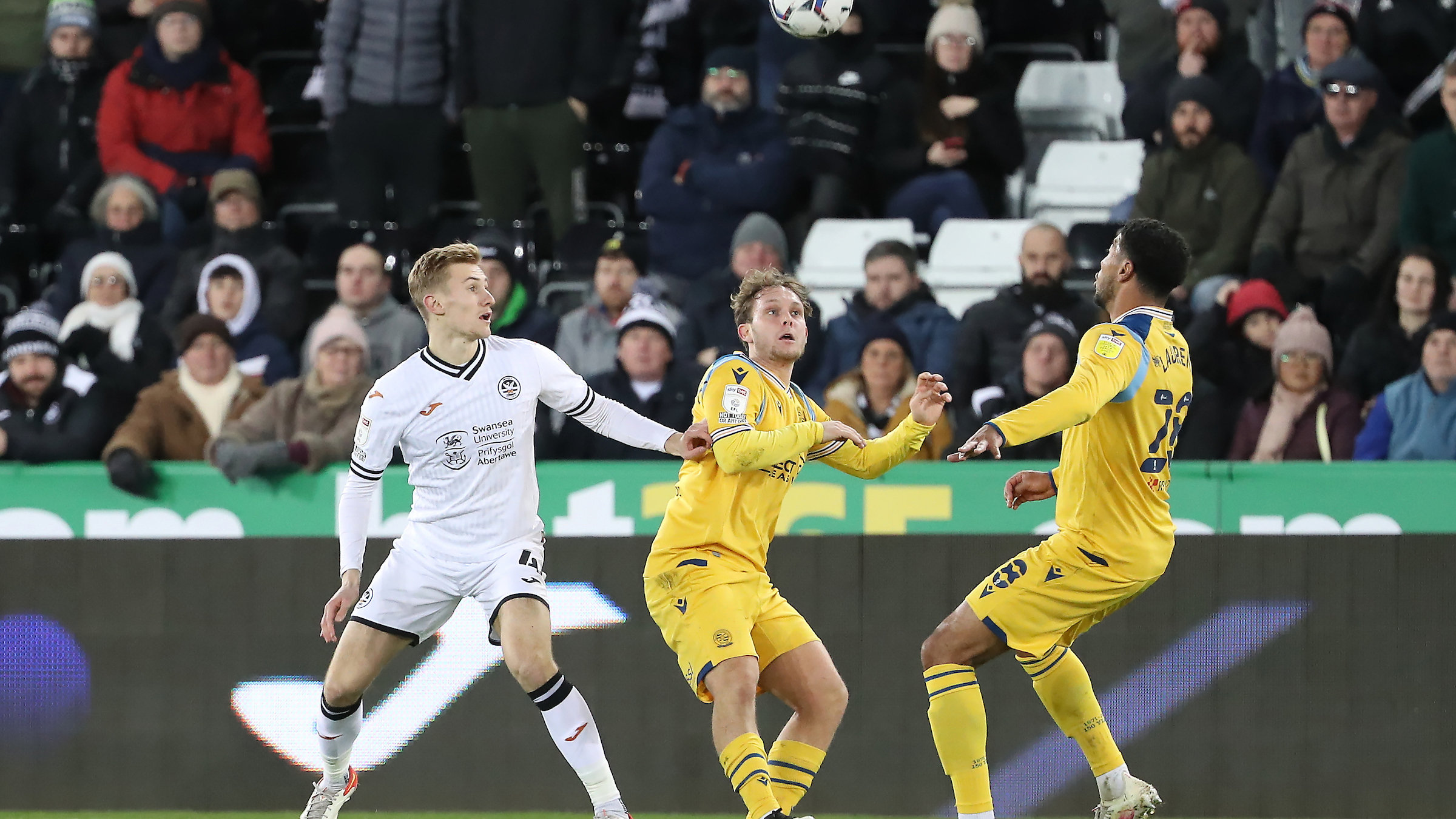 "Captaining Ipswich, that's one of the biggest honours for me, so far. That made me realise the hard work was worth it because I never thought for even a second I could be captain," he says.
"I can't describe how it felt to lead those 10 other boys out. I'm not a big shouter, I didn't look to hype people up, I tried to lead by example on the pitch.
"There are all sorts of different captains but you have to be true to who you are, you can't fake it. I tried to be myself, but it was a mad feeling.
"Obviously the way it ended there was not easy, but I have a lot of good memories and I will forever be grateful to them.
"I would not be where I am now without the time I spent there and all the coaches and staff who helped me along the way. I wish them well."
But now the focus is on the goal of eventually getting Swansea City back to the Premier League, and building on the foundations put in place by Martin and his staff after their appointments on the eve of the season.
That, and Downes' constant striving for improvement on and off the field.
"Whatever I do, I want to be the best I can at it," he says.
"It's like I've said before, if I don't do something I have told myself I will do, it bothers me and that's not just about football.
"I want to be a better player, but I want to learn more, I want to take as much on board as I can and use it to get better.
"For example, I love reading, I find it just gets me out of my own head. It's the first thing I do in the morning, I try to set aside half hour just to read.
"I'll read most things, but I enjoy reading about business, I like to learn about things I don't know much about, even if it's taxes or real estate!
"I recently read 'The Monk Who Sold his Ferrari', I enjoyed that so I'm reading another one by Robin Sharma called 'The 5am Club'.
"It's good, I'm enjoying it and I would prefer to learn new things. I want to get better every day, I want to know more and understand things better.
"That keeps me happy. I'm a simple bloke, I like to read, I like to learn, I like to get better.
"It puts me in my own little world. I enjoy yoga and keeping fit, and I have got hooked on UFC.
"I love it, Conor McGregor was the main guy and my brother used to tell me he was going to be massive, and Khabib Nurmagomedov has done so much for that sport.
"I do like golf too, I did get into it, but I haven't properly played since I came down here, yet. I'm sure I will once the weather starts to get a bit better again."
If his approach to golf is anything like his approach to his football or life in general, a few of the low handicappers in the Swansea squad might find themselves looking over their shoulder.
If Flynn Downes puts his mind to something, you'd bet against him achieving it at your peril.