Further update for supporters ahead of Sheffield United fixture
12th August 2021
Ticketing News
Swansea City is looking forward to welcoming fans back to the Swansea.com Stadium this weekend and wish to provide a further update regarding season tickets and match tickets. 
Physical tickets
Season ticket holders for the 2021-22 season who first purchased a season ticket before the 2019-20 campaign can continue to use their existing season ticket card unless:
You have changed ticket bracket (i.e. have moved from an adult ticket to a senior ticket).

Or are under the age of 14.

You have moved seats
If you fall into either of these categories you have automatically been sent a new card.
Tickets for these fans should have arrived on or before today (August 12), therefore we request that if you have not received your card that you contact the ticket office on the details at the bottom of this story.  
We understand that fans may have cards with worn barcodes. If that is the case, fans can visit the ticket office tomorrow (August 13) or on a match day, to get their season tickets reprinted. Fans must bring the card with them to receive a new one.
Any new 2021-22 season ticket holders have been issued and sent a new card, regardless of completing the online survey. The decision was made to ensure all ticket holders had a physical card to use.
Again, all tickets should have arrived on or before today (August 12), therefore we request that if you have not yet received your card, that you contact us on the details below.
Any season ticket holders who are registered with the club to receive a ticket for a complimentary personal assistant will receive their season ticket as a physical card, as well as one for their personal assistant.
Please note, if you have received a new season ticket card in the post, it is imperative that you use the barcode provided on the new card for the first home fixture against Sheffield United.
Digital Tickets
All fans will have access to a digital season ticket, which can be accessed through the Swansea City App.
Apple users can download the app HERE and Android users can download HERE.
To access the ticket, fans must ensure their season ticket is linked to their Swans Club Account. There is information HERE on how to do that.
If your account is linked correctly, your ticket will appear in the 'Jacks' tab of the app. Simply click 'View your matchday tickets' to use your tickets.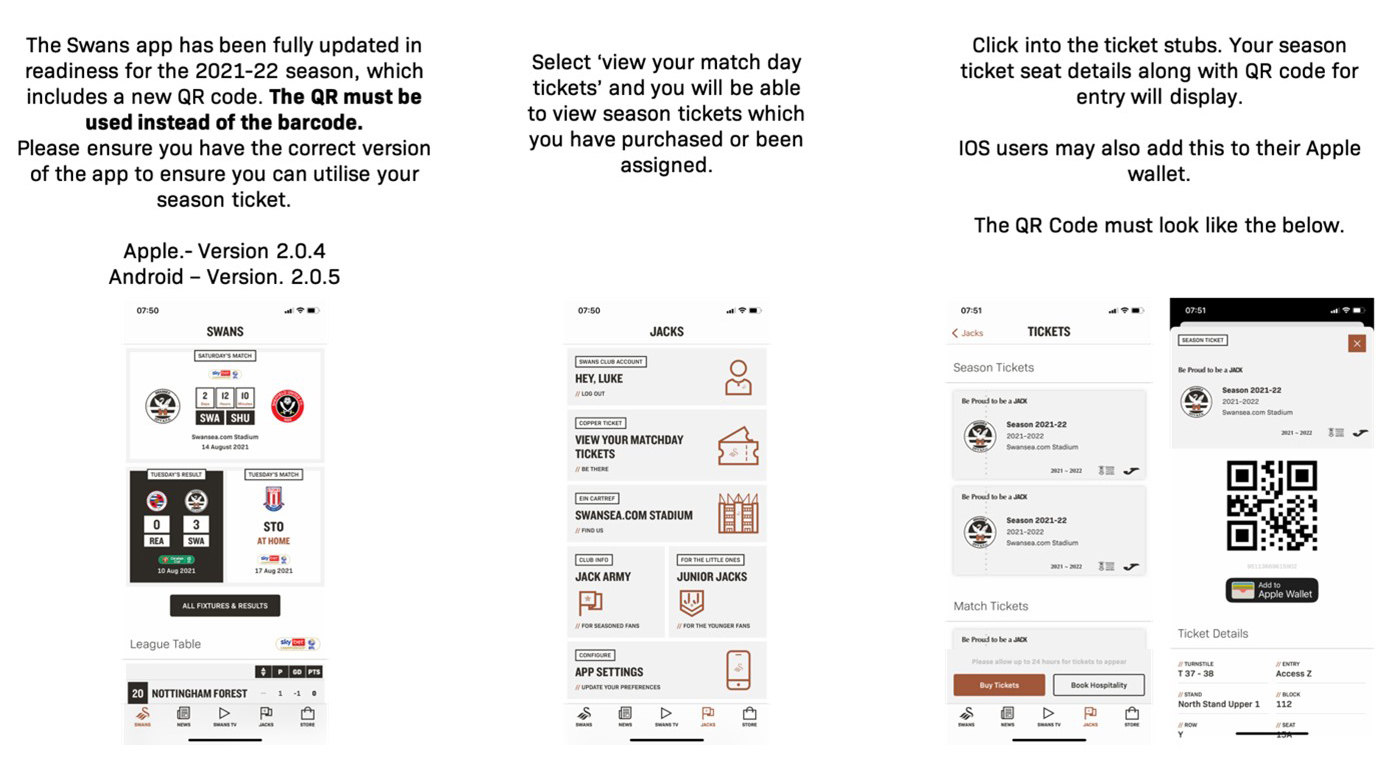 Match Tickets
All fans who have purchased a match ticket for Sheffield and/or Stoke will receive a print at home ticket, which will be issued by 5pm today (August 12). 
Fans must print their ticket and bring this with them to the game, ensuring the print quality is satisfactory so the barcode can be scanned.
Contact Us
The Swansea.com Stadium ticket office will open tomorrow (August 13), between the hours of 9am and 5pm. The office will open for fans who have any ticketing queries or who have not received their season card yet. 
Opening hours
The ticket office will be open for in-person visits for the below dates and times.
Friday, August 13 – 9am to 5pm
Saturday, August 14 – 1pm to 8pm
Sunday, August 15 - CLOSED
Monday, August 16 – 9am to 5pm
Tuesday, August 17 – 1pm to 8pm
If you plan to attend the stadium on either match day then we advise you to visit early to resolve any issues, to avoid queues on the fixture date or you missing kick off.
In future the ticket office will open for in person visits, the day before and the day of a fixture. We will endeavour to update the web page HERE with all of the latest opening hours.
If you do not wish to visit the ticket office, please email ticketing@swanseacity.com in the first instance, as you will receive a quicker response. Alternatively, please call 01792 616400 and select option 1 – please note there may be longer waiting times than usual as we are experiencing a high volume of queries. 
Hospitality Guests
Hospitality guests are reminded that tomorrow (August 13) is the final day for collection of their accreditation. Guests can visit the main reception of the Swansea.com Stadium between 10am and 6pm.
We thank all fans for their patience and cannot wait to welcome everyone back on Saturday.