Hard work pays off as Cameron Congreve climbs from U9s to first professional deal
10th March 2022
First team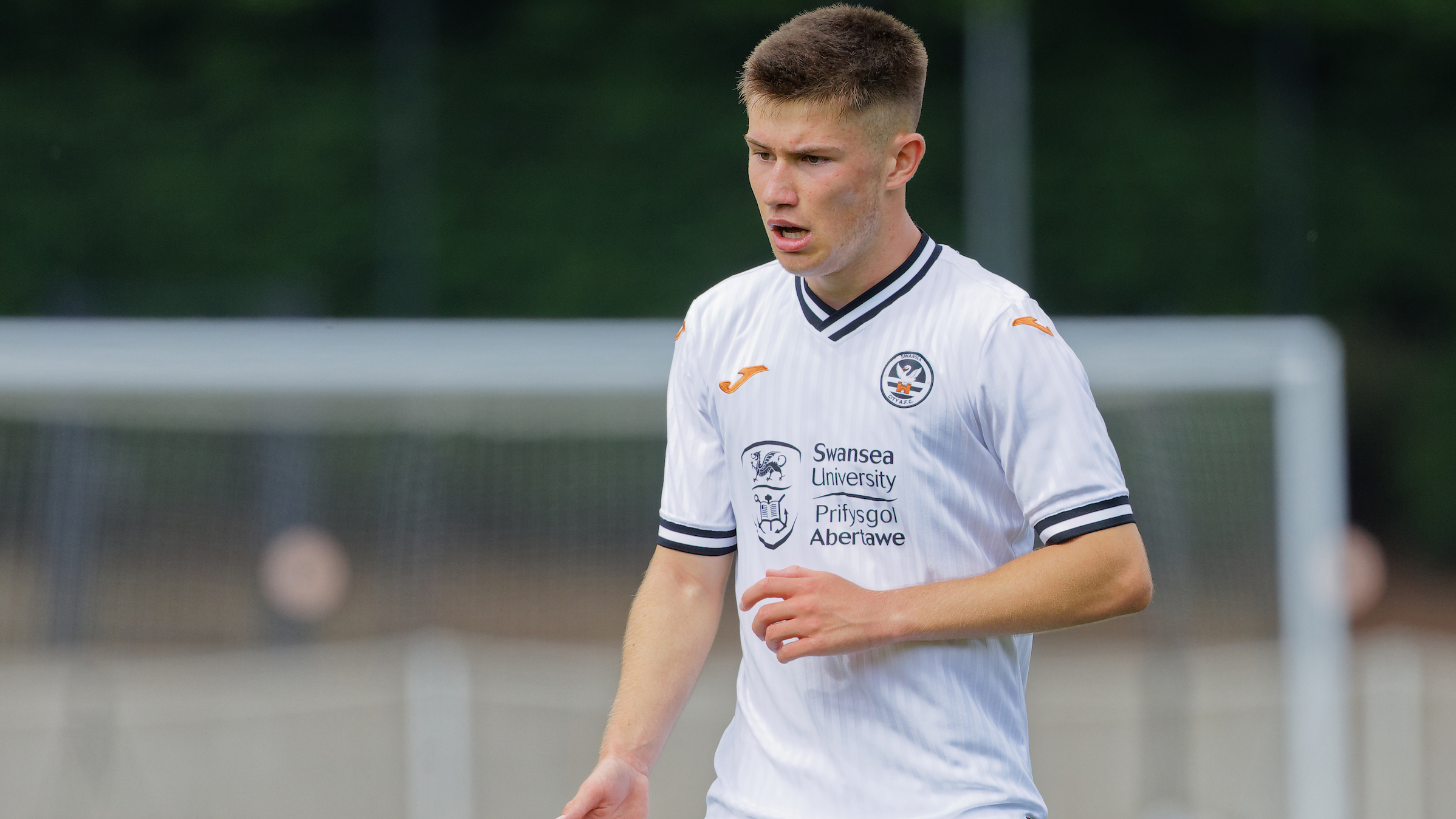 Swansea City midfielder Cameron Congreve is looking to try and keep himself firmly in Russell Martin's plans following the signing of his first professional contract.
Congreve, a lifelong Swansea City fan, has been with the club since joining the pre-academy at under-nine level, building all the way through to the first team when he was named on the bench against Coventry City and Fulham.
The 18-year-old is delighted to see his hard work throughout the years pay off, but he knows there is much more for him to accomplish and Congreve is ready to continue working hard at his game in order to achieve his goal of one day being a first-team regular.
"I'm delighted, I'm absolutely buzzing to be honest, it's what I've been working towards for many many years and it's nice that I've finally got here, and I get to sign my first professional contract," said Congreve.
"When you are one of the younger players in the academy, like when I was going through the age groups, you always see the older boys progressing into the under-23s and into the first team and you just want to follow in their footsteps.
"It's really nice that I've been climbing through the ranks and I'm getting into the first team.
"I was over the moon to be involved in the matchday squads. I was absolutely buzzing when I found out about being in the squad for the Coventry game, I didn't expect it to happen at all, it kind of just came out of the blue.
"I got called up to train with the first team the week before and I thought I trained alright, but then it just came out of nowhere and I was just buzzing, I just couldn't stop thinking about it.
"I just want to keep working hard and hopefully get some minutes for the first team and get onto the pitch at the Swansea.com Stadium soon.
"I just need to keep pushing away and do my best to make sure I deserve the opportunity and make the most of it.
"I would describe myself as a creative player, I'm quite direct, I like to score goals and make things happen, creating chances and hopefully winning games."
Congreve's relative youth means he grew up cheering on the Swans during one of the true golden eras in the club's history, with one particular afternoon at Wembley standing out for the youngster.
"It's definitely a great feeling as a fan for this to happen, I've been watching from up in the stands for a while now so it's nice to be down on the bench and hopefully I can get some minutes in the near future," he added.
"There are loads of stand out moments and games for me as a Swansea fan, but for me the key one is the play-off final against Reading, Scott Sinclair scoring that hat-trick is obviously the first one that comes to mind.
"That was such a special moment and I want to do all I can to help the club I love."
Congreve began the season playing a limited number of minutes for the under-18s, having to build up his fitness following on from an illness that had affected him over parts of pre-season.
The midfielder has recovered strongly, first playing regularly for the under-18s before becoming a regular within the under-23s set up ahead of his recent first-team chance.
Congreve feels that he has returned stronger from the setback, and has grown on and off the field while working with the academy coaching staff.
"I had a bit of a setback at the start of the season with glandular fever, but I think around Christmas time I found myself starting to get back to where I was before it happened," added Congreve.
"Following on from Christmas I've managed to put all of that to one side and I've been able to stride on, develop my game and work towards all of this."