History Makers | 2013 League Cup | Chelsea
23rd February 2023
Club
It may not have been the tie Ashley Williams or Michael Laudrup had wanted, but nevertheless Swansea City now knew the scale of the task if they were to advance to February's Wembley showpiece.
And what a task it was.
Chelsea were not having an easy season, having parted company with Roberto Di Matteo and replaced him with interim boss Rafa Benitez.
But they were the reigning European kings having beaten Bayern Munich in the 2012 Champions League final, and had also won the FA Cup. They would go on to win the Europa League later in 2013.
A look through their squad revealed a Who's Who of leading European football talent.
There were the experienced serial winners in Petr Cech, John Terry and Frank Lampard, a thrilling young talent in Eden Hazard, World Cup winners in Juan Mata and Fernando Torres; and the list went on and on.
The league meeting between the teams in SA1 earlier in the season had ended in a 1-1 draw, Pablo Hernandez finding the net late on to secure a share of the spoils.
There was also the small matter of fact that Swansea had not won at Stamford Bridge in 87 years, and that would be the venue for the first leg.
It was a considerable challenge, but having the second leg back in SA1 was a source of confidence for the squad.
"To be honest, that game – we were in a good period I remember – but it was one of those where it felt like a free hit really," says Ben Davies.
"It was Chelsea away, it was obviously a very tough game so we were just hoping to get any sort of result. But we were playing well and once we got ahead, we felt pretty confident.
"I think it was a defensive mistake that gave us that second goal. For us we knew that going back to the Liberty in a good position - if we did what we did well which was defend well and stay solid - then we'd be able to go to Wembley."
"I think it was the toughest draw, but at that point we were so confident we felt we could beat anyone. We were doing so well in the league," adds Angel Rangel.
"So, in the cup, it's going to be 180 minutes. Ok, we go to Stamford Bridge and the aim is to try not to concede many and all of a sudden we're 2-0 up and we know that the Liberty Stadium on a special occasion can be a really difficult place to come."
And part of that confidence came from the coolness with which the manager was able to approach the ties.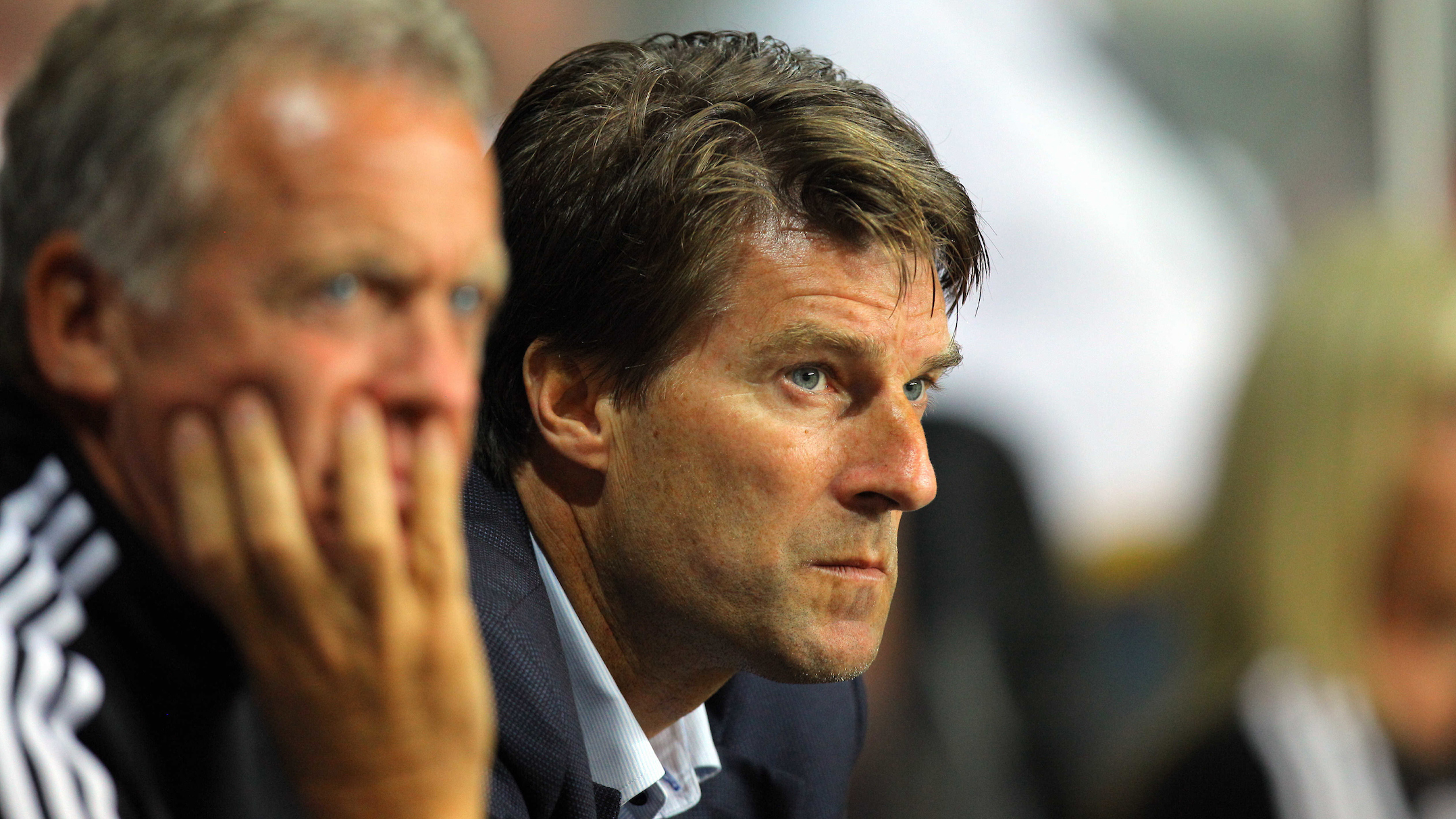 "Again, I go back to the manager and his mannerisms and his philosophy," says Wayne Routledge.
"It was just like 'here's the game plan, this is what we're going to do, it's up to you to carry it out'.
"Obviously there are things that go for you at certain times, ballboys doing their job, but again, we had to do the job on the pitch and we did that."
Swansea went into the first leg in decent form,
They had been used to dominating the ball that season, playing a thrilling brand of football, but that first leg would see Laudrup's team display that quality within a performance of real grit and determination.
Chelsea penned the visitors back early on, prompting and probing for an early breakthrough, but they met a stubborn Swansea side.
Skipper Williams and Chico Flores were outstanding at the heart of the defence, while Gerhard Tremmel – in the side as Laudrup kept his word that the German would play every game of the cup campaign – saved anything that got through the rearguard.
He prevented Ramires from prodding home, before denying Mata after a brilliant run from Hazard.
"We all had that feeling of it being better that we had two games against Chelsea rather than one," says Tremmel.
"I remember we were speaking about this, and we were happier about having them in the semi-finals rather than drawing them in the final.  
"And then you have the one game against Chelsea, just 90 minutes and then if you lose, you lose.  
"We thought that even if we lose at Chelsea, we could still have the second leg at home. We took that as a positive, as I remember it.  
"I have so many memories of these two games, there was so much in it. I was nervous, especially in the first 10 minutes.  
"First, Michael Laudrup told me that he was going to stick with me for the cup and that he wasn't going to change the goalkeeper.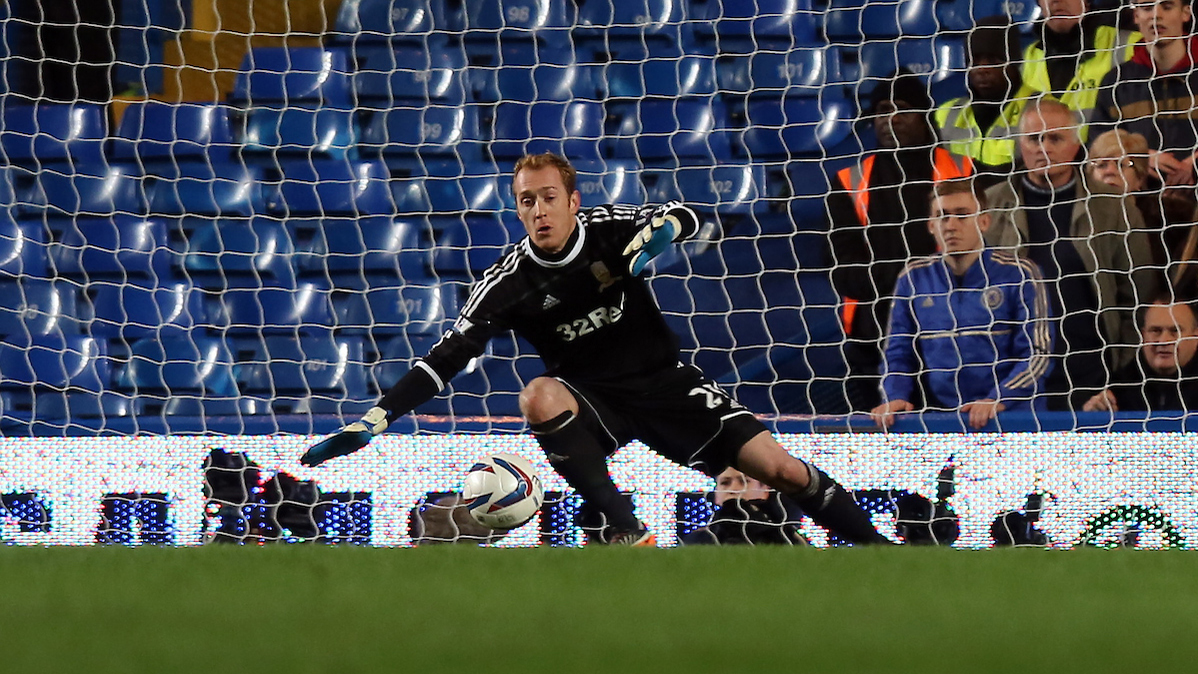 "That was a very good feeling for me, because you see it a lot that once a team reaches the semi-finals, they change back to the first-choice goalkeeper.  
"He told me he was going to stick with me, and that was very pleasing to know. But I was also not thinking about being dropped. 
"I played up until that stage, and we progressed well, so I thought there's no reason to take me out now. 
"I wasn't wasting any time thinking that Michel Vorm could play. But the confirmation was very good for my confidence, and that he had that faith in me."  
The hosts were punished for their profligacy just before the interval when an uncharacteristic error from Branislav Ivanovic allowed Jonathan de Guzman to swoop on the loose ball and feed Michu.
The Spaniard still had plenty to do, but he shaped onto his left foot and sent an unerring strike past Ross Turnbull and inside the near post to give the visitors the lead.
"We were pressing high and Ivanovic made a mistake," says Michu of his 16th goal that season.
"I had a really good chance outside the area and to be honest when we scored this goal in the celebrations we talked because we were going into half-time and we talked in the corner celebrating the goal.
"I saw my team-mates' eyes and I thought that we had a chance to win the cup."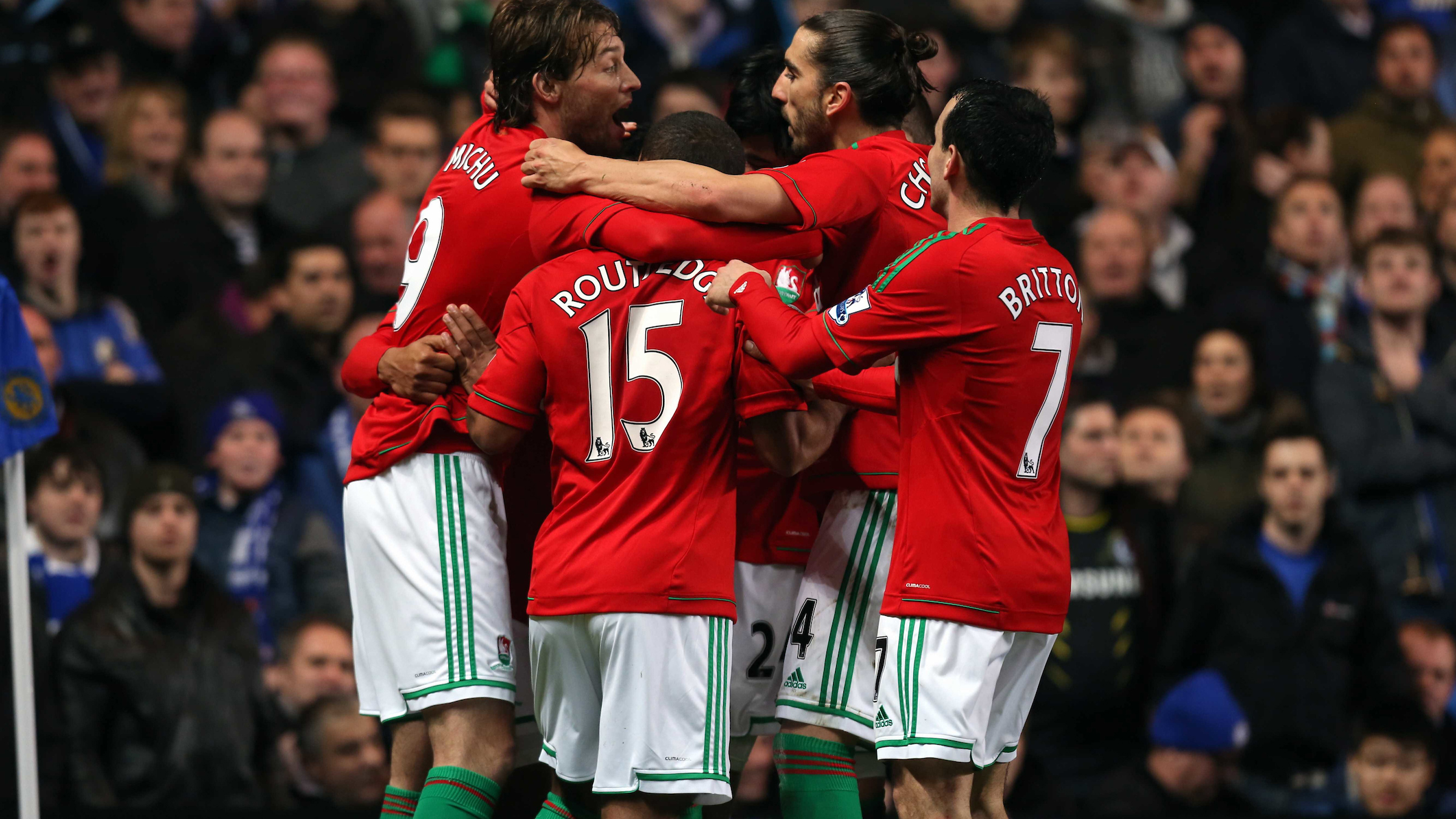 "It was an unbelievable finish at the near post," recalls Danny Graham, who was among the substitutes that night.
"Funnily enough, Ross Turnbull was in goal who was at my youth team at Middlesbrough back in the day so, it was a great finish from Michu and he'd been doing that all season long.
"He was brilliant for the football club that season."
Swansea knew further waves of pressure from the blue shirts would follow after the break.
Tremmel saved from David Luiz's strike before Benitez sent on Lampard and Demba Ba in place of Ramires and Torres.
Ba was booked after going down following a challenge for the ball with Tremmel in the area, but instead the next goal would again go the way of the visitors, and again come from an Ivanovic error.
The Serbian looked to play a pass back to Turnbull, but had not spotted substitute Graham lurking behind him, and the striker pounced to take the ball around his former Boro team-mate and gather himself before steering the ball into the unguarded net before two Chelsea defenders could get back to make a block.
It was 2-0, and the Swansea players deliriously celebrated in front of the travelling support.
What had gone through Graham's mind when he saw Ivanovic shape to pass the ball backwards?
"Jackpot," he says with a big smile.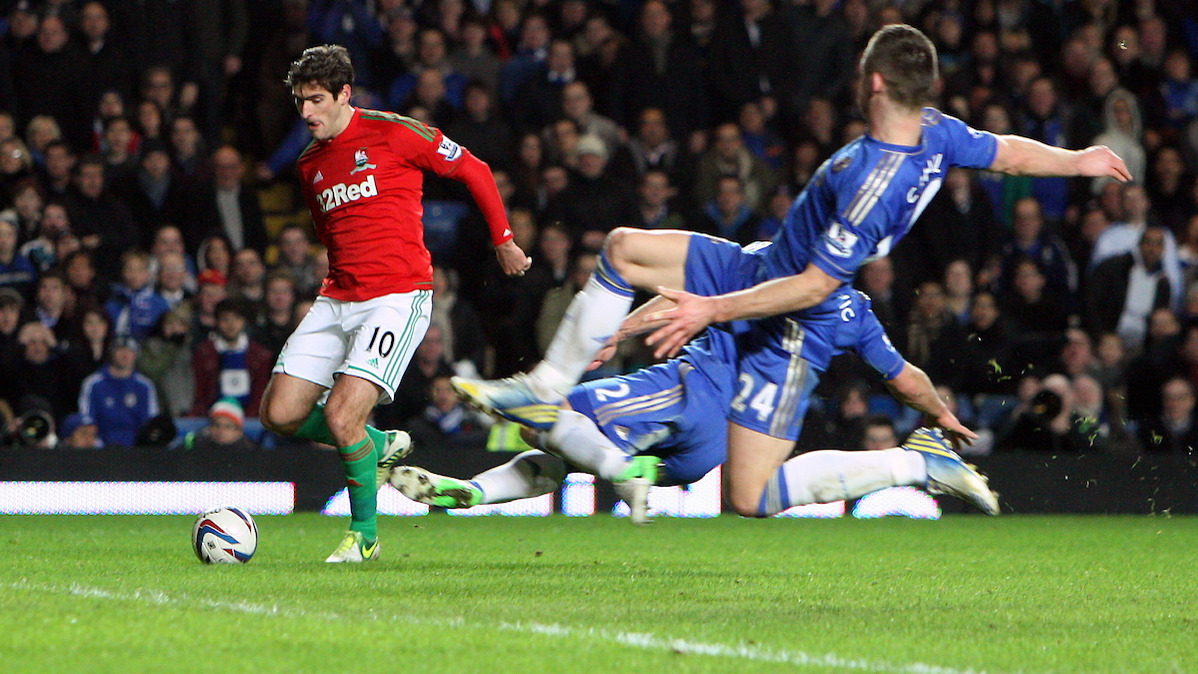 "I knew the keeper was racing out, because I was walking that way so I could see him. I knew if I got the touch around him then I'd be able to score.
"It was a great feeling to score at Stamford Bridge in the League Cup semi-final and win the game.
"It was right in front of the fans as well, who went berserk.
"We took a good following down there and it was a good result for them as well for us.
"I think you can probably see by my reaction – the ball has come out of the net and I've tried to boot the ball away – that there was a little bit of anger and frustration there having not started.
"Then you look up and you see all the Swans fans in the corner of Stamford Bridge and it switched to elation very quickly so it was a bit mixed feeling but a very enjoyable one."
"Danny's goal was huge," adds Routledge.
"It basically gave us more comfort because one goal can be erased pretty quickly with one mistake or one moment of brilliance, but Danny's goal gave us a bit more of a buffer.
"Again, you still have to play well and do your jobs, but to come away 2-0 up at Stamford Bridge at any time is a fantastic result.
"So, Danny's goal gave us a buffer and we took that to the Liberty."
There was still time for some more – often forgotten – drama, however. Ba slotted the ball home just moments later and looked to have salvaged a crucial goal for the Blues.
But the offside flag was raised, and Swansea would take their two-goal advantage back to SA1.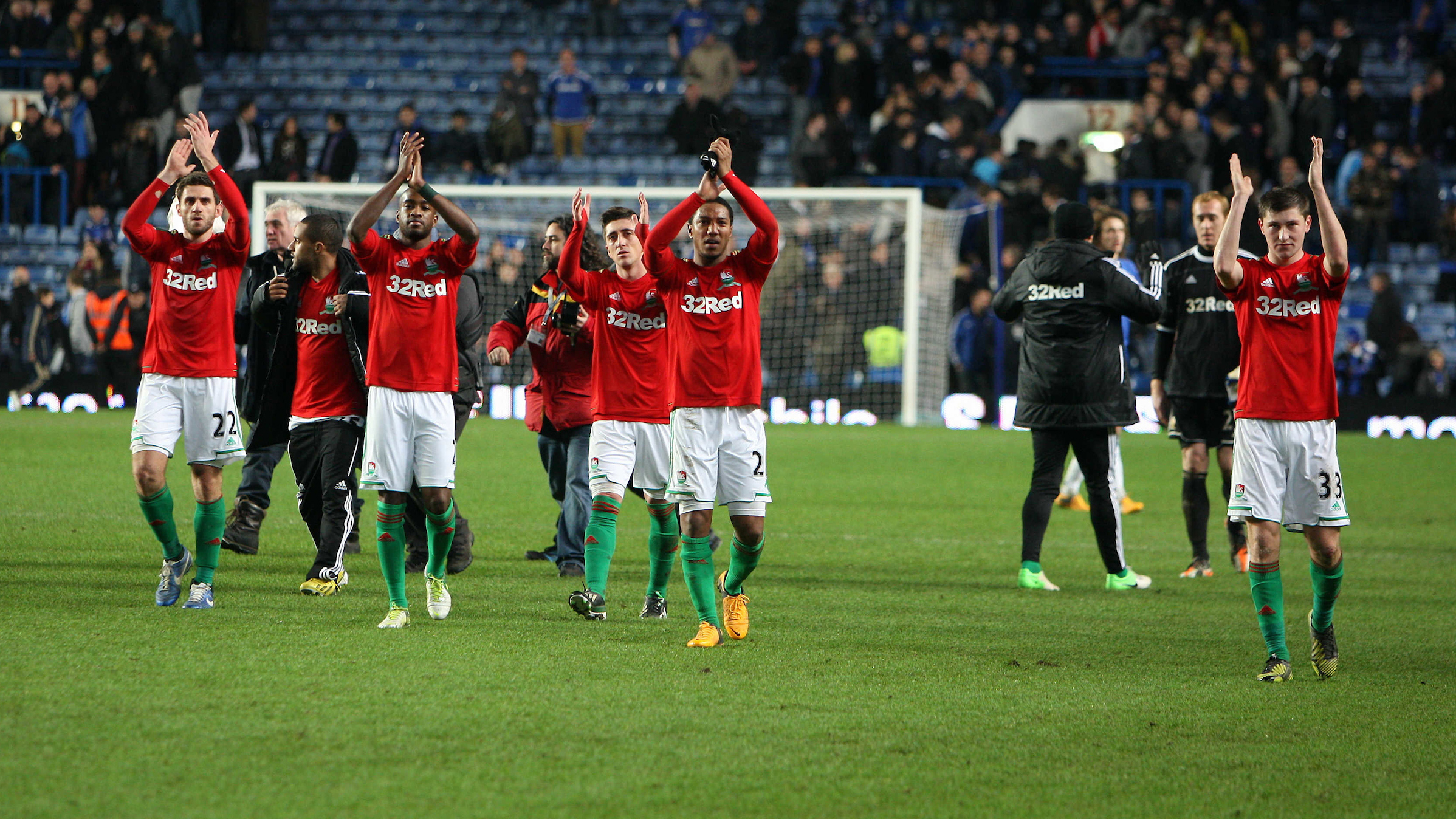 Swansea would have loved the second leg to come straight away, but the vagaries of the football schedule meant there would be two weeks to wait.
However, a draw at Everton and a 3-1 home win over Stoke CIty would keep up the confidence and sense of momentum.
"As soon as the first leg of the semi-final is over, you don't want to wait, you just want to play again as soon as possible," says Rangel.
"But, ultimately, we had a big competition which was unfinished in the Premier League and we wanted more points.
"We had a good squad, which Laudrup managed well by giving minutes to everyone so that a couple of weeks later, the players are fresh and ready to play the second leg which was one of the biggest games of our careers."
The week of the second leg was one of bitter cold and snow showers in SA1, and then snow fell on the day of the game there was even some doubt among supporters as to whether the game would go ahead.
As it happened there was never a real possibility of a postponement, although the weather did prevent some of the ballboys due to be at the game from getting to the Liberty Stadium…more on that later!
While the snow was falling, there was positive news with the announcement that Michu had put pen to paper on a contract extension through to the summer of 2016.
It was an ideal boost.
"If you want to talk about timing, then that's great timing," says Laudrup.
"Maybe the fans of Swansea didn't need that lift because the game in itself was motivation enough, but if your most important player in that moment extends his contract, then that is a boost for everyone."
"I can just say thank you to all the staff and the club because I arrived as a child and the club was incredible to me," says the man himself.
"It was a really special day to sign the new contract and to reach the final."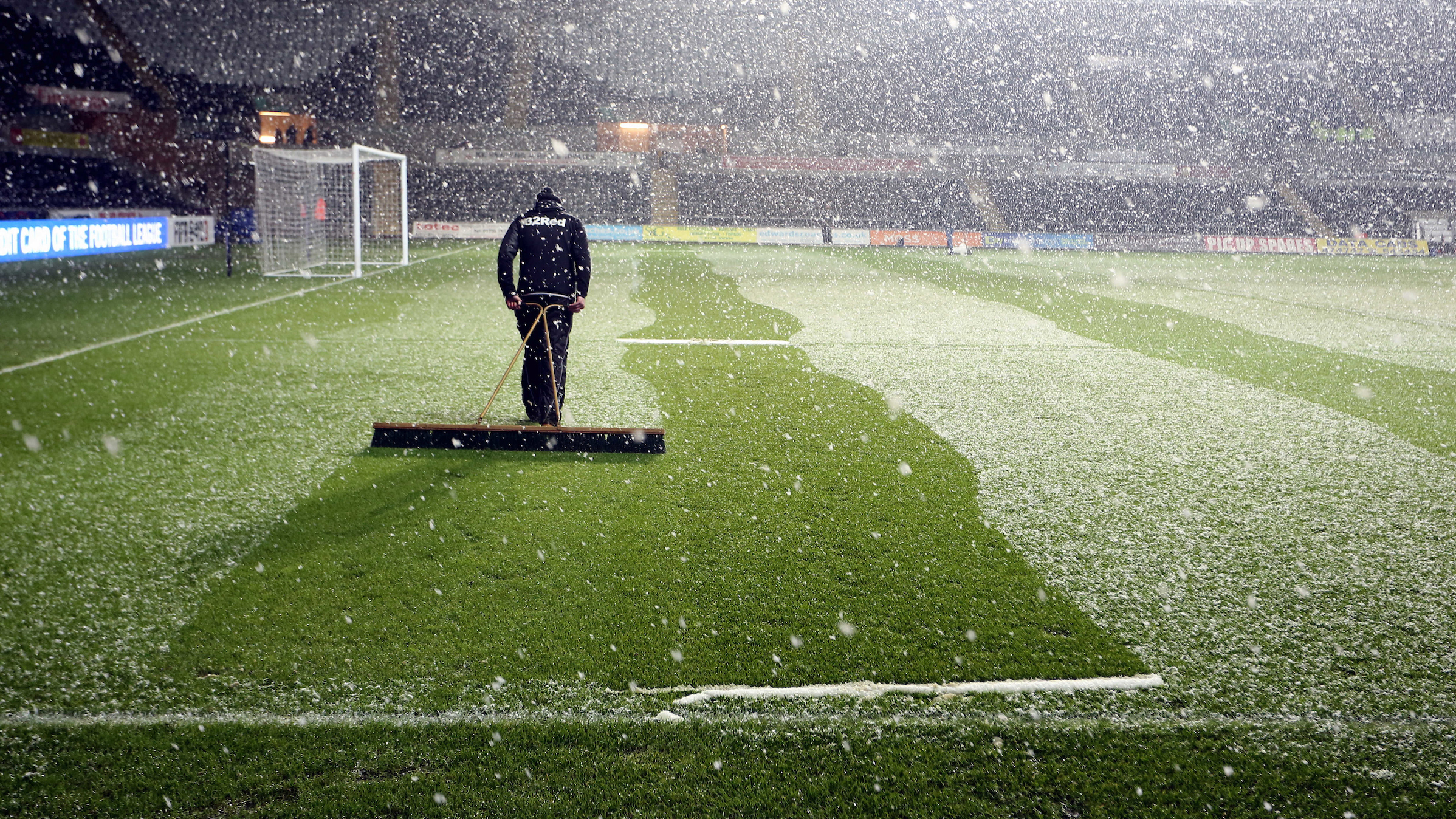 Laudrup selected the same starting XI as in the first leg, and the game followed a largely similar pattern; Chelsea looking for a breakthrough, Swansea defending stoutly and making the most of their opportunities to get hold of the ball and counter.
The hosts had their chances, Cesar Azpilicueta clearing a De Guzman strike off the line, while Cech saved from Michu.
At the other end, Chelsea had a flurry of chances late in the half as Tremmel denied Oscar and Ramires, before Rangel cleared a Gary Cahill header off the line as the first 45 minutes ended goalless.
That suited Swansea and aside from a Ba shot that whistled just past Tremmel's post, there was a growing sense that Laudrup's side were going to get over the line as time began to tick away.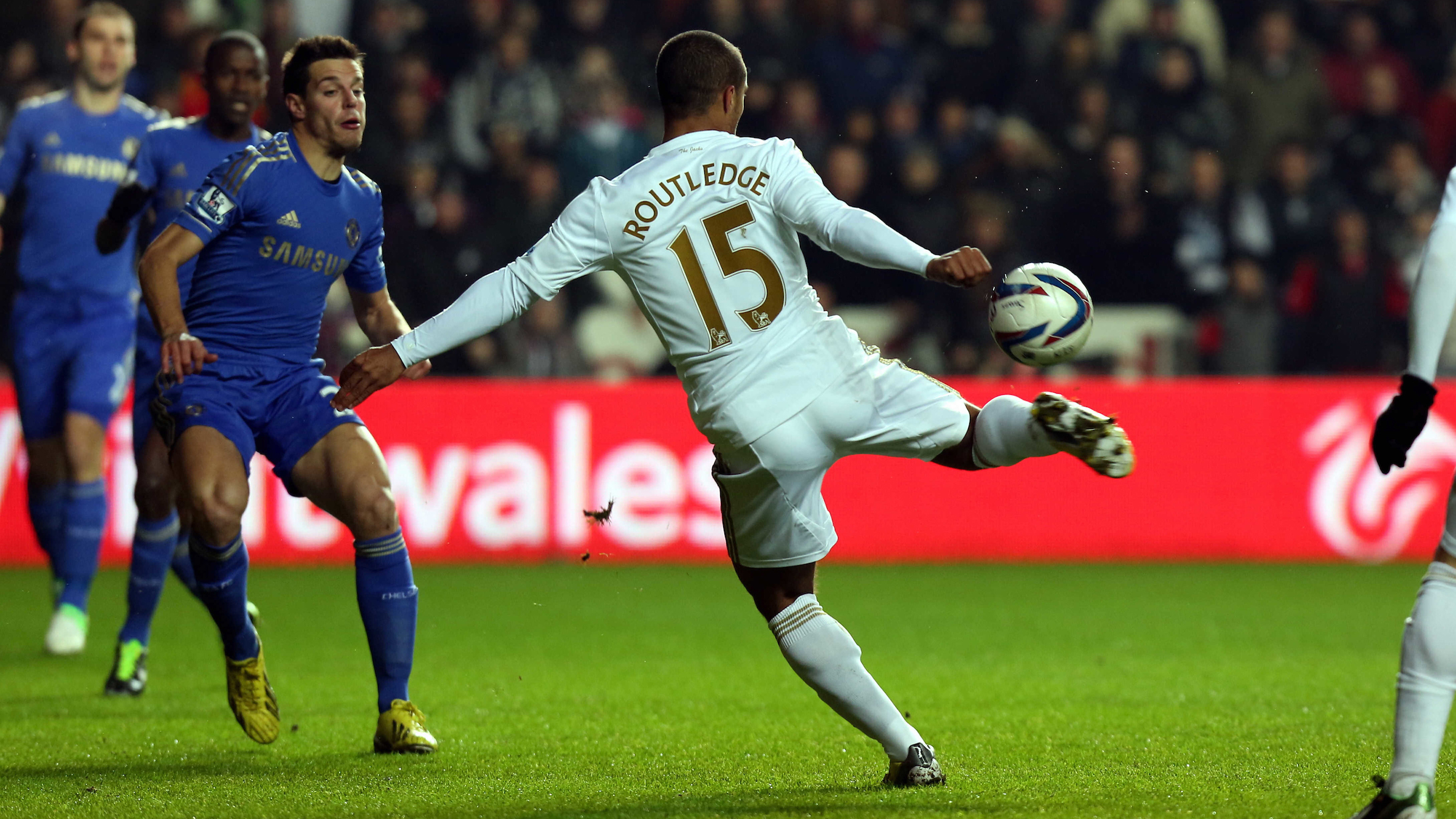 Then came the unlikely and unforgettable moment that has inevitably become the memory people have of the game.
The ball went out of play behind the Swans goal and ballboy Charlie Morgan was in no hurry to return it to the visitors.
Morgan had not been due to be a ballboy that evening, but the snow had prevented some of those who had been due to be at the game from getting to the Liberty, and he had stepped in in their absence.
As he lay over the ball, Hazard decided to kick the ball out from under the teenager, the visuals of which enraged the home support and skipper Williams.
A melee followed and, after some time to deliberate, referee Chris Foy reached for a red card and dismissed the Belgian.
"It made it easier playing the last 10 minutes against 10 men, of course it did," says Rangel.
"To play out the end of the game with 10 against 11, we all looked at each other and thought, look just keep the ball.
"We didn't have to take any risks we could just keep the ball wide, and draw fouls and that was exactly how the game went.
"It started with Charlie Morgan causing that situation and then we really realised, this game is nearly done now and we just had to manage the final minutes as well as we can."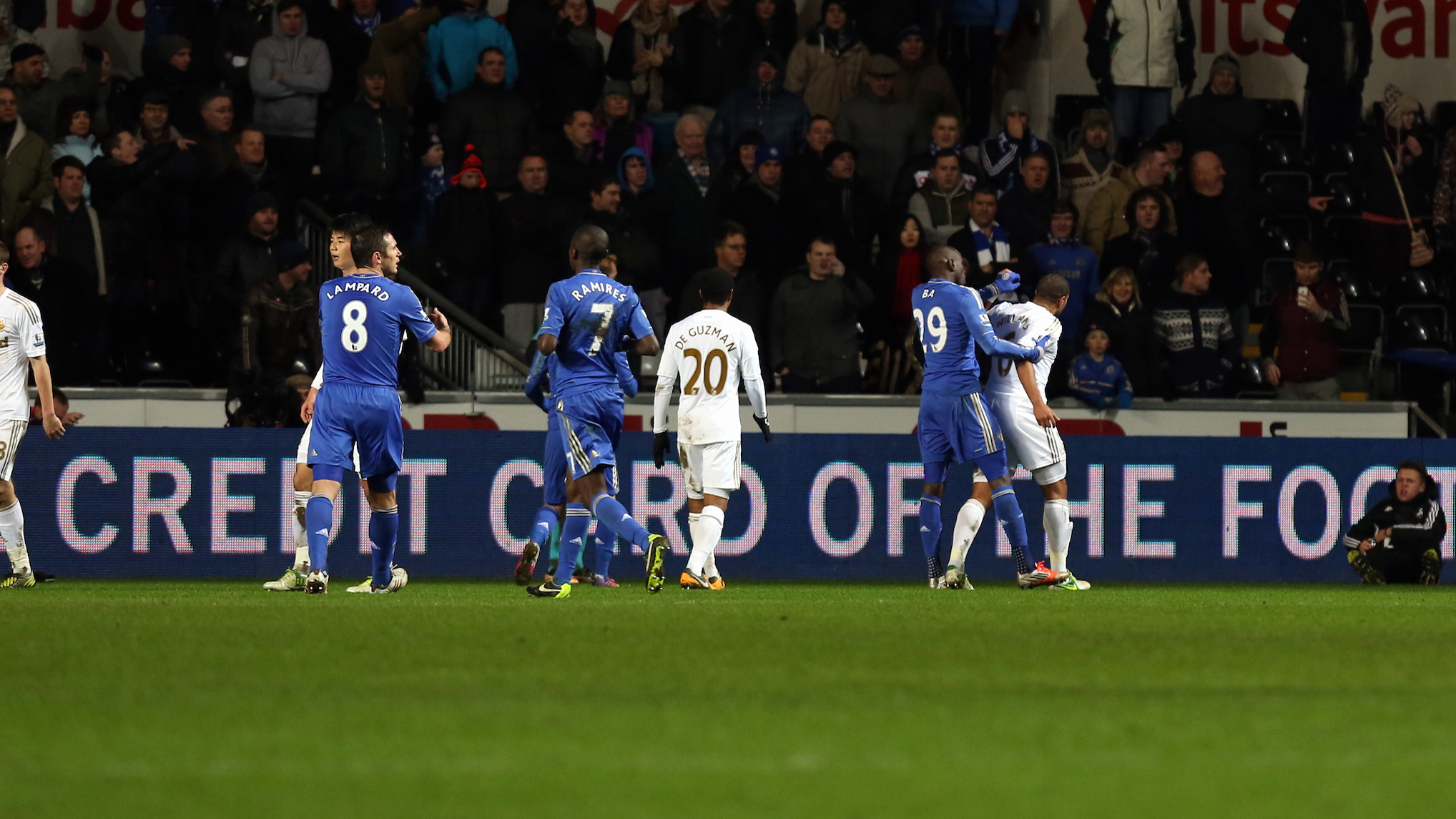 "The only part I remember of it is him being laid down towards the ball and Eden [Hazard] was trying to grab the ball and knock it out of his grasp," says Routledge.
"Again, sometimes emotions in football…
"Chelsea want to get back into the game, we want to slow it down. We probably owe Charlie a drink!"
"I went to see what was going on. I didn't realise that [Eden] Hazard had kicked him and I'm not sure I put two and two together and realised that if he had kicked him, he would get sent off," adds Williams.
"But when they went down to 10 men, we knew we were in a strong position. That was when you start to think, we're probably there."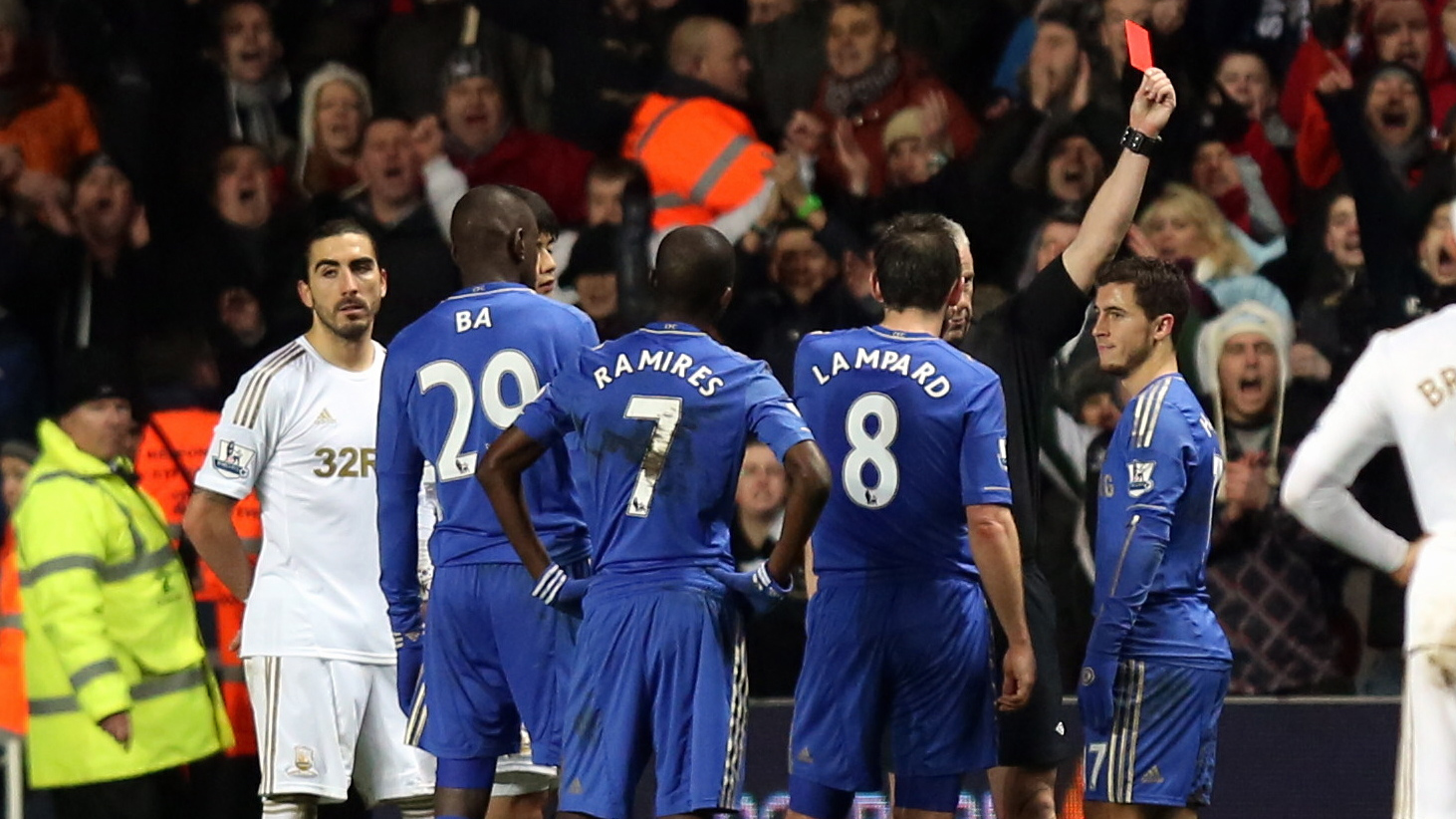 The night was summed up by the final seconds. Deep in stoppage time, with the result done and dusted, Michu tore around to win a tackle and then make a follow-up effort just as the final whistle went.
The Spaniard and his team-mates had run themselves into the ground, and now the celebrations could start in earnest.
"It was high intensity and they wanted to go to the final as well, I'm sure they weren't happy about losing to us in London so in the end I remember thinking when the referee blew the last whistle, that it was incredible to beat Chelsea over two legs," says Laudrup.
"It was really amazing and I remember thinking whatever happens in the final, this is incredible."
It was particularly special for those who had been part of the longer Swansea story, playing their part in the rise through the divisions.
"I think the message was clear that 10 years before that semi-final, the club were in a difficult place, close to disappearing," says Rangel.
"I think that 10 years later, to see yourself in the top ten in the Premier League with the chance of going to the final of a major trophy.
"So, I think it all comes together and you realise how much it means to the people who have been following the club for so long.
"They've seen it all and these are the good times and it's up to us to give those to them … and for ourselves.
"I think in that team at the time, not many people had achieved much – Pablo had played Champions League and for his national team but that was it – the rest of us were still trying to achieve something.
"There's a reason why we wanted to get it."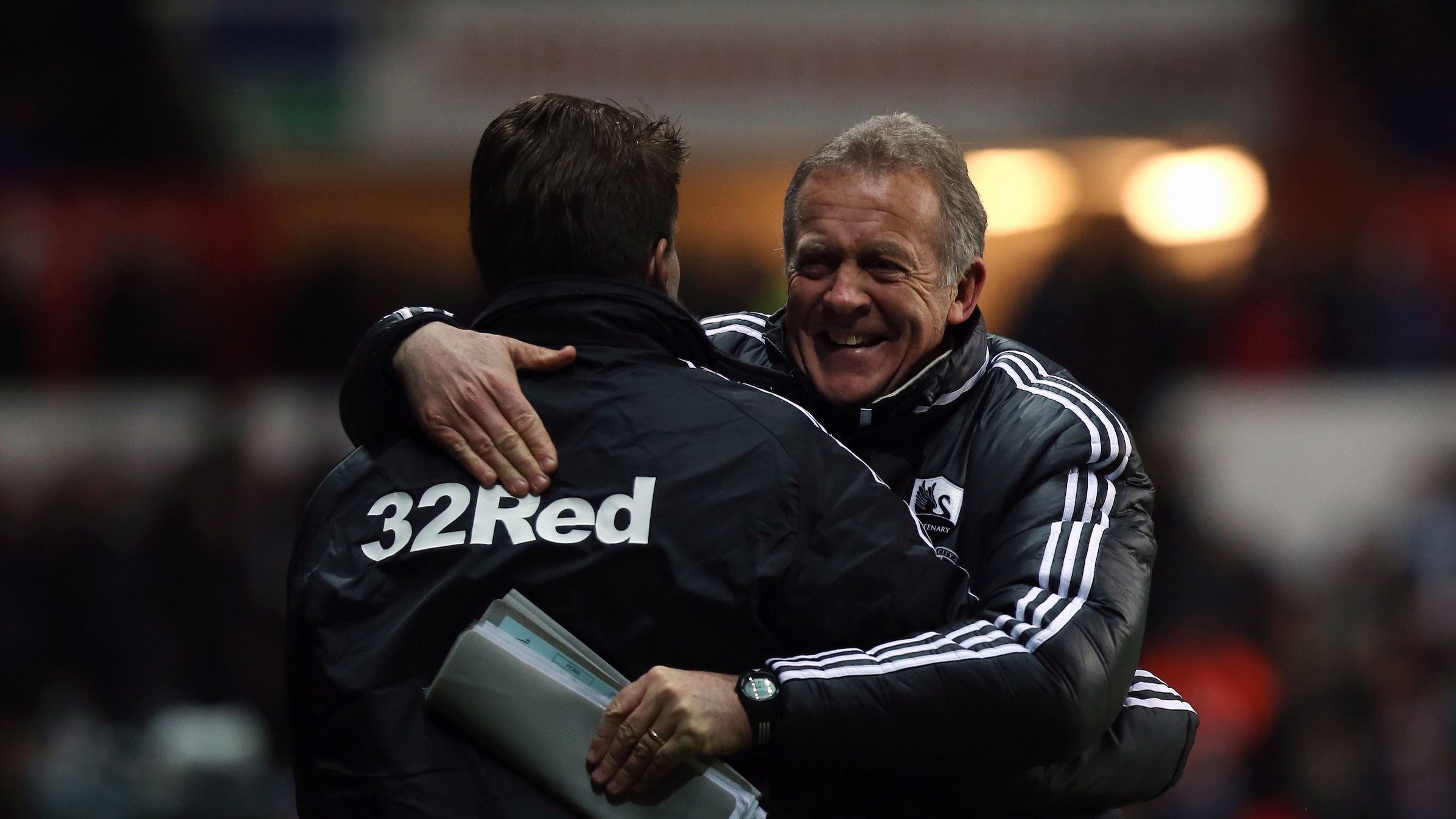 "For me it was the best atmosphere I saw at the Liberty," adds Michu.
"Everybody in the city thought that it was our moment and they knew the opponent in the final were in League Two and everyone knew it was our chance.
"For us a 0-0 draw, I really, really enjoyed the last 10 minutes. We knew we were in the final, so we thought we were just going to enjoy this game.
"For me, I could say that it was the best game in the Liberty Stadium."
"It was tense because there was a big decision: stick or twist? Do you go for it and try to score and kill the tie or do you sit back and wait?" says Davies.
"I think we managed the occasion and atmosphere really well, we never felt the pressure of it, we knew that the fans were completely behind us and it just seemed like everything was going our way for the whole game.
"After the game, it was an amazing feeling to know that we were going to the final."
But for one player, who had sat on the bench throughout that second leg, it felt like the end of his time at the club.
Danny Graham's departure to Sunderland would not happen until January 31, but he knew that night – as he headed straight down the tunnel at full-time – that he was unlikely to be around for the final at the end of February.
"I pretty much knew that night," says Graham.
"For me, one of the last straws was the return leg when I didn't even get on the pitch.
"I'd never been one of those footballers who just sit around. Yes, I could have gone to Wembley and had a great day out with Swansea City, which I would have loved.
"But if I'd gone there and sat on the bench and not gone on, I wouldn't have felt like I was celebrating anything, so it was a hard one to take.
"I didn't want to leave the football club but for my football week-in and week-out, I felt like that was the decision I had to take, so yeah, I knew quite early on that I wouldn't be going to the final.
"I did enjoy us getting through because the football club was going to a major cup final, but personally it was different.
"If you look afterwards, I don't know if anyone else noticed, the boys are all celebrating on the pitch but I didn't get on, I just walked down to the tunnel and sat in the changing room.
"That wasn't being disrespectful to the fans or the players, that was because I felt like I didn't contribute on that night and so I didn't deserve to be out there celebrating if that makes sense.
"That's just who I am as a person, so I went inside and chilled out.
"But I did end up going on the night out afterwards so it doesn't really make sense!
"Between not starting the Chelsea first leg and then not playing the second leg, I knew my face wasn't going to fit at this football club with Michael Laudrup in charge.
"I just felt it was right to move on. I didn't want to sit on the bench and not contribute, I wanted to play.
"Your career is too short to sit around and waste time."
It was a sad end for a player who had contributed a great deal since joining as the club's record signing in the summer of 2011.
But the rest of the squad had a big day out to look forward to, and knew they would start as favourites after League Two Bradford claimed yet another Premier League scalp in their remarkable run.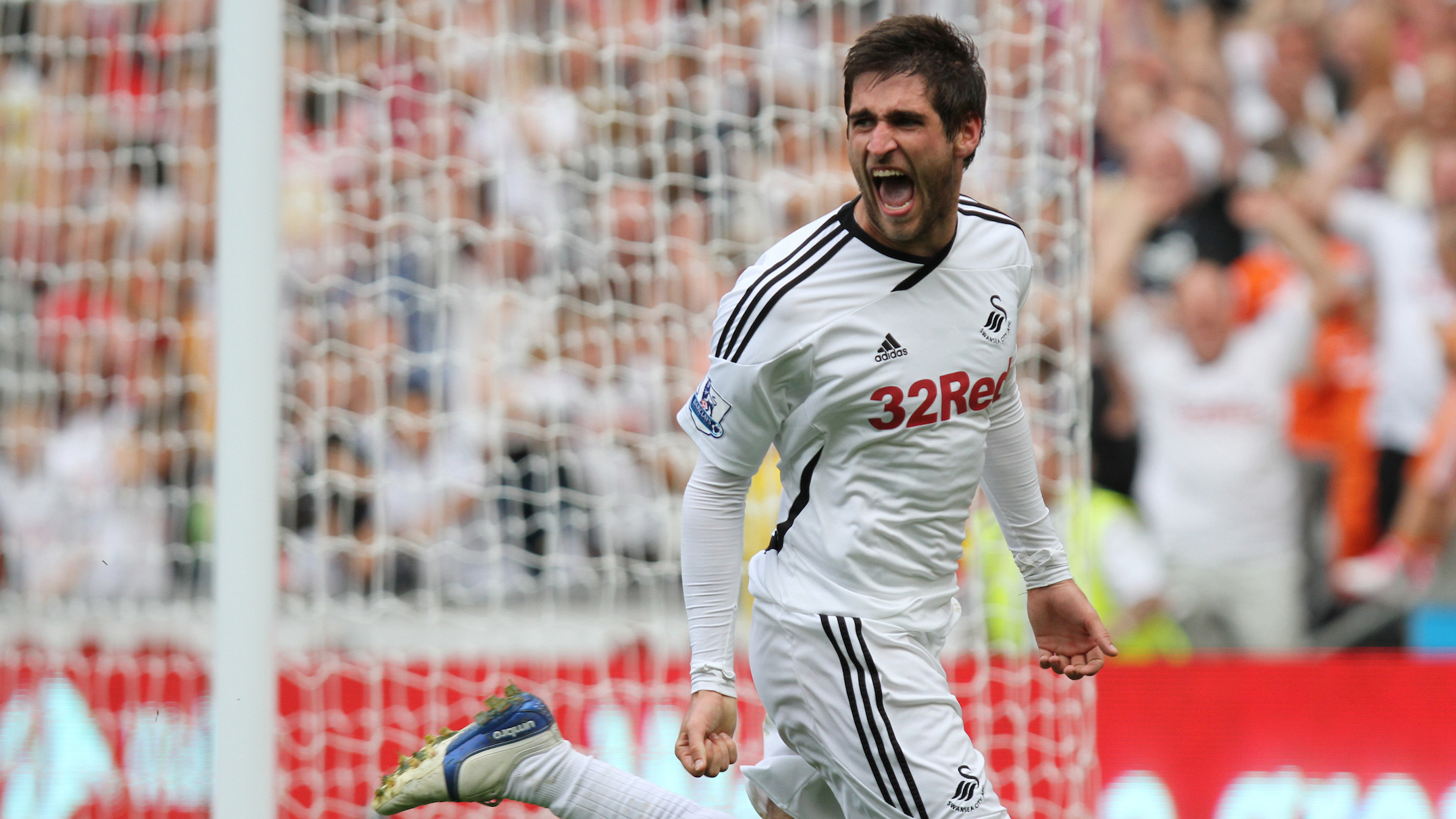 Having already seen off Wigan and Arsenal, Phil Parkinson's Bantams had got the better of Aston Villa over two legs, booking their Wembley place the night before the Swans.
"Because I was involved in the play-off final and promotion to the Premier League, anything that happened for Swansea had to come close to that because those scenes were incredible, but the semi-final wasn't far off," says Dyer.
"Having major silverware in our sights, it was amazing and the supporters who were there couldn't believe that our rise kept going.
"The play-offs, the league positions we got to, and the cup final. At times, during that period, we were unplayable, the way we played and functioned, and we were doing that against teams like Arsenal who were regarded as the passing team of that era.
"So I knew that it meant a lot to the fans, and it meant a lot to us to be able to play at Wembley again - I was just hoping I'd score."