History Makers | 2013 League Cup | The Final
24th February 2023
Club
Swansea City were on their way to Wembley but there was still a month of football to be played before the showpiece.
Nevertheless, the anticipation sweeping the city was tangible, particularly with the Swans being overwhelming favourites.
Not that anyone in the squad was taking Bradford City lightly, far from it. Phil Parkinson's side had already shown their giant-killing abilities during a superb run to the final.
They were the first bottom-tier side to reach the League Cup final since Rochdale in 1962, and they had already knocked out Premier League Wigan Athletic, Arsenal and Aston Villa to book their spot in the last two.
There was a healthy respect for what they had accomplished and an understanding of what a difficult challenge they could pose.
Not that it could dampen the excitement, with over 40,000 Jacks making the trip to Wembley for one of the biggest day's in Swansea City's history, neatly coinciding with it being the centenary season since the formation of the club in 1912.
There was still Premier League business to attend to, in the meantime, with Swansea still short of the oft-repeated tally of 40 points that would more than likely secure safety.
A draw at Sunderland was followed by defeat at West Ham, before Queens Park Rangers were dispatched 4-1 on home turf.
That game saw Chico Flores suffer an ankle injury that meant he was an injury doubt for the final, and Michael Laudrup sought to avoid any other players suffering heartbreak so close to the trip to Wembley by heavily rotating in a 5-0 defeat at Anfield the weekend before taking on Bradford.
Flores refused to accept that he would miss the game, even though the prognosis was bleak.
The club medical staff did all they could, while the Spaniard even ordered a string of potions and lotions – some of which carried particularly diabolical odours – in what proved to be the vain hope of being available.
When Sunday, February 24 eventually arrived and the convoy of Jacks started making their way down the M4 it was a brutally cold day, and that wasn't good for one member of the Swansea team.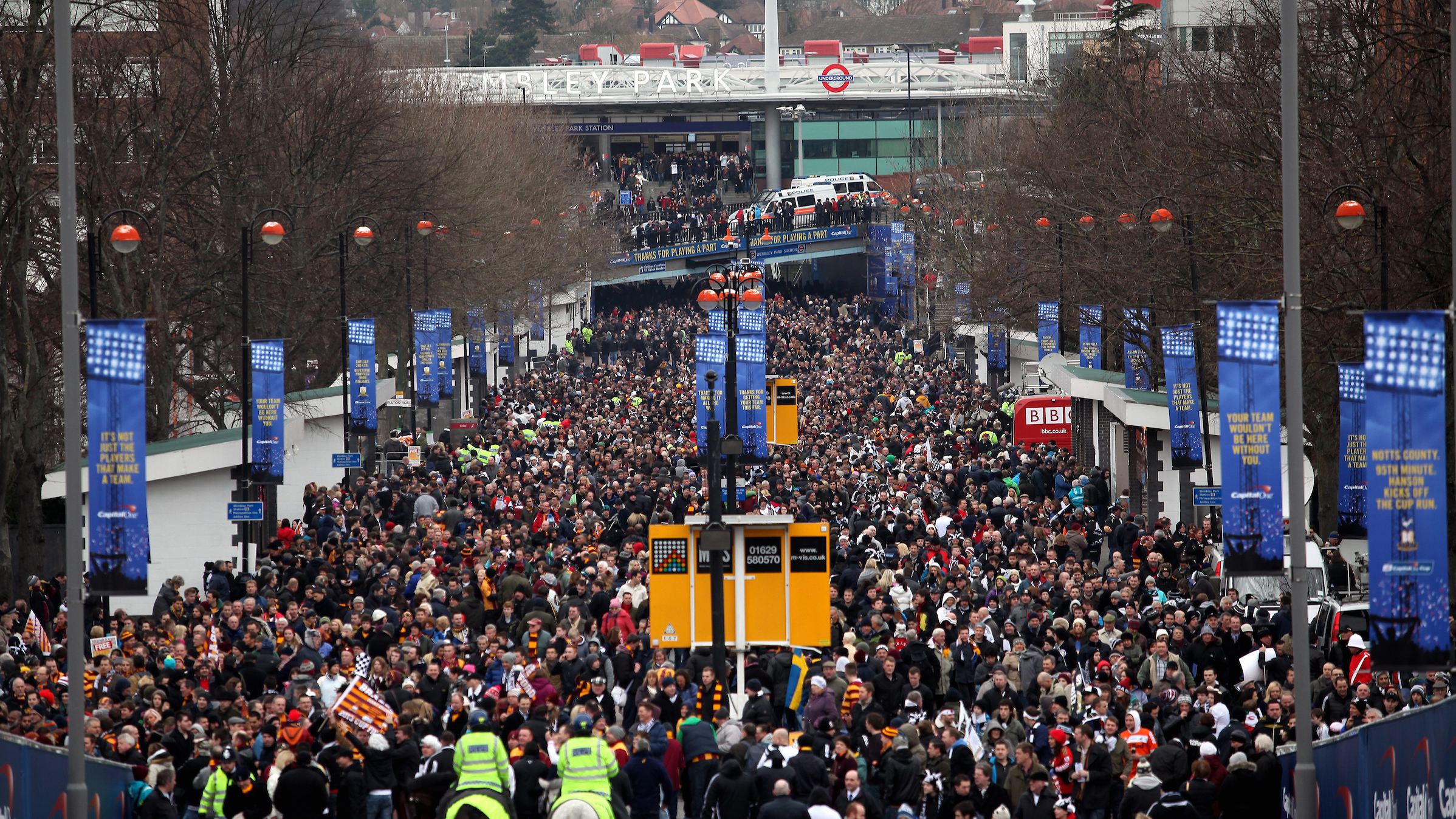 "The whole week leading up to the game, I felt sick. It wasn't good," says Wayne Routledge.
"I can even remember after the game that I had to go inside because I was shivering, I was really, really bad.
"It was pure adrenaline that got me through the day and the game."
The squad got an early taste of cup final hype when they Sky Sports cameras greeted them as they left their hotel near the stadium for a stroll to stretch their legs ahead of a 4pm kick-off.
The two sets of supporters – fully aware of how rare an occasion this had been in the histories of their respective clubs – fully embraced the occasion and mingled good-naturedly ahead of kick-off.
"I had a good crew there that day," says Ben Davies with a grin.
"I'm pretty sure I used all my allocation, I knew I would have lots of friends and family there."
The build-up had focused mainly on who would replace Flores in the Swansea defence. Club captain Garry Monk and Kyle Bartley were thought to be the two leading contenders.
But, Laudrup sprung a surprise and named midfielder Ki Sung-yueng alongside skipper Ashley Williams in his defence.
The Dane deciding that, given he expected his side to dominate the ball, having the South Korea international would not be of a detriment to his defence.
"Well, that was a surprise, he wasn't meant to be a centre-back at that time but, somehow Michael Laudrup had an idea to put Ki there as he's good with the ball," says Gerhard Tremmel.
"I can't remember why he did it, but we didn't think too much about it as Ki was a good player.  
"I think it was a smart decision, to be honest."  
The players emerged to a rapturous reception and the question was how Swansea would handle their tag of favourites on such a big stage; the general consensus being they were the only one of the two teams with something to lose.
"It was a bit strange to be honest," says Nathan Dyer.
"You're playing Bradford, and everyone is saying 'you should win this' but you never know and I felt that if Bradford came out in the way we thought they could, then it would have made it difficult.
"It helped that Wembley is such a massive pitch. Once we got our rhythm, they weren't touching us. I thought they could have been more physical, thrown themselves into us a bit more and that might have disrupted us a bit.
"But yeah, not being the underdogs was weird, because that was all I'd ever known Swansea to be."
"We were usually the underdogs, so it felt different," adds Angel Rangel.
"But we were very much aware that to get to where they did, Bradford had beaten some big clubs – Arsenal and Aston Villa – so it wasn't going to be easy.
"We knew they had a different style: 4-4-2, not much passing, more direct and they had a fantastic fan base like us and both fans were up for it.
"The difference was that we were a team full of confidence and quality players and when you compare the starting line-up of both teams, anyone would say that Swansea would win.
"The key was to score the first goal."
But one man totally unfazed by the occasion and the change in mindset was Michael Laudrup.
He knew the consequences were Swansea to lose, but he had fond memories of Wembley. After all, he had won Barcelona's first European Cup at the old stadium back in 1992 against Sampdoria as part of the Catalan club's 'Dream Team'.
"What I remember about the time before the final is that we were talking about it and I was saying that we've reached the final for the first time, we've beaten Liverpool at Anfield and Chelsea over two-legs and now, it's a failure if we don't win. Why? Because we're playing a team from League Two," he recalls.
"Bradford had done incredibly to get to the final and so everyone was talking about them, not Swansea, which is fair enough because we're talking about a League Two team which has beaten three Premier League teams.
"So I just said, 'we have to win'.
"If we had played someone like Liverpool, Chelsea, Man United, Man City, Arsenal in the final and we could say 'well, we're underdogs so let's go for it'. But, in this situation, we have to win.
"If we don't win the final, this competition will be over and will go down in history for Swansea as losing to a League Two team.
"All of that is why I was so pleased with the performance in the final. From the first second of the match to the last moment, we were complete in control of the game.
"Even in the first five minutes, we kept the ball really well and as soon as we scored the first goal, I turned to Alan Curtis and said: 'We've won'."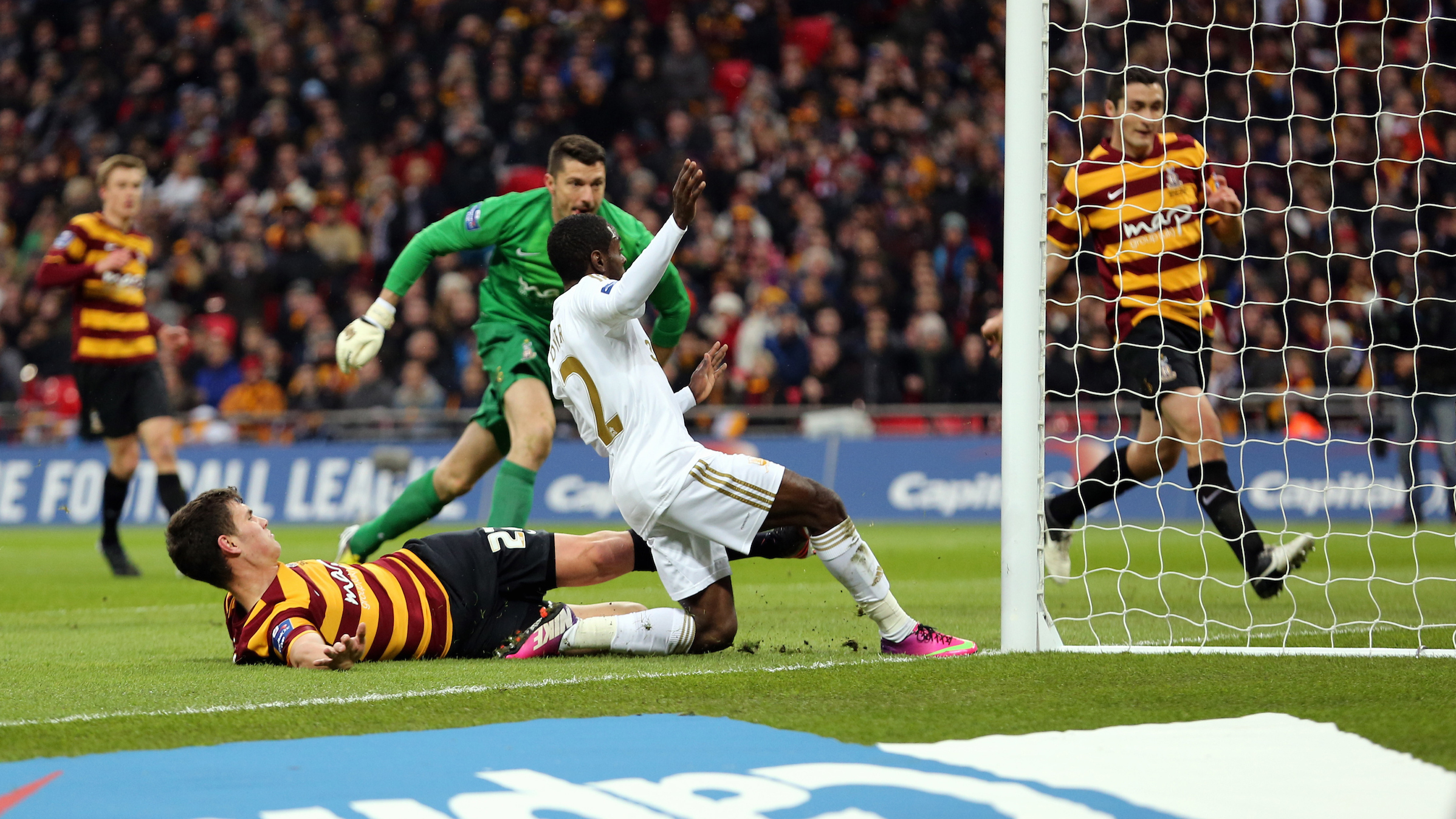 Any prospect of Bradford adding to their list of top-flight scalps was quickly eroded by a confident and assured start from the Swans.
The Bantams struggled to get a hold of the ball, and were unable to make use of the threat from set-pieces that had been such a factor in their run to Wembley.
Swansea patiently moved the ball around and waited for gaps to come. The opener arrived in the 15th minute as Bradford, having committed numbers forward, got caught by a rapid counter.
Michu's original effort was saved by Matt Duke, but he could only parry it towards the back post, where Dyer was on hand to finish.
"It was amazing. I had really wanted to score when we played at Wembley in the play-off final, I was desperate to do that and I didn't do it, so to score in this game was incredible," says the former Swansea winger.
"I mean … I just remember turning and running all the way down the other end to our fans.
"To be able to say that you've scored at Wembley is incredible – not many footballers get to play at Wembley for a start, so to score there was amazing."
The pattern of the game continued but, with five minutes until the break the score was still 1-0, and Parkinson would have been delighted had his side returned to the dressing room trailing by a solitary goal.
However, they would not make it to the interval unscathed, Michu using all his nous after receiving a clever pass from Pablo Hernandez to use defender Carl McHugh as a shield, before steering the ball past Duke and into the bottom corner.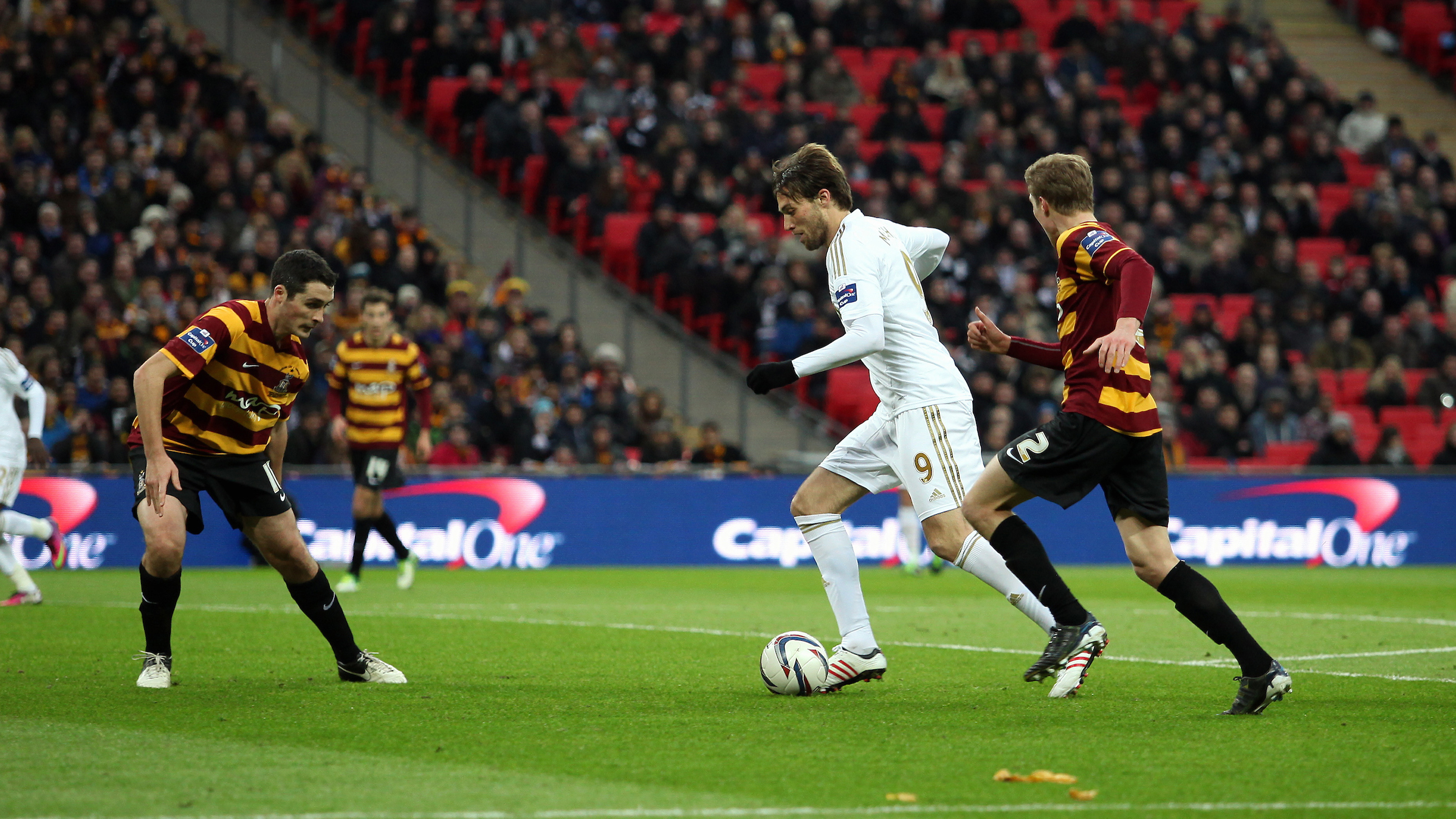 "It was the best game because I remember running in Wembley and I think it was three minutes of only us having possession, and I felt okay we are going to do this," says the Spaniard.
"Of course we had pressure, but we had a really good game.
"I remember Ben (Davies) celebrating with me, he was my room-mate and he is a really good friend.
"When I scored the second one we felt we would win the cup."
Swansea were roared off at the break, although those of a nervous disposition would doubtless have been recalling how a 3-0 half-time lead against Reading in the play-off final two years earlier had been followed by a nailbiting second half.
However, when Dyer, Michu and Routledge combined brilliantly for the former to make it 3-0 with a left-footed strike barely two minutes after the restart the writing was on the wall.
"What a goal that was," says Dyer with a grin.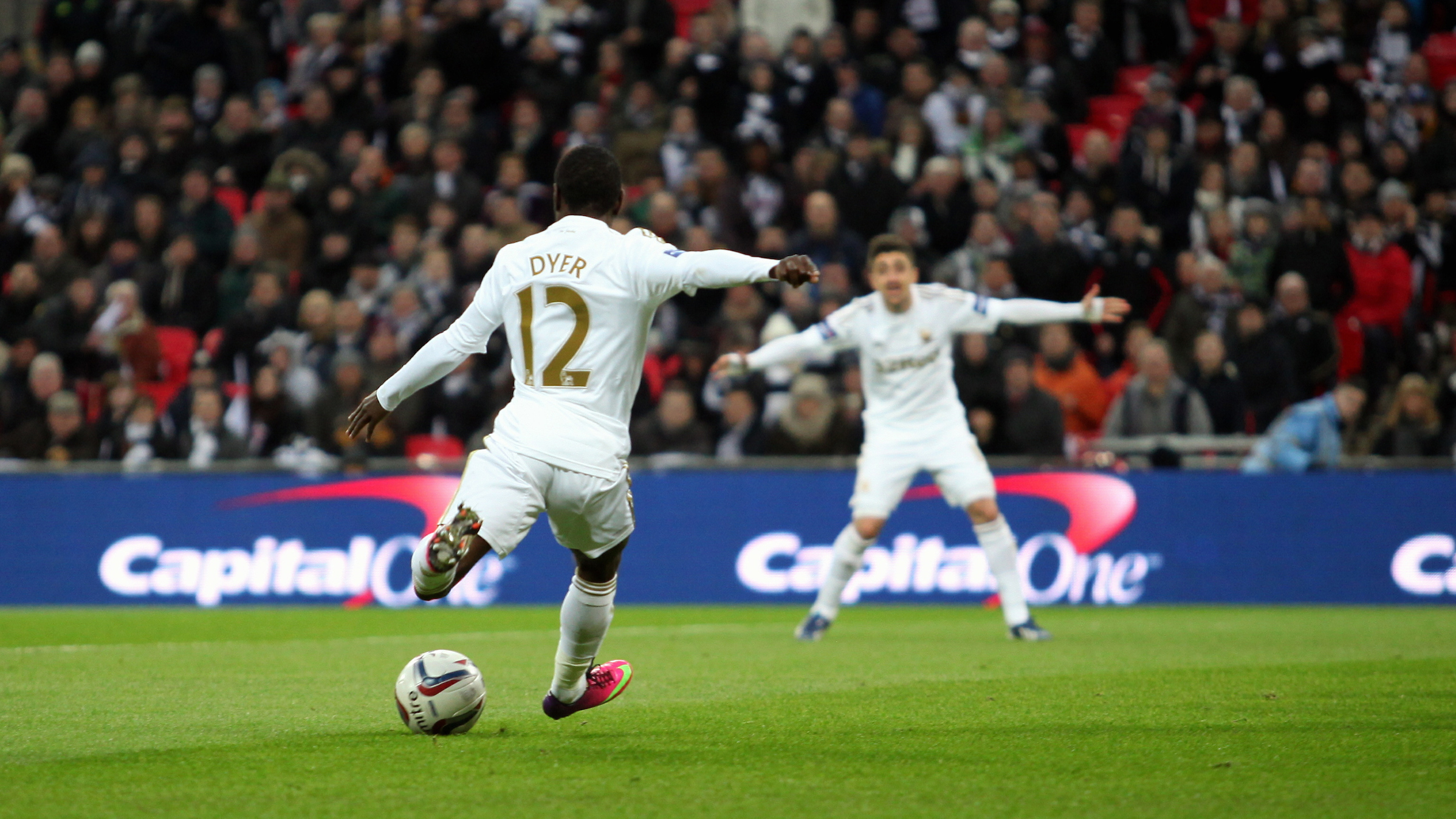 "I did really enjoy that goal. I ran from the halfway line with the ball. I was aiming for Michu, but he stepped over my pass it and it went to Wayne.
"I carried on my run and Wayne played a one-two, I cut back inside and then, you know when you caress it into the top corner with your left foot … that's what I did.
"Again, to score my second goal, I was just on cloud nine. I couldn't believe I'd scored, especially on my left foot. The emotions were going wild."
And matters soon got worse for Bradford when Duke saw red after bringing down De Guzman in the area.
While the Bantams readied Jon McLaughlin to take his place between the sticks as striker Nahki Wells was withdrawn, attention was soon drawn to the penalty spot as Dyer and De Guzman debated who should take the resulting spot-kick.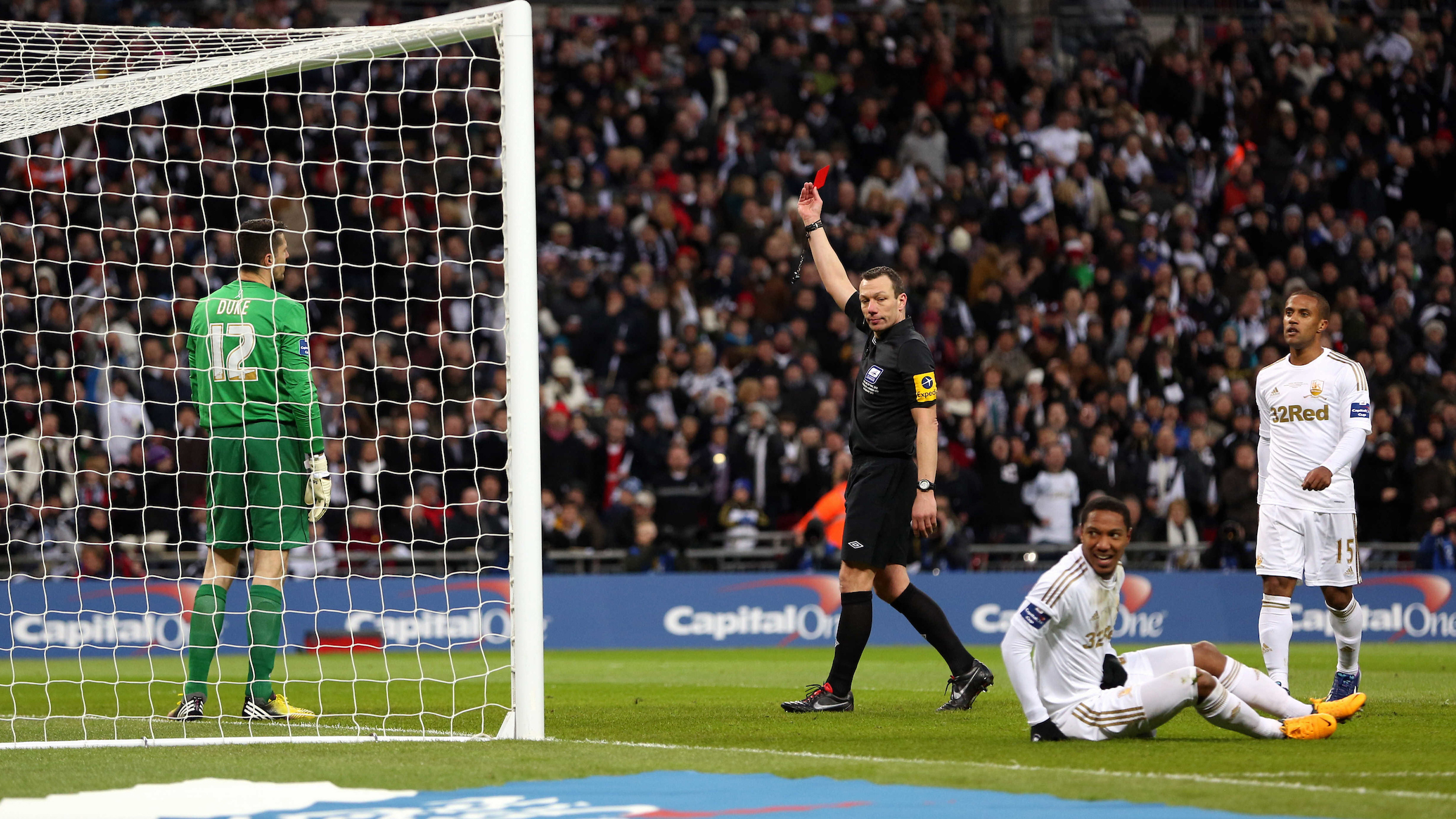 Dyer was on a hat-trick, and no player had previously scored a treble in a League Cup final, while De Guzman was adamant that he should take the kick, and Laudrup would later say he was down as the Swansea penalty taker that day.
Eventually the Dutch international prevailed and he beat McLaughlin to the keeper's right-hand corner to make it 4-0 with over half an hour still to play.
"I remember when we won the penalty Ben Davies came up to me and said 'take it'," recalls Dyer.
"Normally, I don't go up for penalties because it's not my thing to do. So, it was Ben that said 'take the penalty, you're on your hat-trick', and I thought: 'Oh yeah!'
"I'd been so engrossed in the game that I hadn't really realised, so I asked for the ball thinking [De Guzman] would say yes … but he said no.
"It threw me back a bit, and then I think the longer it went on - and there was a [delay because of the] situation with their goalkeeper being sent off - so it just kept going and I was getting angrier and angrier and was thinking 'is anyone going to back me up?'
"I was looking at Ash (Ashley Williams), and the gaffer was looking over, but no one was saying for me to take it.
"When it comes to a designated penalty taker, we didn't actually have one. Michu had scored penalties through the season, De Guzman had taken some; a couple of players had taken penalties, so it wasn't like we had a designated penalty taker like most clubs do.
"This was a chance for me to score a hat-trick and I think I would have been the first player to score a hat-trick in a League Cup final, so a lot of things came into it.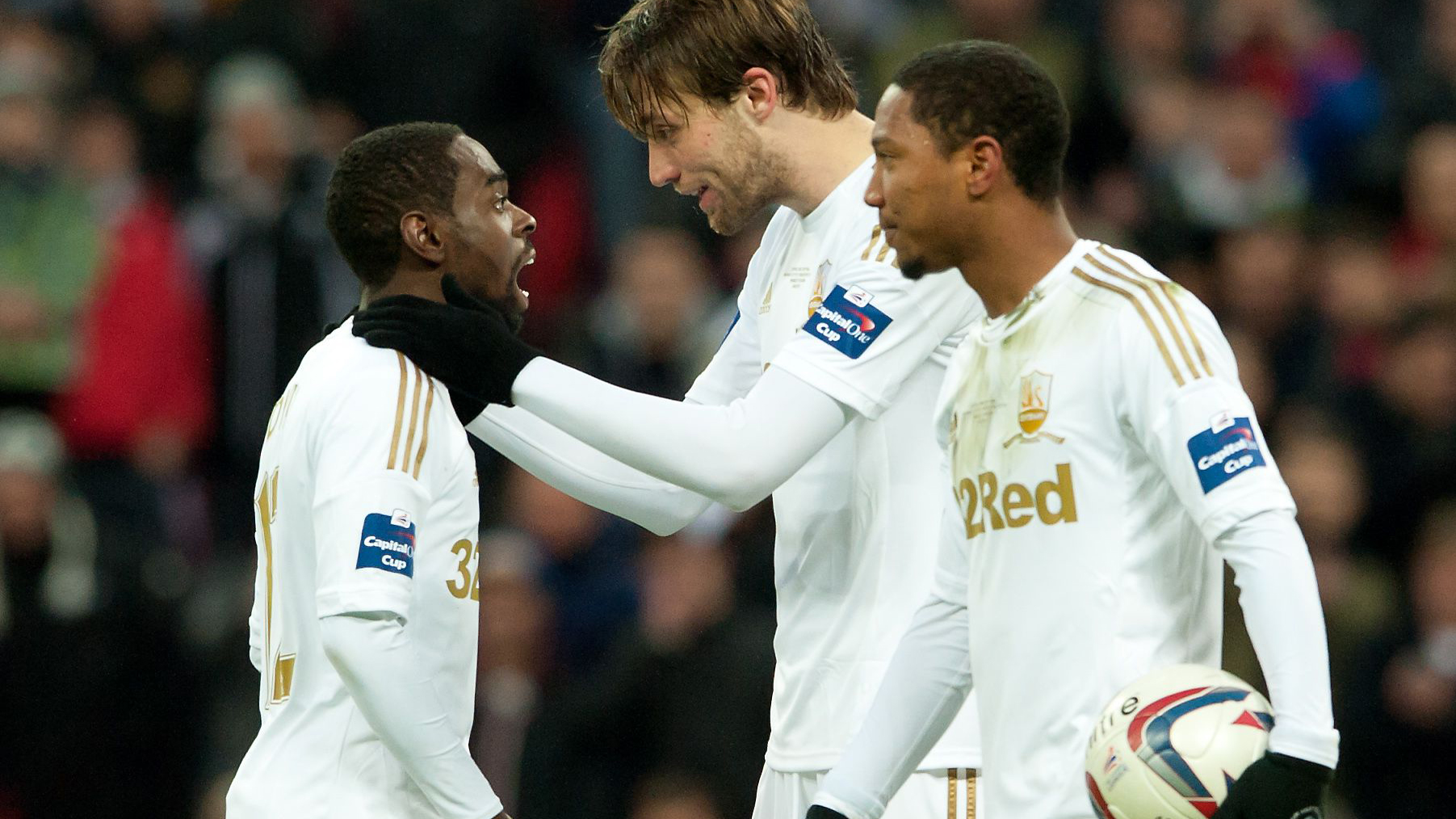 "I asked De Guzman about it, and he was saying 'well, I want to score as well', but then he ended up scoring two as well, didn't he?
"But look, it happened. I would love to have scored a hat-trick, but I didn't and I just took man-of-the match and a winners' medal, which was still brilliant."
"He wanted to score a hat-trick, I understand it," says Laudrup.
"The thing is, normally it was Jonathan who should take the penalty. It was the case on that day that we didn't talk about it beforehand for some reason.
"Sometimes, we would write it down in the dressing room, so we'd talk about who was in the wall for free kicks, who was taking them from the left and right, who would take a corner from the left and right and then, at the end, we have penalties.
"But that day, I don't think we wrote down that Jonathan was taking penalties, but he was the one to take a penalty.
"I was laughing a little because I could understand both players. One, Jonathan was the one who takes penalties and the other, Nathan, because he could score a hat-trick in a final … maybe for the only time in his life.
"In the end, I think it was fair that it was Jonathan, but it also put a lot of pressure on him – even though it was to take the game from 3-0 to 4-0. If he'd missed the penalty, we would have won anyway, but those arguments with Nathan put a lot of pressure on him.
"But he scored the goal and after that we made some changes and one of those was to bring Nathan off and he was saying: 'Ah, coach, I wanted to…'
"I said: 'I understand, I understand' but after the game there was nothing and it was okay."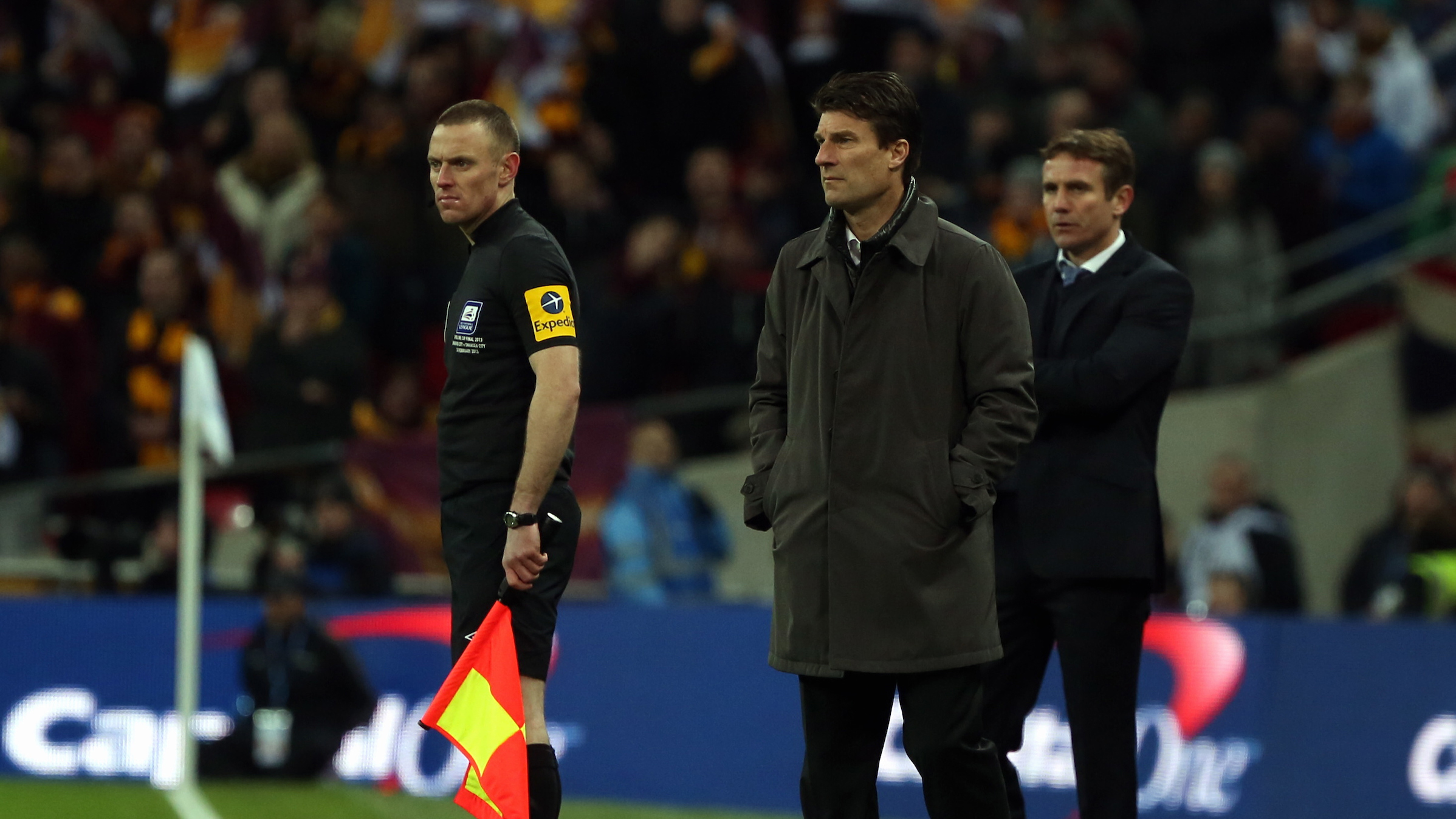 But a couple of former team-mates still feel Dyer should have had the chance to net his third of the game.
"You can go back and wrap it up however you want but it would have been an incredible achievement for Nathan to score a hat-trick, get man of the match and win the final," says Routledge.
"It would have been great. I understand Jonno's point – he wants to score, but that is what it is.
"Personally, I would have liked to have seen Nath get his hat-trick."
"If that was me, I think it would have used my length of time at the club to tell Jonathan De Guzman 'I'm taking it mate, you have no say here', and I think Nathan could have done the same," says Rangel.
"But Nathan isn't me, if you're asking me what I would do if it was me, then I'm taking it. No one has scored a hat-trick before in the final in British football, I believe, so I would have done that."
At this point Bradford fans could have feared the worst, such was the mood Swansea were in.
However, when one Bradford player turned to Michu and mused that the Welsh club would now go on a humiliate the Bantams, he did not get the response he expected as the Spaniard told him they had no desire to humiliate opponents who they respected so much for what they had done in getting to the final.
"Even today when I see games live or on television, we don't like to see games where one side is humiliated. You know, one team are 3-0 down after 30 minutes and you think 'this could be seven or eight' I don't like that," says Laudrup.
"That's not the same as saying, stop playing, but I think it was after the penalty when the keeper was red carded. We were 4-0 up and they had to play with one less and I think there was still 30 minutes to play.
"The game was over really, it was finished. It's not like I said anything to players, but I think the players did that themselves. They could see in that moment that the game was over, so why go for six, seven or eight?
"We'd already won the game, so let's just play it around and both fans were still celebrating.
"That was one of the best moments of the game. Of course, I understand for Swansea fans, we were winning 4-0, but Bradford too.
"They weren't celebrating the final, but they were celebrating the competition and the run that they had had because they had done fantastically.
"That was a great picture, to see both Bradford and Swansea fans celebrating, even though one team was winning 4-0 in that moment."
"I know it sounds belittling, but it's not meant in that manner because there's a human side of it," adds Routledge
"No-one should take away what Bradford did that year. They beat Wigan, Arsenal and Villa, they had an unbelievable run with what they did that year and what they achieved.
"So to be in what was possibly one of the biggest games of their lives, there's a human element to that. We've all been on the end of a big defeat – we lost 5-0 at Anfield the week before the final!
"I'm not saying we downed tools, but we did what we did."
There was still time for one more goal, De Guzman turning in a measured Hernandez cross to make it 5-0 in the final minutes.
The whistle went and history was made. Swansea were League Cup winners and had won one of the game's major honours for the first time in 101 years of trying.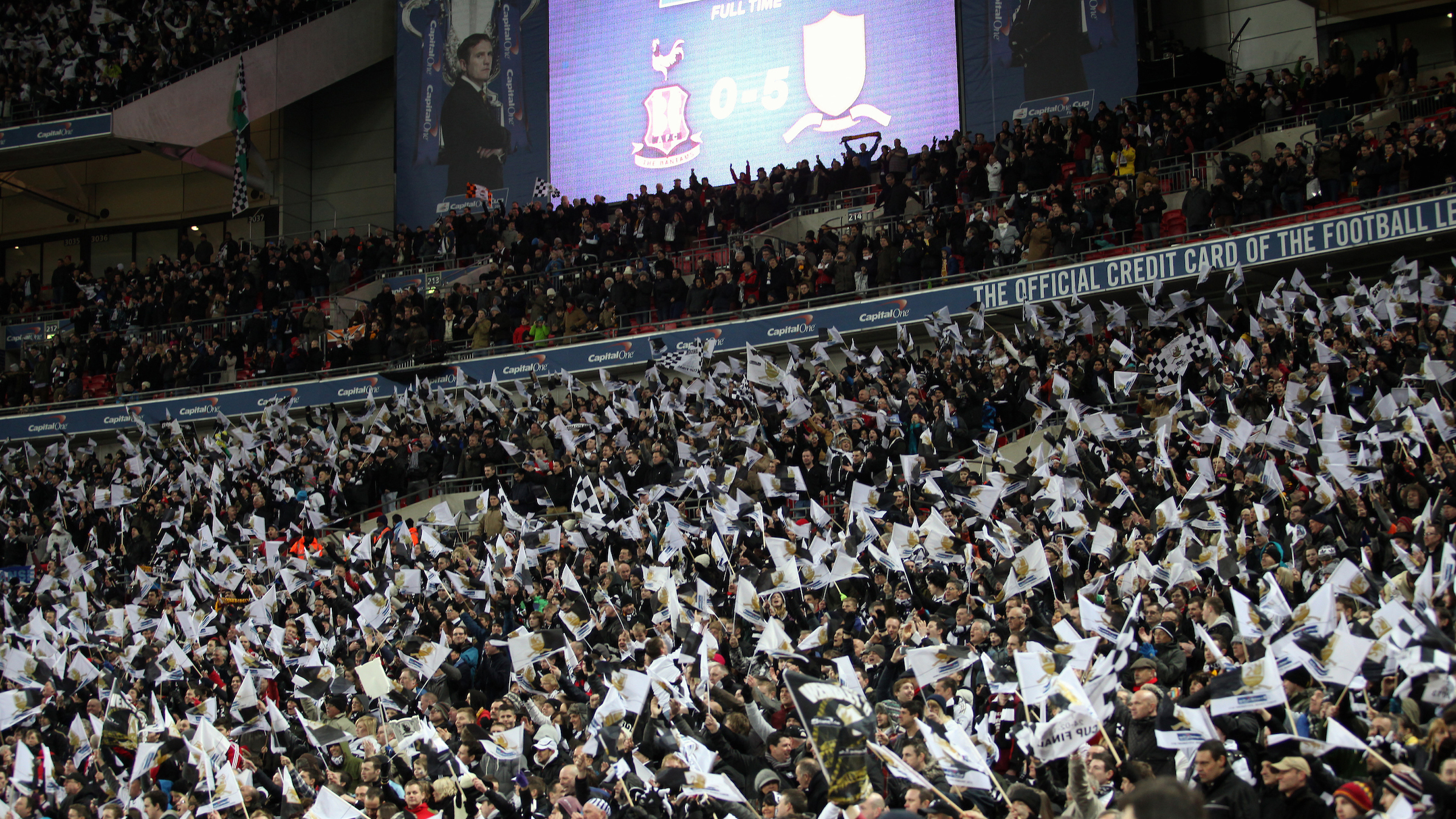 Dyer picked up the Alan Hardaker Trophy as man of the match and the celebrations started in earnest once Monk and Williams had lifted the trophy in the Royal Box.
"It was amazing. I think when you grow up playing football, I never really looked at it in terms of what I wanted to achieve but having been promoted to the Premier League and then to win the cup and get man of the match was amazing," he says.
"I felt at the time I was playing some of the best football of my life and career, and I think that England was on the cards at that time.
"Funnily enough, after the game, I saw Roy Hodgson in a restaurant and he said, 'well done, Nathan, you played well' and I was thinking 'I might get in here' – didn't happen of course!
"But yeah, it was a surreal feeling to look back on those memories. To win the way we did, to score and get man of the match, I couldn't have asked for anything more."
The trophy was lifted again on the pitch, while Laudrup was thrown into the air by his players in recognition of his contribution to such a special achievement.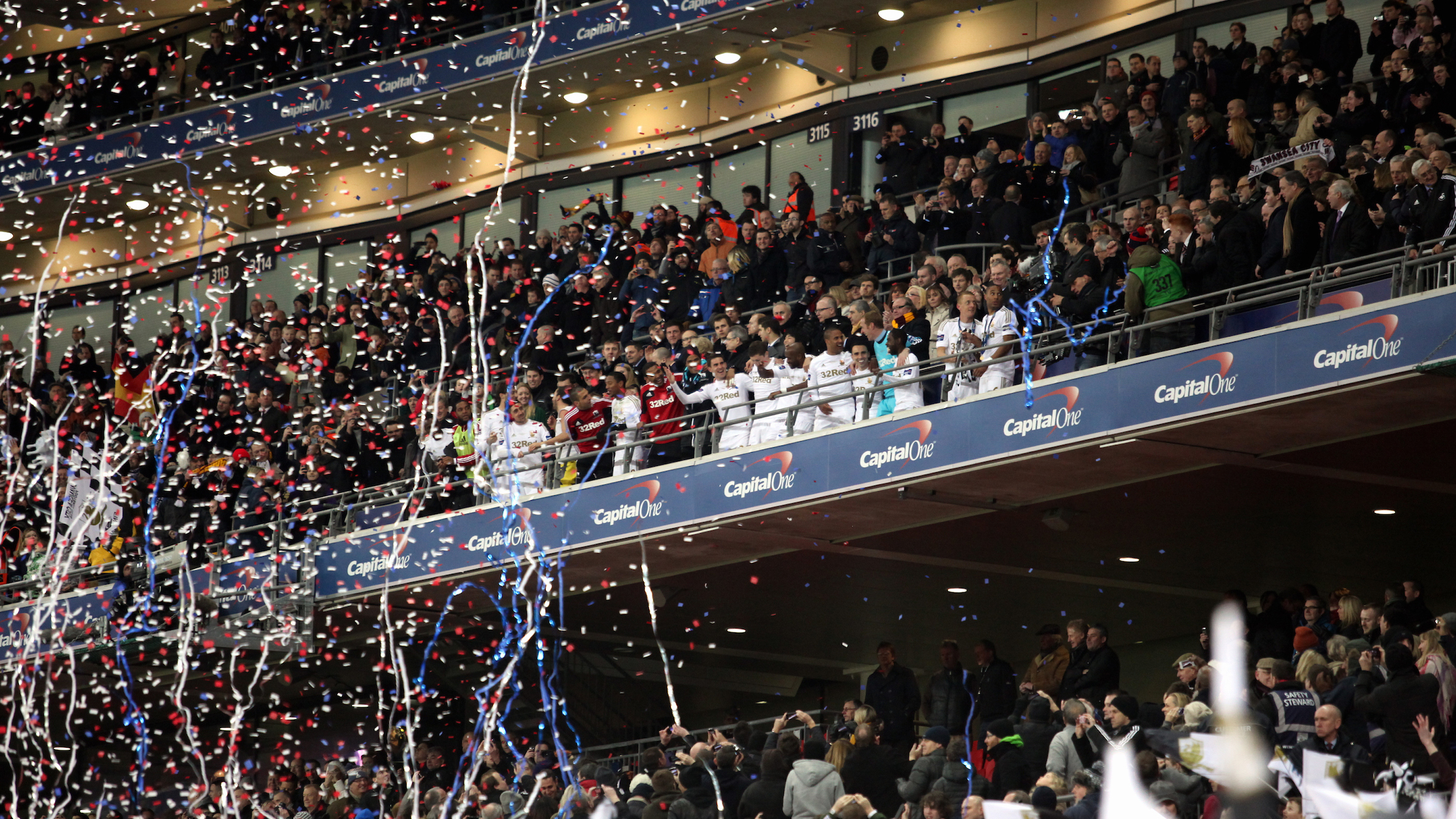 Once back in the dressing room there was an unwanted gift for coach Oscar Garcia, who had promised to shave his head if the Swans won the cup.
He had barely got back into the changing room than had a chair and the clippers been brought out.
"It was special. I didn't think I'd be lifting a trophy at Wembley as captain of a Swansea team. Even if you go through all the phases of my life, I don't think I'd ever imagined it," says Williams.
"I'd dream about it, but it wasn't on the to-do list, so it was a nice bonus to be honest.
"There are plenty of players who were better than me that ended their career without any silverware and I was lucky enough to do a bus tour around Swansea twice, walk the stairs at Wembley and lift the trophy.
"I'm grateful really that I got to have those opportunities with such a good fanbase and such a good group of staff and team-mates."
"I'm going to be honest I never imagined I'd win a major trophy when I joined Swansea," says Michu. "It's difficult to win a trophy and the big teams like Liverpool and Man City have the money to win trophies every year, but even for them it's difficult.
"I couldn't have imagined that when I joined Swansea, winning a trophy in the first year is impossible.
"The gaffer was a player and he knew about celebrations and about winning titles. For me, it was the unique title in my career, so we had a long night in London!"
"I was living the dream," says Rangel. "Five years before that game, I was a league one player in Spain and working as an accountant and chasing the dream to become a professional.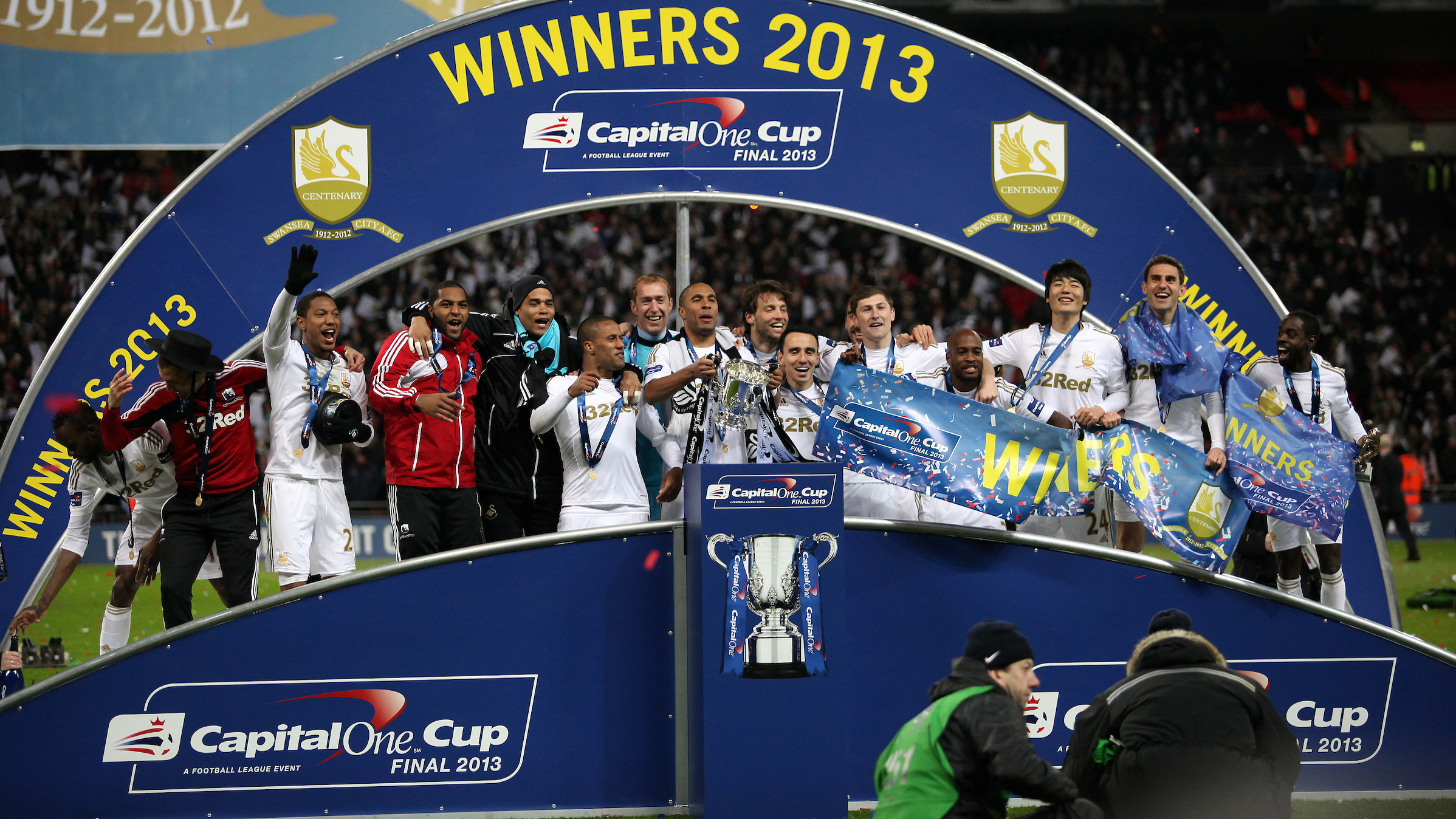 "When I came here I remember Roberto telling me in four years, I was going to be in the Premier League. I said, 'we're in League One' and he said, 'yeah, but don't worry'. Then it happened.
"A year later, we're winning a trophy and I was pinching myself because I think that's what makes these things special, because you dream about it, you work hard for it and it happens.
"That's an example that if you believe and if you work hard, you can achieve.  I know you need luck, but Swansea as a whole – city, club, team – they all believed in the same thing."
The celebrations went on long into the night and the early hours of the following morning.
A bus parade was arranged through the streets of the city, before a reception at the Brangwyn Hall, with thousands lining the streets to celebrate the success.
"I remember after the final, with the celebrations on the pitch, going up the stairs and lifting the trophy, after that we went back into the dressing rooms," says Tremmel.
"I was the last one out of the dressing room because I wanted to enjoy every single second, as I knew that this was a one-time thing.  
"I didn't want to go back to normality, like a normal game when you shower, get on the bus and go home.  
"I was sitting there, drinking a beer and I was just trying to suck everything in, because I wanted to remember this in 30 to 40 years.  
"When I'm old, I still want to have that memory of being there in Wembley, in that moment. 
"There was a party then organised by the club in a hotel next to Wembley, and I think I was the last to arrive.  
"All the players were already there, and I came last. I enjoyed the walk from the stadium to the hotel.  
"The bus parade was a funny thing, because were making fun of the situation. We were down in the Marriott Hotel waiting for the bus to come and the roads were empty, it was typical Swansea weather, and we didn't see any people.  
"I remember we came up from the train station and we didn't see anyone, and we all thought 'where are we going?' 
"We turned on to St. Helens Road and then suddenly, we saw a huge crowd in front of us and then it hit us. We couldn't believe it.  
"Then it was a big celebration, I enjoyed every minute. Although it was freezing cold, I would have loved to have it in the summer!"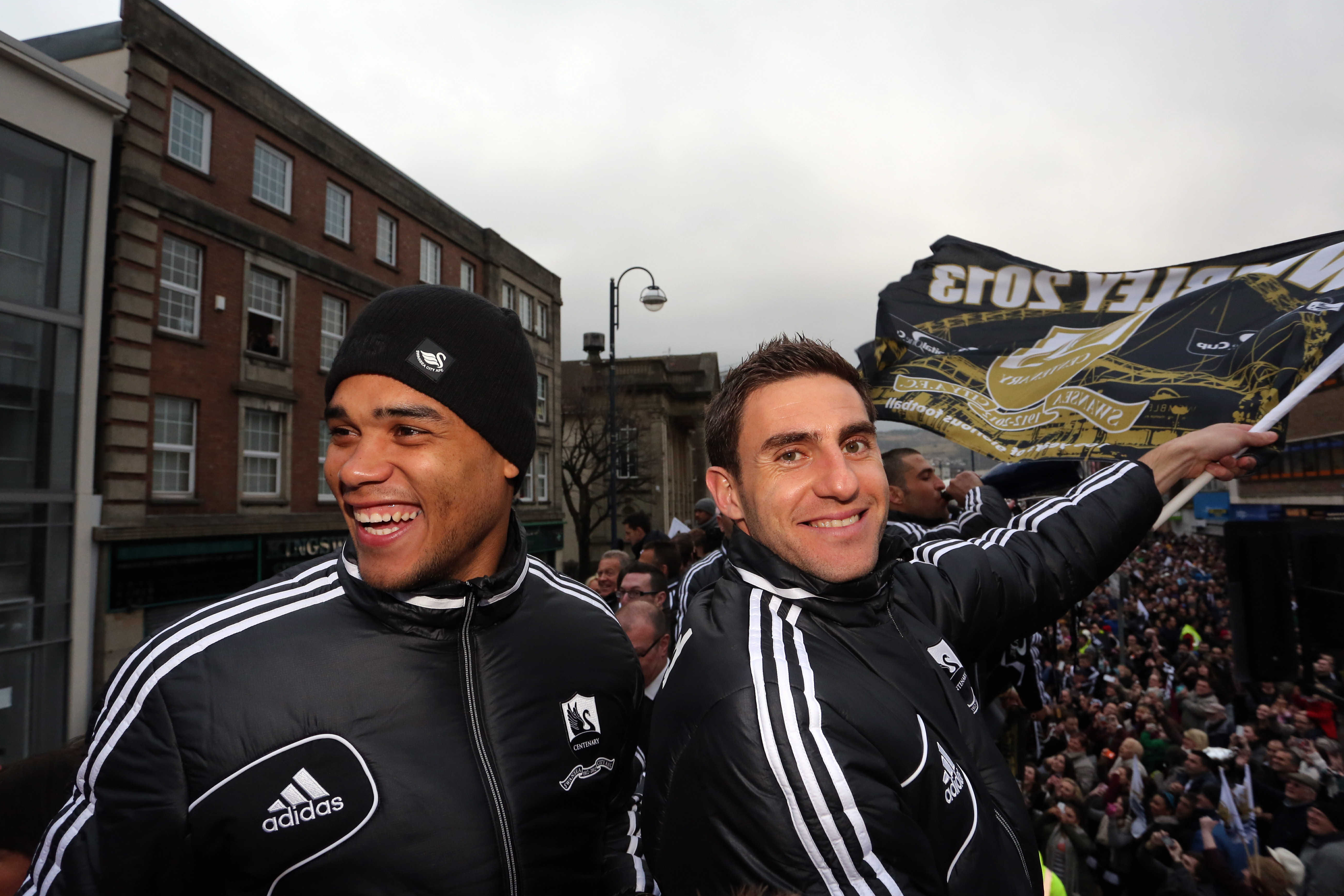 "I think we had a good go [at celebrating]," says Davies with a smile.
"We enjoyed ourselves afterwards. We all realised it was a huge achievement and it was fun but it was a very family-orientated club at that time, so everyone was celebrating together.
"It was something that will live long in the memories."
The memories of some are hazier than others, however.
"I can't remember, I was too drunk," chuckles Rangel.
"The celebrations were different. It wasn't life changing like the promotion to the Premier League -that was a special moment, but a major trophy is a major trophy!
"It was one of those things where we couldn't wait to get back to Swansea and on the open-top bus tour and share the moment with the whole city.
"We were looking at each other thinking, 'how can we have achieved that much?' But it was all about recruitment, hard work and what a beautiful place Swansea was at the time."
"I remember after the game, we shaved the Oscar's hair off just in the changing rooms. So, he came out of that looking good!" says Routledge.
"It was a great time – I think whoever you ask from that time, even those that aren't playing, I'm sure that now they look back they'd say it was a good time to look back on.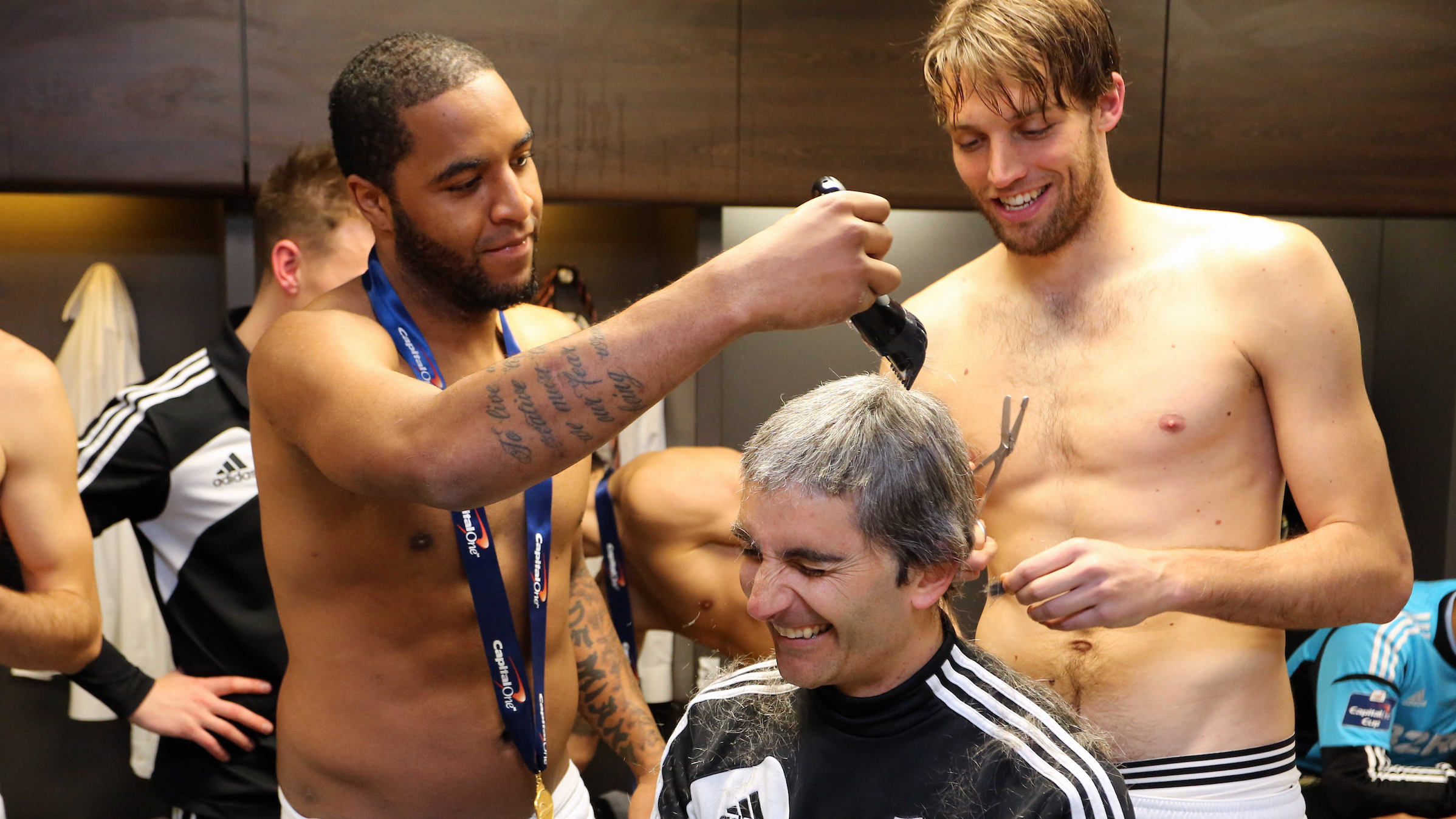 "The bus parade was wild. That was surreal. I remember having a picture with my mum, and then we did the bus tour around the city. You couldn't see the pavements, it was crazy.
"It was amazing and actually it just showed what it meant to everybody. Not just us as players, or the club, but the whole city. The whole city was as one, and it felt like we were all pulling in the same direction."
The bus parade was on February 26 2013.
It had been just 271 days since the departure of Brendan Rodgers, a day when many predicted the Swansea bubble had burst with the loss of the man who led the club to the Premier League.
It was just 257 days since an unflappable Dane had filled the managerial vacancy, astutely building on the foundations laid by those before him.
So many individuals played their part in that success, but perhaps it is fitting that we leave the final word to the man who watched on coolly from the dug-out on that freezing February afternoon at Wembley.
"I said at the time that winning the League Cup was one of the best things I'd experienced in football and I meant it, and I still mean it," says Laudrup.
"Yes, it is true that I won five league titles in Spain with Barcelona and Real Madrid, I won the Champions League and the Italian League and the Dutch League. But this was with Barcelona, Real Madrid, Juventus and Ajax, all favourites to win something in a season.
"This was with Swansea, and not only did we win, but along the way we beat Liverpool at Anfield and Chelsea over two legs, and this was the first major trophy for the club and who knows when the next one will be, and I think that is important.
"If you win a cup with Liverpool or Man United, yes, it's one more for the club and it's nice we just put it with all the others. This one will be remembered.
"That's why we're sitting here talking about the 10-year anniversary for this trophy. That's why for me, it will always remain something special for me in my career in a player and as a coach.
"I think when you win something for the first time it gives you a special feeling, and that's a feeling we had that day when we came back to Swansea after the final, that was really incredible. It will always be special."