History Makers | 2013 League Cup | Laudrup, Barnsley and Crawley
22nd February 2023
Club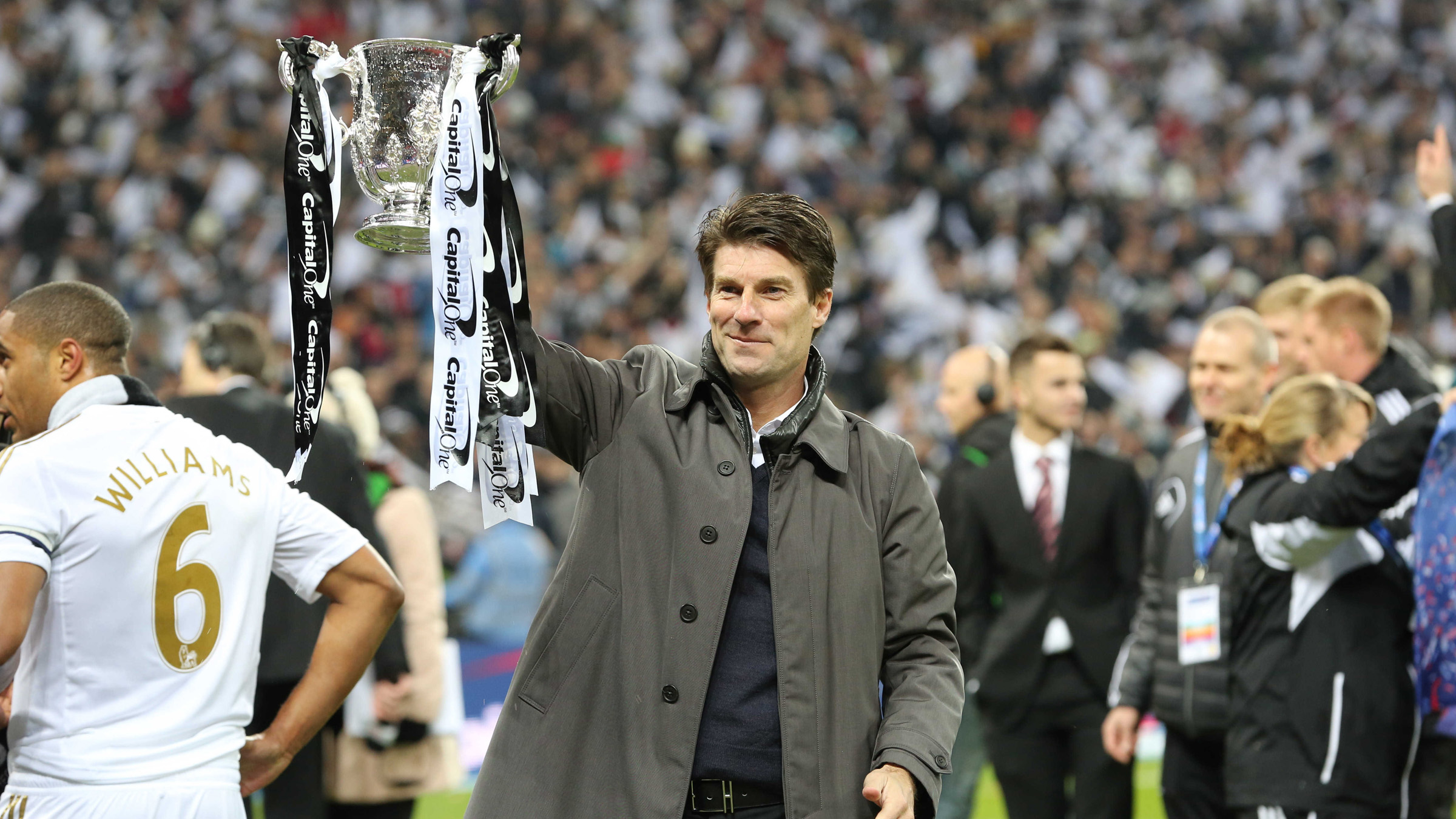 February 24, 2013.
A date which will forever be ingrained in Swansea City's history, and in the hearts and minds of all those who were in attendance at Wembley Stadium or watching from afar.
Less than a decade previously, the Swans had been staring at relegation out of the Football League and potential oblivion.
Now, they were an established Premier League club celebrating their first major honour and planning for European adventures to come. Joy was unconfined that evening.
But, the mood had been very different on May 31, 2012.
That was the day Brendan Rodgers – the architect of promotion to the Premier League and a memorable first season back in the top tier that had yielded wins over the likes of Arsenal and Liverpool – left Swansea City to take over at Anfield.
The popular Northern Irishman had been a perfect fit for Swansea, he shared the club's sense of ambition but also its relishing of underdog status, or proving the doubters wrong.
It said much about the link between team, manager and fanbase that when Rodgers mentioned that some bookmakers had offered shorter odds on Elvis being found alive on the moon than of the Swans retaining top-flight status, supporters in their droves turned up for the final home game of the season against Liverpool dressed as the king of rock and roll.
His departure was bemoaned; many happy and thankful for what his two years at the top had delivered, but also sad to see him depart. When midfielder Joe Allen followed Rodgers to Merseyside, the sense was that a tough 2012-13 season would lie ahead.
Conjecture on who would succeed Rodgers soon started, but few Swansea fans would have imagined that a man ranked among football royalty would be the next man in the SA1 hotseat.
There was almost a sense of disbelief when Denmark, Barcelona and Real Madrid great Michael Laudrup was handed the reins on a two-year deal on June 15.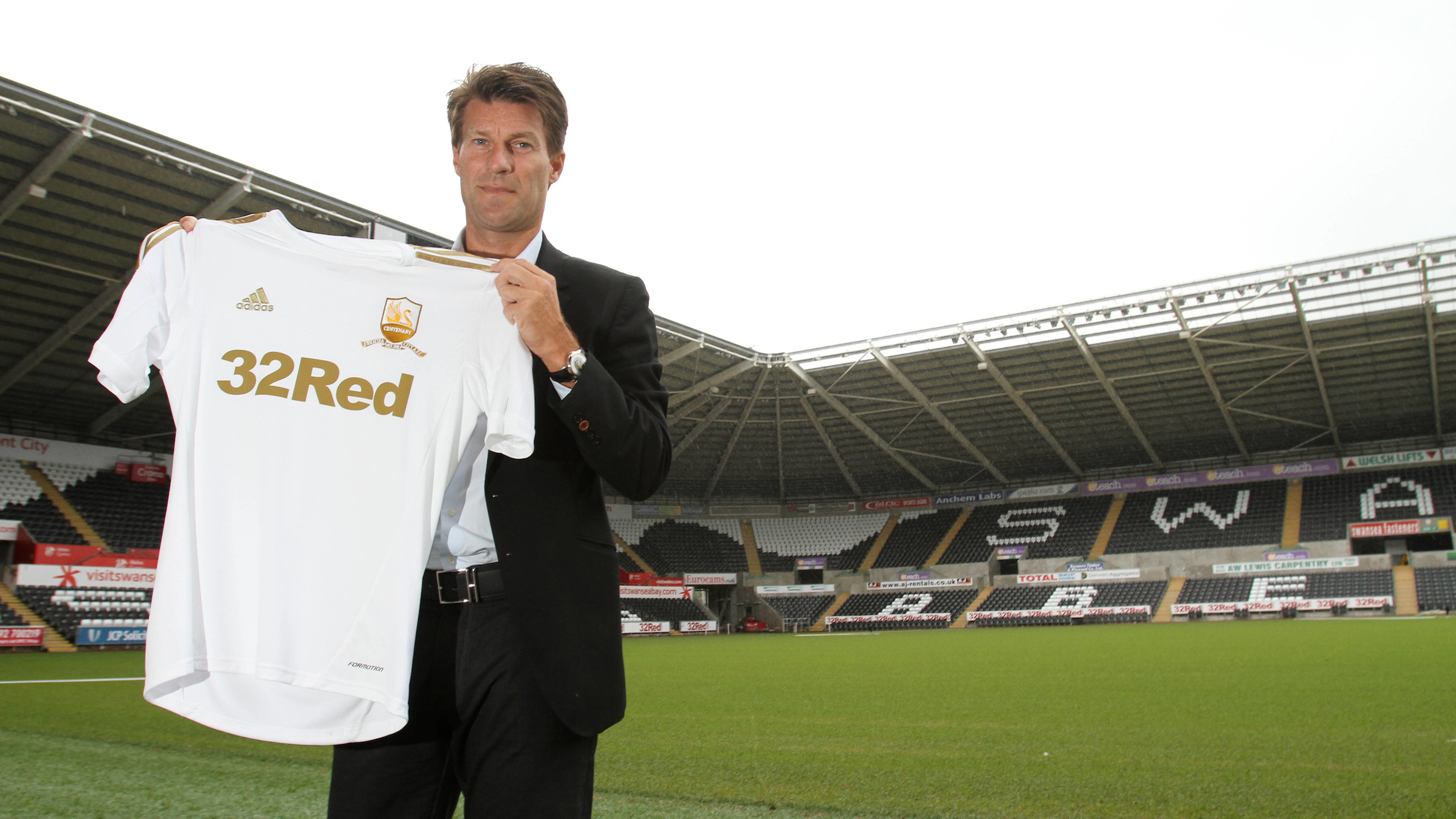 He needed no introduction. This was the man who had lit up the 1986 World Cup with his showings for a swashbuckling Danish side resplendent in their iconic hummel kit.
He had helped Barcelona to a first European Cup success in 1992, he had won top-flight titles in Spain, Italy and Holland.
In Spain he had become known as the man who had won El Clasico 10-0, having helped Barcelona to a 5-0 win over Real Madrid in his final Clasico in the colours of the Catalan side, and then helping Real triumph by the same scoreline in his first for the Bernabeu outfit.
He brought real star quality, and had previous coaching experience with Brondby, Getafe, Spartak Moscow and Real Mallorca.
If the supporters could not believe it, then the players themselves were not far behind.
"It was difficult because he was one of the first managers that I'd had that I felt close to," recalls Ashley Williams of Rodgers' departure.
"I felt like I'd got to know him and his family, and he knew me and my family.
"I understood why he left and why that was what he wanted to do, but it was a bit of a blow to us I think.
"Someone that was such a big part of our footballing life had left and it was a bit of a gap to fill.
"When Michael Laudrup came in, I had watched him and I knew how good a player he was.
"He was just the complete opposite of Brendan. Brendan, he'd speak to you one on one for an hour, but you'd never speak to Michael. I think he was more shy than anything else, but you didn't get a feel for who he was.
"It was one extreme to another. I think it took a while for us to see that he is a good guy, but he's not overly warm and doesn't open himself up, but he had a good sense of humour once you got to know him.
"He was a good guy to play for."
That was a defender's perspective, but there was a real sense of excitement among the attacking players in the Swansea squad.
"We'd built a foundation with Brendan and following on from the previous managers, but with Brendan we had a close-knit, family type of squad so [it was tough] when he left," says Nathan Dyer.
"We were doing so well that it was inevitable that he was going to get chosen to manage a bigger team at some point but it was still hard to take.
"We didn't want him to leave and for me, I'd played my best football under him so he helped me massively to develop.
"When Laudrup arrived It was amazing. If you know football, you know who he is and what kind of player he was.
"We didn't know what style of play he would want us to play, but it was exactly the same style. I loved the fact that because he played football, how he spoke to us was exactly how he would play.
"He'd coach us a certain way but then up top, he'd say, 'you do what you need to do - I can't coach you that way' and for flair players, that's a dream to hear that.
"He came in and he was softly spoken and, he never really shouted or anything like that, he just wanted you to do your job."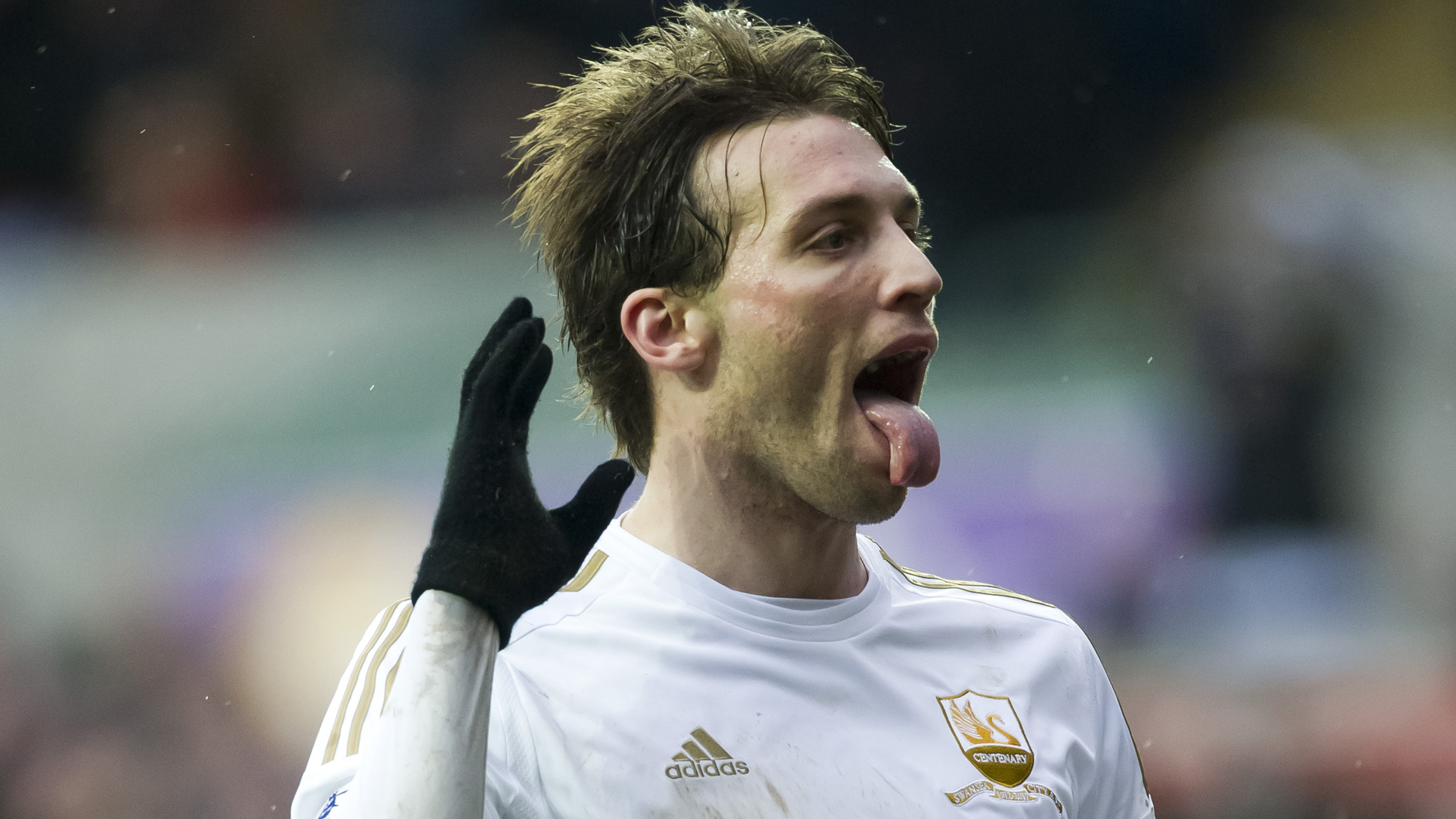 In addition to a new manager, there would be a batch of signings who would prove to be influential figures in the Capital One Cup run.
Pablo Hernandez, Chico Flores, Jonathan de Guzman and Ki Sung-yueng were among the arrivals to complement the likes of Ashley Williams, Leon Britton, Nathan Dyer and Wayne Routledge.
But the one signing who would prove to make the biggest impression was an attacking midfielder who had come through the ranks at Oviedo and impressed in La Liga for Celta Vigo and Rayo Vallecano.
His name: Miguel Perez Cuesta or, as he was more commonly known, Michu.
"I remember him coming into the squad. We had a meeting with Laudrup and the whole team and no one had really heard of Michu, but he came in," says Dyer.
"Laudrup called him up to the front and said, 'look this is our new striker, wherever he is on the pitch, pass him the ball'.
"We were all thinking 'okay, have we got a Messi in our hands here?'
"But then Laudrup said: 'I don't know how good he is now, but he was very good when I last saw him.'
"I loved the fact that I could play with him as a false number nine as well. He wasn't your typical striker, he could play on his own, he could play in midfield, in the hole and up top.
"We had a nice rotation system and for me as a winger, it was amazing because I could drift anywhere and that's what I love to do.
"We'd do that in training all the time and we had a good relationship."
"We had to look at the money and say 'what can you sign for that?' says Laudrup.
"I was looking at players I knew from the Spanish league that could fit in here. I never thought that Michu would be as successful as he was – it was an incredible season that he had – but I knew he could do well.
"It was the same with the others, like Pablo [Hernandez], but Michu had an impact on the squad, the team and city that was incredible."
As a new squad got down to work ahead of the new season, they also had to adjust to the fact that their new manager was often more than a match for them in terms of his technical ability. Indeed, more than a handful of the squad thought the new boss would be capable of still doing a job for them in the middle of the park.
"He was by far the best player I've trained with. He joined in quite a lot and you could see in the small-sided possession games, you could tell he was on a different level as a player," says Danny Graham with a grin.
"He used to train every day with us, and I used to say that he could still play for Swansea if you put some people around him that could run," says Williams.
"He was really good, and he knew he was good. I remember Kyle Bartley absolutely smashing him in training once, because he just used to nutmeg everyone.
"I think he used to get frustrated because he'd say 'do this' and someone would try to do it and they couldn't and then he'd say, 'not like that, like this' and it would be perfect.
"We all had to say 'none of us can do that, gaffer', but he was a good player, and he knew it and he put training sessions on that made him look good as well!"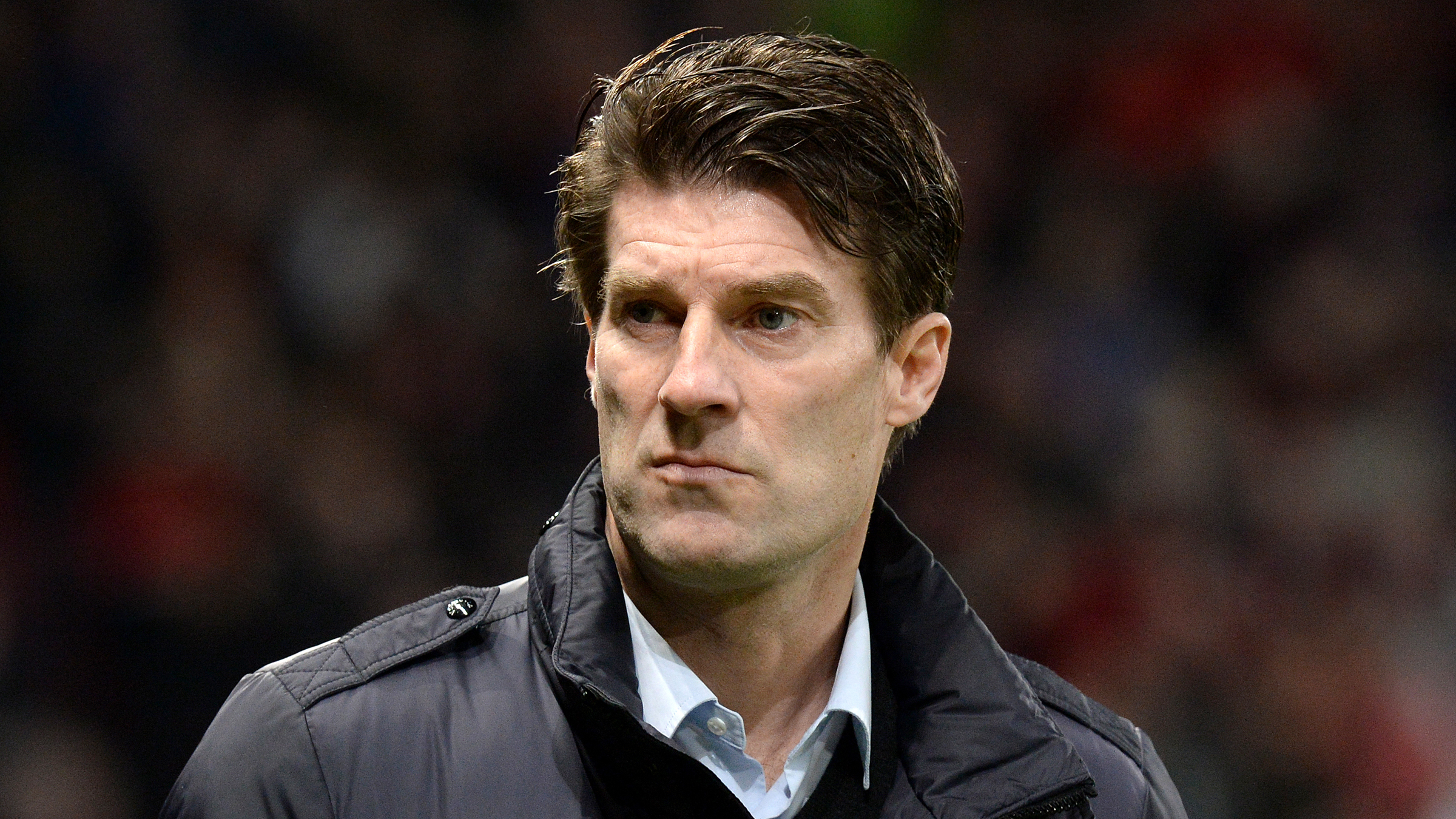 The season could not have started any better. Victories over QPR and West Ham by a combined 8-0 margin briefly had the Swans top of the Premier League table, and the EFL Cup campaign would start with a 3-1 second-round victory over Barnsley in the second round - Swansea had a first-round bye due to their Premier League status - with Danny Graham and Luke Moore (2) on the scoresheet.
Amidst the optimism of those early weeks, Laudrup had already outlined to his players that – if they were ready to accept the challenge – he believed cup success was a genuine possibility.
"I remember Laudrup felt we could target a cup," says defender Angel Rangel.
"He had a history of doing well in the cups in Spain with Getafe, I think.  He'd done exactly the same there and it's true, it is only a few games to win a trophy, but the difficult thing is that each round is harder and harder.
"But he did say that [to target the cup] and I think that made everyone in the squad believe that we could give it a go.
"If you combine that with how well we were doing in the Premier League, in both competitions, it was fantastic."
"He did say that," adds Ashley Williams.
"We were a bit like, 'who is this guy?' It's not as easy as he seems to think.
"But I suppose, with him coming from the outside, he could see the path of how to do that and we as players probably couldn't.
"It was quite fresh that he wanted to go and win the cup. Every year we'd try our best, but it was a new mentality of 'oh, yeah, you only have to win a certain amount of games, so it's not that difficult'."
That win over Barnsley also saw a teenage left-back make his debut as Ben Davies played the full 90 minutes in a much-changed Swansea side.
He could not have known it on that August evening, but events would soon ensure he would play a bigger part in the story of the 2012-13 than he could have expected or imagined.
When Neil Taylor suffered a fracture and dislocation of his ankle against Sunderland just after the transfer window had closed, Davies – with a little help from Alan Curtis – became first choice and kicked off a career that has seen him perform at the top level for club and country for a decade.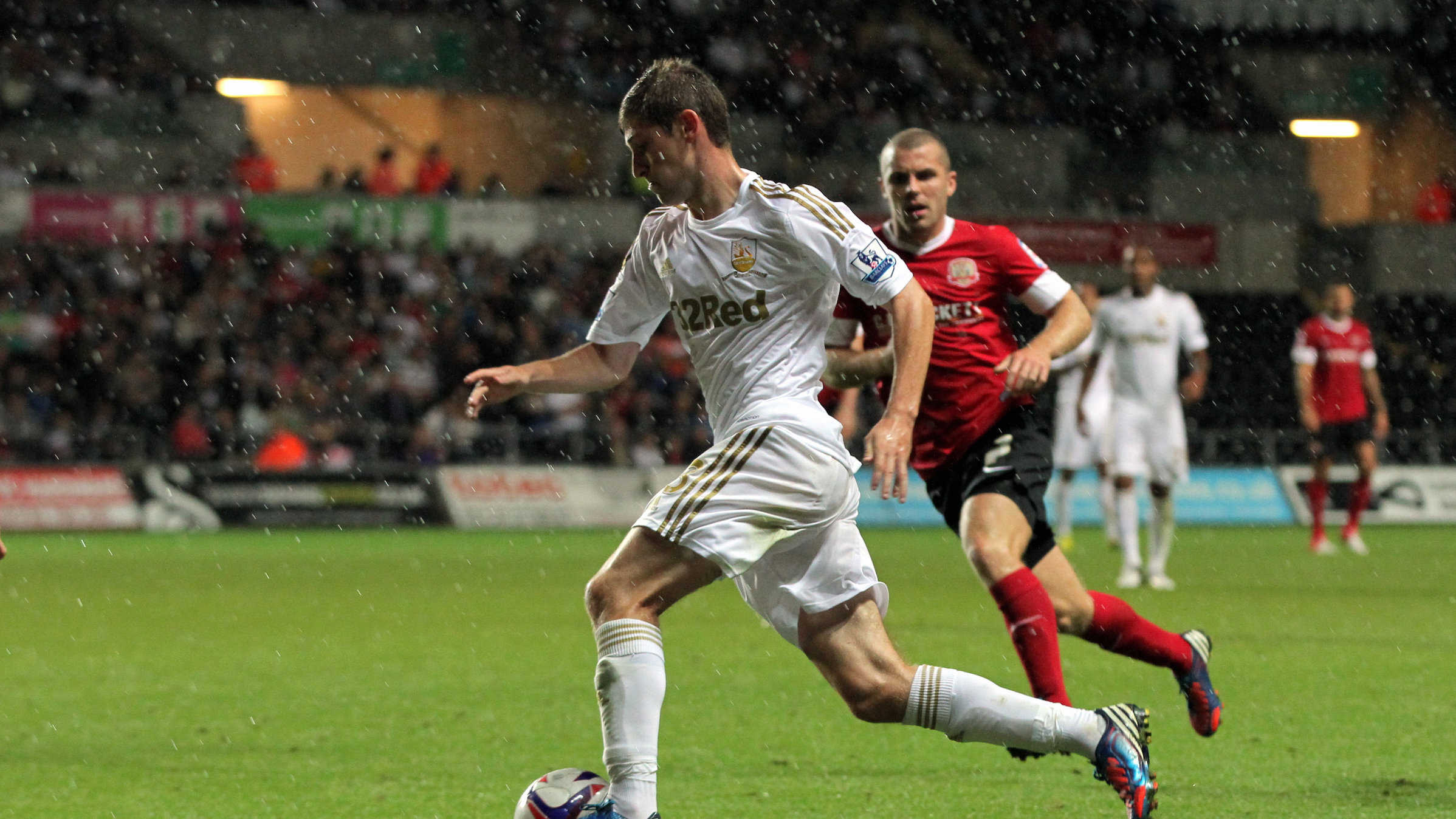 "It seems like a long time ago now, but playing for the first team was one of those things that I was desperate to do," says Ben Davies, who was aged just 19 at the time.
"I'd had the opportunity a few times, even before deadline day [and Neil's injury], to be in the matchday squad and even that was a big step up.
"There was a lot of responsibility on my shoulders when Neil got injured because I was thrust into the deep end.
"I think the club went out and bought Dwight Tiendalli so, as a 19-year-old, I thought I might have a little run of games but at some point I would be taken out of the team.
"But I had a good run and pretty much played every game for the rest of the season, so it was an amazing first year.
"It was quite strange especially as the Swans got up to the Premier League, it really felt like a next level of professionalism and play but it's one of those things in football, you have to adapt and grasp these opportunities with both hands."
"I never had a problem bringing up young players, we had done that in other places with other players," says Laudrup.
"You might know Daniel Agger, for instance, we had to bring him into the team at Brøndby at 19.
"If you have quality, you just need chances.
"Of course, Ben came in very early because of Neil's injury, but that's part of football, you have to grab your chances when you get the opportunity and he did that."
By the time Swansea travelled to take on League One Crawley in the third round of the competition, the bright start to the season had been dulled a little by defeats to Aston Villa and Everton.
And matters looked in danger of getting worse when, after Michu have given them the lead at Broadfield Stadium, Josh Simpson and Hope Akpan struck to give the hosts the lead.
Danny Graham levelled but extra-time was looming until Garry Monk rose in stoppage time to head home the winner and ensure the Swans avoided an upset.
"That's one of those games," says Laudrup.
"We all remember the final, the two semi-finals against Chelsea, and the win at Anfield, but this was the game we were closest to losing.
"We were 2-1 down 15 minutes from the end and I think Danny Graham scored the equaliser and Garry Monk got the winner past the 90 minutes. You need that luck in the right moments to win a game, and we were working for that luck as well in that particular game."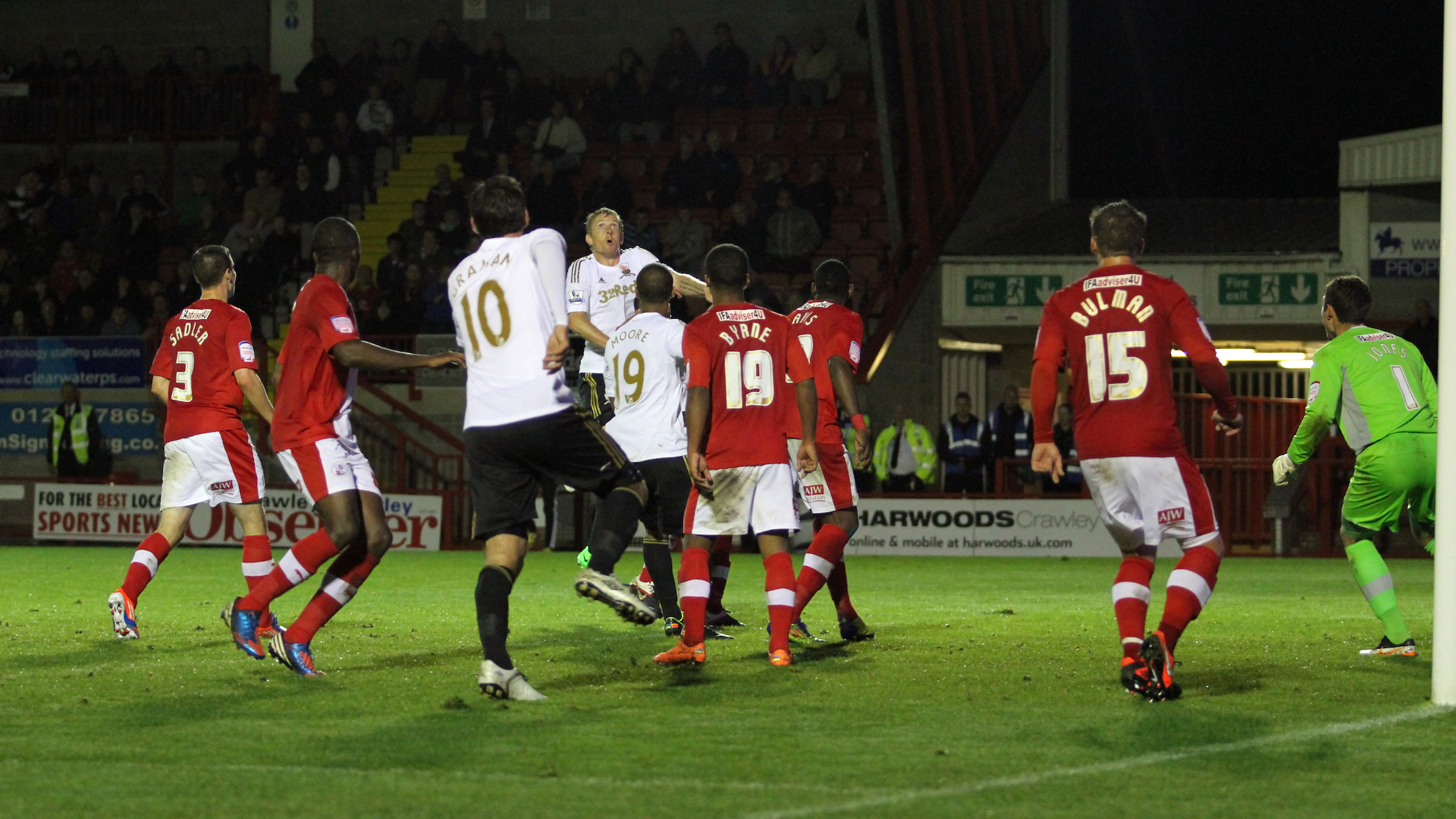 Graham had been among the substitutes that night, and he remembers his manager's message to him when he was summoned from the bench.
"Go and salvage the game," says the striker.
"We wanted the cup to be a priority whether that be the FA Cup or League Cup so we still had quite a strong team out.
"Michu played, he scored the first goal and we had a lot of experience on the pitch at the time, but these sort of cup games can cause those sorts of results.
Coming on, the gaffer said 'go and make a difference, get a goal and get us back in the game'. Luckily, that turned out to be the case.
"To be fair, it was a great ball across. It was harder to miss than score, but I was delighted to get that one.
"Then Garry Monk scored late on to scrape us though the tie."
Next up was a Halloween night tie against Liverpool and former boss Rodgers. The Reds were the trophy holders, having beaten Cardiff on penalties in the 2012 final, but were undergoing a period of transition under their new boss that would see them become genuine top-flight title contenders the following season.
That was all in the future, though, and it would be Rodgers who would endure a nightmare evening.