Hull goal makes it a double celebration for Ryan Manning
18th September 2022
First team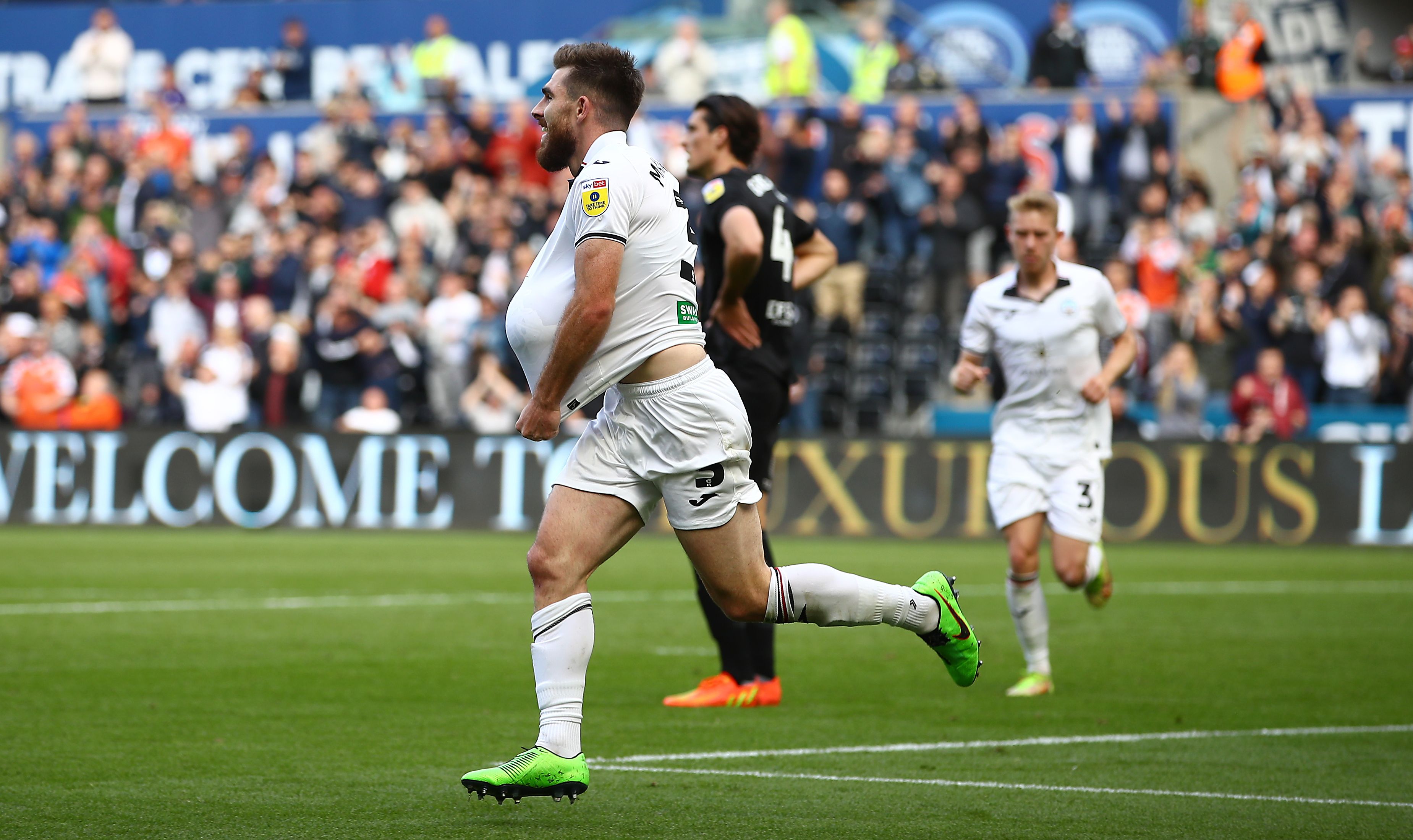 Ryan Manning made it a memorable week on and off the field as the Swansea City defender netted the opener in the 3-0 win over Hull, just days after he and his partner announced they are expecting a baby.
The Irishman opened the scoring just after the hour mark, arriving at the back post to fire a left-footed volley beyond visiting keeper Nathan Baxter from Matty Sorinola's cross.
Three minutes later Luke Cundle pounced on a defensive mistake and, in the closing stages, Joel Piroe rounded off the scoring when he capitalised on another Hull mistake.
For Manning, it was an important goal as it helped the Swans bounce back from the frustration of defeat to Sheffield United, but it also gave him an opportunity to celebrate the news that he and his partner Charli are expecting a baby, with the former QPR man tucking the ball under his shirt after finding the net. 
"Everyone was saying to me – the players who've had kids - that it could be a really long time before you get a chance to do the celebration," he said with a laugh.
"I think Grimesy squeezed his celebration in at the play-off semi-final.
"I'm pleased to get that out of the way to be honest! I didn't want to have the pressure of having to get the goal in time.
"Charli is due at the end of March, so I had a while to get it, but I'm happy to get it out of the way."
The Swans got their just rewards for a dominant performance, and could easily have won by an even more convincing margin given they struck the woodwork three times while the game was still goalless.
But the hosts showed the resolve and belief to keep pushing and make the crucial breakthrough, and Manning felt a convincing victory was always going to come if Swansea continued to perform as they had in recent games against QPR, Stoke and Sheffield United.
"The last few weeks have been tough in terms of the finishes we've had to the games, but I think the performances have been there so I think a result like that was coming," added Manning.
"I think it was just a matter of time before everything went for us. Sometimes football is like that, where no matter how hard you try some things don't go your way. Against Hull, they did and we were able to finish this first block of games well.
"I think with the Sheffield United game, we had bags of chances and we didn't score. Then in the first half here, we hit the bar twice and it could easily make you wonder if it is going to be your day.
"But we kept going and tor that first goal to go in, it's probably taken a bit of pressure of us as a group. Then we get a bit of luck with the second.
"The Championship this season is different to how it's been in the past. It's usually more spread out than it is. It's such a competitive league this year, and the performances have been there but it's been the cutting edge in both boxes.
"It's good to be able to go into the international break with that win, and now we can knuckle down and get some important work done and put ourselves up where we feel we should be in the table."