Important information for supporters ahead of Southampton friendly
29th July 2021
Club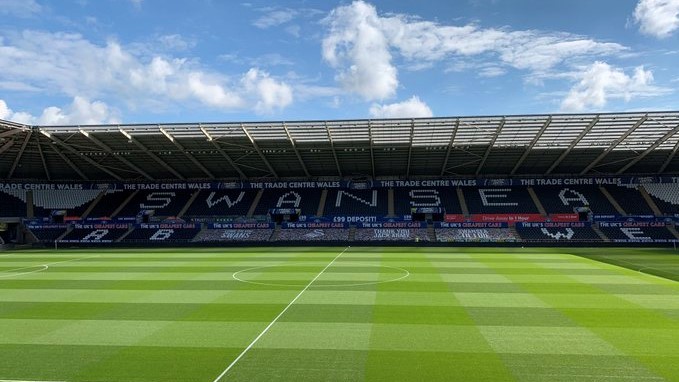 Swansea City is delighted to welcome the Jack Army to the Liberty Stadium for Saturday's pre-season fixture against Southampton (3pm).
It will be just the second time that supporters have been back inside the Liberty since March 2020 due to the coronavirus pandemic.
There is plenty to look forward to ahead of Saturday's game, and we urge fans to read the below information about what to expect.
There is also a walkthrough video within this page, you can view it by clicking the play icon.
Covid-19
If you hold a ticket for the game and have developed symptoms between the point of purchase and attendance, you are required to contact the Ticket Office via ticketing@swanseacity.com and a full refund can be issued for you.
You should not attend the stadium if you display any Covid-19 symptoms (found HERE) and should seek guidance from NHS Direct by calling 111. If you attend the fixture with symptoms then you are potentially jeopardising the health of fellow supporters and stadium staff.
Tickets
All fans who have purchased a ticket for the fixture have now been sent their tickets to their registered email address, from 'donotreply@ticketmaster.co.uk'.
Fans are reminded that they must print their tickets at home. This includes hospitality guests, who registered their interest to receive a ticket.
Please note: The North Stand is to be closed for this fixture. Supporters who initially purchased tickets in the North Stand have now been relocated to an alternate stand. Should supporters have any further queries relating to the relocation, please contact the Ticket Office by emailing ticketing@swanseacity.com.
We urge fans who have not received their ticket to check with the lead ticket purchaser and to check their spam/junk folders before contacting us.
If you have an issue with your ticket, please email ticketing@swanseacity.com in the first instance, or call the ticket office on 01792 616400 and select option 1.
There are still tickets available to purchase online HERE. The ticket office will also be open between the hours of 10.30am and 5pm for fans to purchase tickets on the day or provide any support to fans. We ask supporters to please respect social distancing rules whilst queuing and in the ticket office, with fans also required to wear a face covering when indoors (unless exempt).
Fans are required to wear a face covering on entry into the stadium and when moving around – including making their way to and from their seats or using the toilets. Masks may then be removed when fans are seated.
This rule does not apply to under-11s, who are not required to wear a face covering.
Please note that the above does not apply to under-11s or anyone who is exempt from wearing a face covering. The club recognises the sunflower lanyard as a visual exemption.
Turnstiles
Our new full height turnstiles are now operational at the stadium. We call on our Jack Army to use this event to test the new turnstiles, and we appreciate your patience in this regard. Please note that staff will be available to provide assistance for anyone who needs, or wishes to use the larger circumference pass gate.
In the Stadium
There will be no food and beverage available in concourses at this fixture, due to guidelines for this event. Fans are welcome to bring a soft drink with them to the stadium. Strictly no alcohol will be permitted.
Fans will be asked to follow a one way system when moving through the concourse. Please follow instructions from stewards. This does not apply when the game concludes, where fans can use both stairwells to exit the stadium. 
Hospitality
Hospitality guests will be contacted separately with the relevant details.
Car parking
There will be parking available at the Landore Park and Walk (adjacent to the Council Park and Ride facility), at a cost of £5 per car.
Accessibility
If you or anyone in your party has a disability and wishes to speak to someone at the club, regarding accessibility or the social distancing measures in place for the event, please contact our disability access officer on accessibility@swanseacity.com.
Programmes
We will be informing fans tomorrow (Friday) about the matchday programme for Saturday's pre-season friendly as well as further information regarding the programme for the 2021-22 season.
Club shop
The Liberty Stadium club shop will have extended opening hours this Saturday, opening at 9.30am and closing at 6pm. Again, we ask fans to respect the social distancing guidelines whilst queuing and entering the shop and face coverings are worn (unless exempt).
Start of the 2021-22 league season
The club are currently working with the local Safety Advisory Group (SAG) to understand what the start of the 2021-22 season looks like in terms of crowd capacity.
As soon as we have more information, we will endeavour to inform supporters via the official club channels.