International Women's Day | Sara Gray
8th March 2023
Academy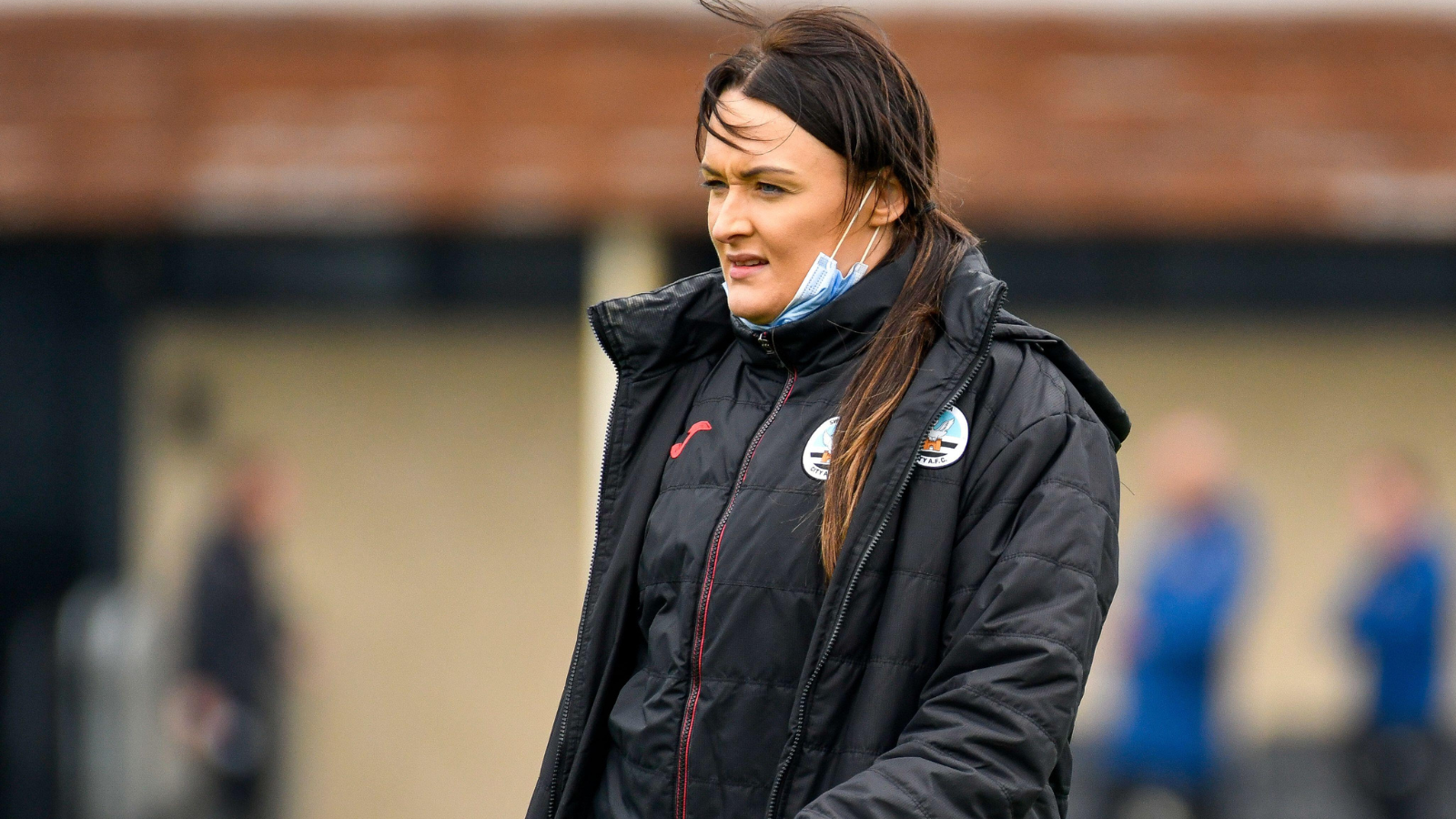 Sometimes, it just takes a moment of clarity for everything to change.
For Sara Gray, it came when she was taking part in a cross-fit session with some friends who worked as sports physiotherapists.
She realised that her role working in an office was not proving fulfilling. It was time to try something different, and she knew exactly what. 
After 10 years working in insurance and finance, Gray signed on at the University of Wales Trinity Saint David, not far from home, to study sports therapy for three years. 
Before she embarked on her studies, she tested the water volunteering for the NHS at Morriston Hospital as a physiotherapist's assistant, but quickly realised that her desire was to work with athletes and aid them in enhancing performance.
Joining university with no prior experience in sports therapy, Gray went straight in at the deep end, but admits she's no stranger to the unknown. 
"I worked in insurance for nearly 10 years before I actually went into sports' therapy. I worked in Admiral where I ran the compliance side for the van department," says Gray. 
"I just thought one day, 'I don't want to do this for the rest of my life'. I was cross-fitting at the time, and some of the guys there were physios.  
"I got interested in what they did. I started volunteering in Morriston Hospital as a physiotherapy assistant, just to try and get some experience before applying for university. 
"I realised physiotherapy in the NHS wasn't for me. I was very interested in getting people moving again and I wanted to specialise in the performance side of it.  
"So, I looked into doing sport therapy, and I applied and got onto the course in Carmarthen, which was great because then I didn't have to move.  
"I was in completely at the deep end, which was actually a good thing. In the first week of my first year, we had to do our pitchside first aid."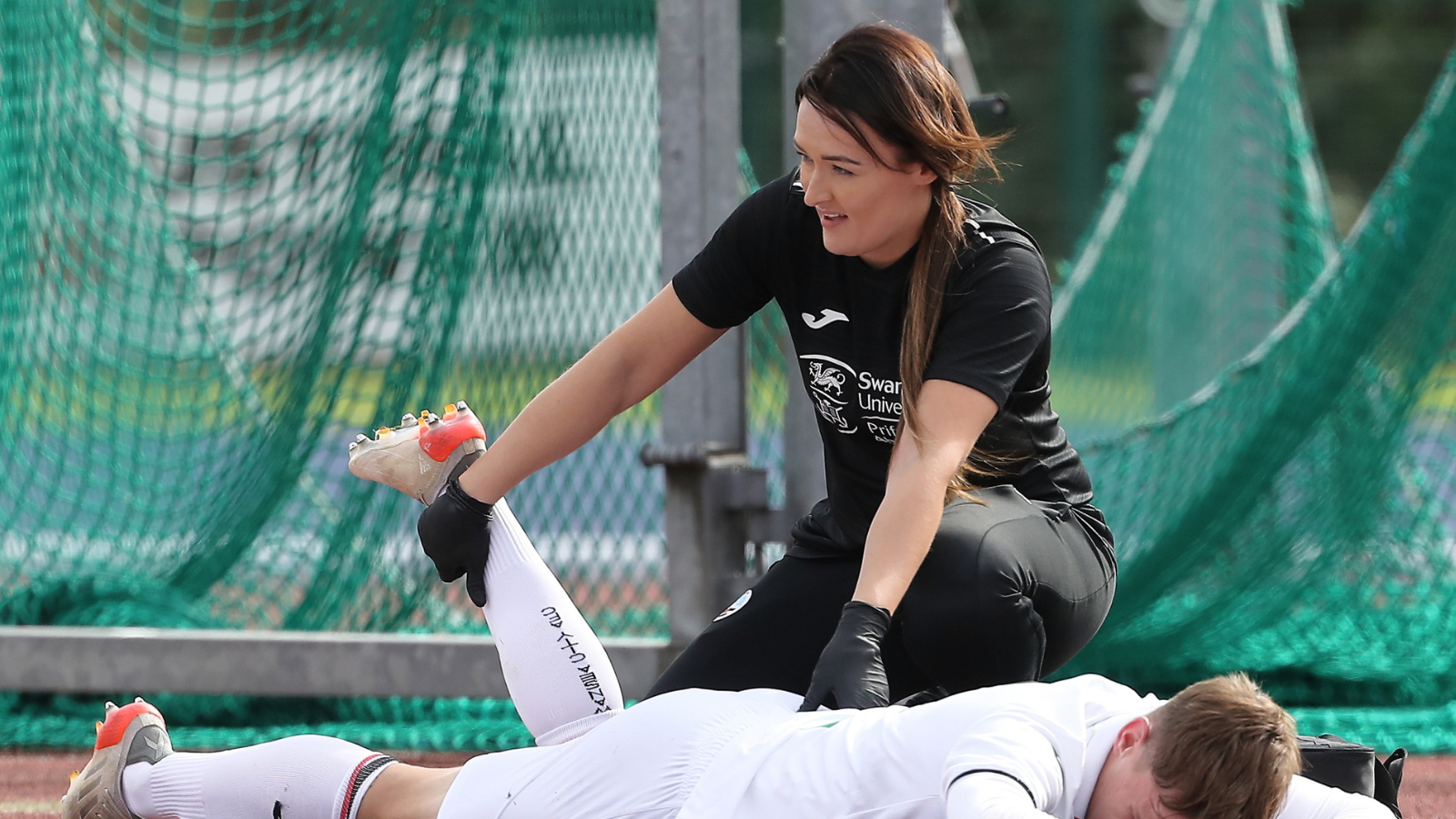 Before joining Swansea City, Gray spent the early stages of her career in the Welsh football pyramid, at clubs like Britton Ferry Llansawel, and Llanelli Town AFC, as well as on placement with the Wales' futsal team alongside her full-time studies. 
Students were encouraged to branch out and find a sports team to gain experience with in the first week of university, and this gave Sara the incentive she needed, and would eventually lead to bigger and better things.
"My lecturer basically said after the first week to go and get a football team or a sports team and start gaining experience. So, I shadowed a local rugby team and Briton Ferry Llansawel, who were in what was the Welsh League Division One at the time," she recalls.
"About a week or two later, I got offered a job at Llanelli Town, who were in the same division. I worked with them for a season under an osteopath, so I had a little bit of guidance, and it meant I could learn off a mentor. 
"As I was going into my second year of university, Briton Ferry's therapist left, and he had offered me his job in his place. I took the job, and I was there for two seasons."
The pathway in Welsh football provided Gray with some great opportunities early on in her career, which led to the fortuitous introduction to Ritson Lloyd, who was Swansea City's first-team physiotherapist at that time.
And it was Lloyd who opened the door to Swansea City for Gray.
"Later that year, I was fortunate enough to put into contact with Ritson Lloyd, who was the first-team physiotherapist at the time, and he was looking after the Swansea University BUCS fixtures in Fairwood. He needed someone to cover those for him on a Wednesday afternoon," she says.  
"I also took that up and I worked with Ritson that season and got to know him, and then he was able to get me a placement at Swansea City coming into my third year.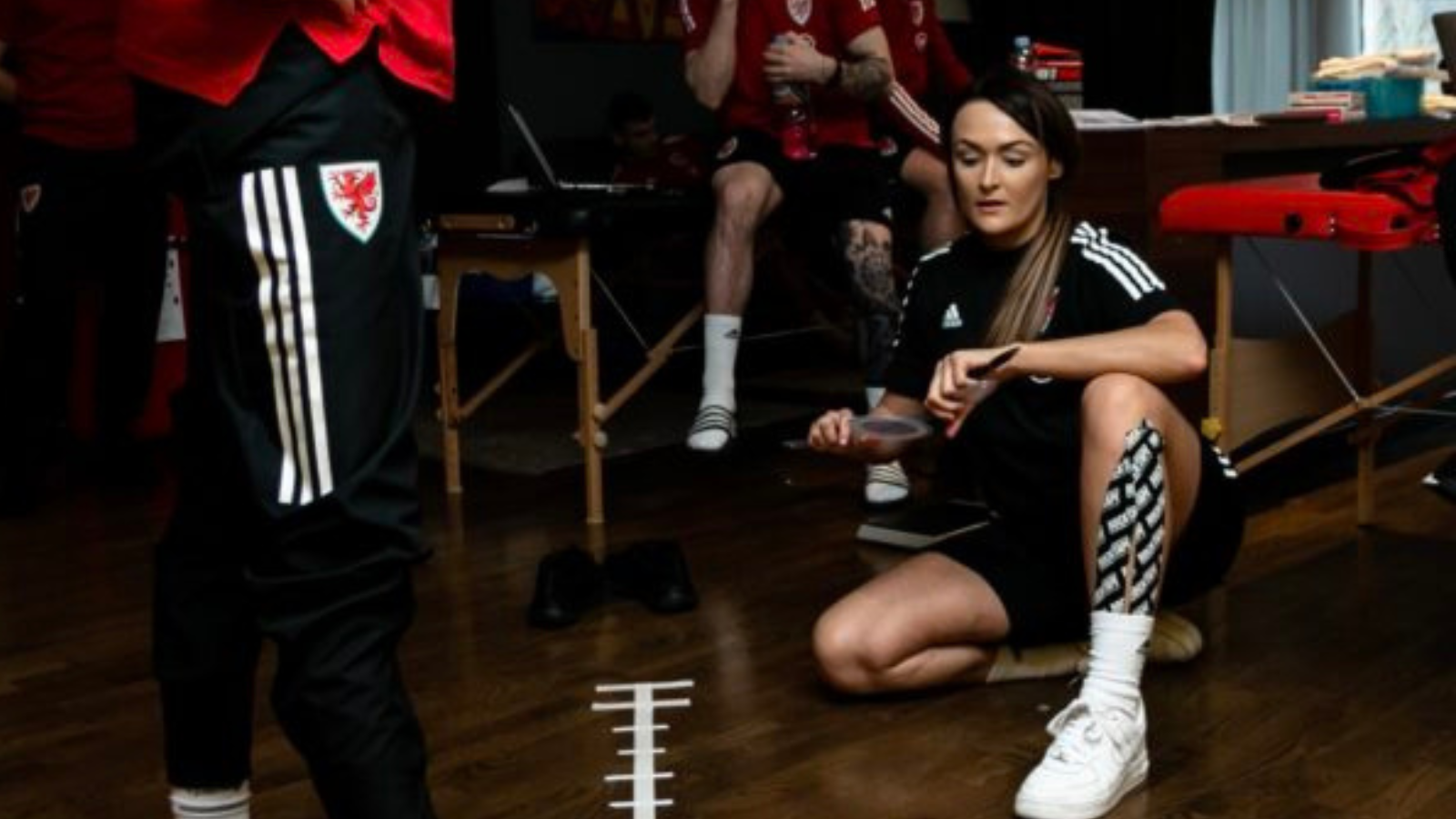 "I started with the under-23s, and that was for about six months before Covid hit in March 2020, so that came to an abrupt stop. 
"I worked closely with Ollie Morris, who was the under-23s' physiotherapist at that point and then Bethany [Chaddock] took over just after he had left."
However, the pandemic brought a premature end to her work, and with the world at a stand still it meant Sara's time at Swansea City had concluded, or so she thought.
"Around September 2020, Beth called me up and said there was a vacancy and I've been here ever since," she says with a smile.
Starting off with the under-nines to under-16s, Gray has now worked her way up into a senior role at the academy, overlooking both foundation and professional phases as senior academy sports therapist, and no day is the same in the world of sport therapy.
Her role is broad and varied, from pitch side management to Injury assessment and diagnosis, to designing rehab frameworks, working with strength and conditioning, and to attending surgery consultations and reviews.
"I've sort of worked my way through since then. I came in part-time originally for about two to three months, and then that became full-time.," says Gray.
"And then the under-18s' vacancy became available that summer, I got that interview and I was there until my senior role now.  
"Stepping up was interesting, it's a big variety, as previously working with the under-18s, you work with just the one age group and you follow their schedule week in, week out.  
"Now, because I'm scattered around a lot of age groups, I get that exposure to the professional phase, where I get to work with the older players, and you get to learn so much.  
"It's nice that you get to work across different age-groups, I look after the under-16s on a match day, and I attend the evening clinics working with the under-nines to under-14s.
"Every day is different; I've only been in this role for just over a month now and I'm starting to get used to a different routine."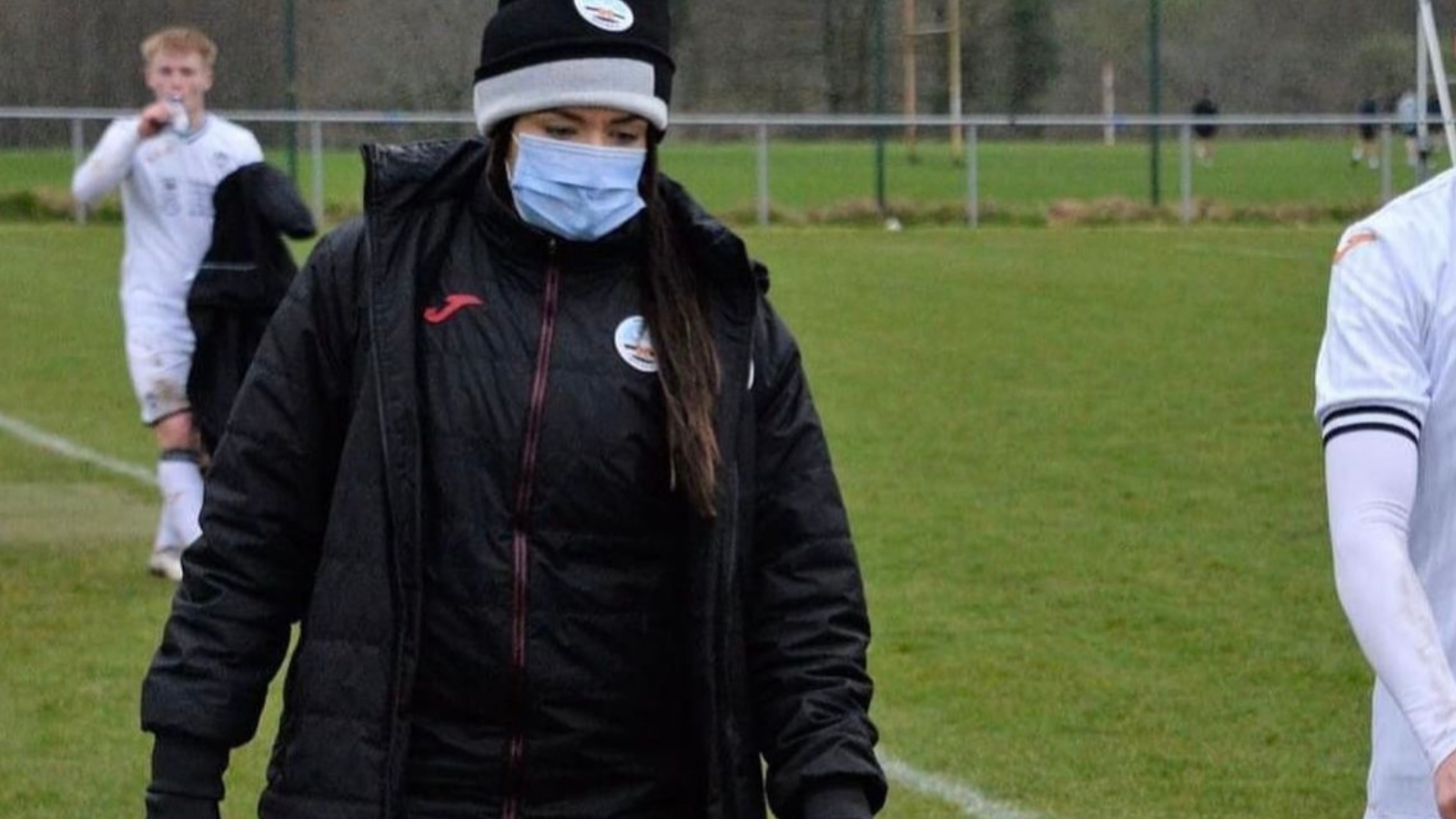 Coming from a family of football fans and players, Gray knew that working in football was what she had always desired.
But it wasn't all smooth sailing, juggling different jobs just to gain vital experience every step of the way.
"I've never really given myself time to relax!" she laughs.
"It was always football for me. My dad played football, but I've been in and around football my whole life, so I knew very quickly that I wanted to work in sport and in football.  
"I've dipped into other sports, like lacrosse and rugby. But I prefer watching football as a sport, so I knew that was the one for me.  
"It is tough, but I'm definitely one of these people who likes to make life harder for themselves, I've done this all the way through my career.  
"When I was doing my full-time undergraduate degree, I was still working in Admiral for the first two years of university, whilst working pitchside for two football teams.  
"And, by the second year, I had taken on working in a private clinic as well. So, at one point, I was literally working about five jobs! It's not alien to me to be working all hours under the sun. 
"As long as I know I'm getting something from it, and that the work is going to be worth it, I don't mind throwing myself in."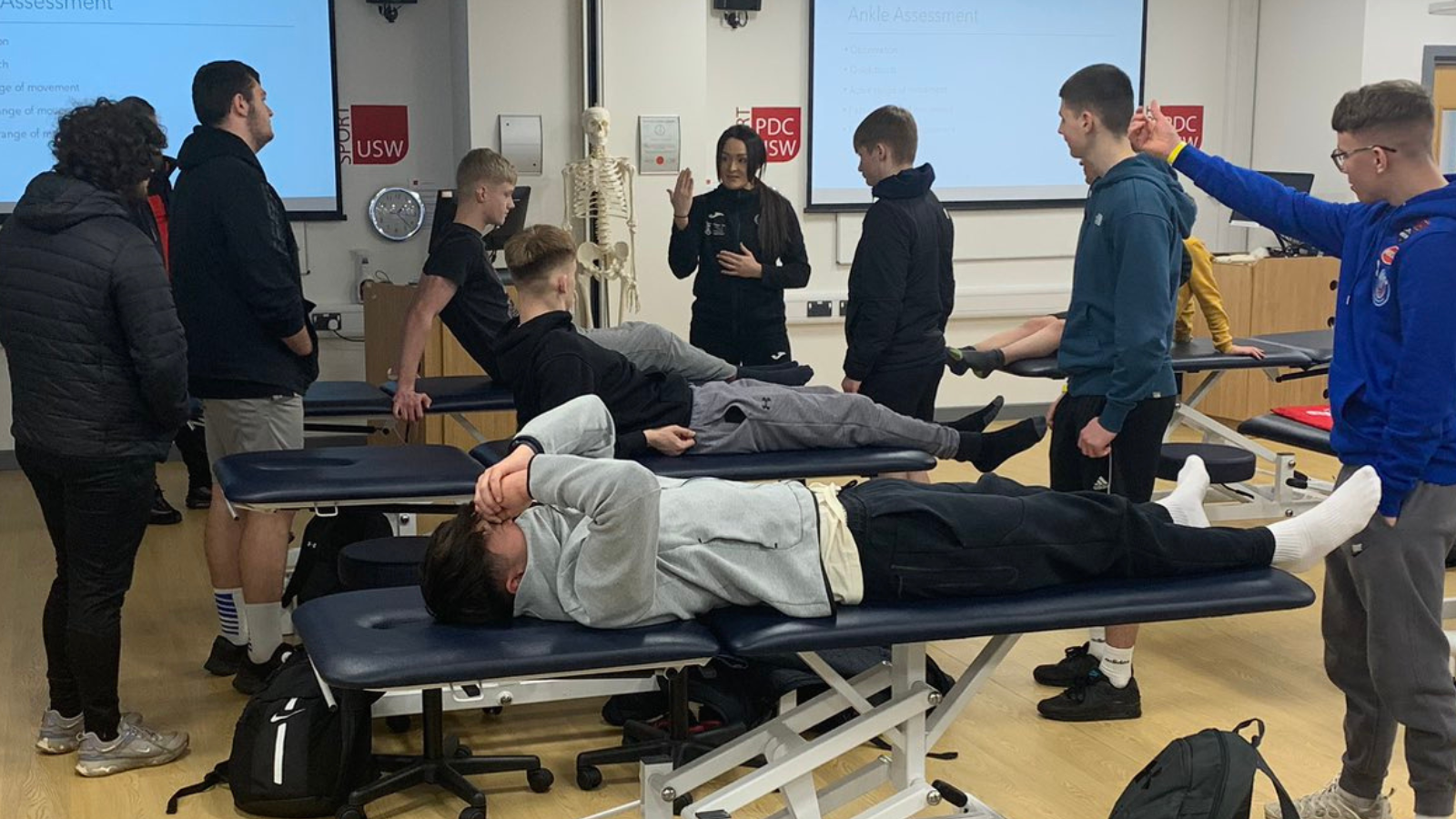 Speaking of not making life easy, Gray recently returned to university part-time at the University of South Wales alongside splitting her full-time role between Landore and Fairwood.
Although sport therapy is what she's most passionate about, Gray decided to take on a whole new venture to expand her already wide-range of expertise. 
"I'm doing my masters in sport and exercise science, which is actually a little bit different to sport therapy which is my background previously. But in this industry, the performance and the medical side overlap, especially with the direction the academy is going in, we are leaning into that interdisciplinary approach," she says.  
"Instead of everyone staying in their own lanes, we're actually encouraged to work alongside other members of the team in different disciplines and learn from one another. 
"My main area of interest in my masters is looking at goalkeeper metrics, and trying to find a way where we can monitor what goalkeepers are doing the same as we track outfielders. 
"We have technology at the moment, but it doesn't quite give us everything that we want it to give. So currently, I am doing a validity study on the topic to see how valid what we're looking at is currently. 
"And ultimately, this can feed into rehab from the medical side, looking at baselines and injuries and where we can get them back to. As well as the performance side of it where we can benchmark players off one another. 
"At some point in my life, I'm probably going to do a PhD which I keep saying I won't, but I am one of those people who likes to make life harder for themselves."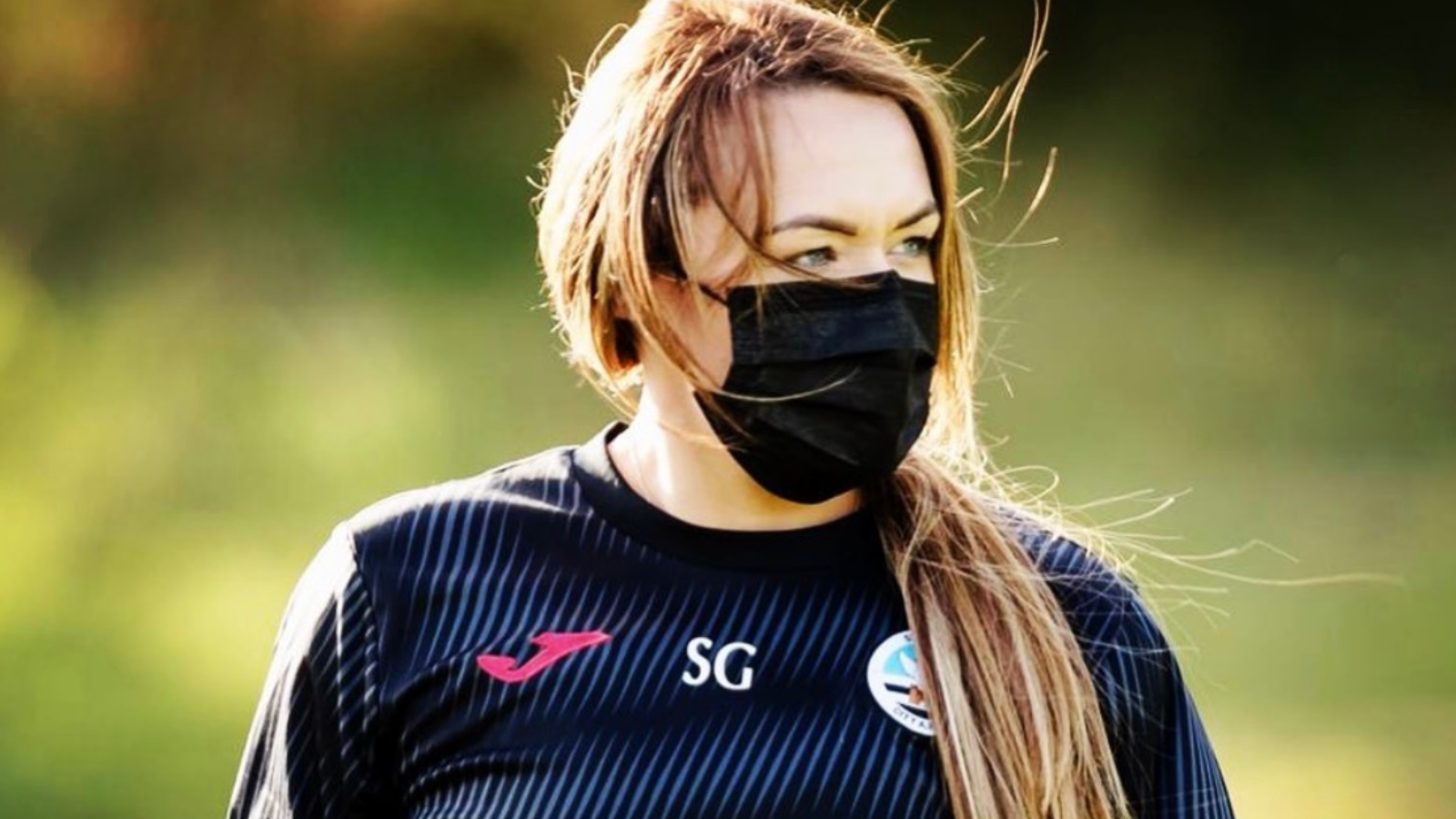 "For me I wanted to move into the sport science realm because of how relevant it is in this field. If you're rehabbing someone, in the later stages you will need an understanding of the performance side. 
"For example, interpreting data, how to test it and how to tweak things in your programme to get the best out of that player.  
"That last couple of per cent makes a difference to them being out on the grass and being back to the level previously, so that's why I wanted to go down that route of a masters, not to change profession but to add to what I already know. 
"I want to be able to utilise every part that we have, if you understand more about that area, it then enables me to go to the performance coaches, who are brilliant, and be able to pick their brains. You don't know what you don't know."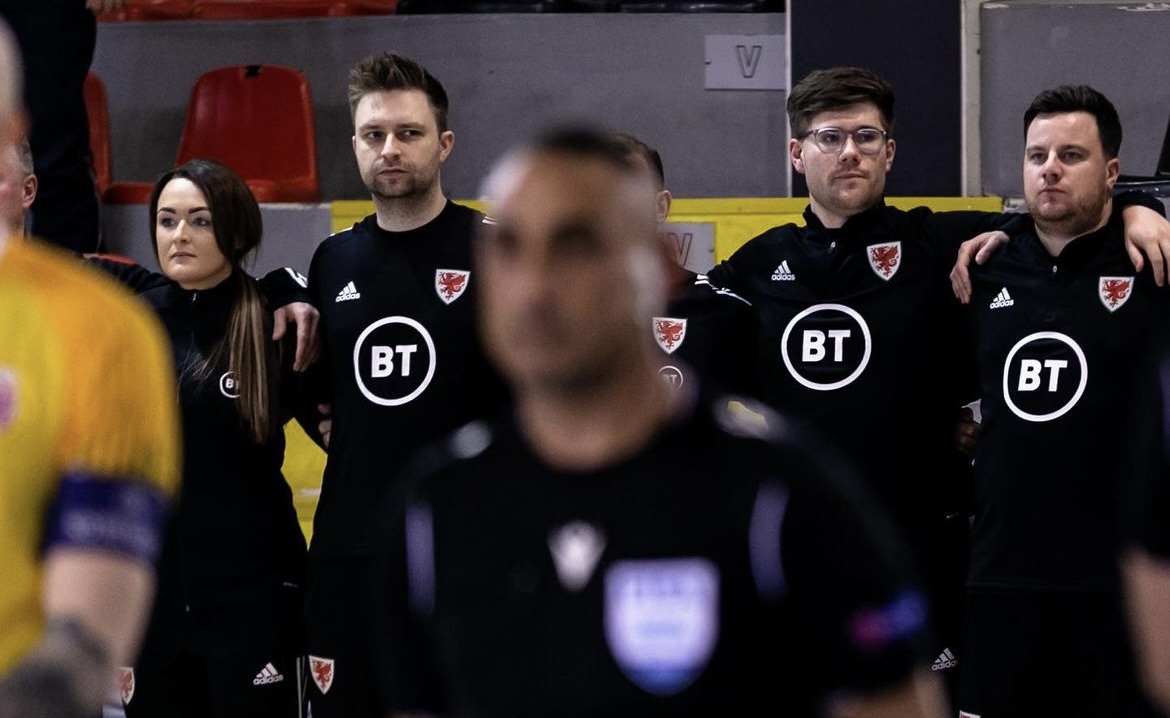 There is no doubt there is is a tremendous source of satisfaction and pride to see a player perform at their best levels in competition or training following a long-term injury.
And Gray believes this rewarding feeling is why she loves what she does.
"This is an incredibly rewarding job; I think that's one of the reasons I enjoy working with the older players," she continues.
"When you're working with the younger players across many different age groups there can be someone who's injured on a Monday and then be back by the Friday, depending on the severity of the injury. 
"With the older lads, you typically get bigger injuries due to the intensity of the game and the level that they play at. 
"When you work with someone one-on-one for a long period of time and you see them being injured, you see them go through the highs and lows, it's not a straightforward journey. 
"Very rarely you'll get someone who just flies through rehab with no hiccups. When they do get back out on the grass, you do a get a burst of pride. 
"I've worked with lads before who have had long-term injuries, and one time when he returned, we both said to each other 'we did it!'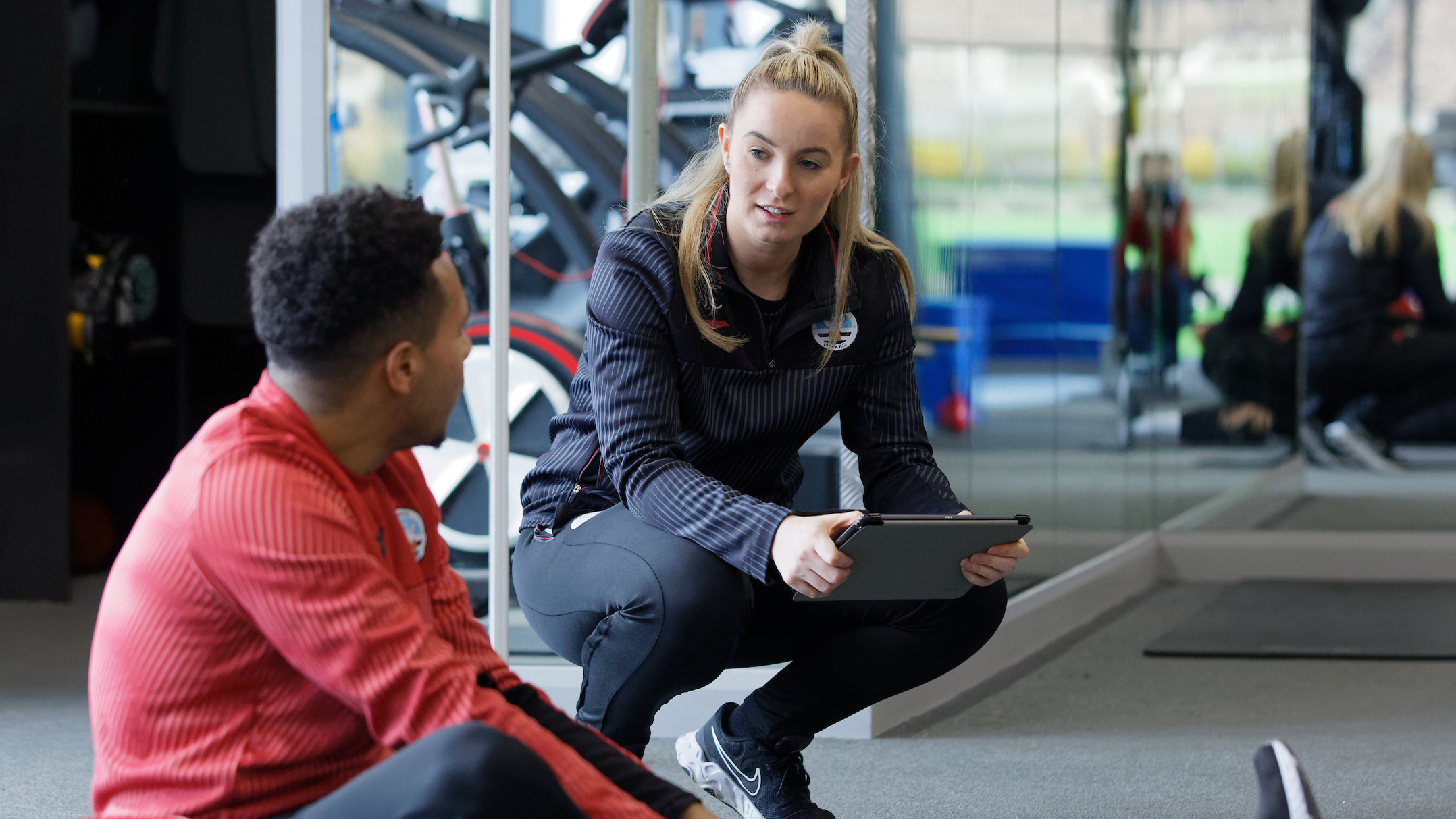 Sometimes, seeing a female physiotherapist has been a rare sight in the elite of sports therapy and performance. But that has changed considerably in the past few years.
However, this is something that has never crossed Sara's mind in this industry as she has been surrounded by strong role models her whole career.
"It doesn't faze me at all, it's just my personality. I've been in and around football my whole life, something like that has never really crossed my mind," Gray added.
"When you come into this industry, you just take it as it comes. I'm quite an outspoken person and if you come in and roll with the punches, people won't treat you differently. 
"The lads see you as either a sister figure or even one of them. Although it is a very male dominated industry, at this particularly, everyone is an equal.  
"I've never felt like that only female in the room type feeling, and that's a testament to the club and everyone within it. 
"I've never worked at a big football club before, but we do recruit women if they're right for the position."
Former head of academy medical and now first-team physiotherapist Bethany Chaddock, was one of Gray's mentors in the early days of her career and she couldn't thank Chaddock enough for paving the way back in 2020.
"I had Beth [Chaddock] as a mentor quite early on in my career and she's a very strong female. That was good for me to see that early and I learnt a lot from her," adds Gray.
"And working alongside Holly [Scannell], we're totally different personalities, but it works, having such a strong female presence in work is great.
"I'm incredibly lucky in my sense that I had Beth as a mentor when I came in, and when Holly came in, I wanted to make sure that I passed on what Beth taught me and how welcomed I felt. 
"For me it's always been football, and it's always been Swansea City. I had Cyril the Swan at my seventh birthday party, I'm a local girl so I didn't have to move. It is my dream to work at this club, and I'm so proud to work at this club."