The key points from Steve Cooper's unveiling
19th June 2019
First team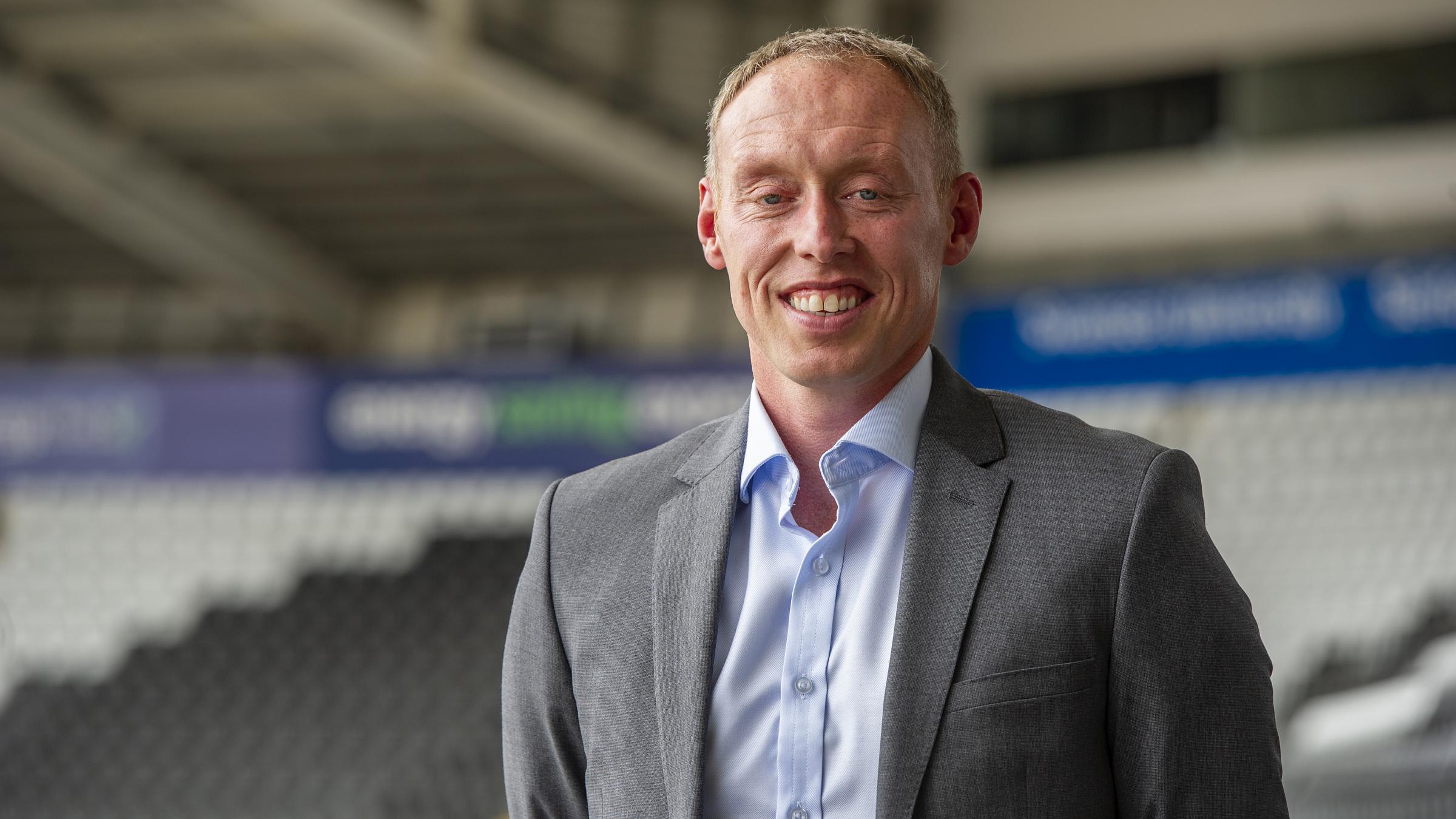 Steve Cooper was formally unveiled as Swansea City's new head coach at the Liberty Stadium on Tuesday afternoon.
The 39-year-old spoke at length about a number of topics as he field questions from the gathered media.
Here, we round up some of the key talking points from the former Wrexham, Liverpool and Football Association coach.
The decision to move to Swansea City
"It's been a lifelong ambition to be a football manager, but I wasn't going to put myself in that situation until I felt I was ready. Now I feel that time has come.
"I wanted to get the last European Championship out of the way with the Under-17s in May. After that came and went the feelings got stronger and the opportunity came up at Swansea, which I pursued, and here I am now.
"I didn't pursue my ambition previously as I didn't want to put myself in this situation until I was absolutely ready.
"I had to be honest with myself before anything else, because it is right to say I have left a fantastic job, one of the best at development level in Europe.
"But your ambition is your ambition, and your motivation is your motivation. This is what I want to do, now is the time and I am ready to crack on and give it my best.
"The opportunity came up with Graham (Potter) moving to Brighton.
"When I knew it was a possibility it could speak to Leon (Britton), Alan (Curtis) and Trevor (Birch), I did a lot of research on the team. It was a good task because I liked what I saw. 
"The more I watched the more excited and motivated I got. When I went to the meetings I presented what I thought would be a vision for going forward and how I'd go about it and we progressed from there.
"The team is in a good place, and I am looking forward from here."
Transfers
"The process has already started truth be told.
"That process has been both ways, which has been quite rewarding really.
"Obviously I'll be approaching certain clubs about certain players, but there's already been some mentions of players who would like to work together again.
"It is easier said than done. It's not as simple as saying 'We'll have him' and the player is training with us the next day.
"There'll be a lot of hurdles before that is done because it has to be right for the football club.
"But there's no doubt myself and Mike Marsh, plus the other contacts like Leon, will be building on the contacts in the club and hopefully that should give us a good start on what we want to bring in.
"Hopefully there will be some additions, we need to be creative, there is no doubt about that.
"We need to look at the loan market, find some deals that are right for the football club. If we do that there is no reason we cannot build."
Short and long-term targets
"Hopefully we can improve on the league position last year. You have to remember there were a lot of young players in the team last year, but they have 12 months of experience at this level.
"They have had time to reflect and build on that. They're a bit more streetwise, they have been there before and we have to build on that with this young hungry team.
"I'm not going to say anything stupid that could come back to haunt us. I'm a big believer in controlling what you can control.
"It's step by step, the more games you win the more chance you have of promotion. I don't see why we can't hit the ground running, but I'm a massive believer in focusing on what I can control.
"Hopefully (in the longer term) we can be back in the Premier League. It's a Premier League set-up, there's no doubt about that.  
"The training ground, I've heard some really good things about it (Fairwood), but going there and seeing it, the idea and the investment that's gone into the facility, it's exciting.
"There's nothing to stop us from growing the players, working on how we want to play, building the right culture.
"I've been in the stadium for first-team games and it can generate a fantastic atmosphere. We really want to do that."
Advice from Gareth Southgate
"I've spoken to Gareth a lot, amongst other experienced senior managers – conversations, advice etc.
"Gareth has been a colleague for the last four or five years and someone I've worked very closely with.
"Although he's slightly disappointed I'm leaving the FA but I go with his blessing, that's for sure.
"He said some kind words and gave me some good advice about what it might look like in this environment.
"I'll stay in close contact with Gareth and all my other former colleagues at the FA – there are some good people working there."
The Swansea recruitment process
"The recruitment process was very thorough and intense. But it gave me a lot of reassurance that the club is doing things properly.
"For someone like me to get the job, I needed to be heard and for someone to see what I could bring to the table, and to do that you need to give people time and you need them to be engaged.
"That was important for me. It gives you every chance for when you start."
Swansea's current position and style of play
"I think there's some real good foundations in place in terms of the performance levels, the profile of players currently at the club, which allows us to continue to build.
"I wouldn't say this process is in the infancy but I wouldn't say it's near the end either. It's step by step.
"There's no doubt that the way the team play, that style, is something we have to continue. I fundamentally believe in that. You have to fundamentally believe it if you want to play that way.
"Whatever the game scenario, winning or losing, first five minutes or last five minutes, you have to stick to the way you want to play.
"That is up and running, the style of play, and the player befit that model, so we just need to keep building.
"There will be some tactical changes, but for me it's about evolving rather than change. I can't wait to start.
"We've got some good plans in place and there's nothing to stop us from being ready to deliver when it counts."
The club's importance to the local community
"What's really important about clubs like Swansea – and I get this being a south Walian –  is it can have a massive impact on the community.
"I'll constantly be thinking about what the fans want to see. We've got a young team, we want to see them working hard, be brave on the ball.
"If we can do that and be successful, I think there's lots of good things that can come to the community.
"I'm really proud of that, that we can have that impact."