Kris O'Leary | The way the players fought for each other was fantastic
28th April 2022
Under-21s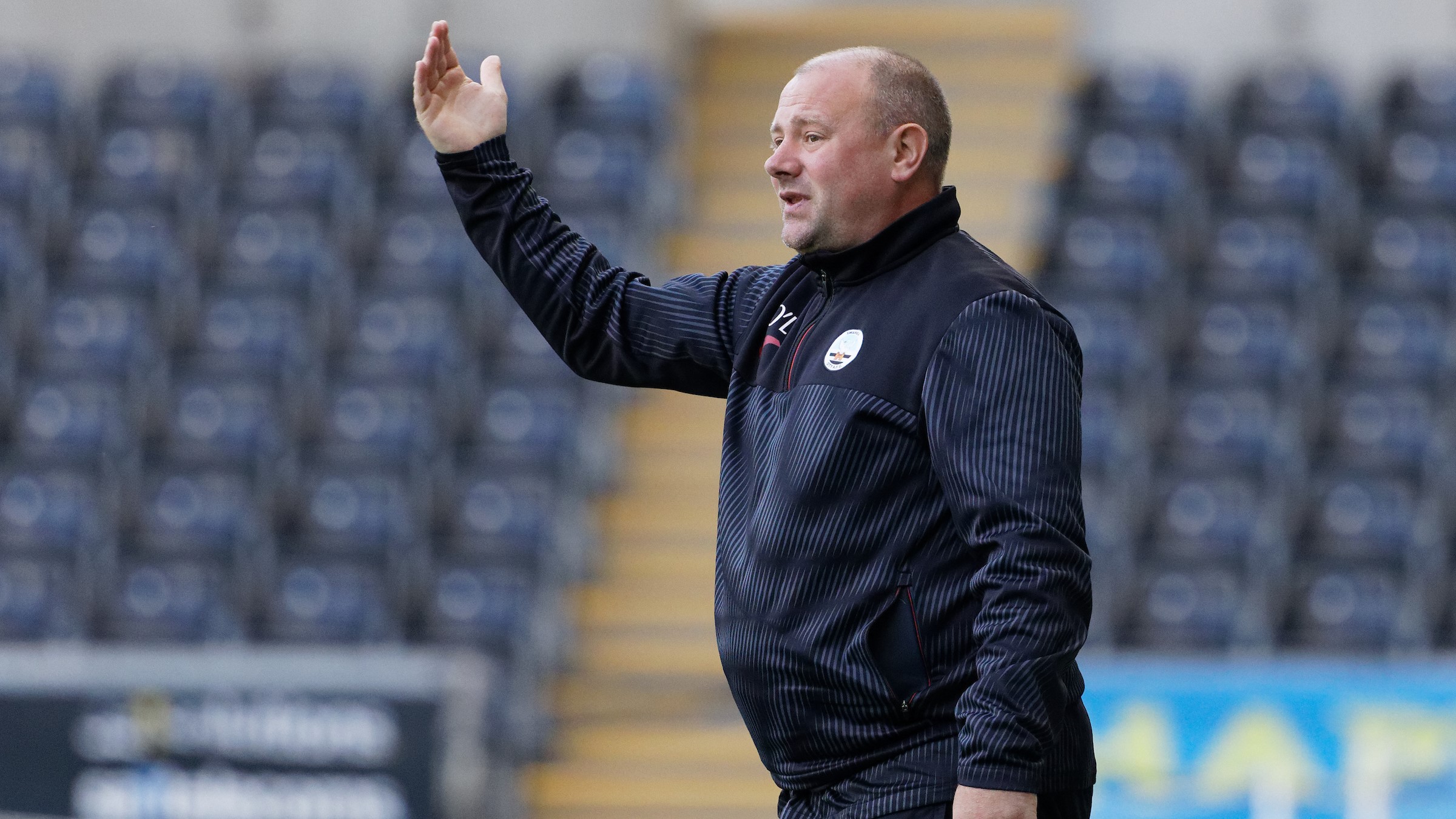 Swansea City Under-23s coach Kris O'Leary praised his players for the fight and tenacity they showed in their 2-2 draw against Wigan Athletic Under-23s in the Professional Development League.
The Swans took the lead early through a well-worked corner, Joe Thomas heading across the box to Cameron Evans, who converted his second corner in as many games.
Evans made it two in the second half from the penalty spot after Kyrell Wilson was pulled down in the box.
But a red card for Azeem Abdulai gave Wigan a numerical advantage, with Charlie Hughes converting from two set-pieces to make the most of it.
The Swans faced 35 minutes with 10 men, but managed to hold out for a point to end their Professional Development League season.
O'Leary acknowledged his players were feeling fatigued after a short turn around from their game against Colchester United Under-23s on Monday, but praised his team for how they battled.
"The boys looked tired, I think early in the first half they started quite aggressively and then we calmed the game down and kept possession and they didn't have any answers for us," said O'Leary.
"When we kept the ball we caused them lots and lots of problems, they changed their shape slightly and we still managed to play through their press which was pleasing.
"We get 2-0 up and then the sending off hampers us having played on Monday with a group of really young lads.
"I've got to say, the way they dug in and they fought for each other was fantastic and we could have nicked it right at the end.
"It's a different scenario and I think it's something that we have to get better at, with the numbers and the way we play we've still got a good chance of keeping the ball, we can still work overloads and when we did that we cut through them and could have nicked a couple of goals.
"With the red card, it is what it is, Azeem is disappointed and feels he's let his team-mates down and he's apologised and it's just one of those things.
"That's three in two games for Cameron Evans, he could have got one at the end and made it a hat-trick.
"He's been fantastic for us since he's come back from Ireland, I didn't know him very well, all reports were that he's a fantastic kid, he loves to play and he's really aggressive and those reports have proved true.
"I'm a little bit disappointed that we've conceded two goals from set-pieces which is never great, especially when you're down to 10 men and they haven't really had to work to create them.
"But scoring from corners is an important part of the game, it's something we've worked on and it takes concentration from the boys and it's something which they have to learn and believe in it, it's so important to believe in it because if you go in half-hearted it won't happen."
At the end of a challenging campaign, O'Leary also reflected on the latest young players to come through the academy ranks to make their senior bows.
"It's been a positive season," he said.
"Lincoln Mcfayden has played, Azeem Abdulai has been on the bench, Dan Williams has played, Cameron Congreve is consistently on the bench and has played, Joel Cotterill was on the bench this week, it's absolutely fantastic.
"It's our job to get these players to the first team, it's been that way for years at Swansea City and long may it continue."