Lee Trundle | That Bristol City game gave us such confidence playing at the Liberty
27th February 2021
First team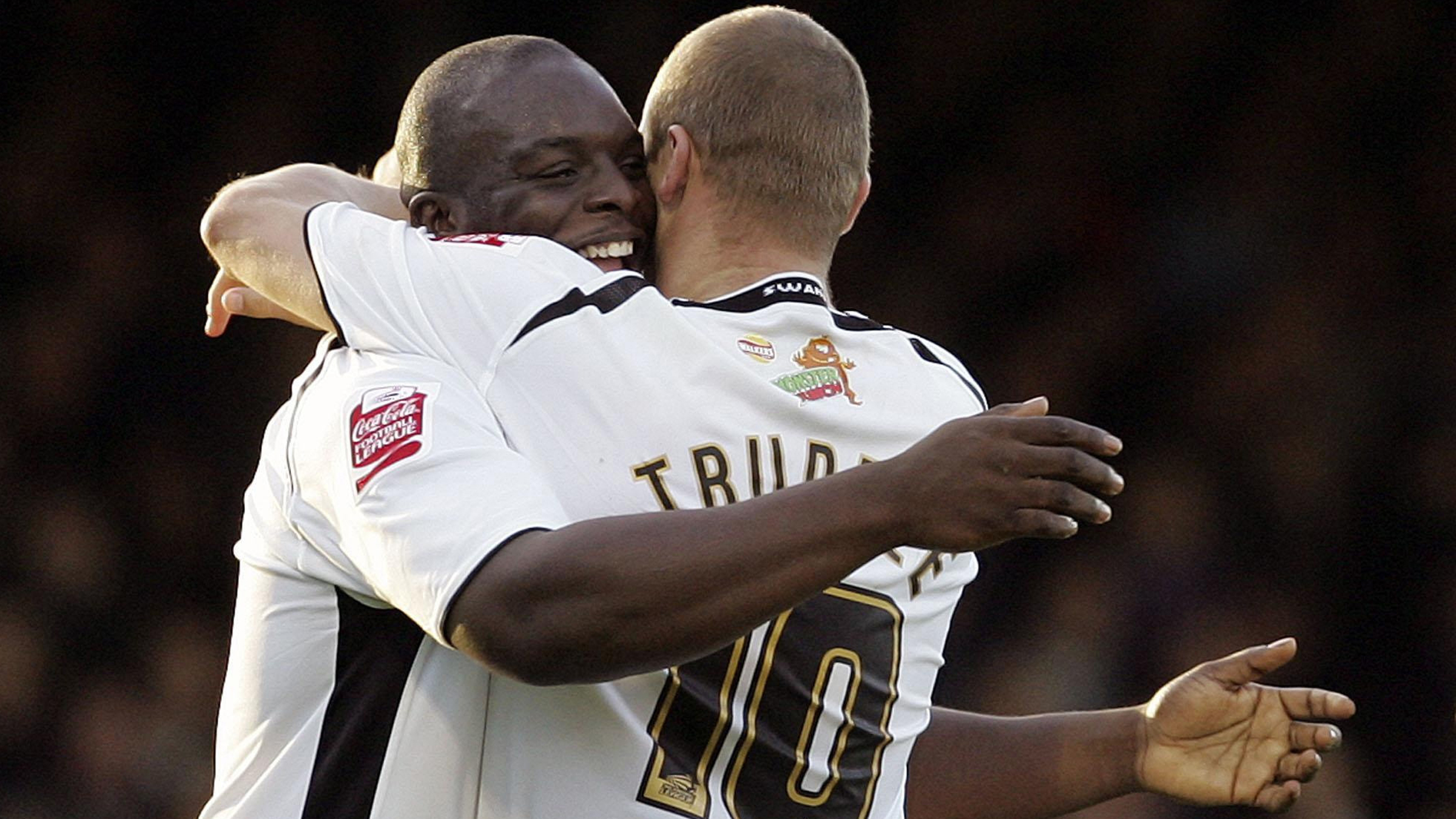 As Swansea City get set to face Bristol City at the Liberty, Lee Trundle reflects on the first time the Robins visited the stadium, as well as sharing other memories from his illustrious Swans career.
Given so much has happened in the 15 years and more since, it can be forgotten the role a game against today's visitors Bristol City played in the process of making the Liberty Stadium start to feel like home for Swansea City.
The Swans made the move to the then-new stadium in 2005, having left the Vetch Field – their home since 1912 – with a memorable promotion campaign.
The Vetch may not have had all the mod cons of the Liberty, but it had always proved an uncomfortable venue for travelling sides, and was beloved among supporters for it unique character and lay-out including such lovely quirks as the player's entrance lying between two terraced houses.
Making a stadium a fortress is hard enough, and it's an especially difficult job when it's a shiny new ground. The Liberty undoubtedly had a lot to live up to.
Alan Tate had once said of the Vetch: "I would not have liked to be an away team going there."
While another Swans legend, Lee Trundle, echoes those sentiments, "You would see opposition sides shrink at the sheer passion and hostility of it," he said.
Trundle had the pleasure of playing at both the Vetch and the Liberty, and he was involved in just the fourth league game at the new ground when Bristol City visited in September 2005.
It proved a remarkable afternoon, with a 7-1 triumph that remains Swansea's biggest league win at the Liberty, and the 13,662 in attendance revelled in a rip-roaring second-half display that began to properly make the new stadium feel like both home and fortress for those on and off the field.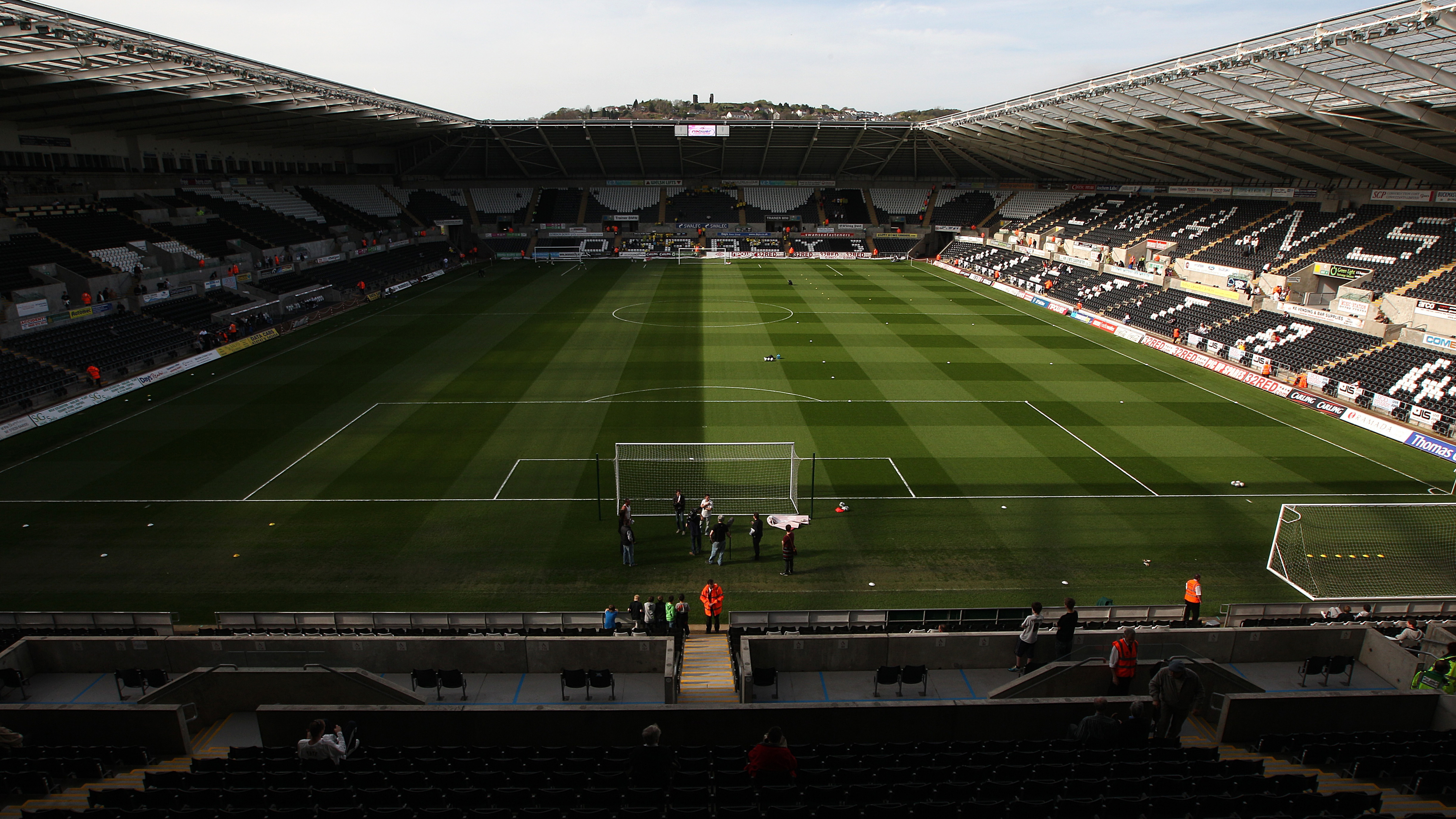 In a truly resounding victory, Trundle scored from the spot and netted a second with Kevin McLeod bagging a hat-trick. Leon Britton and Adebayo Akinfenwa were also on the scoresheet.
The club was certainly heading in the right direction in terms of making their new home just as formidable as the Vetch.
"It was a big game, there was a big crowd as well on the day," he says. 
"To go and play at the Liberty was big for the club and for a lot of the boys as well it was testing yourself at the next level up because a lot of lads had only played in that level below.
"It was good to go into the game like that and show that we can not only match teams, but blow teams away.
"I think once you score and get in the lead like that, it becomes easier. Everyone relaxes a bit more, and when you're relaxed, you play better football because you're not nervous about making a mistake.
"I remember the game, there was some great goals in there, Kevin McLeod got a hat-trick in the game and scored a great one from outside the box.
"For me there was the quick thinking of Roberto Martinez to put me in quick on a free-kick. It was one of those games where it just clicked for us.
"That's when you enjoy your football most. As I said before, you're relaxed, you're just enjoying it with a smile on your face, you know you've won the game. You can go out and enjoy every minute of it. You don't need to worry about the crowd, they're in good spirits.
"Even if someone makes a mistake the crowd is still clapping because they know the games won and they've been entertained on the day.
"You probably don't enjoy those games as much as when you come away winning one nil. That sounds strange but it seems that you've worked harder for it.
"When you go and batter a team like that it becomes easier. Although you do enjoy it, it's not as rewarding as a one nil win, but, if you're asked could we win with that score every week, I would have definitely picked that score!
"It was one of those games where it just clicked for us and it set the tone for another good season.
"It was a new ground but you look into the crowd and you see how much it means to people. Screaming and shouting in the stands, that didn't change.
"There's nothing better than going out and hearing the noise, hearing them sing your name and being involved in a game like that."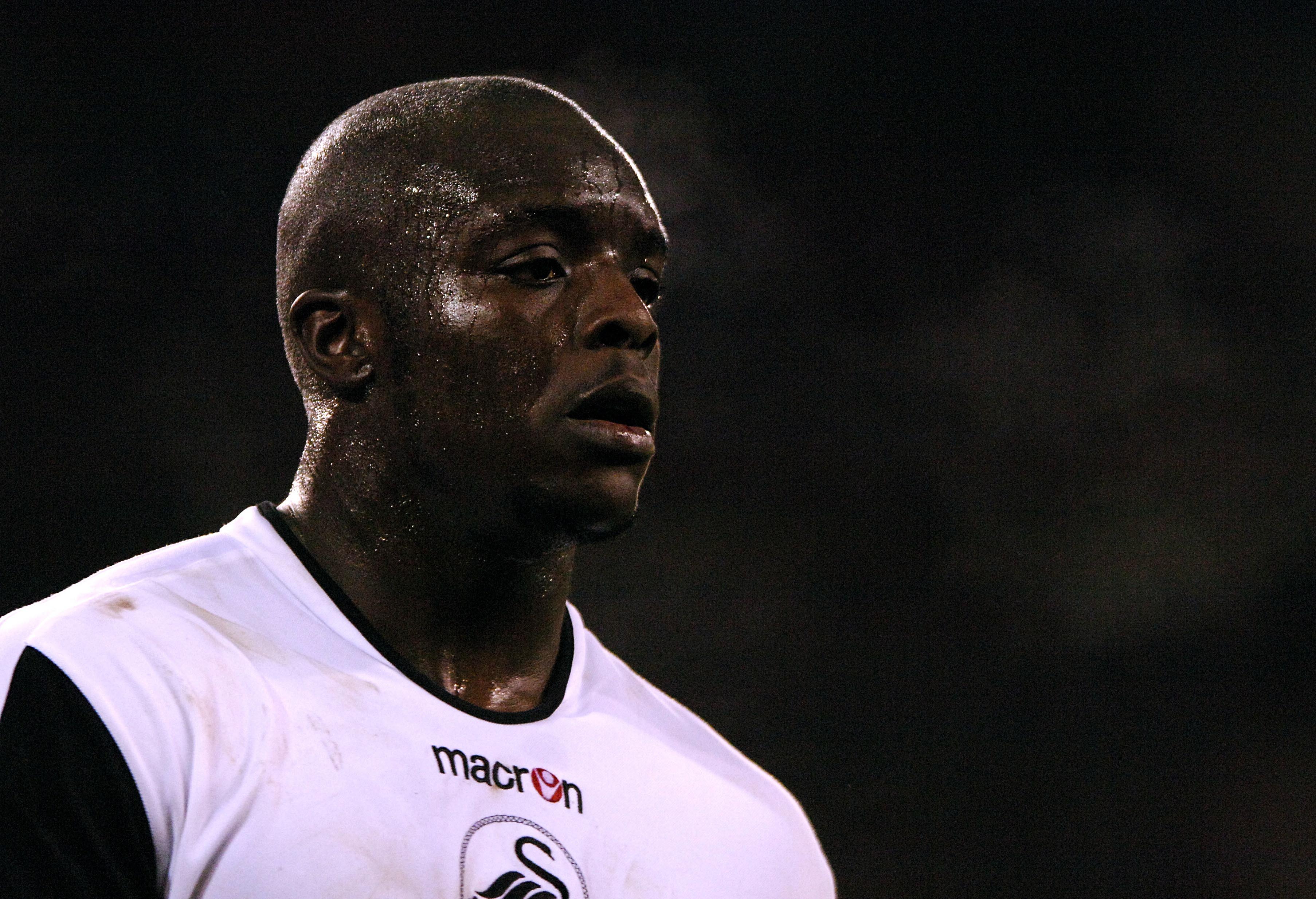 "At a new ground it's important you do get off to a good start, you sometimes see sides take a while to settle into new surroundings, but we were able to hit the ground running and that game was a big part of that."
There was certainly no shortage of attacking talent within that Swansea squad, and they came within an ace of back-to-back promotions, only to suffer penalty shoot-out heartbreak at the hands of Barnsley in the play-off final.
"We had great attacking talent. By the end of the season we had Rory Fallon and Leon Knight, as well as Bayo and myself," recalls Trundle.
"You look at those four strikers, for me they were the best four in the league.
"You had other strikers in the league, it was very good. But to have those four to pick from, I think at times it caused some problems.
"You'd always play more or less me and Bayo together, or Kenny (Jackett) would play Rory and Knighty. I never really got to play with Knighty much, but I think that would have been a really good partnership.
"But Bayo was my favourite striker partner. Usually, I'd be the big man in the partnership, so I'd be doing a lot of the hold-up play.
"But with Bayo we took turns. When the ball came into him, he could keep it around the box and he knew I could make runs off him.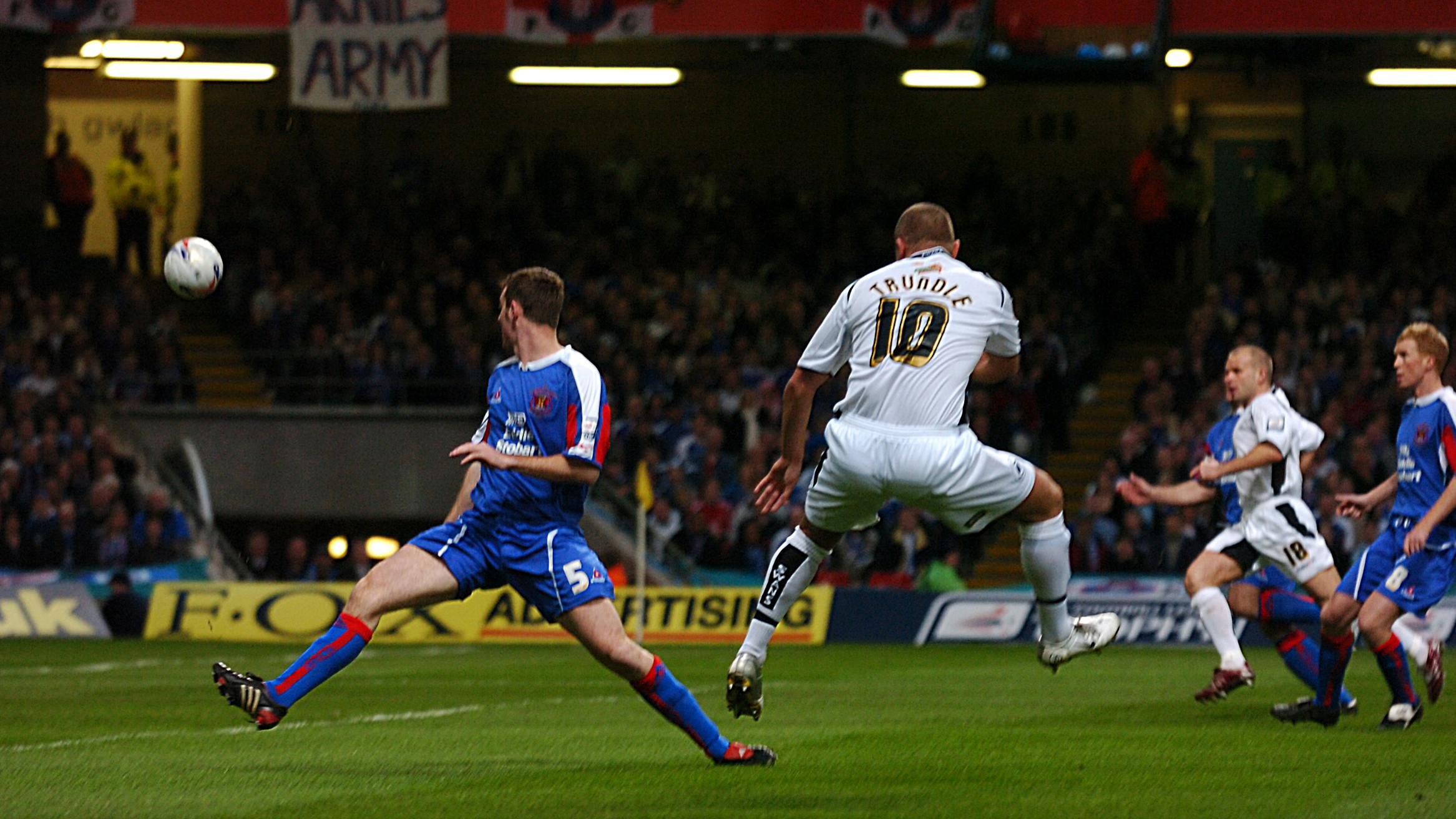 "I could make runs off him and get the ball, create chances and score goals, and vice versa for him."
"He is someone I would have liked to have played with a bit more. The other players we had in there, the likes of Britts, Robbo, Kev Austin and Garry Monk.
"We had some great players that have gone on to do brilliant things for this football club."
Trundle ended up with 21 goals to his name from that 2005-06 season, having scored 23 the year before.
It was a period of upward mobility for the club. They had risen from League Two to League One and would be in the promotion hunt again, they had a new stadium and there was a growing sense that something special was happening in SA1.
"If I had to a favourite season from my time at Swansea it would probably be the last one at the Vetch, or even my first season because it was brilliant the way the fans took to me," he says.
"Although I'd been at Wrexham beforehand, I didn't live in the city, I lived in Liverpool. So, I'd travel in and out, so I wasn't really as one with the city.
"I moved to Swansea, I'm in the city, I'm seeing fans every day, talking to them and they're going to the game on Saturday.
"It's so sad now to see the stadium without fans. I think we now realise how special it is for us all to be together watching our team. It is nowhere near the same. I can't wait for them to come back in."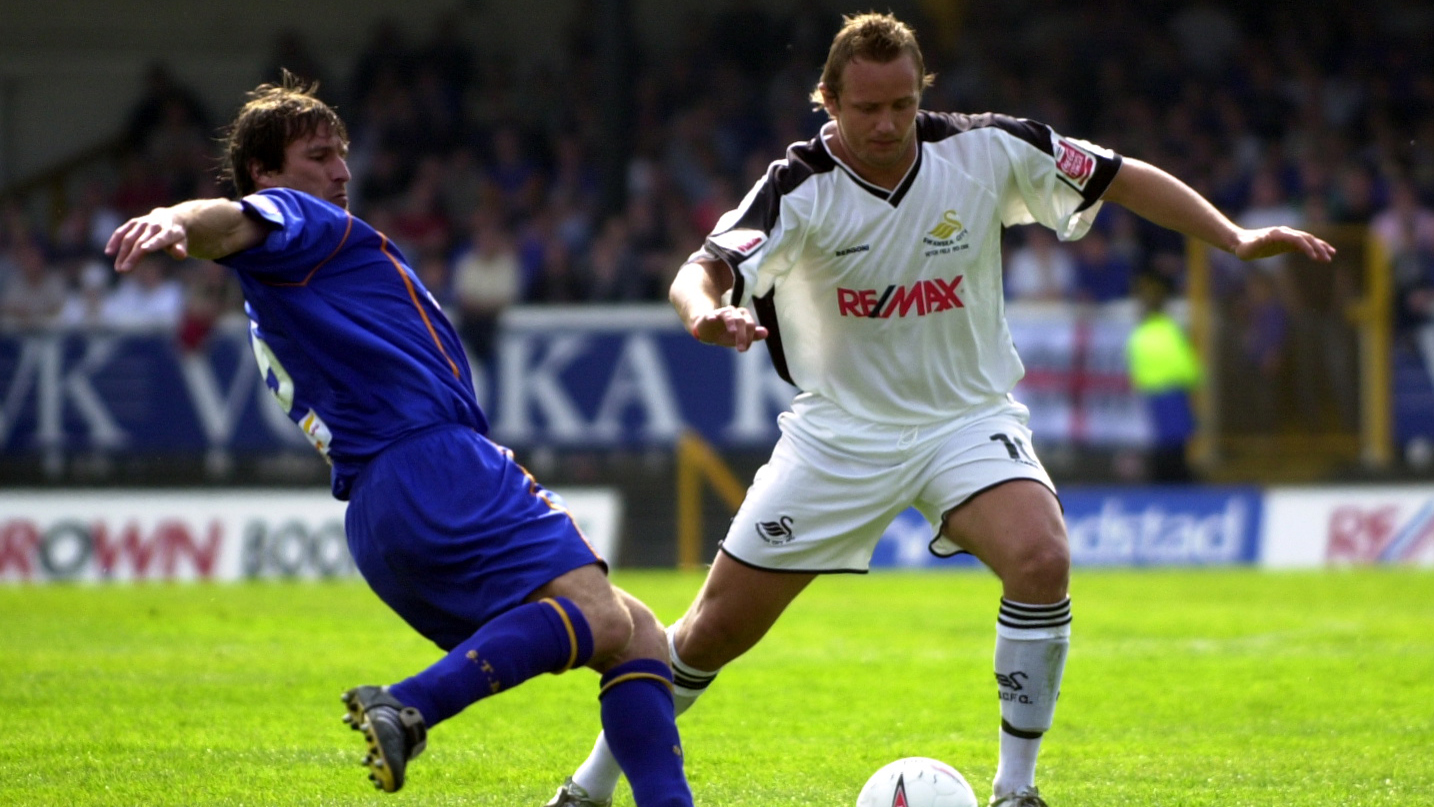 "All of my time at Swansea was special, but I'll point out to the season we got promoted from the Vetch and the first season in the Liberty, those are two that I really enjoyed."
It took until the 2007-2008 season for the Swans to gain promotion to the Championship, but Trundle would no longer be at the club by then, having made the move to today's opponents.
As the Swans were celebrating promotion, Trundle was coming so close to joining the Premier League elite, only for the Robins to lose the play-off final to Hull at Wembley.
And those two outcomes would mean he would come up against his old club in the Championship the following year.
It proved to be a difficult and emotional experience.
"I didn't like it, really. This is a club that I love and even when I was away from Swansea and at Bristol, when I'd come in the dressing room and people would be saying the results, I'd always ask how Swansea had got on," he said.
"I remember Louis Carey saying to me: you can't support two teams, it's either Everton or Swansea, stop asking for both results. I said, I'll just ask for the Swansea ones then!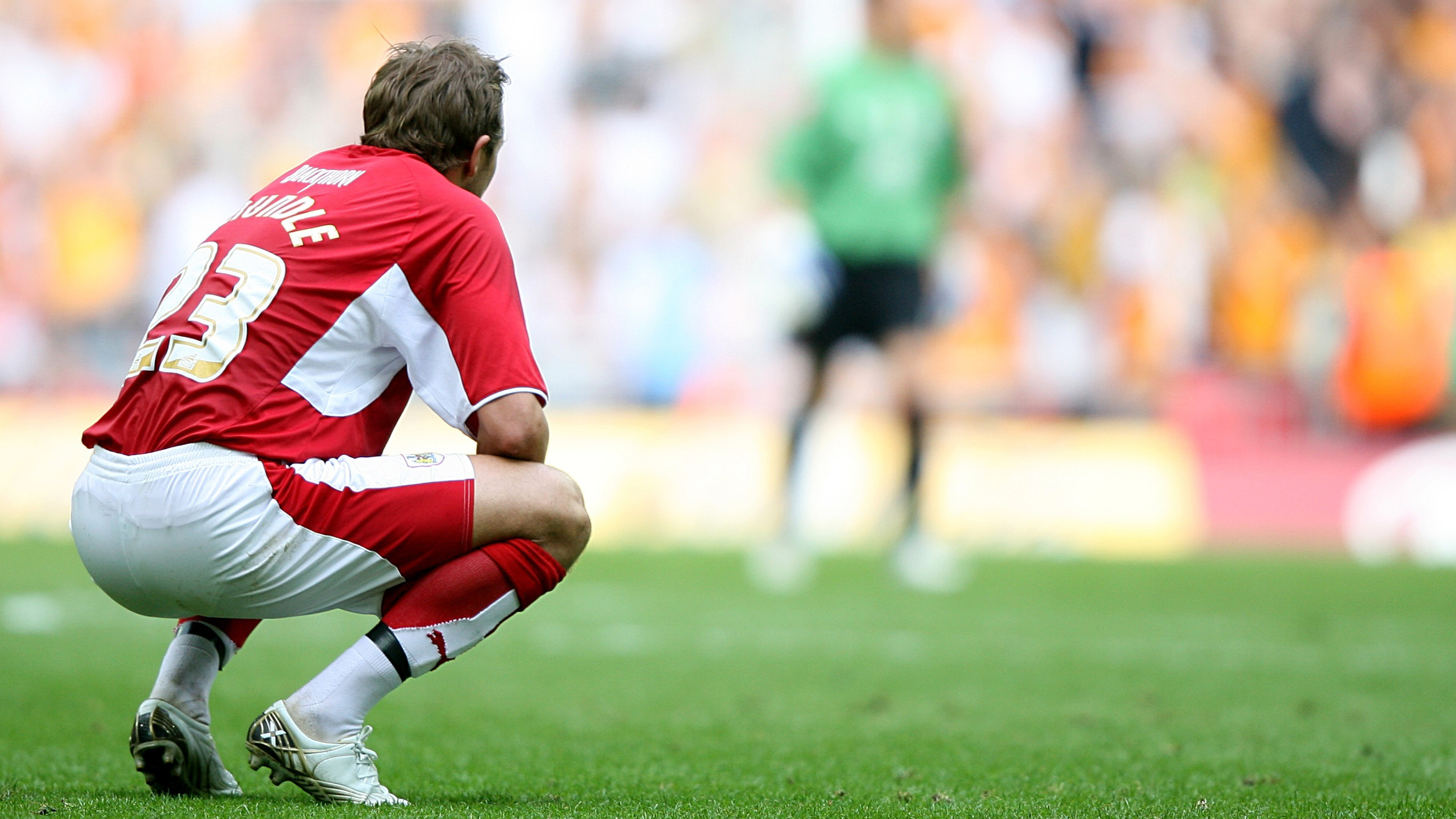 "I have always loved the football club, when I left it was because of financial reason, I was 31 at the time and I came into football late.
"I knew I'd always come back."
The 2005-06 season would also see the Swans win silverware courtesy of a win over Carlisle in the Johnstone's Paint Trophy final at the Millennium Stadium.
The man himself says that his favourite goal, in a career not short on emphatic finishes, was that unforgettable thunderbolt volley during the early stages.
"That's my best goal, technique-wise to chest and volley it, that was the only place I could have put it, and with it being a cup final, it goes down as my best," he says.
Having been part of some notable Swansea City successes, Trundle is hopeful that the current crop can do the same under Steve Cooper.
Trundle knew Cooper from his time at Wrexham, and has been thoroughly impressed by the job his former colleague has done since taking charge at the Liberty Stadium in June 2019.
"I think they're in a great position with the squad now, it's a lot stronger now than it was last season," he said.
"The way we're playing, the way we're defending, some games haven't been the best performance-wise, but we're still grinding results out.
"Like the game against Forest, we weren't at our best, but we still scored in the 87th minute, and it's your wing-back that's scoring the goal.
"It's the desire from the players that we've got in the squad, a never-say-die attitude.
"We're in a good position, we've got a couple of games in hand, who knows what could happen."