Liam Cullen | Once a Jack, Always a Jack
13th January 2023
First team
Swansea City academy product and lifelong Jack Liam Cullen is relishing the chance to be a regular starter for the club he has supported all his life.
Cullen joined the Swans academy at the age of eight with his eyes firmly on working his way through the age-grade sides and making an appearance for the senior team.
But his first experience of a Swans game came several years earlier in the stands as he watched them play out a goalless draw against York City in League Two.
Whether he was patiently working away as a member of the wider playing squad at Fairwood or on loan at a different club – he spent six months in League One with Lincoln City last term - his focus has always been on having an impact for the Swans.
And that drive was there right from day one.
"It took me longer this season to get to where I want to be and to where I am now, but I'm glad to be here and long may that continue," said Cullen, who has three goals and two assists from this last five appearances.
"I've never doubted myself. I've always believed in myself and my ability and what I can do – that's how I got from the under-8s to the first team – I just needed to keep the belief and thankfully it's paid off.
"The Lincoln loan was massive for me. It's a brilliant club and regardless of how much I played or where I played, I loved it there.
"My aim was always to be able to come back to Swansea, to my club, and perform here.
"Whether you're in the team or not, training is always the same [at Swansea]. Everyone learns about their position whether you're playing every week or not.
"I think that's something the coaching team are really good at. You know exactly what your role is so even if you're out of the team for a while, it's easier to come back into it."
His goal in the 4-0 win against Watford at the end of December was his first in front of fans at the Swansea.com Stadium.
It was a moment he'd been waiting for since he first visited The Vetch Field.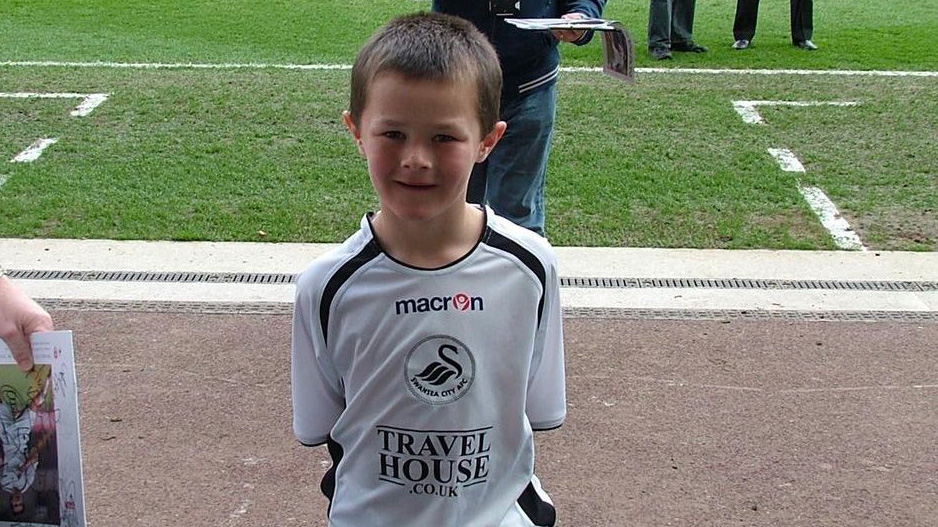 "Swansea City has been part of my life since I was a kid," added the Kilgetty product.
"The first game I came to at the Vetch was York at home in League Two, I think it was 0-0. I was probably about five.
"I was coming here almost every week when I was kid and that was it for me, I just always wanted to play for this club.
"I remember my first game on the North Bank too, that was against Grimsby – another 0-0 - I've had a few of them!
"Then there was the game at the [then] Liberty against Rotherham when I was mascot. I think everybody saw that photo when I made my league start against Rotherham.
"There's the play-off game against [Nottingham] Forest, and I remember the last game at The Vetch against Wrexham.
"After I signed for the club aged eight, all I have ever wanted to do is play for this club."