Liam Todd named Back a Jack winner for December
31st December 2020
Club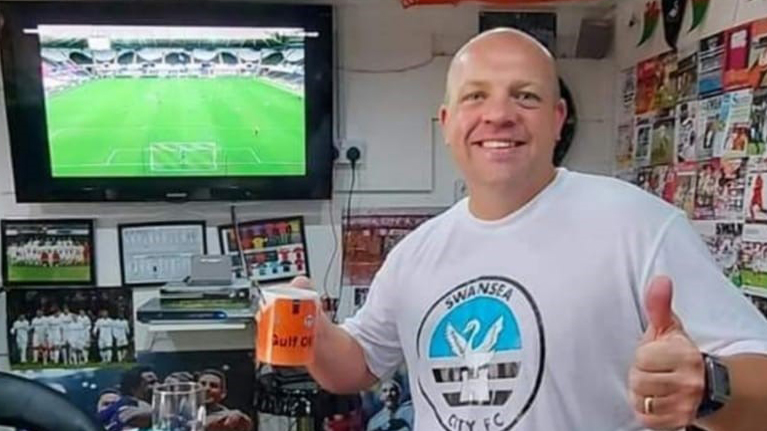 Liam Todd has been named the December winner of Swansea City's Back a Jack campaign, supported by Peter Lynn & Partners.
Liam, who hails from the Manselton area of the city, has been a regular fixture at the Liberty over the years, along with his two children.
He was nominated by his wife Michelle, who said: "Liam deserves this nomination because he is an amazing father to his four children; Charlie, Hollie, Kara-Mae and Danny.
"He works shifts at Tata Steel and he still somehow manages to find the time to do a huge amount of charity work. He doesn't do it for recognition, but I saw the Back a Jack campaign and thought to myself that I had to nominate him."
Liam regularly raises money for local families in need, particularly at Christmas. He takes pride in making sure families have the best Christmas possible.
He has worked tirelessly to fundraise, enabling him to purchase presents and deliver them, while dressed as Santa Claus no less.
Liam has raised over £25,000 for various charities such as Mind, Ty Olwyn hospice and - a charity particularly close to his heart - Candy Free Kids, which is a support group for children with Type 1 diabetes.
Liam's daughter Hollie has Type 1 diabetes and he already has targets set for 2021 to help the Paediatric Diabetes team based at Morriston Hospital.  
The club were so impressed with his fundraising efforts within the community that it has promised Liam a bucket collection next November at a fixture to tie in with World Diabetes Day.  
Additionally, Liam has been sent a full squad signed shirt so he may display it proudly at his home, adding to his collection of many.
Congratulations Liam, your recognition is well deserved.
Nominations are now open for January 2021. If you wish to nominate someone doing work within their local community, or has undertaken an act of kindness you feel deserves recognition, then please get in touch with us, giving their name and reason for your nomination at support@swanseacity.com.
The Back a Jack campaign is open to all our supporters.