Lorraine Williams wins Habitat Homecare employee of the month award
11th October 2022
Commercial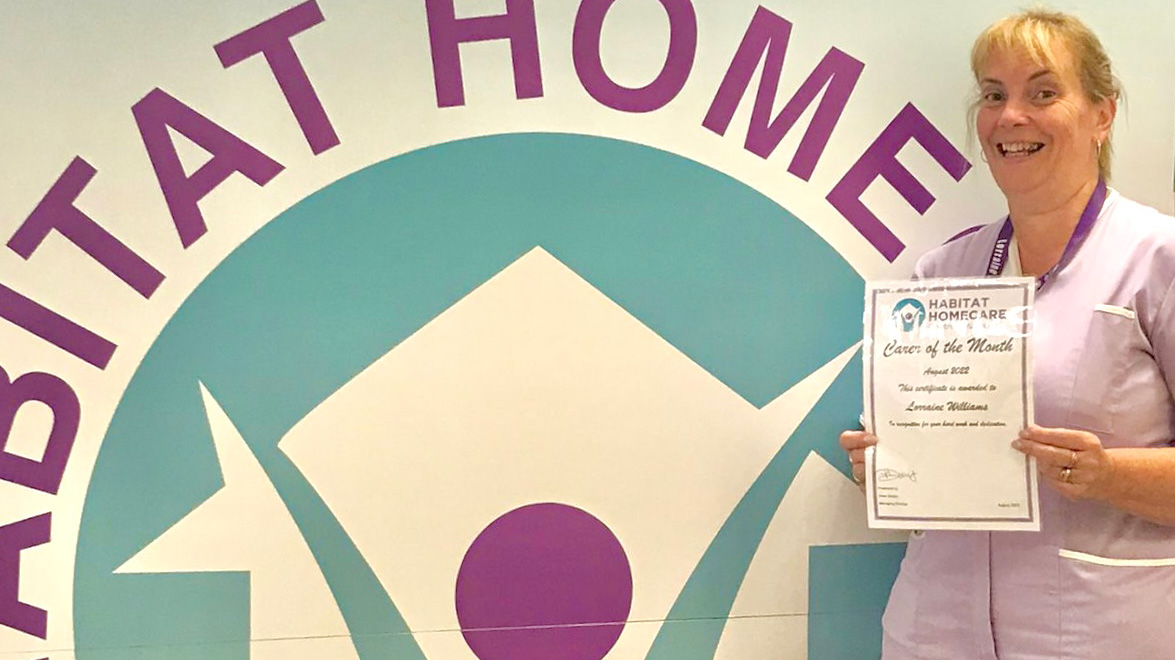 Swansea City partner Habitat Homecare have named Lorraine Williams as its 'Carer of the Month'.
The scheme was launched to provide a small token of our appreciation and to recognise those carers who have gone above and beyond to improve someone's life and Lorraine was a standout candidate during August.
Working in the care sector is renowned for being one of the most rewarding jobs you can do, and for many good reasons. Being a carer means you are able to make a real difference to peoples' lives on a daily basis – from cooking their favourite meal to making sure they are safe & cared for in their own homes.
Providing care for someone on a regular basis allows you make a real difference to someone's life, particularly when you are supporting someone who is living with a condition that requires a wider range of more complex care needs.
The 'Carer of the Month' initiative helps us to recognise those who've gone that extra mile, above and beyond what's expected. Expertly delivering professional, person-centred and outcome-focused care.
Habitat Homecare's managing director Steve Davies said: "Lorraine has been awarded 'Carer of the Month' due to her hard work and dedication in stepping up in her senior carer role.
"Lorraine has now been participating in the weekly and weekend on call rota. This is a tough responsibility for anyone especially when not working in the office. Lorraine has flourished with the responsibility and has managed to ensure the needs of the business have been looked after when she has been on call.
"Lorraine has also gone over and above in ensuring that calls are covered, by either herself or communicating with the staff to help ensure all clients calls/needs are met. Lorraine is highly thought of by both the company & the people we support.
"The positive feedback we get from the people we support is that she goes out of her way to enable them to live their lives as independently as possible.
"We are very lucky to have such a hard-working and dedicated senior that Lorraine is. Thank you very much Lorraine and keep up the excellent work."
Would you like to join Habitat Homecare?
 Are you a caring person who enjoys helping those who need help?
 If so, becoming a carer may be your perfect career step.
 With an increasing ageing population and a huge demand on the Health & Social Care sector across Wales, we need more people like Lorraine. 
 So, if you are interested in helping people to remain independent and live happy, meaningful lives, then we would love to hear from you.
Who are Habitat Homecare?
 Habitat Homecare is an independent family-owned care and support service provider based in South Wales. They deliver bespoke care and support services to enable their clients to live as fully and independently as possible in their own homes.
 It is Habitat Homecare's mission to deliver safe, outstanding and effective care at all times, offering their clients a bespoke care plan based on their needs and wishes. 
 Whether you are searching for personal care, companionship, light domestic support, shopping assistance, respite care, dementia care or home from hospital support, Habitat Homecare can assist you or your loved ones. 
Further support
 For more information on Habitat Homecare please click here
 You can also reach Habitat Homecare by calling today on 01792 721720.