Mariana Chikalska | Starting again in Swansea after fleeing war in Ukraine
25th September 2022
Club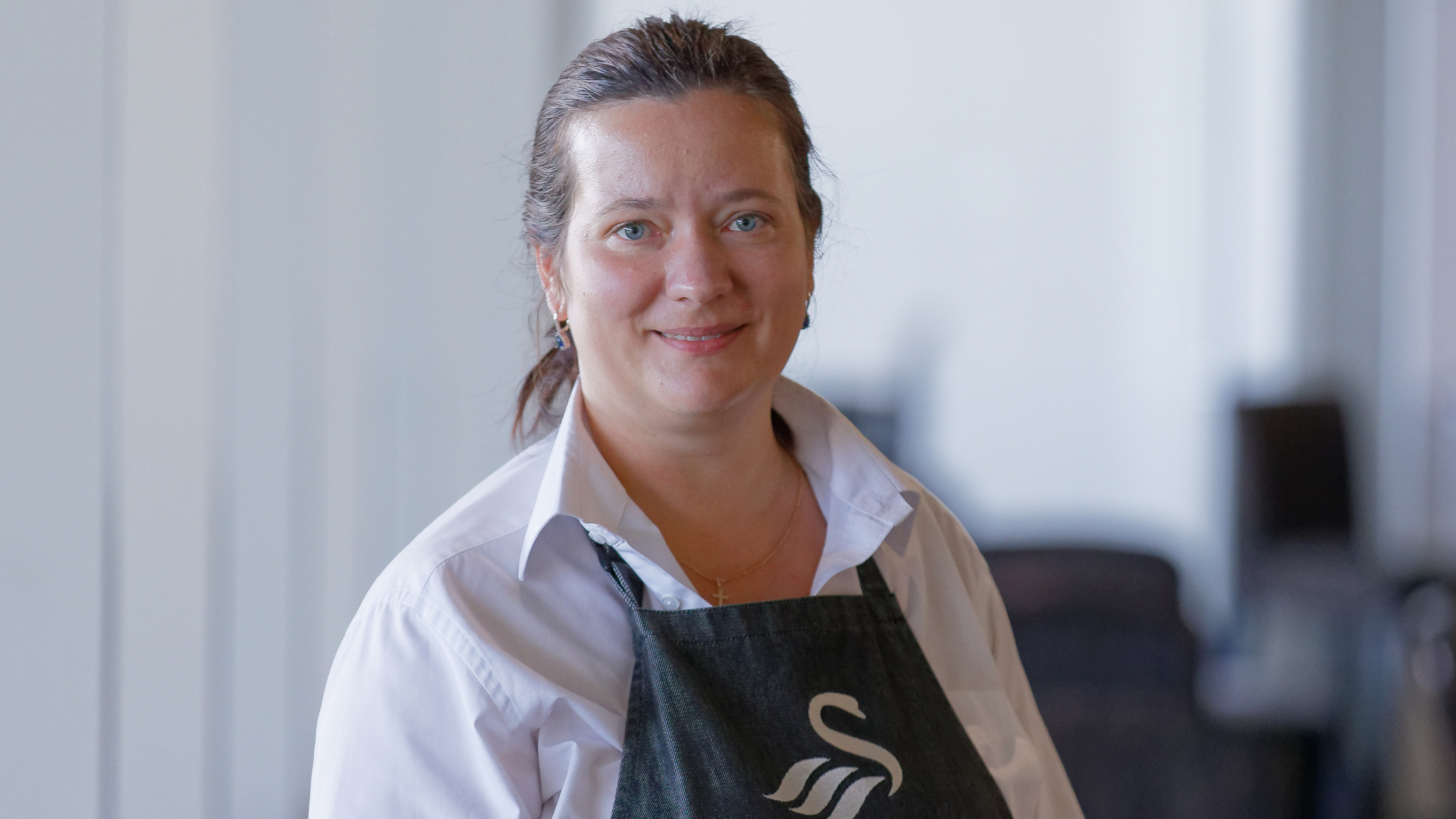 In Mizhhiria, Ukraine, a woman is going to work for the first time since her mother's funeral.
Her mother had a long battle with cancer and, in the final years of her life, it was down to her daughter to administer treatments every three hours to keep her comfortable.
When a family member passes away, it is Ukrainian tradition to hold a two-day vigil. The coffin remains at the family home, so that friends and family can pay their respects and religious leaders can bless the deceased. On the third day, the burial takes place.
It has been a difficult and emotional few weeks. She is of course aware of the breaking news, but her focus has been on her mother and her family, and far from Russian soldiers massing at the eastern boarder of her country.
This is the day she returns to normal. This is the day she steps back into the real world.
But the world she knew from just a few days earlier isn't the one that surrounds her now.
The clinic opposite her house is being converted into a bomb shelter because of its large basement.
There are roadblocks on every street and soldiers on every corner. The boarding school where she has taught history for 12 years has sent all its pupils home, and the dormitories are housing refugees from towns which have already felt the impact of Russian air strikes.
Her entire life and everything she has ever known has changed in an instant. She's lost her mother and her safety within a matter of days.
This is the unique story of a member of the Swansea City hospitality team - Маряна Чикальська (Mariana Chikalska) - and yet it's sadly one that has far too many parallels for so many Ukrainians.
"I finally realised that this is war," Mariana says, aided by a translator, as she describes the sight that greeted her on that walk to work.
"It's the 21st century and there's war in my country. There is no safe place for me in Ukraine because you don't know when or where the next bomb will land."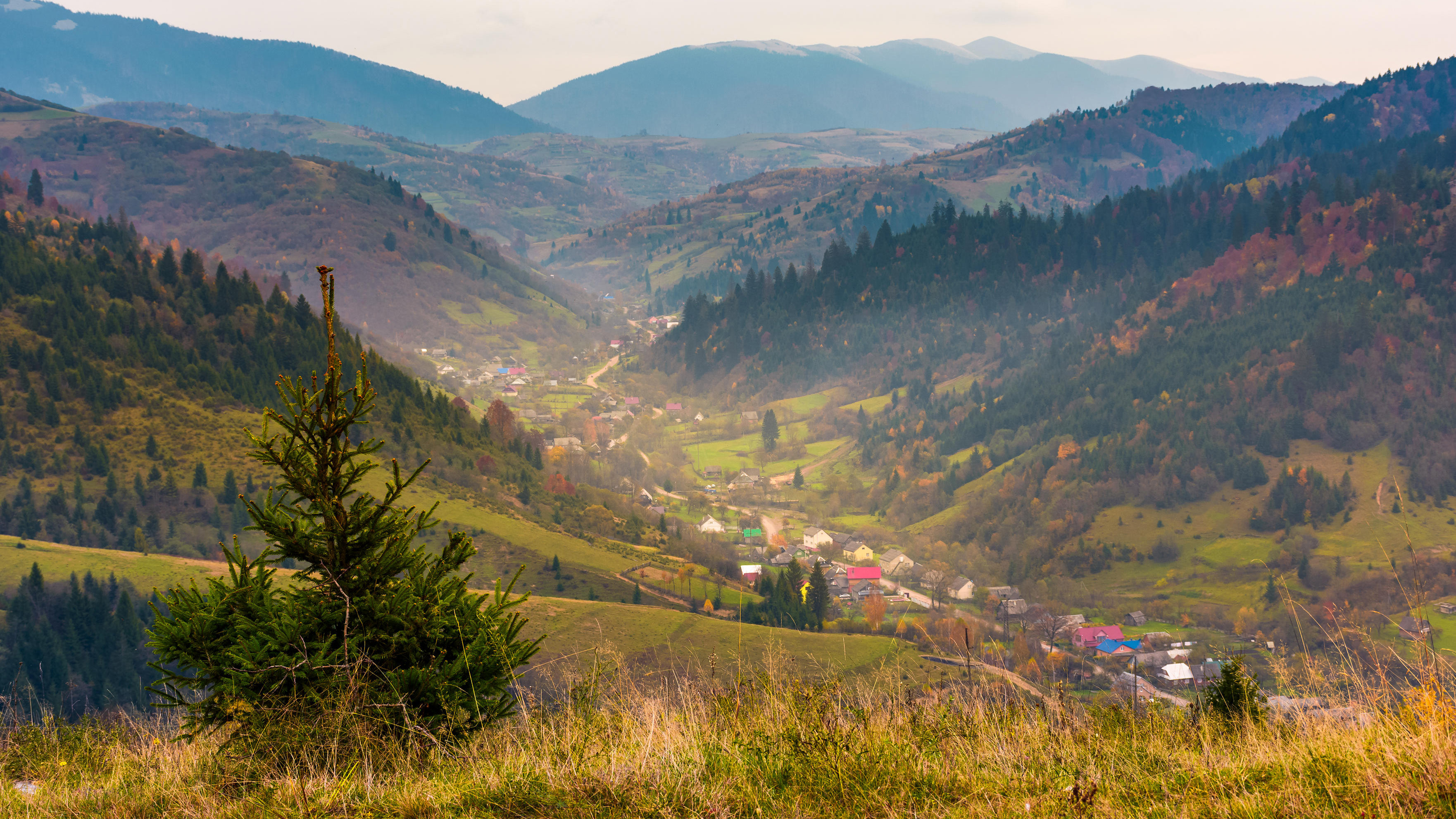 With two children, a son Maxim (15) and a daughter Dashka (nine), and her widowed father Volodymyr to think about, she faces a very difficult decision: to stay in her homeland where she has built a life for herself working as a history teacher, or to seek out peace elsewhere.
Unlike many of the more than five million Ukrainians who have left the country since the war began, she has an option. An aunt, Halina, who has been living in Swansea since the turn of the Millennium.
Halina was insistent Mariana and her family should leave their homeland and relocate to move in with her.
On March 4, Mariana made the brave and difficult decision to leave her home. It meant leaving behind members of her family – including a brother who was not allowed to leave as he was of fighting age - and many friends in order to travel 1,500 miles west to a new place with a different language and culture.
"I was very scared, my only desire was to protect my children," Mariana explains.
"I packed exactly one backpack for us because it is several kilometres from the Polish border, and it was very difficult to cross it in those days.
"There was a huge queue for the crossing on foot, which lasted for several days."
Homing and supporting thousands of displaced people in the wake of a war is a frustratingly slow process for those who are left to depend on it and, after leaving Ukraine, it was more than a month before Mariana and her family arrived in south Wales.
There were tents in Poland housing Ukrainian people, and that was their home during that month while she, her children, and her father waited for their visas to be approved.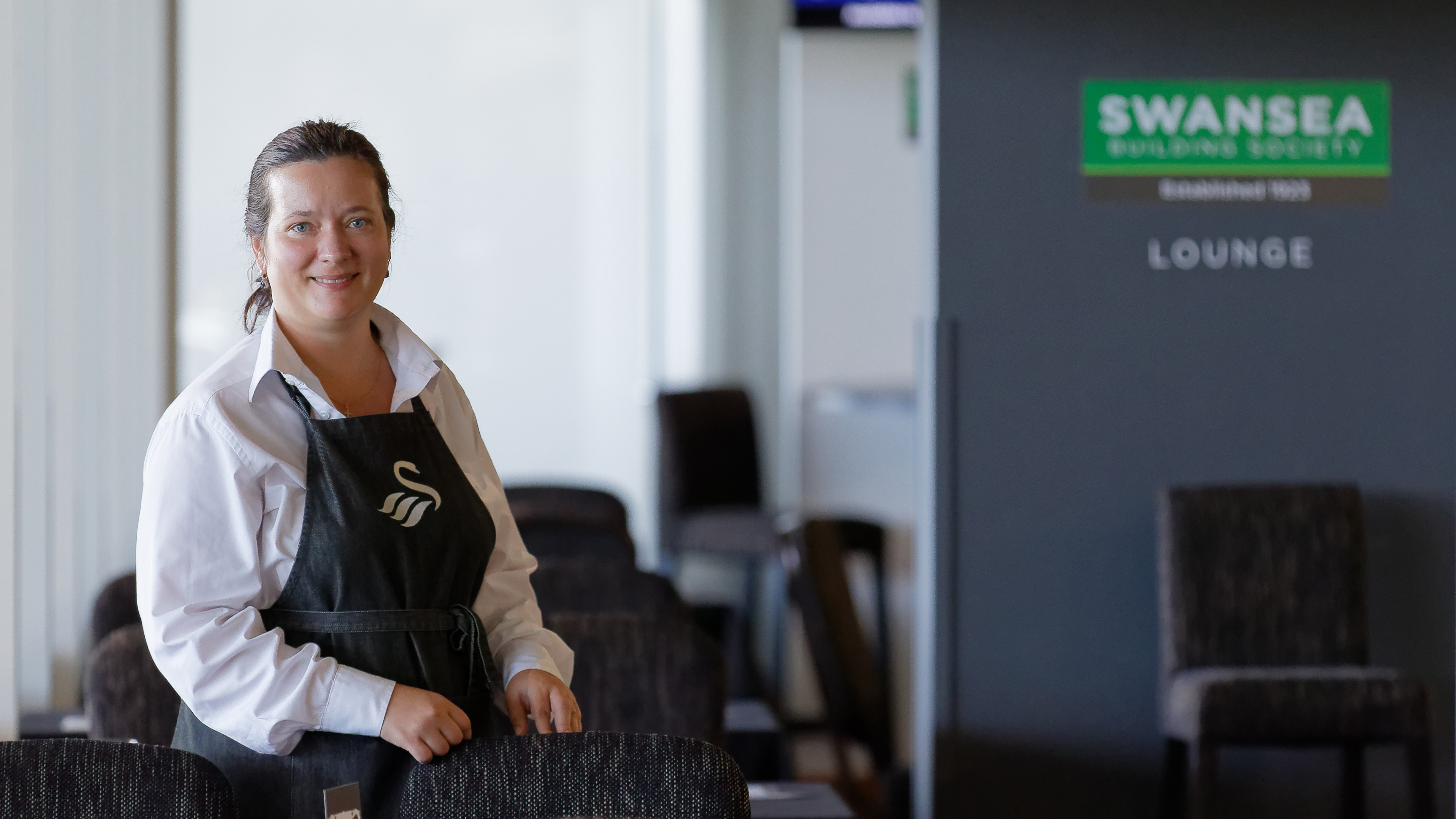 They resided in Wrocław, with Maxim and Dashka attending Polish school while all Mariana and her father could do was wait for approval of a family visa.
Even that proved stressful and confusing.
"Because the war had just started, the process was quite slow and there were some issues," she explains.
"Even within my family, there were different timeframes. My son received a visa in two weeks, but I was three weeks after him.
"We applied at the same time on one application: I'm the mother, he's the son.
"I think the process had just started and a lot of people were trying to use it.
"Now the situation is better, they go through the process more smoothly, but at that time I had to wait, and it was longer because my father didn't have a passport.
"There was uncertainty because it was like; will we receive a visa? When will we receive a visa? There was no obvious information so it wasn't very smooth, or straightforward.
"When I came to the UK, it was on a family visa, and when I got here and saw my auntie, I was relieved.
"I thought, 'now I am safe'.
"I understand that for people who come to a sponsor that it's more difficult."
Sponsored asylum is the other route into the country. A person in the UK offers to sponsor a refugee to live in their home, and this comes with enormous challenges.
Language is one. Often Ukrainian refugees are old or young and communicating is no easy proposition with neither the sponsor or the refugees knowing many words in the other's language.
Culture is another; how many people reading this found themselves uncomfortable or confused by the Ukrainian tradition of keeping a coffin in their home?
Mariana herself acknowledges the point. "I know this is unheard of in the UK and may be confusing for people," she says.
"It's a different culture from the UK to Ukraine - it's so different."
But surely the biggest challenge is that the people sponsoring simply cannot comprehend the stress, horrors and difficulties refugees have faced, both in living in Ukraine during the war and leaving it.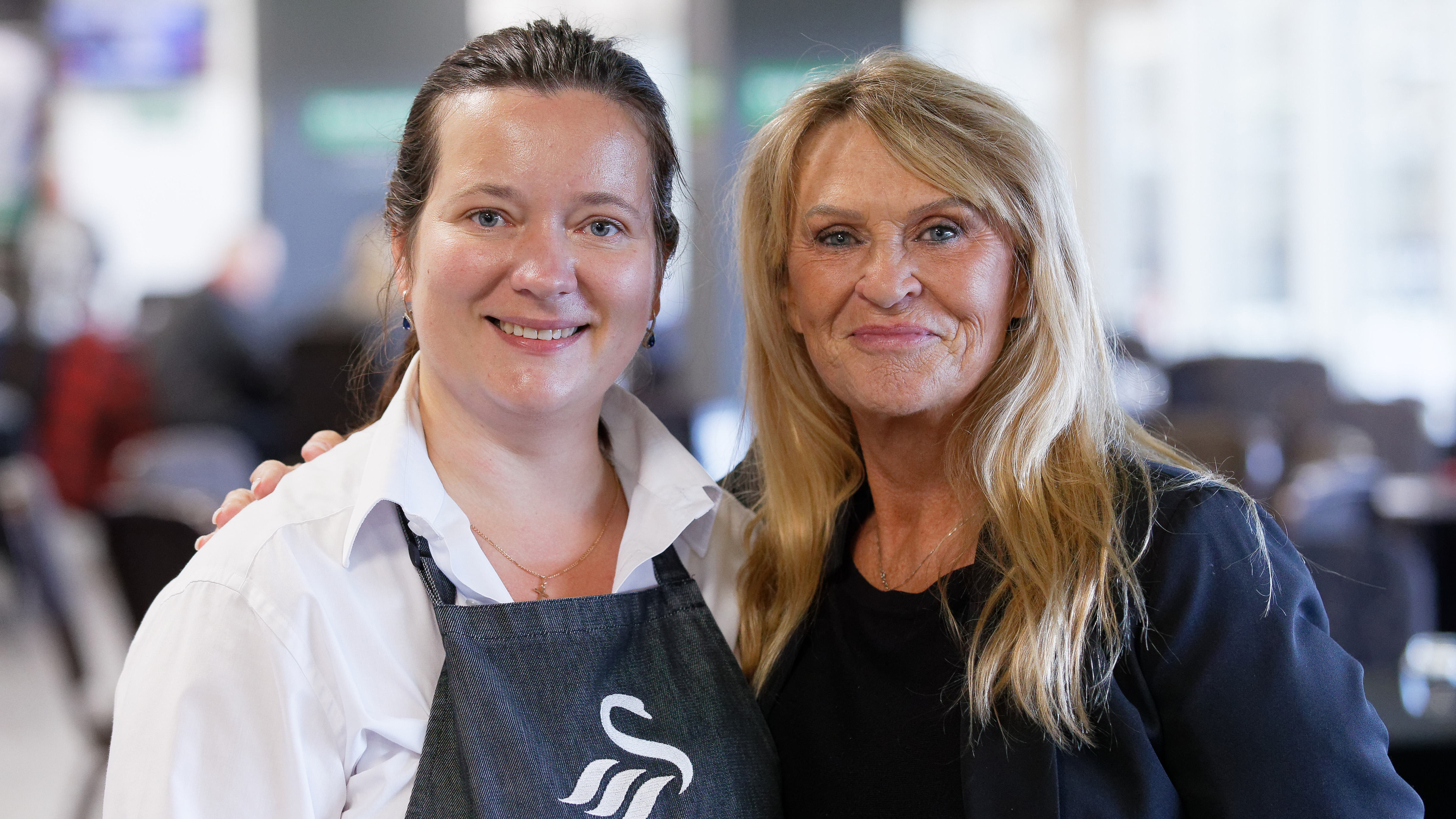 Even now, living in the safety of Swansea, Mariana still has family and friends back in her home country who she worries about constantly.
"My brother and his family live there and many of my friends," she says.
"I always text and speak with them, but many of my friends are now soldiers and sometimes they don't have a connection.
"Sometimes it can be two weeks before you hear from people. That whole time, I'm scared, because I don't know what's happened."
There are other people in Swansea who understand Mariana's situation.
More than 100 people attended an event celebrating Ukrainian Independence day which was put on by Sunflowers (a local Ukrainian support network which caters for people in Swansea, Llanelli, Neath and Port Talbot), Race Council Cymru and the Multicultural Hub.
Mariana was able to meet people from her homeland – including the person who provided translation support for her to tell her story – who are offering job support and help making vital phone calls such as registering children for school. It's a service and support network she has found invaluable.
"But most of all I would like to thank my aunt and my friend Kim [Asals]," she added.
"This woman has a heart of gold. She supported me and my family as soon as I arrived. She helped me with an appointment at the hospital, she was with me at school with the children, took my daughter for a walk when she was stressed and always crying for her grandmother who had died.
"She also helped me with work."
That work is a role in the hospitality and catering team at the Swansea.com Stadium.
Kim is a matchday supervisor in the Swansea Building Society Lounge during matchdays and events and, when a job became available, she suggested Mariana attend the interview.
Her interview was the first time she'd been in a stadium of that size so that was another culture shock and – while she has grown to love football since working in it – she was most excited on her first shift.
"My first shift was the Elton John concert - that was amazing!" she smiles.
"I was so scared because it was my first shift, but to see Elton John – that was amazing. I was peering through the window – I only saw 10 minutes, but it was brilliant.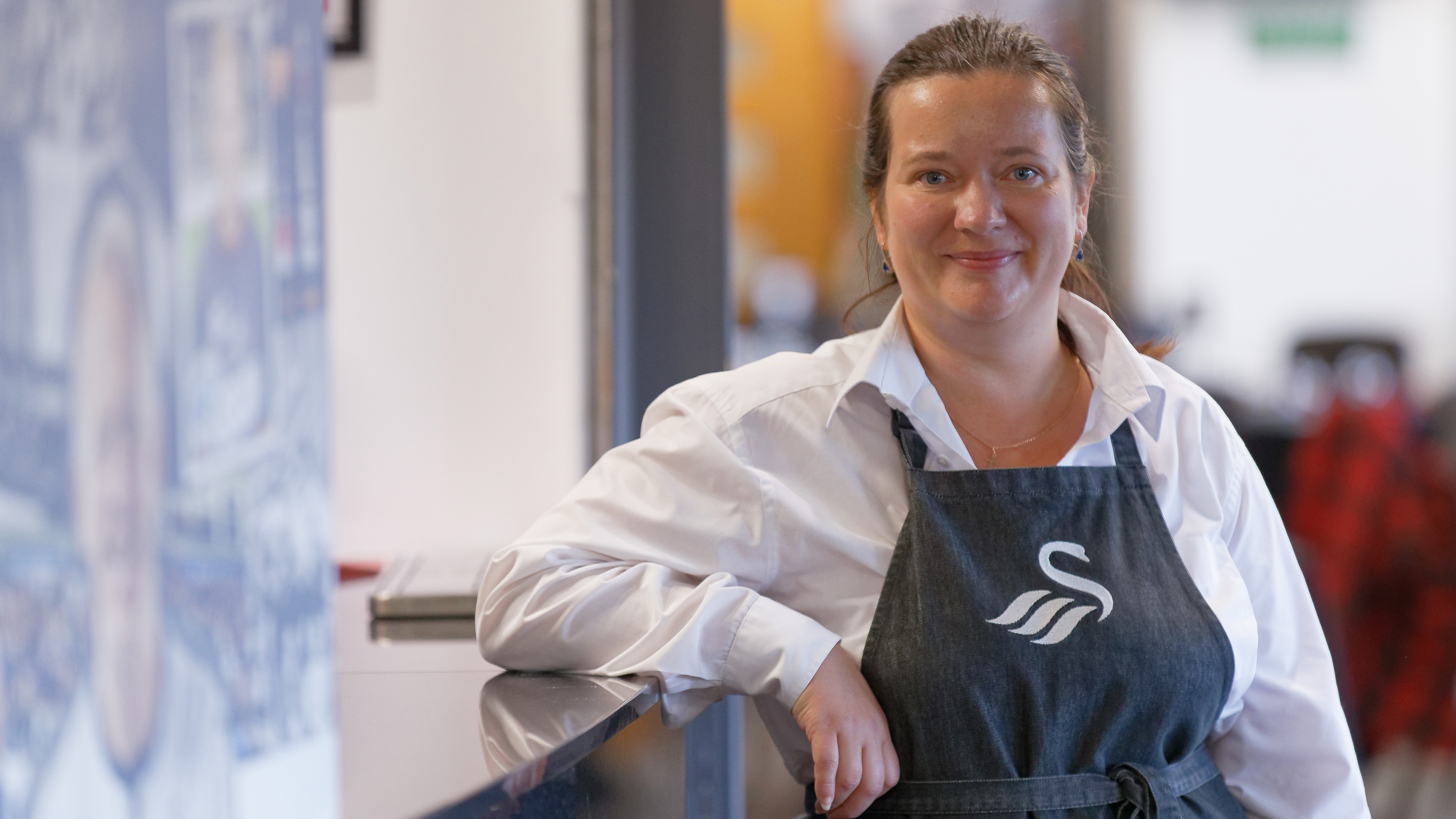 "I'd never seen football in Ukraine, but now I understand who is playing and I always ask: how many goals? I watch football from time to time and I'm interested in it now."
Getting work was a major step for Mariana and her family. It gave her the freedom to move out of her aunt's two-bedroom house, which had become crowded with so many people under one roof, and allowed her to feel more like herself again, more like a human being.
"It's important to have a job," she explains.
"People need to have that control over their lives, they need to have enough finances to support their families.
"My English is not sufficient to work as a teacher here yet. Learning the language is the first step, and then the recognition of the teaching diplomas, and probably some courses to get back to the previous job.
"It will take some time. You need to know the route back, and you need to take actions – that's what I'm doing.
"I like to work and I like this work. It's different to what I did in Ukraine, but the people I work with are patient with me.
"At my shift, people come to me and they say: 'we watch the TV and we saw the news of your country' and at the last Ukrainian success, people were congratulating me.
"Or they say to me: Привіт (privite – Ukrainian for hello).
"People over here don't know the Ukrainian language, so they've had to look for that and learn it. It's so nice, it means so much!
"I am feeling a lot of support. I work in the same lounge all the time with Kim, so I see a lot of the same people and same guests.
"The customers understand that I'm Ukrainian and they want to show their support, they always ask me: "How are you? How are your family?"
Among those people who regularly check in on her is Swans legend Alan Curtis, who is based in the Swansea Building Society on matchdays.
"He's always so nice too," she continues, pointing the honorary club president out as he poses for a selfie with a fan.
"Everyone is so nice. I want to say it all the time 'thank you for the patience'.
"I understand how difficult it can be when you have to repeat something three times just so I can understand it. People are patient enough to do that.
"It's not so easy when you work with people who don't speak the same language, but everyone who works with me on my shift, I want to say thank you.
"The club has helped me attend lots of courses which meant I understood better what I was going to be doing in the job, and it helped me get the qualifications I need.
"It's great that the business helps its employees. I appreciate that attitude: it's not like you just work your shift and get out.
"The atmosphere is different and the approach is different, and I'm very grateful for all the opportunities I've been given for personal and professional growth.
"The courses support my English, and I get the chance to practice. There is also a lot more information that they provide as well as knowledge and skills.
"I'm grateful for that, it's helped me so much.
"I would like people to know that every Ukrainian here has their own story, all people are different, but you in Wales restored my faith in people."