Martin and Grimes urge Swansea City to take chance to make derby history
2nd April 2022
First team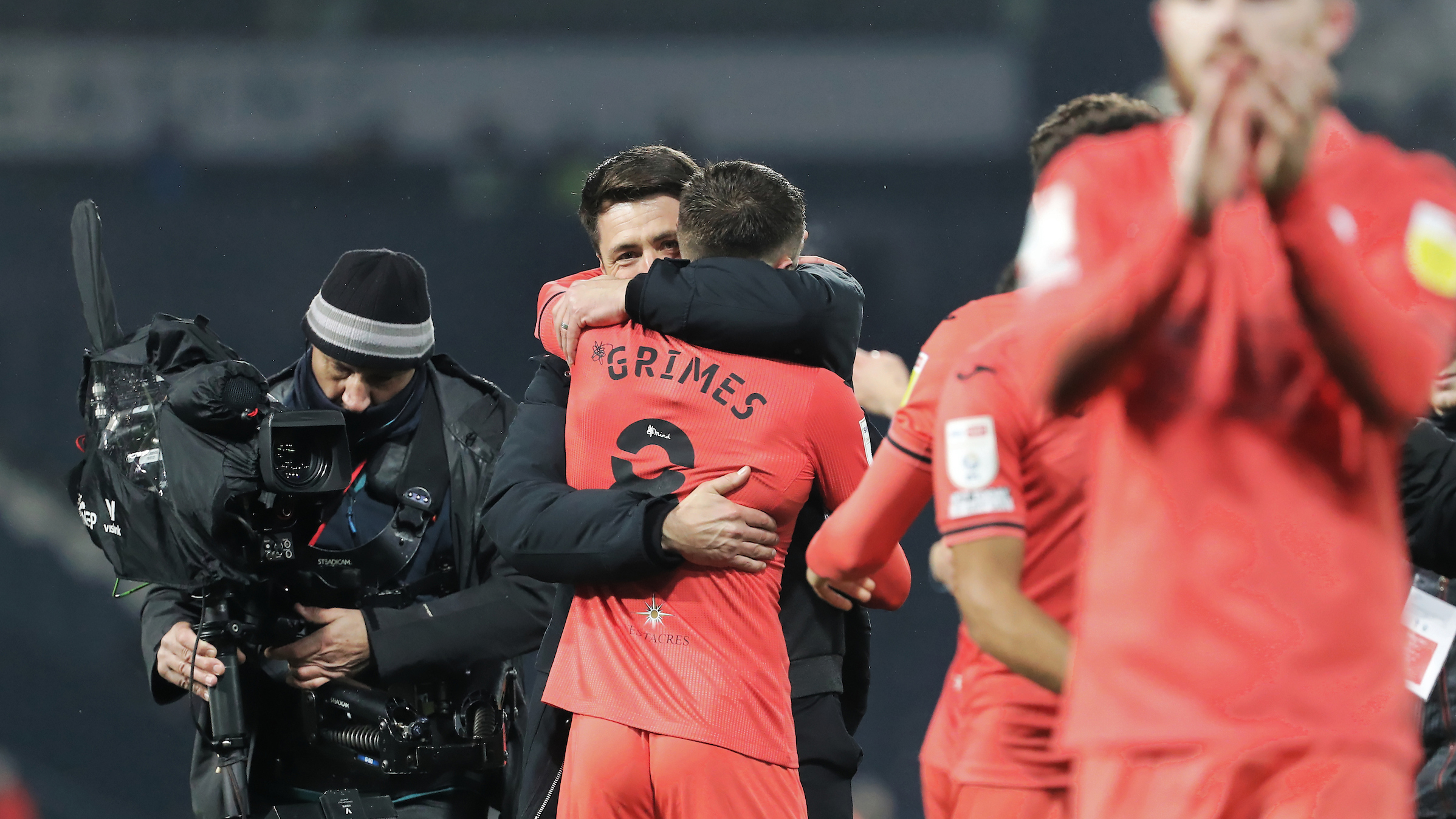 Russell Martin and Matt Grimes want Swansea City to embrace the responsibility of going for south Wales derby history when they face Cardiff City this afternoon.
Following the Swans' 3-0 victory in the reverse fixture in October, the visitors have the chance to complete the first league double in the 110-year history of the fixture.
The two sides are separated by one place and two points, and have been on similar recent runs of Championship form.
Recent derby history is in the Swans favour, with four wins and a draw from the last six meetings.
Martin knows all form will go out the window come 3pm, but has urged his side to relish the chance they have to put smiles on the faces of the Jack Army.
"It means a lot to us to have the chance to make history, but we have to embrace the challenge, it is nothing to be afraid of and we have to be ready to deliver.
"I feel the responsibility to everyone here. You arrive here and you immediately understand what it means to people who work here and live in the city.
"I am honoured to have that responsibility, this is a special club because of the people here.
"You feed off their passion and how they feel about the club. We feel the support they and the supporters have given us, and it has been incredible.
"We want to repay that. That is not all on one game, but if we can help make people's lives a bit easier for however long a victory allows them to do that then that would be special."
While this will be Martin's second derby, skipper Grimes is preparing for his sixth, having captained Swansea in all of his previous five.
He has three wins and a draw from that quintet of contests, and he echoed the sentiments of his head coach ahead of the big game.
"It's important for the city. It's a massive game for us, these are the games we want to play in and we're all looking forward to it," said the midfielder.
"Derbies are always tough. We played well in the first one this year and we'll be looking to replicate that, but we know what a tough test it will be.
"Going there, it'll be a hostile environment, and they're a team on the up at the moment with some really good results. Like any derby, it'll be a tough afternoon.
"They've had an upturn in form, but derby games stand by themselves. Form goes out of the window and we're looking forward to the challenge.
"We are looking to make the derby double happen and they'll be trying desperately to stop it.
"It puts you in a good position when you win the first game, but we were in this position last year as well and didn't manage to get it done.
"We'll be fully focused on ourselves, we'll try to make sure that our performance levels are high.
"It's such a big game, there's so much on it for both sets of fans and both cities.
"There's no getting away from it, [to do the double] would be absolutely huge. We want to do it for the staff, the city and the fans.
"It would be massive, but we're fully focused on our own performance and making sure we give the best account of ourselves possible."