Matt Grimes set to become a Swansea City centurion
7th July 2020
First team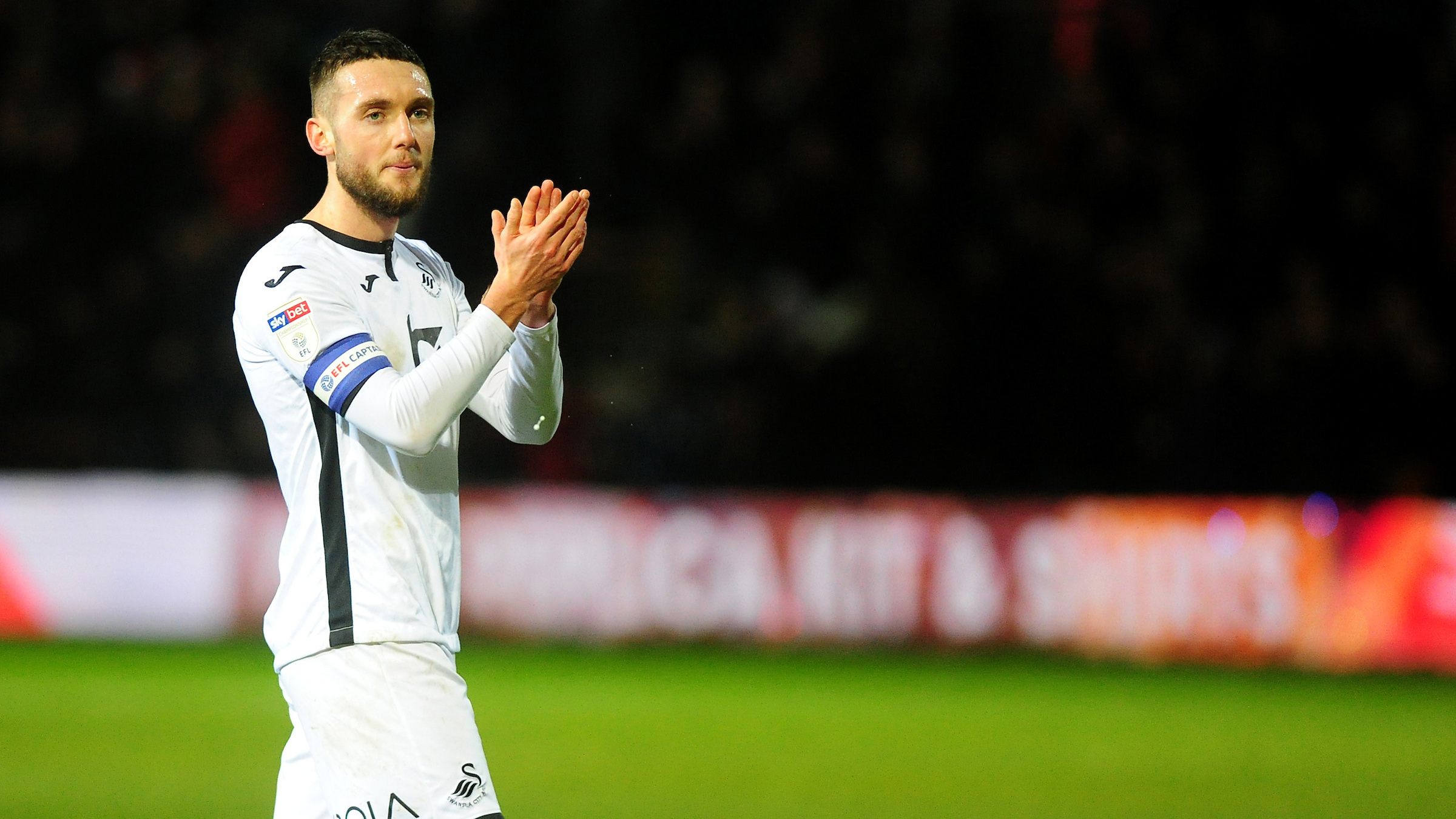 Should Matt Grimes lead Swansea City out at St Andrew's tomorrow evening he will bring up a milestone the man himself knows appeared highly unlikely not so long ago.
The midfielder is the Swans captain and one of the first names on Steve Cooper's teamsheet, indeed he has been an ever-present in the Championship this term and he is set to bring up a century of appearances when they face the Blues on Wednesday night.
But the journey to this point has been far from straightforward.
When Grimes joined the Swans in January 2015 it was seen as a major coup for the club.
The then-Exeter youngster had been attracting the attentions of a number of Premier League clubs, he was an England youth international and comparisons had been drawn with the classy elegance of Glenn Hoddle.
But, after the initial encouragement of seeing Premier League action during his first half-season in SA1, what followed would be a severe test of the young playmaker.
Spells out on loan at Blackburn and Leeds proved tough, particularly the latter, and Swansea's fight for Premier League survival meant Grimes was almost out of sight and out of mind.
Grimes admits he had fallen out of love with football at that time, unable to bring himself to even watch Match of the Day.
But, when he returned to the club in the summer of 2018 after being rejuvenated by an fine loan spell with Northampton - despite their relegation - things began to change.
He kicked off the campaign as left-back cover, but was soon handed the chance in his preferred midfield role and he wasted no time making his mark.
He has been an integral part of the Swansea side ever since, something highlighted by Steve Cooper's decision to hand him the armband at the start of this season.
It's been a time that has tested Grimes' resolve and determination, and his 92 appearances since the start of last term attest to how he has bounced back.
"It's been a long old journey and one that I'm proud of. When I look back now, I have had to overcome quite a lot to get to where I am today," he said.
"After the first year or two, I didn't make too many appearances and then went out on loan a couple of times, so it was a difficult start. 
"But the last couple of years, I have played game after game after game and I have now hit 100, which I'm obviously very pleased about.
"It's a little bit surreal, to be honest. I honestly didn't have a clue that I was close to 100, but I am obviously very honoured.
"I'm very grateful to everyone who helped me along the journey and I'm very pleased with where I am now."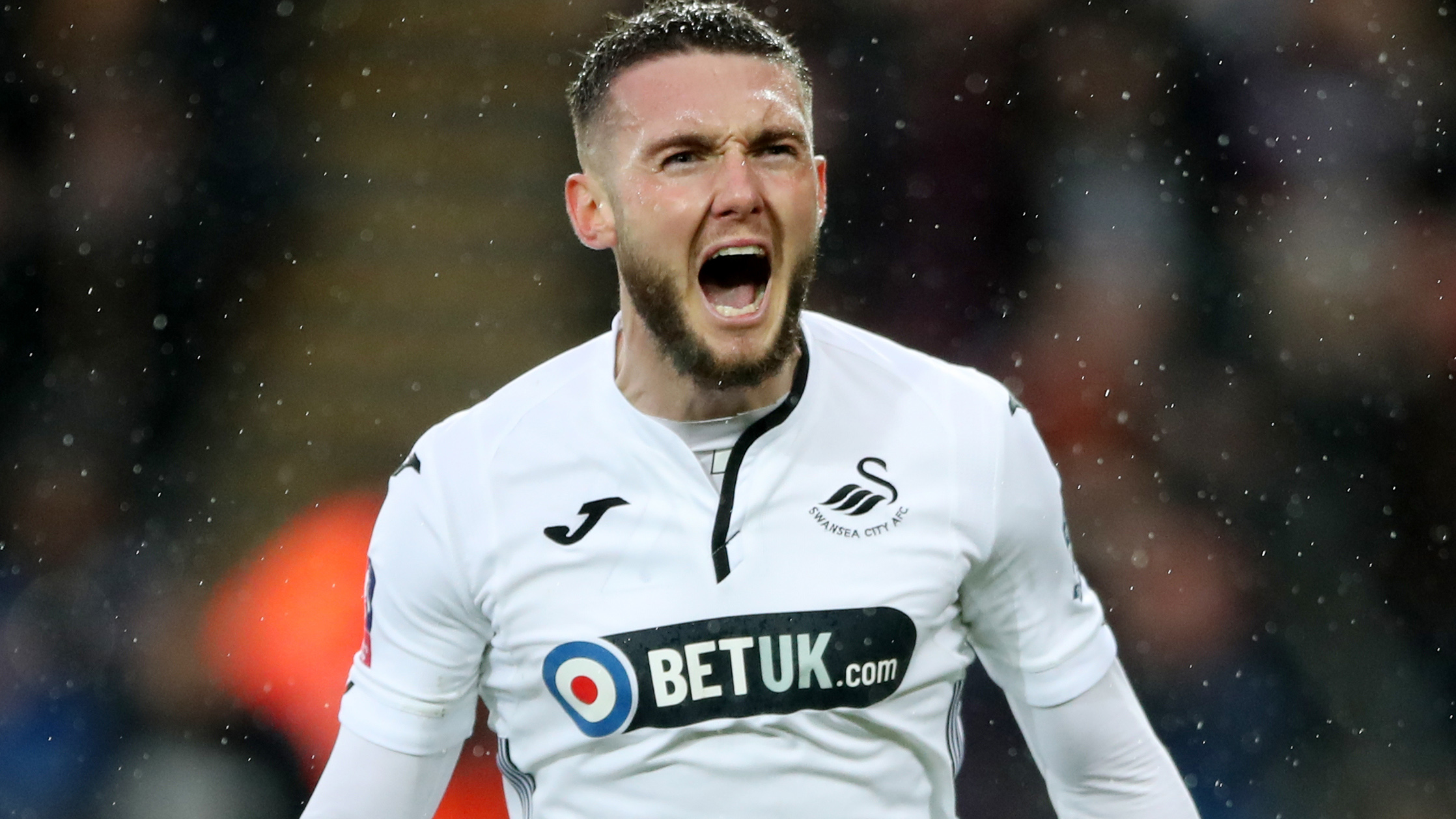 The pendulum began to swing in Grimes' favour following the appointment of Graham Potter ahead of the 2018-19 season.
Appearing in the heart of midfield – and occasionally as a left-back and centre-half – he cemented his place in the starting line-up; eventually racking up 50 appearances in all competitions as the Swans finished 10th in the Championship and reached the FA Cup quarter-finals – not that he was getting carried away.
"Last year, Graham was fantastic with me and as I started playing more regularly, I just kept telling myself to stay in the team," says Grimes.
"It might sound like a cliché but, as you're playing, you're just focusing on game after game and not really thinking too much about racking up appearances. 
"Once you get in the team, you don't want to come out and you try to enjoy your football.
"It's only when you hit the milestones that you look back and think: 'wow, I have played that many games!'"
Grimes' consistently high performance levels saw him scoop four accolades at the end-of-season Player of the Year awards last year, and things got even better when he was named captain following the arrival of Steve Cooper in the summer of 2019.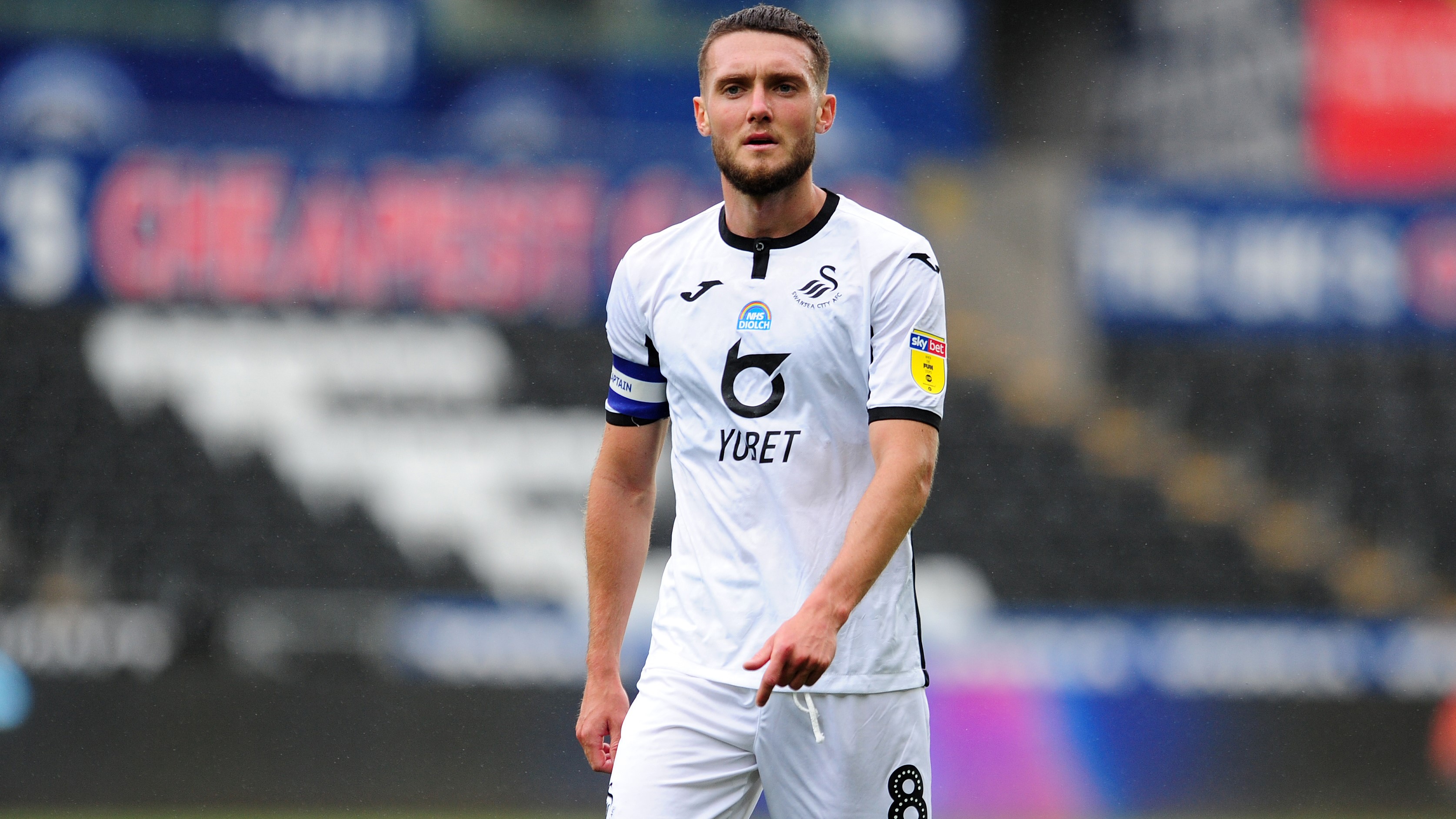 The midfielder has played every minute in the Championship this season - the only outfield player to do so for the Swans - meaning he has now appeared 92 times for the Swans in just under two years.
And for all his achievements, he highlighted the importance of one key factor along the way.
"I like to base my game on consistency. I think that is a lot to ask for these days," he explained.
"I like to think any manager who has worked with me, or is working with me in the future, knows exactly what they're getting from me week in week out. 
"I'm probably not everyone's cup of tea or the most exciting player to watch, like some of the lads we've got going forward. But I like to keep things ticking over and stay consistent. 
"I feel like I've done that over the past couple of years, which is probably why I've made so many appearances. 
"To be consistent in anything you do in life is massively important to be successful. 
"I've just taken each game at a time and focused on playing well and helping the team. That's obviously taken me to where I am today."
Grimes is set to become one of only five players in the current Swansea squad to join the 100 club, following in the footsteps of Nathan Dyer, Wayne Routledge, Kyle Naughton and Mike van der Hoorn.
The 24-year-old has a long way to go before reaching the heights of Dyer and Routledge – who boast 347 and 280 appearances respectively – but admits those are numbers he would love to emulate.
"You look up to players like Nath and Wayne. Both of them have been fantastic servants to this club," acknowledges Grimes.
"They've been fantastic during my time here – not just on the pitch, but off it as well.
"Those types of players are exactly what you want to be as a senior pro. The number of games they have played is ridiculous. 
"Any footballer trying to make it has to look at those sorts of figures and try to emulate it.
"Obviously, I'm on my way but I still have a long way to go."
Grimes is hoping to mark his personal milestone with three points at the St Andrew's Trillion Trophy Stadium to keep the Swans in the Championship play-off hunt.
Cooper's side are looking to build on Sunday's 2-1 win over Sheffield Wednesday, which moved them to within four points of the top six with five games remaining.
And the skipper feels that momentum is key as he and his team-mates aim to ensure post-season football at the Liberty.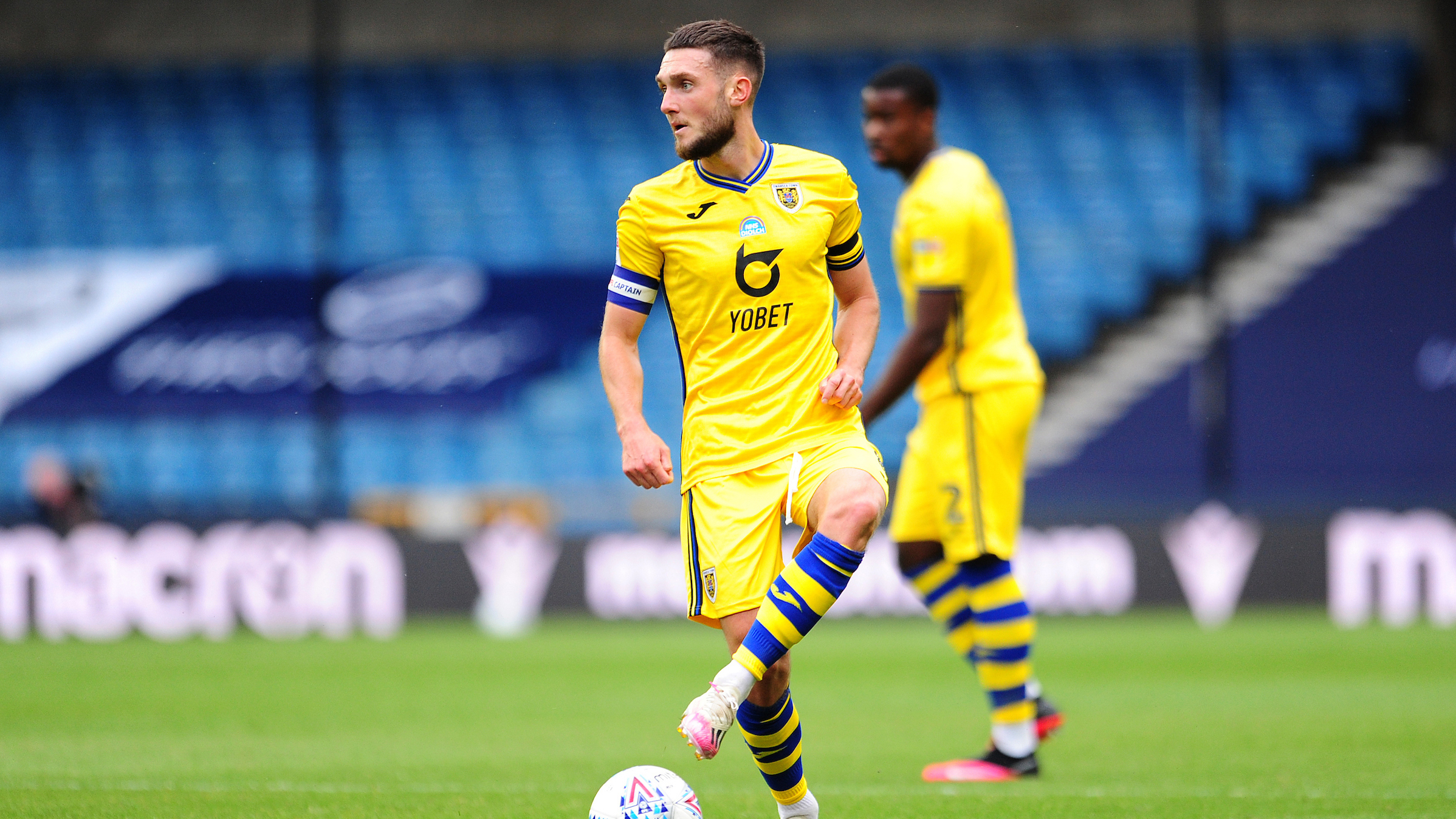 "It's massively important to me that we mark the occasion with three points. That is the best way to celebrate anything," he smiled.
"We got ourselves back in a good position with the win on Sunday.
"After the game against Middlesbrough, to play Luton and lose was a big disappointment, so we'll be looking to make sure that doesn't happen again.
"At this stage of the season, it's all about momentum and whether you can just keep winning.
"Obviously, playing well is the main factor in that but,  if you're not, then you just need to try to keep picking up points. 
"In the position we are, we need to hope other teams drop points as well, but we just need to focus on ourselves. 
"We played better in the second half on Sunday and we just need to try to take that momentum into Wednesday."