Ollie Cooper | Coming back for pre-season felt different, I was ready to fight for my place
29th September 2022
First team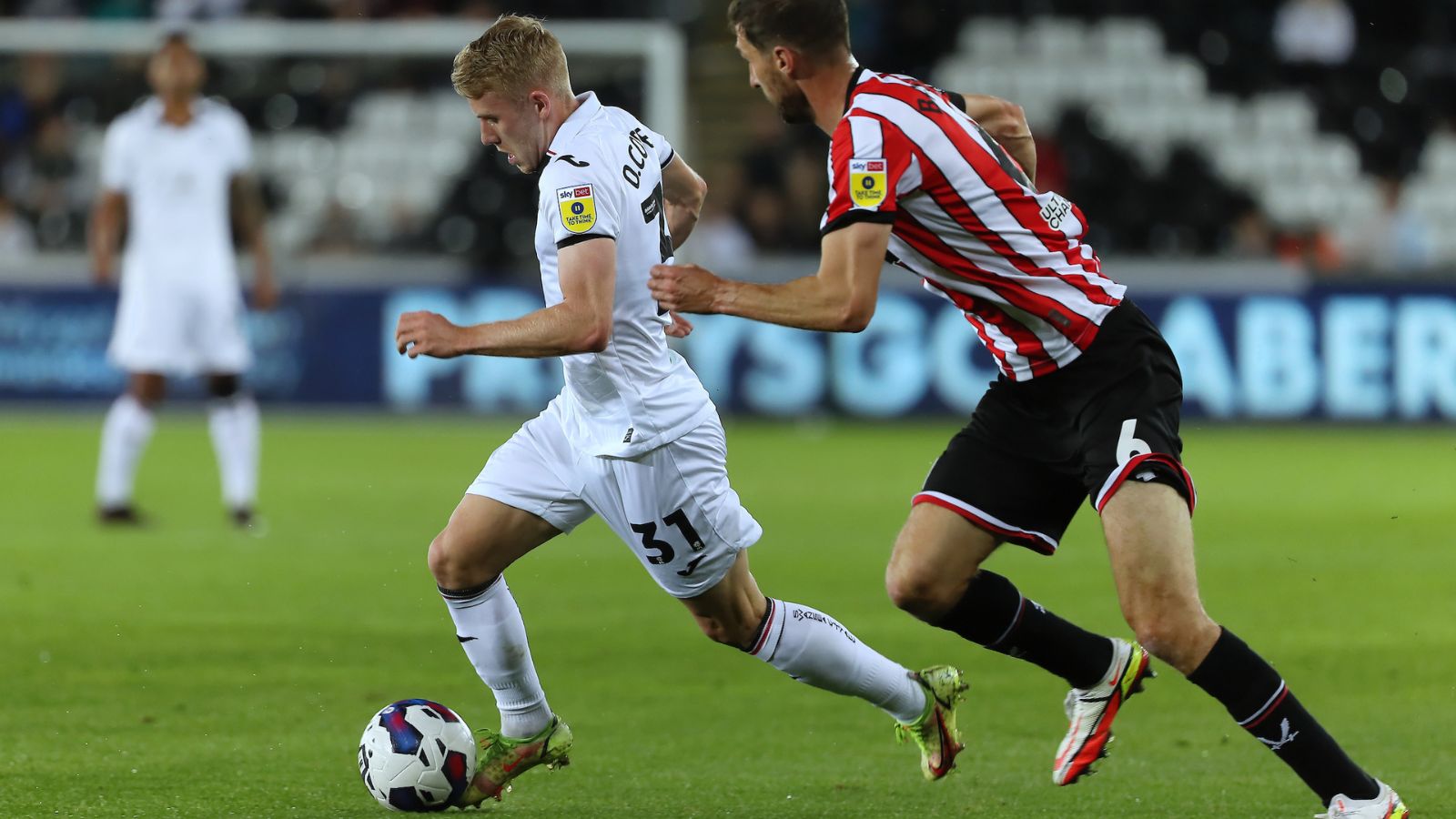 When Ollie Cooper headed to Pennyhill Park in mid-June as Swansea City's pre-season commenced in earnest he felt a difference from any previous preparations for a campaign he had been involved in.
The 22-year-old midfielder had been around the first-team set-up since the 2020-21 season, making his breakthrough with substitute appearances in FA Cup ties against Stevenage and Nottingham Forest – scoring his first senior goal in the latter.
He would make three Championship outings from the bench later in the same campaign.
All were notable milestones in a fledgling career and were relished by the young playmaker, who had been with the Swans since the age of 12.
However, he knew deep down he needed regular football under his belt and that it might not immediately come in SA1.
After conversations with the first-team coaching staff a move to Newport County for the 2021-22 season followed, and neither Cooper nor the coaches would argue that it was anything other than a transformative campaign for him.
The outside perception is often that players who are loaned out are not wanted, but head coach Russell Martin and assistant Matt Gill have been vocal in their view that such stints at other clubs are actually a potential route into the Swansea first team rather than a one-way ticket through the exit.
Cooper is tangible proof of the benefits of that view. He made 35 appearances in all competitions for the Exiles, with only an injury late on in the campaign disrupting his exposure to the relentless grind of EFL football.
Three-game weeks were the norm rather than the exception, and provided new demands for Cooper, but he ended the season with nine assists – the most of anyone in the Rodney Parade squad – and a goal to his name.
It was also noted how his absence through injury coincided with a downturn in County's form that would see them miss out on the play-offs after being firmly in the mix all campaign.
The confidence and resilience built up during the season meant that when Cooper headed to Surrey it was with a very different mindset.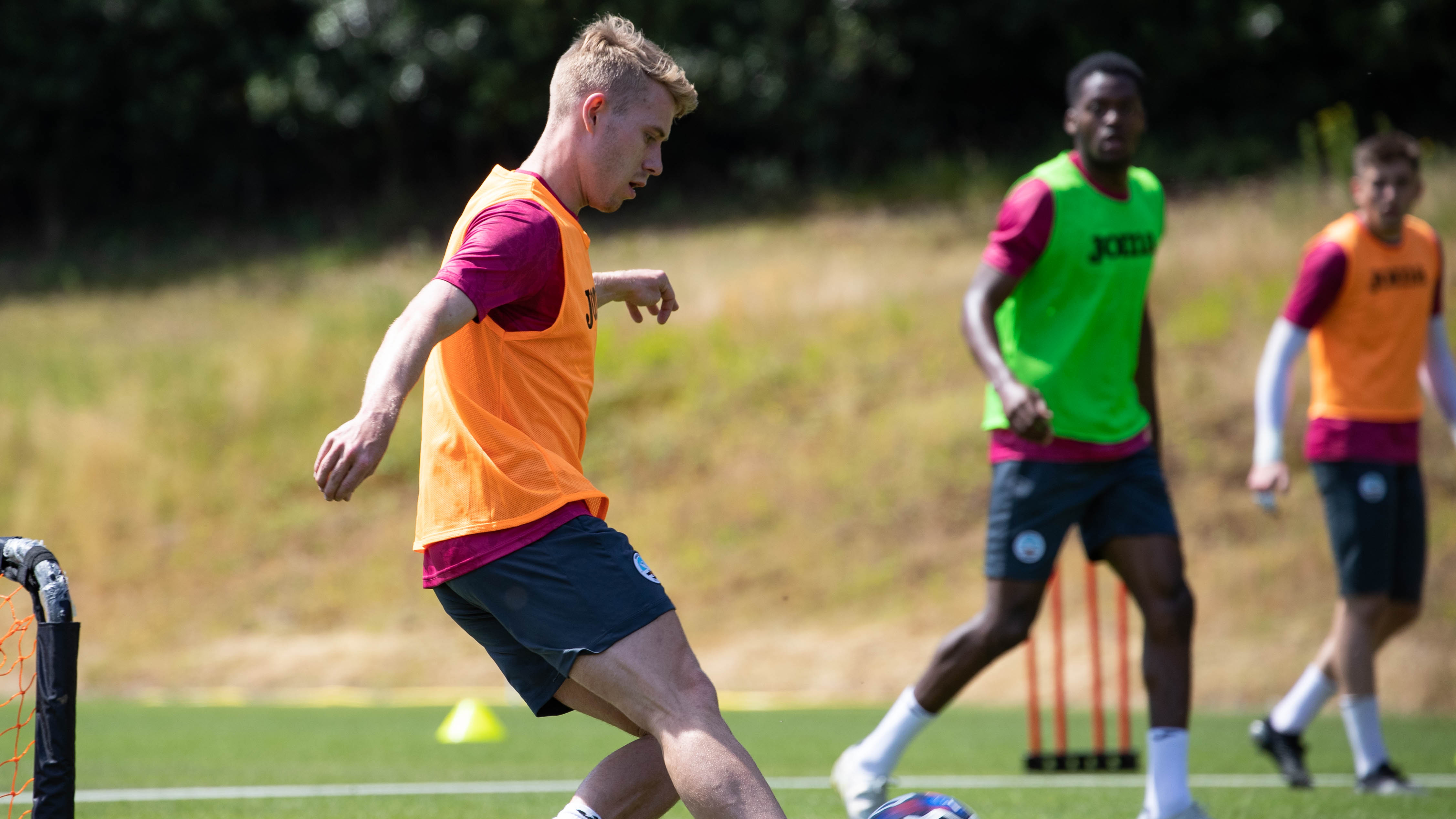 "I have definitely changed in the time since making my debut here," he says.
"I am not sure I could definitely pinpoint any one thing, but I know that I have, I can feel that in myself.
"When I came back for pre-season this year I was in a very different place to where I was when I came in the year before and I ended up going on loan to Newport.
"I needed the consistency of playing games at a high level against men, basically. I did that at Newport, so coming back for pre-season after a year of playing regularly, I just felt I was ready to step up and compete to get into the team.
"I learned so much on loan, dealing with the number of games, the way you manage the games themselves. How to handle winning, how to deal with defeat, these are things that are all different from what you think about when you are young.
"But when there are points on the line, or there is promotion on the line, you have got to deliver and find that winning mentality. It's things like when to slow down the tempo of a game, or when to pick it up.
"There was so much I took on board and I would like to think people can see that. There is a difference between me now, and how I was when I first played here.
"I had been in and around the first team here, but I had not really played much football since the first outbreak of Covid. I was almost caught between the first team and the under-23s (now the under-21s).
"So I had to understand how to manage myself, you have to know that you have to do everything to be ready to go. That is not just about what you do at the training ground, but how you look after yourself when you go home.
"Getting the full experience of it last season was really good for me.
"It's things like your sleep. That's a massive thing for me. If you think about it, when you are travelling back after games in midweek or long away trips, you are missing out on sleep and it's not always easy to catch up and be fully rested.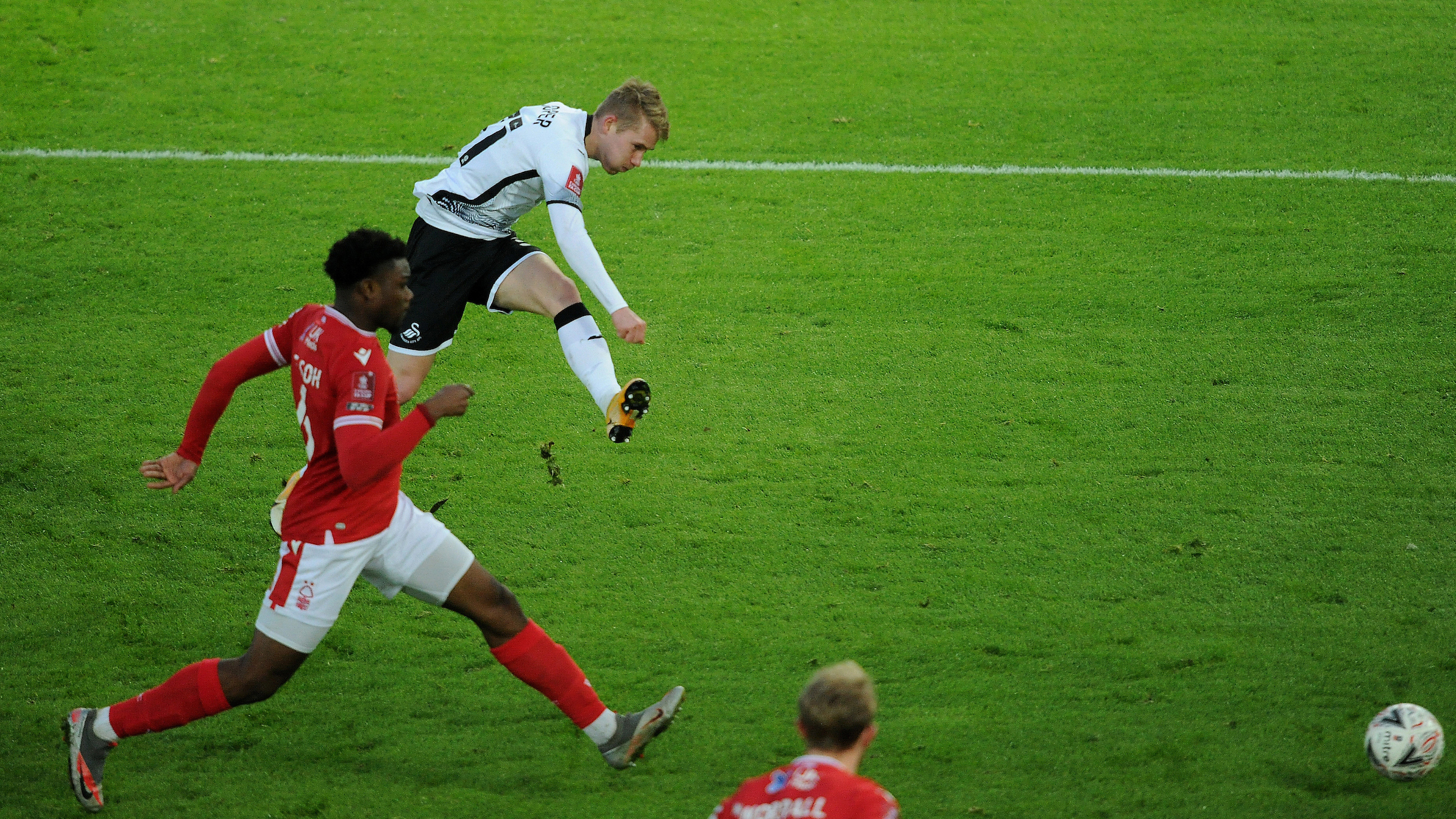 "For me, that's a really big one, but also making sure I eat well and then, when I am at the training ground, I want to make full use of the facilities and expertise we are so lucky to have there.
"All those little bits, it might just be one per cent or two per cent of the big picture, but it all makes a difference. You find out what works for you and you stick to it to prepare as best you can."
And as Cooper flourished at Newport he was far from being out of sight and out of mind for his parent club.
As with all loan players on loan, there was a member of Swansea staff at every Newport home game the attacking midfielder was involved in - as well as at a number of away games. Regular feedback was provided on Cooper's performances, areas where he was doing well, and areas where he needed to improve in order to give himself the best chance of succeeding back in Swansea colours.
Martin and Gill were among the Swansea coaching and football staff to be regular attendees at Rodney Parade, and Cooper acknowledged knowing his progress was being monitored so closely provided him with a boost.
"The staff at Newport were great with me, they were really supportive and believed in me. It meant a lot and it pushed me a lot too, that belief makes a difference.
"It's the same at Swansea. There was always someone coming to games to watch me and to provide feedback for me. The gaffer came to a lot of the games, I know Matt Gill was watching me a lot.
"I think I am right in saying they had someone at every home game I played for Newport, and when you know that and you are getting really good constructive feedback after the game, that is a nice feeling.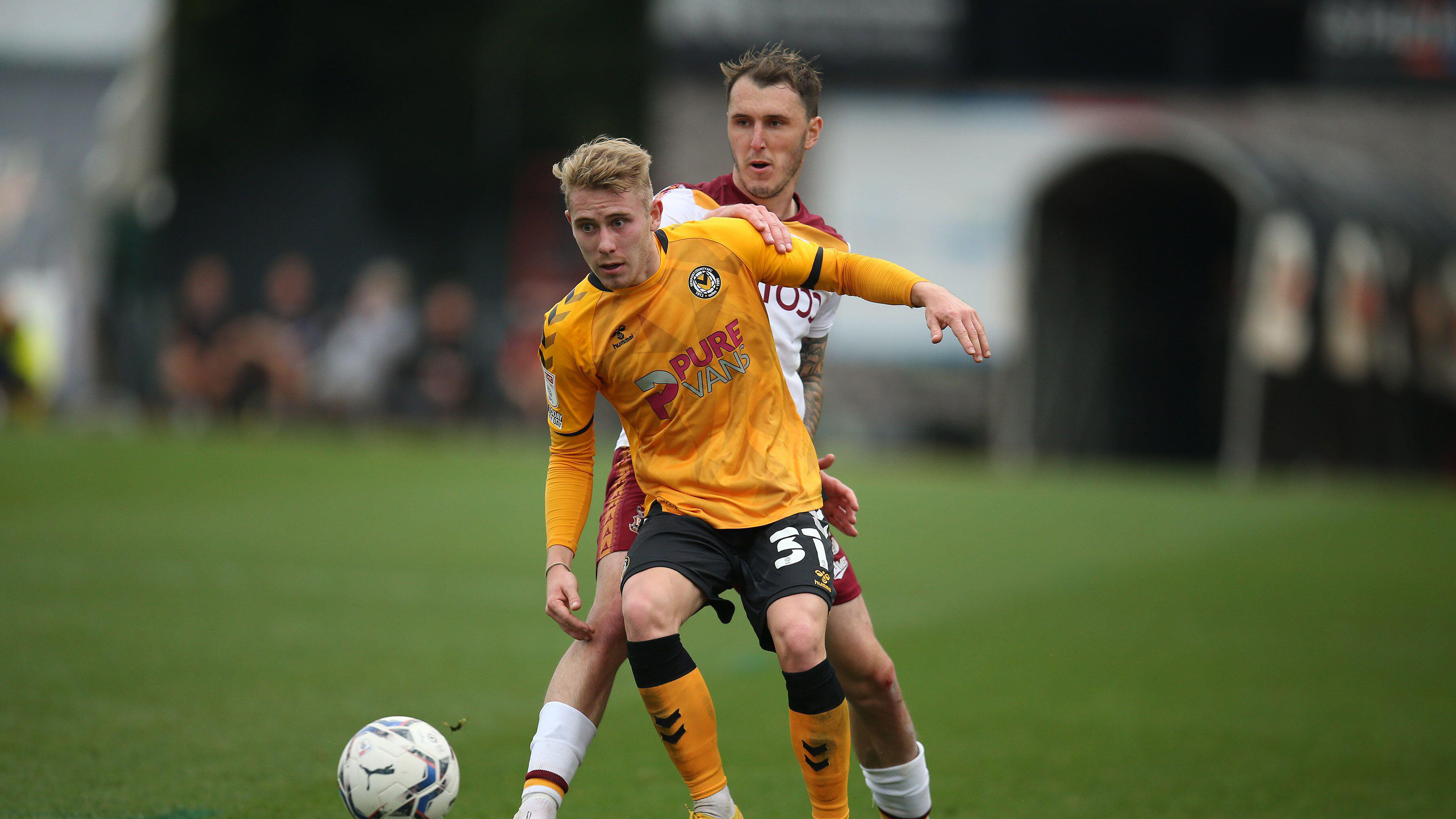 "Even though you are on loan, you feel you are wanted, that there is an interest in how you are progressing.
"They were always honest, there were always things they were challenging me to do better and improve on. It was always delivered in a constructive manner so it would help me prepare to be ready to go when I came back.
"We looked to play and be positive with the ball at Newport, obviously not quite as much as we do here at Swansea, but I would not have been able to make the step I have without that guidance and feedback."
But Cooper, the son of former Wolves and Wimbledon winger Kevin, is honest in admitting he was under no illusions that regular first-team action was going to be a given.
He was prepared to work and hard and be patient, and make the most of any opportunity that came his way. There is no doubting those opportunities have been grasped with both hands.
After impressing in a deeper role in the Carabao Cup clash with Oxford, he then made a real impact off the bench further up the pitch in the defeat at Middlesbrough.
He has been in the starting line-up ever since, claiming a crucial assist in victory over Queens Park Rangers as his pressing work yielded an error and allowed him to unselfishly slip Joel Piroe in to score.
Chances to net a first league goal for the Swans have also fallen his way, and there is frustration that he has not had his name on the scoresheet.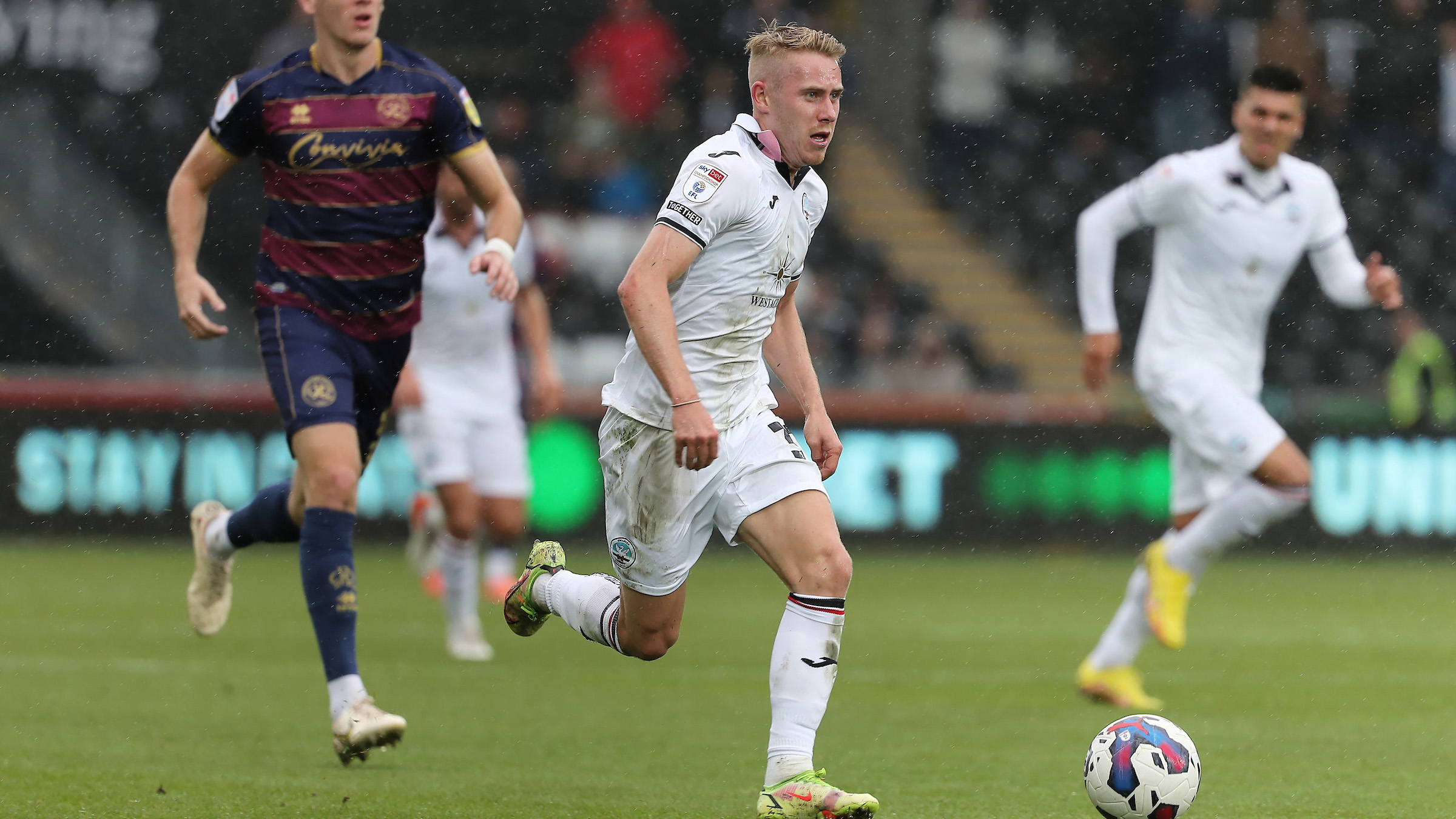 But Cooper is relishing challenging himself at Championship level, even though he acknowledges the physical and technical level of the division is a big step up.
"This is what I wanted this season. I did not think it would come quite as early as this, but I am so glad to be consistently playing and I want to continue playing in this team," he said.
"I know we have got a lot more to offer, and I have too, and I feel it is getting better and better the more comfortable and confident I am as I play more with the rest of the squad.
"I think the way we play really helps with that. When I was out on loan last season, I would always watch Swansea games whenever I could, be that on TV, or through clips the coaches sent me, or at the stadium.
"I watched it and just felt that it would suit me and it would give me a lot of joy and freedom to play in a side who want the ball, want to take risks, and to have players around me who would want to do the same and make those passes.
"The Cardiff home game really stood out, I was at that game and that was a joy to watch. It just underlined to me that it was a way of playing that would suit me if I could take the chance to show what I can do.
"It is obviously a step up to Championship level, but I am enjoying testing myself.
"I am not sure there is any other way to say it; everyone in the Championship is an absolute unit!
"All players are athletic, powerful, quick. I am not saying the players in League Two don't have those qualities, but the level of them is completely different.
"You look at the game against Sheffield United the other week, I was playing up against people like Sander Berge, Chris Basham, John Egan. These guys are massive, they are experienced, they have played in the Premier League and they rarely make mistakes.
"It is hard to force players at this level into mistakes but the big thing about how we play here at Swansea is that, if you get it right, you take that element out of the equation.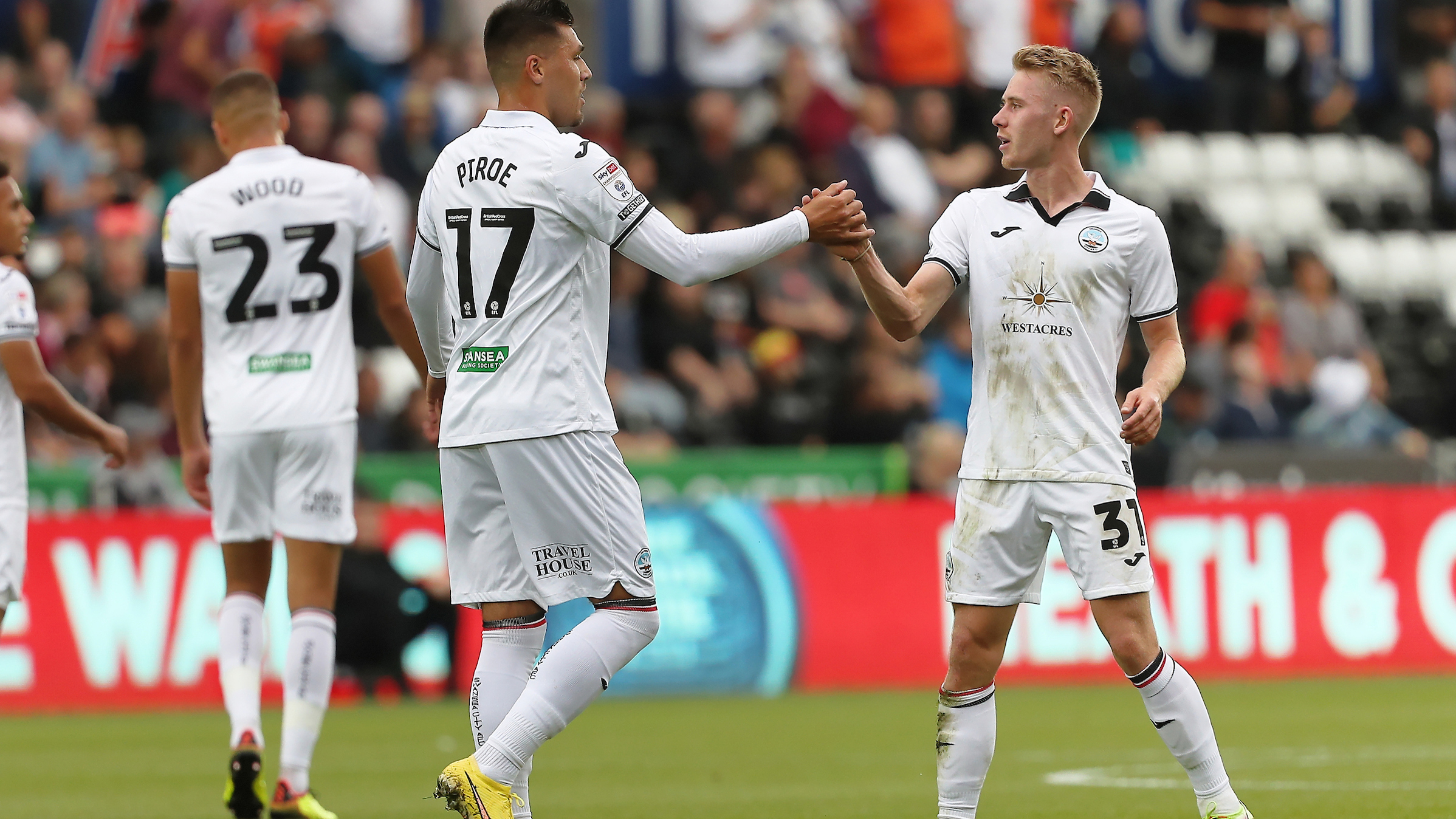 "If we are accurate in how we use the ball and play with tempo, they are not going to be able to use that sort of physicality against you because they won't be near to you.
"When you have the ball and you can pop it around quickly, you take players out of the game. Doing that, you don't need to be the biggest.
"You look back at players like Leon Britton, that was what I admired so much about him. Nearly every opponent he faced was physically bigger than him, but they could not get the ball off him and they could not stop him dictating the play.
"But that's the biggest difference is the power and athleticism at this level, the thinking process is that bit quicker. It's hard to force mistakes but I will always work to try and force them."
When a young Cooper would have watched Britton in action at the then-Liberty Stadium back in the early days of Swansea's seven-year stint in the Premier League, he would have seen another diminutive playmaker in the Swans engine room in the form of Joe Allen.
The Wales international is now a team-mate, and someone Cooper looks up to, along with the other senior players in the squad.
"Playing alongside him is amazing. I get on well with Joe, we have a few things in common," says Cooper.
"To play alongside and to have him here as someone to speak to and listen to the advice he gives is invaluable.
"Just look at the career he has had. Having that person there to be able to help you is fantastic, as it does with the other players who have had long careers.
"I'm also enjoying playing with Joel Piroe in that final third.
"Joel just makes it easy for me. His movement is so good that it almost makes my mind up for me when I have got the ball.
"He knows where to go, when to go longer or when to come short. He is never far away from me when I get the ball.
"I try to do the same when he has the ball because I know he sees the runs I make and he has the ability to put the ball right where I need it.
"I think we have built a good link between us, I hope it just gets better and better as we play more."