Paul McGuinness delivers CPD session to academy staff and players
16th March 2023
Academy
On Wednesday evening, former player turned player development coach Paul McGuinness delivered an insightful and valuable continuous professional development (CPD) workshop to the academy coaches, followed by a training session with the club's Under-13s.
McGuinness spent his youth years at Manchester United, and although he didn't break through to the first team, he remained within the club's set-up as head coach of the academy's professional development phase, a role he performed for almost 25 years.
The former player - who made 20 Football League appearances for Chester City and Crewe Alexandra respectively - has worked with the likes Paul Pogba, Marcus Rashford and Jesse Lingard. 
Between 2005 and 2016 he was manager of Manchester United Under-18s, and under his watch 86 academy players went on to make a first-team debut for the Red Devils, with 23 of those becoming full internationals.
After leaving United, McGuinness travelled the world in search of the best football practices from across the globe before joining the Football Association in 2017 as the governing body's national coach Developer. His residence at the England base, St George's Park, is to help support coaches get the very best out of the brightest young prospects.
The workshop began with a presentation to Swansea's academy coaches and staff from all age groups. McGuinness focused on 1v1 training, stating that while football may be a team game, often it is decided in 1v1 battles.
And those values learnt in the classroom were then implemented onto the grass, as McGuinness took the under-13s through their paces in a bespoke session.
Ryan Davies, head of academy coaching at Swansea City, said: "It was great to have Paul come and work with our coaches and enhance their observation and coaching skills. Paul is a coach that is highly regarded with a wealth of experience. He is someone who has played a huge part in the journeys of some of the top players who are currently playing in the Premier League.
"It was great for Paul to share his experiences and talk through the quadrant tool he has developed to aid coaches' observations. He also shared his process for creating sessions to attempt to develop more skilful players, with players being challenged to be the one to do something that no one thought they could do.
"The session he put on for our Under-13s after his presentation was excellent. We really got a feel for his process for designing sessions to help develop more skilful players. He created such a good environment for the boys to explore and experiment with different types of combinations and dribbles.
"These are areas we are always trying to improve in our players to help them breakthrough in our first team, or failing that, have a sustained career in professional football elsewhere. Our players will require these combination or dribbling skills to allow us to play the possession-based game we try to implement across the club.
"We would like to say a massive thanks to Paul for coming in and helping our coaches and providing them with some valuable insights into player development."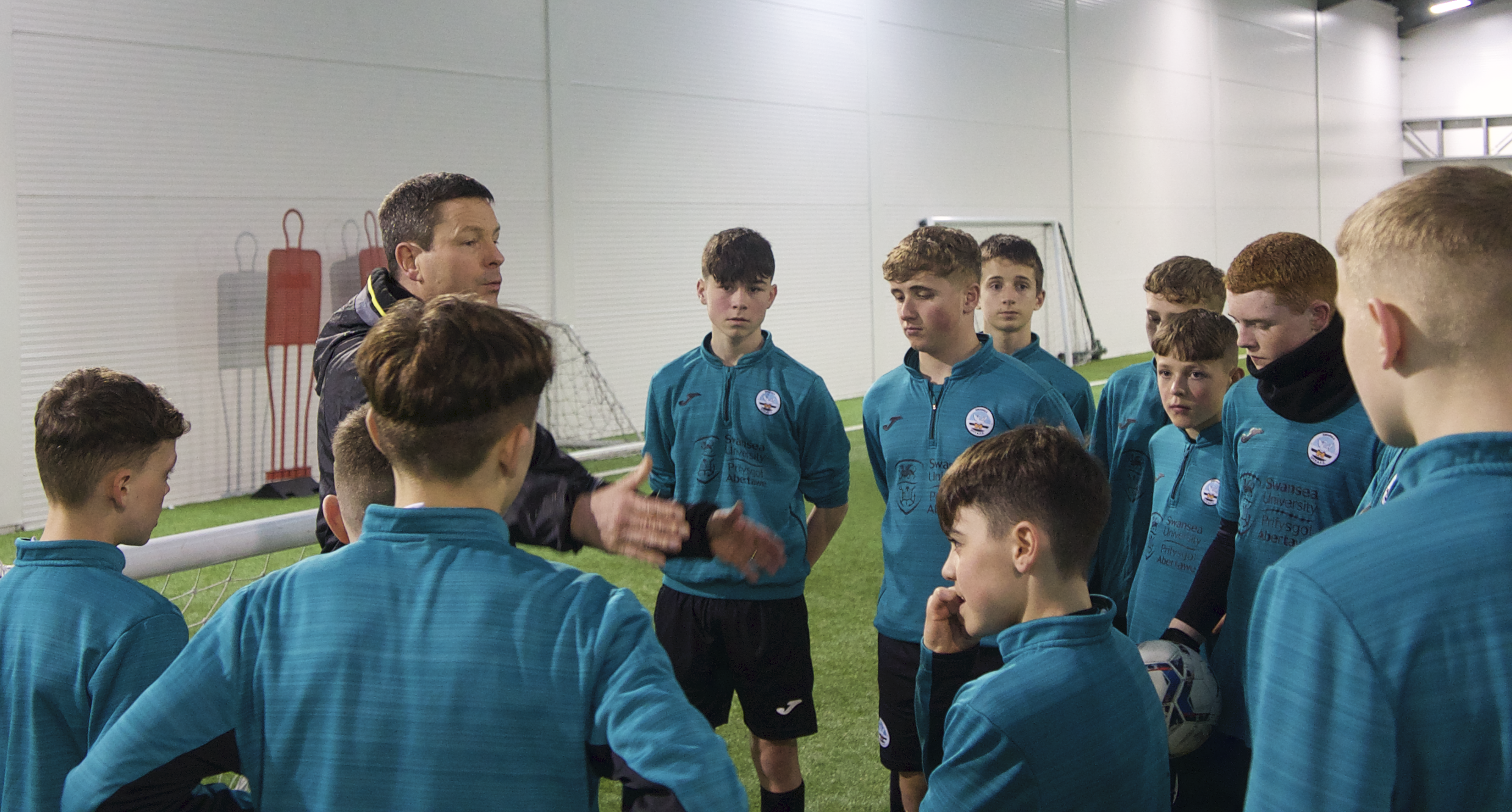 Joe Roberts, Swansea City Under-13s coach, also felt the experience was extremely valuable for the young development side. 
"It was fantastic having Paul visit Landore. He is a very well-respected figure in the coaching world where he has gained a great reputation for his ideas and hard work in developing players," he said. 
"Observing him delivering to our players in our environment was highly insightful, engaging and really thought provoking. 
"His ideas and views on player development and football in general naturally get the cogs turning and as a staffing group we are thinking about how we can improve our coaching which then helps the players here at the academy. 
"His work around the quadrant observation model delves deeper into breaking down key details on how certain actions are executed within a game setting, all of which are aimed at developing more skill, disguise, and bravery within young players.
"All of the above are attributes that we want all our young players to have and develop as they progress through their academy journey."