Renewal deadline for 22-23 season tickets fast approaching
17th March 2022
Ticketing News
Swansea City would like to remind season ticket holders that the deadline to renew for the 2022-23 campaign is fast approaching.
Supporters who wish to renew their ticket(s) and keep their seat for the 2022-23 season must do so before midnight on Thursday, March 31.
We recently caught up with Swans fan, Francis Greene, who turned 100 in February. Francis has been supporting Swansea City for a whopping 94 years, and he still attends games today, sat in our West Stand.
His father took him to his first Swans game at the age of six and he was converted; he has considered himself a Swansea Jack ever since that moment.
"For 94 years, it has been part of my life. Sport plays a huge part in people's lives. It is a great thing to get you through your life, people do look forward to it,"said Francis.
"It's a wonderful community of people in the West Stand. I know it may only be every fortnight, but you look forward to it socially because you do not see them in between. We enjoy it immensely.
"It is the best football club in the world as far as I'm concerned, it always has been since I was a kid. I lived and breathed it as a young boy and my claim to fame was a trial for Swansea Schoolboys. It was a big deal in those days!"
One of Francis' favourite memories was the memorable match at the Vetch, where the Swans beat Hull City 4-2 to retain their Football League status.
"The tension there, the excitement, the worry – you didn't sleep the night before," says Francis, recalling that incredible day.
Swansea City was delighted to help Francis celebrate his 100th birthday and to thank him for his unwavering loyalty in his 94 years of following the club, by renewing his season ticket for free.
Our West Stand is also where our hospitality guests are situated within the stadium, with wider concourses allowing ease of access for our supporters.
Season tickets in this stand are available from just £79 for an under-12 ticket, with full prices detailed below: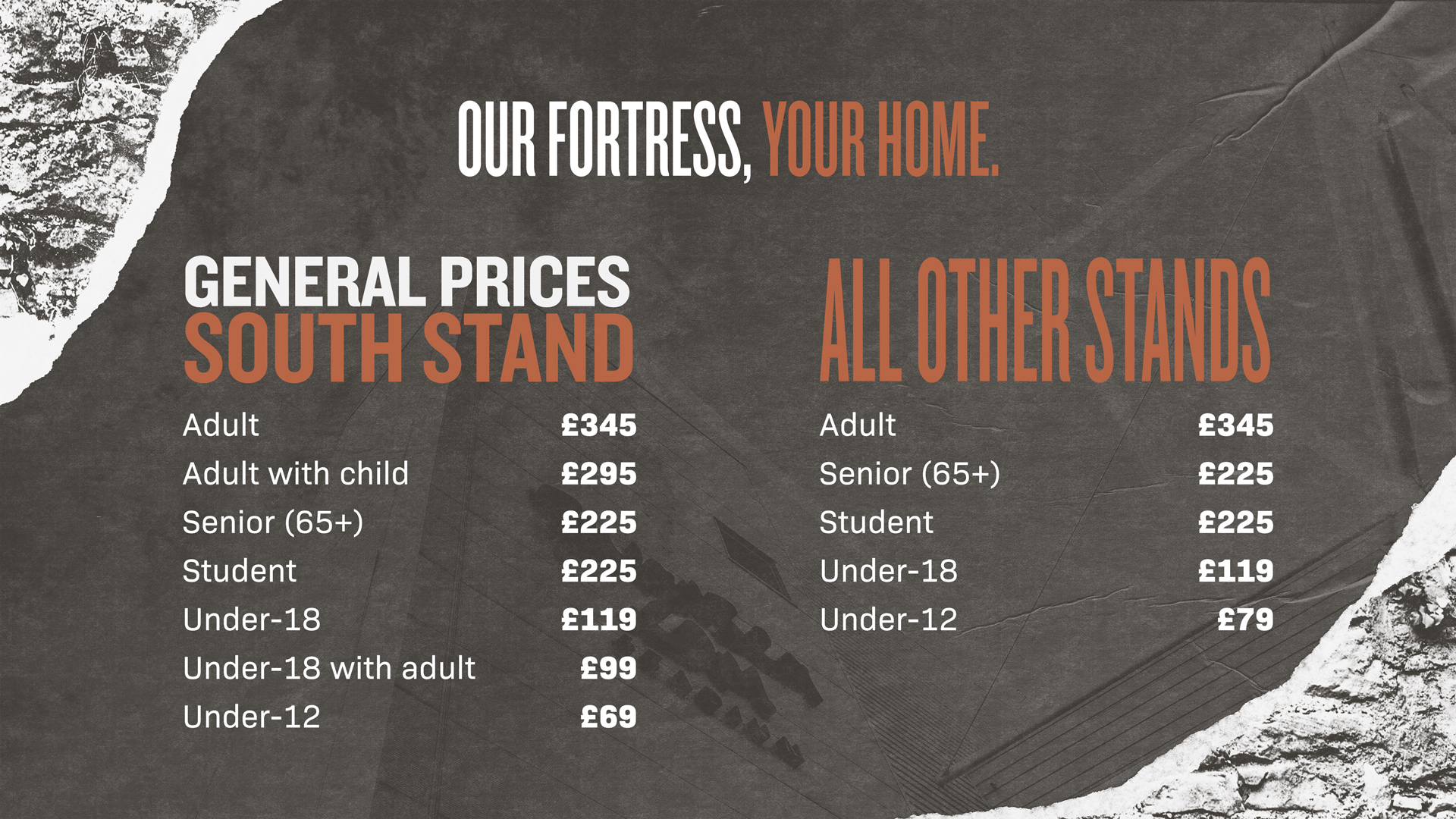 How to renew
Renew online
The easiest way to renew is online via our e-ticketing site.
Supporters who wish to purchase online must have already linked their existing season ticket to their online Swans Club Account. More information on this can be found below.
Renew over the phone
Supporters are also welcome to call our Ticket Office to purchase, by calling 01792 616400 and selecting option 1. The phone lines are open Monday to Friday between 9am and 5pm. Please note that during this period we may be experiencing a high amount of calls, so your patience is appreciated.
Visit the ticket office
The Ticket Office will be open for in-person visits on match days and the day prior to a fixture.
Queries
If you have any issues with your account or have any queries, you are also welcome to email ticketing@swanseacity.com and a member of the team will respond to you.
General sale
Season tickets will be available to purchase on general sale from Friday, April 1 2022.
Not a 2021-22 season ticket holder? No problem, you can register your interest below. 
Sign up below to register your interest and be the first to know about the 2022-23 season tickets general sale.