Report | Cardiff City Women 1 Swansea City Ladies 6
29th April 2021
Ladies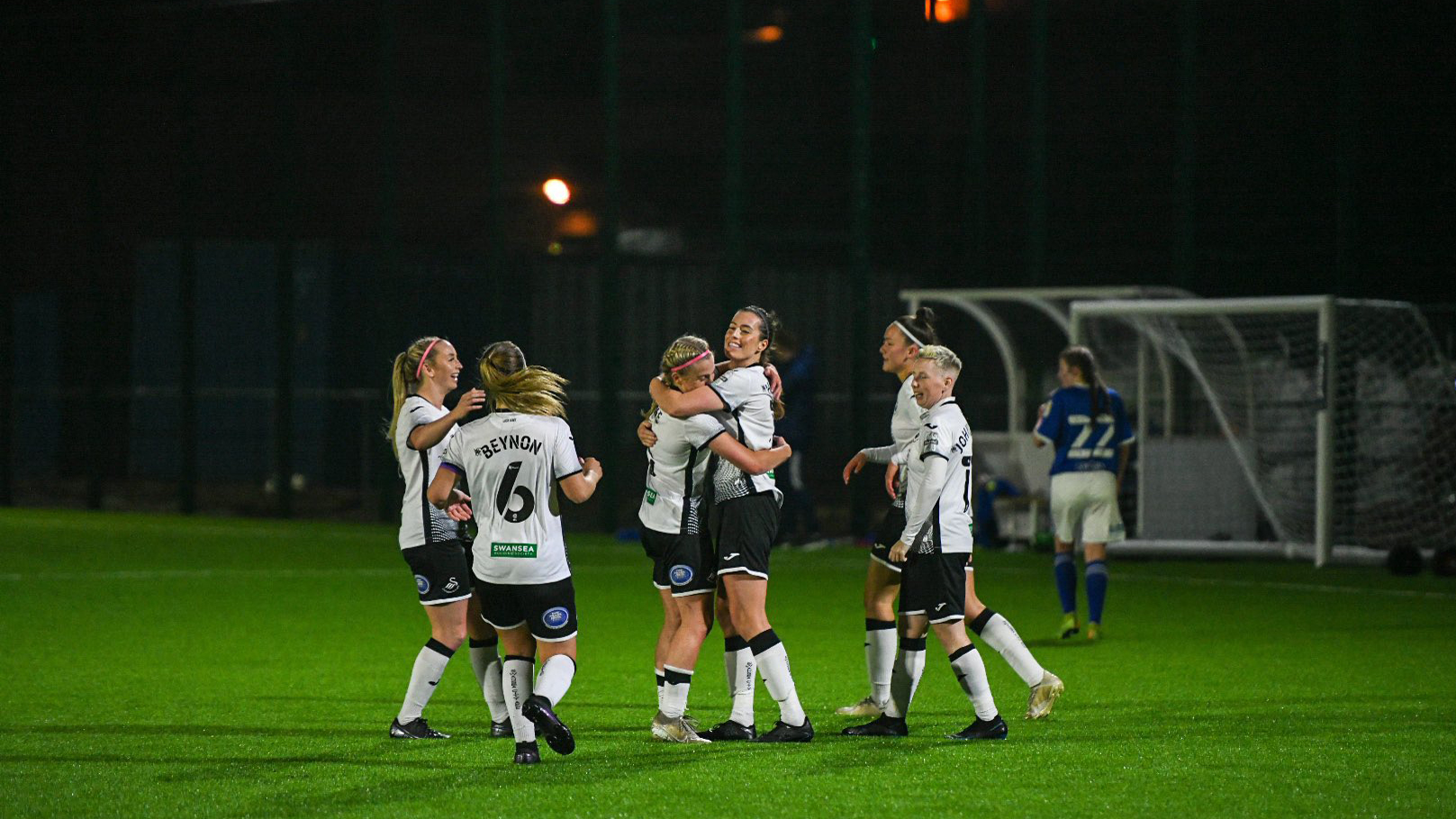 Swansea City Ladies secured top spot in group two of the WPWL Cup with an emphatic victory over south Wales rivals Cardiff City.
After an even start, the Swans took full control with just under half an hour on the clock as Ria Hughes broke the deadlock, and the visitors went into the break with a three-goal lead courtesy of further strikes from Stacey John-Davis and Tija Richardson.
A second-half brace from Emma Beynon and a goal from Katy Hosford ensured that Swansea went through to the semi-finals of the WPWL Cup with a game to spare.
The Swans had won the league encounter earlier in the season 3-0, and they started brightly as Shaunna Jenkins found John-Davis with an accurate free kick from inside Swansea's half to feed the striker in behind the Cardiff backline, but Charlotte Hastings came out promptly to snuff out the danger.
But Hughes broke the deadlock after she found the back of the net with a long-distance strike, looping over the goalkeeper on its way in.
Jenkins almost got her name on the scoresheet but her shot from the edge of the box whistled just over the bar, but the lead was then doubled by John-Davis with 10 minutes of the first half remaining after she found the top corner from range.
And the Swans had a complete stranglehold on the game before the half-time whistle was blown as Richardson nodded Hosford's cross into the far corner.
The Swans continued to dominate from the start of the second half as Ellie Lake was taken down in the penalty box by Mikayla Coo; Beynon stepped up and calmly slotted the spot kick into the top right corner with ease.
Lake came to Swansea's rescue and momentarily kept the visitors' clean sheet intact as she cleared Cook's shot off the line with a last ditch clearance.
Hosford's cross then caused havoc for Cardiff's defence and it led to Beynon tapping the ball home past Hastings, who had been coming out to gather.
Danielle Green pulled one back for Cardiff with a long-range effort which nestled in the top right corner.
But, Hosford had the last word in the closing moments with a thunderous effort from the edge of the box, giving Hastings no chance.
Swansea City: Claire Skinner, Ellie Lake, Shaunna Jenkins (Chloe Chivers 51'), Jess Williams, Ria Hughes (Mel Sartain 87'), Tija Richardson, Emma Beynon (C), Laura Davies (Nieve Jenkins 77'), Kelly Adams, Katy Hosford, Stacey John-Davis
Subs not used: Gemma Border, Kate Searle, Mel Sartain
Cardiff City: Charlotte Hastings, Lisa Owen (Ffion Price 62'), Hannah Daley, Siobhan Walsh (C) (Ellie Jones77'), Kanisha Underdown (Sophie Norman 62'), Danielle Broadhurst, Danielle Green, Jasmine Simpson (Charley Hocking 85'), Catherine Walsh, Zoe Atkins (Mikayla Cook 46'), Cerys Pinchard
Subs not used: Ceryn Chamberlain, Brooke Evans