Russell Martin eyes additions but starts with a clean slate
3rd August 2021
First team
Russell Martin is hopeful of quickly making additions to his Swansea City squad, but is keen to give everyone at the club a clean slate to operate from following his appointment.
The 35-year-old was named as the Swans head coach on Sunday, having signed a three-year deal at the Liberty Stadium.
The former MK Dons boss took training at Fairwood for the first time on Monday as he got down to work with his players ahead of Saturday's Championship opener at Blackburn Rovers.
And, while his immediate focus is on preparing the side for that clash at Ewood Park and working with the current squad, he acknowledged work is well under way when it comes to bringing in new faces.
"There are areas that, if you look at the squad, I think everyone will realise need strengthening, in terms of numbers as much as anything else," he said.
"I want to give everyone a chance who is in the squad currently, there is no doubt about it. They will want a chance to impress and put themselves in the team.
"So, anyone who wasn't in the mix before starts with a clean slate and I am looking forward to seeing what we already have in the building.
"I have been told we have some guys coming through the academy, a hugely successful academy. You only have to look at the number of Swansea graduates who played for Wales at the Euros to see and understand that.
"We have shown we are not scared to play young players if they are ready.
"But, of course, there will have to be additions because of the number of players who have departed over the summer and were key to last season's success.
"So, we have to add to it, and we are working hard at that already. There have been numerous conversations and we hope over the next week or so there will be some people in."
Martin eloquently laid out what he hopes he can achieve in Swansea, and the style of play he will put in place as he looks to provide excitement and enjoyment for the Jack Army.
But, given the quick turnaround from his appointment to the start of the 2021-22 campaign, he has also made clear there will need to be some patience as he gets down to the task at hand.
"It will not all happen in game one, that is very important to stress," he added.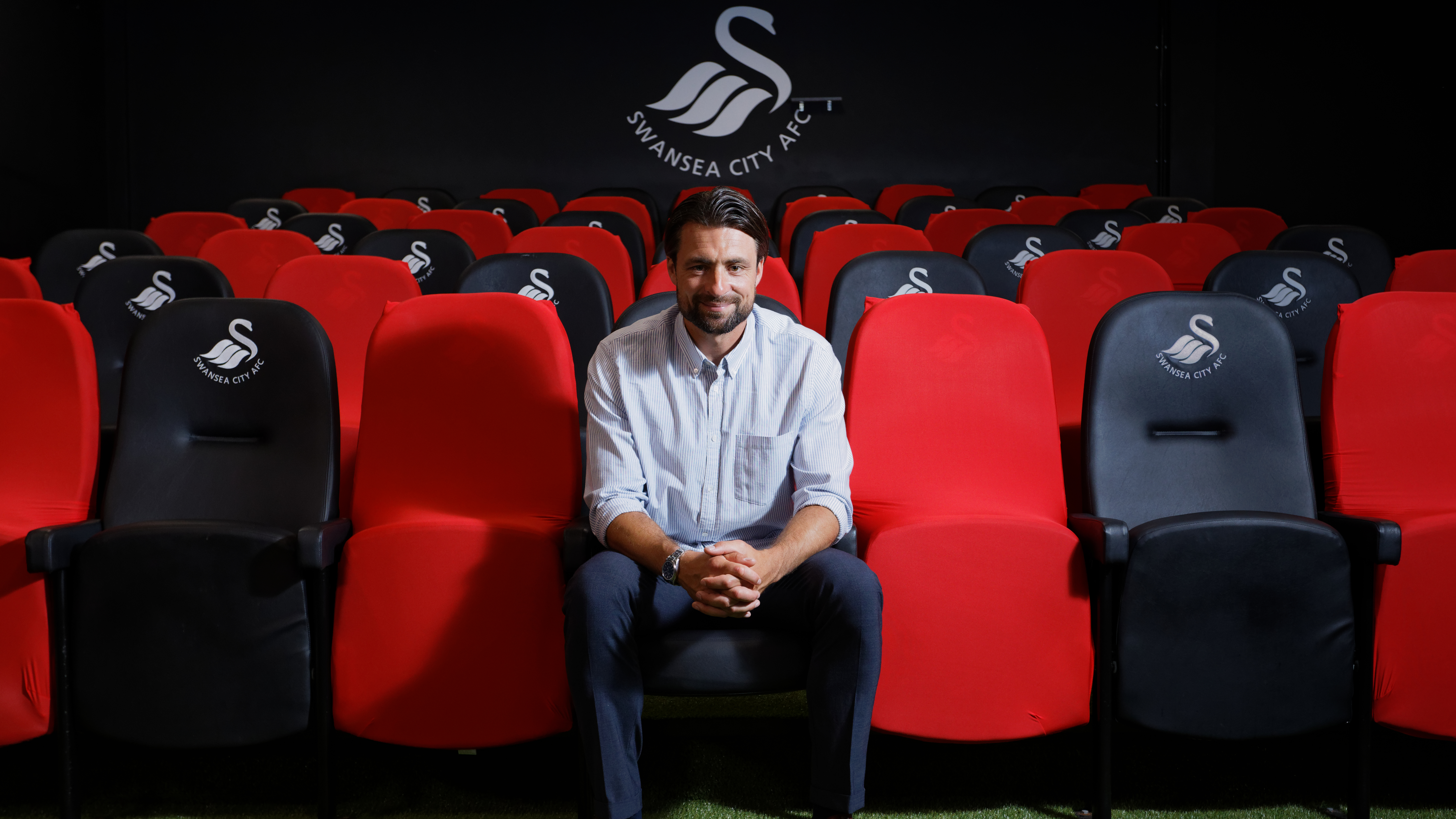 "It will not happen in games two, three or four either as we have got four games in just two weeks with what is a smallish squad at the moment.
"So, hopefully there will be new players coming in to add to that, which will take some time, but we will give the guys everything we have and prioritise the stuff that is really important, because this is what sets the foundation.
"At the same time, there will be a few non-negotiables and things we will not compromise on with the team.
"We will be looking to build on that, keep adding layers to it, keep adding detail to a point where we can watch the team and be able to sit down or stand on the touchline and enjoy it."