Russell Martin | It was a brilliant performance and a beautiful day
22nd April 2023
First team
Russell Martin was left to reflect on a "beautiful day" after watching his Swansea City side produce an outstanding performance to mark his return to Carrow Road with a 3-0 victory over Norwich City.
Back at his old stomping ground against the club he served with such great distinction as a player and captain, Martin saw his Swans sweep into a two-goal lead courtesy of headed goals from Joel Latibeaudiere and Liam Cullen.
Cullen looked set to add a third before the break only to be brought down by Sam McCallum, who was given his marching orders.
The Swans completely controlled the second half and put the seal on a sixth win in seven games when Olivier Ntcham finished a patient attack.
And head coach Martin was full of praise for how his side had performed against a home side still harbouring play-off ambitions.
"It was a beautiful day for us all; the team and the fans that travelled a long, long way," he said.
"We are just really grateful to the players and so proud of them.
"I actually thought we started the game a little sloppy, to be honest. We were a little bit nervous and a bit tense in the first 15 minutes.
"But after that the lads started showing more care for each other with the ball, and from then on we were brilliant.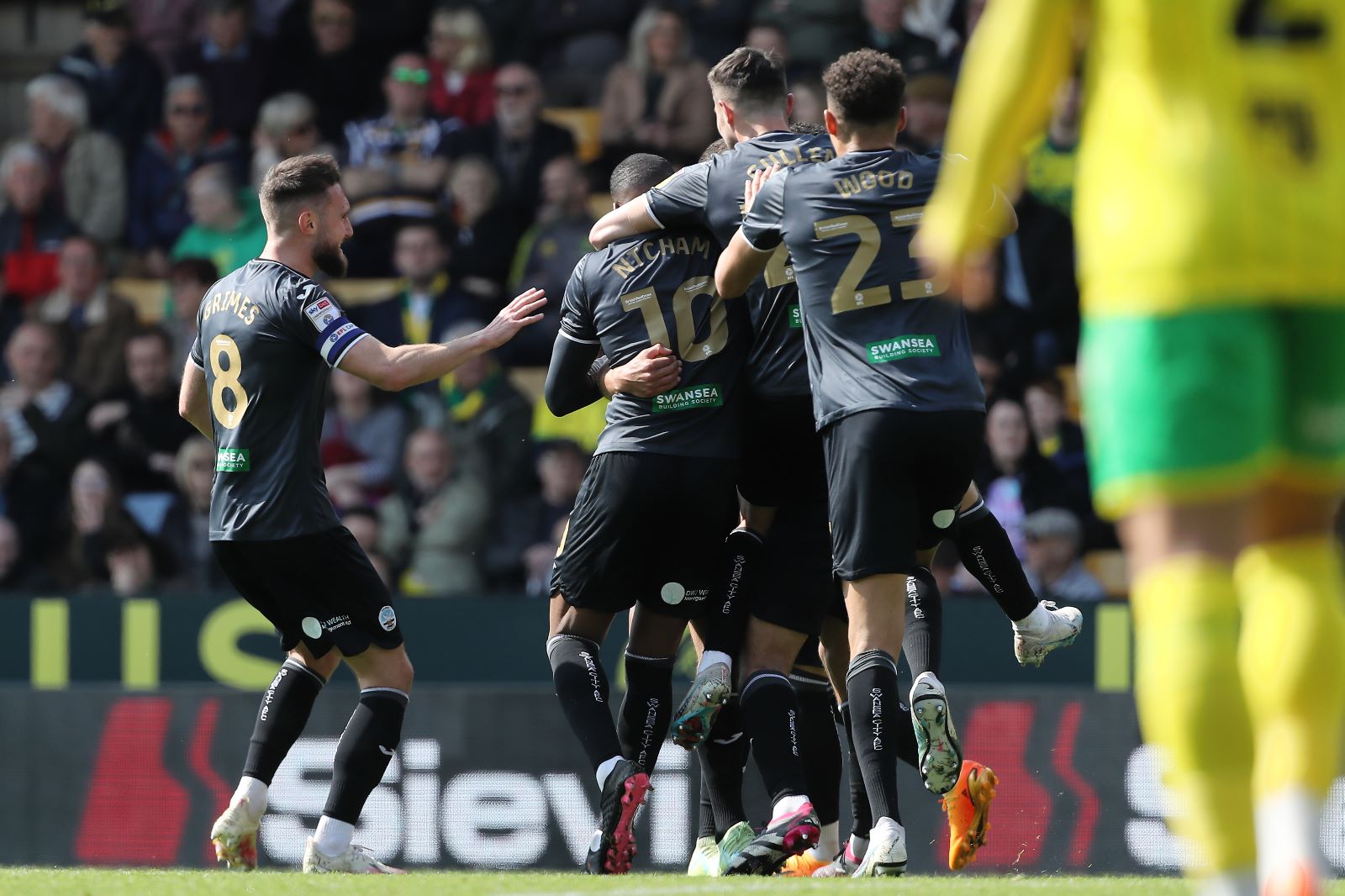 "When it was 11 v 11 we deserved to be 2-0 up in my opinion, and we could have been further ahead.
"They kept pressing and we kept hurting them in behind, the Liam Cullen goal is an outstanding team goal.
"The player then gets sent off and it becomes a test of mentality then.
"You could go gung-ho and try and score four or five, but it will make it a bit more difficult for you because Norwich still pose a threat with the players they have on the pitch.
"So discipline and structure was key, the mentality to keep working the ball and wait for the opening to arrive naturally without forcing it.
"The ball speed was excellent, and that made that second 45 minutes easier than it could have been for sure.
"Even though Norwich kept trying to press with 10 men, we took it out of them with intensity and the courage to keep playing.
"I am so proud of that and Olivier's goal is an outstanding goal too. We are really grateful the players have given us a day like that."