Season tickets now on general sale
8th April 2022
Ticketing News
Swansea City would like to inform supporters that 2022-23 season tickets are now on general sale.
After an historic result against Cardiff City secured the first south Wales derby double in 110 years, the Jack Army can now sign up to ensure they don't miss a minute of action in the upcoming campaign.
Becoming a season ticket holder
We have seen an increase in the purchase of children's tickets over the past two seasons and we hope this is a trend that will continue. Our Junior Jacks are our future, and we hope that our low pricing - with under-12 tickets working out at just £3 per game – will encourage more families to join us at the Swansea.com Stadium.
Having a season ticket is not just about the game, it is an experience. It means something to look forward to all week, that journey to the stadium with your loved ones and friends, sharing memories and making new ones.
It is about spending time with your football family, made up of those friends you have known for years, but also those friends you have met along the way.
Regardless of the result, you spend your time sharing your thoughts with others and counting down the days until you are reunited again.
Which stand do we recommend?
East
Our East Stand is home to some of our most vociferous supporters, so if you are looking to sing from the first whistle through to the last, this is the stand for you. We also recommend this area for any supporters looking for a lively atmosphere.
South
Our South Stand is also known as our family stand, and is home to a number of games and activities for our Junior Jacks to take part in, including our players' challenge, virtual penalty shootout and colouring in. This stand also receives regular visits from club mascots Cyril and Cybil, for those matchday photo opportunities!
Season tickets in our South Stand start from just £69 for children, working out at around £3 per game. There is a discounted rate available for adults who also purchase a child's ticket within our South Stand. 
West
Our West Stand is perfect for those who want to enjoy the stadium atmosphere, without being in the thick of it. Our wider concourses are great for those who prefer a more spacious environment. 
Prices
Prices for our season tickets can be found below: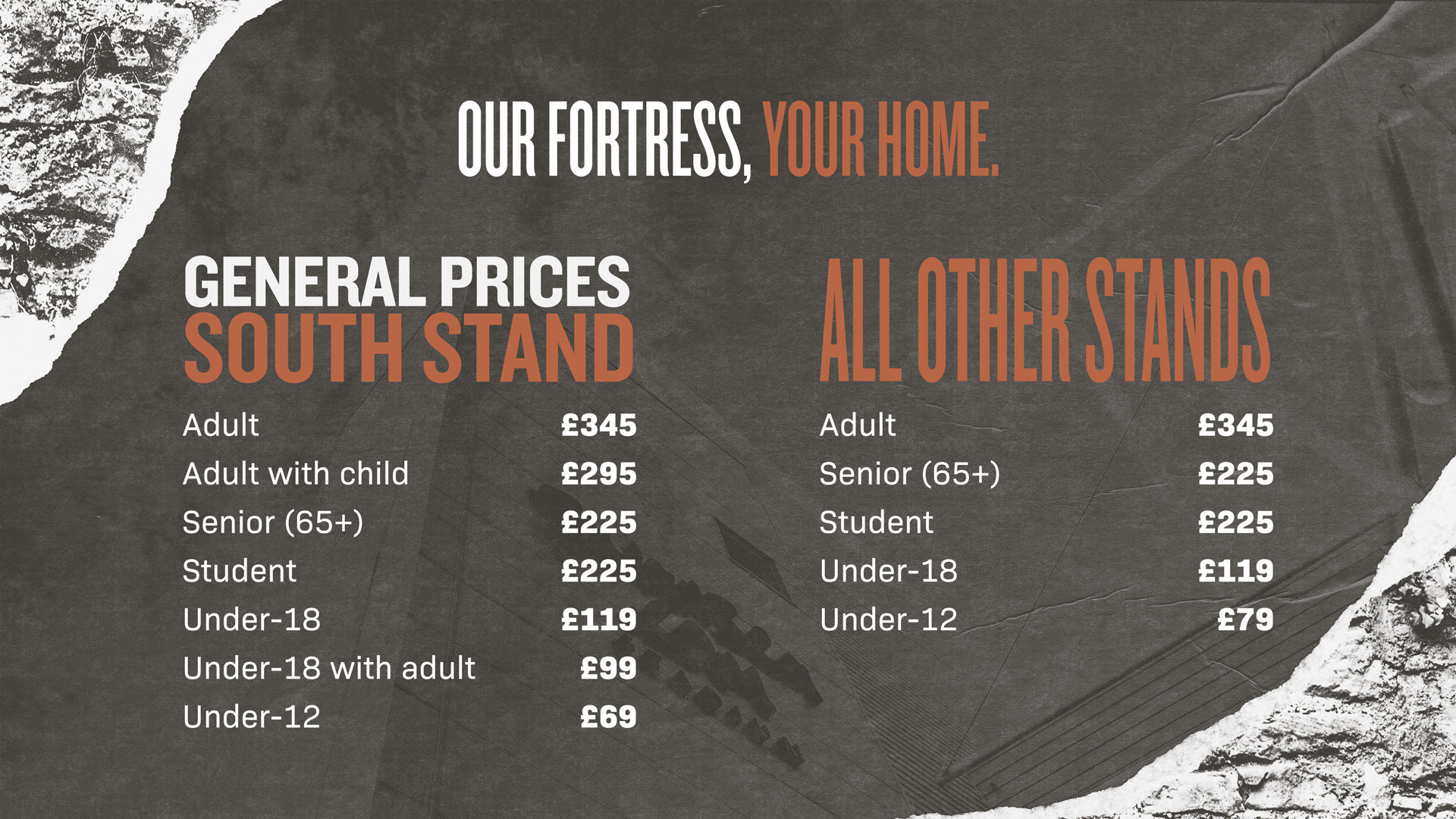 How to purchase
Online
The easiest way to purchase is online via our e-ticketing site.
Purchase over the phone
Supporters are also welcome to call our Ticket Office to purchase, by calling 01792 616400 and selecting option 1. The phone lines are open Monday to Friday between 9am and 5pm. 
Visit the ticket office
The Ticket Office will be open for in-person visits on matchdays and the day prior to a fixture.
Queries
If you have any issues with your account or have any queries, you are also welcome to email ticketing@swanseacity.com and a member of the team will respond to you.