South Wales derby | The fan's perspective
1st April 2022
Fans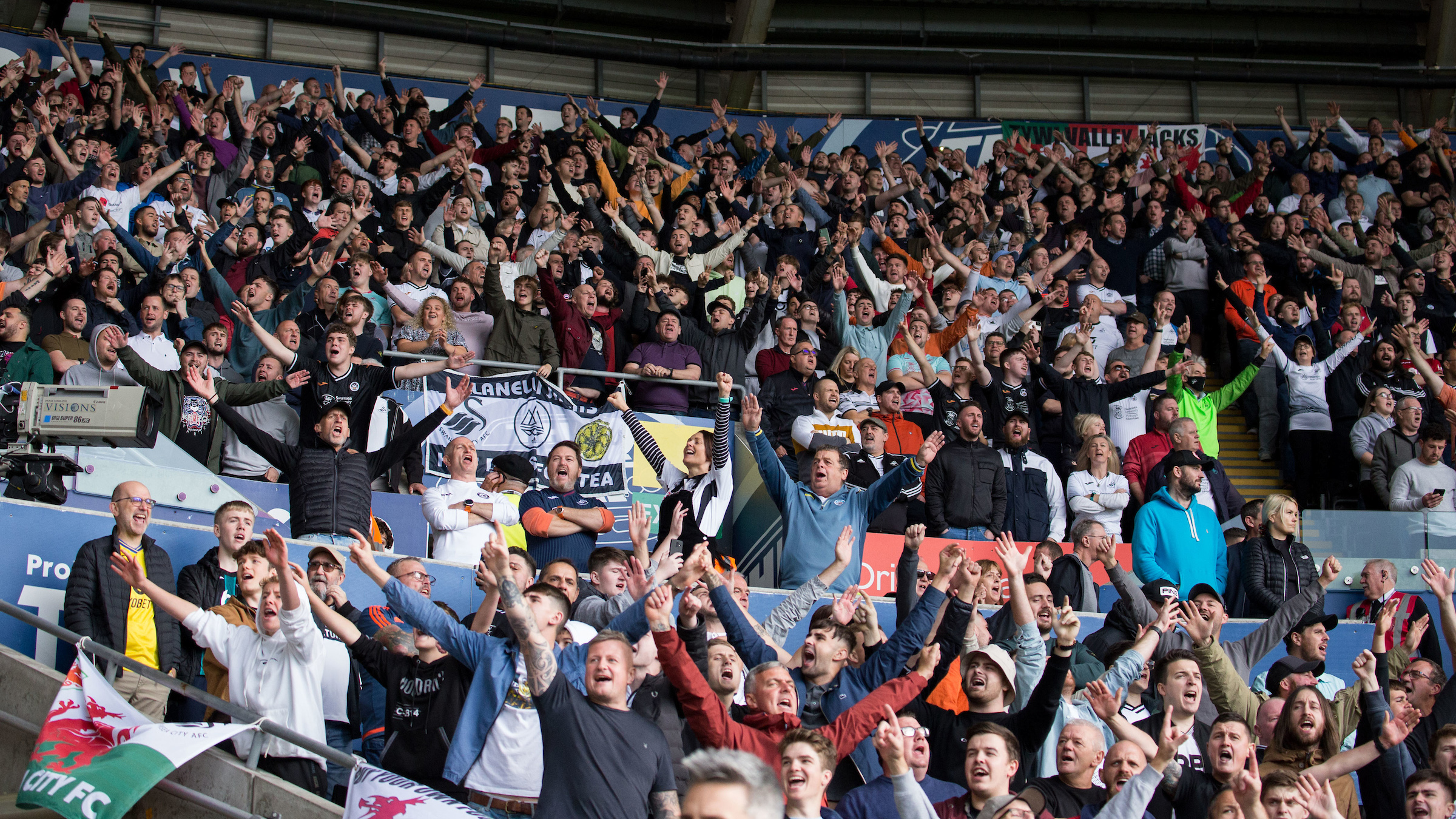 Ahead of Saturday's latest edition of the south Wales derby, young Swans season ticket holder Sam Penfold gives us an insight into what the game means and the emotions it conjures up for supporters.
Nothing beats the south Wales derby. Pure and simple. It's the game you look forward to the most, but it's also the game that tests your nerves like no other. The anxieties in the build-up, the highs of victory and the lows of defeat are all that more intense.
It feels like only yesterday I saw my first derby, watching Swansea City beat Cardiff on a chilly February evening in 2014. There were so many memories to savour from that night. The unbridled passion as Garry Monk and Ashley Williams celebrated the opener, the sumptuous Pablo Hernandez pass that set it up, and the cool Wayne Routledge finish.
The camaraderie between supporters is always special, but particularly so on derby day. When at home, three towering walls of black and white surround the pitch. When away, a lone stand of Jacks stand proudly behind the club they support.
It's a game where players write their names into folklore, leaving an indelible imprint on the 110-year history of this fixture. Memories of club legends like Roy Paul, Ivor Allchurch, Leighton James, Alan Curtis, Dean Saunders, Darren Pratley, Joe Allen, Routledge and Wilfried Bony netting against our fierce rivals continue to resonate and will be shared once again ahead of kick-off this weekend.
Indeed, the rush of watching Bony bury his header into the top of the net in that 2014 victory will always remain one of my favourite moments in football.
Giddy with excitement, I saw him seal victory and recalling the visceral, febrile roar of the crowd in response gives me goosebumps; 20,000 voices become one in a choir like no other.
In the years since, we've been fortunate enough to see some amazing moments. Jamal Lowe's second goal in victory at Cardiff last season always stands out. I only wish supporters could have been there to see it in person. Can you imagine an away end full of Jacks celebrating that one?
It's always special, but this time there is also the tantalising prospect of history within our grasp, that first league double is there to be claimed, to make sure south Wales is black and white.
For a lot of our squad, this will be the first time they go the Cardiff City Stadium, but they have an opportunity to do something very special. Something that would mean so much to supporters everywhere.
Any supporter will struggle to find words to describe the elation of coming away victorious on derby day. Any supporter will be lost for words after defeat.
To win the south Wales derby lights up the city for days to come. The journey back home leaves the streets, pubs and bars rife with celebrating fans, all euphoric from the 90 minutes of football.
People go back to work on a Monday with smiles on faces. For a short time at least, all feels right with the world despite life's many trials and tribulations.
I am with Swansea through thick and thin. Through high and lows, triumphs and disappointments, they will always be my club. I feel tremendous pride in my city and club.
Derby day can both be a test of patience and a reward for it. The dominant display at the Swansea.com Stadium earlier this season being a prime example of that release when all that nervous energy gives over to celebration.
With the nerves comes an excitement; an eagerness to get started, for the day to arrive, the talking to stop and the action to get under way.
Until then all we can do is nurse our nerves, wear our colours with pride and get ourselves ready for one of those occasions that is like no other to supporters of both clubs: south Wales derby day.