Spanish Swans | The next arrivals
1st May 2020
Club
You will have seen we made our long read about the Spanish players who featured for Swansea City available to download as a PDF on Tuesday, which you can find HERE.
We are also planning to share the piece with you as five standalone articles on this website over the coming days.
Here is part three, with a look at the next crop of Spaniards to spend time on the books in SA1.
Under Martinez, Fede Bessone and Albert Serran were the next to arrive in Swansea within the space of two days.
Although Bessone was originally from Cordoba in Argentina, he was classed every inch a Spaniard having been brought up there from a young child, develop his footballing career in the Barcelona youth set-up.
Signed from Espanyol B, where he played alongside Bauza, the left-back had been on loan at Gimnastic in the Spanish Segunda division.
 "I have been following Bussy's progress at Swansea on the internet. In fact, I've become a bit of an internet addict on Swansea,'' said Bessone.
"Bussy painted a clear picture of the club for me. Having shared a dressing room with him for two years, I've got the utmost respect for him.''
Bessone found it difficult to establish himself at first though, despite making 18 appearances.
"My first season here was difficult at times; living in a new country and playing the British game for the first time," he said.
"I found the first three months very difficult. I just didn't have the confidence and made too many mistakes. I also picked up a few injuries as well, which didn't help.
"British football was a lot quicker than I was used to in Spain. I struggled with my concentration levels; I was switching off and getting caught out.
"But I've learnt from my mistakes. Mentally and physically I am now a lot stronger.''
It was something Martinez had prepared himself for. He was well aware that some of his Spanish recruits would settle quicker and easier than others.
"It's always hard for players to adapt to the tempo and versatility of the British game,'' he said.
"It requires different demands of concentration than any other league throughout the continent.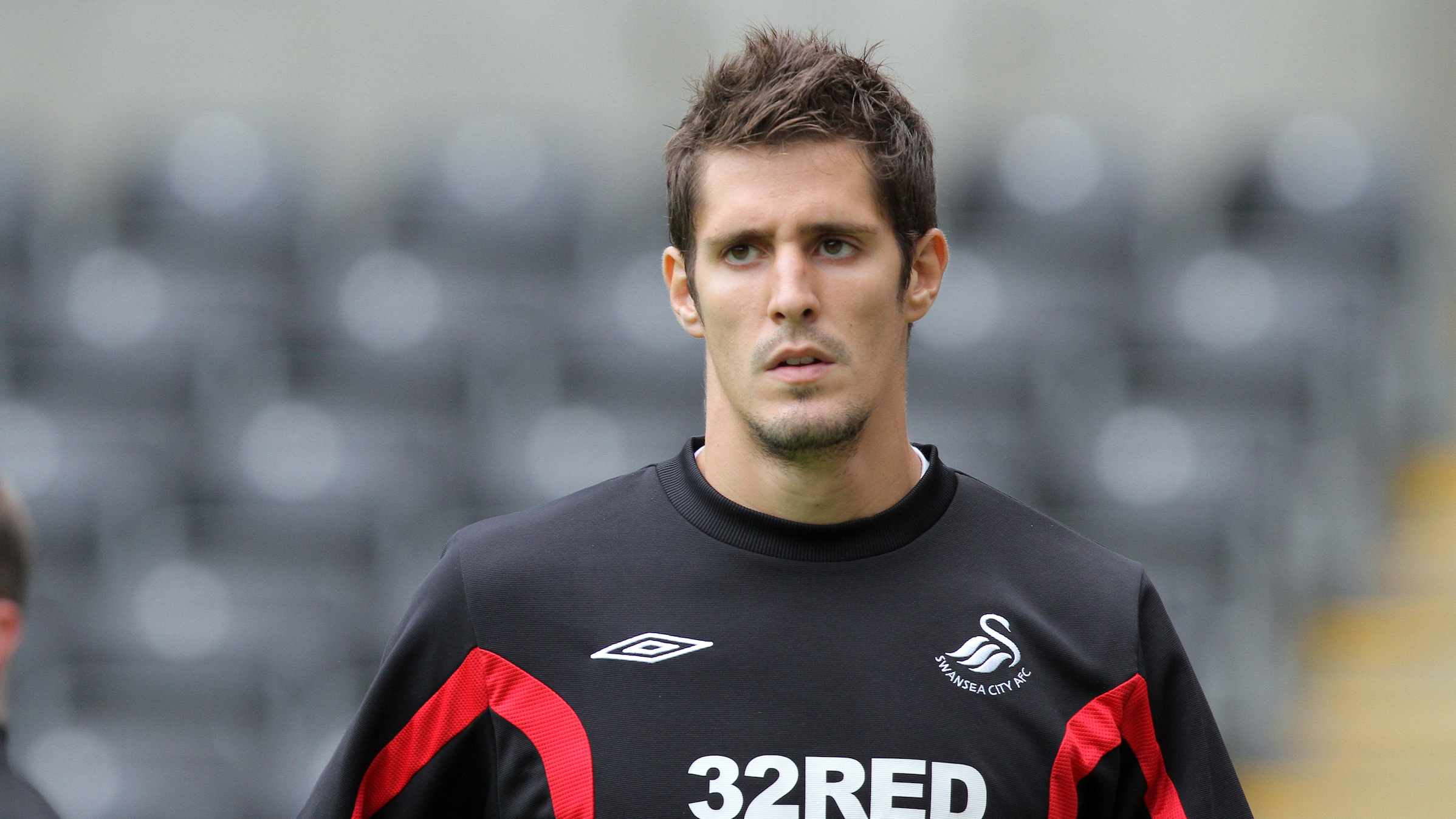 "Fede has had to go through this period and is now a stronger, more focused and better player from the experience.''
Martinez wasn't around to see that improvement though and, despite a knee injury the following season, Bessone made 21 league appearances under Sousa.
"I gained the gaffer's (Sousa) confidence and I think I reached a good level to push on over the whole of the campaign," he added.
That push was to happen at Leeds United, however, as he turned down a new deal at the Liberty.
Although it never worked out for him at Elland Road, with his spell there including a loan move to Charlton, Bessone found himself back at Swansea on transfer deadline day in August 2011, as cover for the injured Alan Tate.
He made just one late substitute appearance in the Premier League against West Brom, plus a FA Cup appearance at Bolton, before joining Swindon Town a year later on a free transfer.
"I've enjoyed every minute of my time in Swansea,'' he said. "I've not played many games since I came back, and that is the reason I am leaving. I am 28, and I need to be playing games.
"I have to say thank you to the supporters. Even in the two games I played they were singing my name – it makes me feel very proud.
"I've been in the UK for five years and in Swansea for four of them. This feels like my home.''
After Swindon, Bessone would go on to play for Oldham, Sporting Kansas City, Millwall, Prat and currently FC Andorra.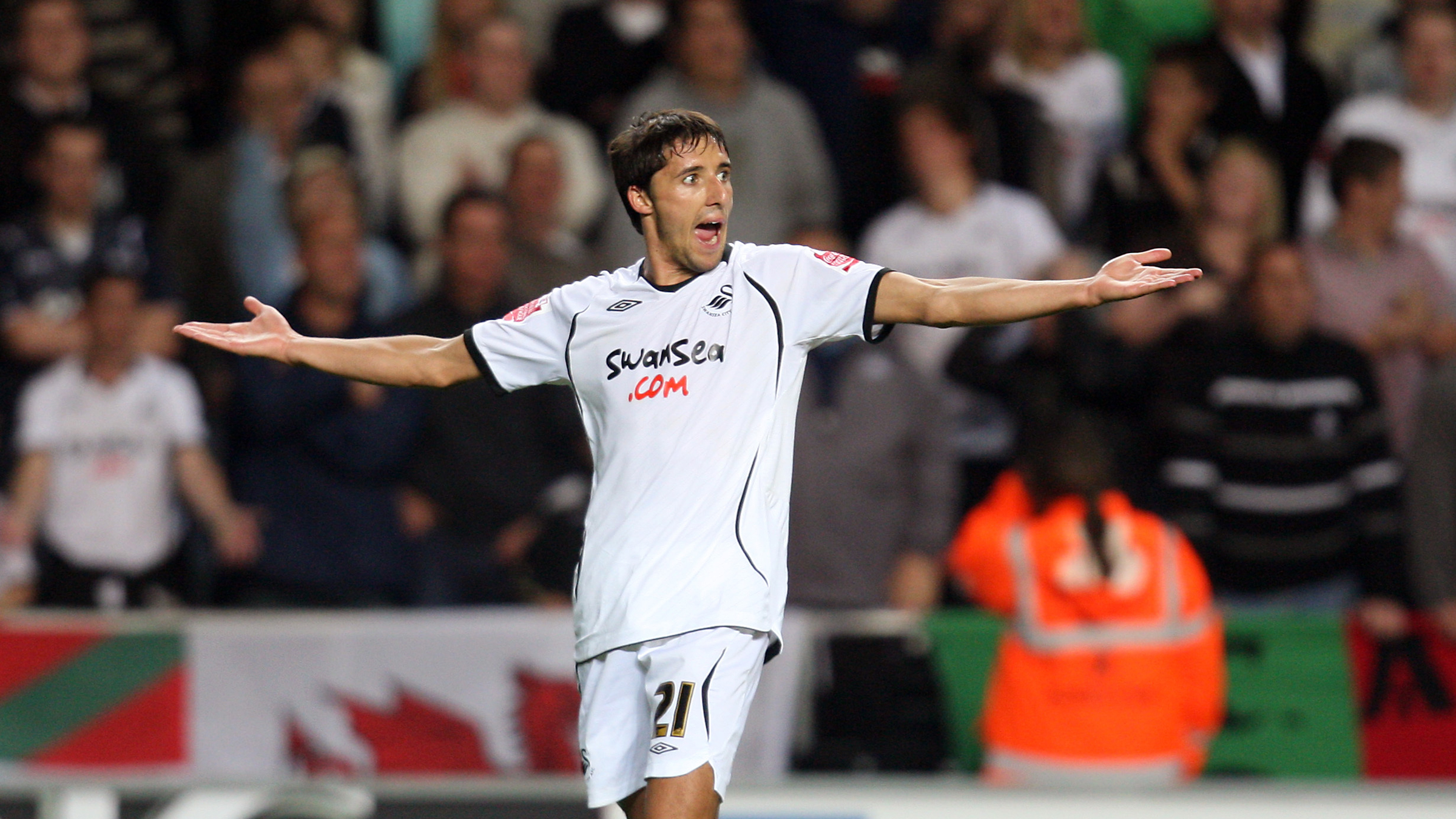 Bessone had arrived just a few days ahead of Albert Serran after the defender agreed a £80,000 switch from Espanyol B.
"Albert is perfect for the British game,'' explained Martinez at the time of the signing.
"He is a committed and aggressive defender; a winner; talented and ambitious – and that is the type of player we want at Swansea City.
"He could have taken an easier option by signing closer to home for a La Liga club – and even had the option of going to Poland - but he wants to play in the Premier League with Swansea.''
"I wanted the chance to experience British football,'' added Serran.
"I was a close friend of Bussy when we played together for two years at Espanyol.
"Obviously, his influence – and the Spanish influence at the club in general – helped me make my decision a lot easier to sign, but it was an opportunity too good to turn down.
"I had a dream when I came here to play in the Premier League. If I can achieve it by helping Swansea gain promotion I will be delighted.''
Having played just twice in La Liga with the first team, Serran had to be patient in his first full season at the Liberty with Ashley Williams and Garry Monk established in the heart of the Swans defence.
His Championship bow eventually came against Ipswich in February 2009 at right-back. It proved a memorable debut as his aerial prowess, quick turn of pace and a delightful cross set up Jason Scotland for Swansea's opener after just three minutes.
By the end of his first season in Swansea colours, Serran had made 13 league appearances, including featuring in the last south Wales derby at Ninian Park.
Serran was hit with injuries the following season and missed the first four months with a knee problem. No sooner had he returned against Leicester in mid-January, he was struck down with a hamstring injury.
But the man they called 'The Terminator' in the dressing room due to his tough, rugged approach, had shown enough though to earn another 12-month contract.
"When I first came to Swansea the manager had to take me aside in training and tell me to calm down. Apparently, I was too physical. That's where the nickname Terminator came from,'' joked Serran.
"But, while the Spanish game is very technical, the way we trained and played in Spain was also very aggressive.
"I thought British football was even more physical than that, so I went into training trying to push the aggressive side of my game. I soon realised it wasn't the case, well not at Swansea anyway.''
It was Rodgers who eventually called time on Serran's stay at Swansea in June 2011 after 30 appearances.
He was to move to AEK Larnaca in Cyprus – who were under the guidance of Jordi Cruyff - followed by a career that took him to Albania, Morocco and recently India.
He was joined in Cyprus by another of Swansea's Spaniards, Gorka Pintado.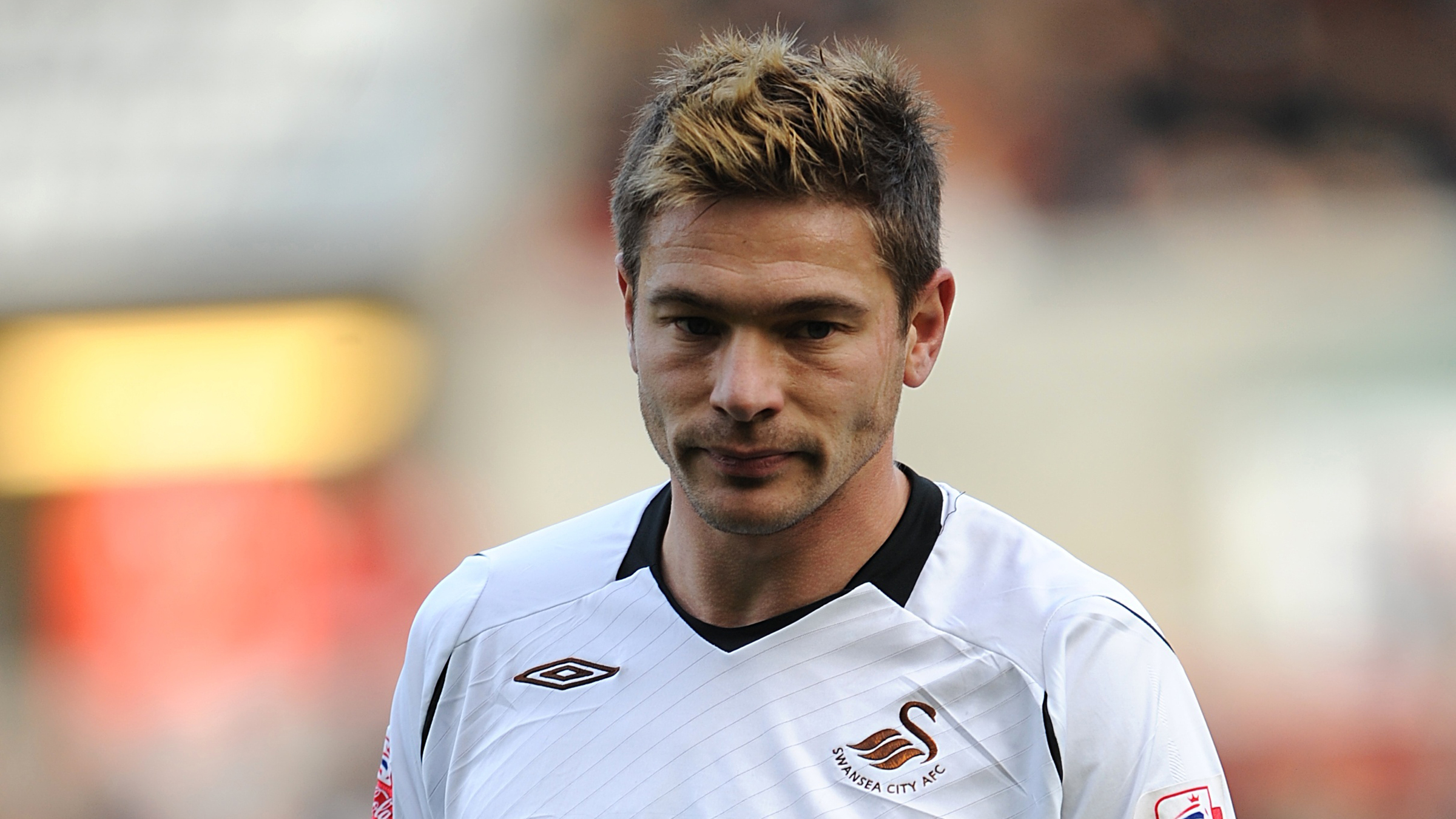 Nicknamed 'El Toro' – 'The Bull' -  by Martinez, Pintado arrived from Spanish Segunda outfit Granada in June 2008 for around £100,000,
He made an immediate impact in his first few appearances.
He scored his first goal in the win over Nottingham Forest after coming off the bench and did the same in the Carling Cup second round tie against Hull City.
He also wrote his name into Swansea folklore by coming off the bench to grab an equaliser at the Liberty Stadium in the 2-2 draw against Cardiff City in November 2008.
"That was the best goal I scored for Swansea,'' declared Pintado, who will also be remembered for an infamous tackle on Robbie Savage at Derby.
"It was the best because I know how much it meant to the supporters at the time.''
Pintado struggled with niggling injuries throughout his stay though, including a shoulder injury that needed an operation.
"He knows the pains he's getting in his body are stopping him being available on a constant basis,'' explained Martinez. "That's what we've got to rectify – and then we'll see the best of him.
"The intensity of the game and the number of fixtures we play will probably mean it will take him a bit longer to adapt to the British game than the other Spanish players.
"Because he's a 100 per cent player and a very, very strong athlete, his body will have to get used to the intensity.
"But, while he does that, if he can keep coming on to make the same impact as he did against Cardiff City, then I think we'll all be happy.''
In the end though, time ran out for Pintado and he left by mutual consent 12 months before his contract expired having made 73 league appearances (48 as a substitute) and scored seven goals.
"It's been a pleasure representing Swansea,'' he said. "I'm sad to leave, but that's football. I have had a happy three years here and it's nice to know that it has coincided with the best three years in the club's history.''
Fellow Spaniard, Jordi Gomez, made more of an immediate impact at Swansea after Martinez secured his services on a season-long loan deal from Espanyol in June 2008.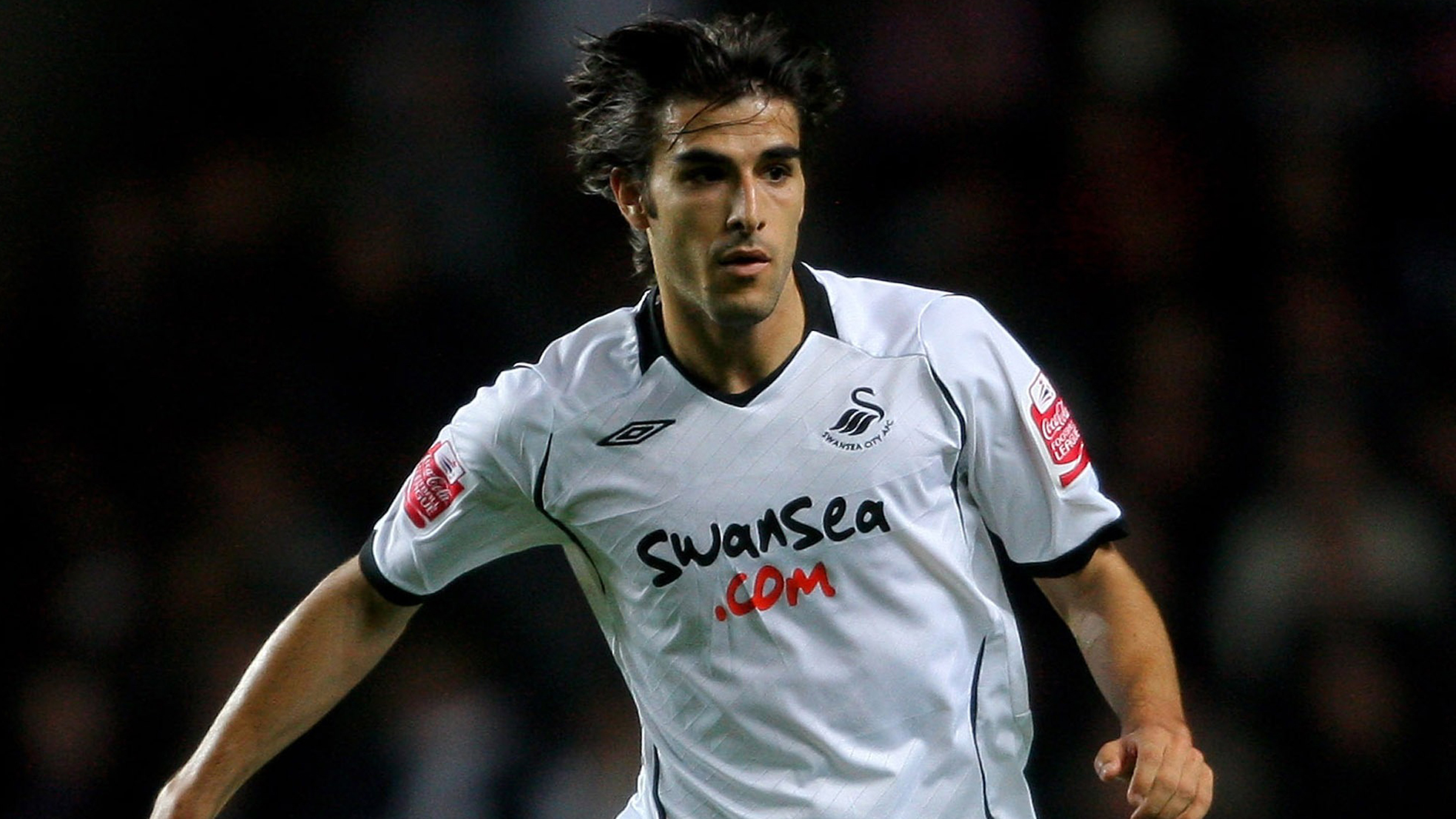 Having emerged via Barcelona's youth ranks, he followed Pintado into Swans folklore in his first season by scoring the winning goal against Cardiff City in a tense Carling Cup tie at the Liberty in the first South Wales derby for seven years.
"It was a great feeling,'' said Gomez. "Everywhere I went in the city after that people were coming up to me to say thank you for scoring the goal.
"It made me very proud to make so many people in Swansea happy.''
A technically gifted footballer, Gomez was crowned 'Supporters' Player of the Season' at the club's annual awards dinner after scoring 14 goals in a scintillating campaign that also saw him named in the PFA Championship Team of the Year.
"The manager's style of playing the ball on the floor suits me and the rest of the Spanish players,'' he said.
"I don't think I would have fitted in so well at another British club because the mentality and style are different.''
Such was his impact that Martinez and chairman Jenkins worked tirelessly over the following summer to sign him on a permanent basis.
But his stock had risen to such a level that it was proving too rich for Swansea, as Middlesbrough prepared to pounce in a deal rumoured to be worth £1.7m.
"Jordi has been great to work with over the last 10 months and I'm pleased that all Swansea City fans were able to enjoy watching a tremendous footballer in action,'' explained a disappointed Martinez.
"He was a good player when he came to us, but he's an even better player now and his valuation in the market has rocketed.
"I think we all wanted to have Jordi for next season, but we were well aware when we signed him on loan that it was just for one season.
"If it was a footballing decision, I think Jordi would have stayed with us. But unfortunately, it's not always just about football.''
As it turned out, it wasn't just Gomez who was to depart as Martinez himself left for pastures new. And when he took up the managerial reigns at Wigan, Gomez eventually followed him.
Gomez would go on to play for Sunderland, Blackburn, Rayo Vallecano, Levski Sofia and Omonia in Cyprus, while Martinez took a more glamourous managerial route to Everton and the Belgium national team having led Wigan to FA Cup glory in 2013.
Belgium would finish third in the 2018 World Cup in Russia under his guidance.
New boss Paulo Sousa continued the Spanish flavour when he brought in midfielder Jordi Lopez in July 2009 on a two-year deal.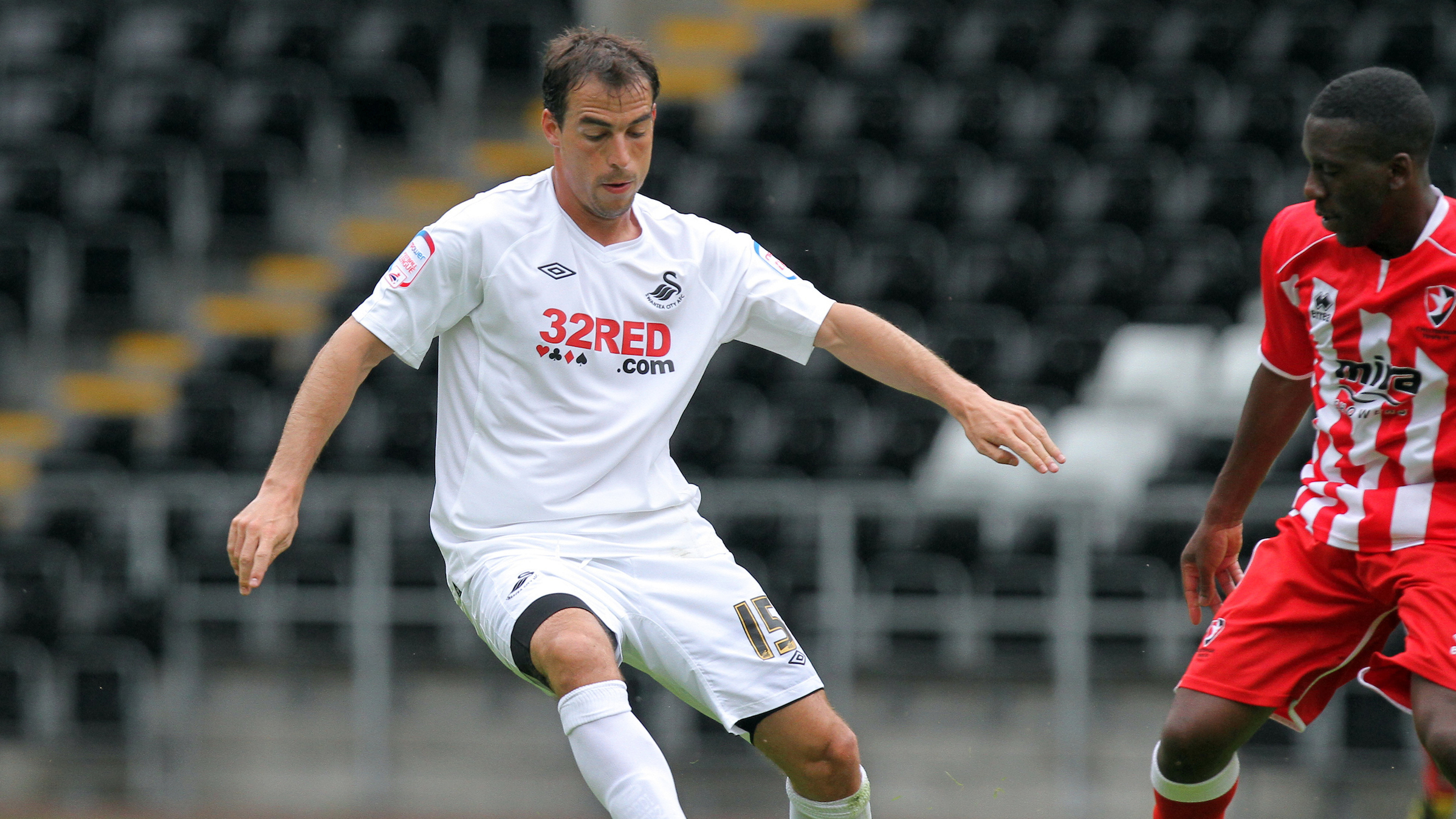 The former Barcelona and Real Madrid youngster, who went on to win a UEFA Cup winners' medal with Sevilla, worked with Sousa at QPR.
"The three or four months I spent at QPR were really positive for me,'' explained Lopez.
"I had the opportunity to stay there, but I felt it was a better opportunity for me to come to Swansea and work with Paulo again.
"When Paulo spoke to me about the project he had at Swansea City, I liked what he had to say. It felt like the right move for me.''
But, hampered by a number of injury problems, he failed to win a regular first-team berth during his two-season spell at the Liberty and left in January 2011 by mutual consent after just 20 appearances.
He later joined Eredivisie side Vitesse, OFI Crete and FC Hoverla Uzhhorod in the Ukraine.
The next batch of Spaniards to arrive in SA1 would have more of an impact – and on the biggest stage of all; the Premier League.
Rodgers succeeded Sousa in the managerial hot seat.
Having guided the Swans into the top-flight in 2011, he left for pastures new with a dream job at Liverpool, leaving the Swans on the hunt again for a new manager.
The club's success, rising profile and reputation for playing attractive football meant a managerial search was becoming a regular summer activity at the Liberty.
Few could have guessed who the next incumbent would be.