Stacey John-Davis surprises young fan on stadium tour
25th February 2023
Ladies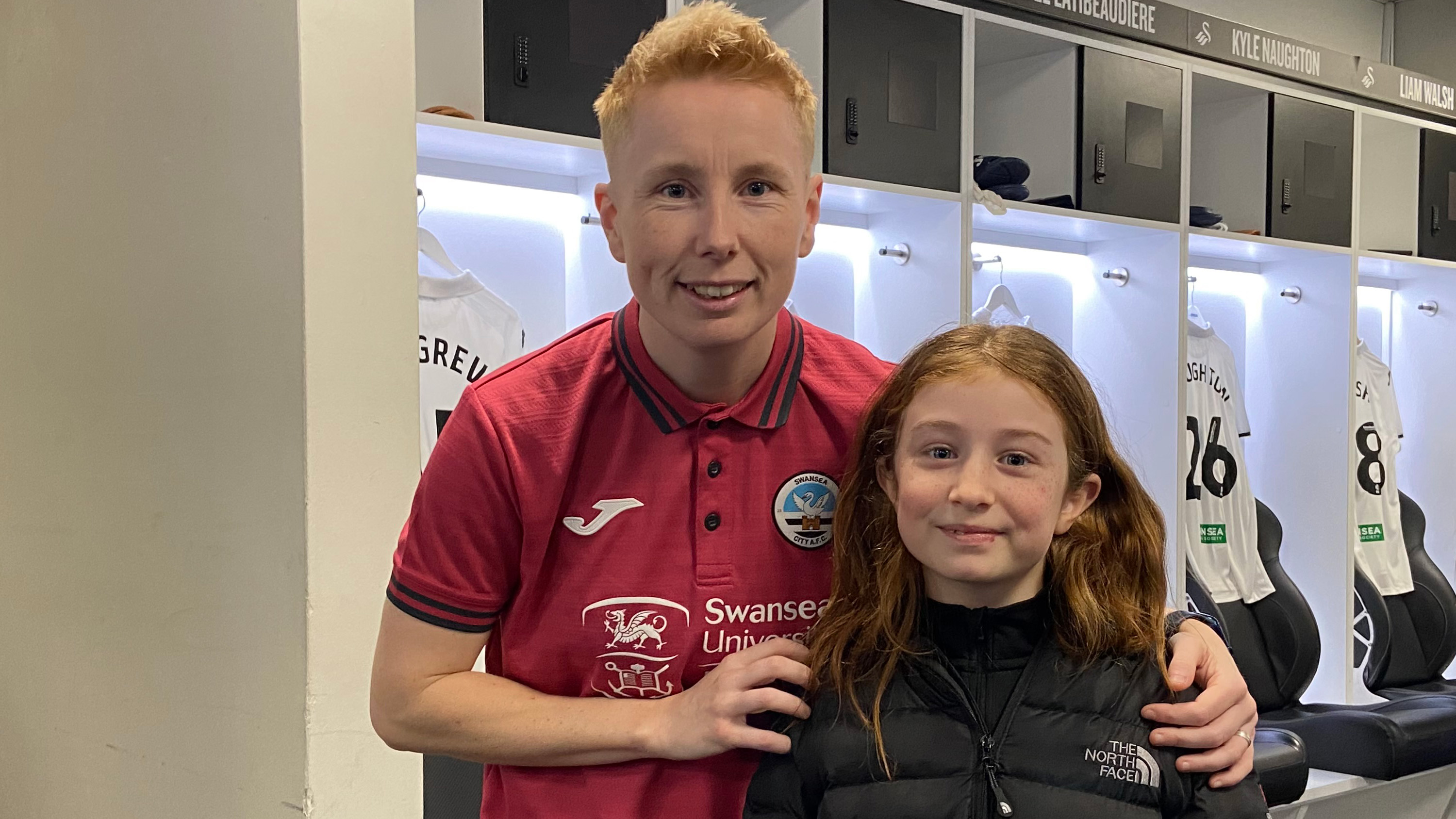 Swansea City Ladies striker Stacey John-Davis surprised young fan Ellie Pompa after the nine-year-old travelled to the Swansea.com Stadium for a tour.
Ellie, mum Rachel and the whole family are season ticket holders for the men's team, but Ellie prefers watching women's football.
After travelling to SA1 to watch the Ladies beat Cardiff Met Women 2-0 in the Genero Adran Premier earlier this season, John-Davis has been Ellie's favourite player.
So John-Davis decided to surprise her biggest fan by joining her on the tour and inviting her to be a mascot at the upcoming Swans Ladies game against Cardiff City on Sunday.
The match will kick off at 2pm at the Llandarcy Academy of Sport and Ellie will be the guest of honour as she meets the team and walks out with John-Davis as team mascot.
"We're big Swans fans as a family and we have season tickets [for the men's team] but Ellie is a lot more interested in the women's football," explained Rachel.
"Stacey came along and surprised us and invited Ellie to be a mascot on Sunday which is unbelievable.
"Ellie was a bit overwhelmed which is unusual for her. But after Stacey walked away, she turned to us and said 'my hands are shaking, mum'. She was so excited and she can't wait for Sunday now!"
"It was really nice to meet Ellie and be able to surprise her," added John-Davis.
"Ellie's family got in touch with the club and made me aware of it so we were able to put something together and get her today.
"It's lovely, she was really shocked. It's so nice to have people come to me and say 'we're a fan' and it's nice to meet people.
"For us, it's about inspiring the next generation so if I can inspire one young girl who might come through and be the next Swansea Ladies player then that is fantastic.
"We've invited her to come and watch us against Cardiff City on Sunday. She's been to see us at the stadium but it will be nice for her to be able to come and watch us at Llandarcy as well."
Ellie was delighted to meet her hero and can't wait to be mascot this weekend and meet the rest of the team.
"I came for a tour to see the football ground and the changing rooms," she smiled.
"Stacey came in and we were talking and I gave her a hug.
"I've seen her play in stadium, she's one of my favourite players. She's really good at football.
"She's invited me to be her mascot on Sunday, and I'm really excited."