Steve Cooper praises professional Naughton after Swansea City milestone
7th February 2021
First team
Steve Cooper has hailed the professionalism and quality of Kyle Naughton after the defender brought up 200 appearances for Swansea City.
Naughton, 32, brought up the milestone in Friday's 2-0 win over Norwich, having first joined the club from Tottenham in January 2015.
Since then he has seen the highs of the club's best Premier League finish – and second highest league placing in Swansea's history – and the pain of relegation from the top-flight.
But he has also been a key part of the club's recovery in the three years since, and has played at right-back, wing-back, centre-half and in central midfield during that time.
He has been part of a defence that has conceded just 15 league goals this season, keeping 15 clean sheets in the process.
And head coach Cooper was full of praise for the experienced defender.
"Naughts is a player that everybody loves - both the footballer that he is and the lad that he is," said Cooper.
"He's a wonderful professional, a great guy and a really good player. He can play right-back, right centre-back, can build from the back with the ball, he is a real clever defender and sniffs out danger.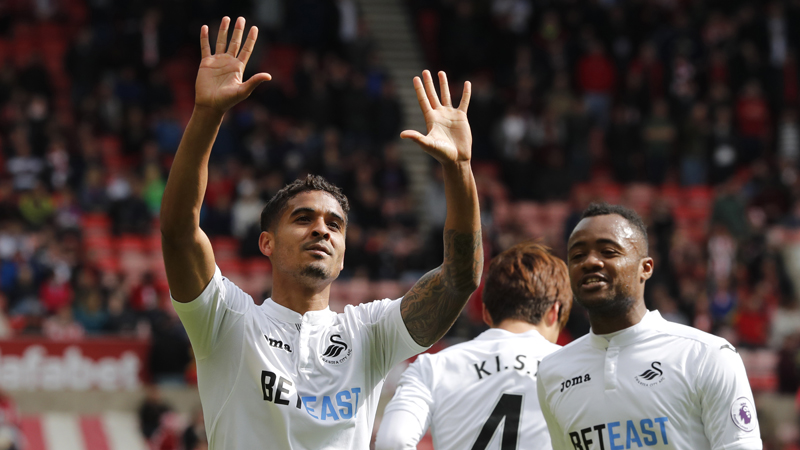 "He never looks flustered and we're really lucky to have him. For an experienced player, he's shown me and the staff a lot of respect in what we're asking him to do, and I couldn't be happier for him to make 200 appearances - he deserves a lot of credit for it.
"He's a real role model for the younger boys, particularly in difficult moments. I can't speak highly enough of Naughts because he's just a really good guy and a really good player, it's as simple as that really.
"And you could get anybody here - another player in the dressing room or member of staff - and they would say exactly the same about him. I haven't heard anybody say a bad word about him.
"Credit to the club and credit to him for that because he's had some good times. I think there's more to come.
"I'm proud of him for reaching 200 games - it shouldn't go unrecognised - and long may it continue."