Suzan Eames says farewell after 26 years of service at Swansea City
8th August 2020
Club
After 26 years, 27 managers, hundreds of players and a lifetime of happy memories, Suzan Eames has hung up her boots at Swansea City.
Suzan has been a hugely popular fixture at the club throughout four different decades, with her career kicking off in 1994 before calling time on "an amazing journey" this summer.
Starting with Frank Burrows, the man in charge during Suzan's first day at the club, through to current head coach Steve Cooper, there have been  experiences of despair, delight, tears and trophies.
From the day the club almost ceased to exist and went too close to dropping out of the EFL, to being part of the on-field celebrations at Wembley for the play-off final win over Reading and the League  Cup success against Bradford – Suzan has experienced it all.
Tours to Spain, Holland, Portugal, Germany and the United States also followed, on top of experiencing Europa League football.
Back in 1994, when Suzan started life with the Swans as a barmaid in the Harry Griffiths Bar, European football was a distant dream.
It wouldn't be long before another opportunity arose, though, as she started work under kitman Paul Morgan.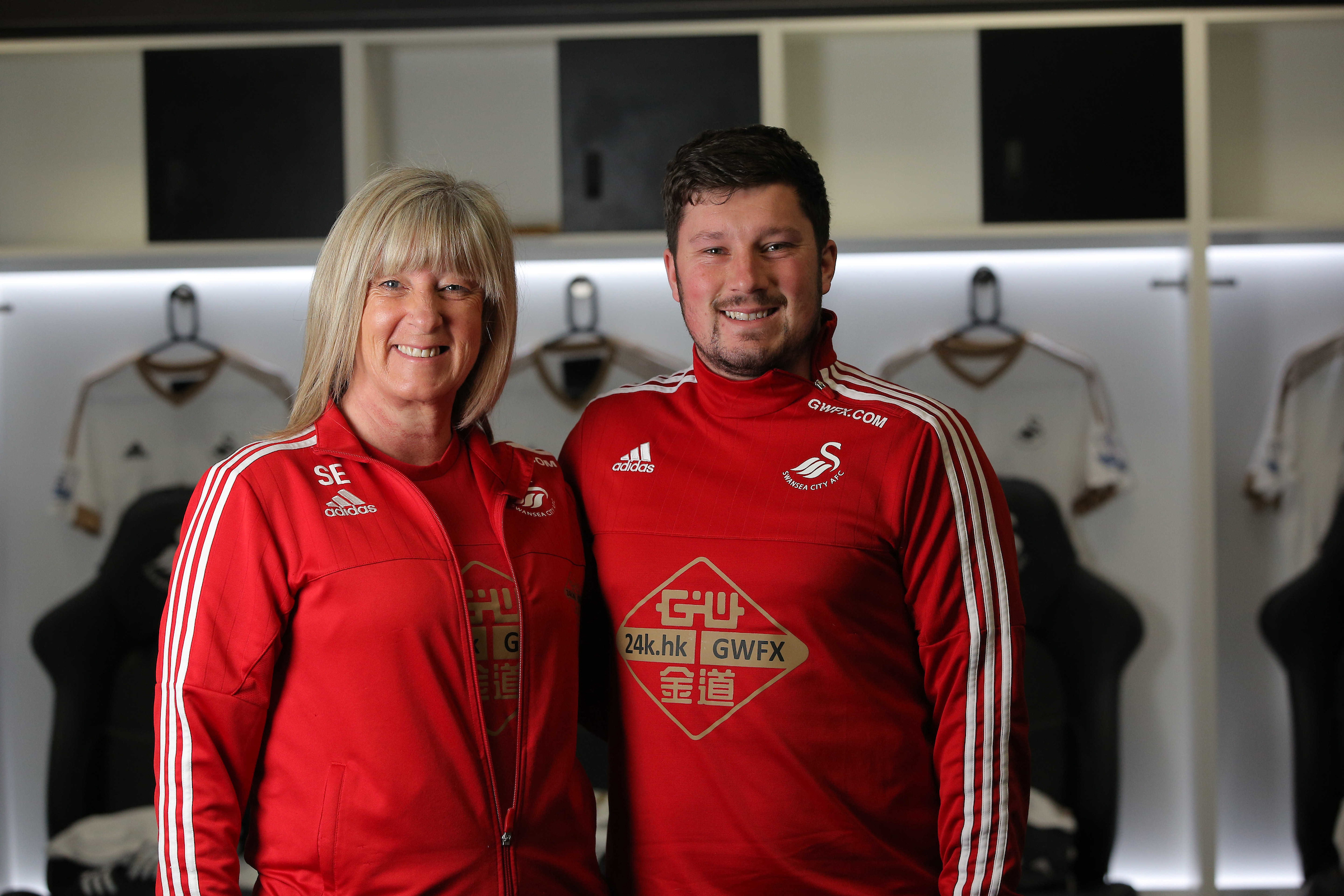 "When Paul left a few years after I started with him, I was offered the job by Huw Jenkins, who had taken over as chairman only a few months before that," recalls Suzan. "I was made the football utilities co-ordinator – and that's what I've done for the last 18 years."
Her role and responsibilities have changed considerably since her first day in charge.
"I started off with one washing machine, one tumble dryer and me!" she points out. "But that was what the club could afford back then. Everyone had to make sure we made the most out of what we had. Nobody moaned because we just didn't have the money as a club. We all mucked in for the best for the club."
Aside from her role in washing kit for training and games, Suzan's small kit room at the Vetch and much-improved office at the Liberty and Fairwood training base became common places for players to spend their time post-session.
"People tend to forget that footballers are just normal people," says Suzan. "They have the same issues in life as everyone else, and I've put the world to rights with lots of my boys over the years.
"So it wasn't necessarily football we would talk about, it was more about life, family and friends.
"There have been so many players at this club that I'm lucky to have forged a strong friendship with, and stay in contact with today. That means a lot to me."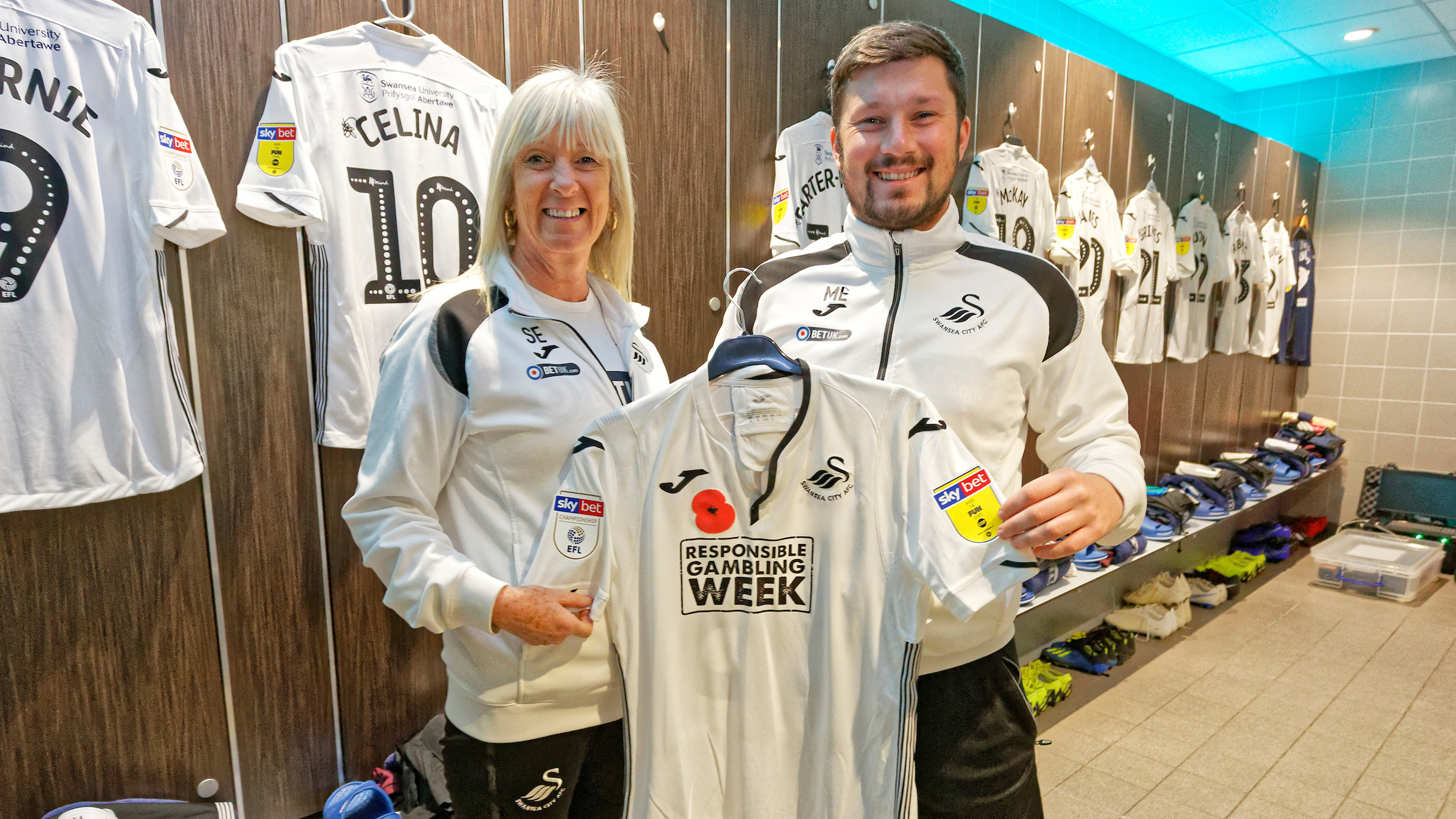 They were relationships which were probably summed up during a particular grim day in October 2001.
Seven players were sacked under then chairman Tony Petty while another eight were ordered to take huge pay cuts or be released.
Among the highs of her 26 years, this was to be among the lowest.
"Oh, that was a horrible time," Suzan reflects. "The players were coming into my kit room in tears. They had just been told they had to leave the club. It was terrible to see them like that.
"But that just summed up in a way what we were about behind the scenes – everyone chipping in to help everyone else."
There were brighter times ahead. After that famous win over Hull ensured Swansea City would remain in the fourth tier, there was a subsequent change in fortunes.
Promotion to the third tier, a new stadium, EFL Trophy joy at the Millennium Stadium – the ball was rolling.
More success arrived in the form of promotion to the Championship, and, soon after, a ticket to the promised land of the Premier League.
"Those times seemed to go very quickly," Suzan remembers. "The club was doing very well and we were going up the leagues.
"The new stadium was such a big improvement in terms of facilities. I even had an extra washing machine and tumble dryer, and a bigger room, so I was happy!"
From the depths of despair to living the dream, another chapter was written in the club's history books during a memorable trip to Wembley in May 2011.
"I was so nervous during the play-off final," recalls Suzan. "It was the realisation that we were one game away from the Premier League playing against massive clubs.
"It wasn't long before that game that we were almost going out of the leagues altogether.
"There was a lot riding on that game, and it was marvellous for the players, the staff, the fans and the club that we won. It just meant so much to me as a fan."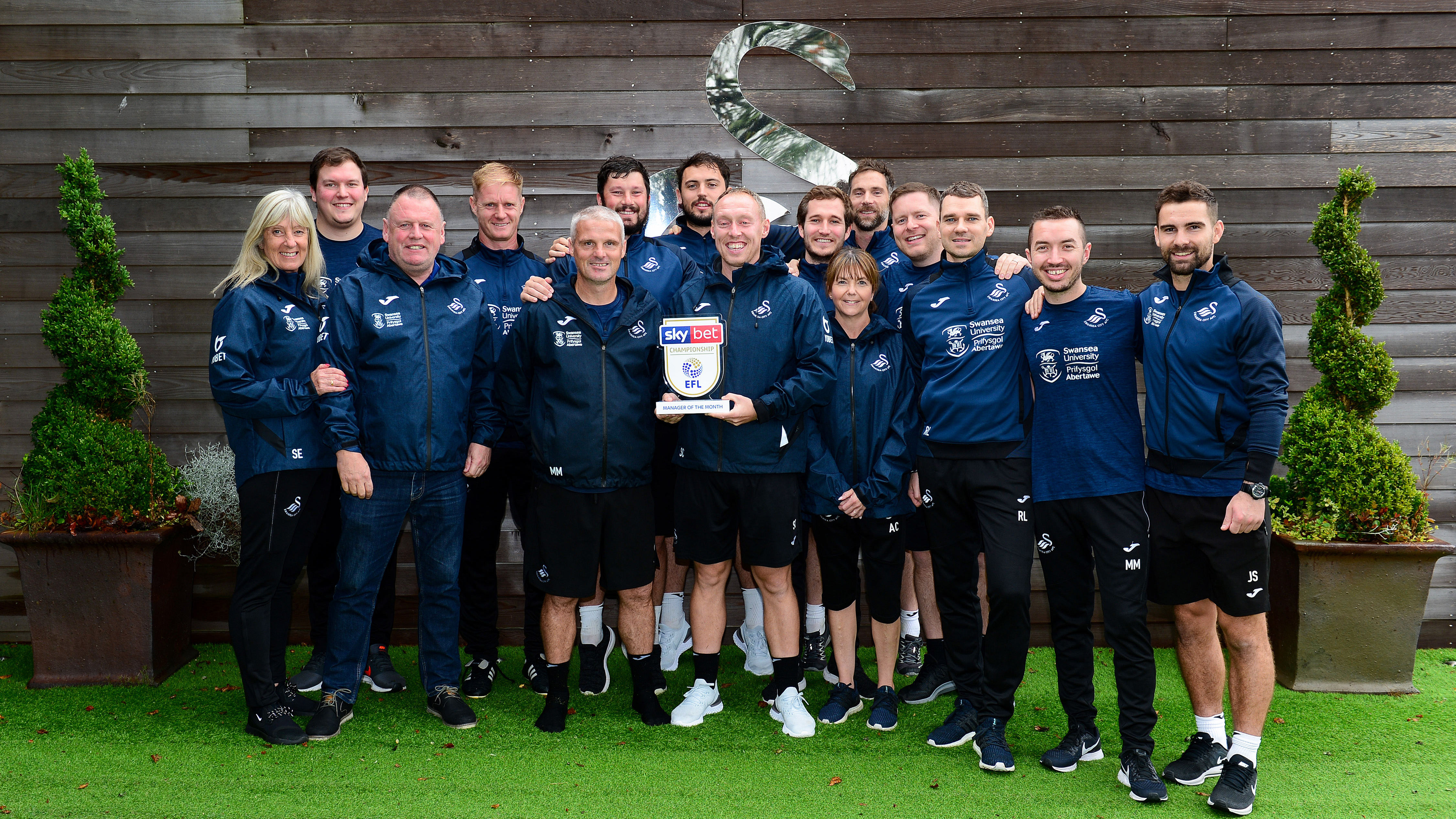 Another trip to Wembley followed, and more happy memories as Michael Laudrup's side put on a masterclass to beat Bradford 5-0 and lift the club's first major trophy in its centenary season.
The Great Dane was the highest-profile manager Suzan would work under during her time at the club.
That list, including caretaker managers, reads: Frank Burrows, Bobby Smith, Kevin Cullis, Jimmy Rimmer, Jan Molby, Micky Adams, Alan Cork, John Hollins, Colin Addison, Roger Freestone, Nick Cusack, Brian Flynn, Alan Curtis, Kenny Jackett, Kevin Nugent, Roberto Martinez, Paulo Sousa, Brendan Rodgers, Michael Laudrup, Garry Monk, Francesco Guidolin, Bob Bradley, Paul Clement, Leon Britton, Carlos Carvalhal, Graham Potter and Steve Cooper.
Like the players she worked alongside, there were many great relationships created with those given the top job.
"I have been so fortunate to work with so many great managers," reflects Suzan. "They were all different, but most importantly they recognised you as part of the team. Some of them I had known for a long time before they were the manager, like Roberto and Garry, but everyone knew I would do everything I could for the club's benefit."
Suzan's efforts and achievements were marked at the club's end-of-season awards night in 2014, which highlighted her fine service and contribution over a 20-period.
Six years on from that night, her enthusiasm and commitment to the club has not gone unnoticed.
"Suzan's dedication to Swansea City has been absolutely phenomenal and we are very grateful as a football club to have benefited from her service over 26 years," said chairman Trevor Birch.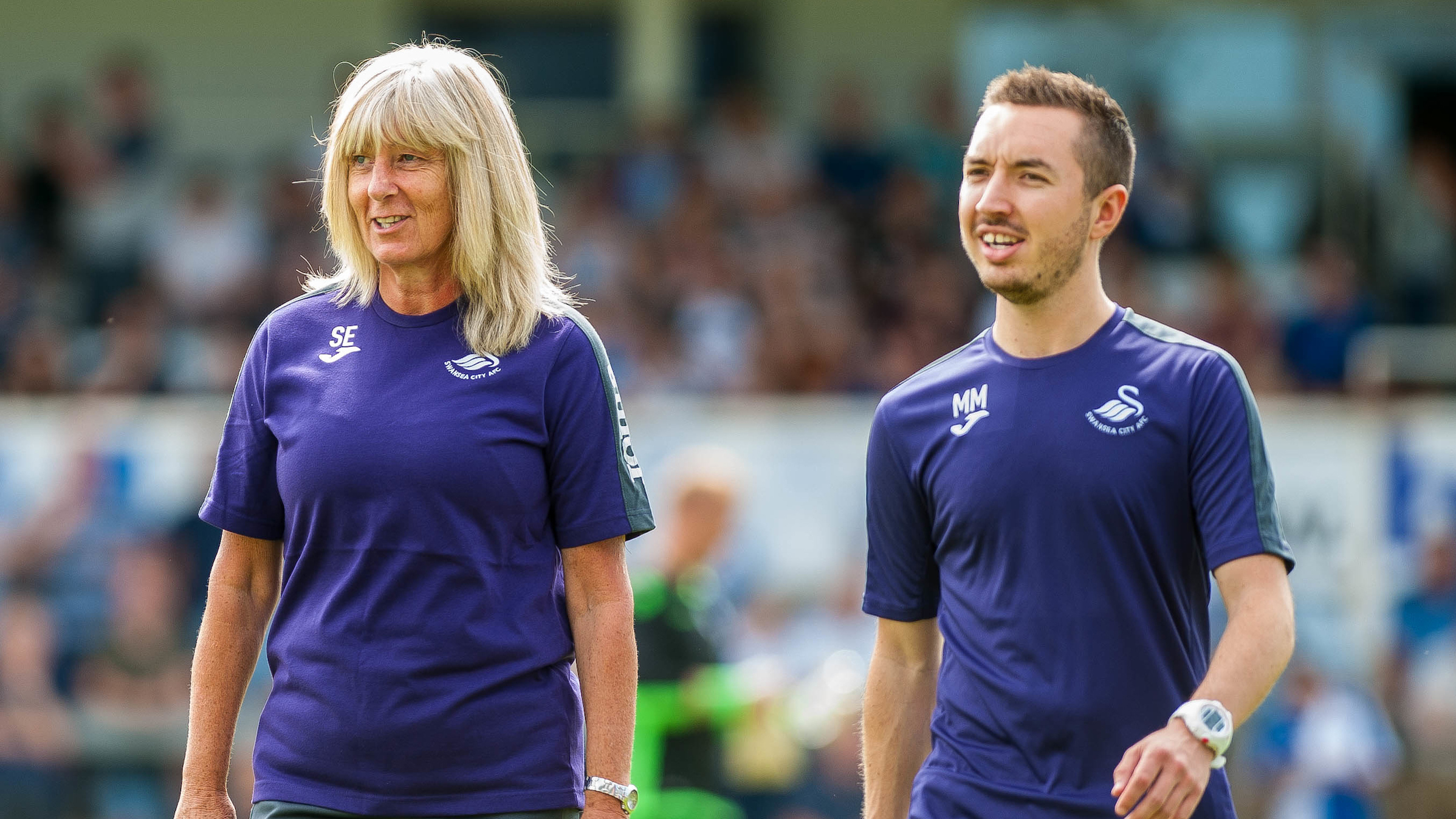 "She has been part of the club when it was at its lowest point and experienced the best times in the club's recent history with promotion to the Premier League, League Cup success and a Europa League adventure.
"Suzan epitomises what Swansea City is all about, and we will miss her daily involvement at the football club.
"On behalf of everyone at Swansea City, we wish her the best of luck in her retirement, but we all look forward to seeing Suzan back at the Liberty as a fan in the near future."
Her responsibilities now fall into familiar hands.
Having started work under Suzan following the club's promotion to the Premier League in 2011, her son Michael steps up having gained nine years of vital experience under her.
And if he ever needed any answers, then mum knows best!