Swans Big Sleep Out successfully completed in support of Matthew's House
18th November 2023
Foundation
Participants of Swansea City AFC Foundation's Swans Big Sleep Out have completed one night of sleeping rough to help raise crucial funds for Matthew's House.
A group of 70 gathered at the Swansea.com Stadium on Friday November 17 to embark on a challenge which many people in our community face every night of the year.
Sleeping out for one night is no comparison to the reality of homelessness, but the Swans Big Sleep Out gave people the opportunity to broaden their horizons on what it is like to be without a home for the night.
During the evening, participants also gained a greater understanding of some of the causes of homelessness, as well as finding out about the vital work Matthew's House carry out supporting our community.
Thanks to the fundraising efforts of those who took part in the event, and everyone who donated, a massive £23,980 has already been raised.
The money will aid Matthew's House in their community work, as well as underpinning a new Foundation programme, which will aid people and families affected by addiction, one of the main causes of homelessness.
You can still donate here up until the end of November, with every penny counting, particularly at a time of year where the weather is colder and the nights longer.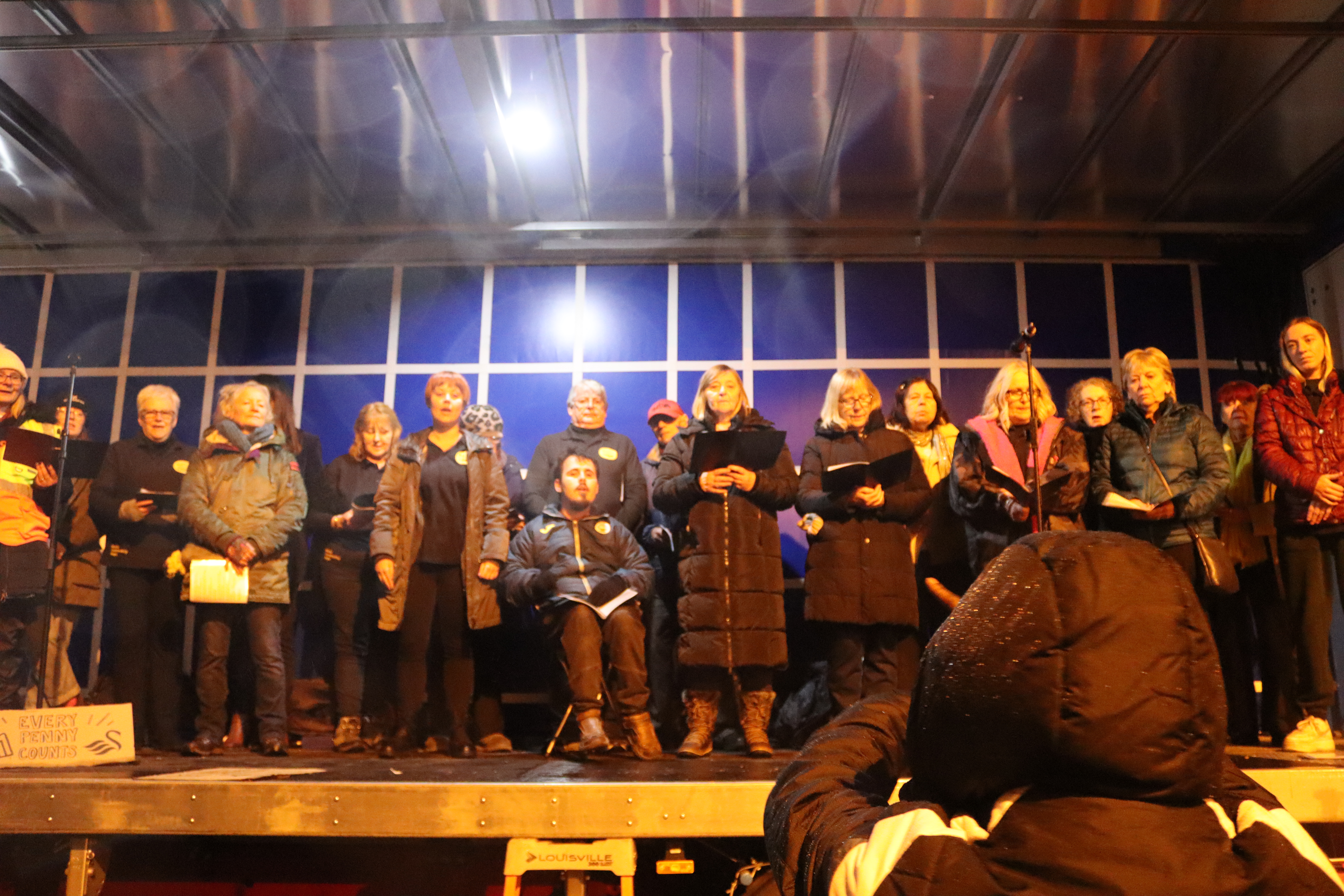 Head of Swansea City AFC Foundation, Paul France, was proud of the efforts of everyone who took part.
"I am unbelievably proud of everybody," he said.
"They showed great resilience. The weather was extreme, the conditions the Met Office predicted with their yellow weather warning arrived.
"It was horrendous and underlined the harsh realities of homelessness, but it's so uplifting to see that everyone stuck it out.
"We had set a fundraising target of £15,000, which we thought was a challenging target initially, but this morning we're at £23,980. The donation link is going to be open for the next two weeks, so there is still an opportunity to support the event. The people who slept out last night deserve it.
"We can go home and have a warm shower and get into our beds, but people who are homeless have to sleep out again tonight, they don't get that opportunity, which is really tough and underlines why this event and the money it raises is so important."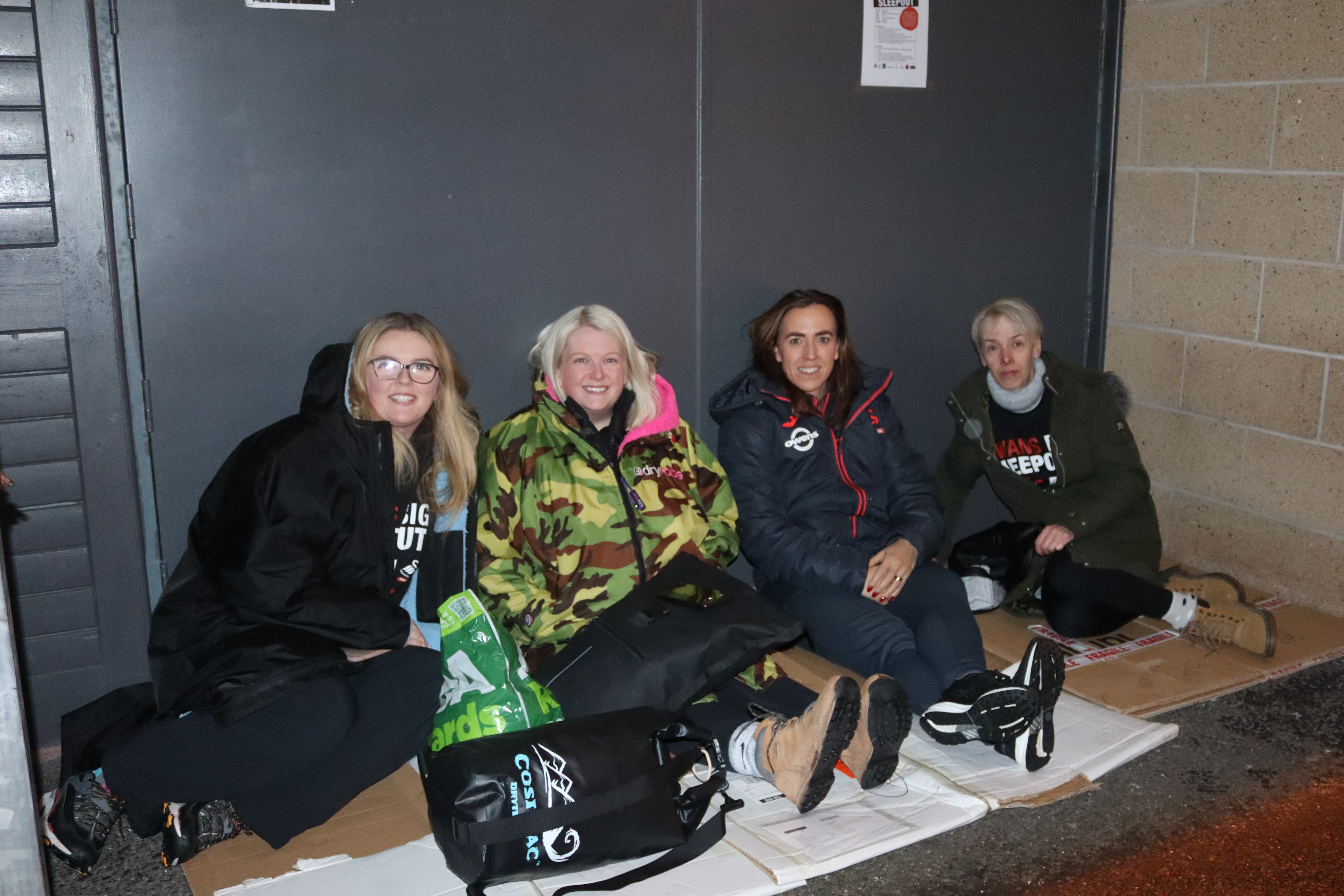 Swansea City chairman Andy Coleman also braved the elements to complete the Swans Big Sleep Out, and show his support for Matthew's House and the Foundation.
"It's absolutely amazing to see the work the Foundation and Matthew's House are doing, particularly on a cold, wet, windy night like this," he said.
"To see so many people getting their fingernails dirty and investing their own personal time to raise awareness for this issue is absolutely incredible. It's another example of what makes me so proud of this football club.
"The Foundation's work is critically important. I think the Foundation represents what is best about this club, all the work they do so successfully in this community, it makes me really proud to be here.
"It's heartbreaking on one hand because it brings home the challenges and difficulties being faced by people in our city and community.
"But it is inspiring to see the work folks are doing to raise awareness for homelessness. It's far too often that issues are just glossed over, so every new set of eyes that becomes aware of these issues in our community helps boost the real work being done by Matthew's House and the Foundation."
Thom Lynch, leadership team and project manager at Matthew's House, added: "It's been phenomenal, just learning about people's stories.
"The funds we've raised will impact us and make such a significant difference to Matthew's House.
"There's new supporters, new friends, new people. There were people here that we've helped and people that we may need to help in the future.
"We're here to provide that support, we'll try our best, that's what we're here to do.
"It's great to know the club love what we do, and are passionate to get involved and support us in fighting homelessness and all that comes with that.
"There's no case of one size fits all with homelessness. It can be anything that causes people to end up on the streets. Issues like broken relationships, addiction, mental health struggles, a health condition that forces people to lose their job; it could be anything.
"I think it will always be there, that's the sad thing about it. It needs people and communities to continue to come together. I'm blessed with friends and family so when I've needed someone they're there, but that's not the case for everyone.
"We have a big family of volunteers that are willing to listen, to be consistent, to be there and available no matter what goes on. We are here for those who need us.
"To see more than £23,000 has been raised for us and the Swans Foundation is brilliant.
"There's been some incredible people and companies getting on board and sponsoring. It's been a real team effort and people have really come together."
The Foundation thanks Matthew's House and all those involved in helping to deliver the Swans Big Sleep Out, and to everyone who participated in the event.
Please remember you can continue to donate here if you can.