Swans favourite Vic Gomersall | The Mancunian who is a proud adopted Jack
26th January 2022
Foundation
When Vic Gomersall arrived in Swansea from Manchester 55 years ago, he had no intention of making the place his permanent home.
But the 'ugly, lovely town' referred to by Dylan Thomas sucked him in, as it does, and even after his playing days ended, the adopted Jack remained.
The popular left-back made 178 league appearances for the Swans over five years and netted six times.
He came to south west Wales from his home club Manchester City.  There, he started his professional career against Chelsea in 1961 and ended his time with The Sky Blues away to Middlesbrough in 1965, having made 39 appearances for them.
His time with the Swans saw him play in the old Third and Fourth Division.
"I've been really fortunate to be able to stay in Swansea, a place I love, and continue to work and do what I love for all of these years.
"Football is a tough game but I loved it as a player and then as a fan and of course I'm an honorary Jack because Swansea have always been my team since I played for the club.
"It gave me some incredible highs and some awful lows too as a player and they're the same but different as a fan, as we all know.
"As a player you can influence games and you know if you've had a good one or a bad one.
"As a fan you kick every ball and argue every decision in your head but you can't do a thing about it because you're not on the pitch!
"I feel very fortunate to have had the opportunities in the game I did and then to be able to be around football after I finished playing."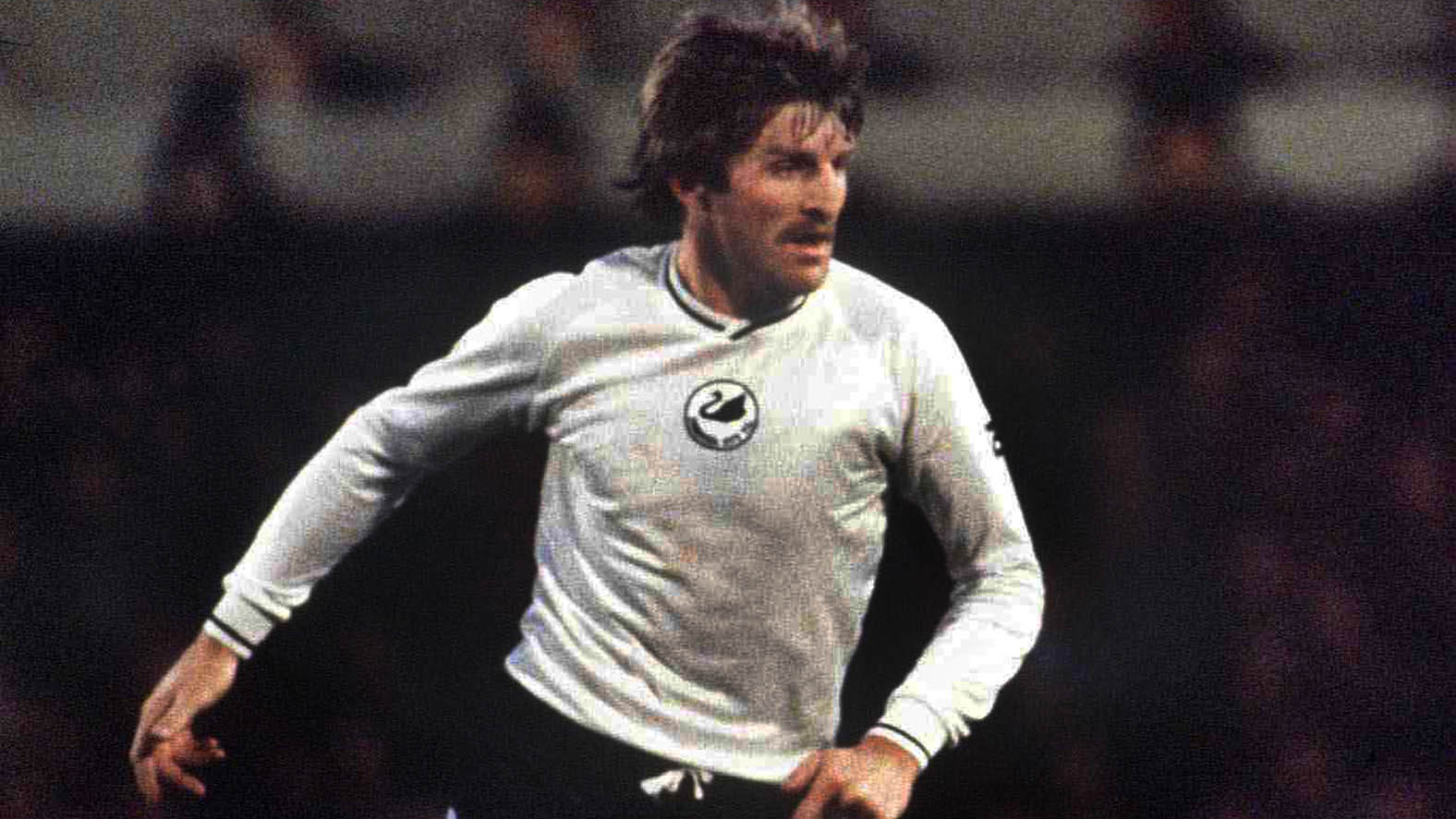 There were also some dark days associated with a life in football, from the general uncertainty around life in the lower leagues to the unexpected loss of someone he considered a close friend, former Swan, Robbie James.
"I can't look back on my time in football without remembering Robbie. I was in Llanelli at the game the day he collapsed on the pitch and at the hospital afterwards and that was one of the worst days of my life.
"Even now, I can remember it clearly. Curt (Alan Curtis) was with me. It was a terrible tragedy and so difficult for everyone because he was so highly thought of across the game."
Nine years ago, Gomersall's contribution to Swansea City was marked with an inclusion into the club's hall of fame, something he still finds touching.
"I said at the time that it was a humbling and emotional experience and it still is. You never know with football where it will take you and to still be able to be involved with Swansea City and recognised for my various roles with the club over the years is something I'm very proud of."
Gomersall also played for Llanelli Town, Haverfordwest and Pontardawe Town and went on to have a successful sales and commercial career as well as being involved in the entertainment scene in Swansea for many years.
He is also a regular host in the function rooms at the Swansea.com Stadium.
"When you leave the game as a player there is a lot of uncertainty and a certain amount of fear about what the future will hold and where it will take you.
"I've done a lot of different jobs if you like, including for the Swans, going into schools, hosting at the LT10 in the stadium and I've been able to stay around the club, which was good for me.
"You meet so many great people along the way and many of them can be a part of the future after you finish playing, whether you do like I did and stay in football or leave the game altogether.
"That's why something like the Former Players' Association is so good for the club and the players who played for it because it will draw them back together if they want to be involved.
"Even though I left Manchester City a long time ago I still get invited back to their events and as you get older you realise the importance of being able to stay in touch with a club. It means a lot."
Ex Swans who want to be involved with Swansea City Former Players' Association are asked to fill in the registration form HERE.
The club is also keen to hear from relatives and friends of former players who are not online but who might still like to join the FPA.
Anyone in this category is asked to call the FPA secretary, Catherine Thomas, on 01792 616420 or email catherinethomas@swanseacity.com
Alternatively, the three former players on the committee, chair Lee Trundle, deputy chair Leon Britton and lifelong president Alan Curtis, are also happy to talk to players or their families directly.